Last year's UFO list ended up with 15 items (I replaced one and finished up a few ahead of schedule) instead of 12, which I was quite proud of, and then I finished a few more projects before the end of the year, for 24 total:

Forest Edge (king size quilt)
Fox Face (twin size quilt)
Christmas tree (wall hanging)
Great Egret (wall hanging)
Alaska row by row (wall hanging)
Diamondback (large throw quilt)
Swirling Dunes (wall hanging)
Matti's Fox (throw/baby blanket)
Matti's Fox 2 (same)
Fire Blossoms (large throw quilt)
Golden Galaxy (king size quilt)
Pirate Quilt (child/small twin size quilt)
Pirate Quilt 2 (same)
Science Quilt (full size quilt)
Paradigm Shift (full size quilt)
Friends row by row (wall hanging)
Coastal Birds (wall hanging)
Airstream Camper (plush)
Pink & Green Pinwheels (large throw quilt)
Rainbow Colorways (full size quilt)
Manatee Mother & Child (wall hanging)
Hex Table Cover
2016 Christmas Ornaments
2017 Christmas Ornaments (yes, early)
Tea Towel Memory Quilt (throw quilt)
Christmas Hearts Swag/Banner
2 Golden Galaxy pillowcases
6 Destiny Banners of various flavors

That's all I can easily find, looking in my Crafts folder for 2016. Which is still a lot! Wow! 41 if I counted them all up correctly, because the ornaments are in batches of 6-7. That's technically nearly 4 projects per month. O__O

So! That said, I finished up a lot of UFO's last year, and this year I'm having trouble thinking of the final one. I did think of the United States of Quilting idea, but I don't know if I can really get that one finished in one month. Here's the current list: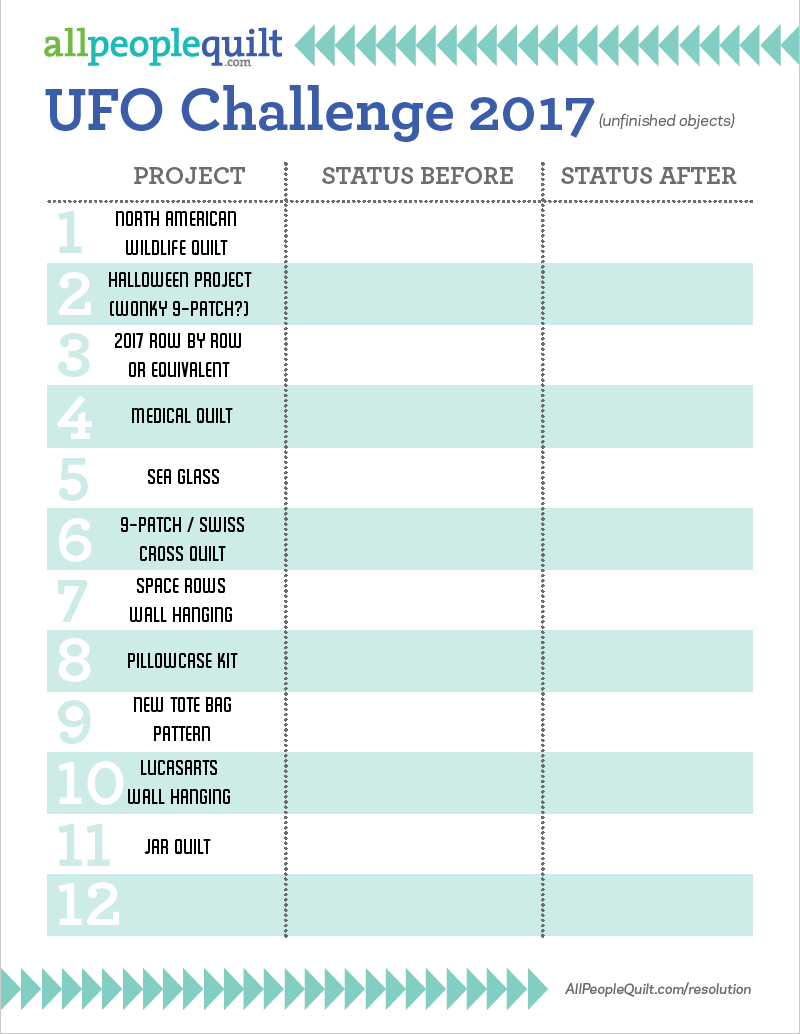 I have to update it because #6 was the project for January and I've completed it as a quilt top. But I did think of #11, the Jar Quilt. I saw it last year and the blocks are designed to look like jars of, well, whatever, on shelves. And I thought that would be really cute to have them full of different things. Canned fruit or vegetables, or maybe buttons and sewing stuff - I remember an old pickle jar full of buttons, when I was a kid - or nails or screws - anyway, I'd love to do that one, but I need a fat eighth or fat quarter of each type of fabric for the jar "contents", and most of those novelty fabrics aren't sold in small cuts like that, and I sure don't need a whole yard of each. :/ Might have to look at bundles or remnants.