I'm very happy to report that I finished 2 quilt projects yesterday after getting nothing done in the rest of June so far! Part of that was the trip, I didn't do any quilting during that trip (though I *did* buy more fabric... >_>; ). But I also feel like I took a little break this past week too.

Plus I got to do my first ever quilt repairs for pay! From someone not related to me! Go me!

Let's talk about the patch first. A coworker asked me to patch 3 places on an old quilt of hers with sentimental value. I will be honest: this quilt actually needs a lot of repair work. But she said she would do the rest of it. I charged her a minimum of 1 hour's work and provided fabric.

In this pic I still have to trim away the white thread tails from the patches, but otherwise, this is it: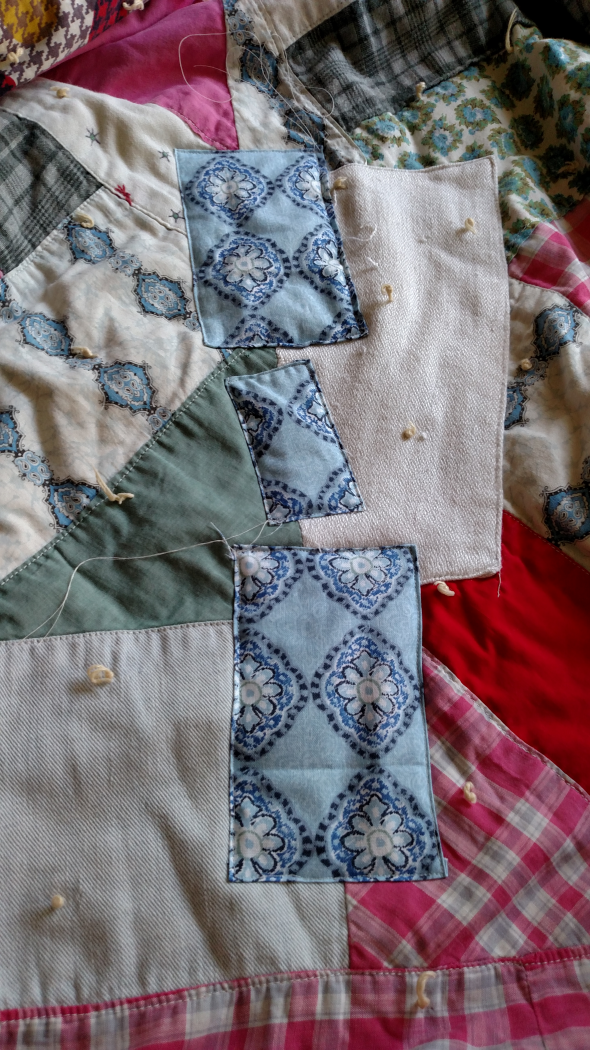 I chose that fabric as it goes with other pieces and with the blue design on the left. The holes being covered were too big to simply re-stitch the broken seams; the fabric itself had frayed along the seam edges. Since the design itself is something of a "crazy quilt" design, the patches actually blend right in.

In short: easy! :D Though if she comes back later and says "please fix everything else", I will discuss with her the problem that this quilt is really, really beat up and might not be worth saving. There are a lot of holes and torn seams and I suspect this has been put in a mechanical washer more than once (as opposed to dry clean or hand wash gentle).

On to yesterday's projects! One of them is "Fox Quilt 2". I sold #1 ("Matti's Fox") and still had enough fabrics to make a second, slightly different one.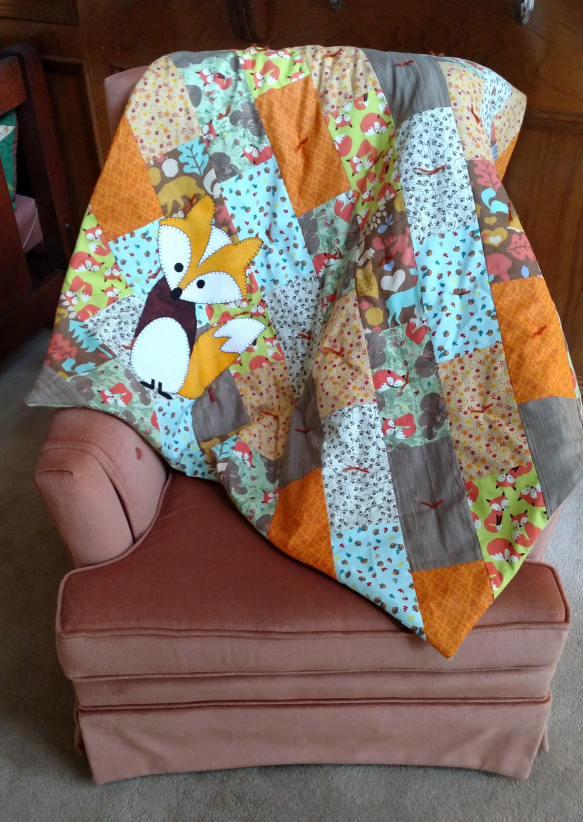 This one has some of the same fabrics from the first one, but some are different. Also, instead of quilting it together, I tied it using rusty-orange yarn.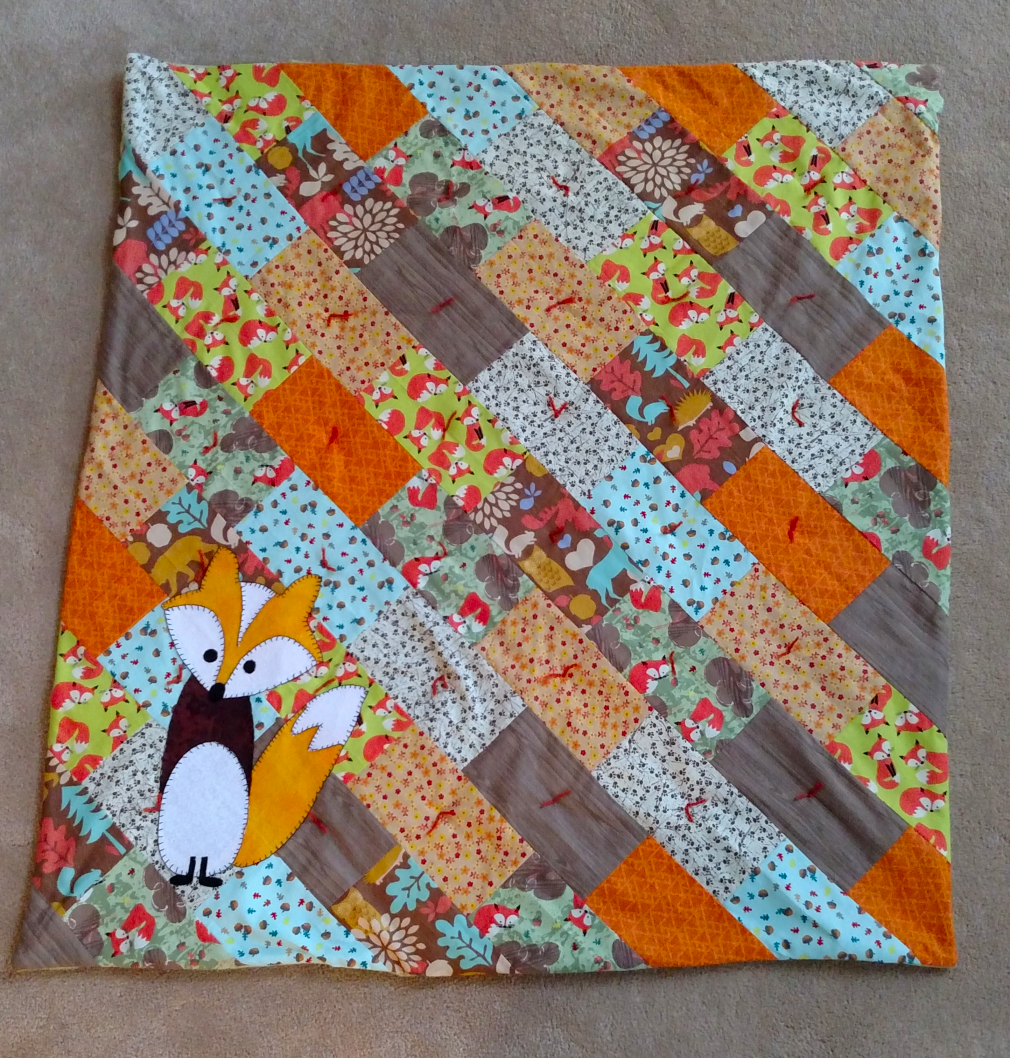 Here's the applique up close. I think I used a different white fabric but the yellow and brown are the same.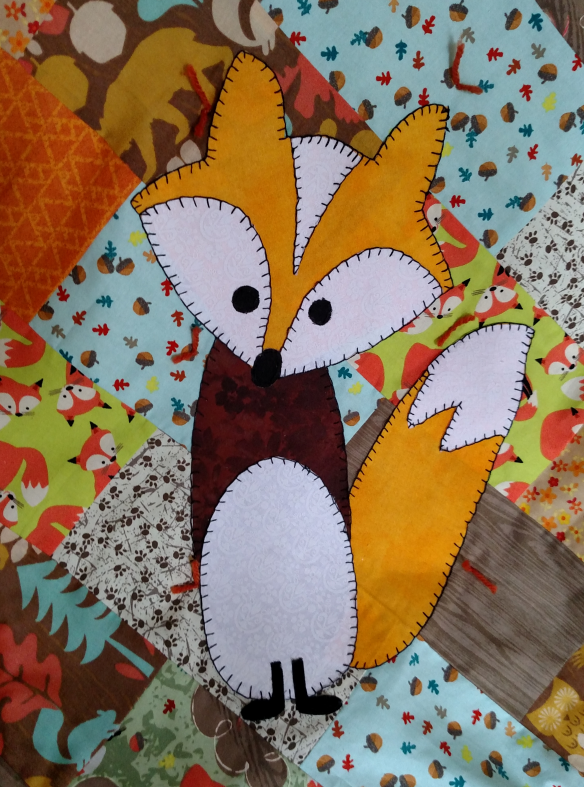 This will go on my Etsy store soon.

Lastly there is the Wildlife Quilt. This one also has applique.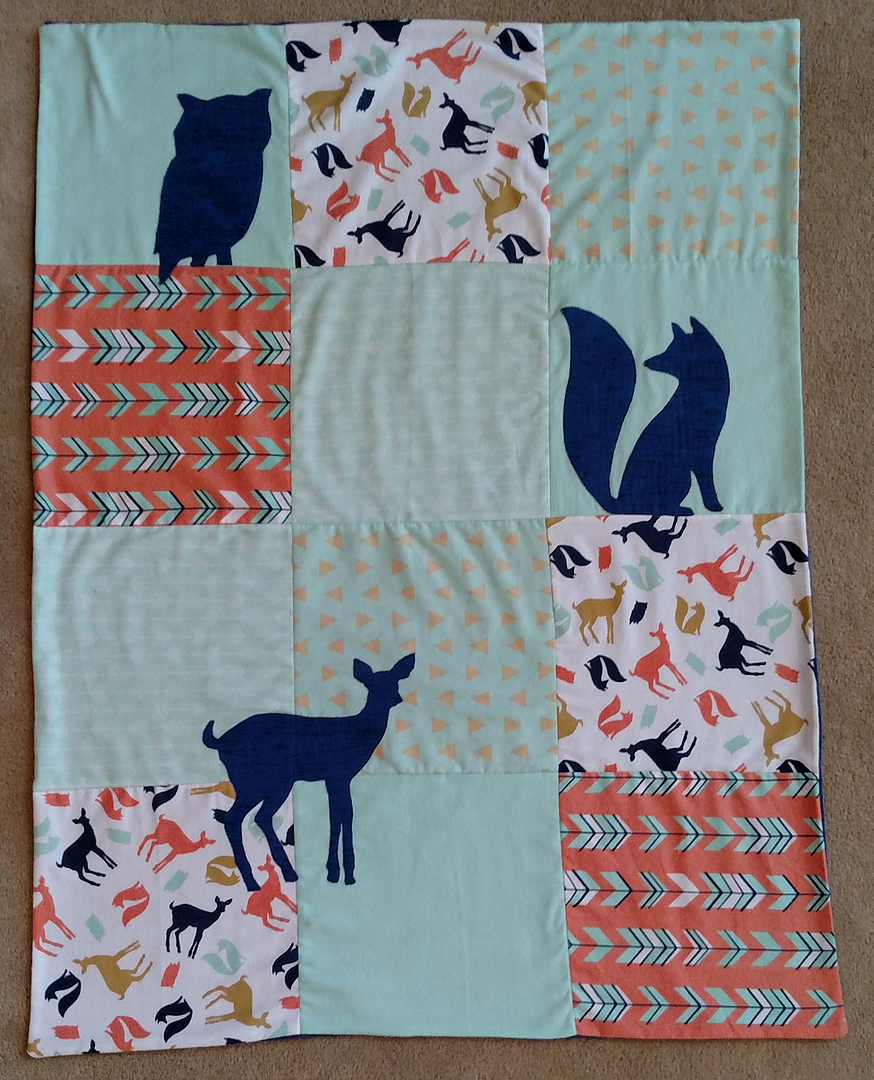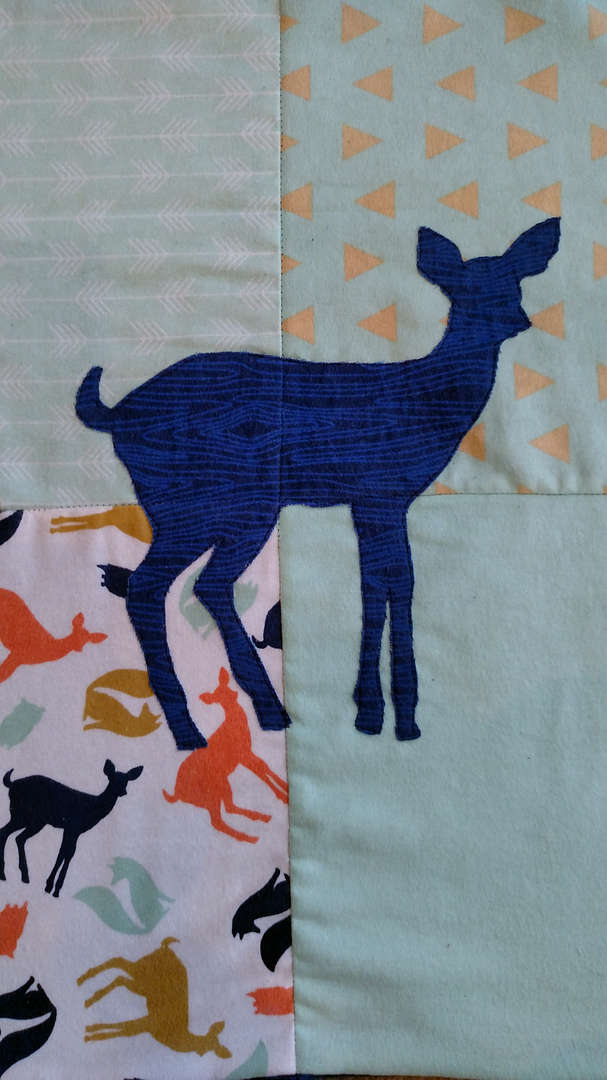 I machine-stitched these appliques.



The back is the same material as the appliques. The entire thing is made of cuddly flannel.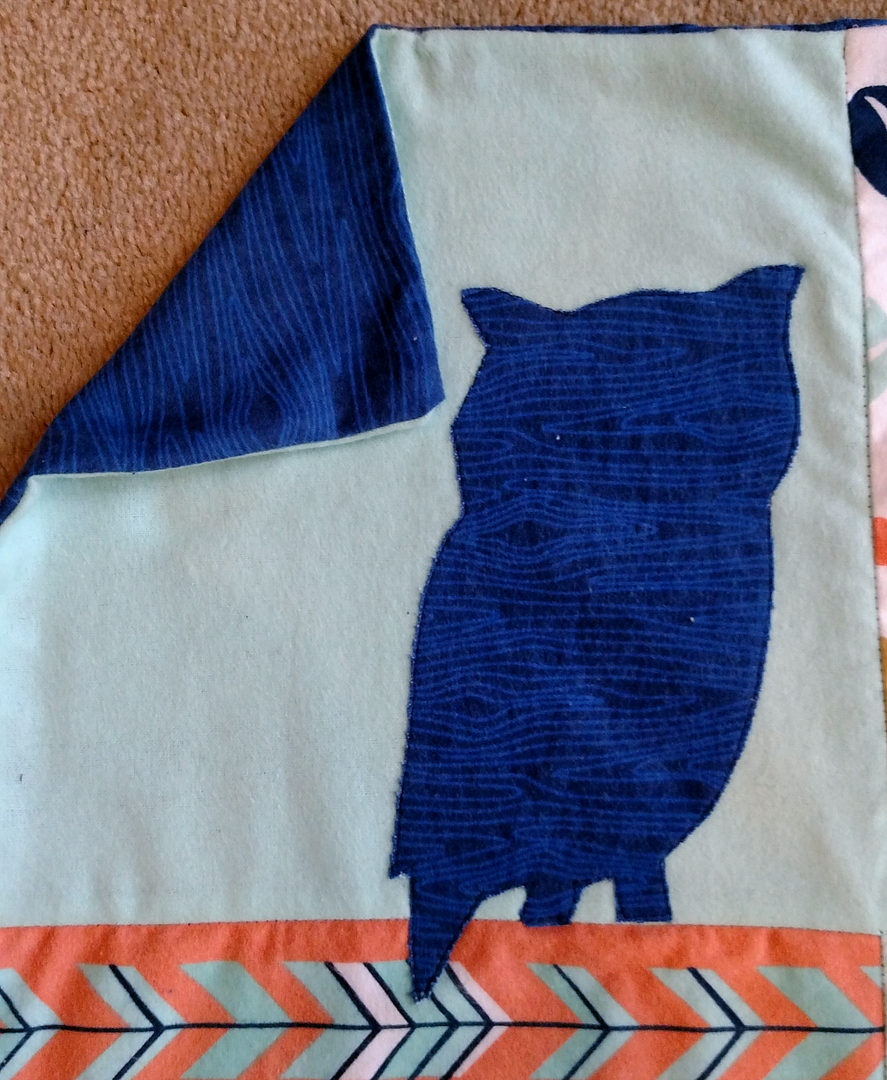 This too will soon go on Etsy.

So here's my updated 2016 UFO log, with Matti's Fox 2 and Wildlife added: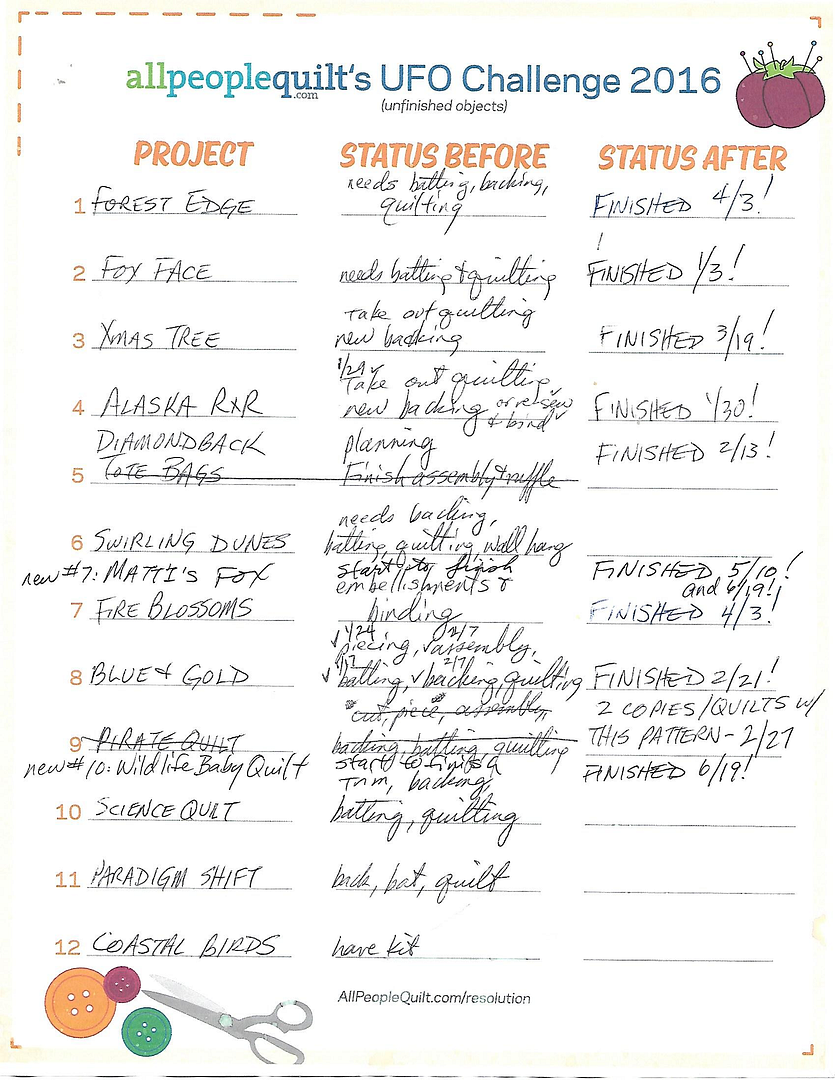 Technically Science is supposed to be the June project, but it'll have to wait a while yet. Hence the completion of Wildlife.

Meanwhile, I have completed 12 quilting projects in the first 6 months of the year, an average of 2 per month! Go me again! :D I have no idea if I can keep up that pace the rest of the year, though...