Previously, on the Brains ISBI

The final episode of Generation 2! We're down to torch-holder Bobo and his wife Violet Crow T. Robot the Bellarian, and their kids Jan-in-the-Pan and Crow. In this episode, we find out who's the heir, and who gets Lovely Parting Gifts as they leave amidst a cloud of despair and odd clothing choices.

More than 100 pix below the cut!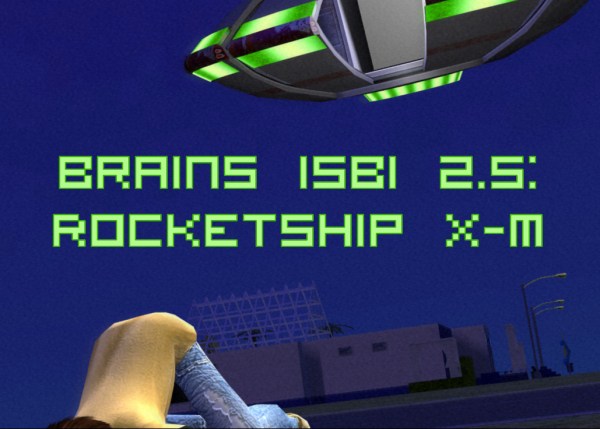 Let's start with a visit to the cemetery, where Mike and Kristy are now side by side with some lovely plantings, and they're safely away from (most of) the victims of the House of 78 Corpses.
"Hi, thanks for stopping by! Glad to see you! Sorry there isn't much to do, this place is really dead sometimes."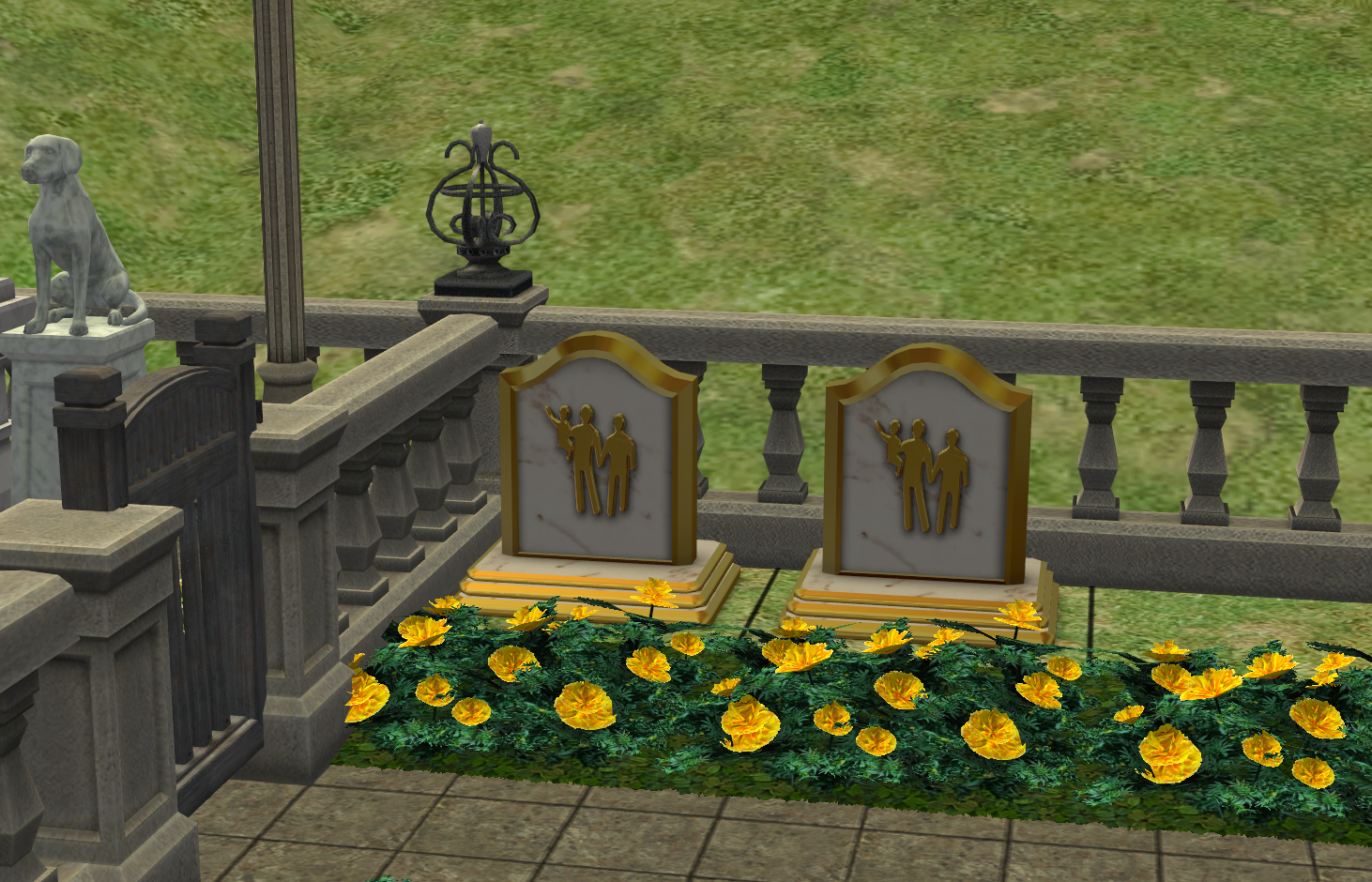 (I'm now tempted to put a breakdancing pavilion in the cemetery, but I won't)

Jan-in-the-Pan seems to be an underwear gal like her mother. Crow averts his eyes.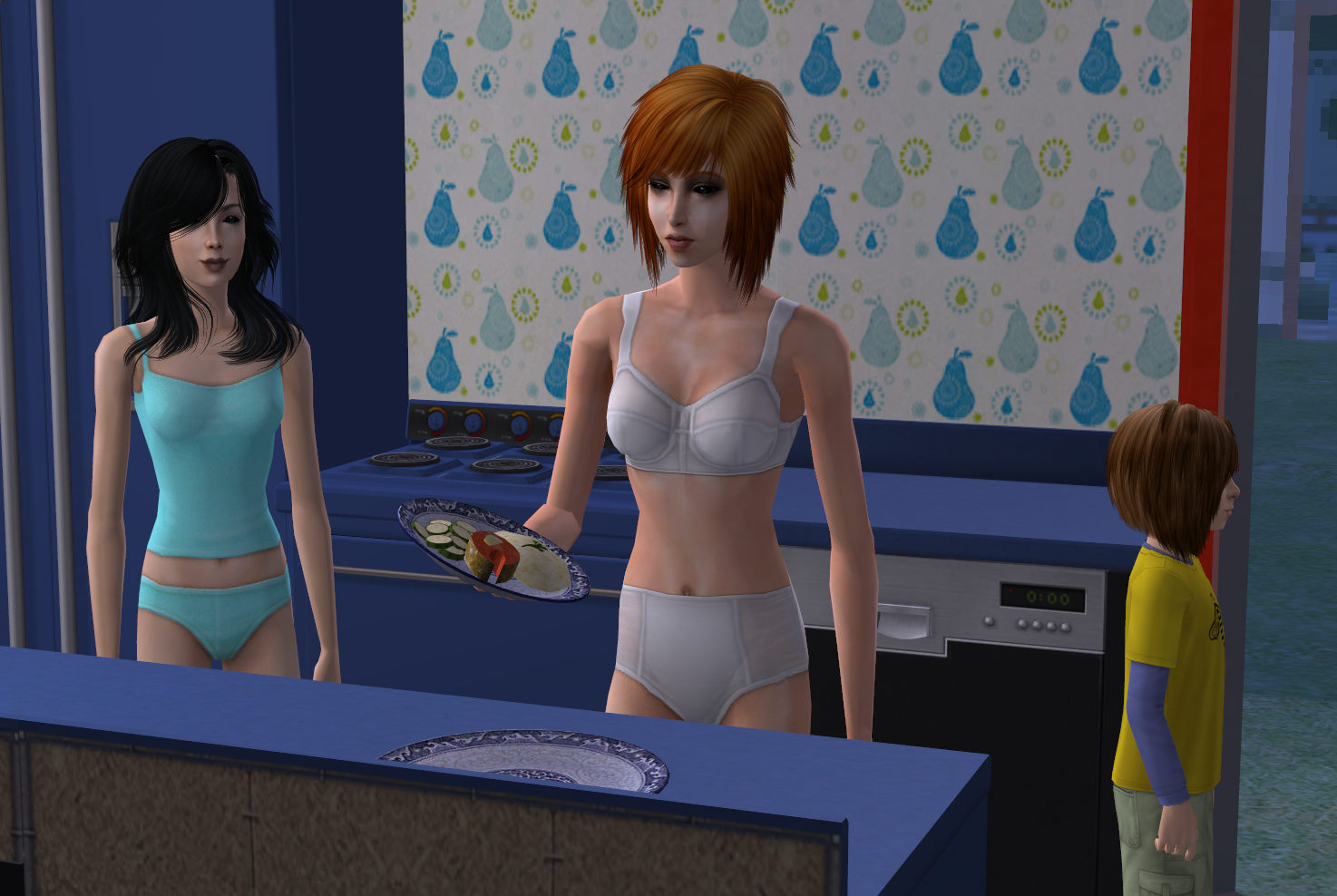 This is actually one of Violet's friends. I'm really amazed the friendship carried on this long without help. Maybe I should use Violet's elder action to call her and rekindle the friendship? Will it matter?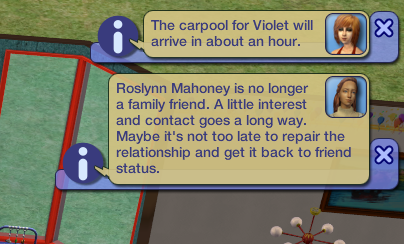 Bobo, now an elder, takes on the look of a majestic elder silverback - well, silver-all-over - mountain gorilla.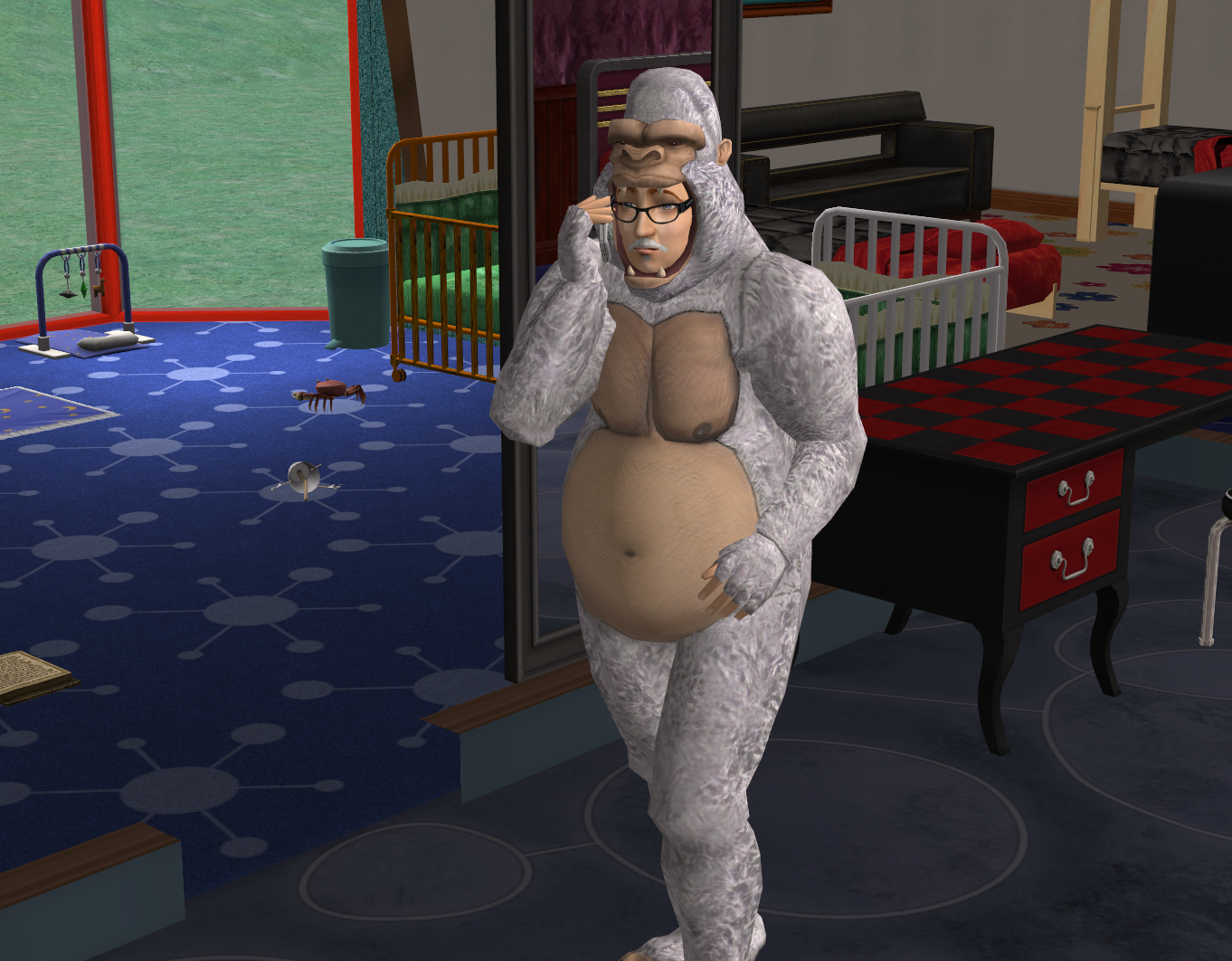 Nobody told this gorilla he couldn't go to the ballet.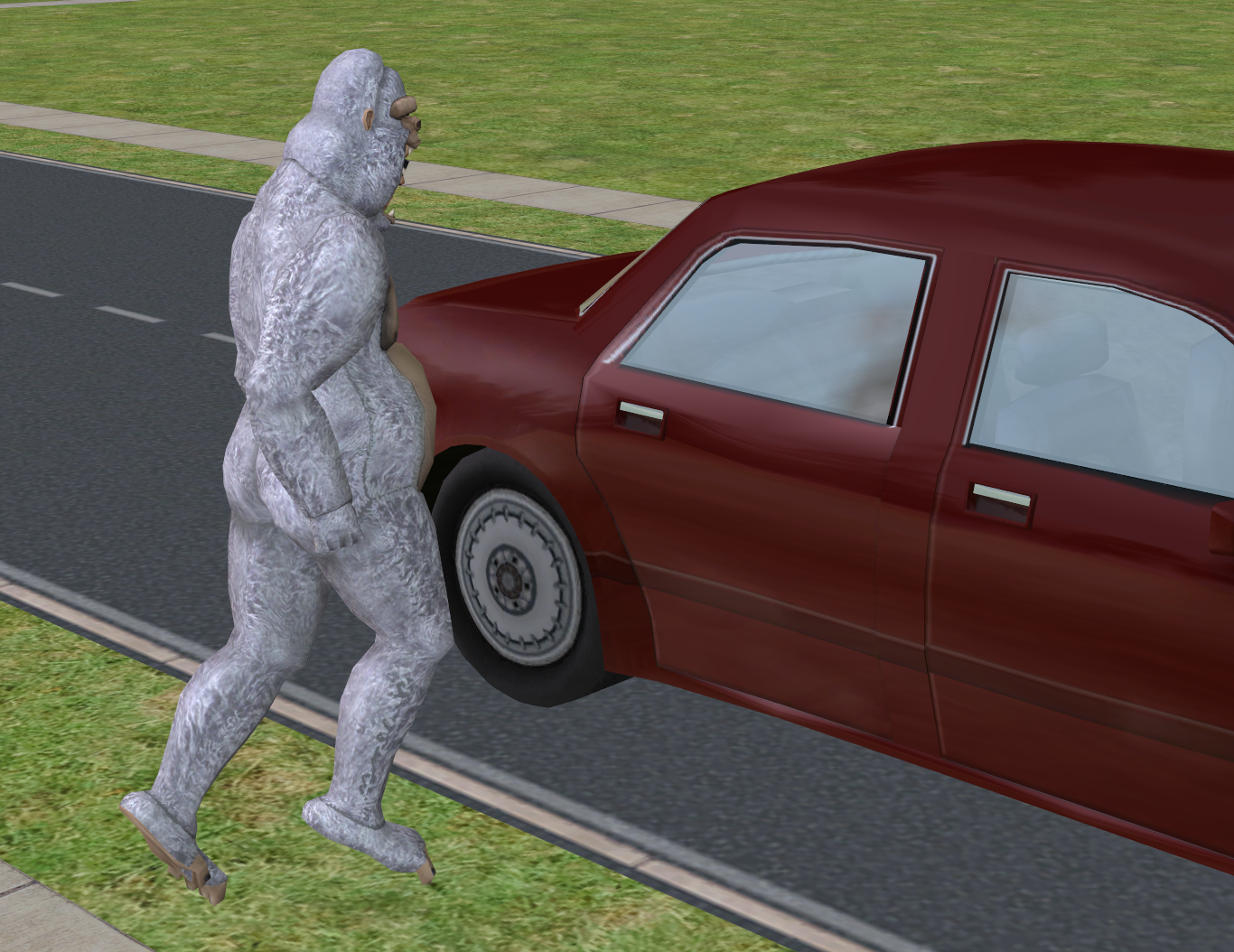 "NOM NOM NOM I'm gonna lick the bowl clean, starting right now!"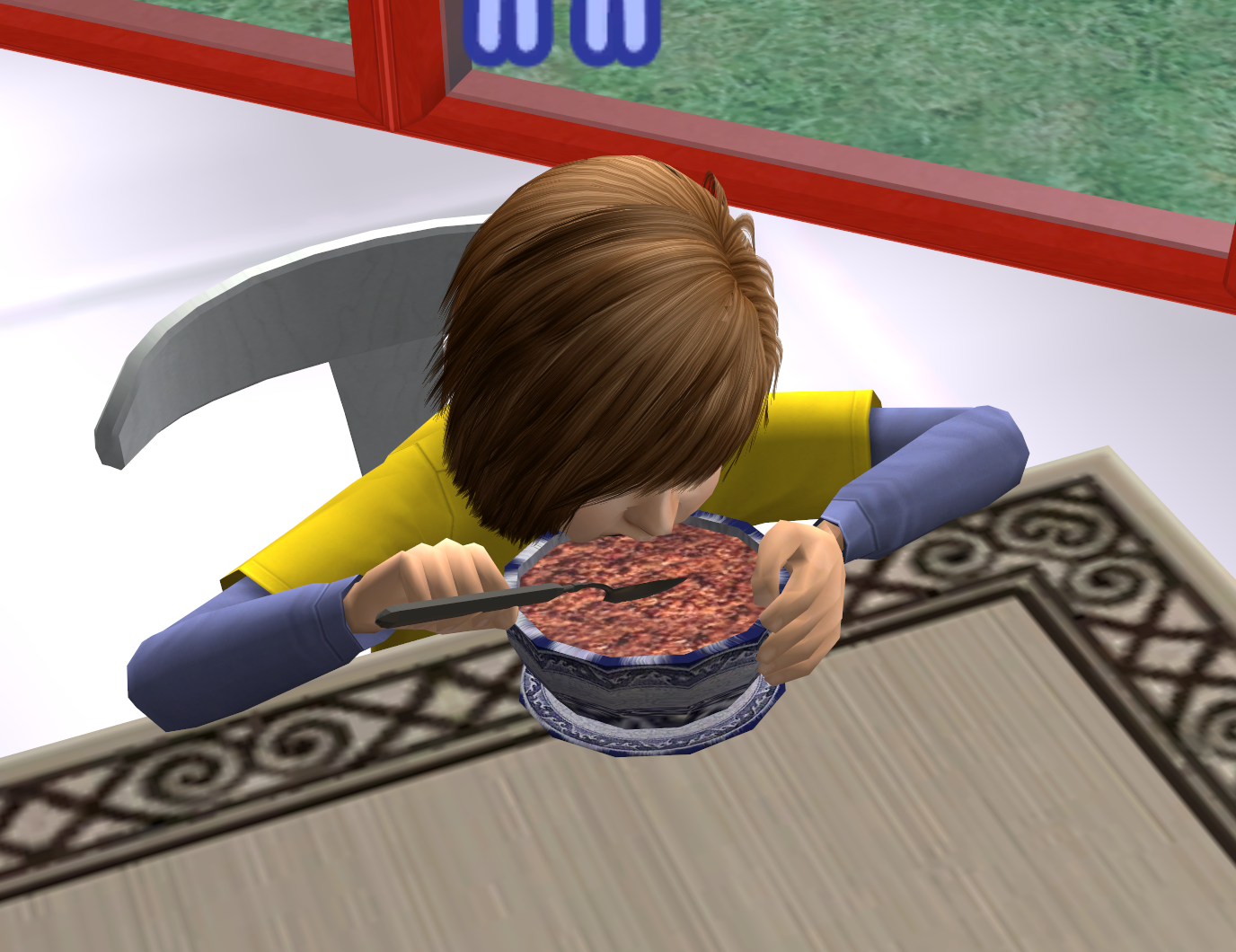 Yes, as some of you have guessed, Crow is quite the slobby kid.

"I can't believe she's locking the door so we don't come into the bathroom while she's bathing! That's so rude!"
"Sis, how come you and Mom always walk around the house in your underwear?"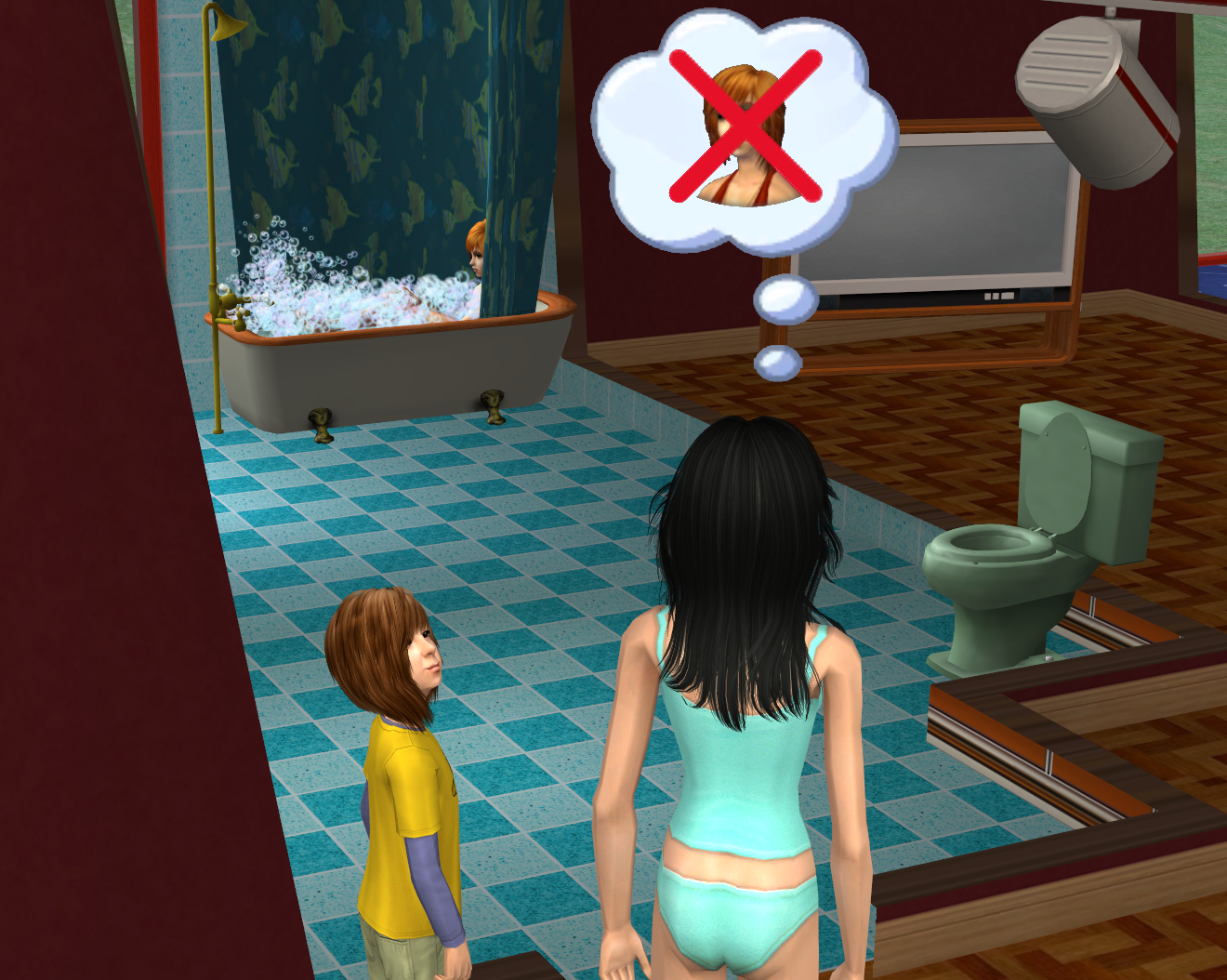 "And a big gorilla hug for my boy!"
All of Crow's life, he's wanted to hug his dad when he came home, and something kept interrupting it. Now he finally can! Hooray!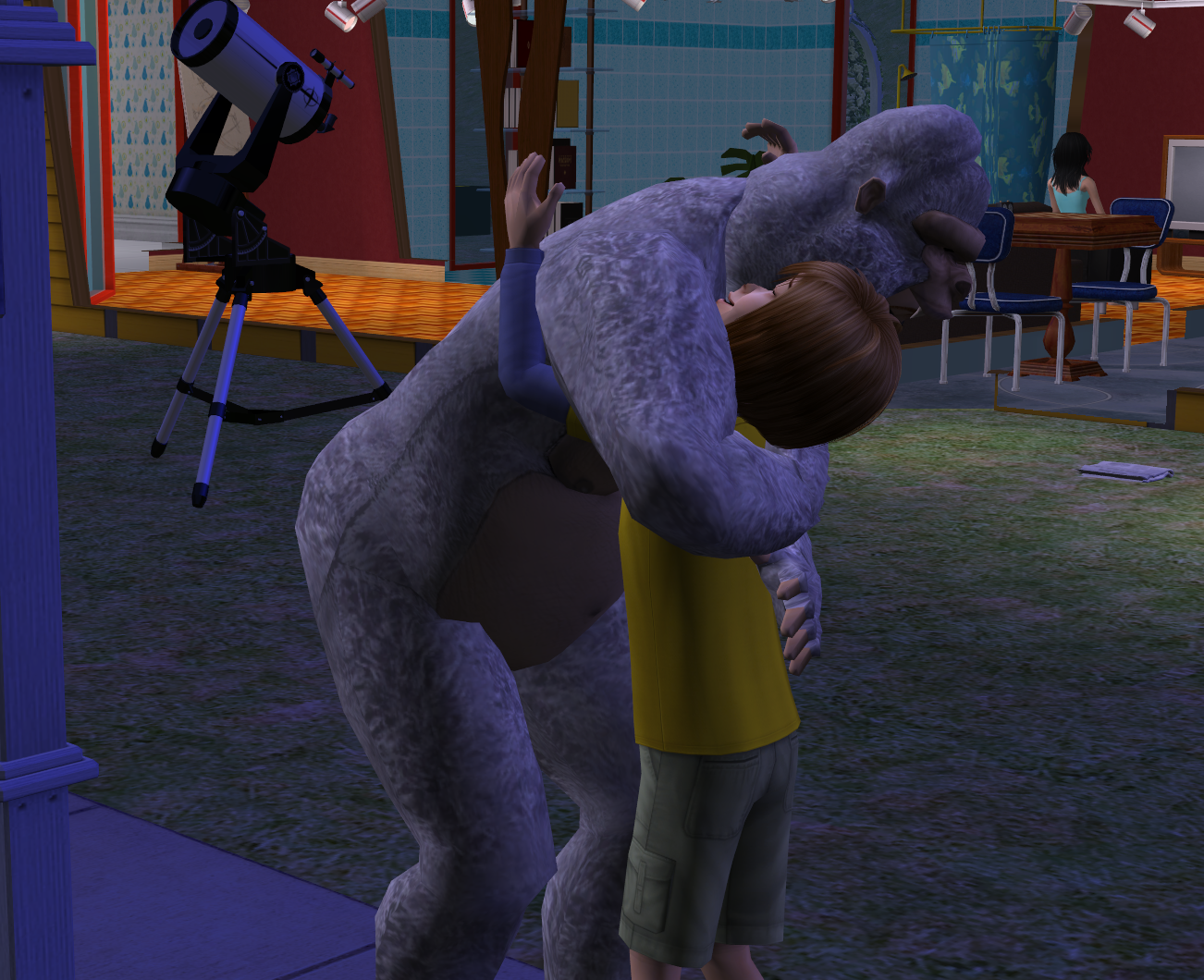 "Okay, maybe Mom does have a point about locking the bathroom door when she wants to take a bath."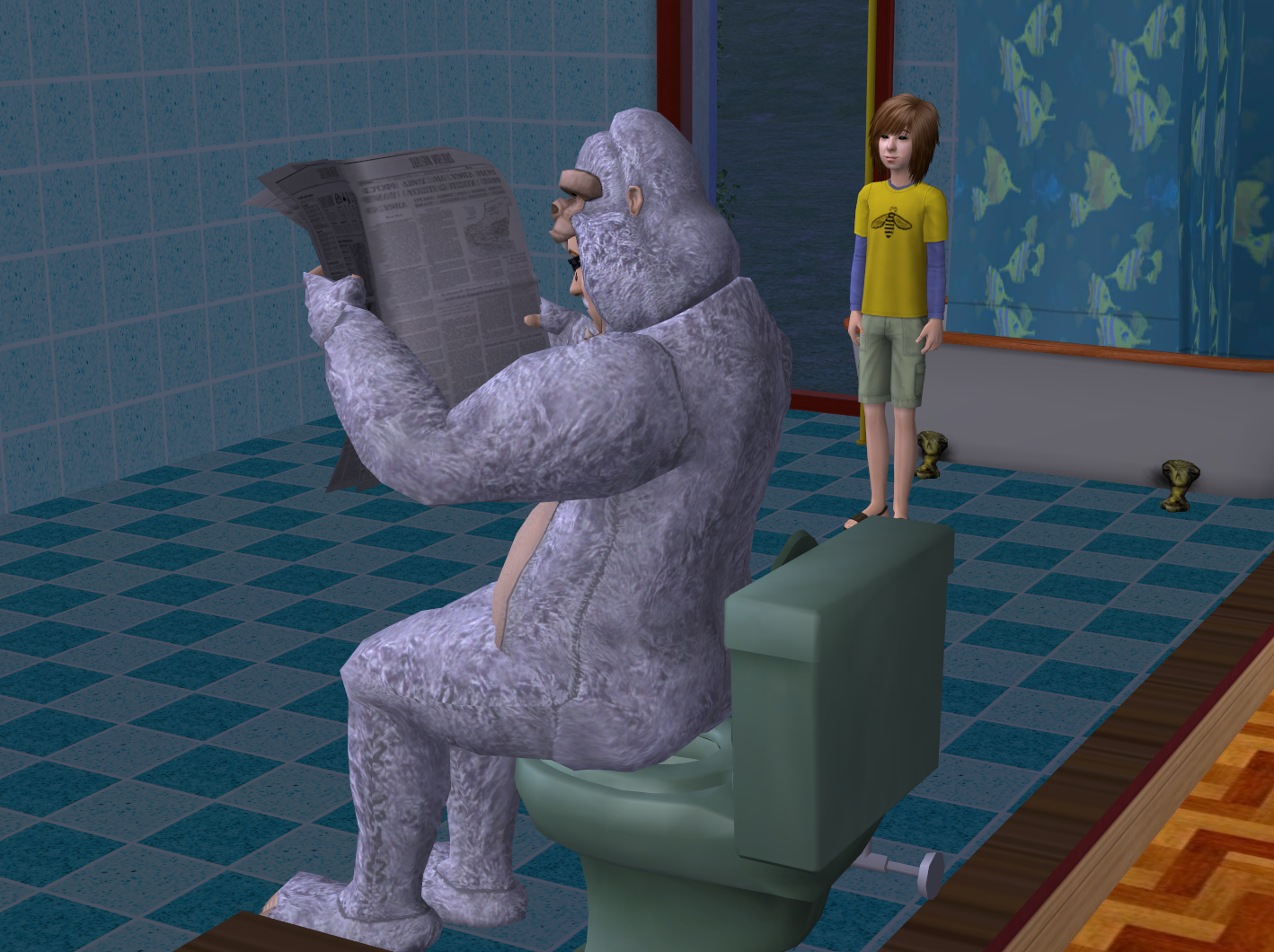 Now that Bobo's an elder, it's time for his siblings to age up too. He invites them both over. Sylvia brings a friend, Professor Von Ball.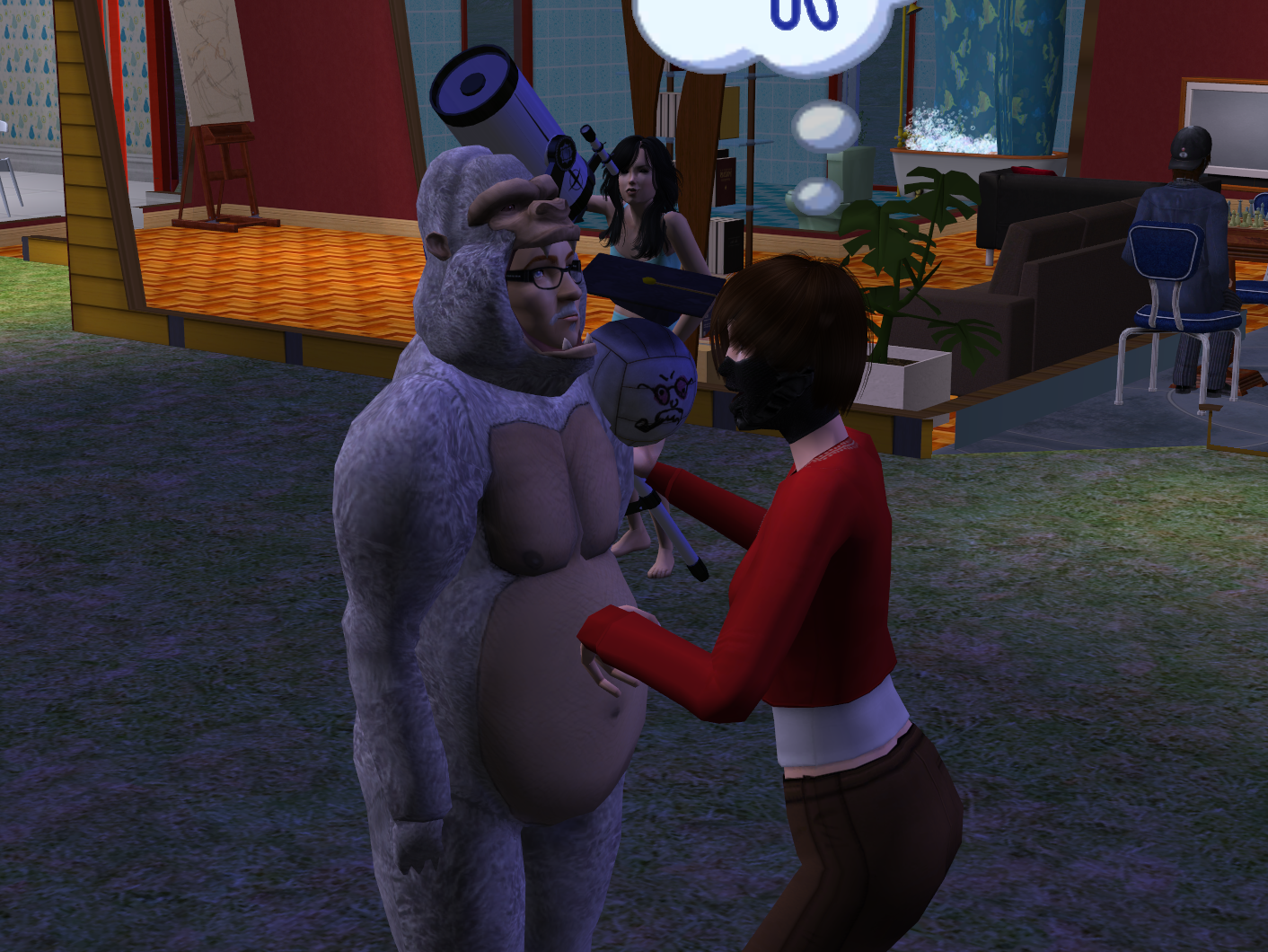 Jerry and Sylvia are both given Lovely Parting Gifts they should have gotten when they moved out. (LPGs are a way to 1. remove cash from the household and 2. justify that $20k when they move out.)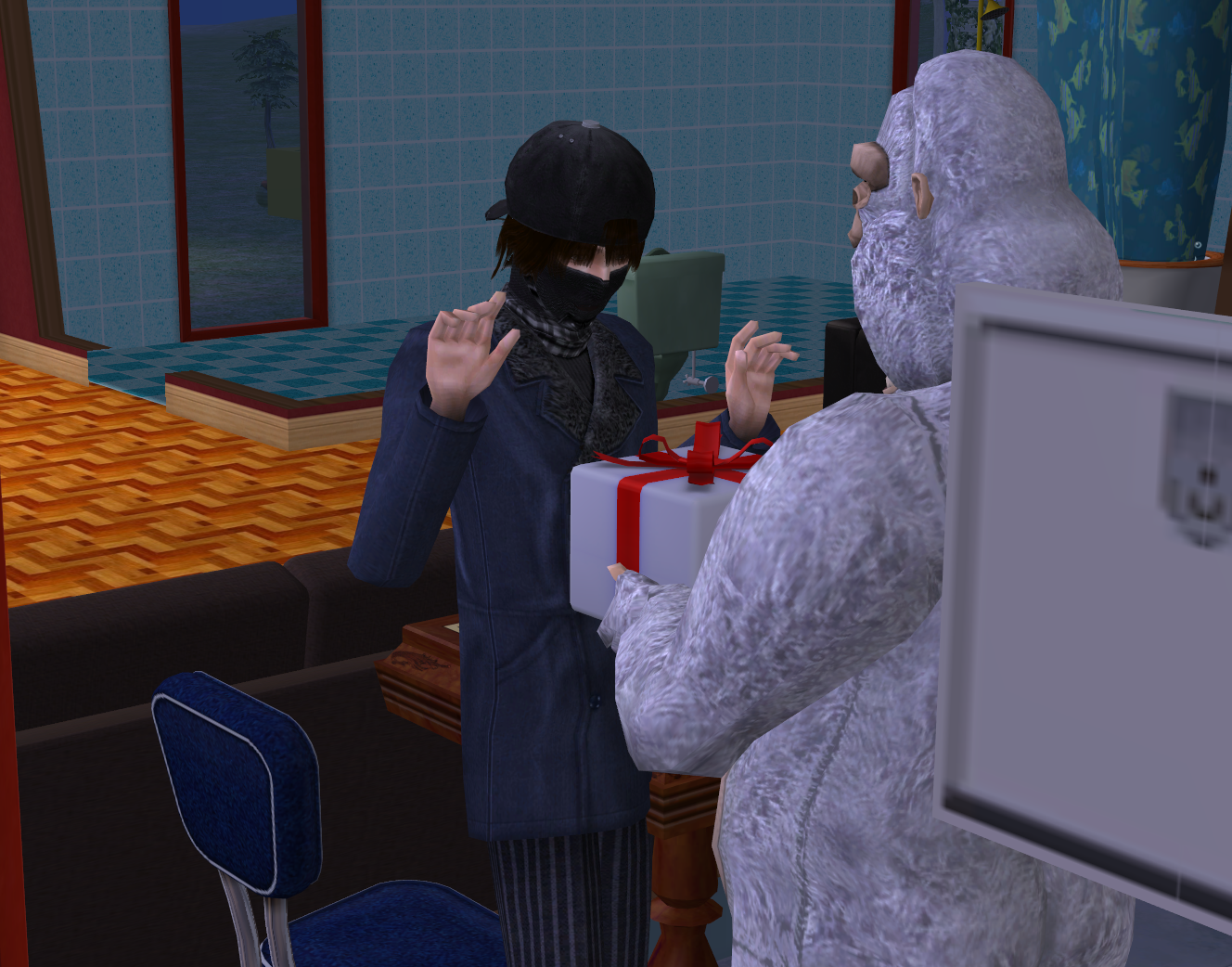 Then it's time. Jerry goes first.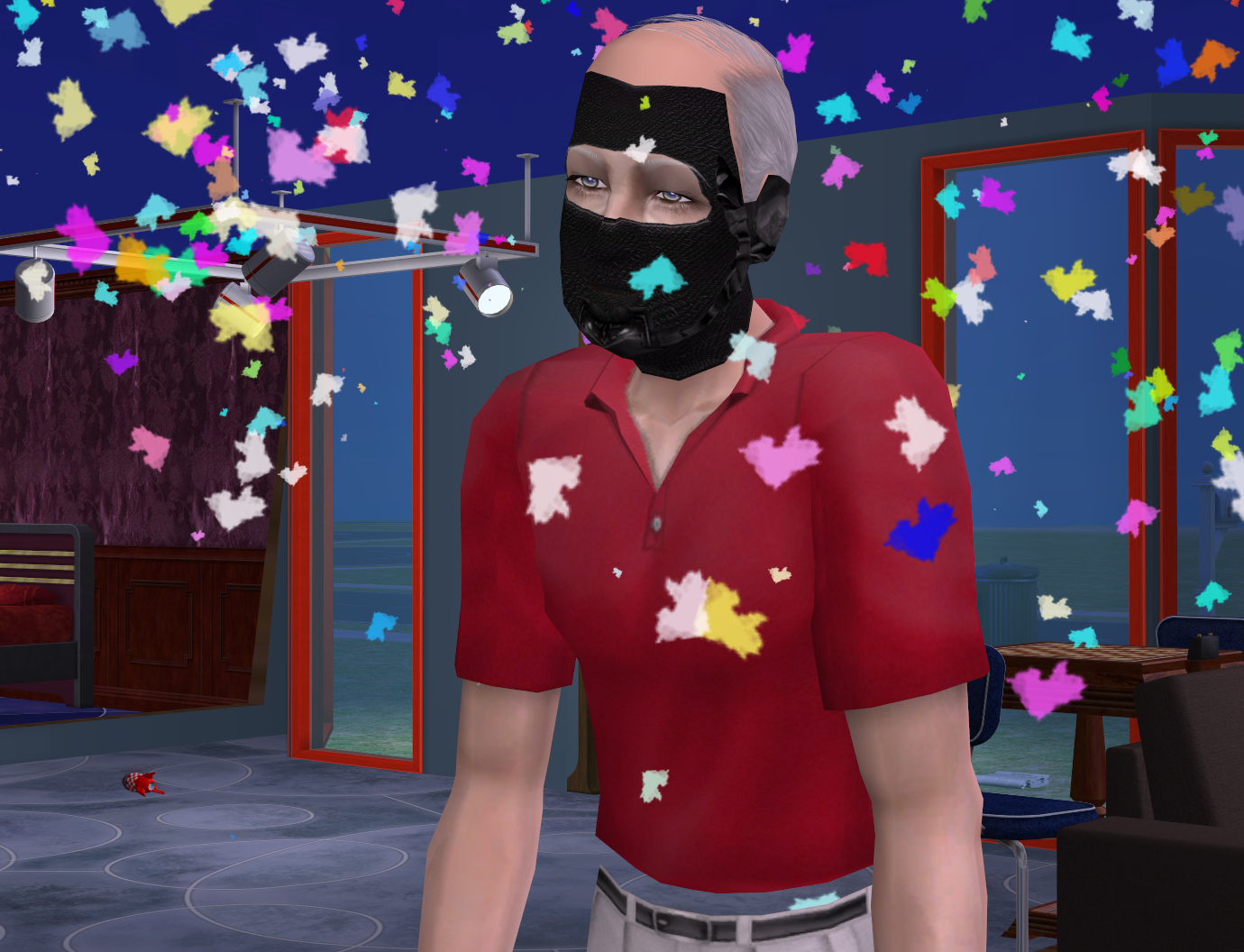 Poor guy.




Still, he's taken it pretty well. What about Sylvia?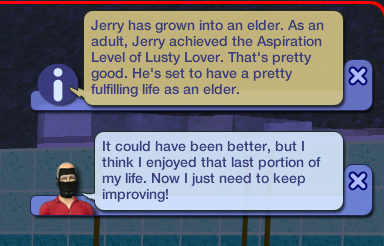 Sylvia decides to get all matchy-matchy with her twin brother's color choices.



Unfortunately she doesn't go gracefully. :( Contrary to the end, that's Sylvia.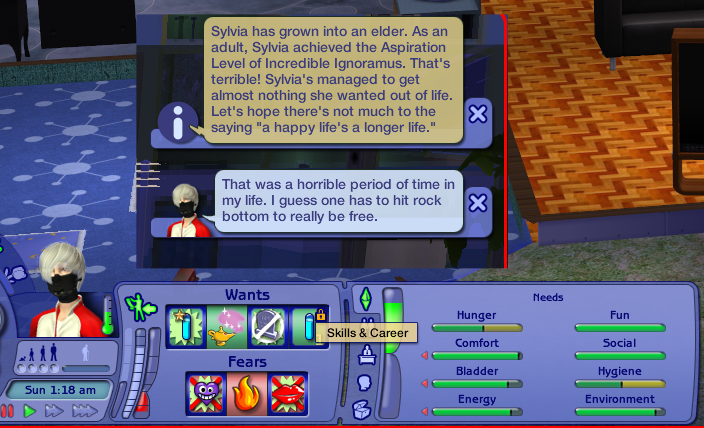 Another talk with the Professor is in order.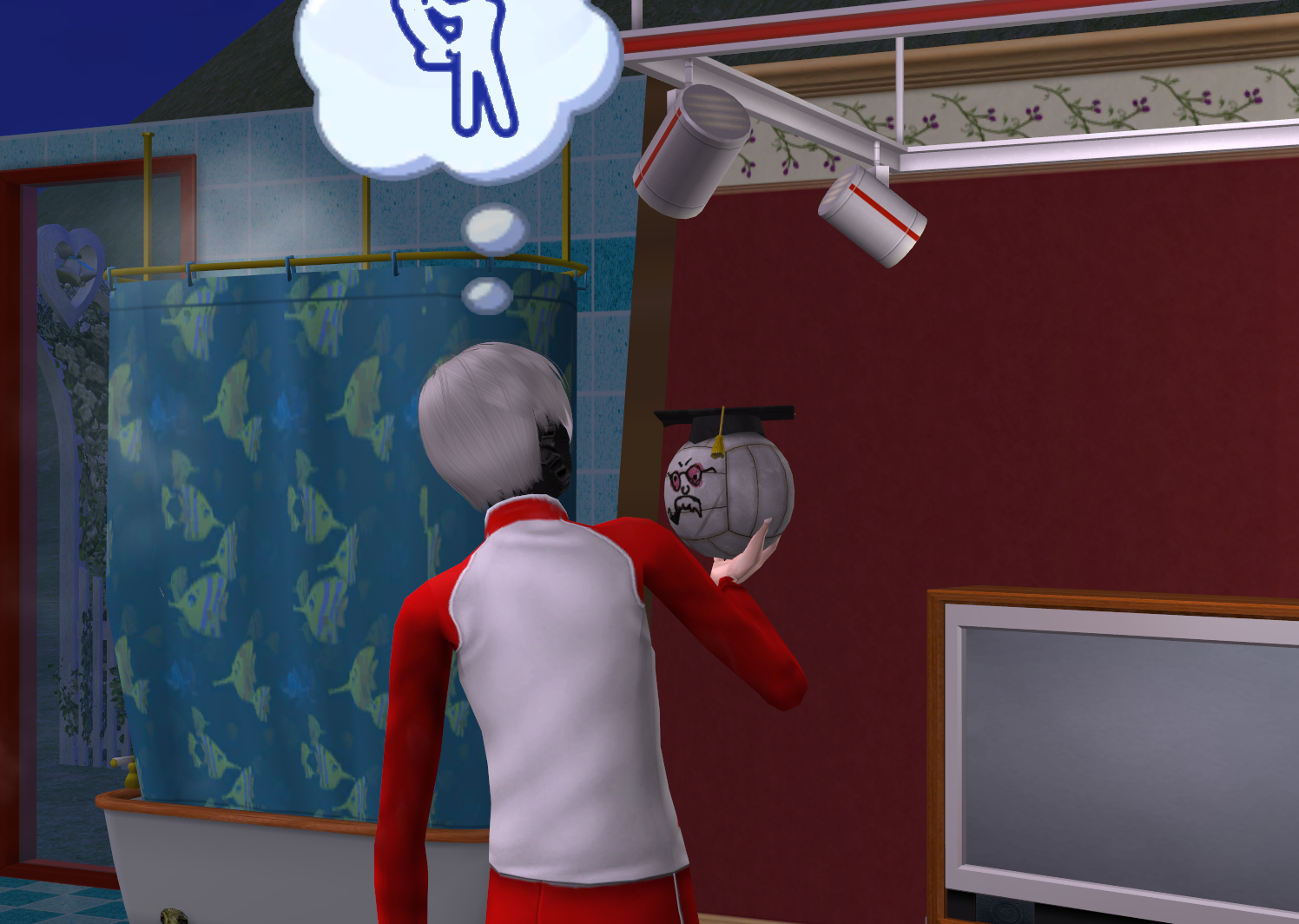 Jerry hung around a long time and was pretty good with the kids, especially Crow. (I put in better lighting after this, but note! I actually put art on the walls so they don't look so empty now!)



Doctor Lady comes home, Gorilla Man goes to work.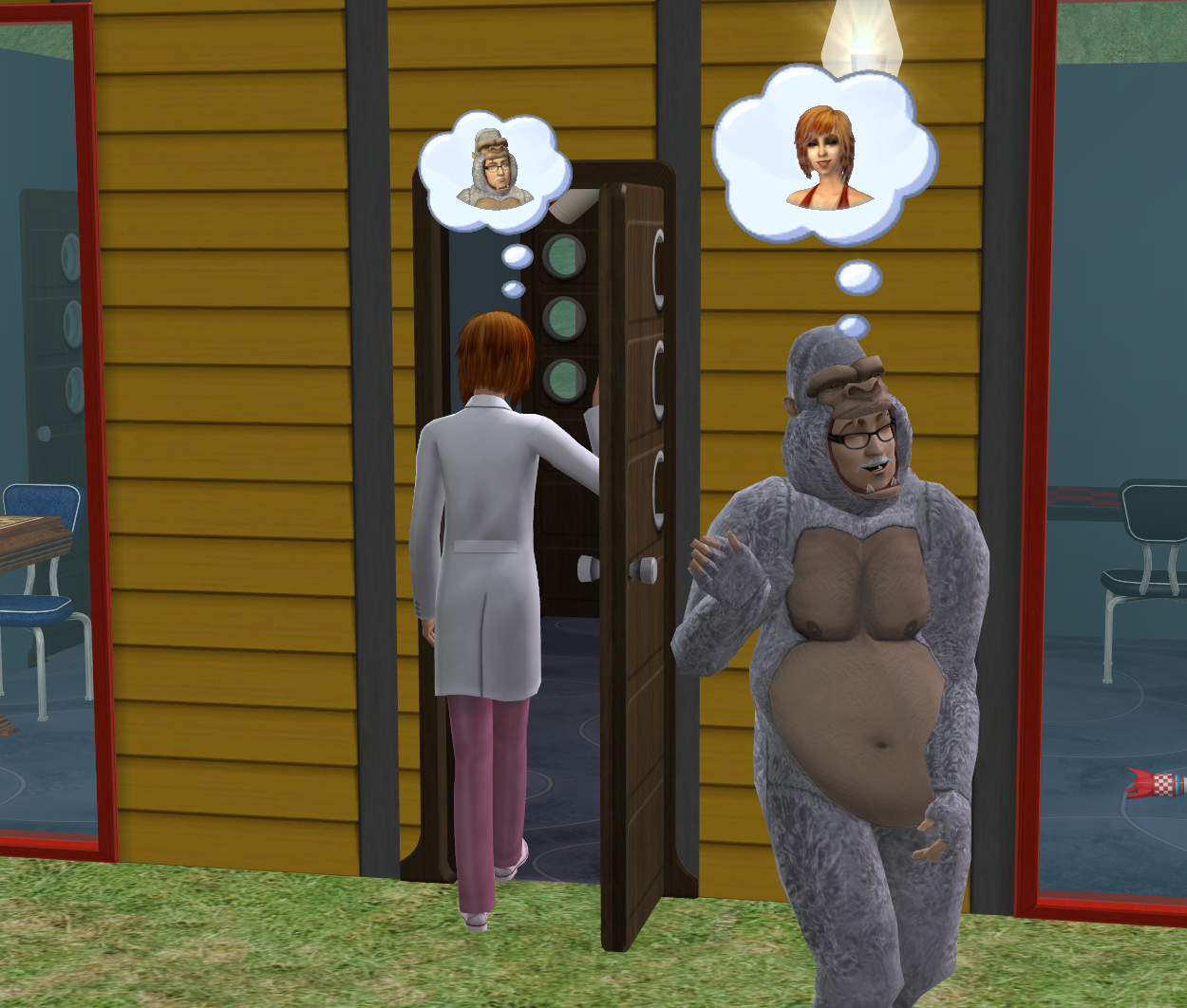 If there's one thing the Brains family is all about, it's cheesy movies.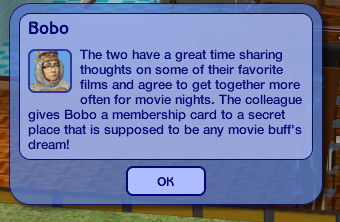 Bobo hits an earnings milestone. I know by the end of this episode he was around $75k. Could he hit $100k by the time he passes on?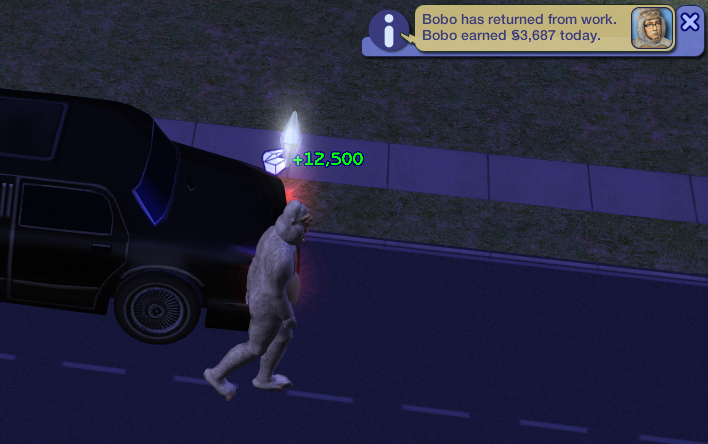 Out of the gorilla suit, Bobo has accepted his hair loss and Violet still loves(?) him.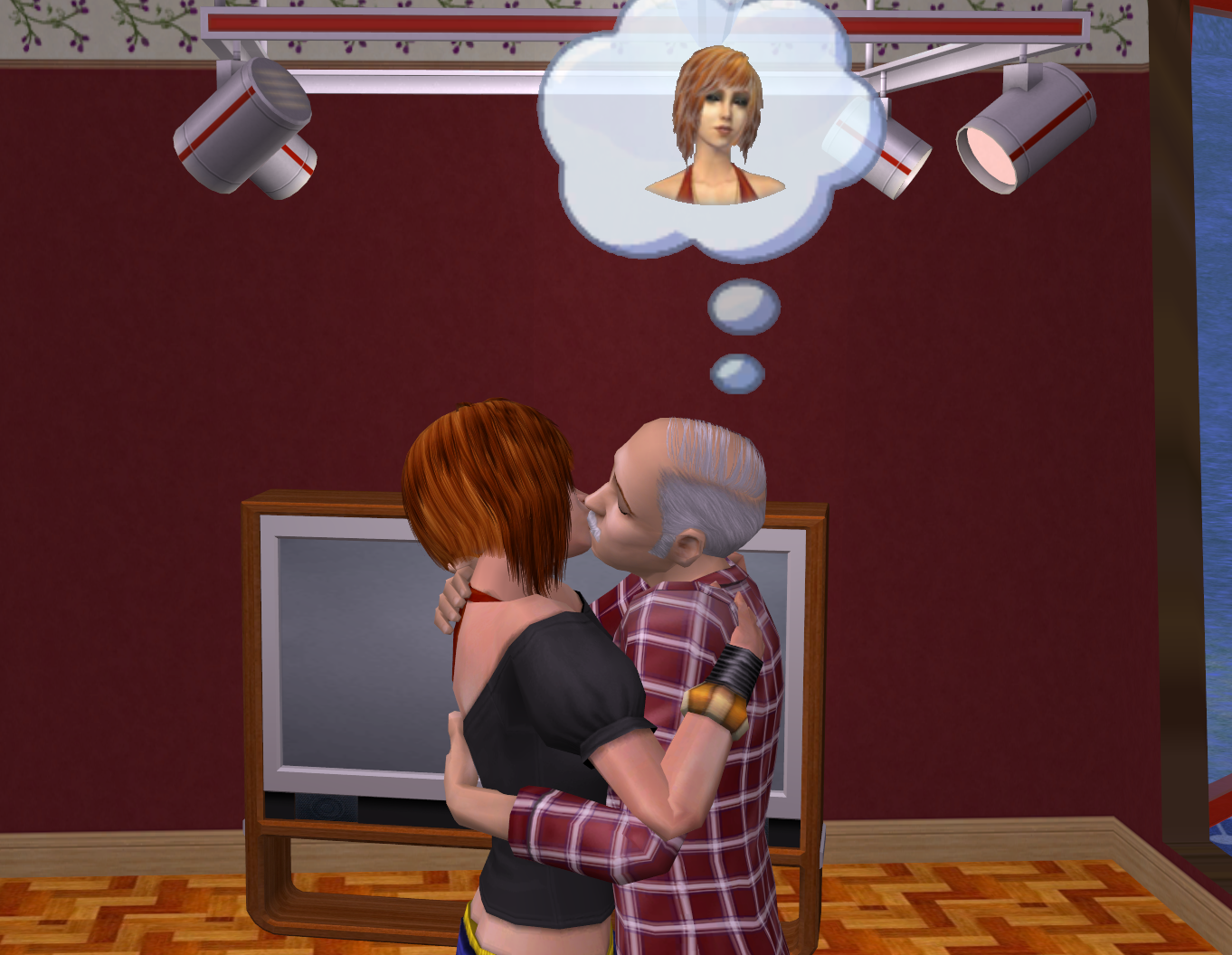 "Is that a banana in your pocket, or are you just happy to see me?"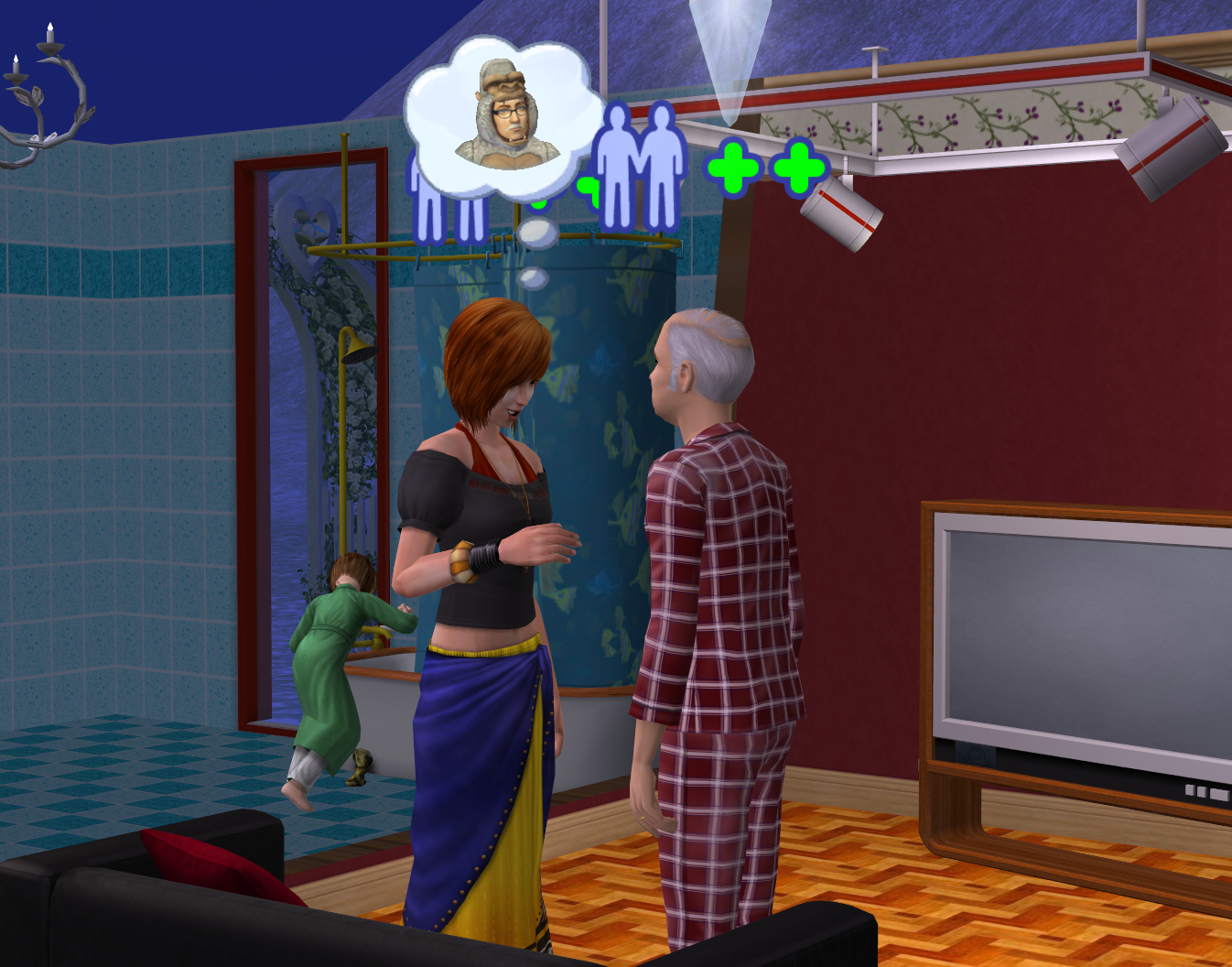 "Oh jeez, I can't believe I said that cheesy line!"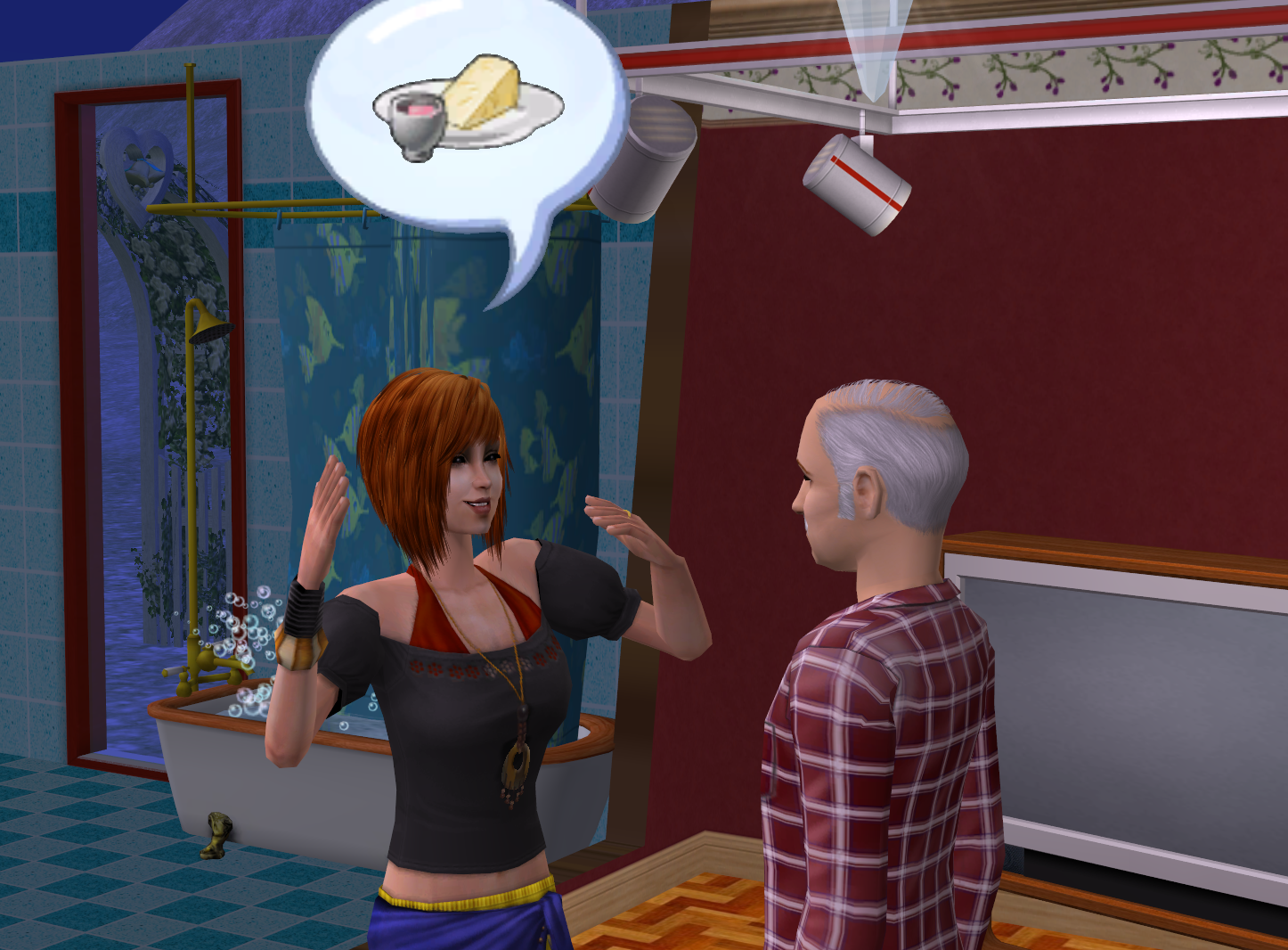 The kids have fallen into that schedule of sleeping immediately after school, waking up in the wee hours, staying up all day, and repeat. It caught up to Jan. :(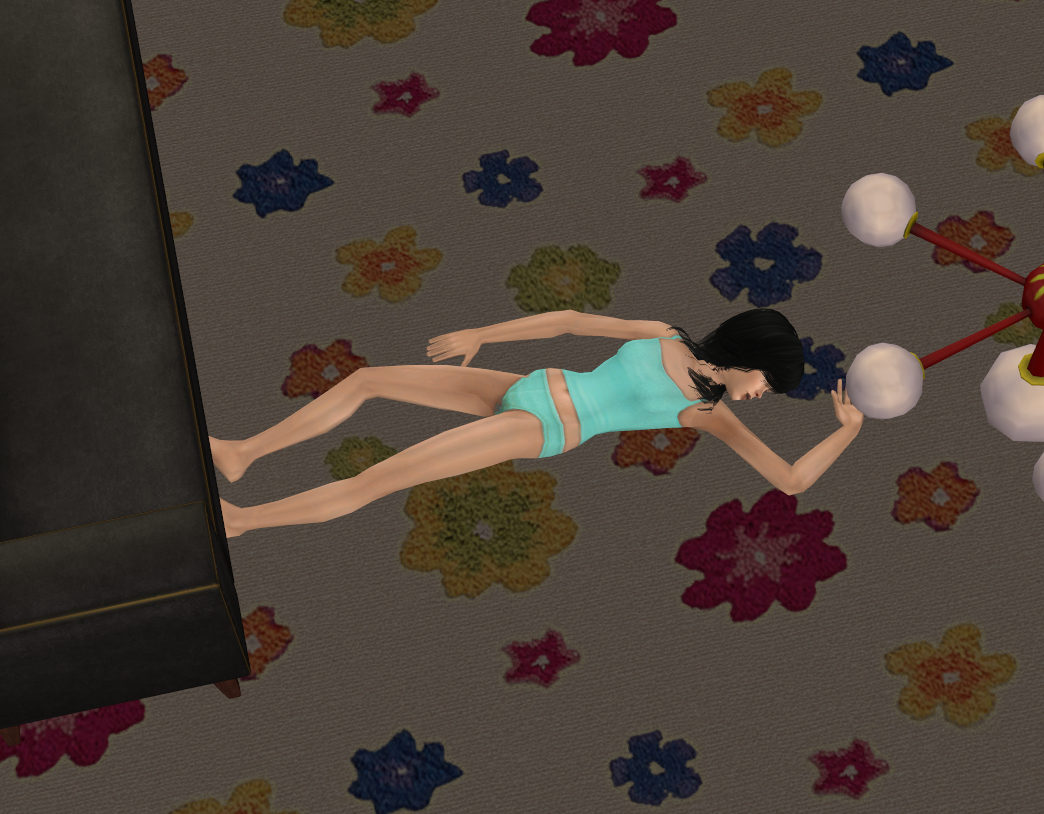 The carpool bus is staying waaaaay back of the school bus for some reason. Also note the playground stuff. I should put in a swingset.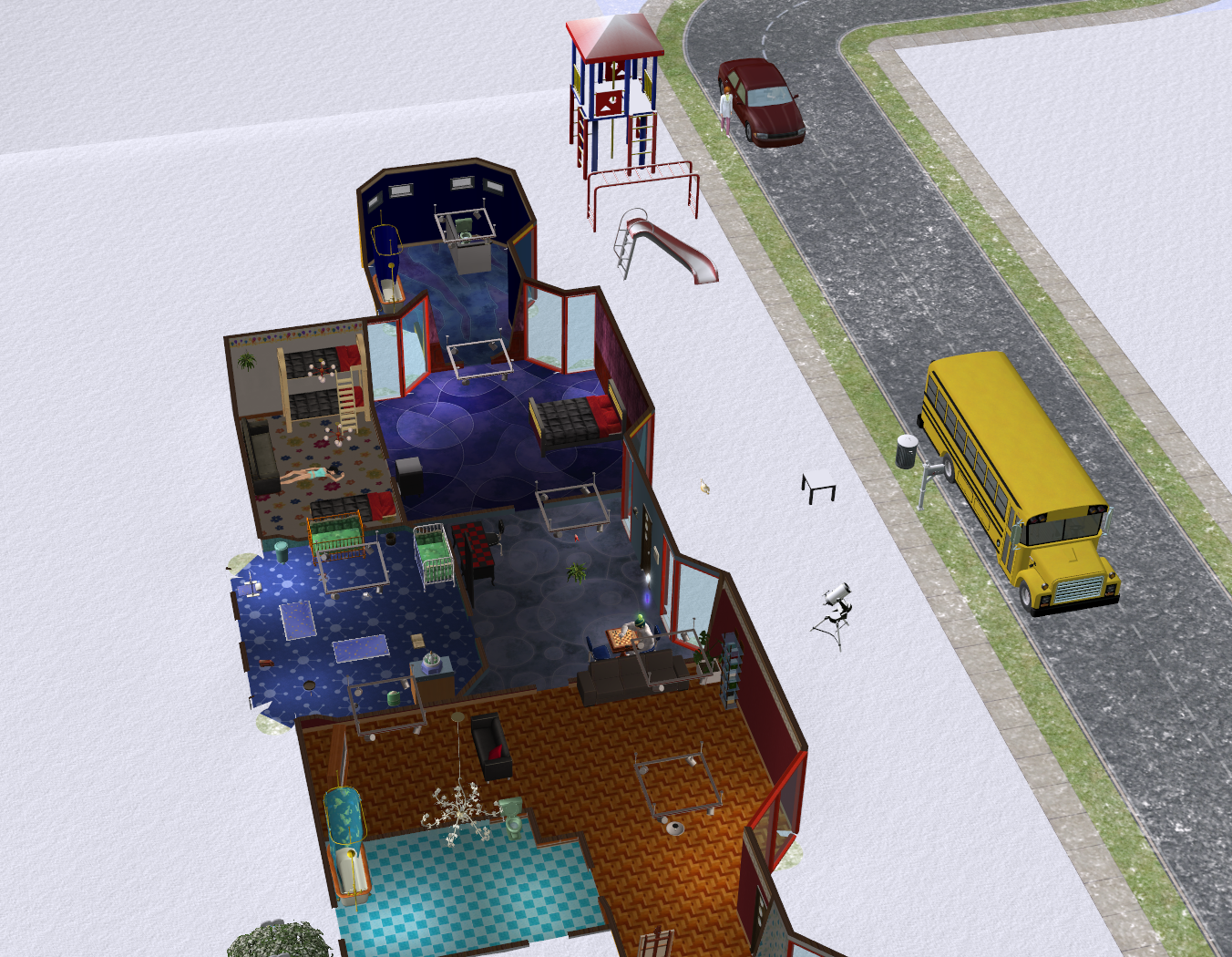 "Oh, jeez, my legs! Growing pains!"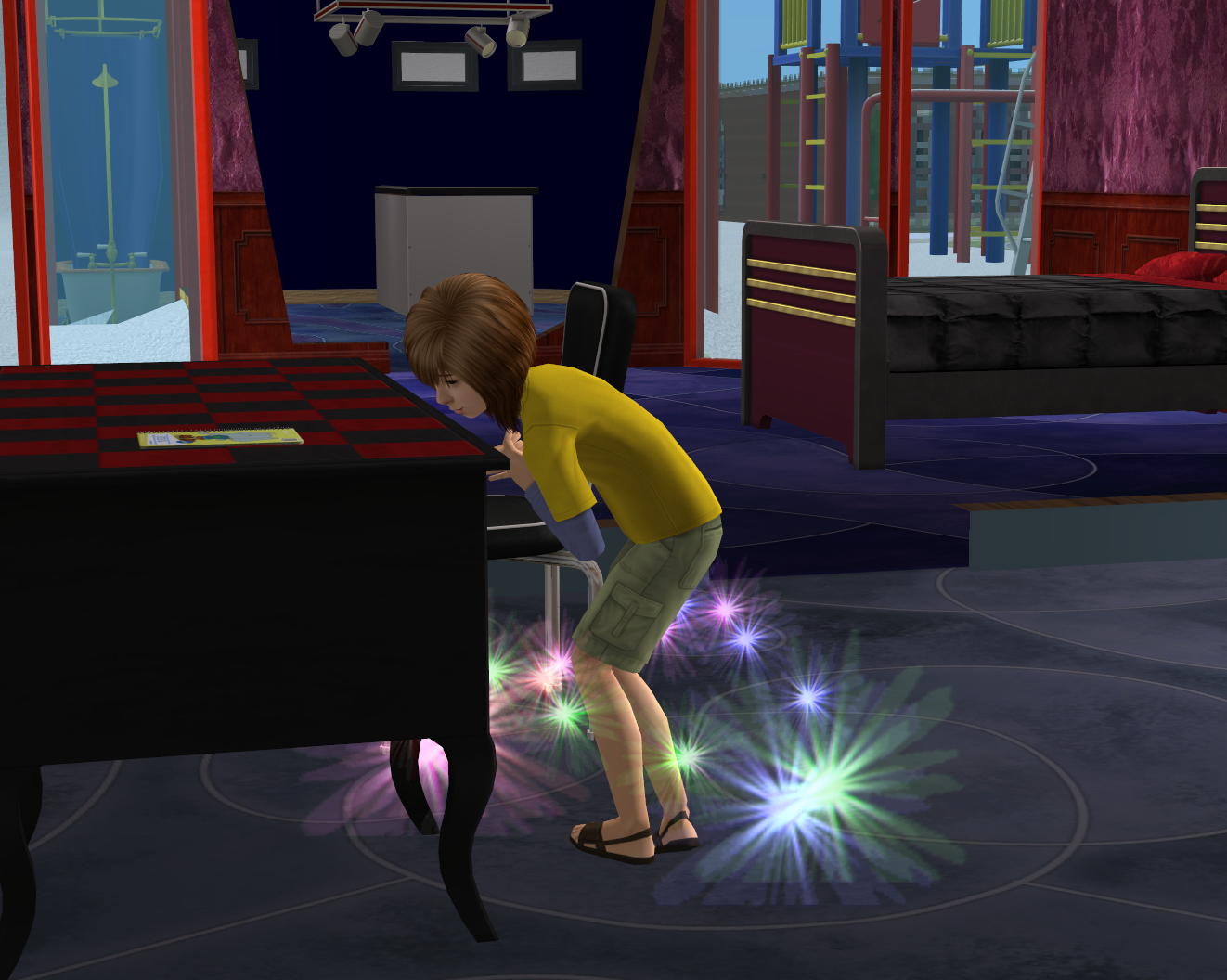 Cute in a dorky sort of way. He'll need a makeover for adulthood though.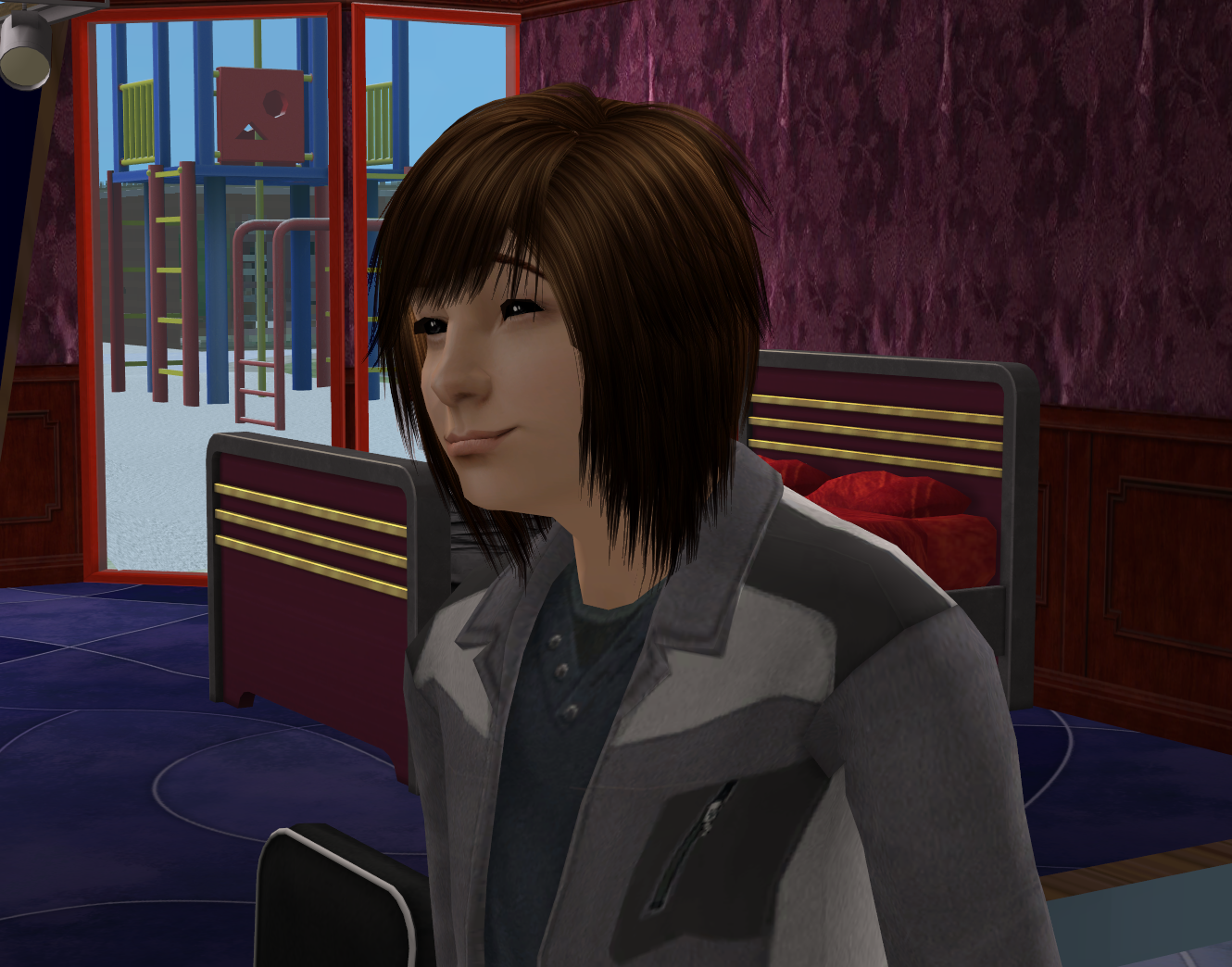 Gah. Pleasure random-roll. I just know he'll get a terrible LTW from that.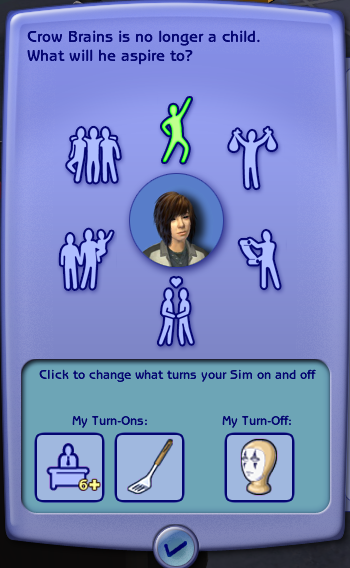 Bobo has achieved max skills in everything. And now I don't know what to do with him. He only works 3 days a week as it is.




Girl, put some shoes on!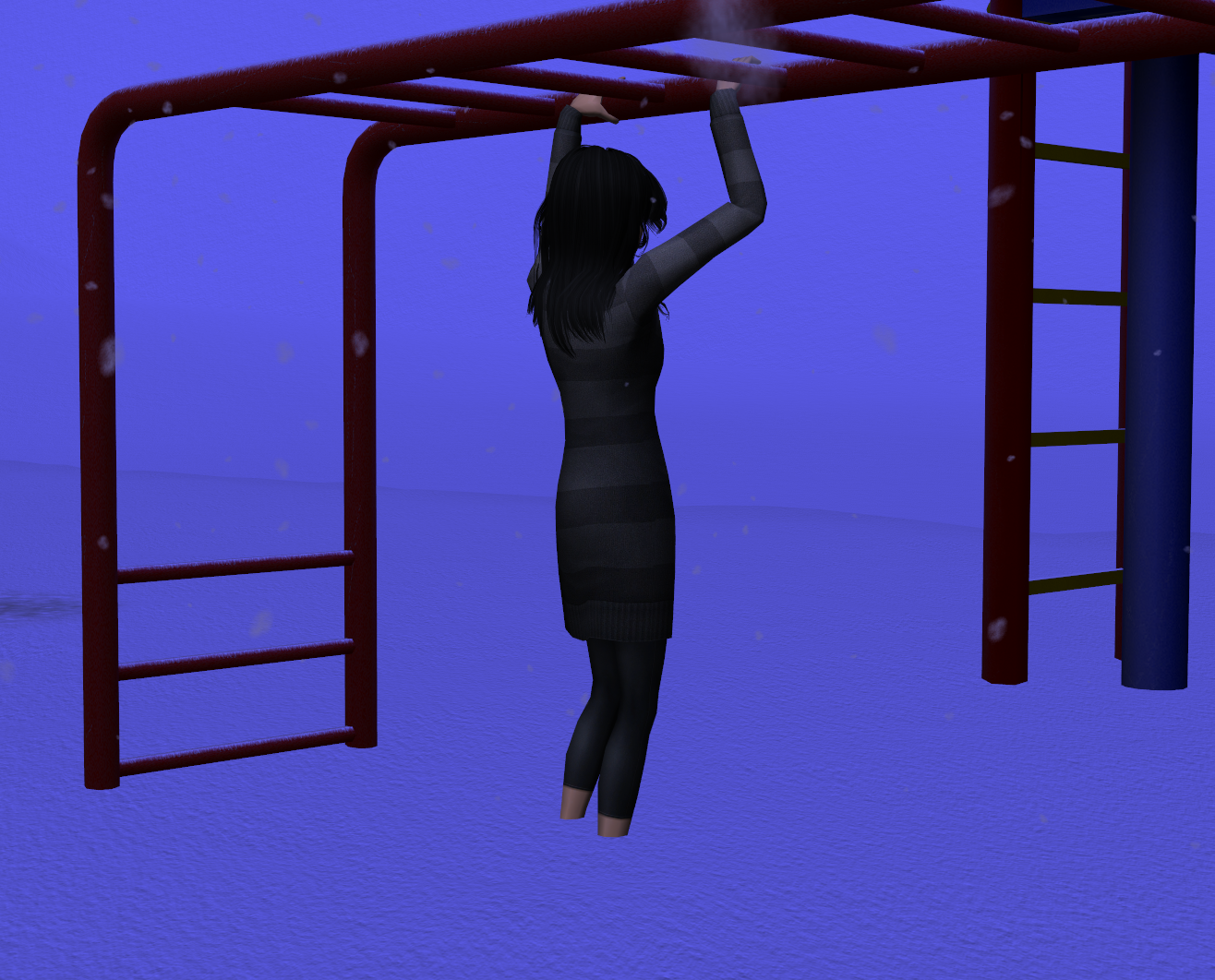 Crow peers at his dad as though realizing for the first time that his father is in a big gray monkey suit that kinda smells bad.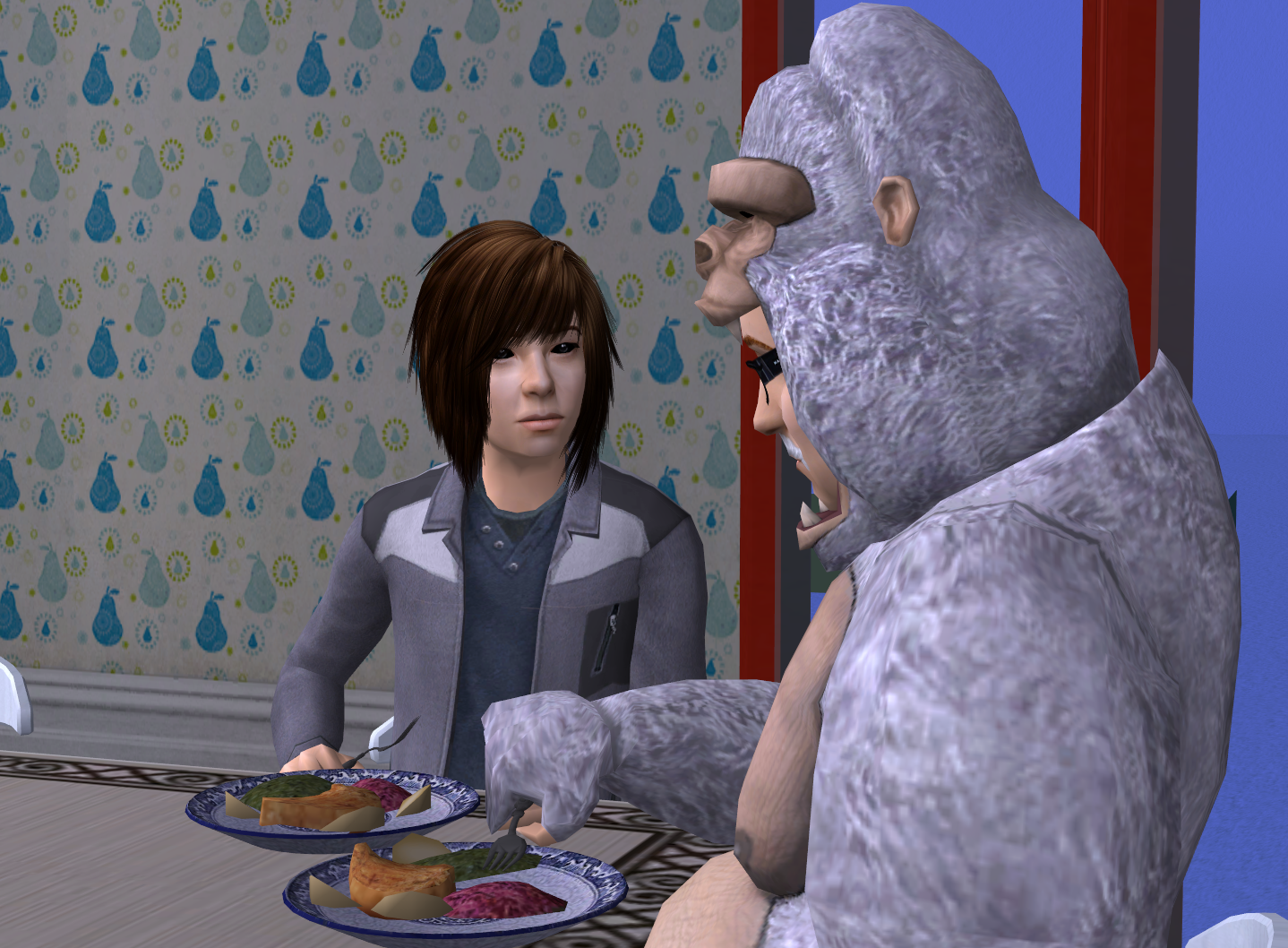 "Mom, has Dad always been a mascot for Pittsburgh State?"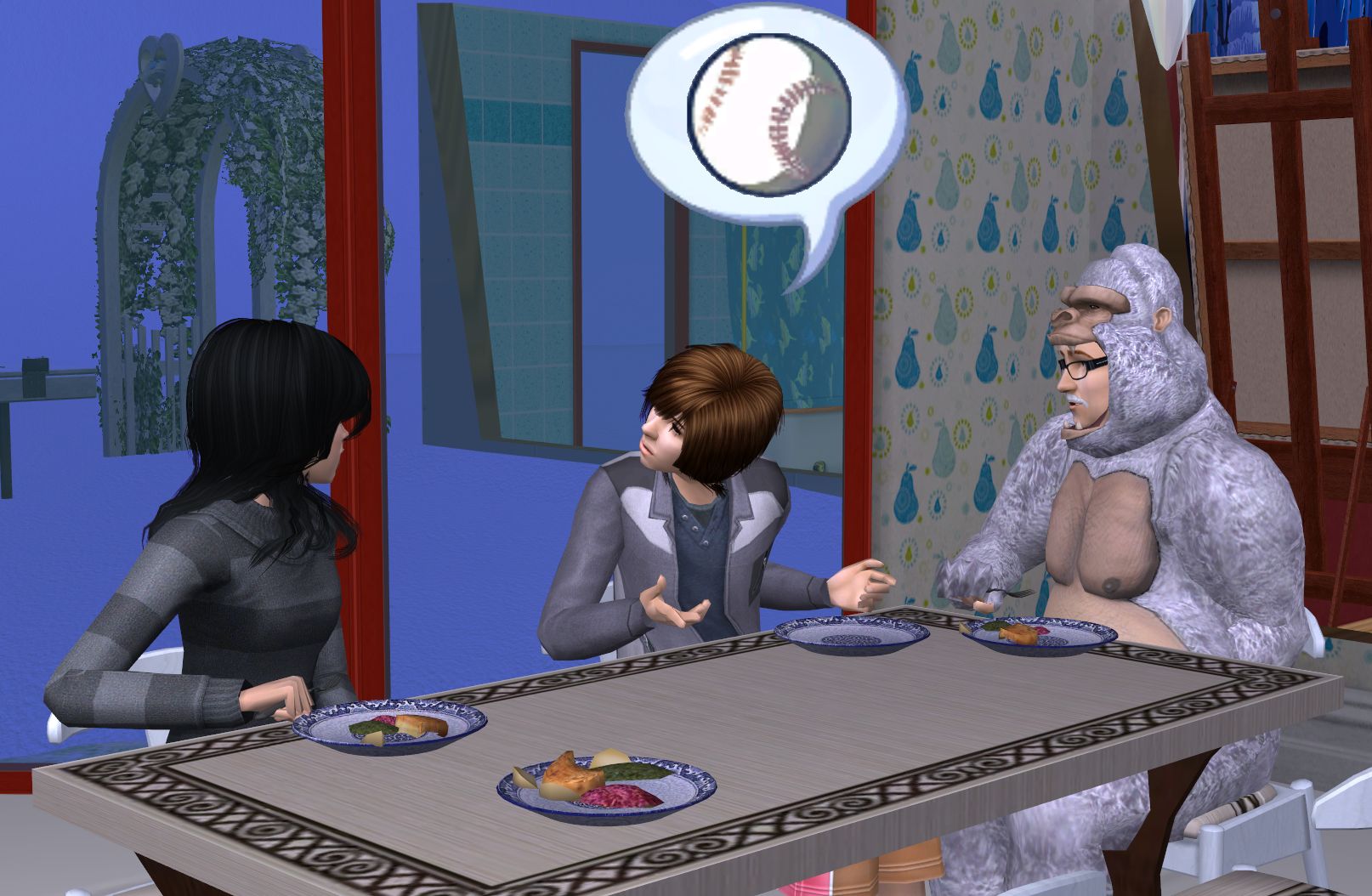 Jan looks like she can barely contain her giggles at being lectured by a guy in a funky-smelling ape suit.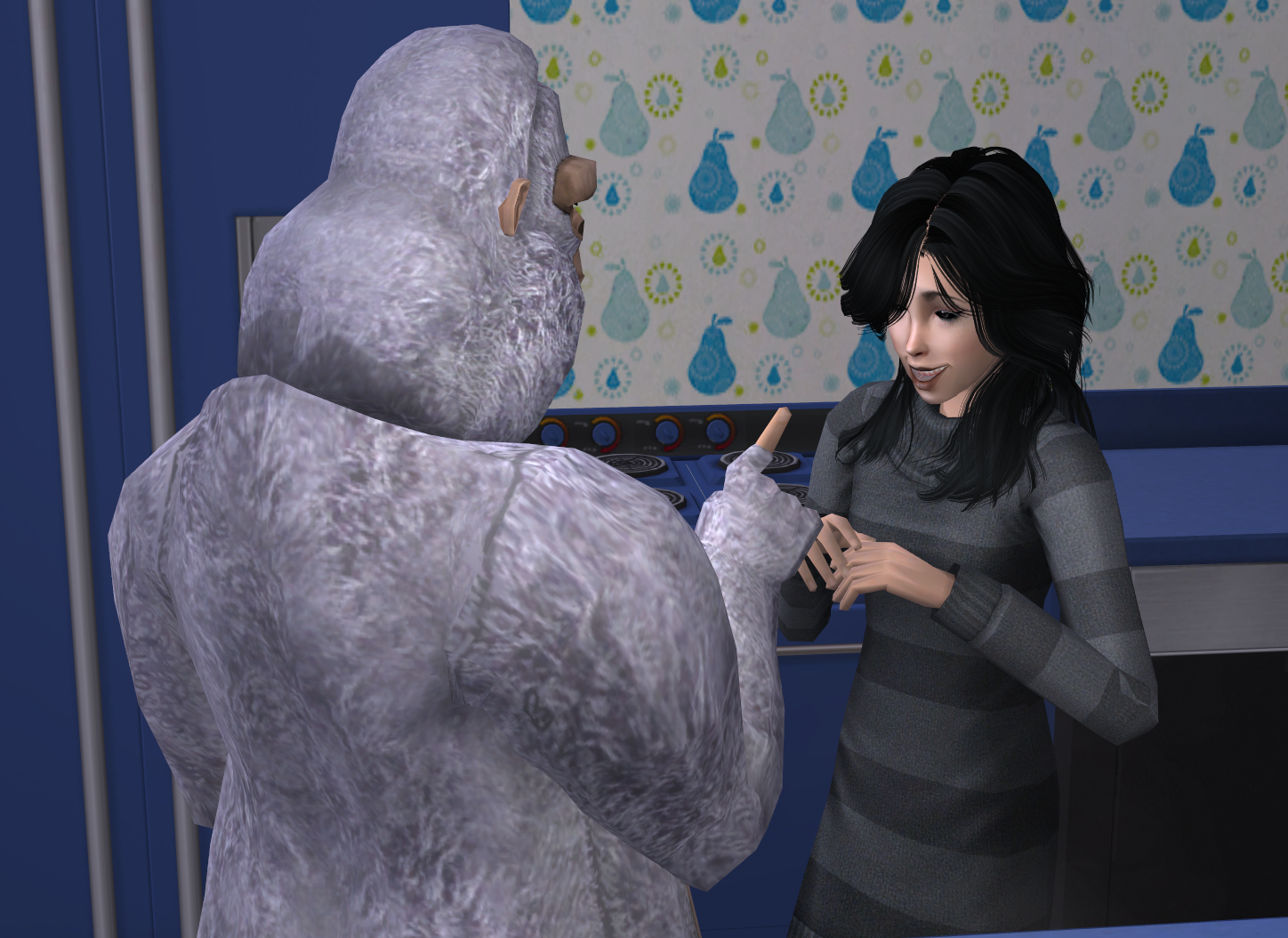 "Yeah, I'm rockin' this hair. But I need different threads, man."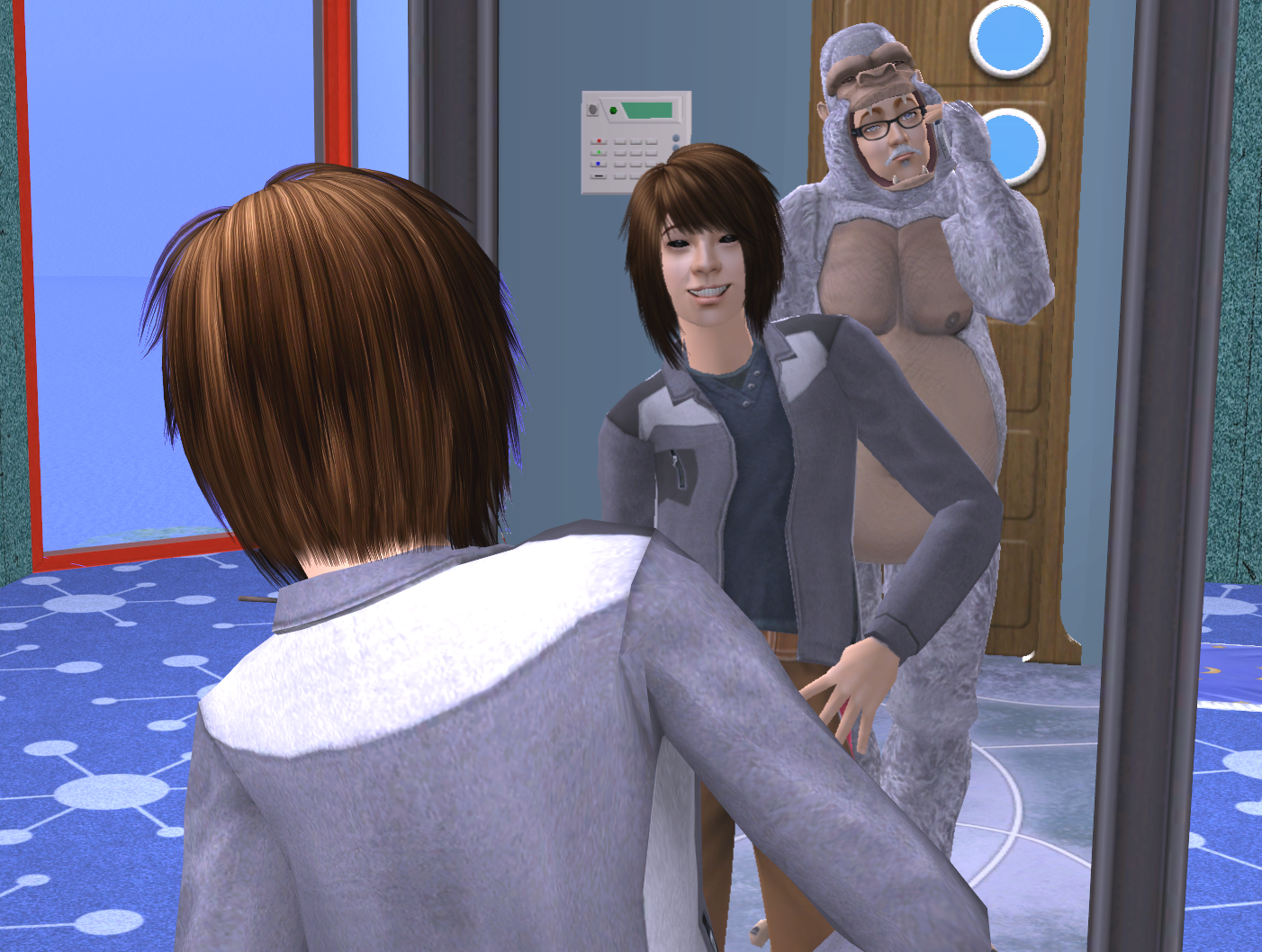 "Aw, no! Not again!"
You might remember from last episode that Crow wandered in and watched as his parents got it on. You'll notice that they're not even cuddling in this pic.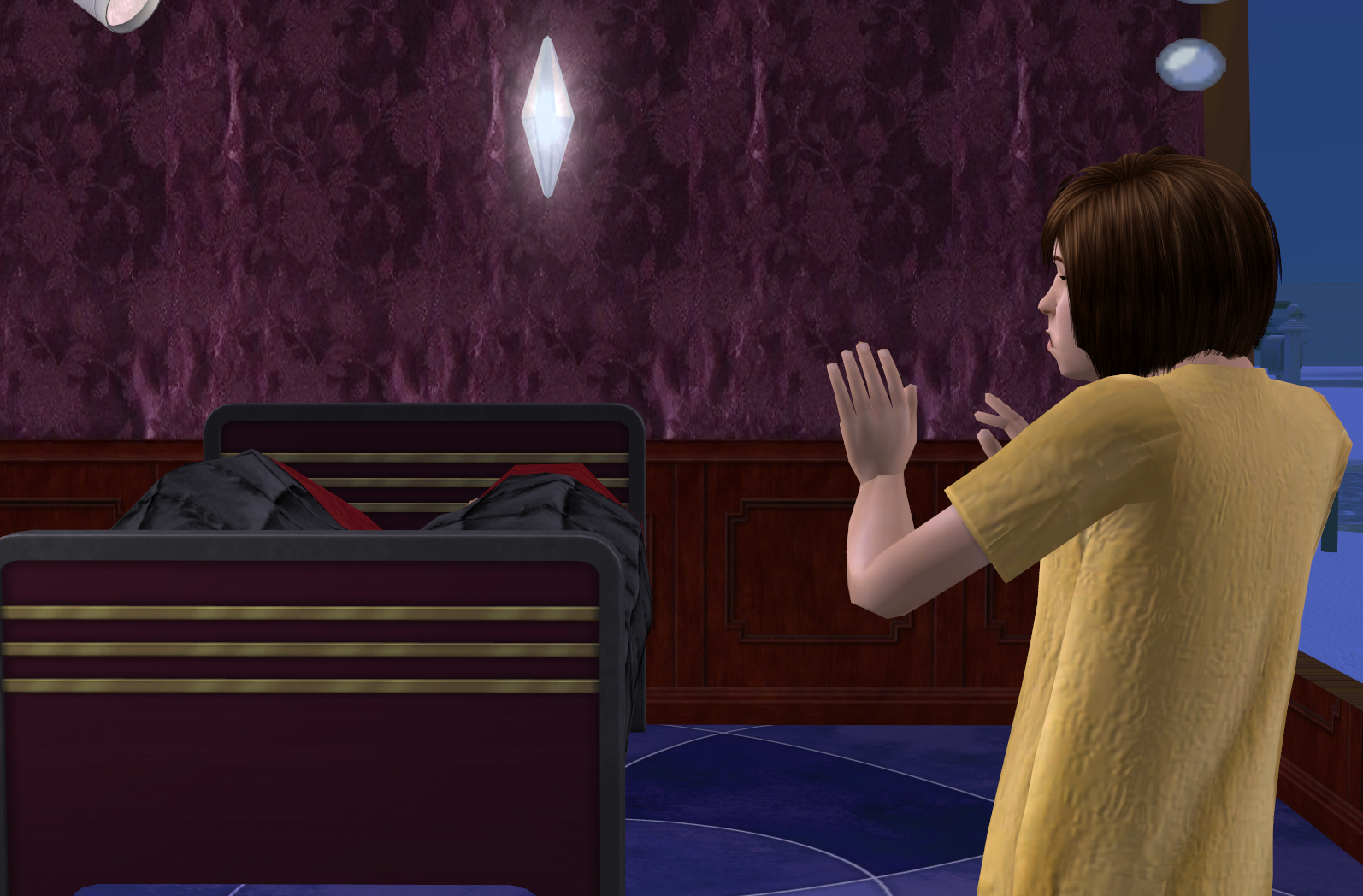 But then they got together after Crow left, and Bobo is now continuing the zoo theme with leopard briefs.



"Hey, thanks for coming in here, honey. I wanted to read this article to you. It'll only take five minutes."



No unplayable ever gets more than about 4 cleaning points, though most of them will at least do it on their own.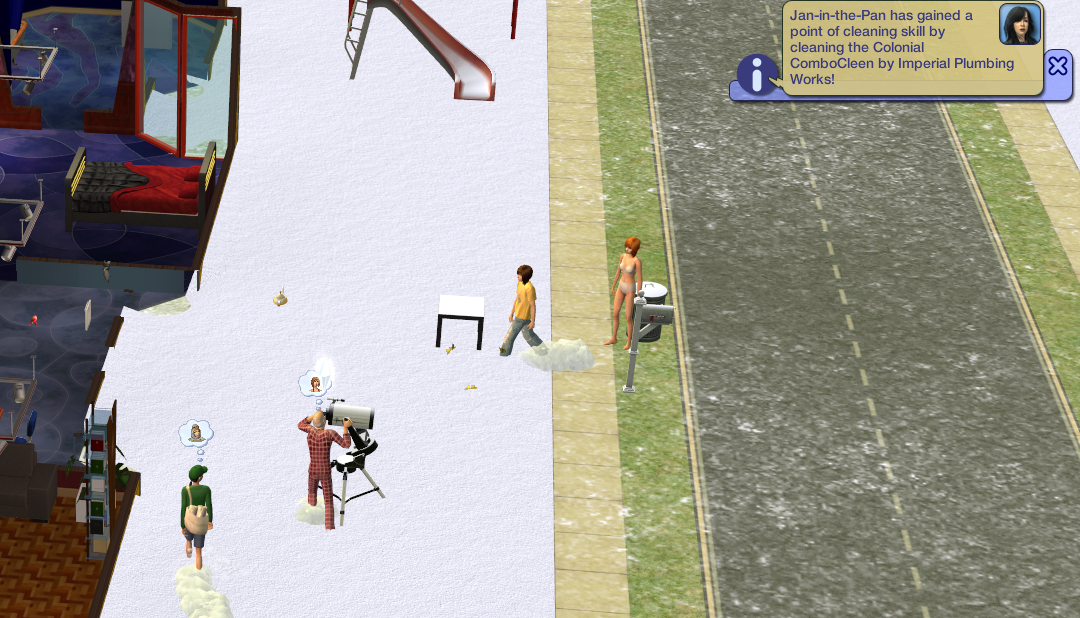 "Ah, that brisk winter air on my skin is so bracing!"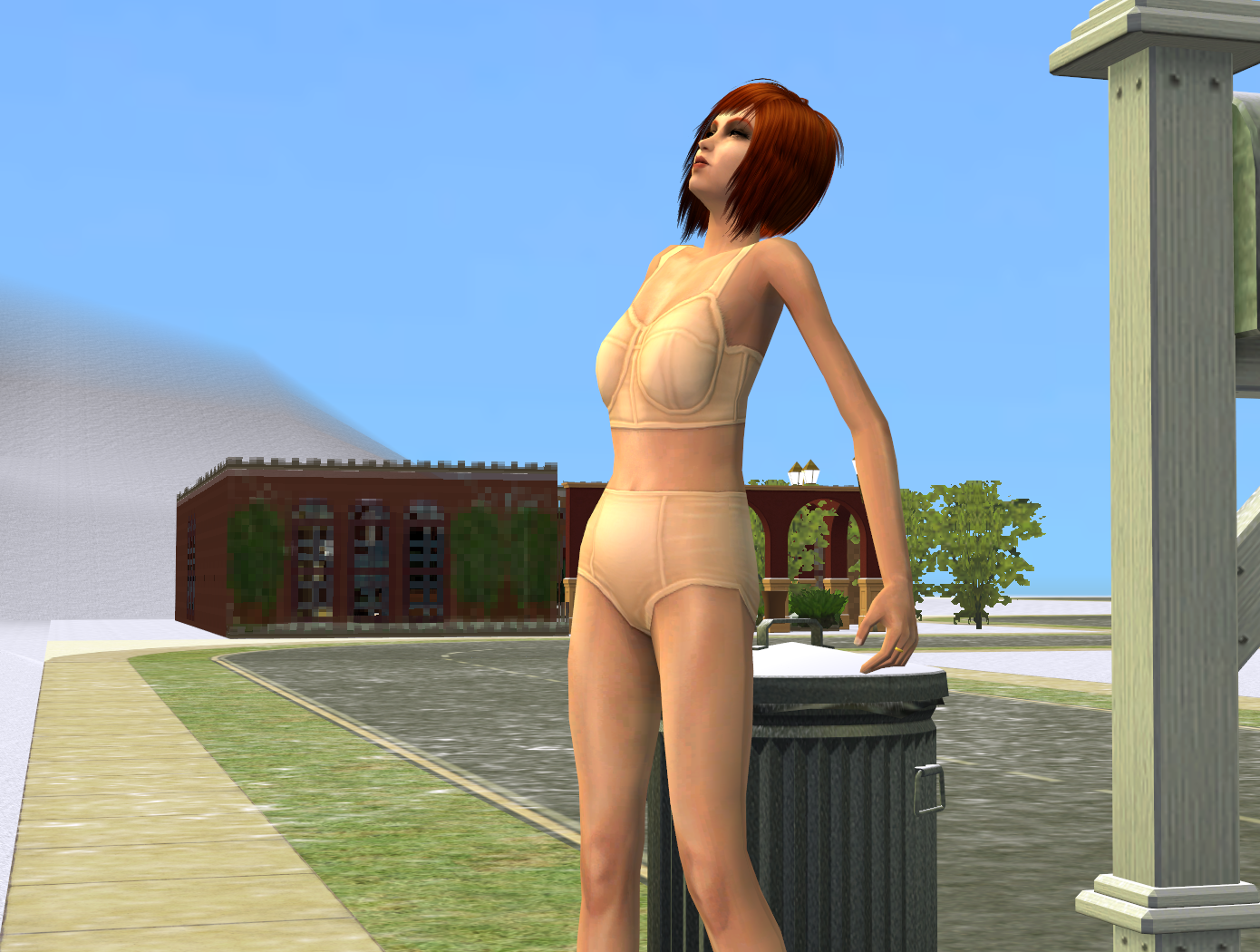 And suddenly Violet ages up into... the same granny panties. Saves time, I guess.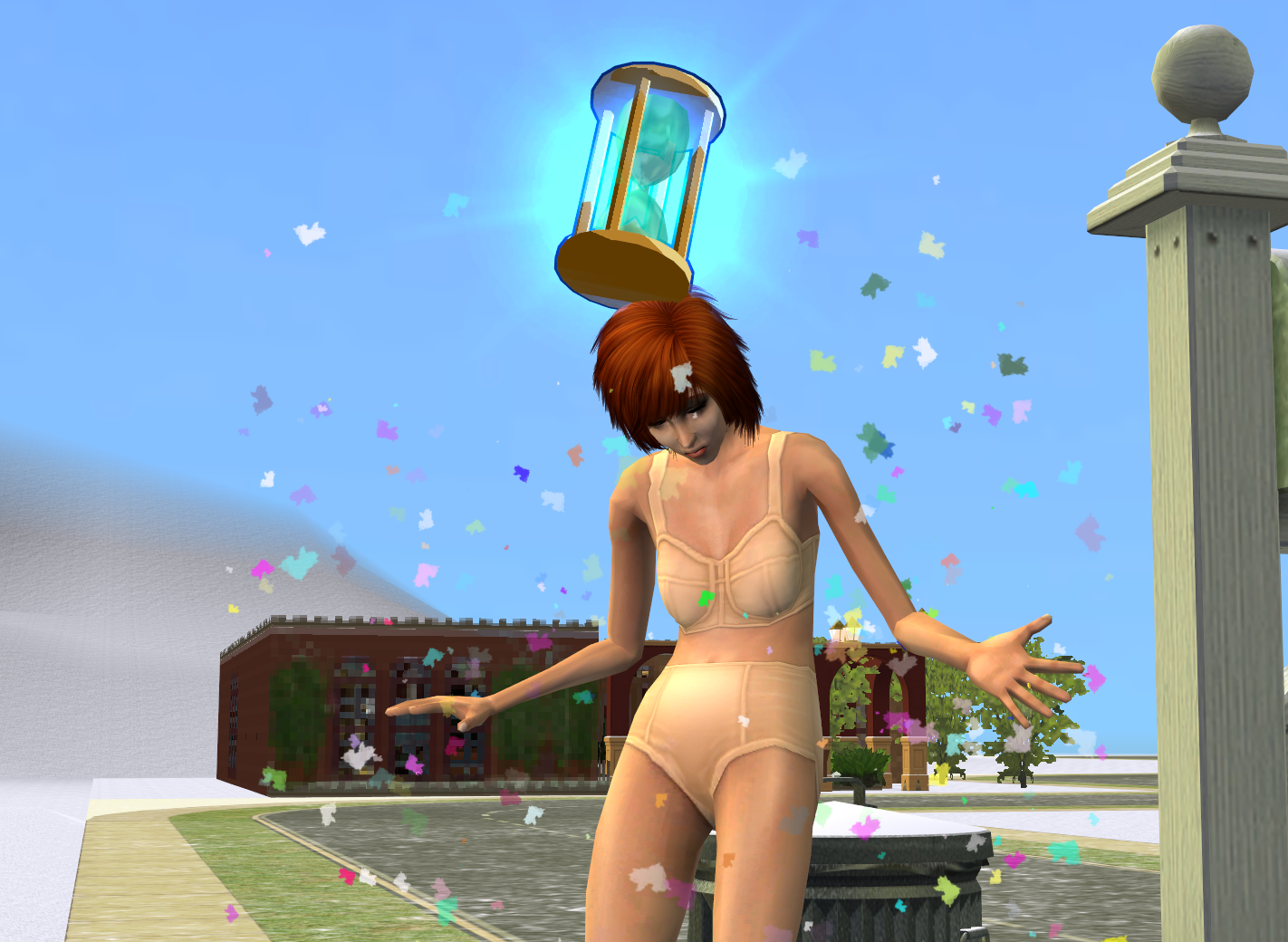 Well, good for you, Violet! At least some of the time, she was in platinum, but mostly I think she stayed green.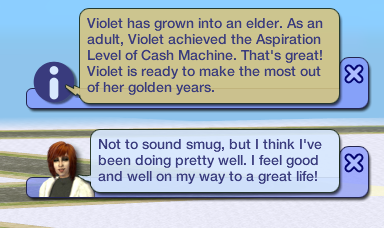 Bobo briefly gets wants for private school for the kids, but it passes.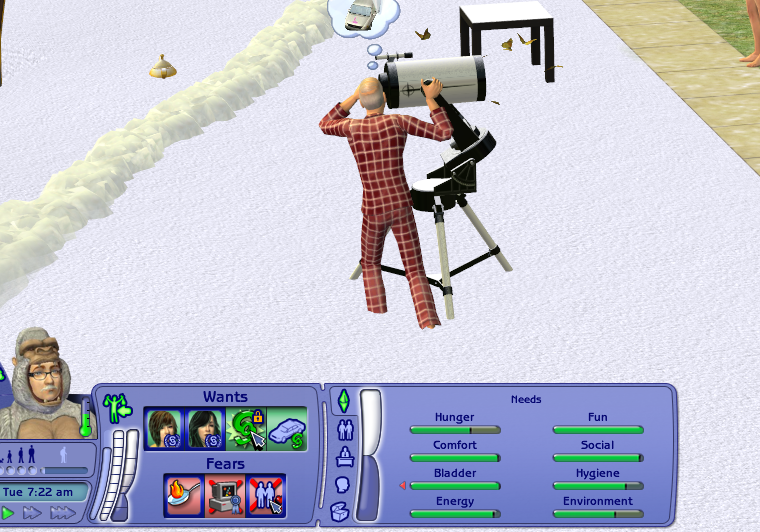 "I have got such a case of the munchies right now. I should learn how to make grilled cheese sandwiches. Yeah."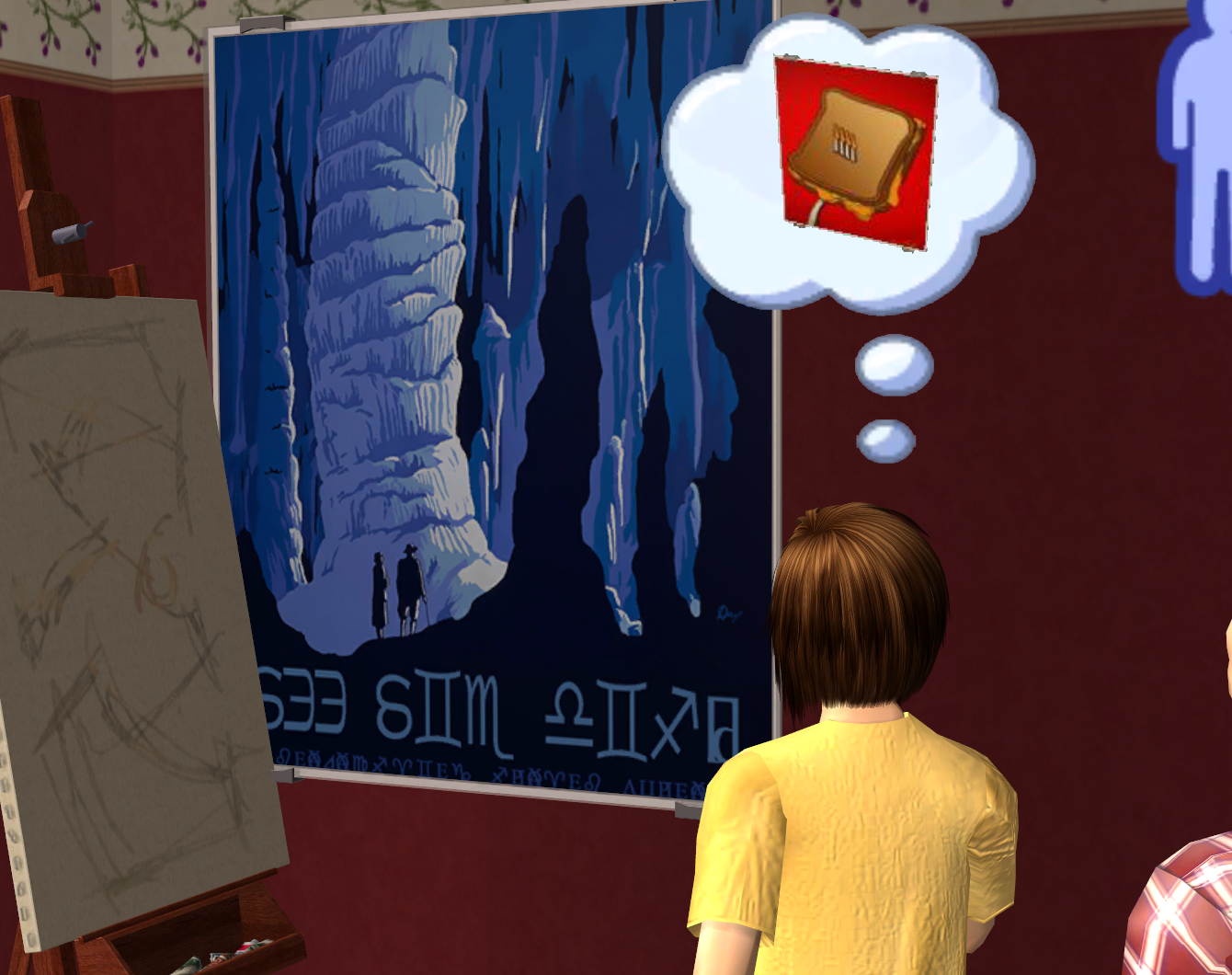 Now then: this is not a hug. Jan is actively "tormenting" her brother (I switched to her only to see what the action was, because I'd never seen it before).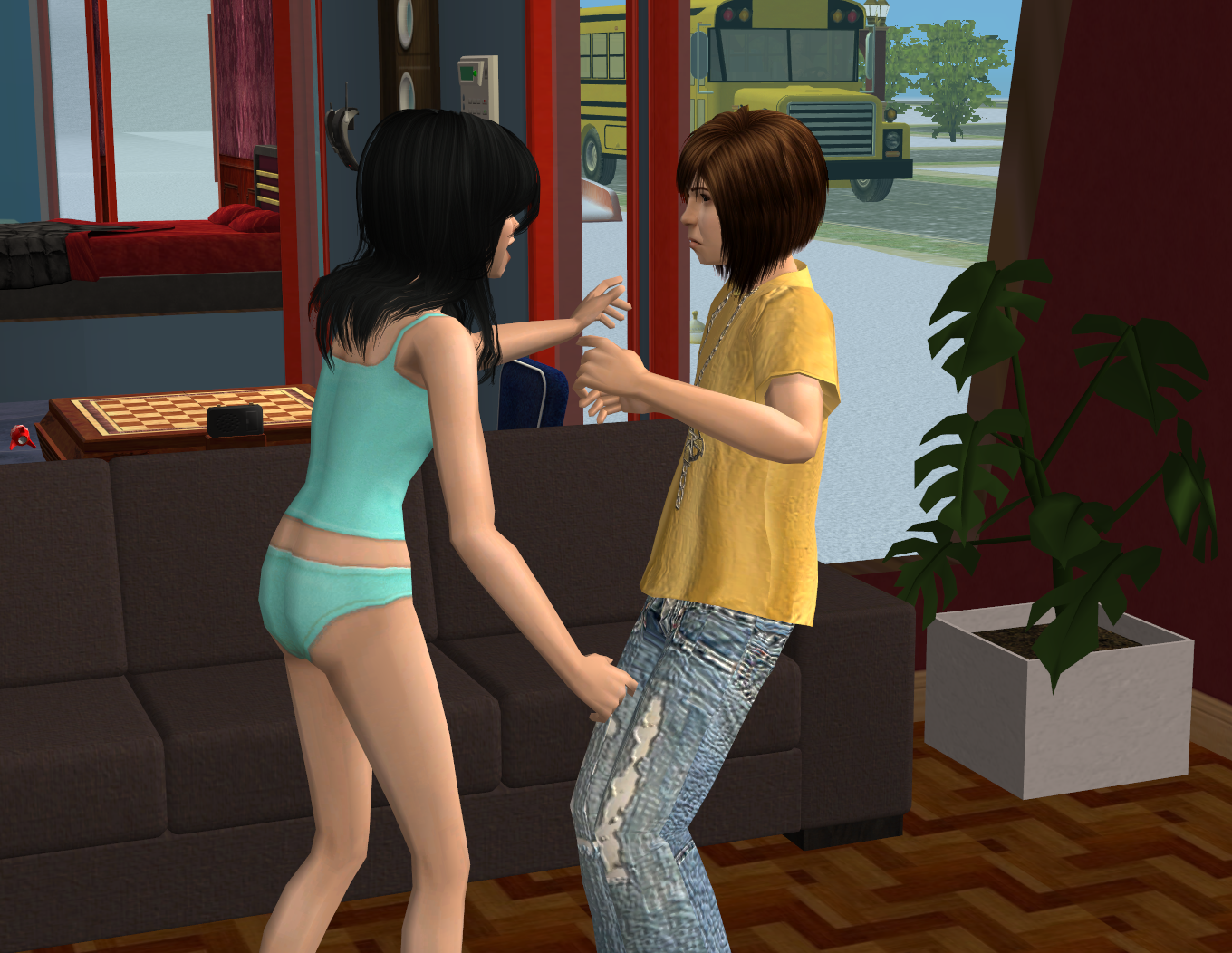 Crow is understandably upset about getting slapped around by his big sister.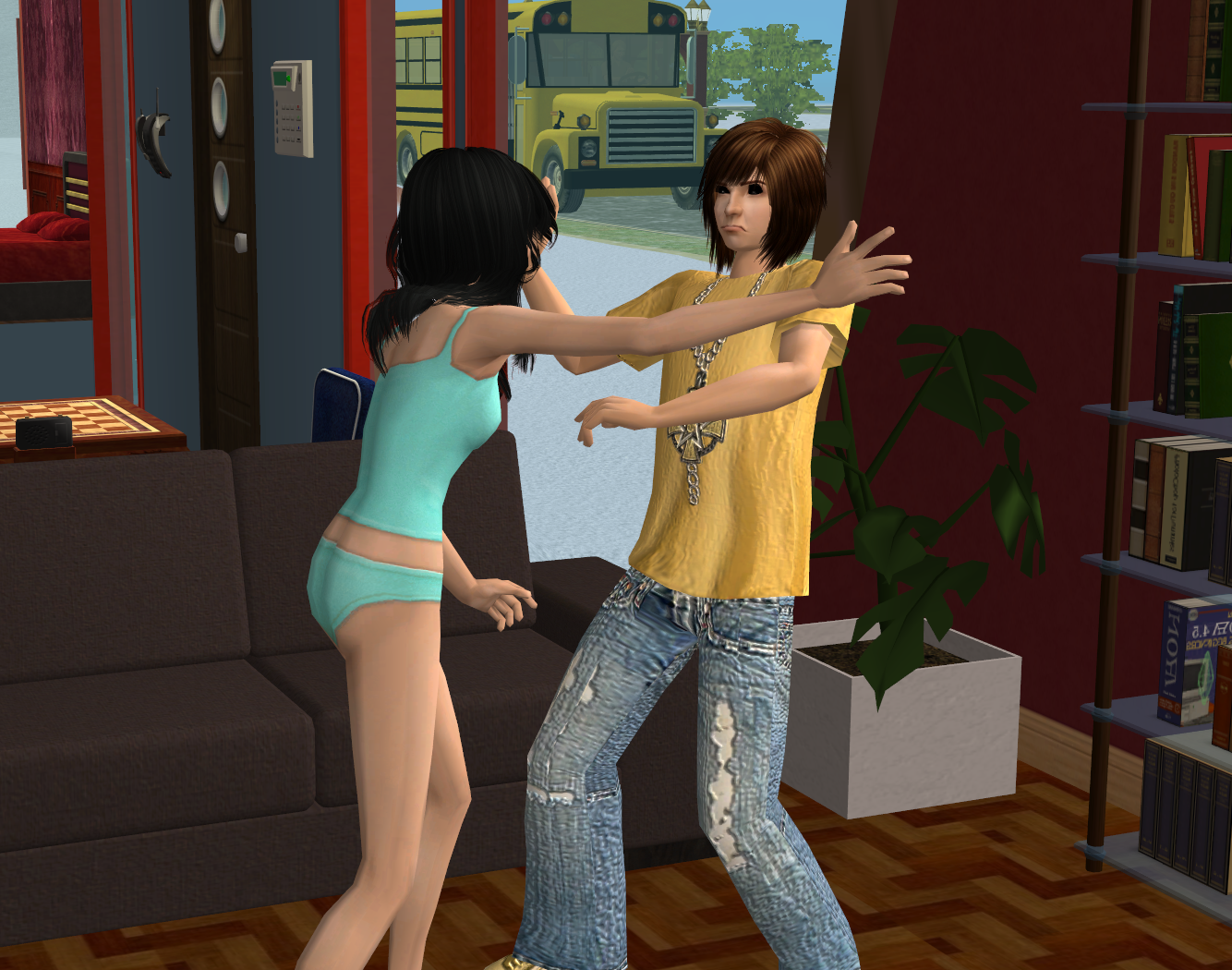 "What is your deal, Sis? Mellow out!"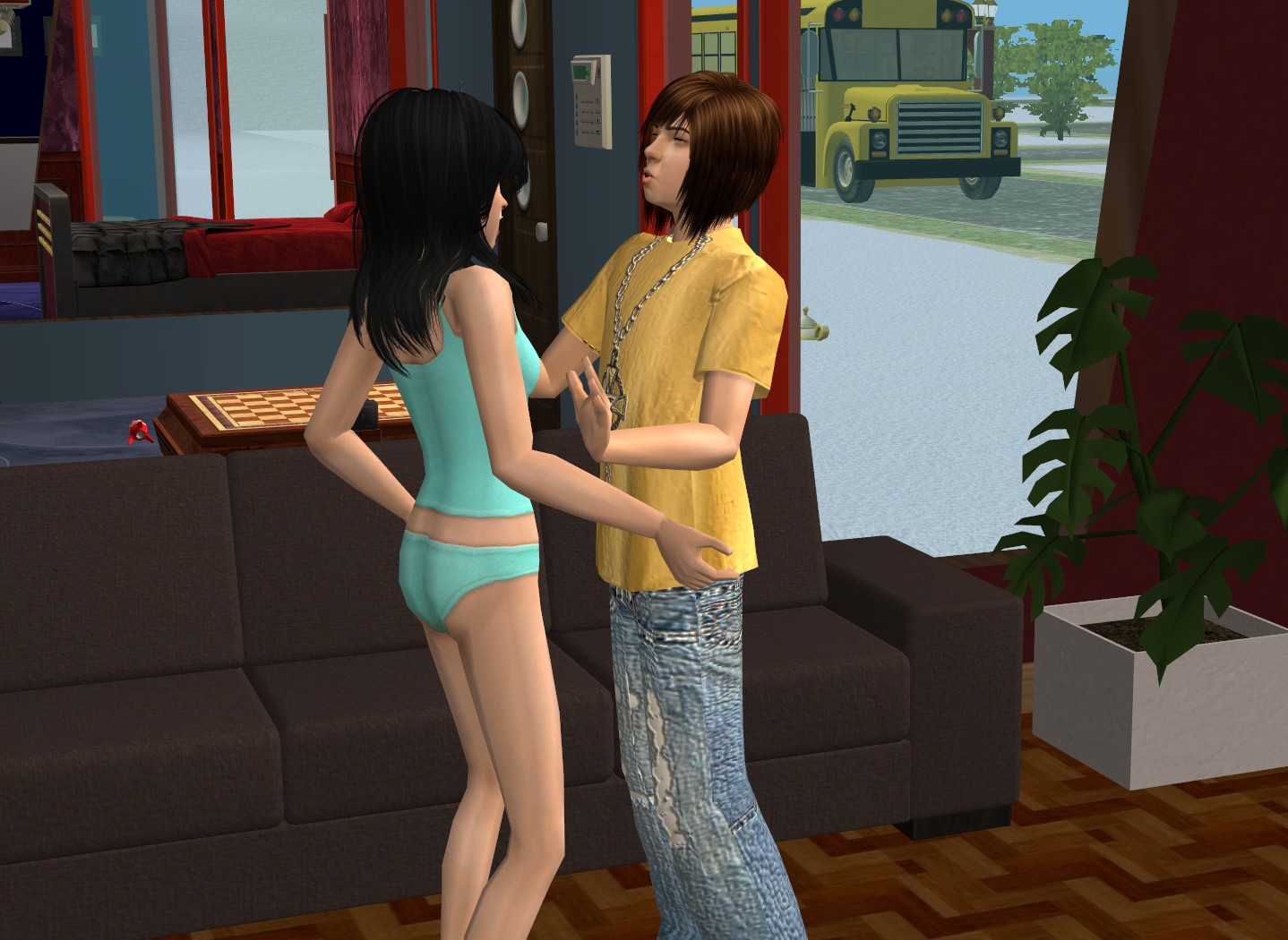 While the kids are beginning to snipe at each other, Bobo watches a movie and it gets him in the mood.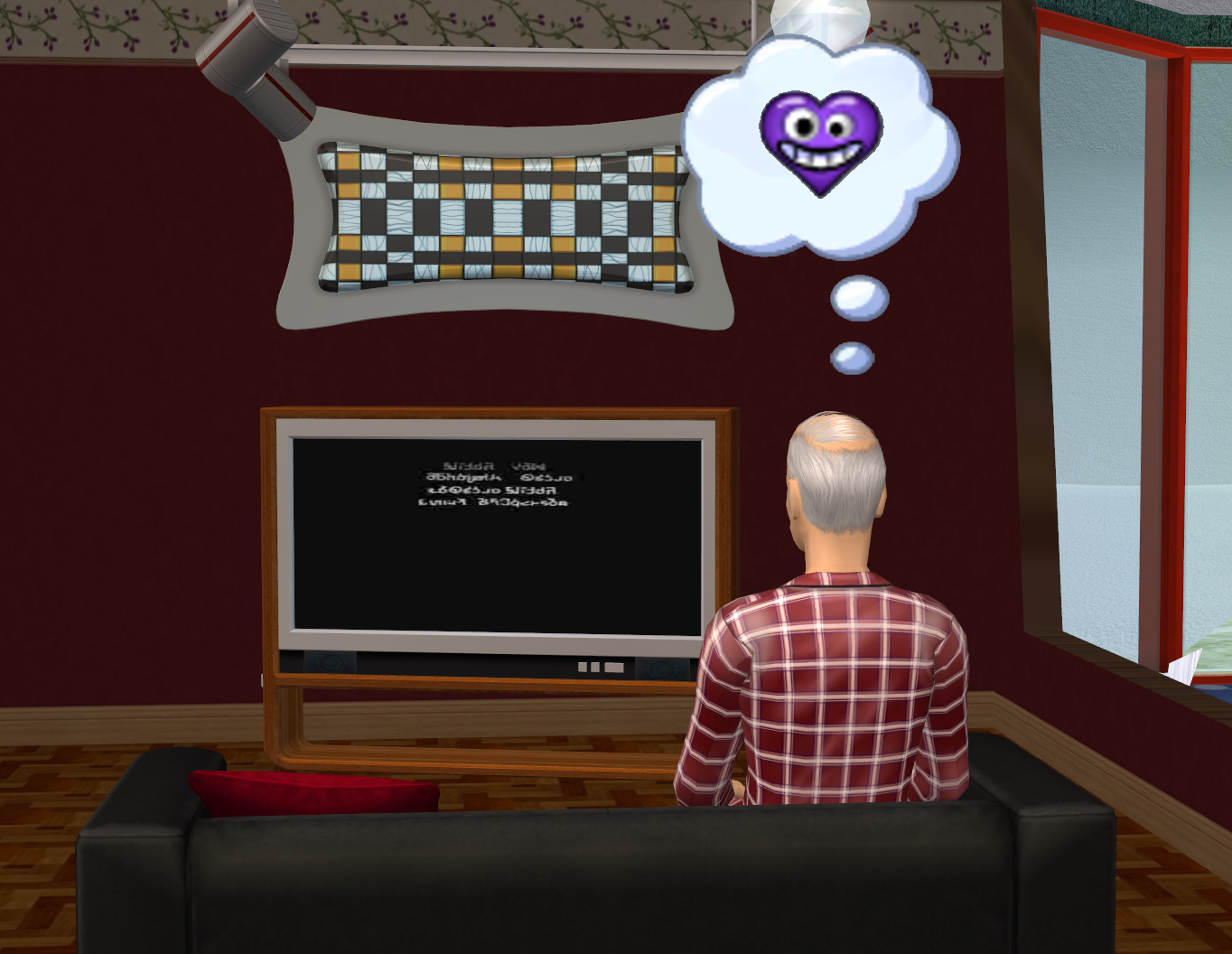 Lucky for him, Violet comes home and she's in the mood. Kids, clear outta here!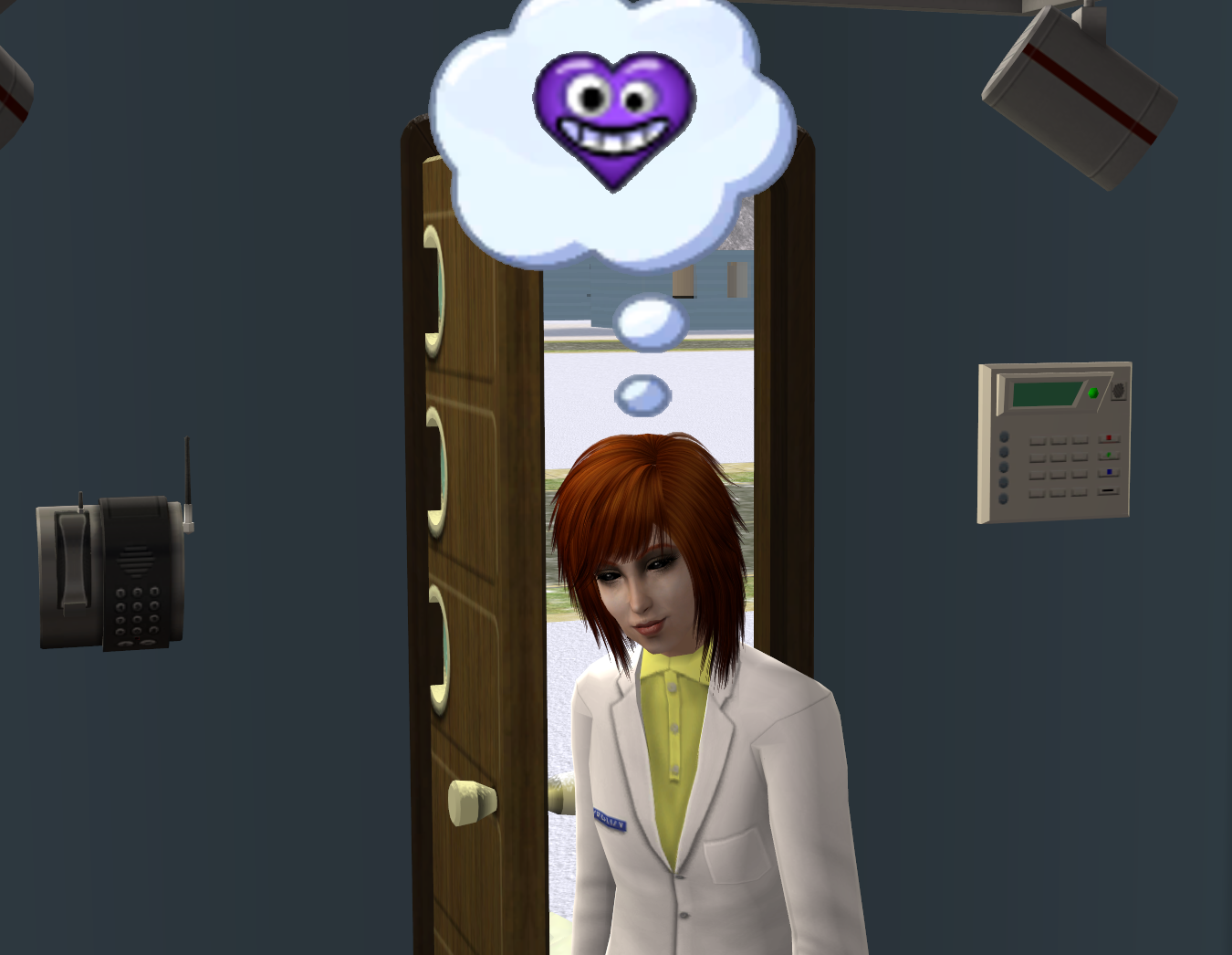 "Oh, like that matters. Most days they earn four figures.




This was actually the first time I saw Violet's new elder outfit. It stays.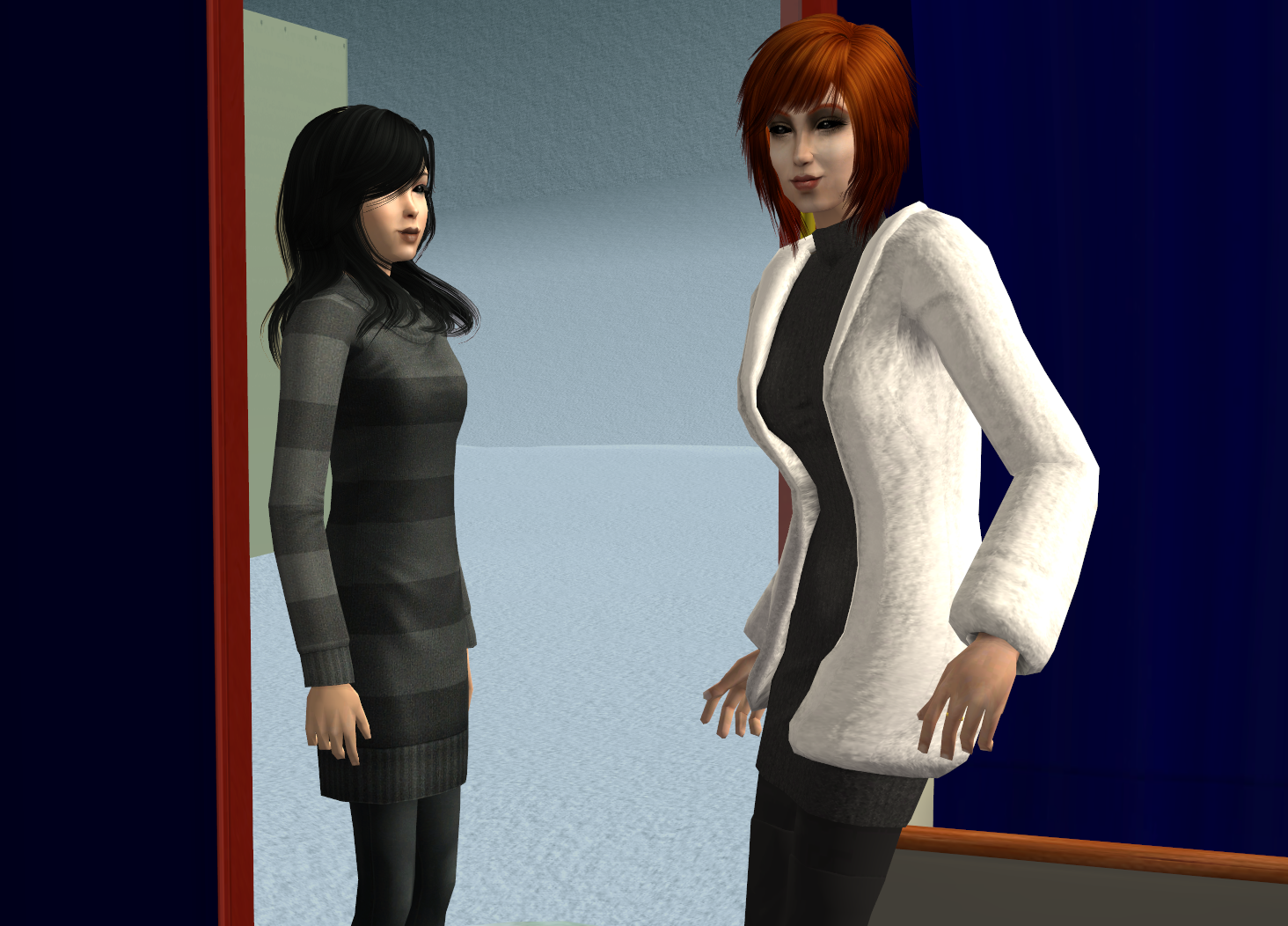 I think Jan must have no nice points at all, because instead of red hands, she wants to always play Punch Each Other 'Til Someone Cries. Crow doesn't like that game (she hits too hard) but Violet will do it for a while.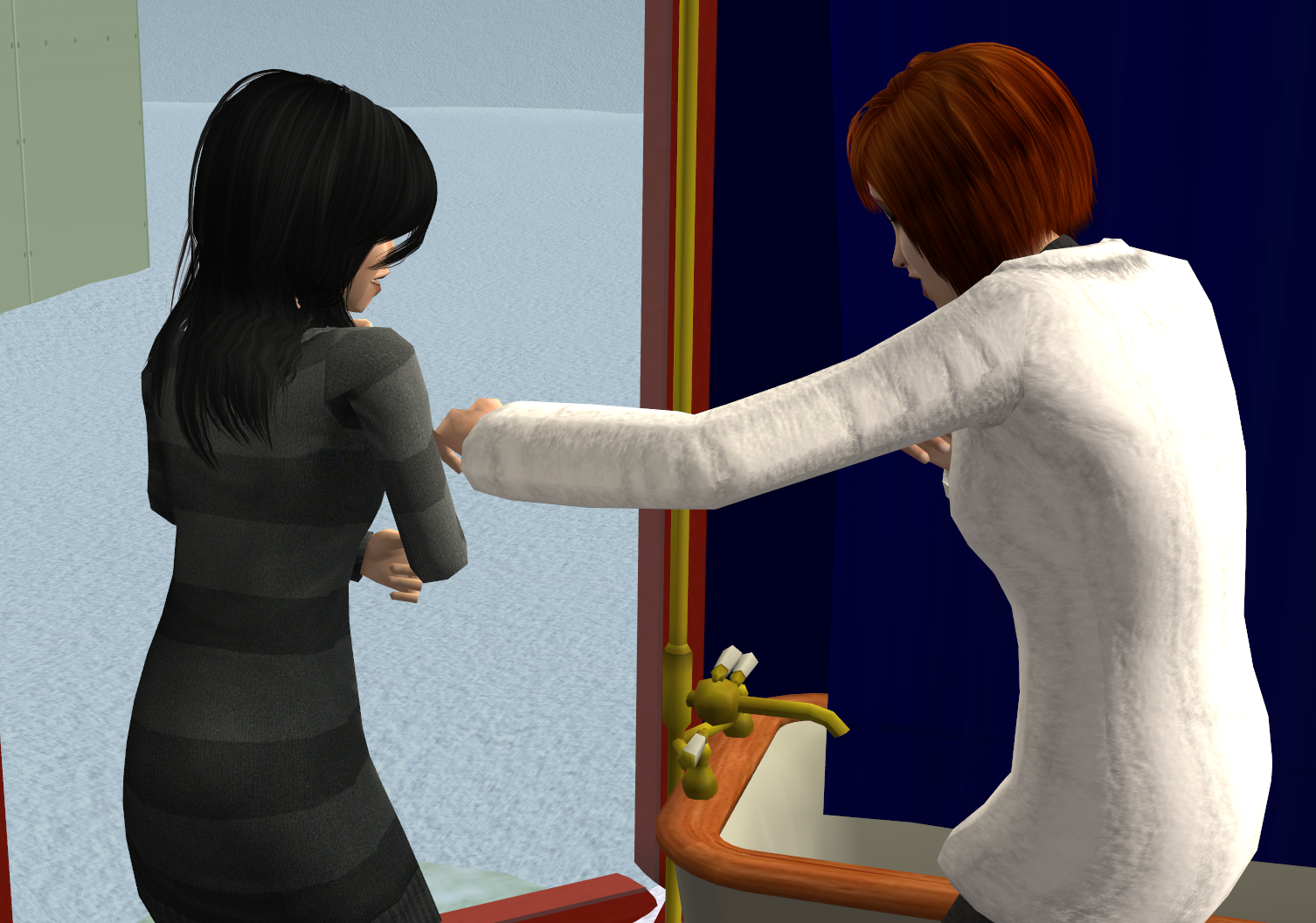 "Honey, come down and stop sulking."
"NO! I just KNEW you wouldn't understand!" *pouts*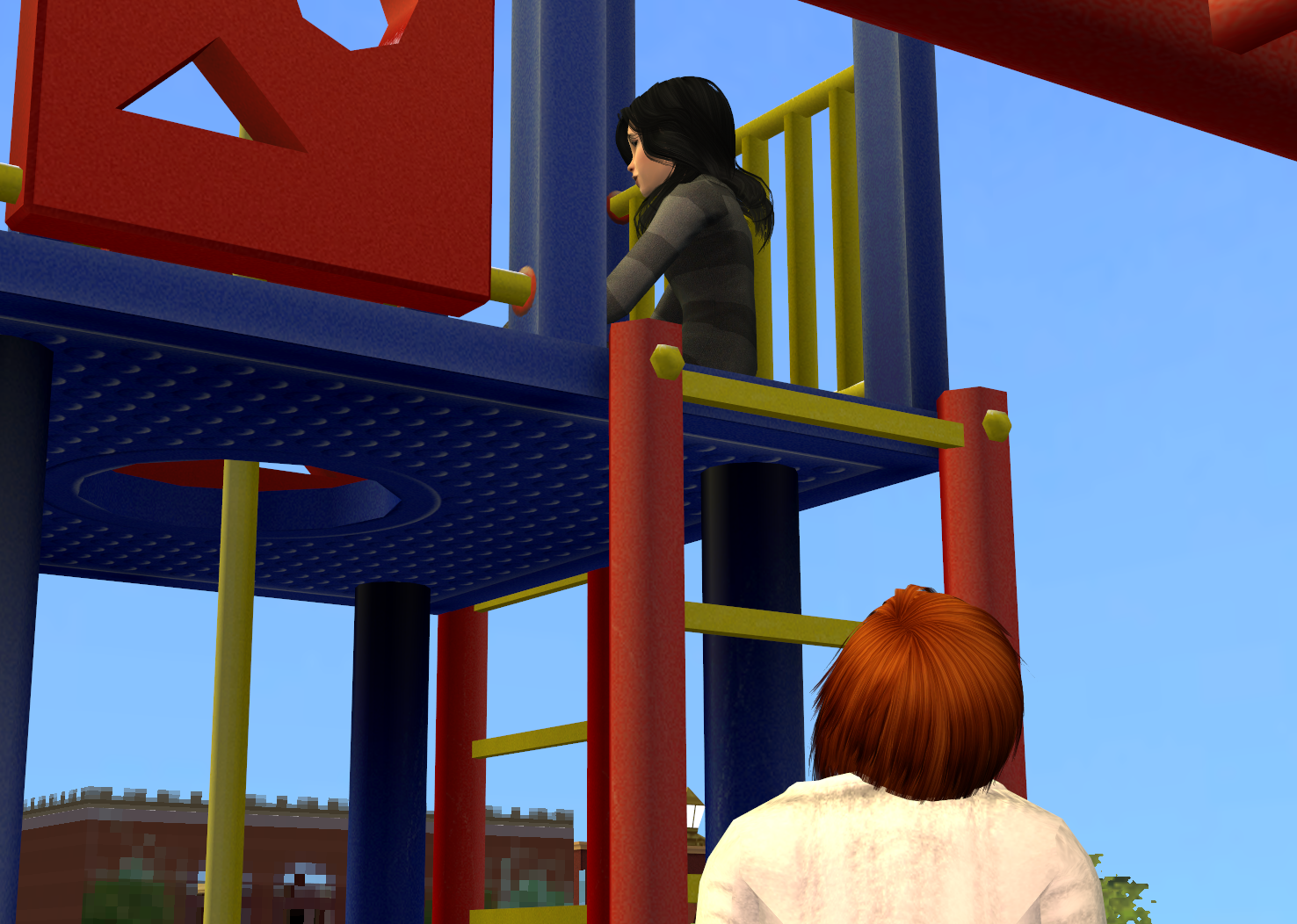 Then, out of the blue, Violet began chasing down walkbys to talk to them.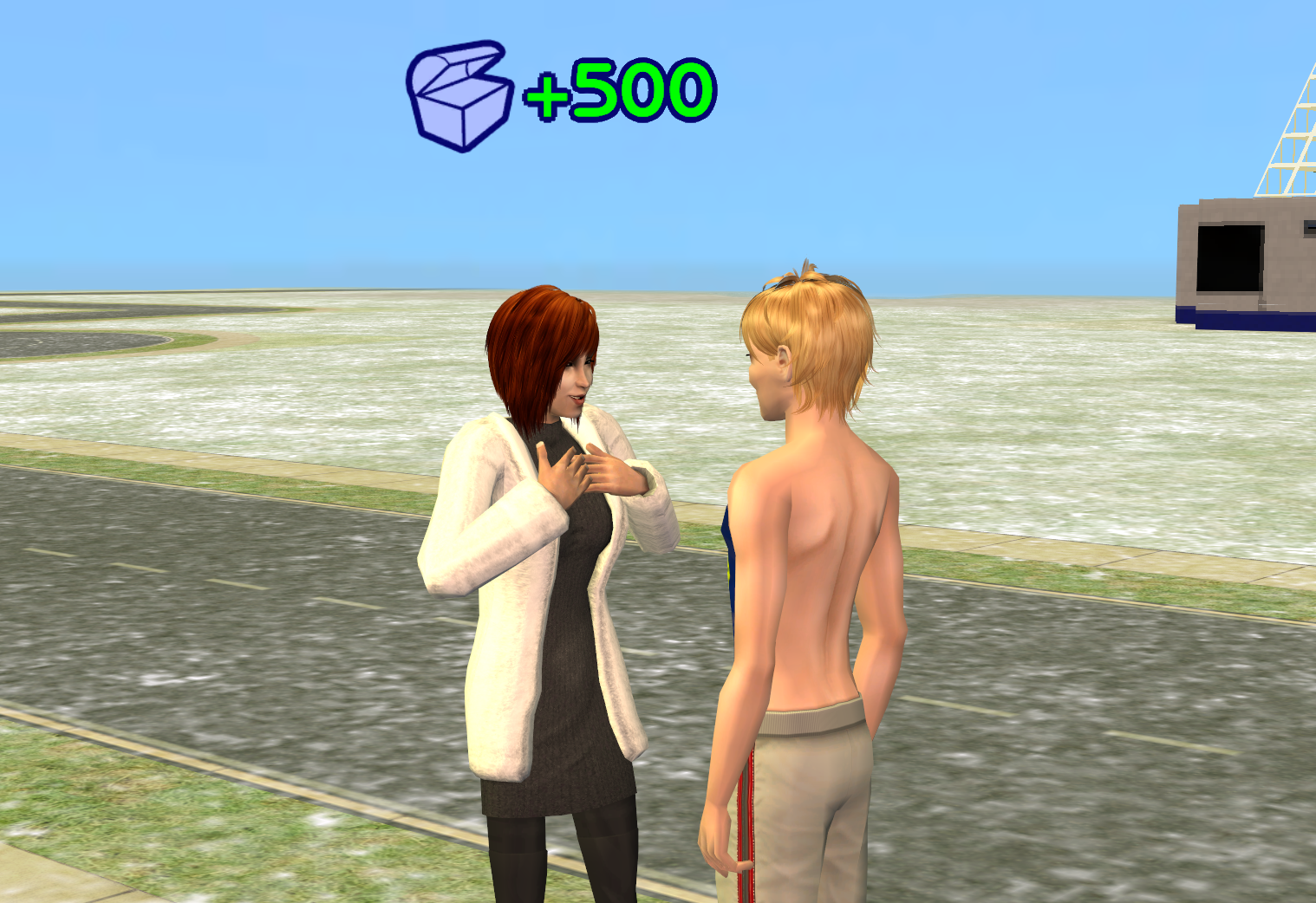 She'd honestly chase them all the way down the sidewalk to talk. I don't know what changed about her.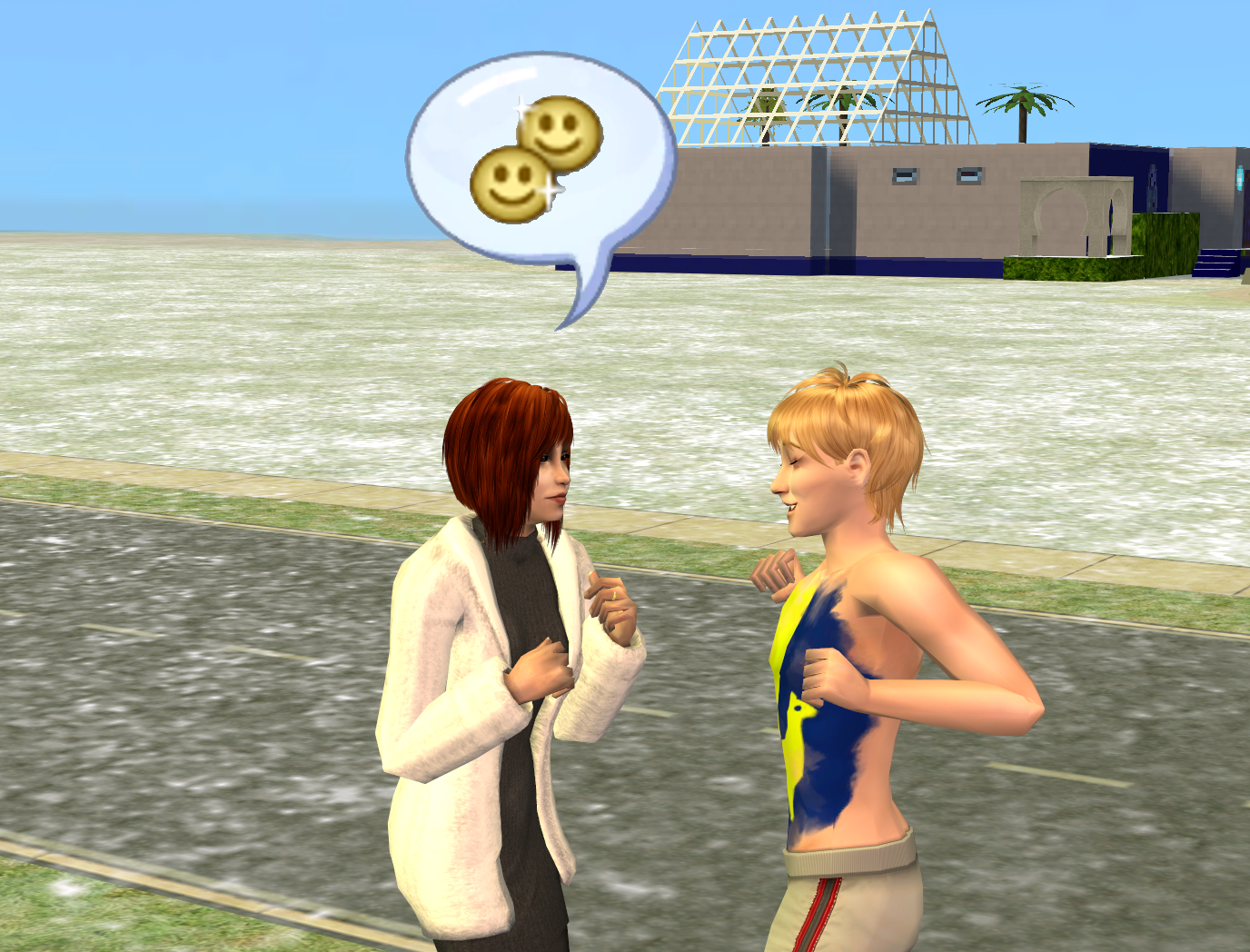 "Well, yes, when I die, all this will go to you or your sister. No halvsies."
"Does that include the gorilla suit? Like, does the heir have to wear it?"



"I guess I just don't get the whole bad-movie aesthetic, Dad. I'd rather read a book."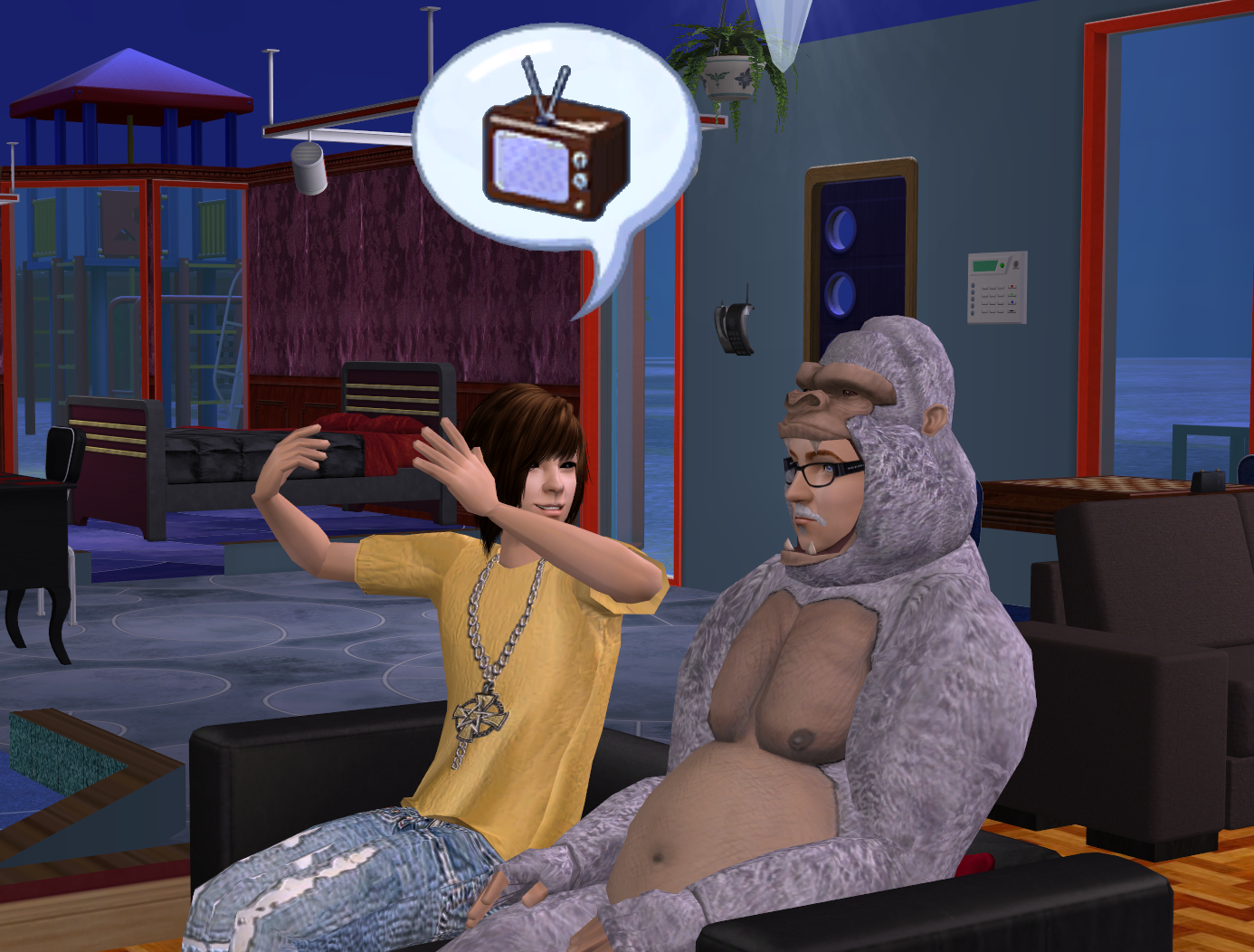 Wow - Bobo is now three bolts with Violet! I wonder what changed?




Jan tries to emulate her mother and make new friends from people who walk by the house, but the encounters turn into violent arguments.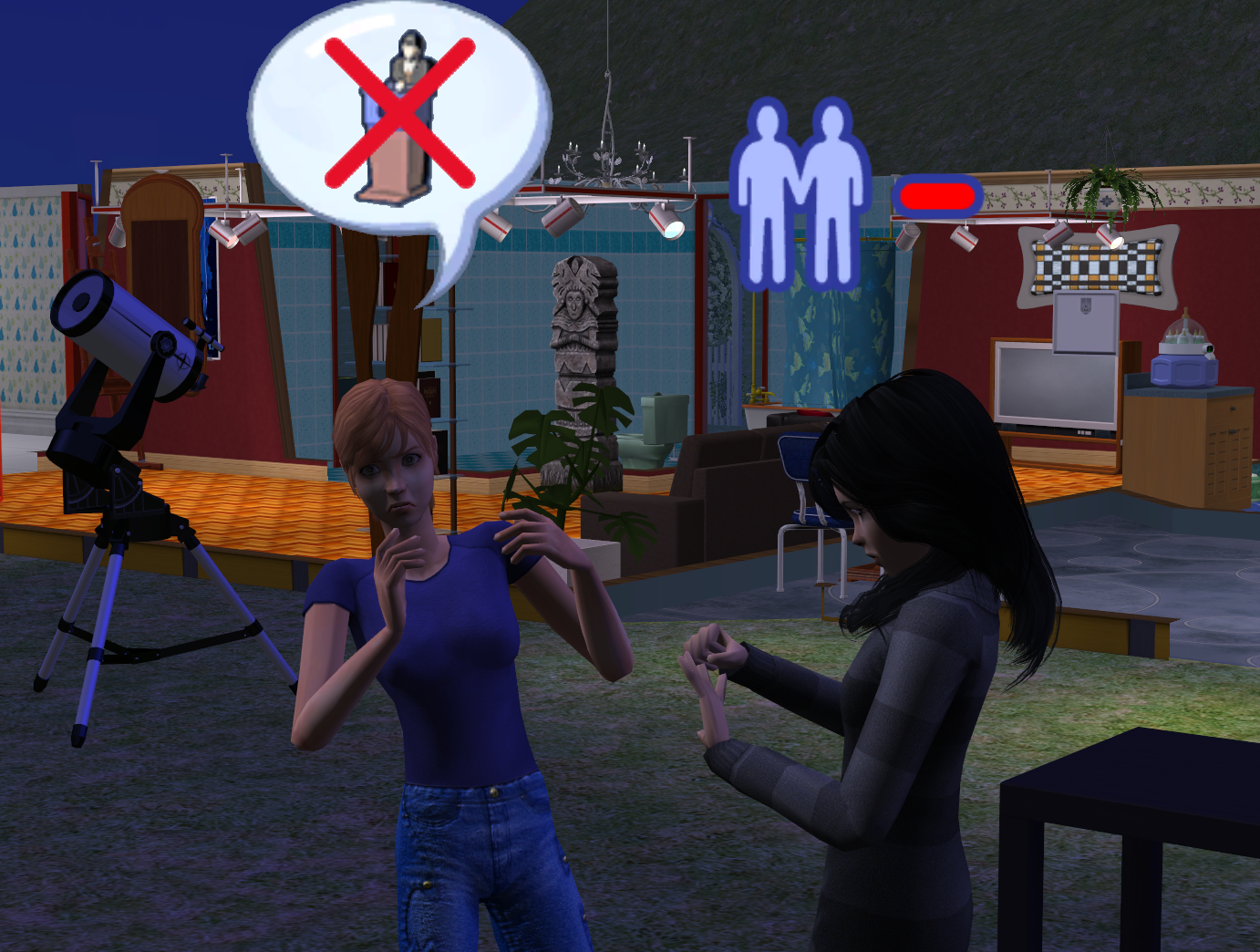 "Oh yeah? Well I KNOW you're wrong! Government-arranged airplane contrails DO control the weather!"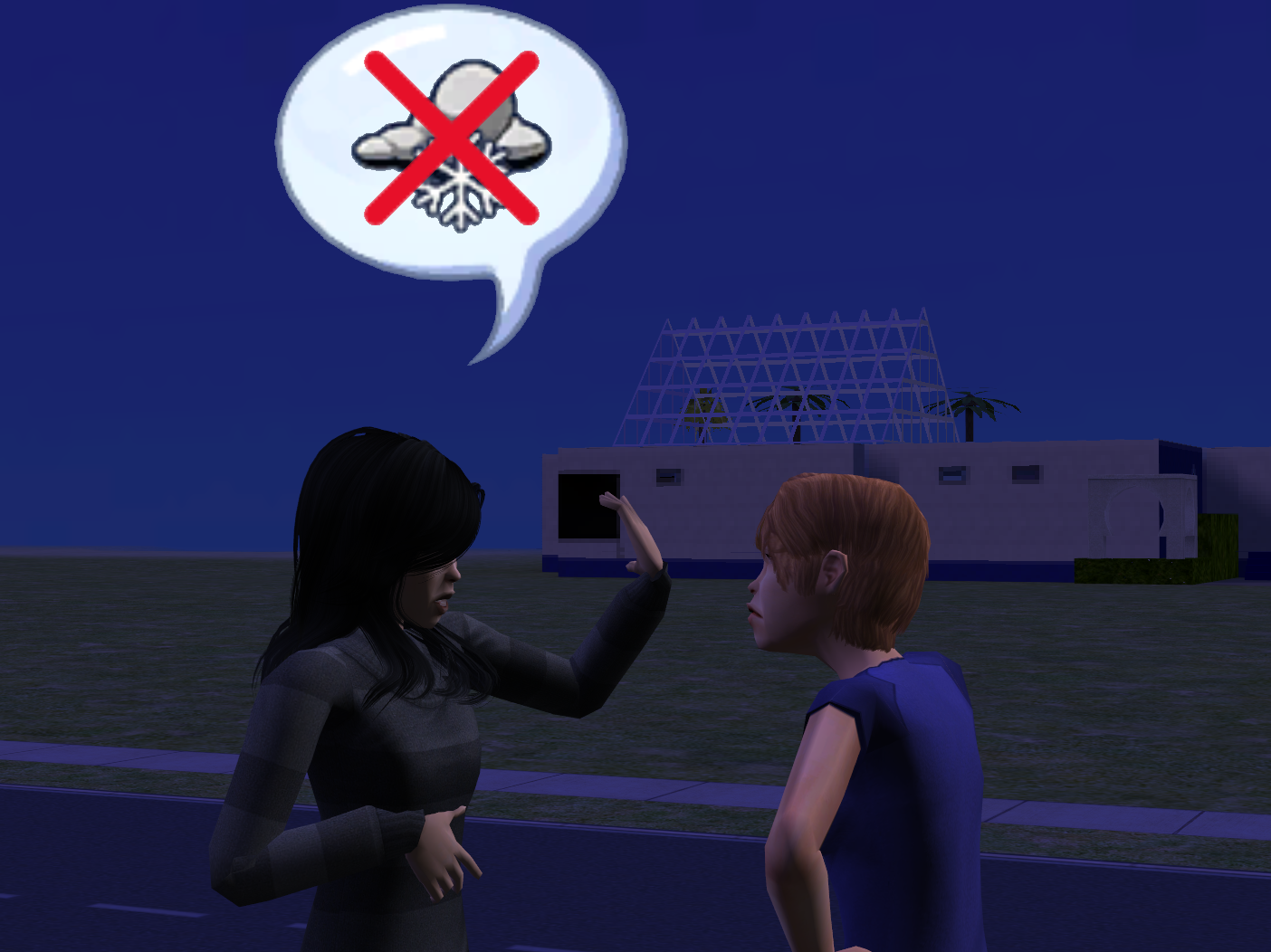 I set Bobo to studying flower arranging because I don't know what else to do with him. Everyone's able to take care of themselves pretty well now.



Even Crow begins turning out meals for the family. Bobo hardly has to do anything to keep the household running.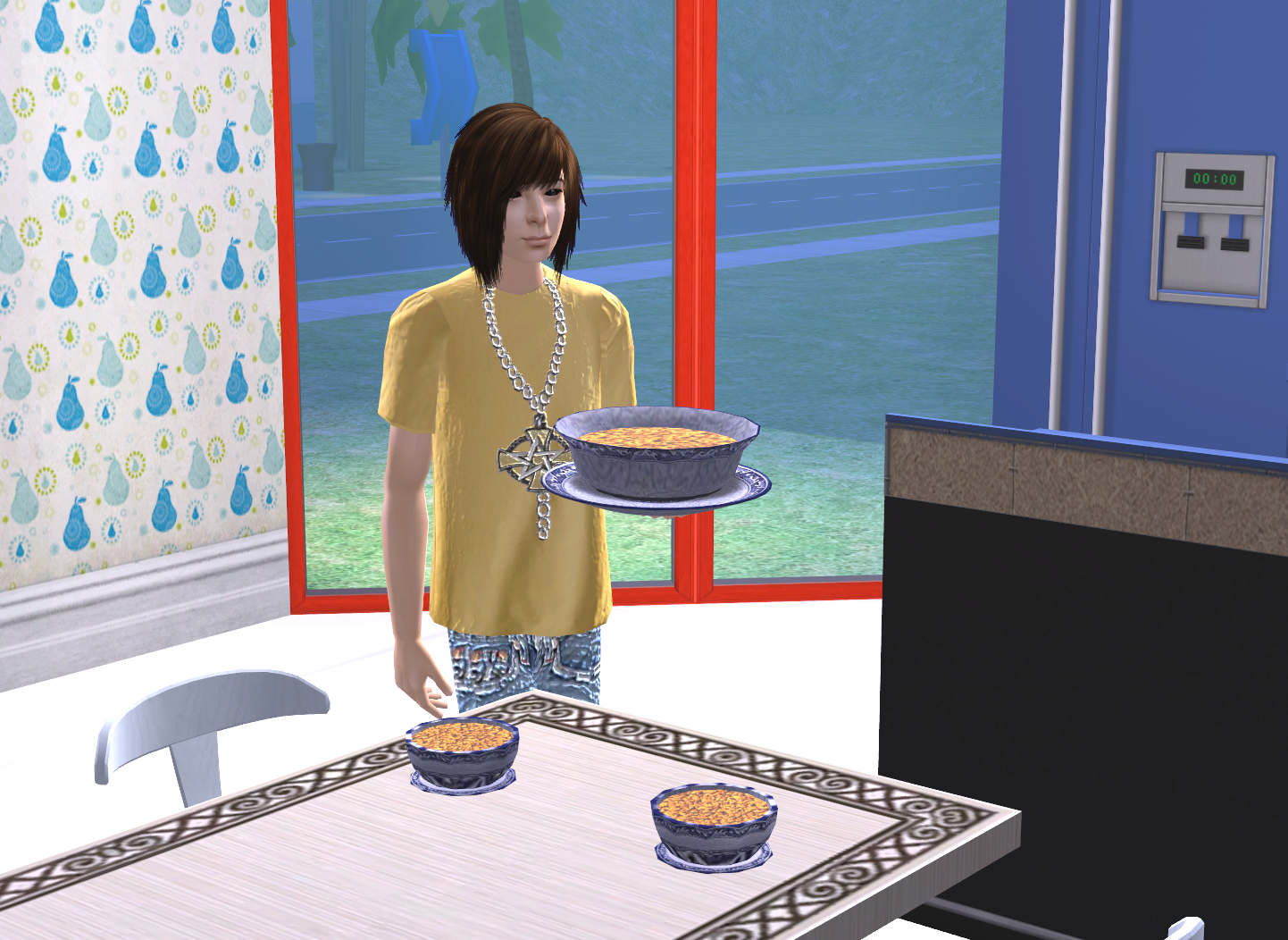 I guess Crow really does prefer print to film. He's been this way his whole life.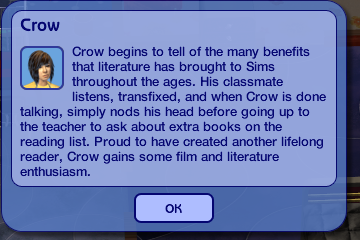 Since Bobo's time as playable is coming to a close, I started buying up reward stuff with his aspiration points. I thought he'd love the hot tub, and he does, but when Violet came home she went right to bed, and poor Bobo had to listen to his daughter telling him to maybe send the suit to dry cleaning once in a while.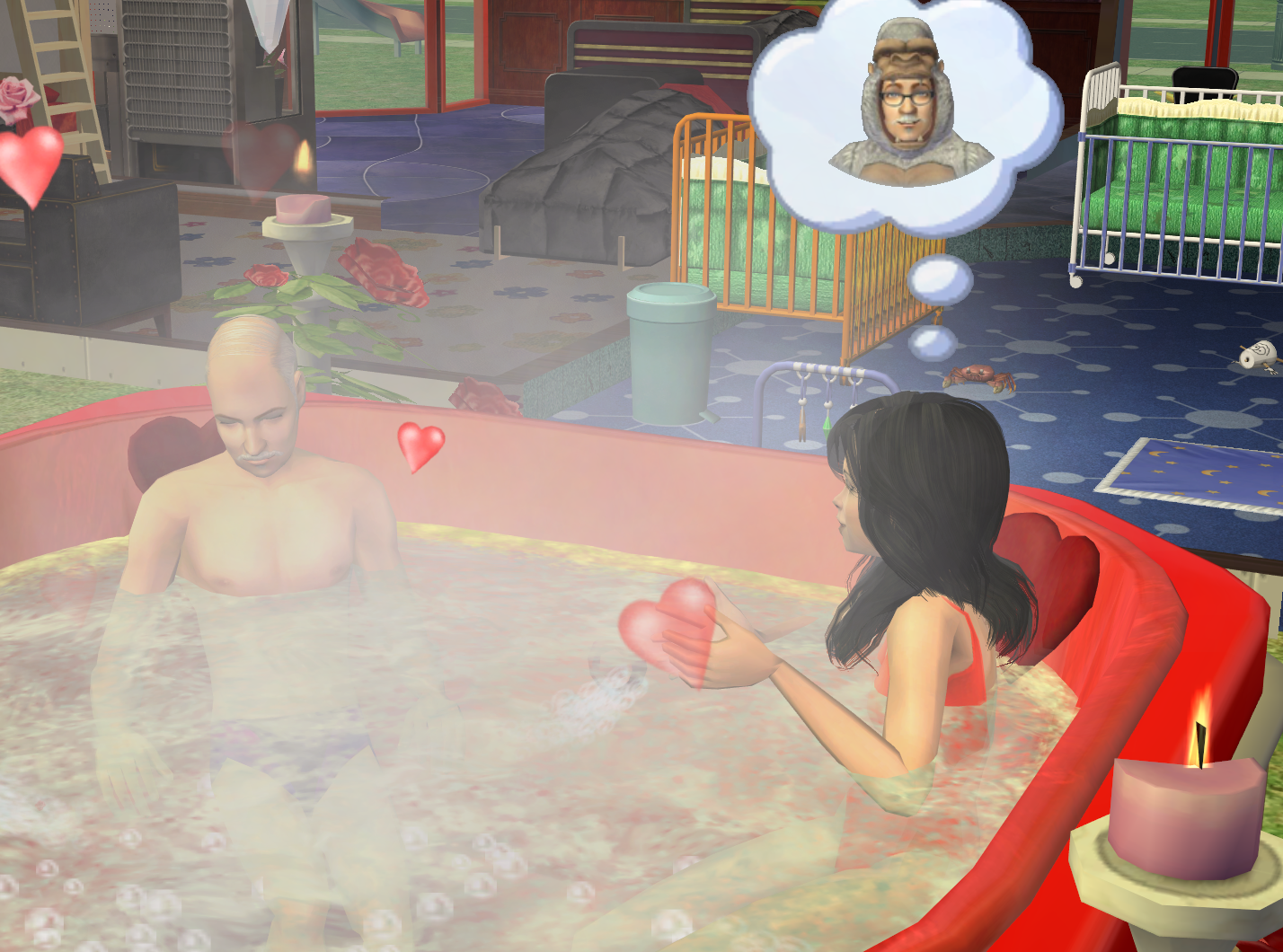 "I used to panic while making sandwiches, but not any more! Being mellow really pays off."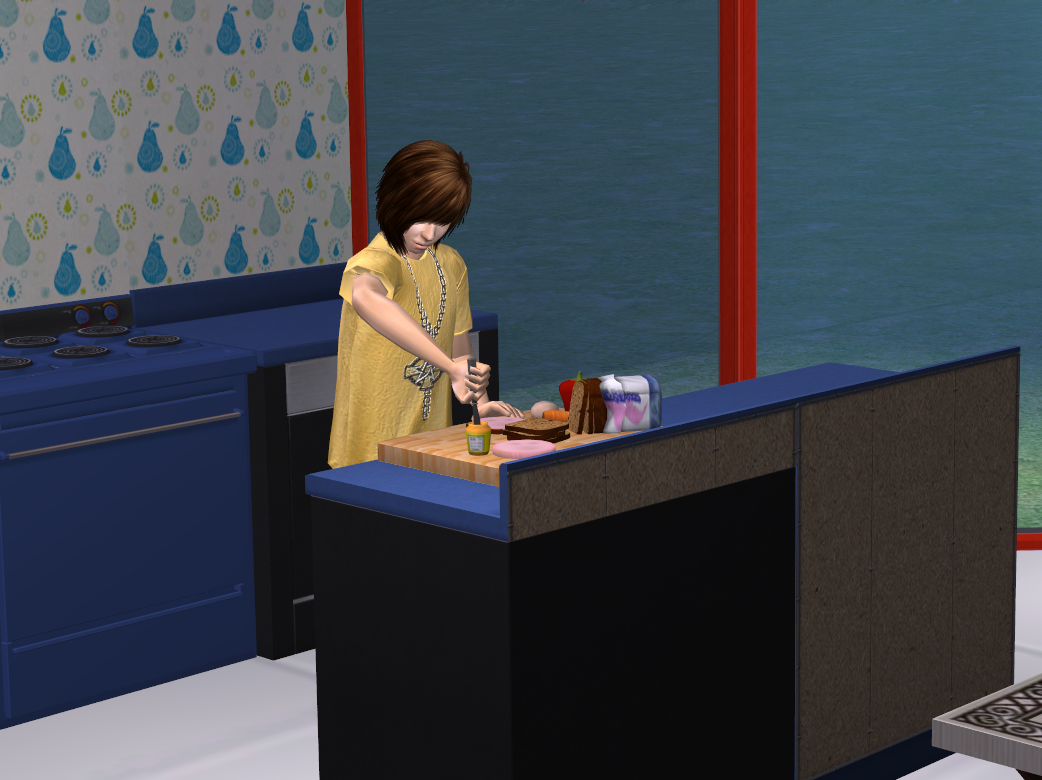 Aw, they're so happy, too! Reflecting Crow's inner good nature, possibly?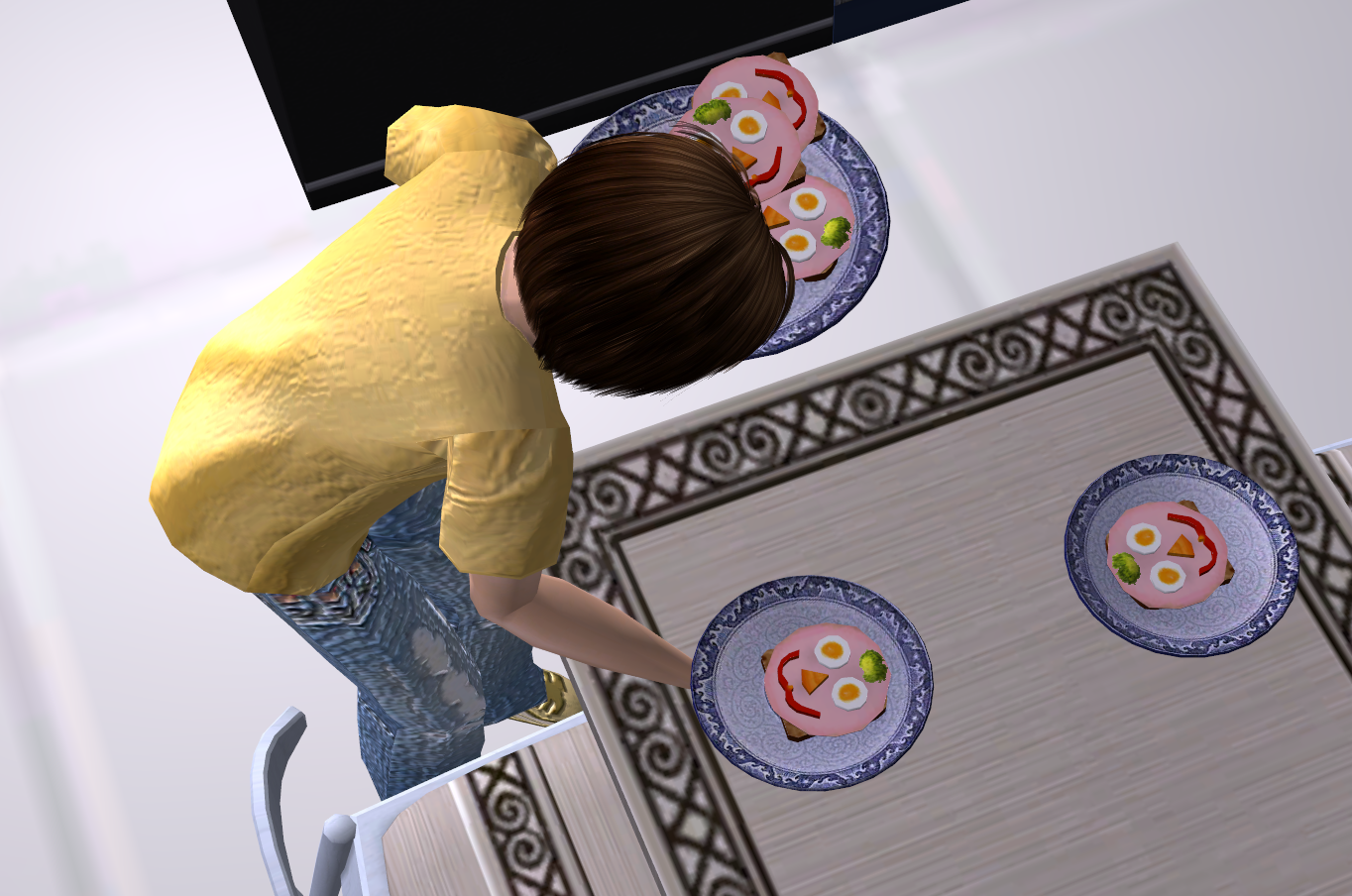 "Great sandwiches, son! Maybe you'll want to be a celebrity chef someday?"
Man, that would be okay by me, for his LTW.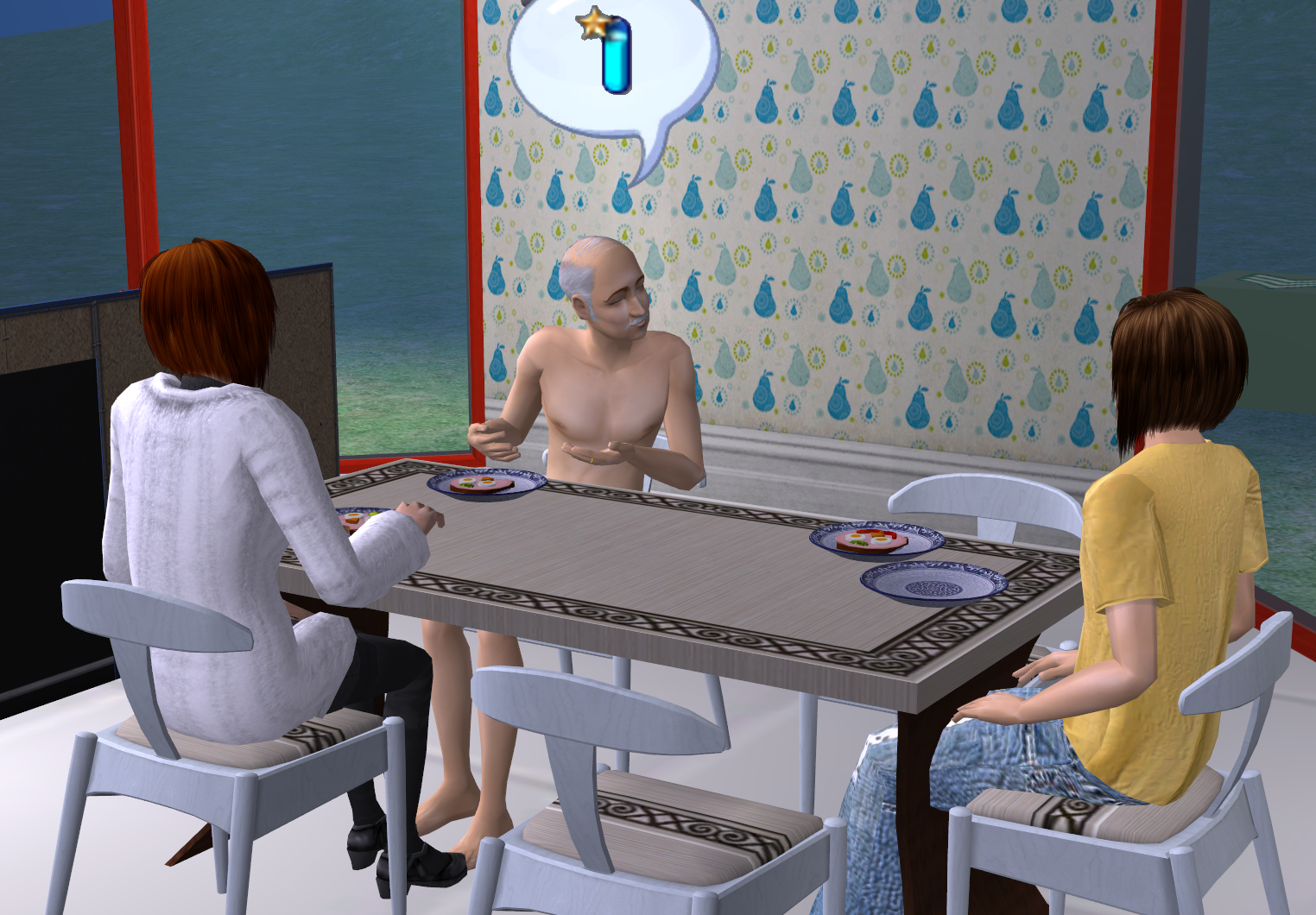 Bobo and Violet finally get to enjoy the hot tub. This one's in the back yard, by the way, not out in front like certain other legacies of mine.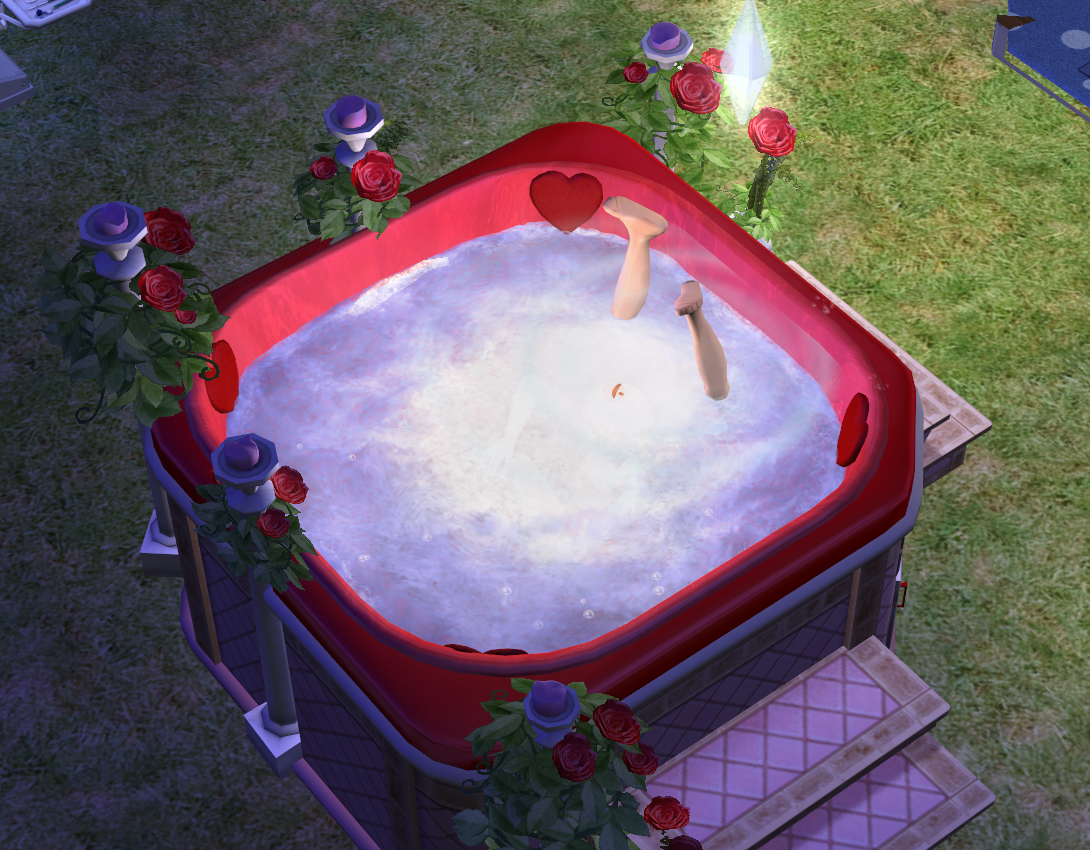 I really hope he's into the Cooking career. And he makes the big family meals, too, not just for himself, so nobody's starving at all lately.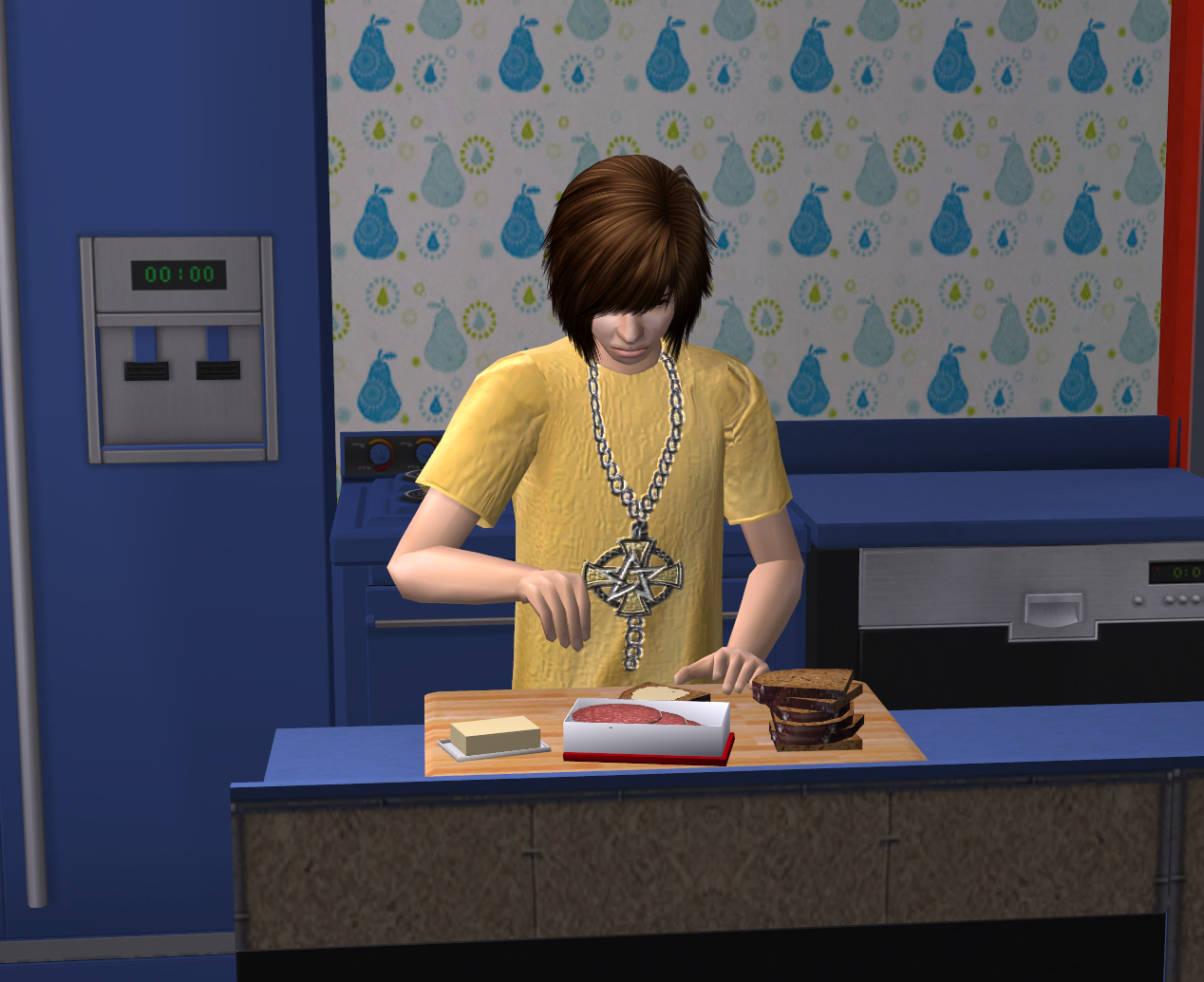 Violet almost gets hit by lightning! What are the odds!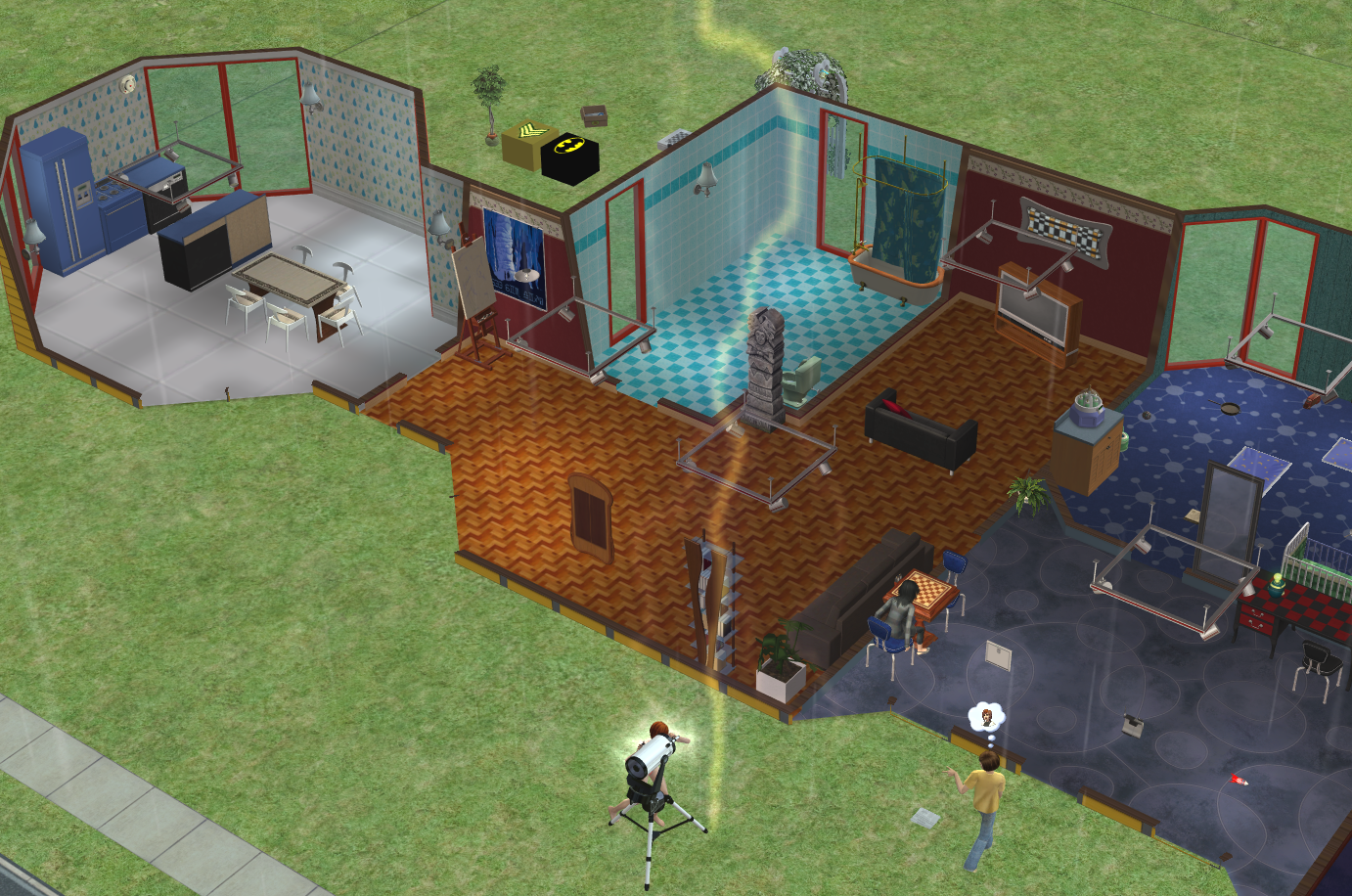 Zeus struck again, though, but his aim's off, pulling to the left, and this time the lightning set the wedding arch on fire.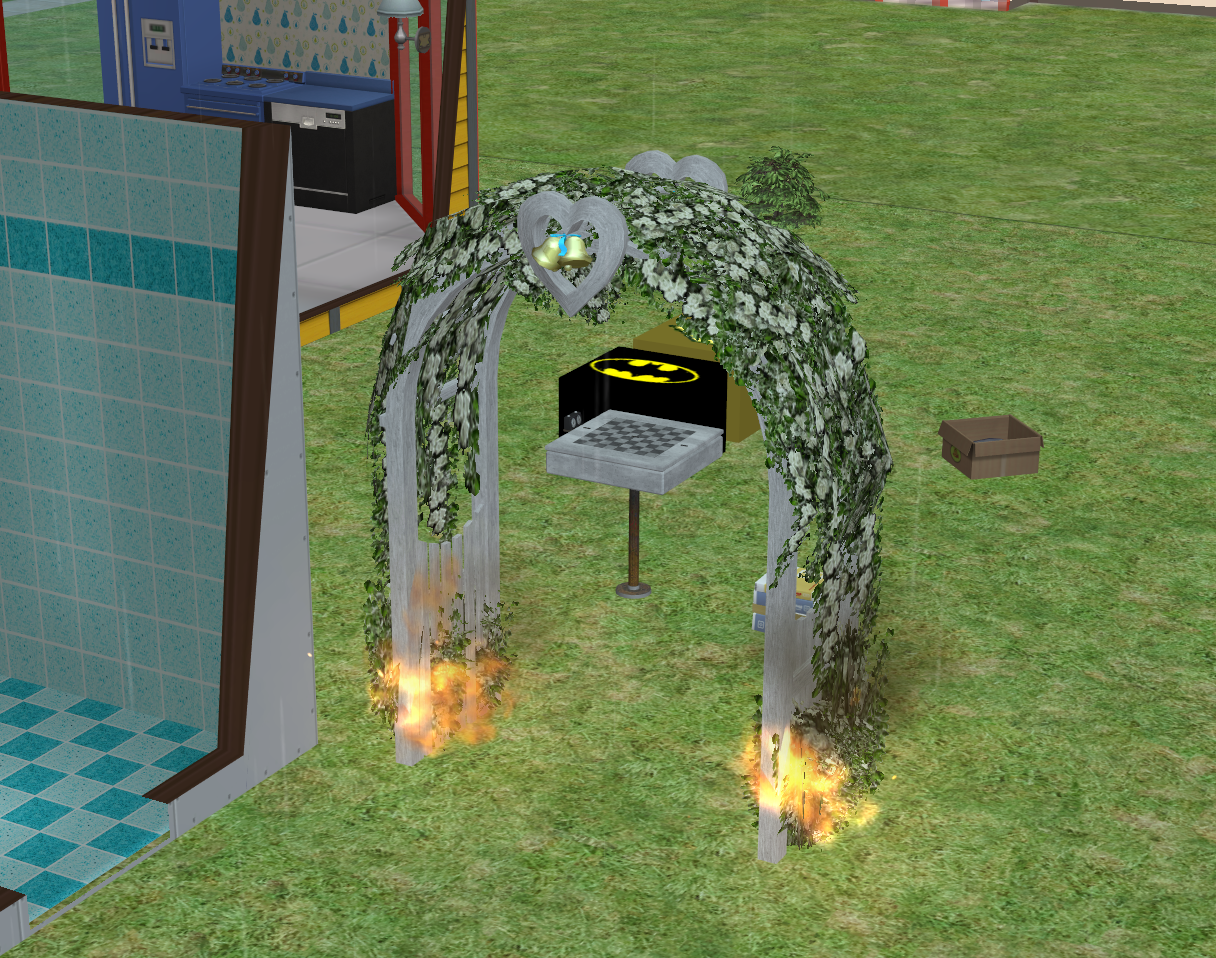 Violet raced around to immediately put the fire out. The women who marry into this family tend to be tough and competent.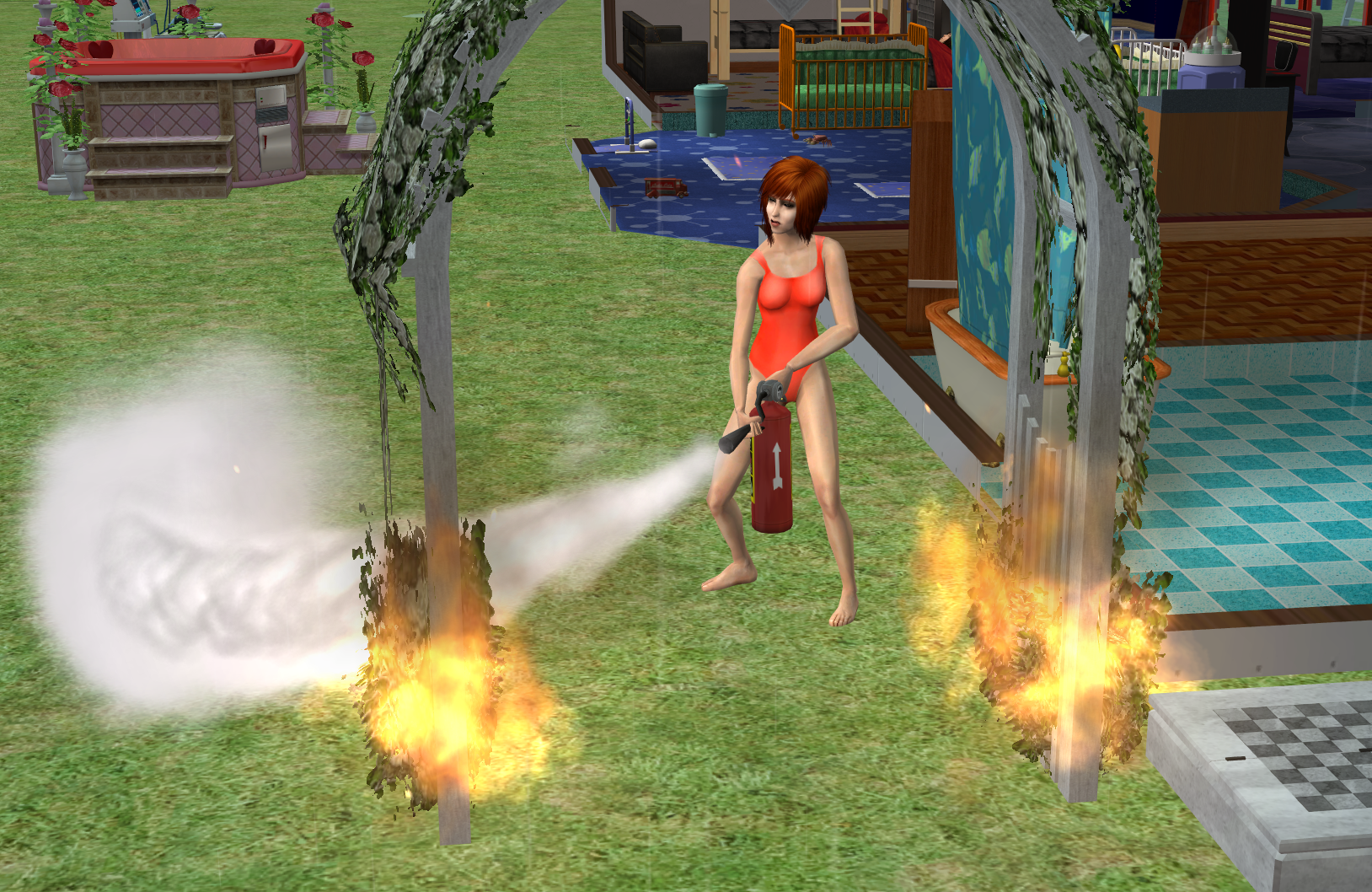 A few other things now litter the landscape like a trashy trailer park yard. Maybe some of them will be used to boost skills. I can hope the nonplayables will give them a try.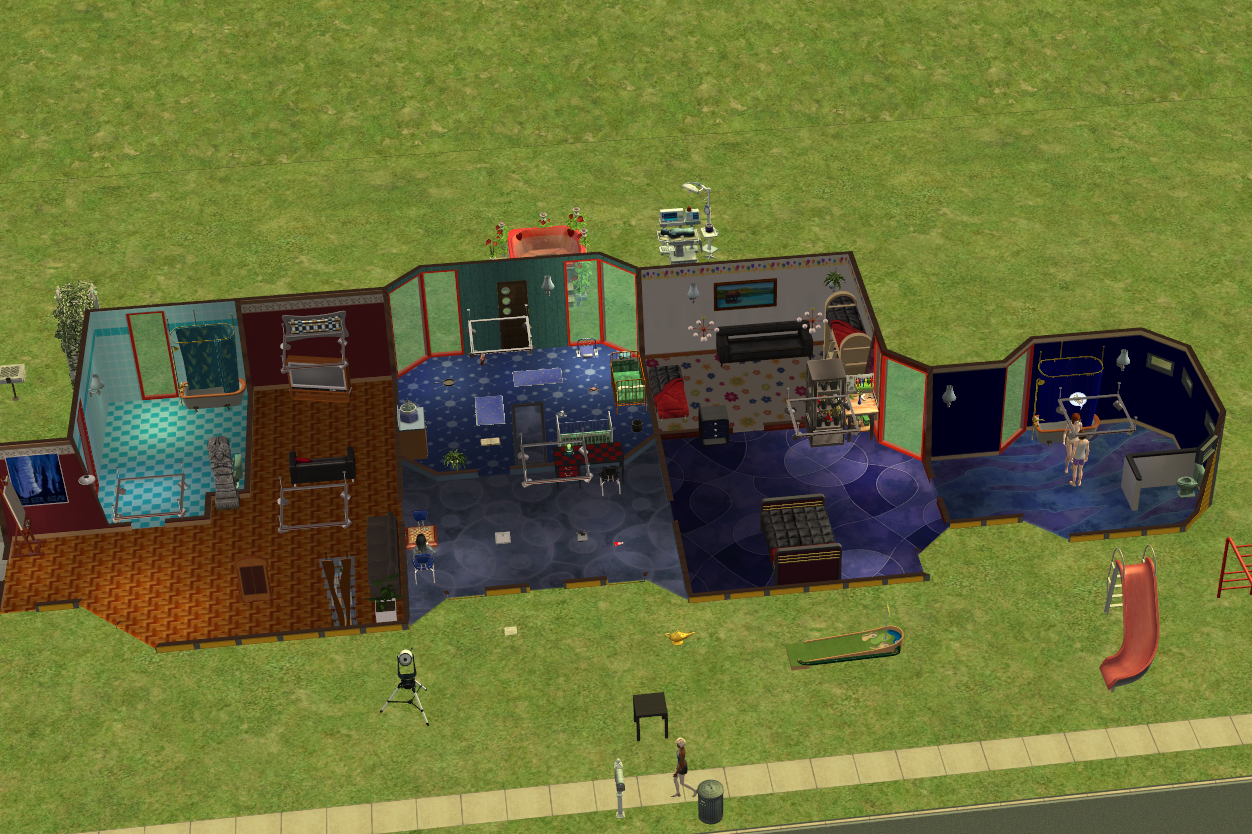 Not to be outdone, Violet makes a meal. I'm not sure anyone can eat another bite.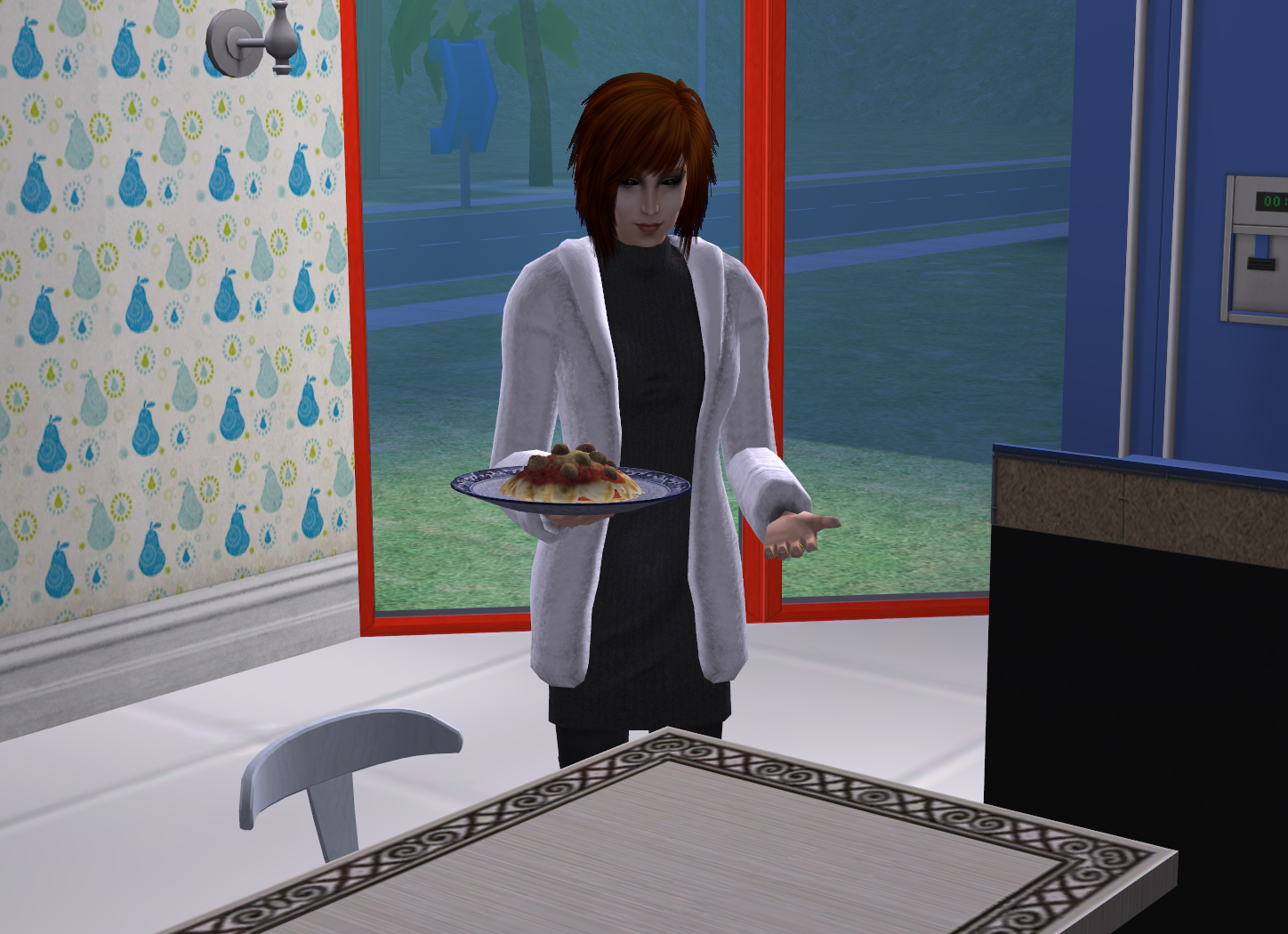 Violet looks pretty alien there. What's she going on about?



Aha, she's "sharing science hobby tips" inside the house, with her son who's outside.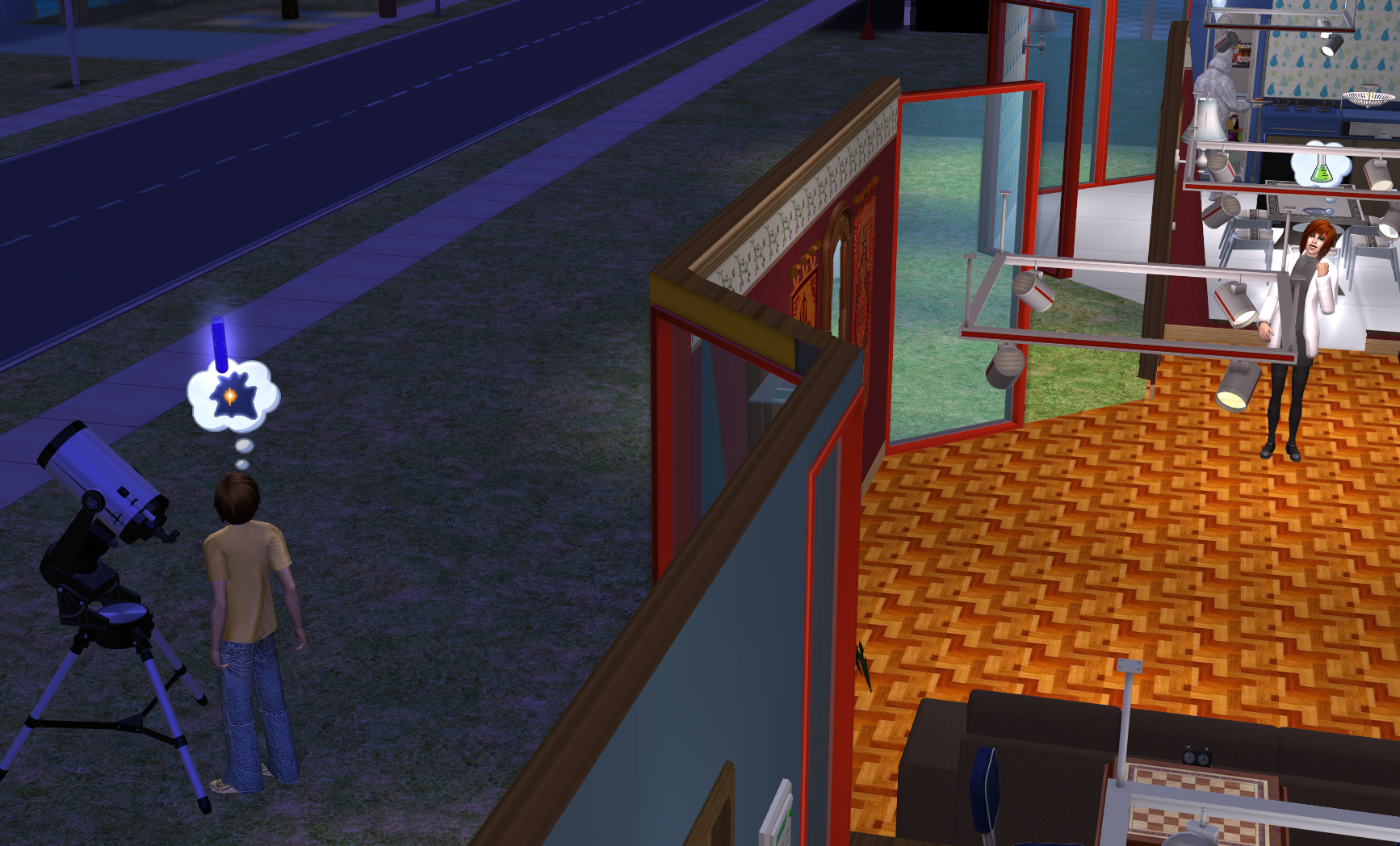 And then Crow does things a little early.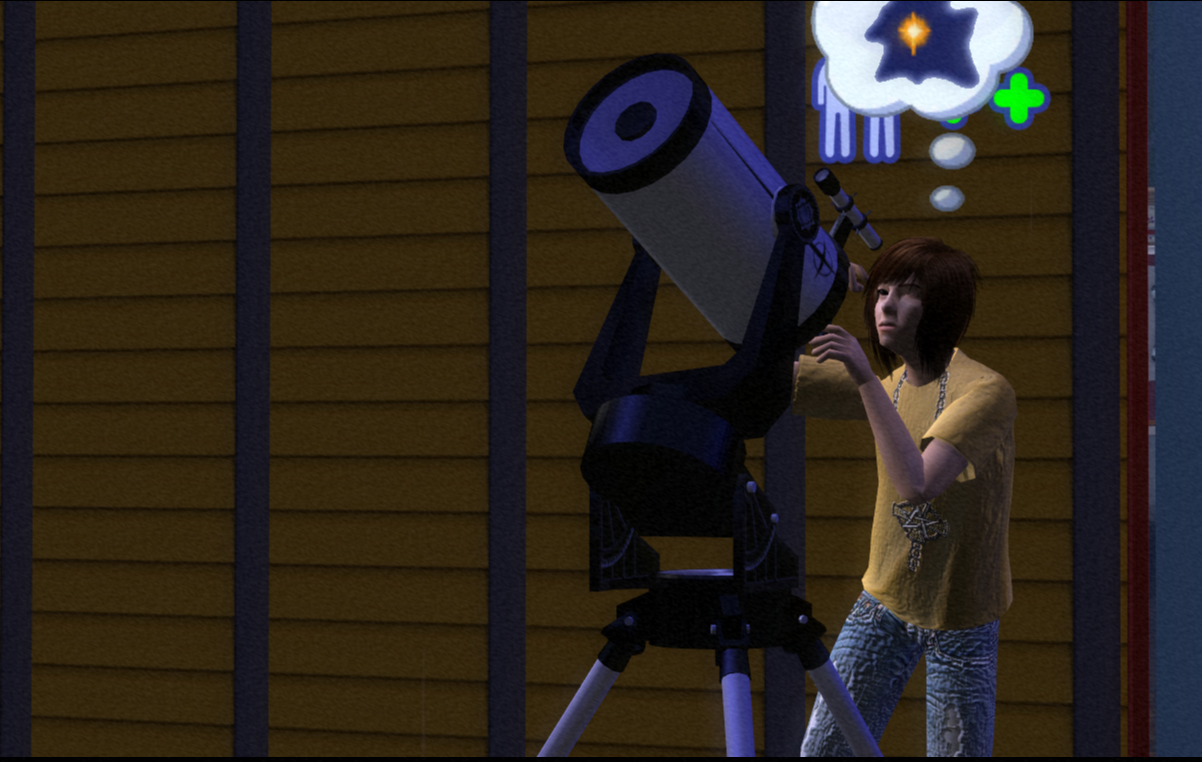 "Dude, wow, I hope that's not one of the black U.N. helicopters, man."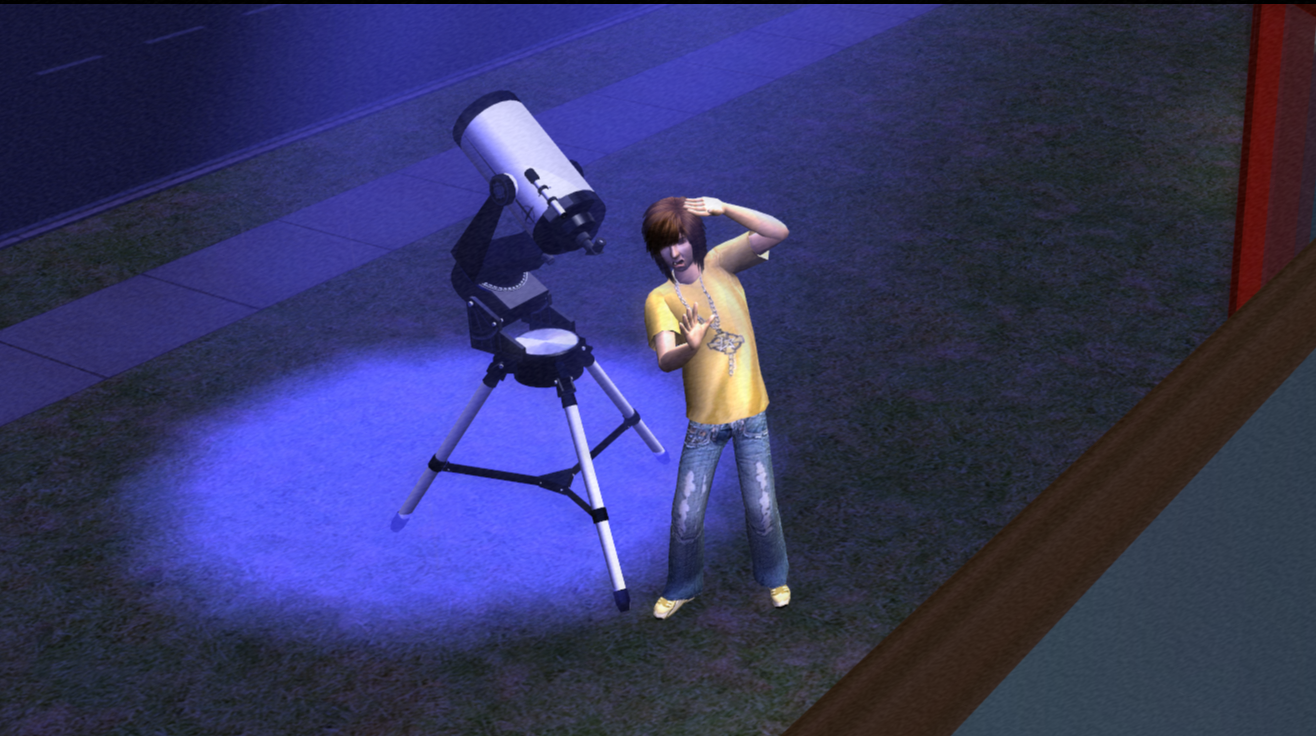 No, the truth is much more horrible. Dammit, Crow! Why'd you have to get abducted as a teenager?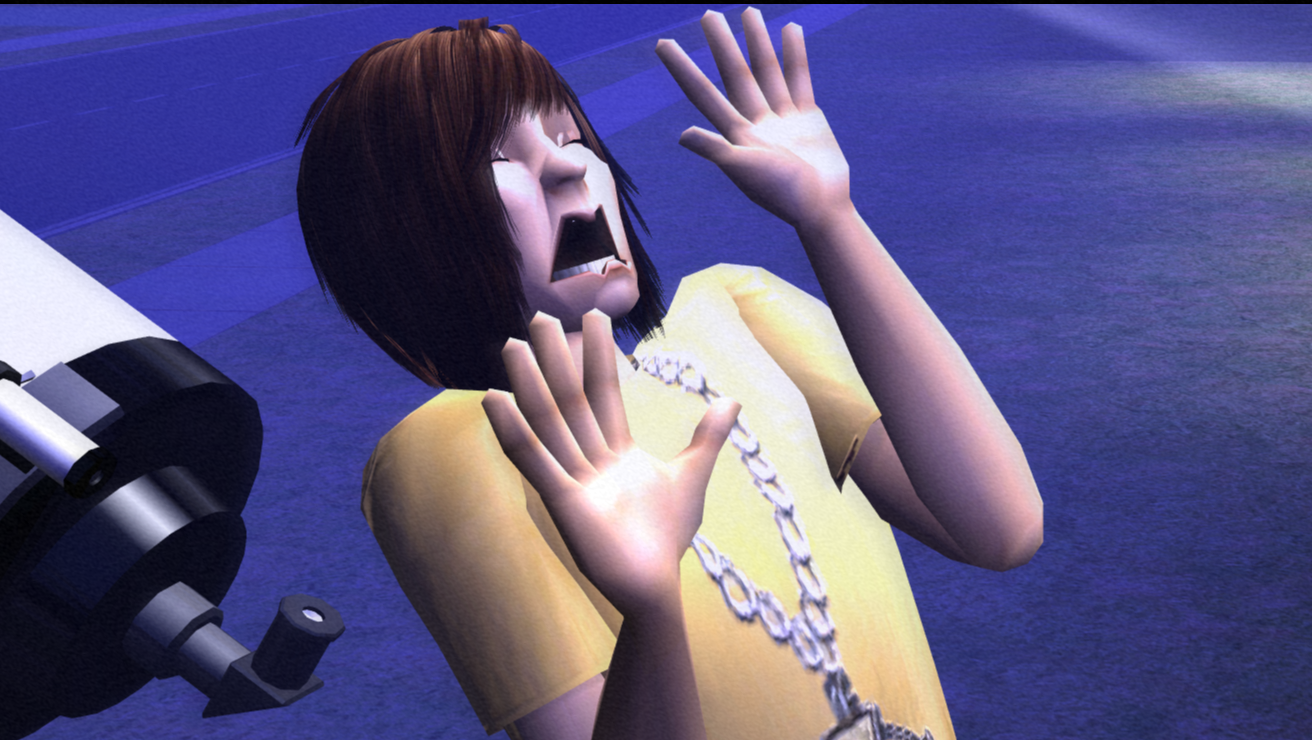 "I'M NOT MELLOW ANY MOOOOOOORRRRREEEEE - - -"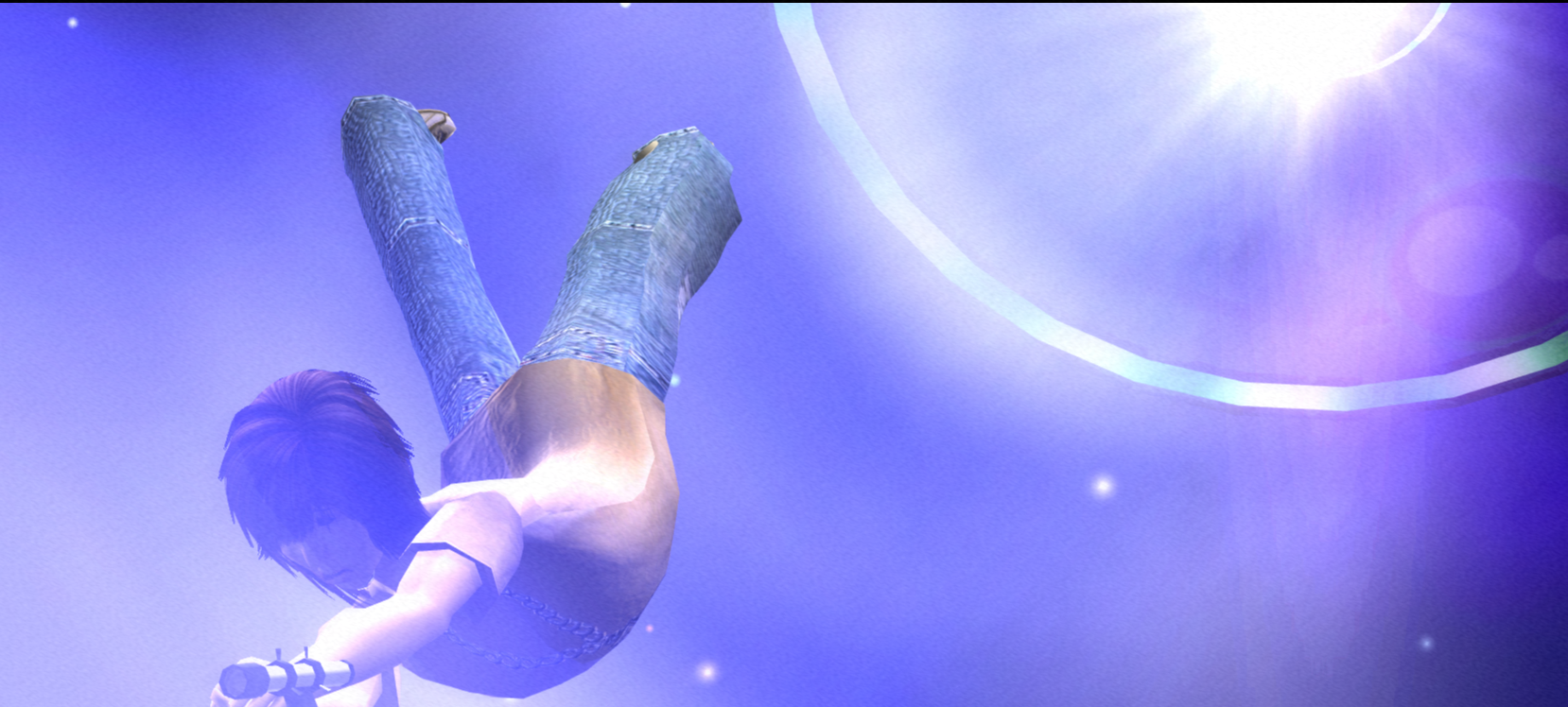 Maybe not, but his logic skill increased, so that's good, I guess?



"Hey, our son - "
"I know, he took off with total strangers and we don't know where he is or how to reach him."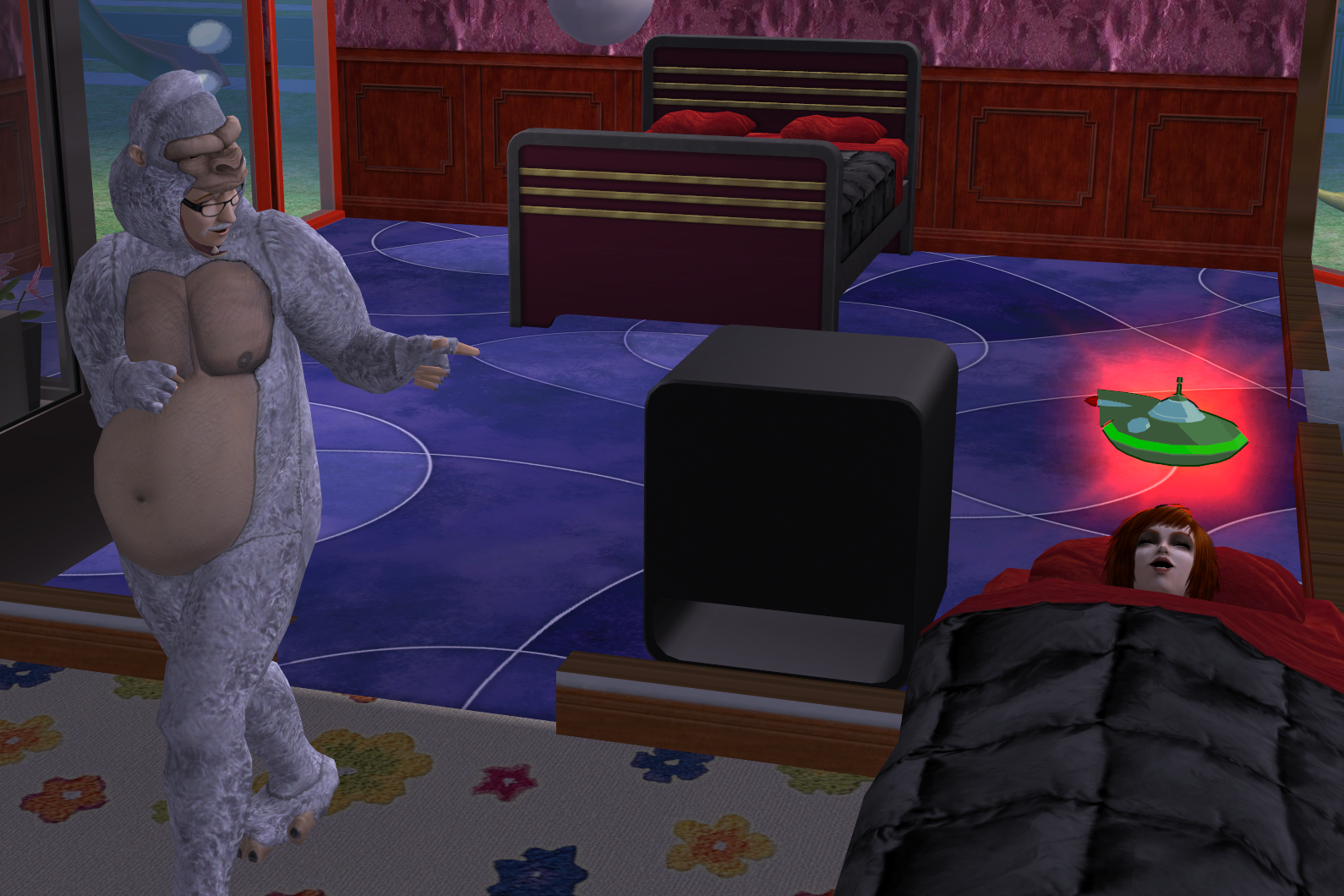 Crow returns with a lesson about seat belts.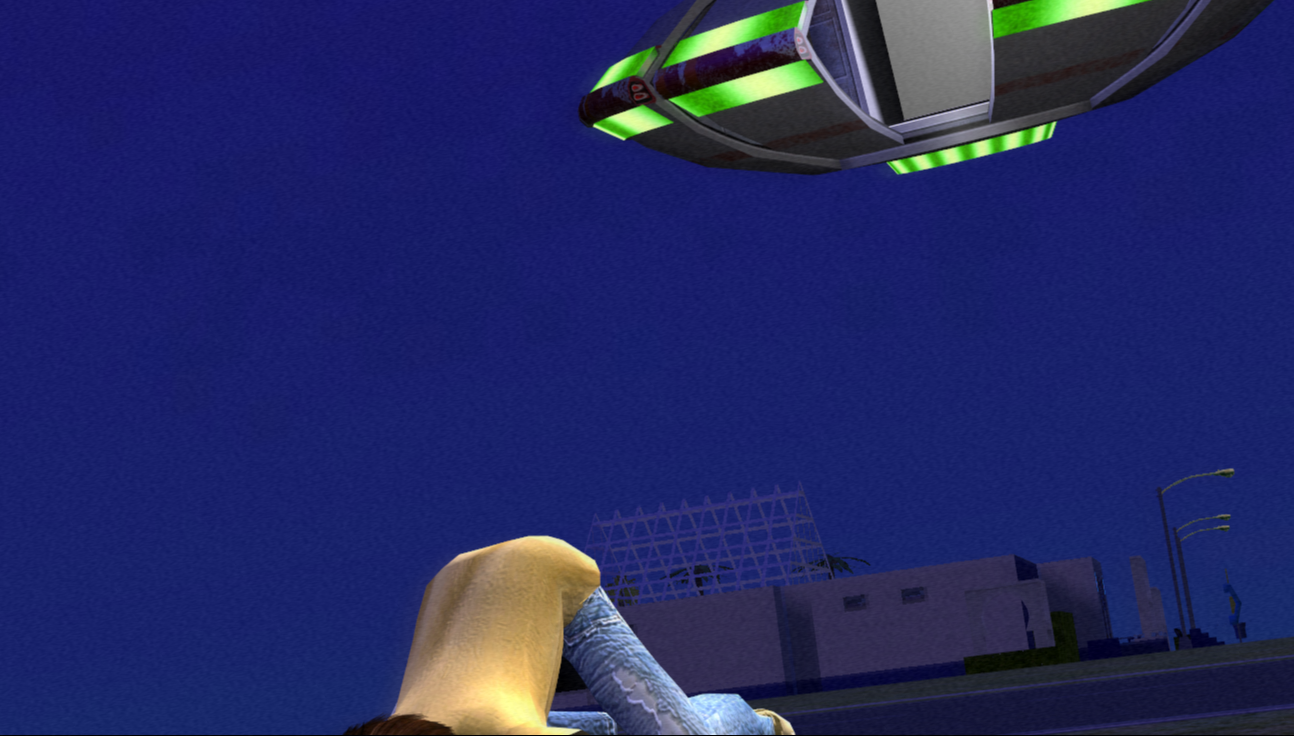 "DUUUUUDE!"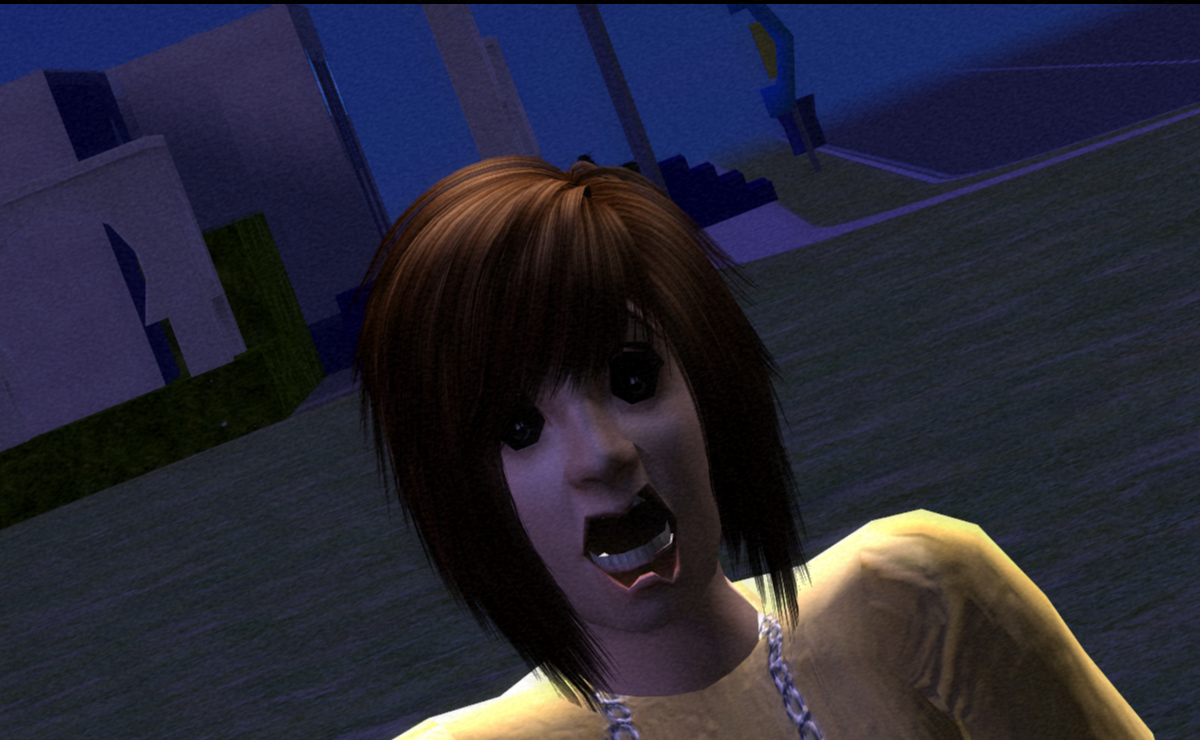 This shot just cracks me up.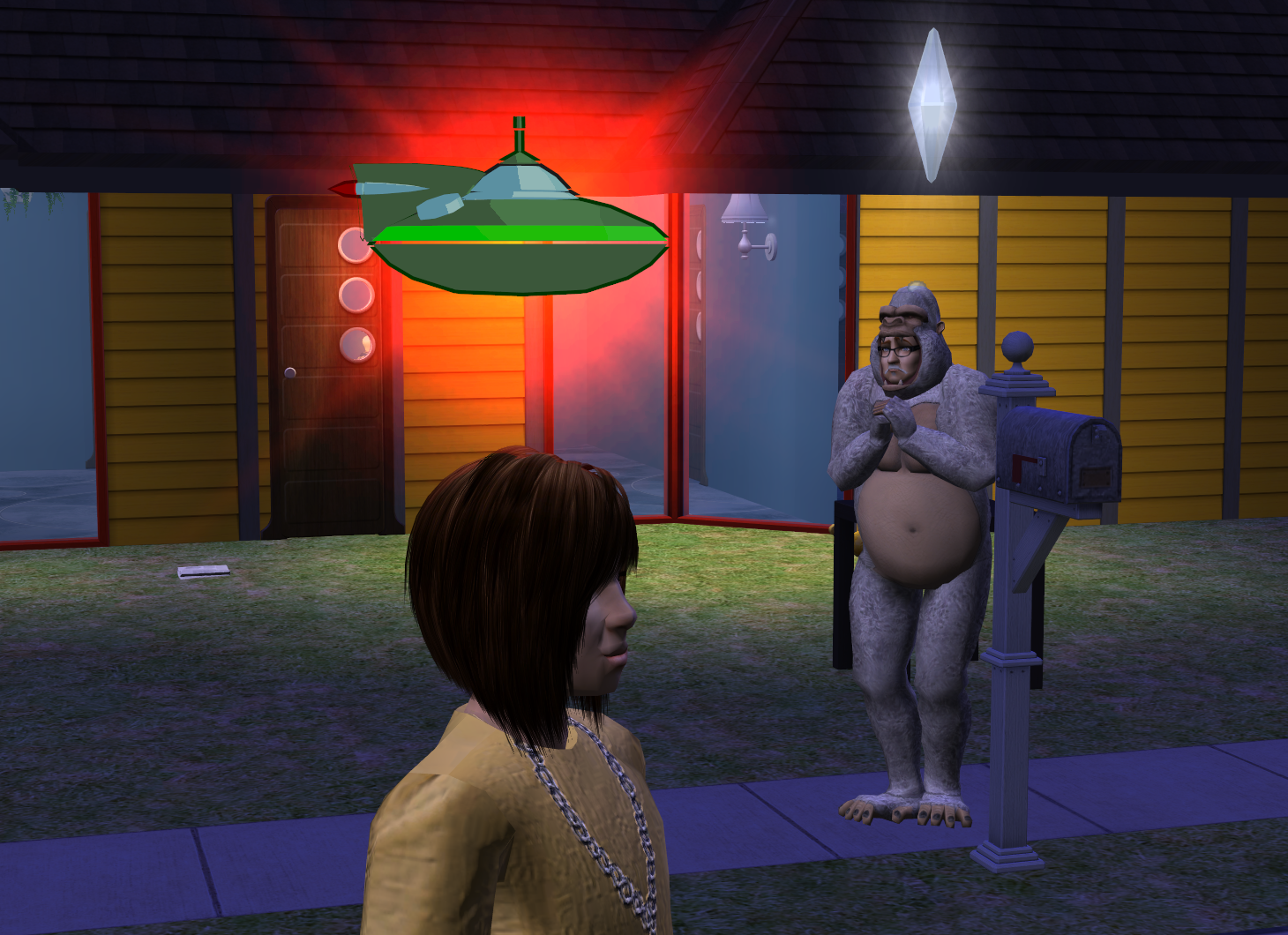 To cheer everyone up, Bobo takes them to Atomic Bowling, the greenest lot in town.
"That's the hairiest sumo wrestler I've ever seen in here!"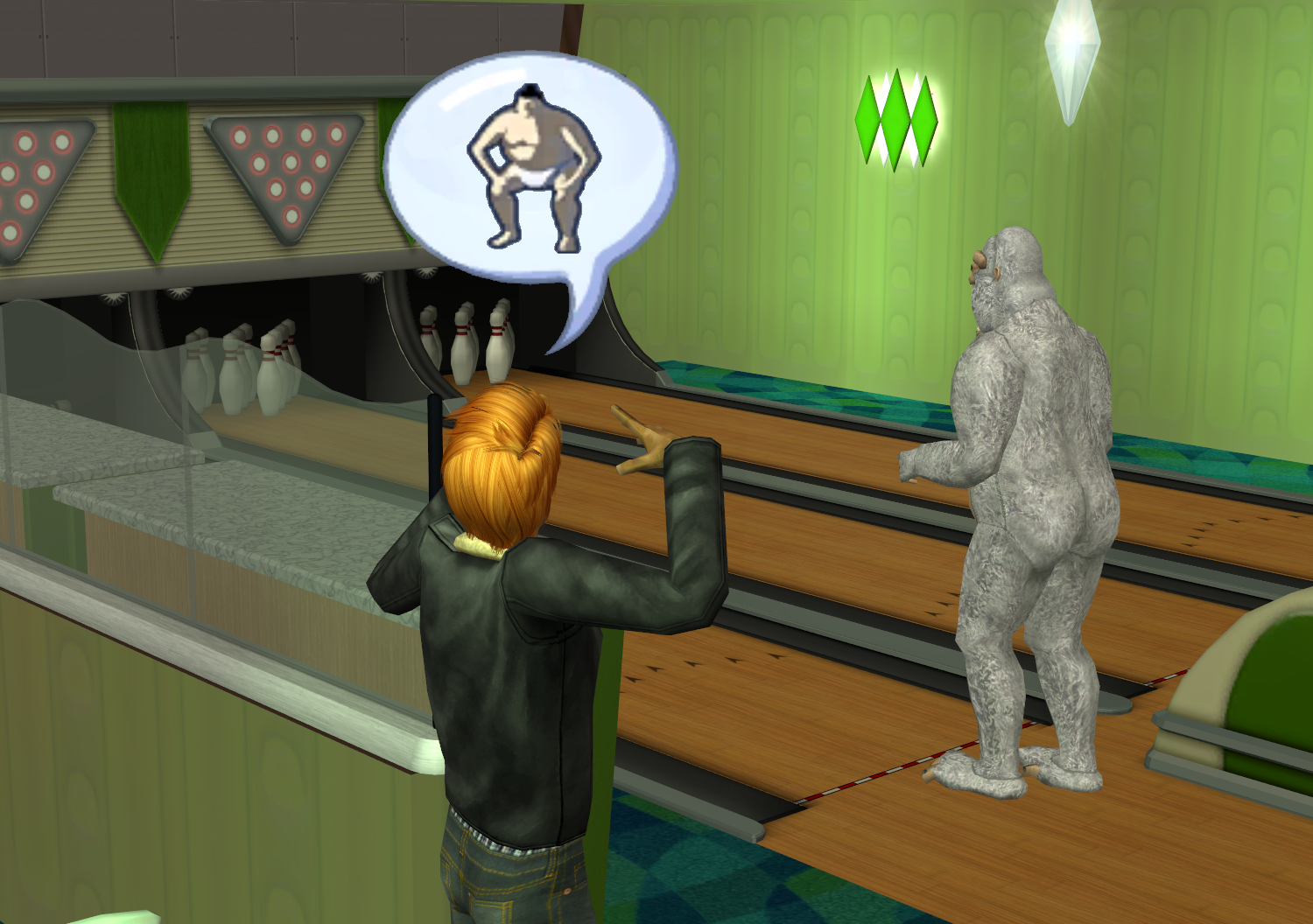 Maximum body skill means Bobo can dance however he wants after every strike.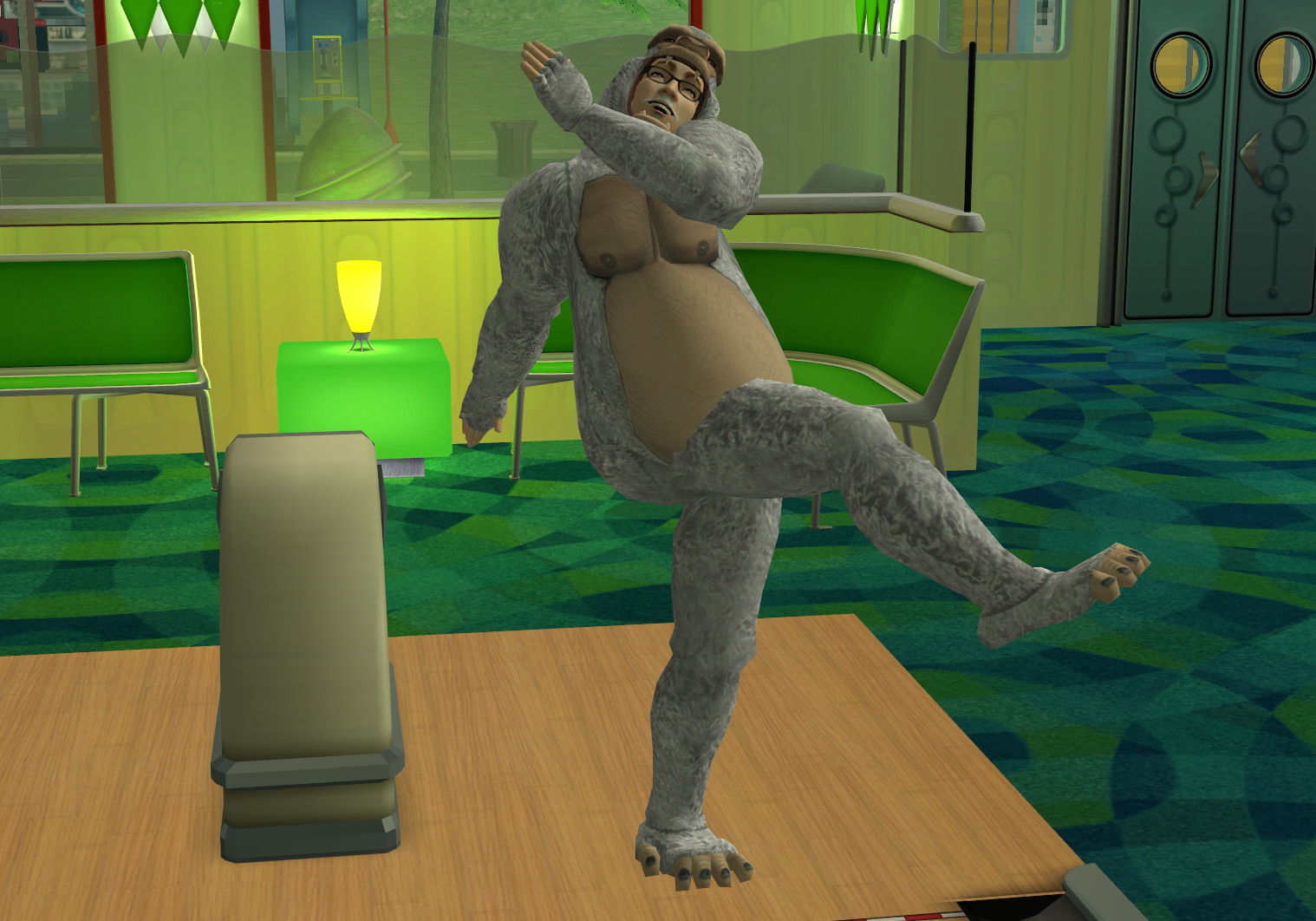 "So you're one of those furries? I saw that episode of CSI. You guys all get in a big furpile, don't you."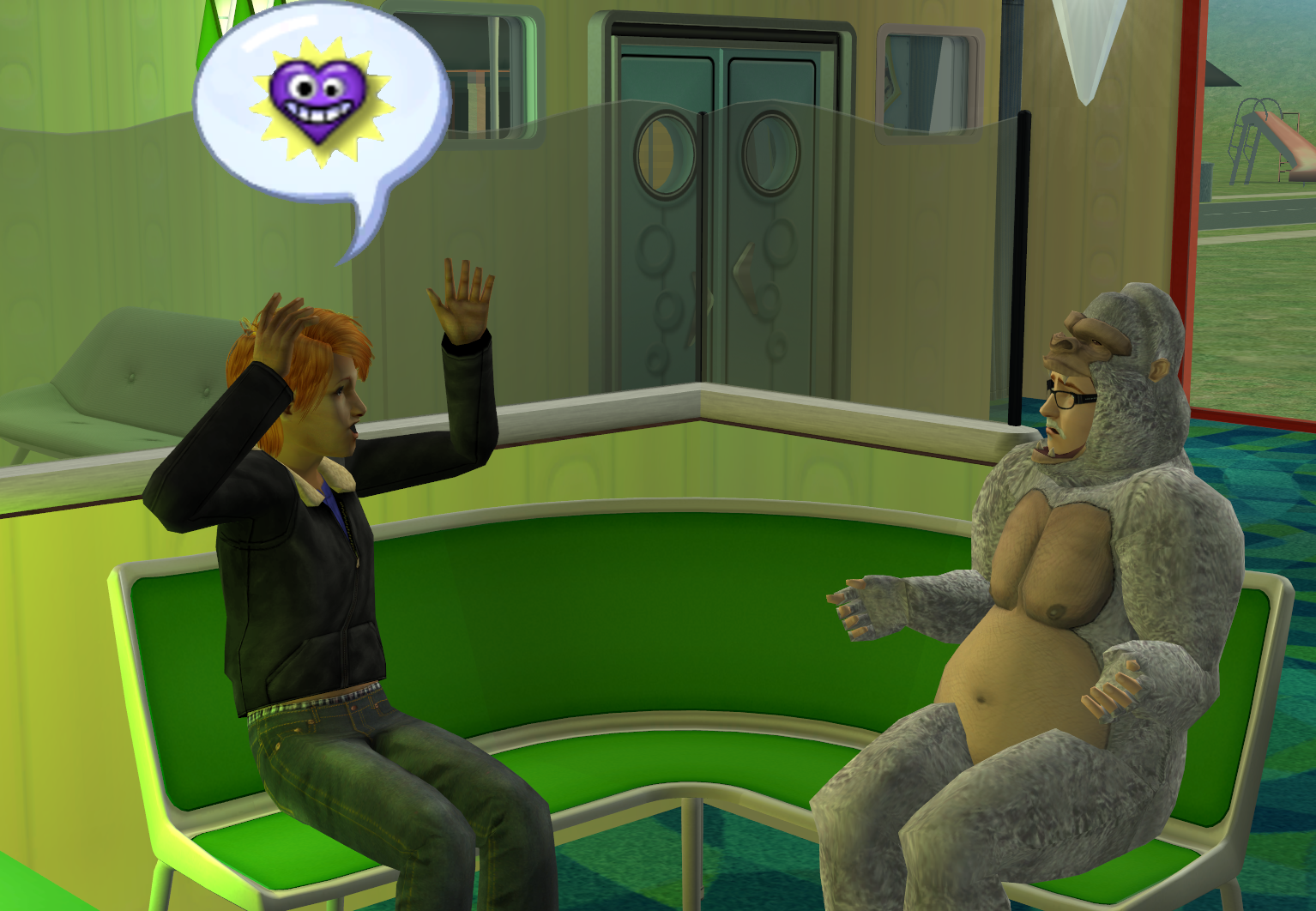 "Actually, that's a common misconception. I personally have never been in a furpile, but then, I'm the only guy in town who dresses up in public in an animal suit."



"Hm, I guess I shouldn't be so quick to judge."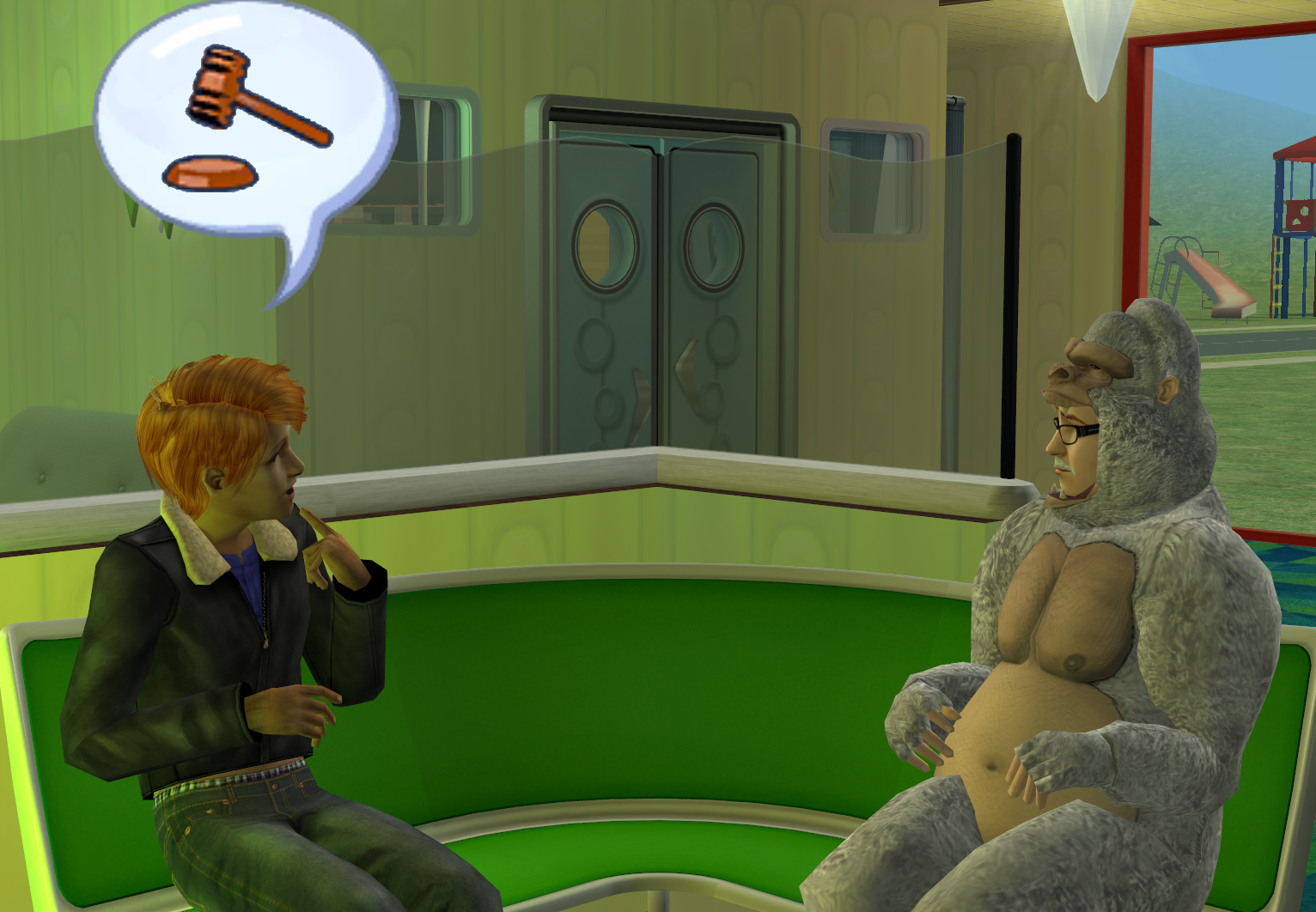 "That's the spirit! Can I buy you a beer?"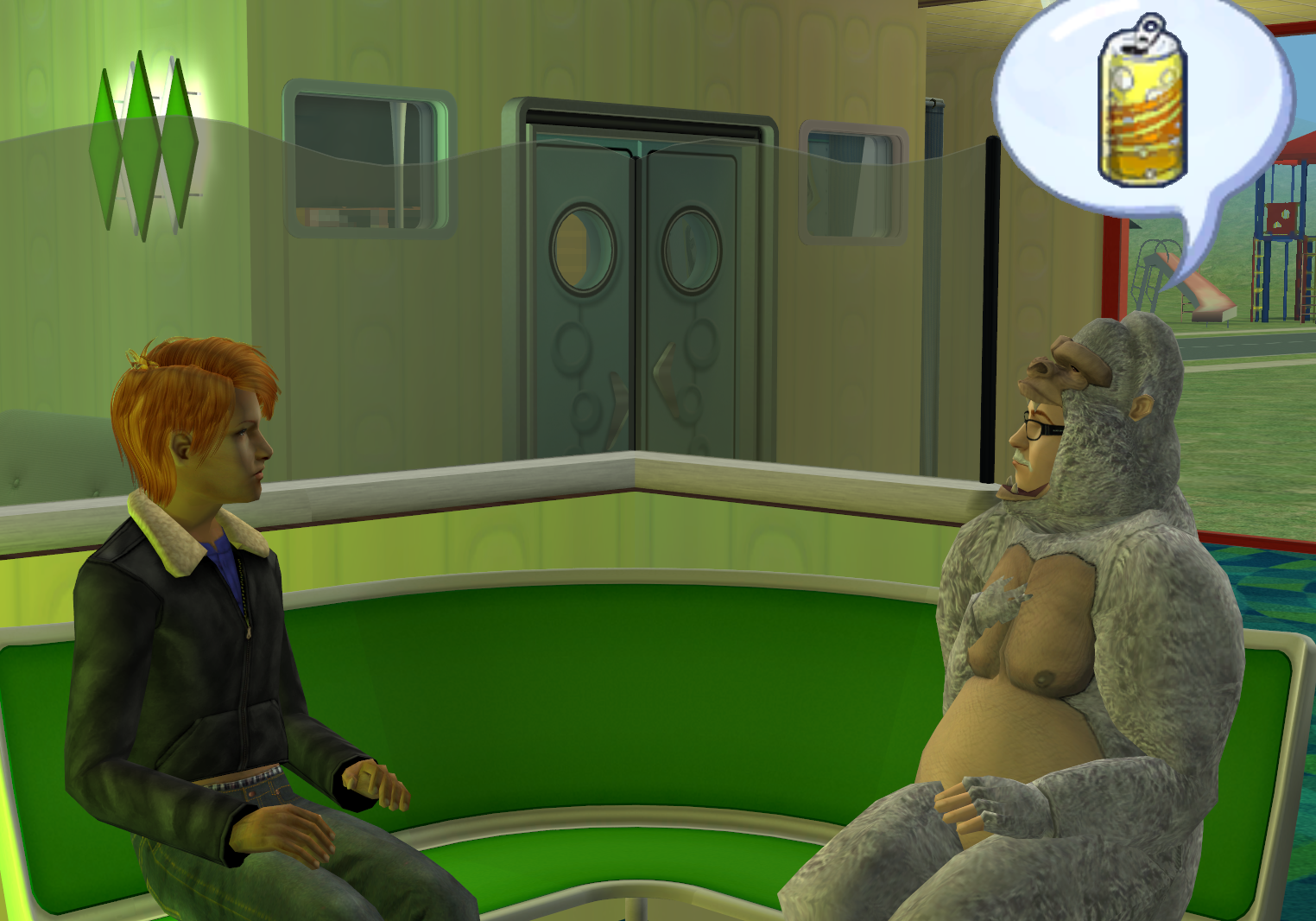 While Bobo makes a new friend, Crow gets to know some people (another good idea, really, this family never leaves the house).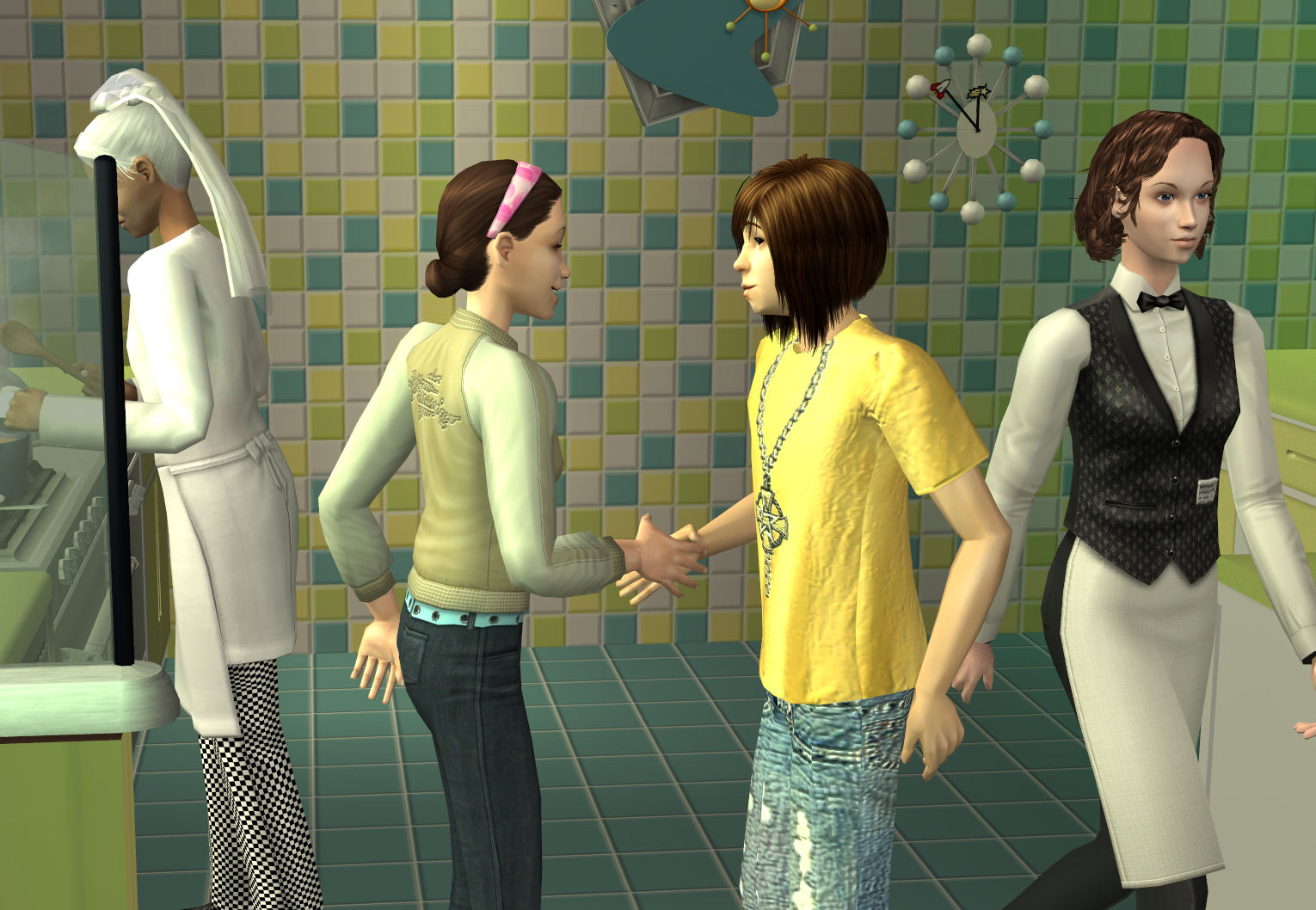 I wanted them to all eat while they were out, but only Bobo could eat at the table (which makes no sense). So everyone else was really hungry by the time they got home.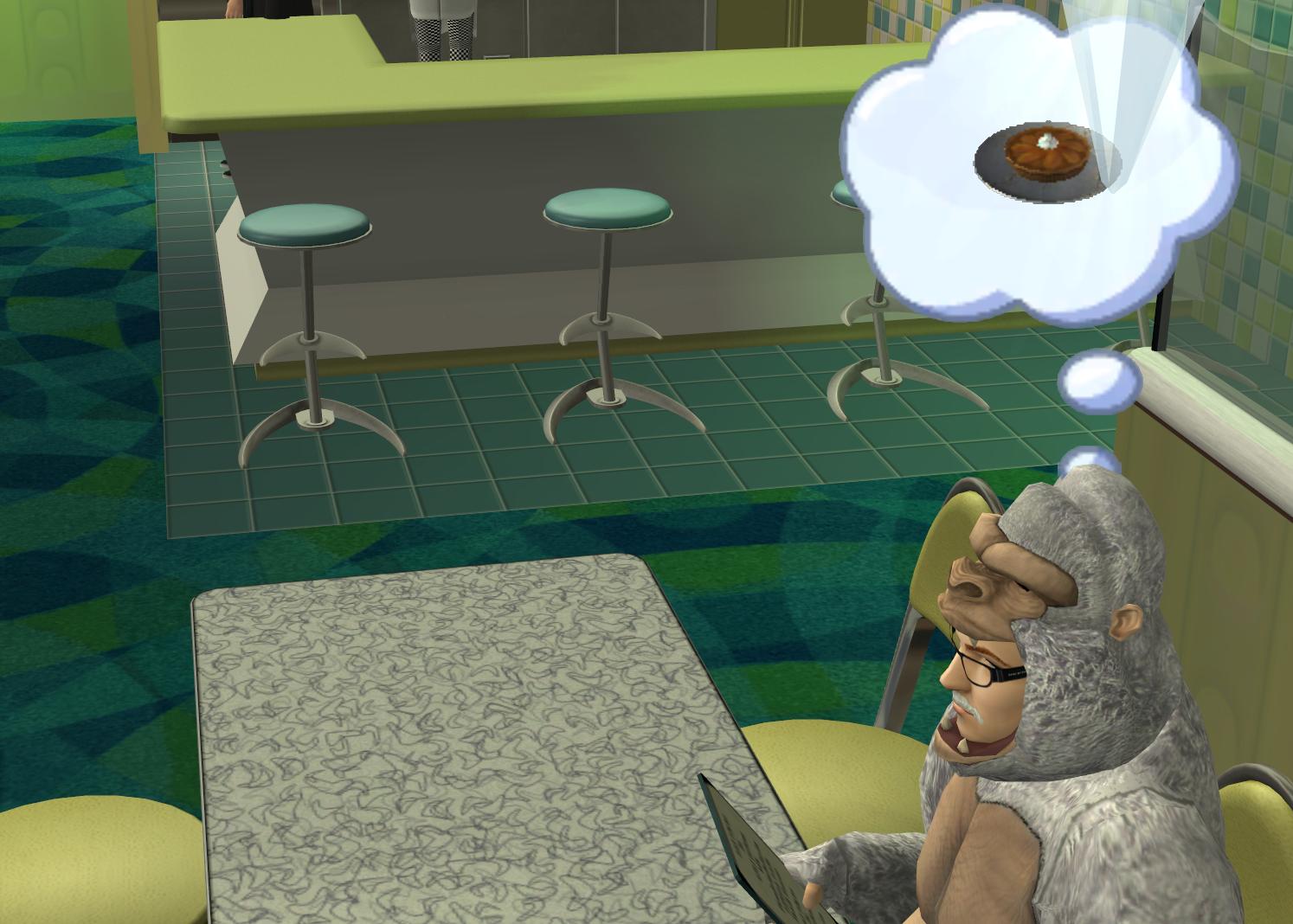 Crow was so hungry he ate right from the trash can. D: D: D: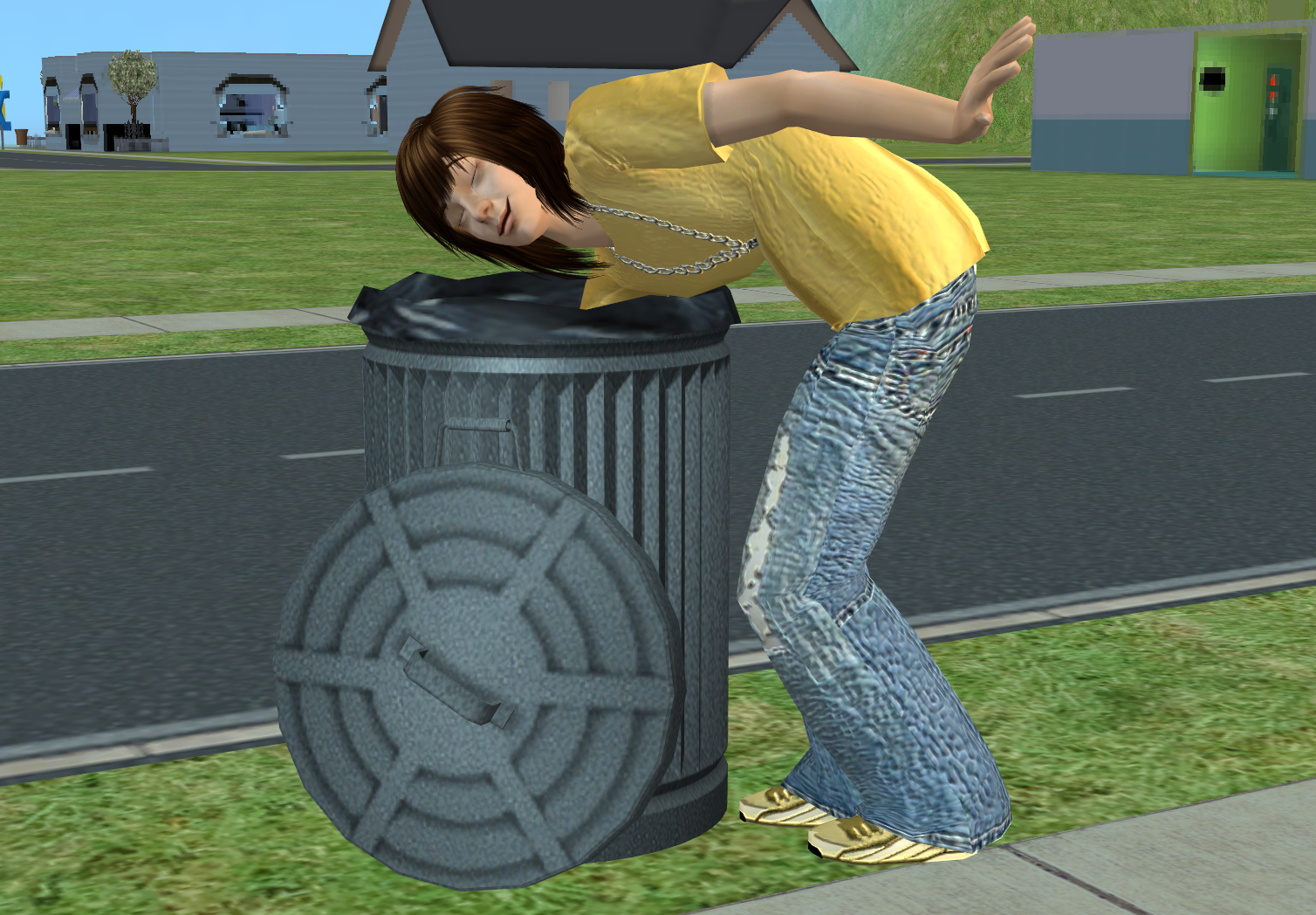 Definitely zero clean points.
"Hey, it's recycling, it's cool, man."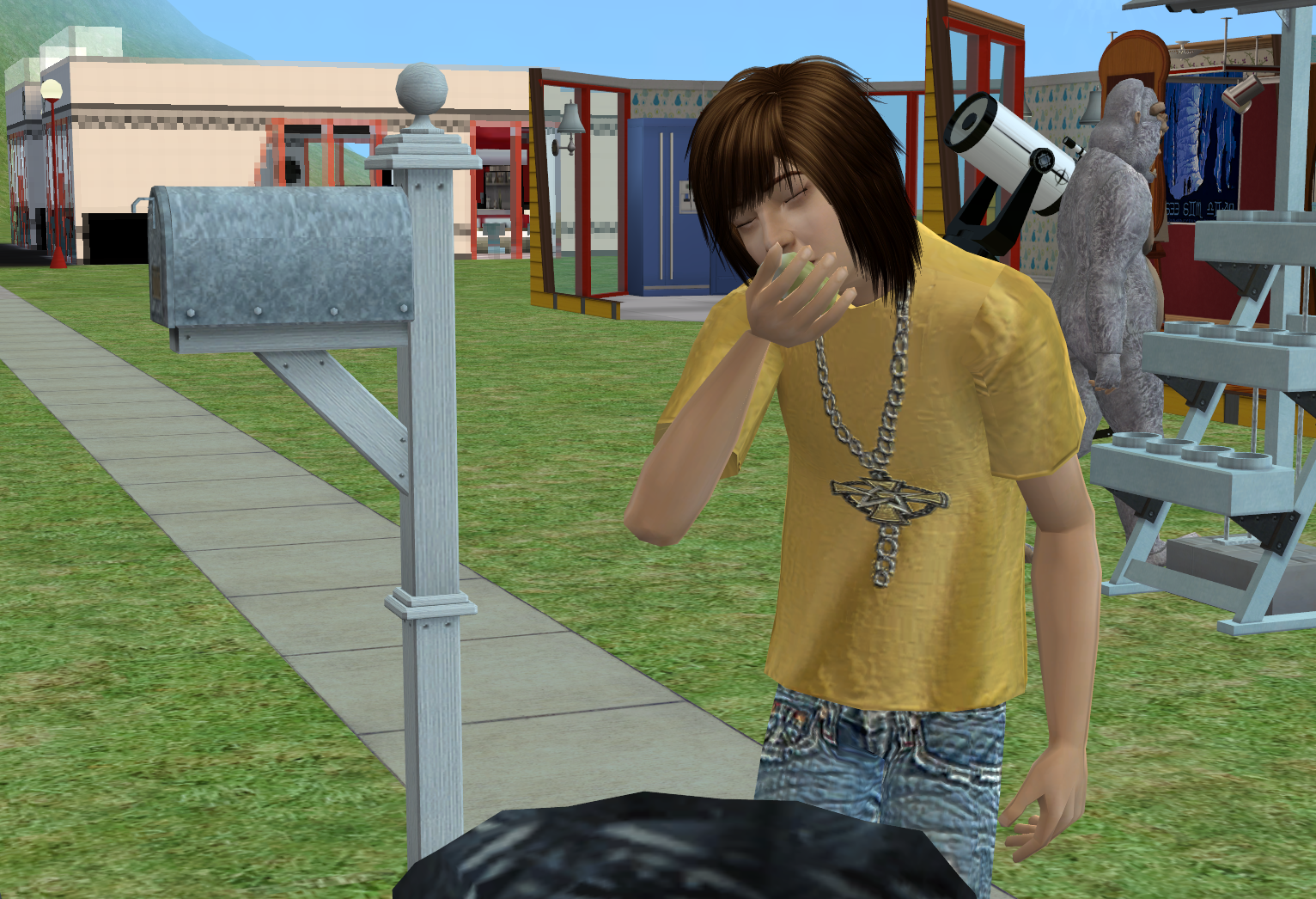 Crow gets a visit from Sam an' Ella and that's not cool. I hope he doesn't die.




Violet throws some hearts for lovable old stoner Makoto St. Julien.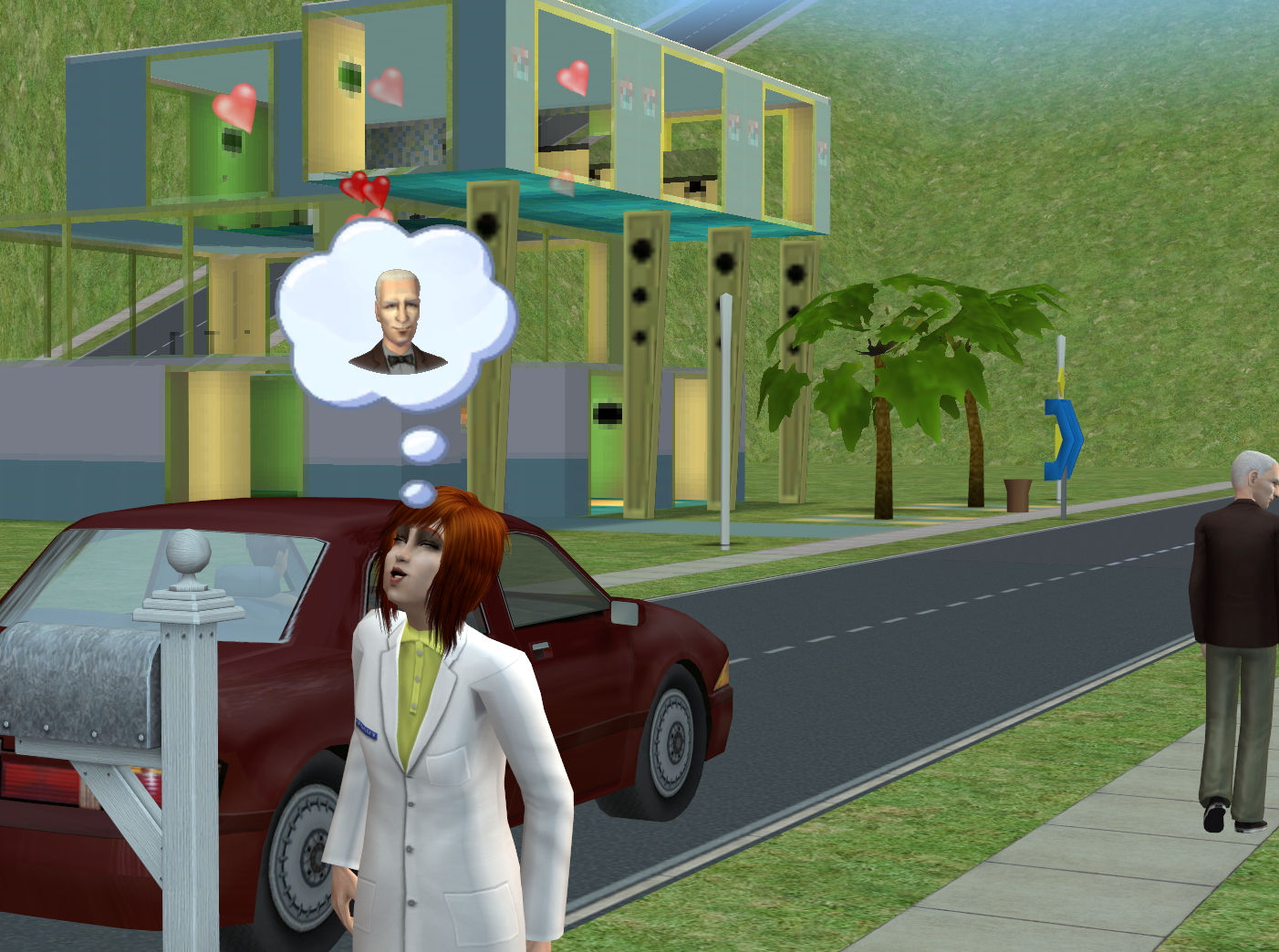 Then she throws hate for her brother-in-law Jerry.
"Somehow it's his fault the tub is broken!"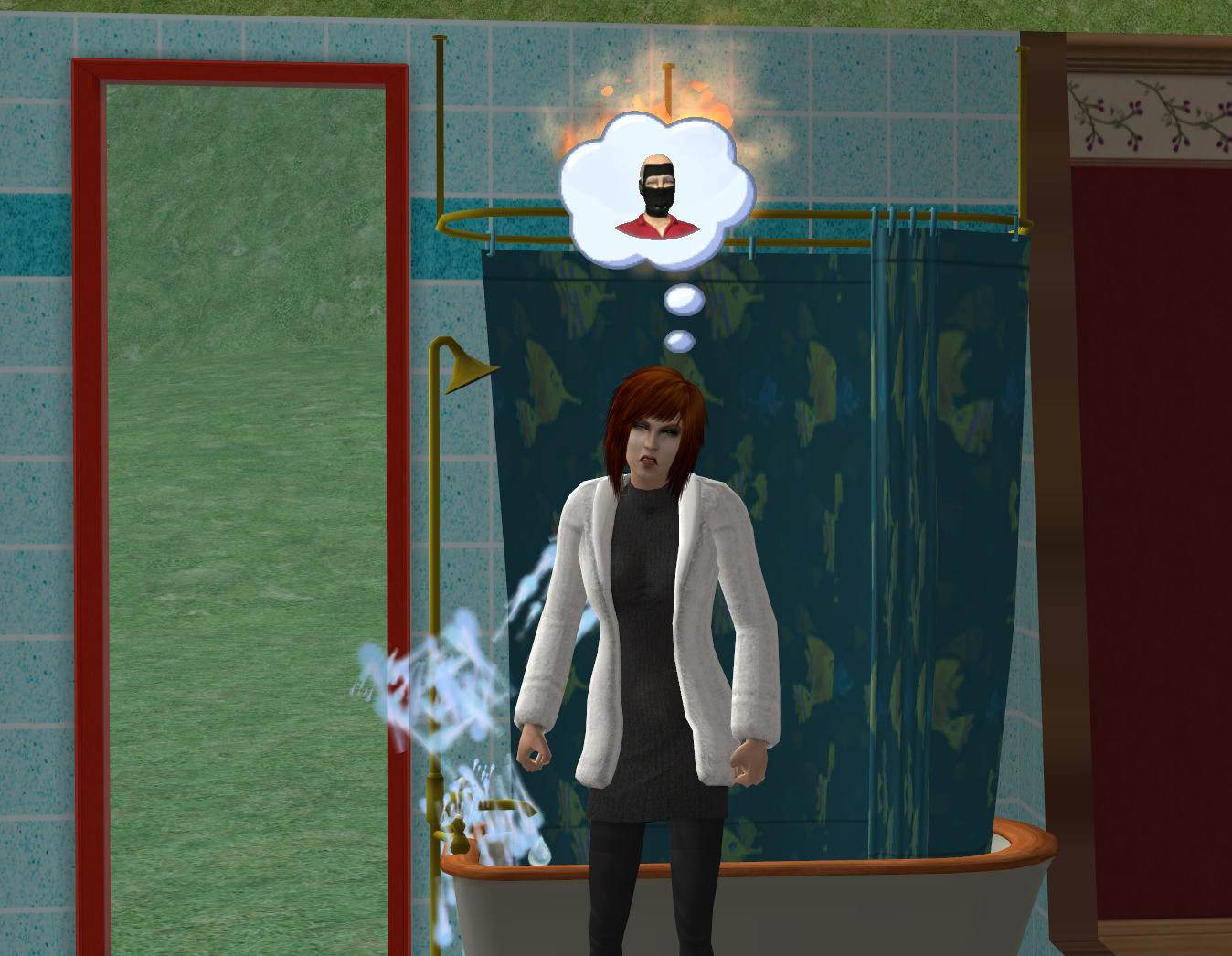 I'm being mean to Bobo and not letting him have a car. Maybe the next one. Bobo's permaplat and happy and doesn't need the aspiration boost. (Also I'd have to rearrange the house to fit a driveway.)




"Ugh, I feel pukey..."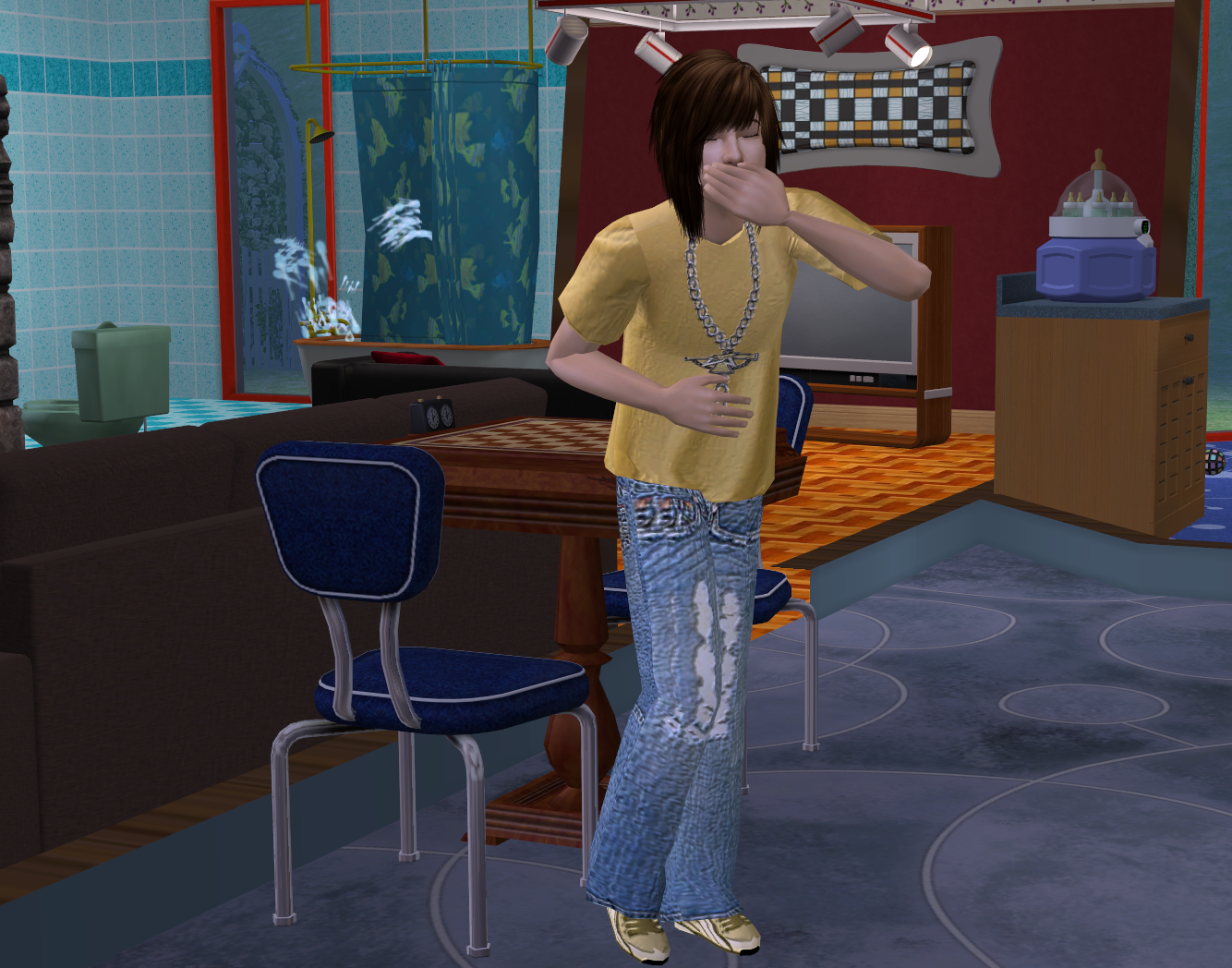 Not to be outdone in the hating department, Jerry comes over to yell at Violet while she's asleep. We need to get keys for the door locks.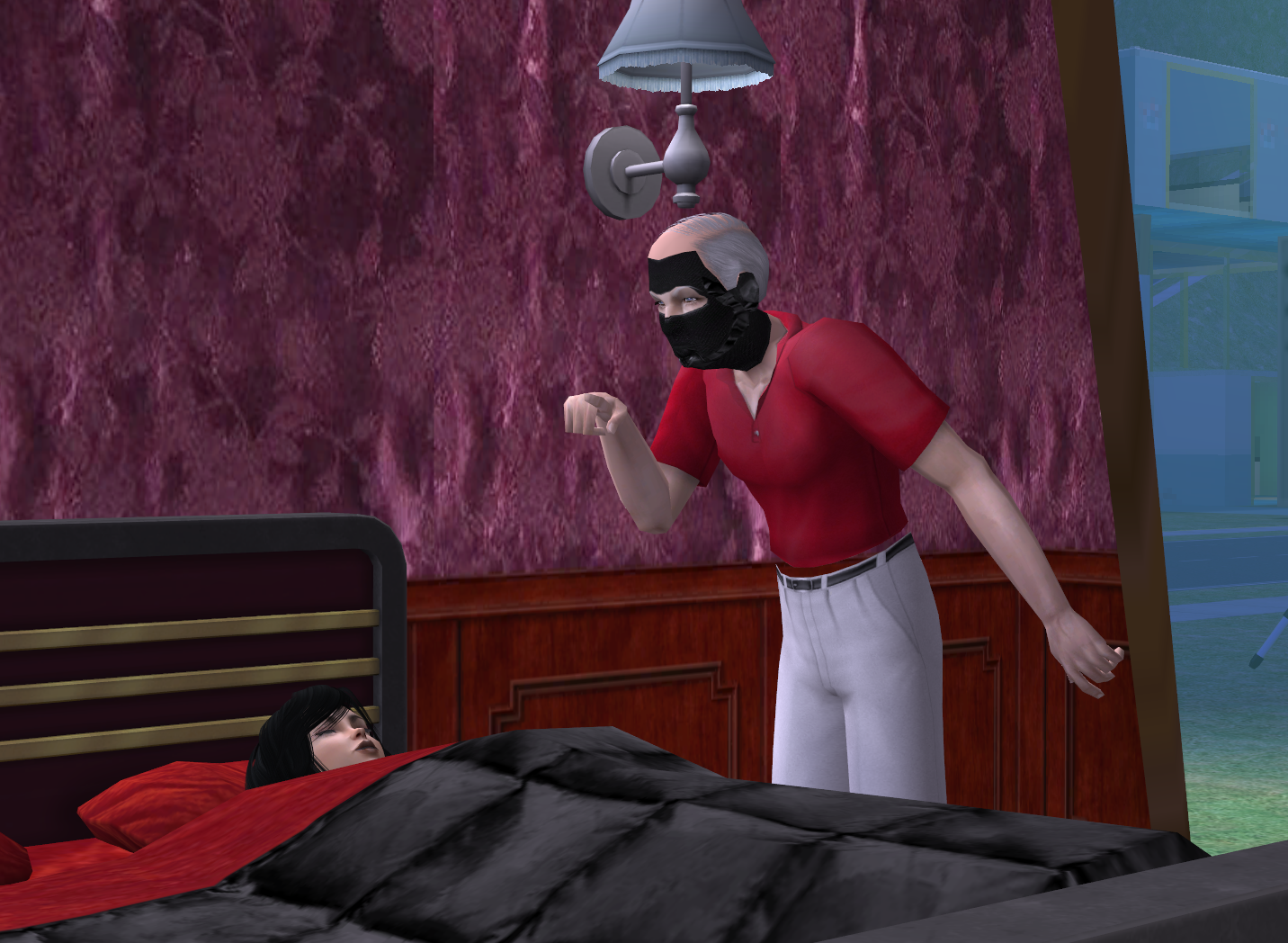 Whew. Next Family sim, we're going to make a dozen servings of Grandma's Comfort Soup and freeze them for future generations.




I'm guessing that Crow is responsible for the toilet back there. Maybe his mother is telling him he'll never know the touch of a woman unless he shapes up.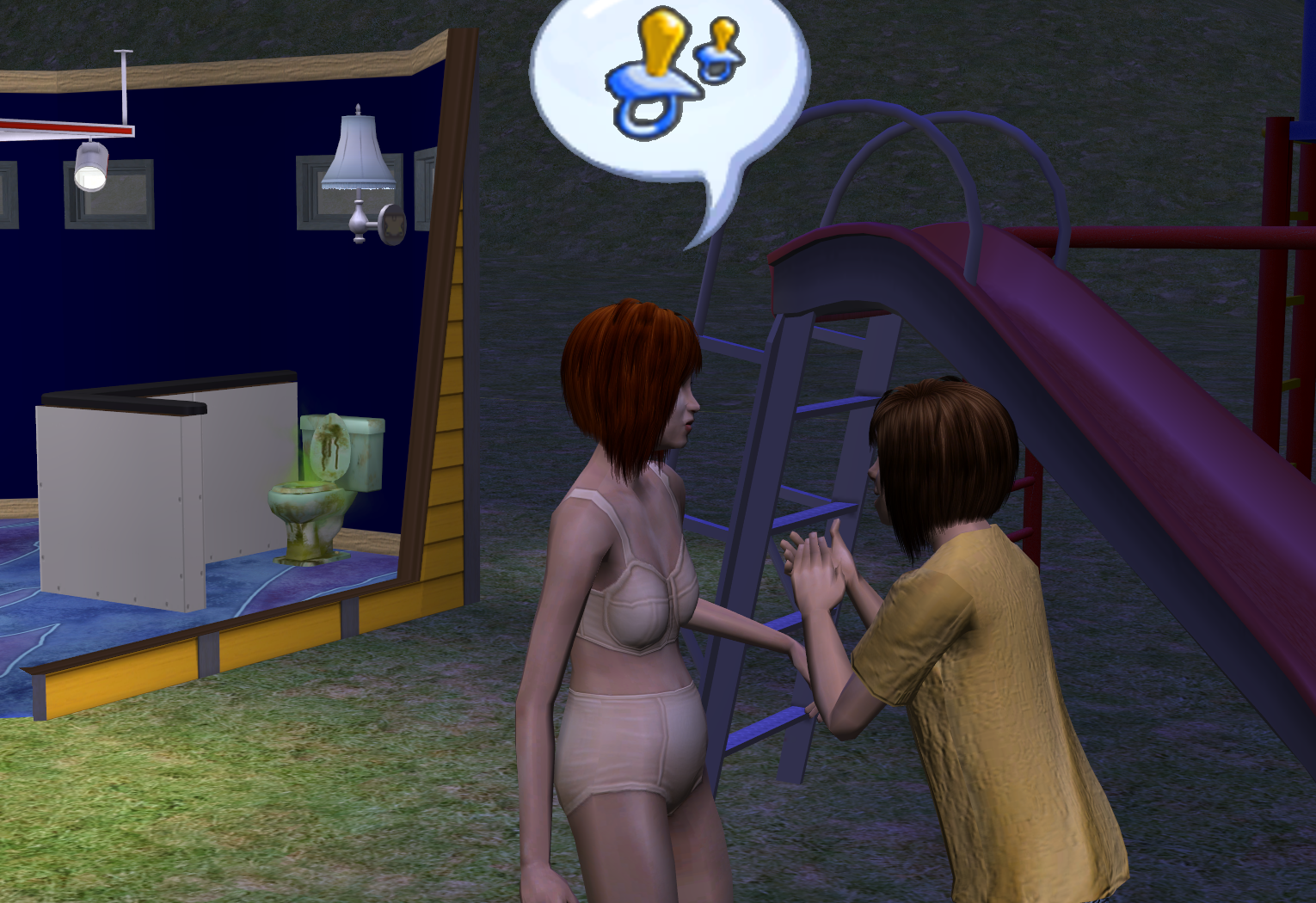 Crow's slovenliness is fascinating. He's the only sim in the whole story who will actually eat rotten food. The others all manage to stop themselves in time. Not Crow! He didn't get sick this time either.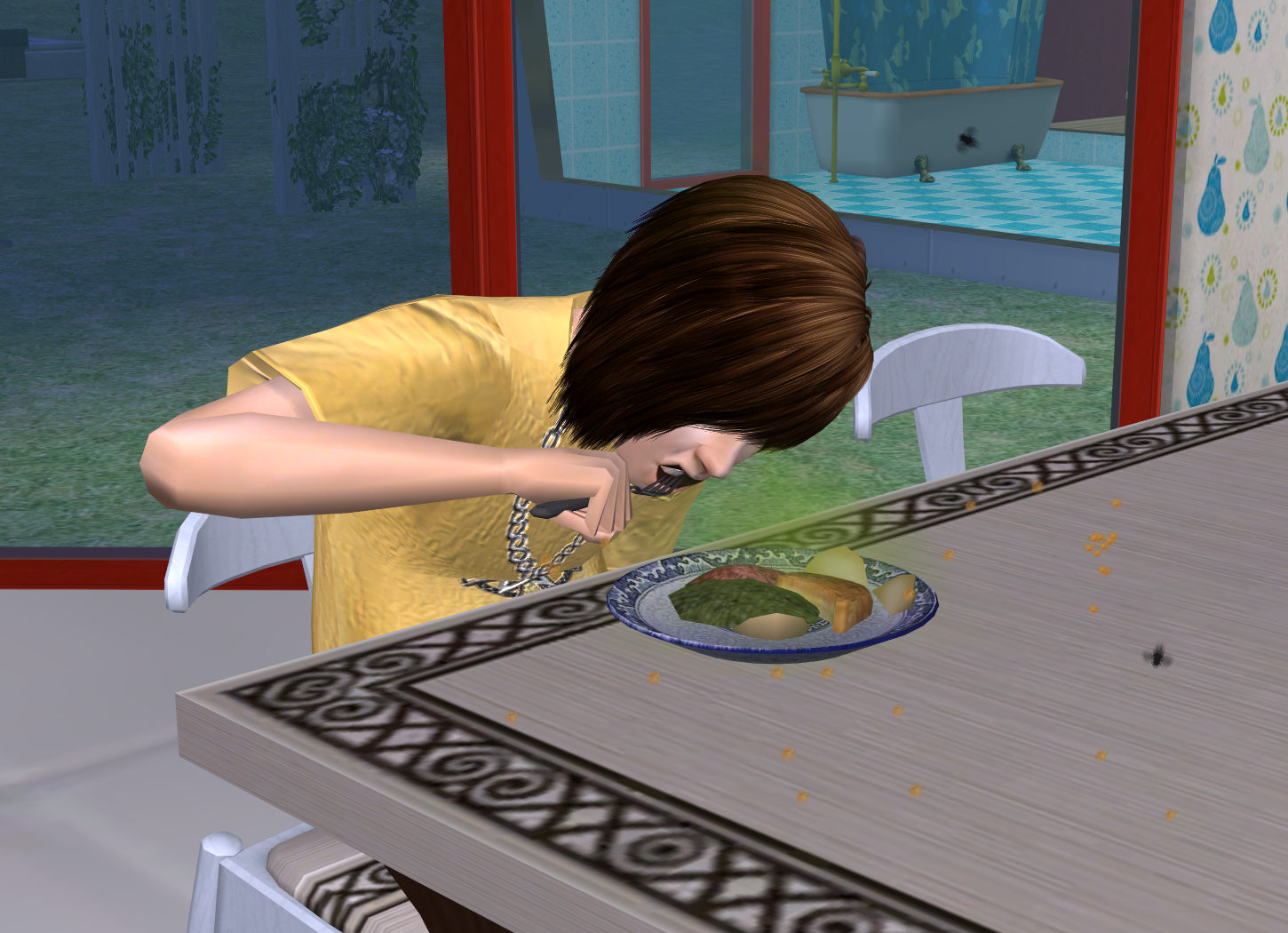 Yes, Crow, we all know it's you.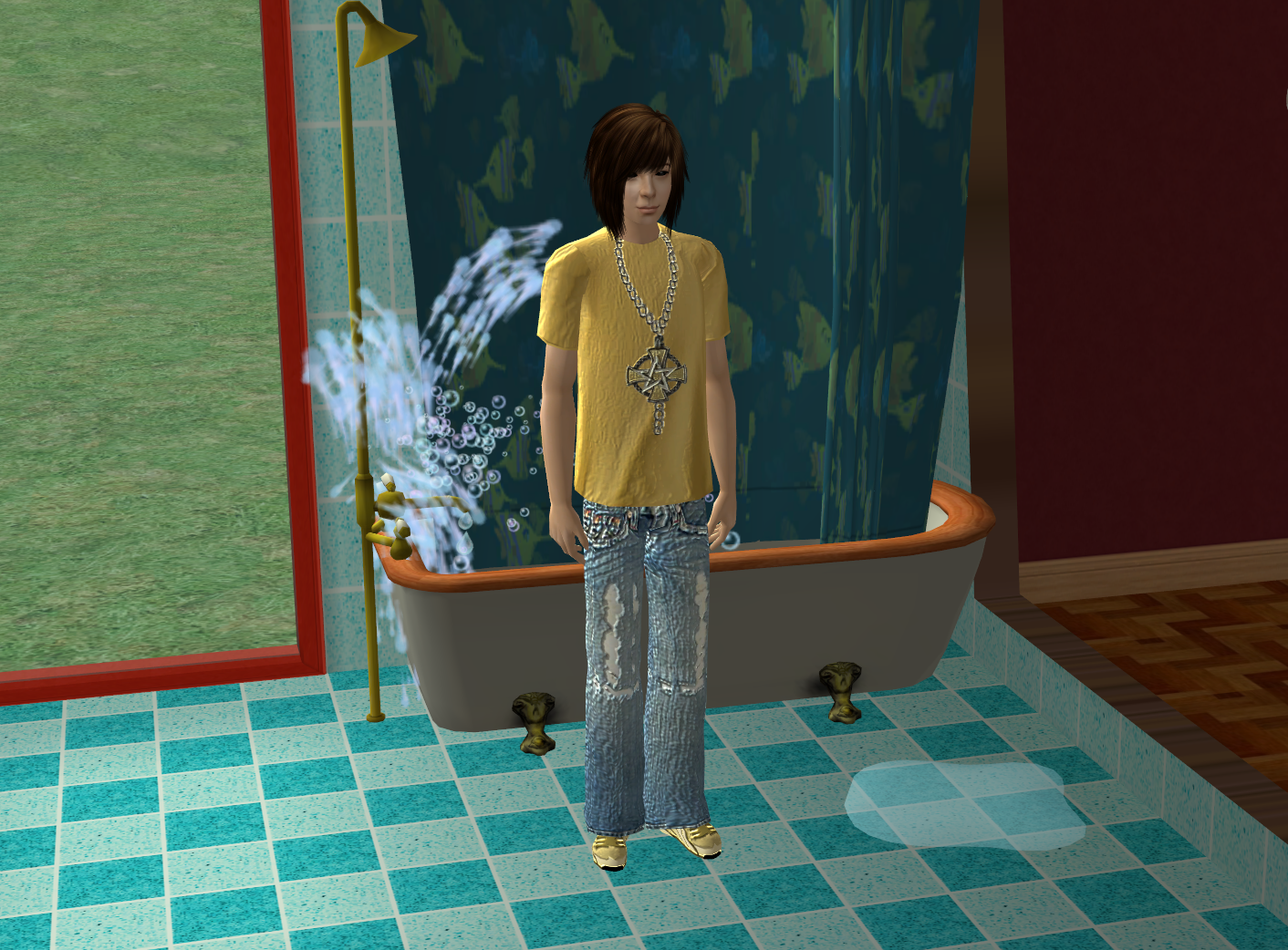 "Remember Grandma? Remember that time?"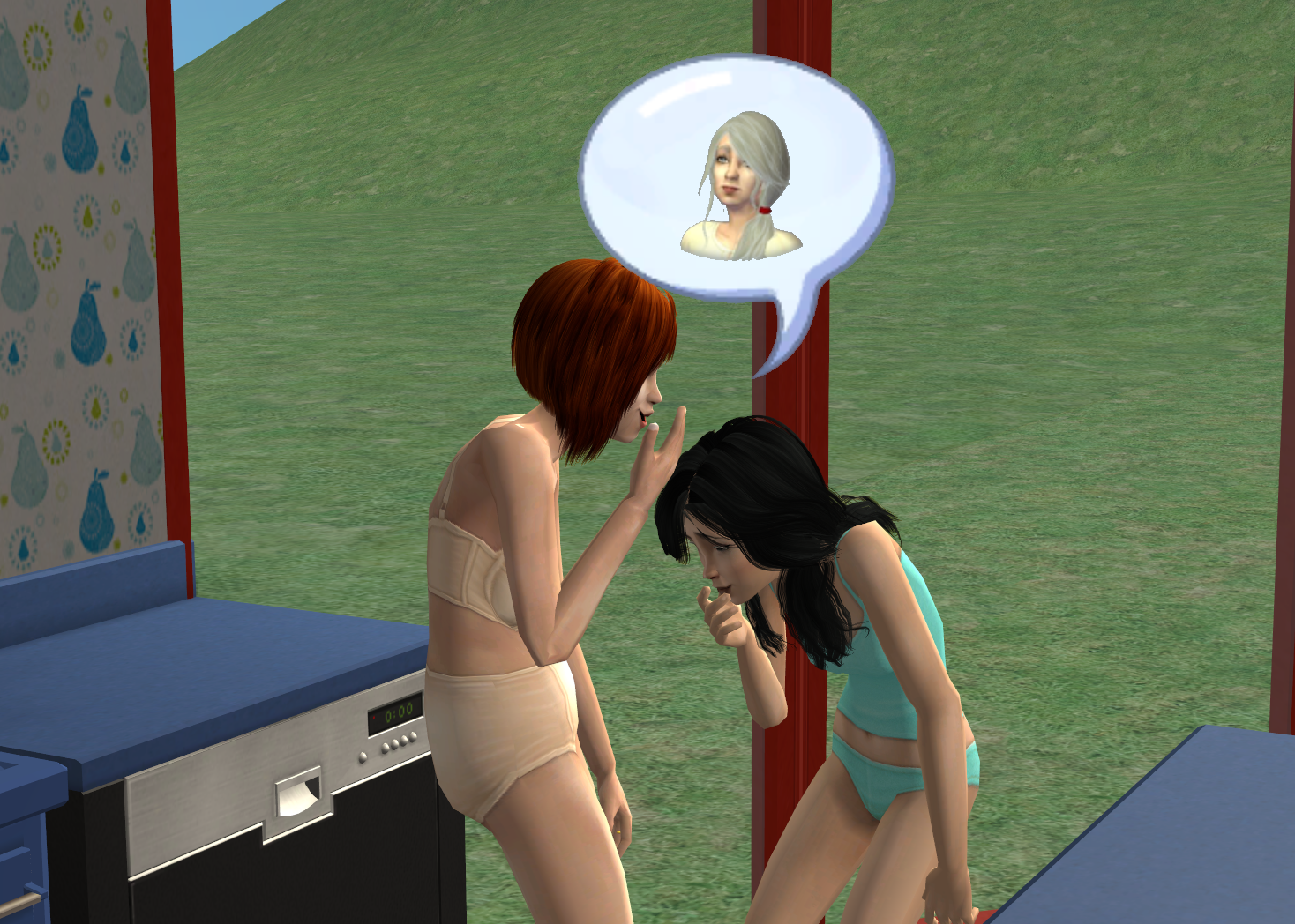 "You know, when she peed herself? Heeheehee!"
Boy, if Kristy's ghost were here, you'd think of something else to say.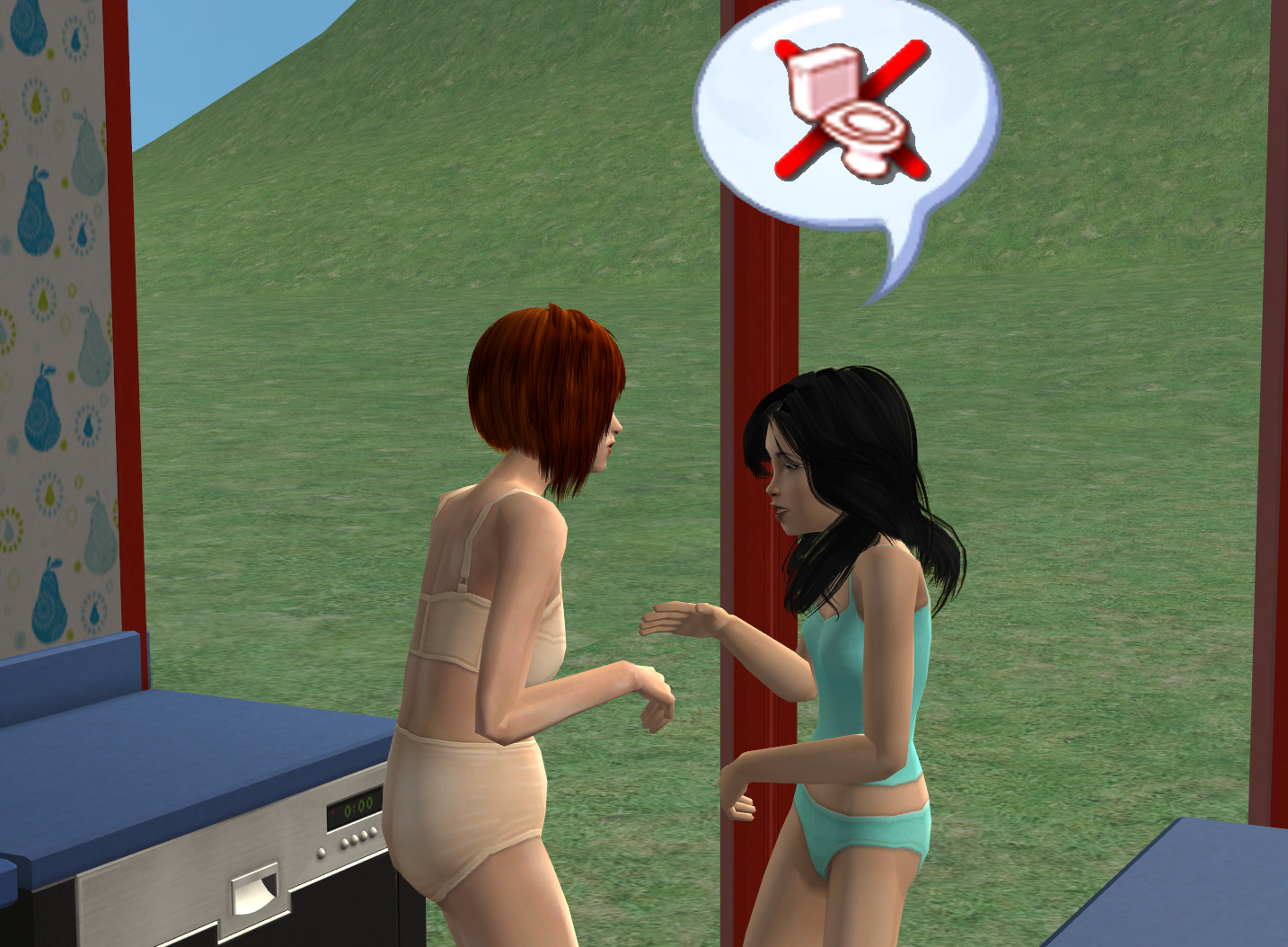 The guy from the bowling alley called Jan up and she talked for a long time. Yeah, I think I need to get the family out of the house more often to meet people. I'll start doing that with Generation 3.



It's time for Lovely Parting Gifts! $21k (more or less) of big-screen TVs.



I really didn't mean for Bobo to miss a day of work. Not like he has anything else to do. Besides, it's a major role in The Jane Goodall Story: A Study in Simian Softshoe!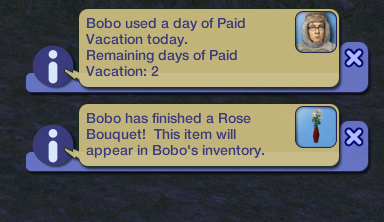 "I think I'll try to copy this painting."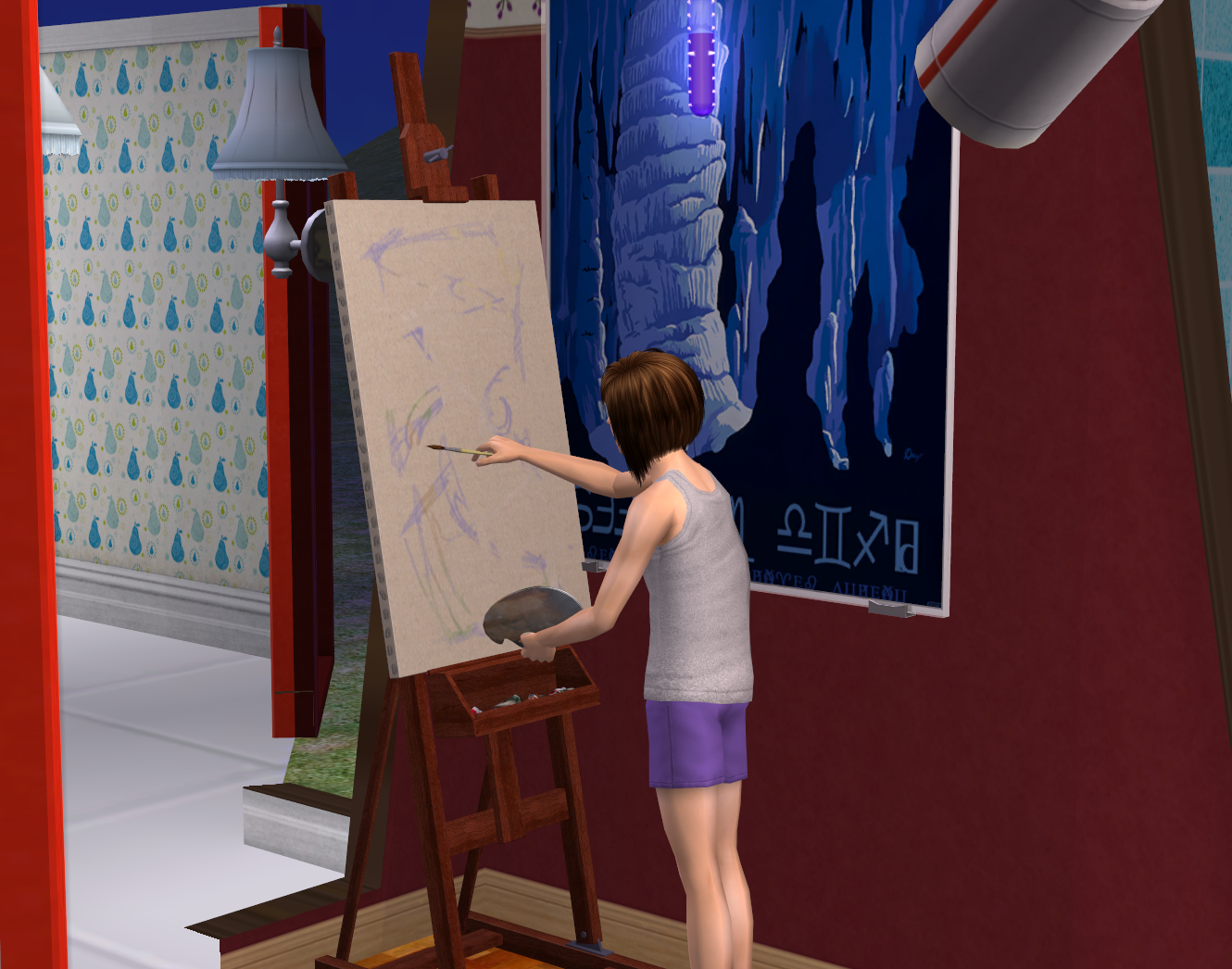 Okay, Bobo now has the gold badge and he still has free time. :/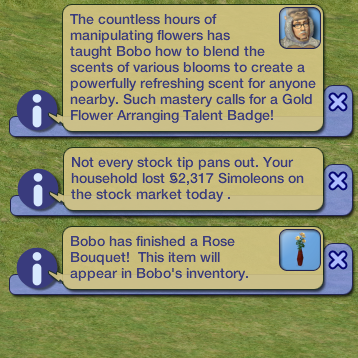 And that this point, it's time to reveal the heir. Given what we've seen, this is my thinking:

Jan-in-the-Pan
Pros:

Female torchholder would be nice about now

Pretty

Knowledge, which usually has reasonable LTWs

Red recessive hair gene

Easy to keep happy - just keep skilling


Cons:

There will be other chances for female torchholder

Appears to have a mean streak; her interactions with family members are to play "punch you" and "noogie my brother", and we actively saw her torment him as a child, and she argues with strangers

Knowledge sims don't care much about kids or romance

Black hair is so crazy dominant



Crow
Pros:

Not too bad looking

I'd rather have the brown hair than the black hair

Red recessive hair gene

I know I can safely ignore a crappy LTW (like Mike's!)

Easy to keep happy - just keep jumping on the couch

Likeable dope


Cons:

Pleasure LTWs are sometimes really stupid/painful

Have no idea how he'll feel about kids either

Soooo slobby



The heir will be Crow.

Now, I know at least two of you "voted" for Jan. But here's my thinking... Jan is really mean. I don't want her yelling at the babies, and I already dealt with Mike having trouble finding a spouse.

Also, it hasn't been all that challenging lately, as far as an ISBI goes. So super-slob Crow might be a shot in the arm, with his penchant for making messes and not wanting to clean up and, like, just wanting to be mellow, dude.

But Crow is the younger sibling, and that means Jan has to leave the household. She adultifies into some awful tramp clothes.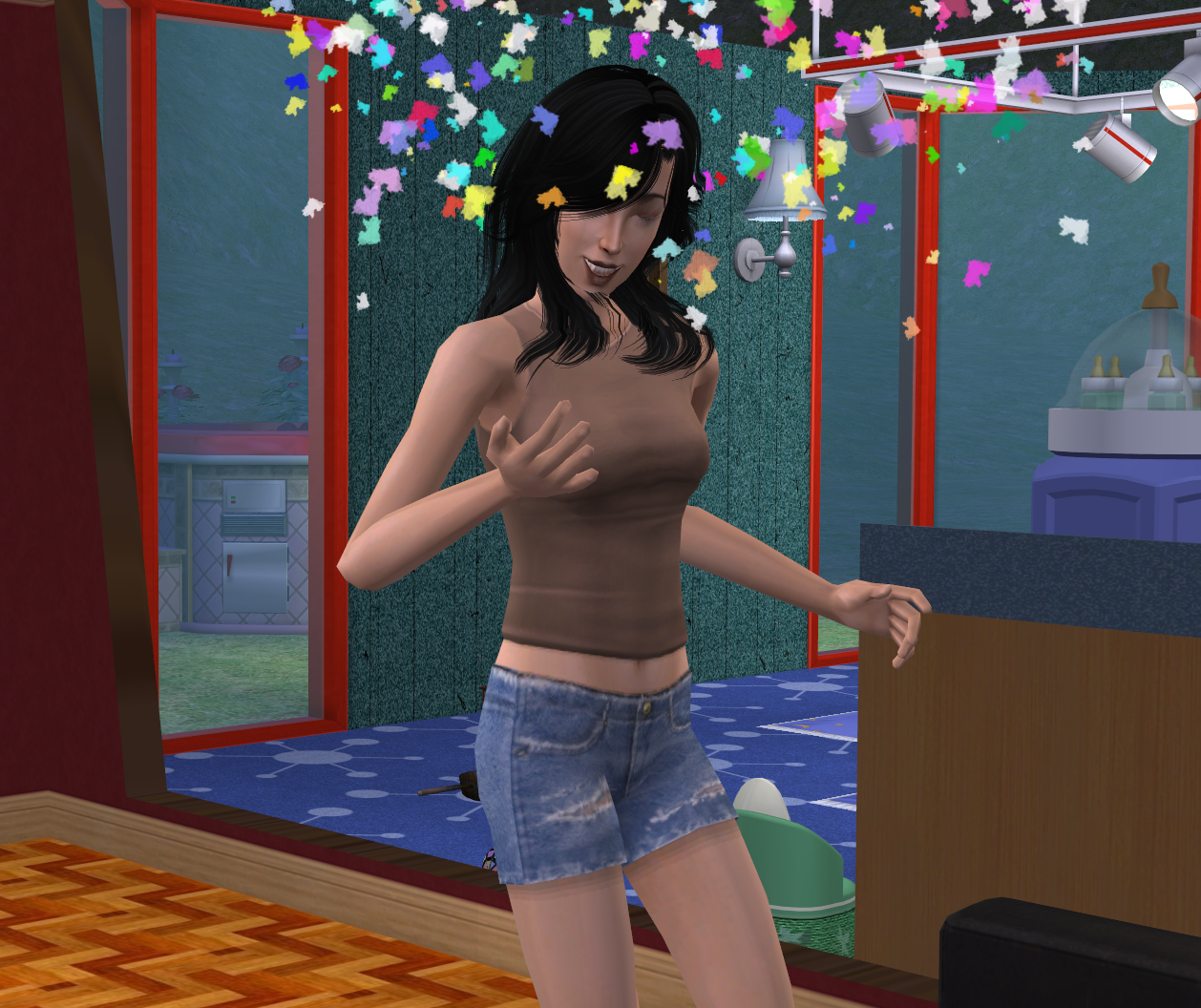 Then has a collapse like we all knew she would, even though she was probably platinum at the time.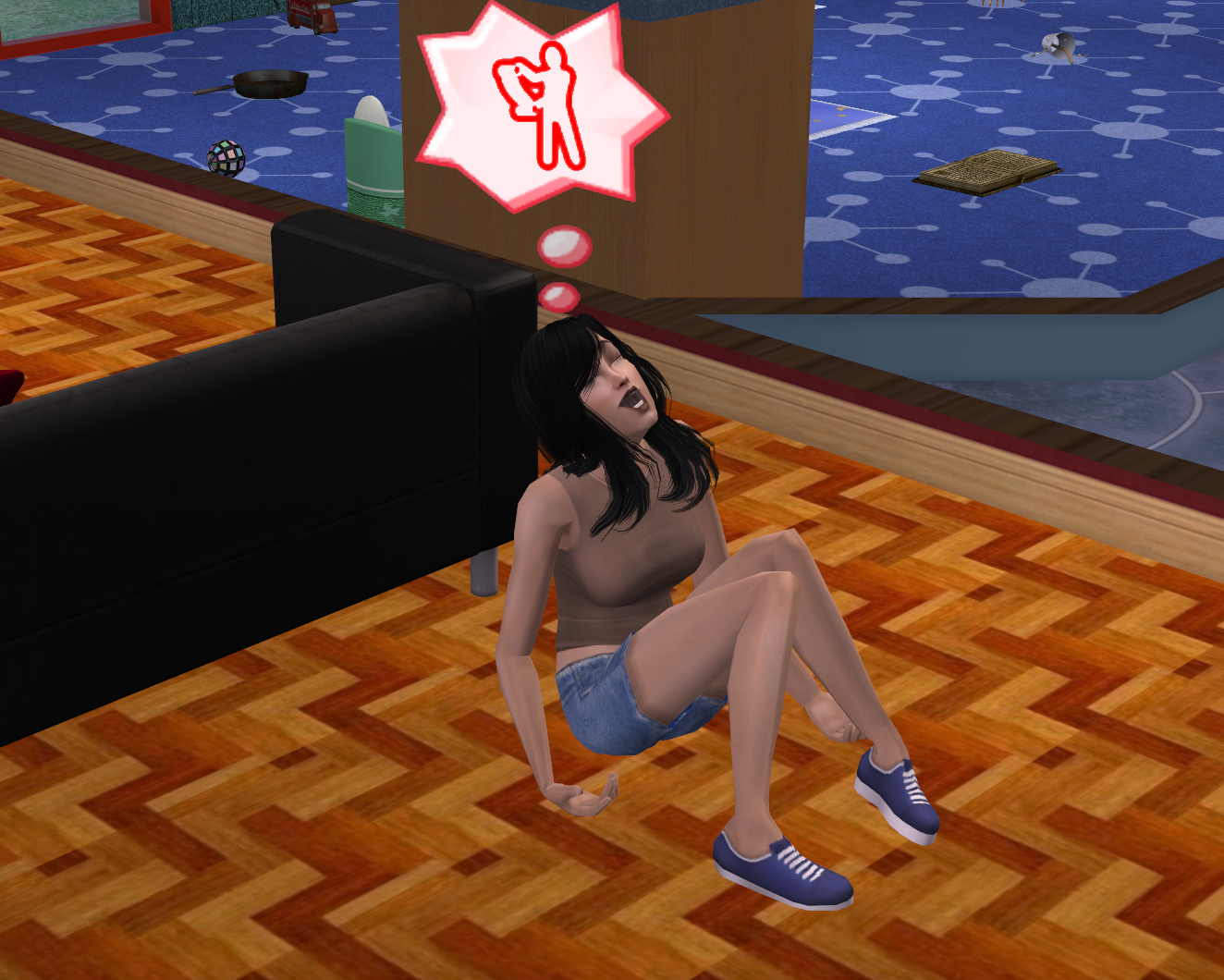 Proof of shrink visit.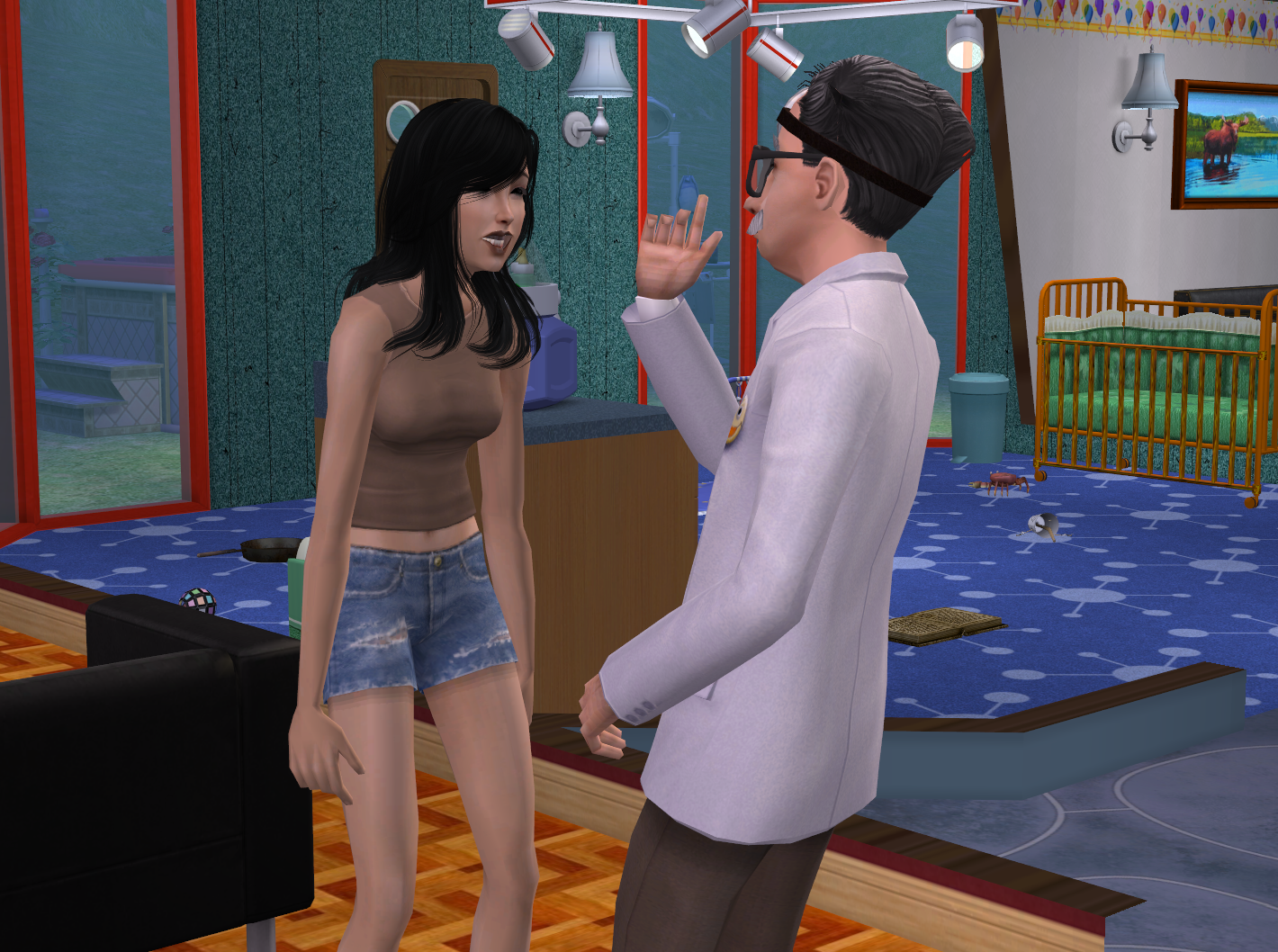 Obligatory "let's look at the one who leaves" infodump. Other than Logic, not much in the way of skills.




Mad Scientist LTW. Ho hum. And yes, outgoing/mean.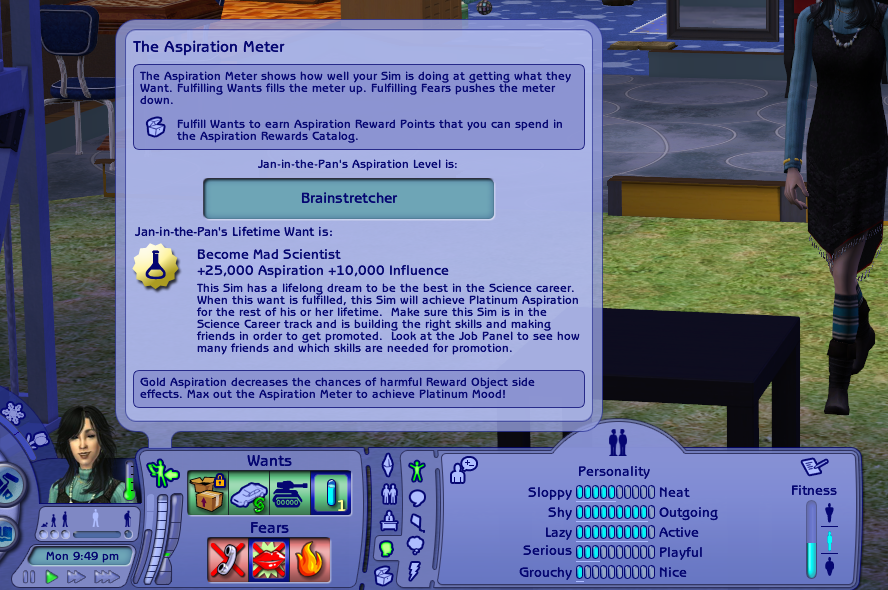 Along with the TVs, I let her make a wish.



She might as well have some inner peace. She's so mean and I want her to feel better about things.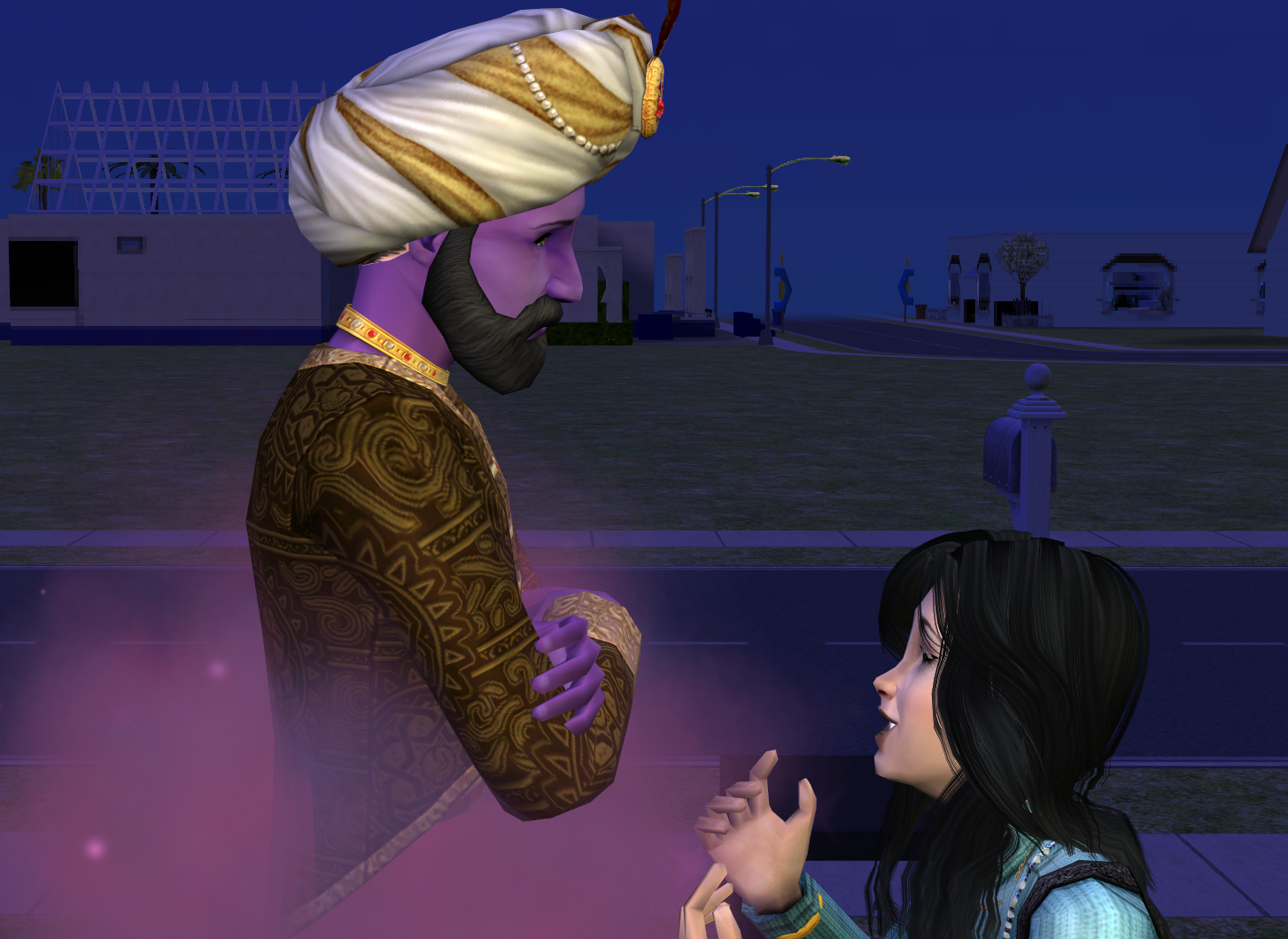 So leaves Jan-in-the-Pan (with clothing makeover) to start her new life somewhere else, and the Genie wonders about the guy in a gorilla suit.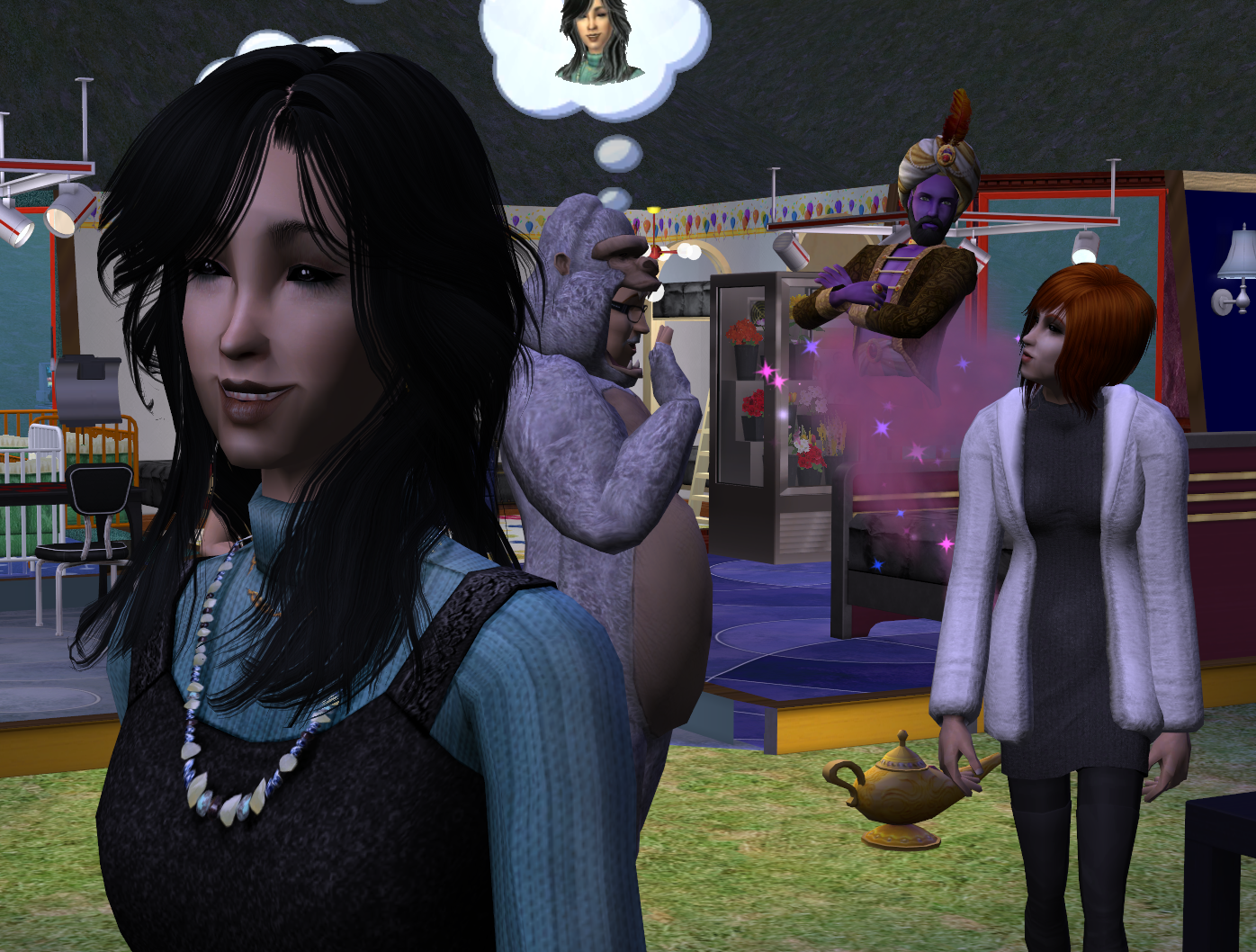 NEXT TIME: Generation 3.

ISBI Stats:
Torch-Holders: 2
Perma-Plat Sims: 3 (Mike, Bobo, Kristy)
Shrink Visits: 2
Fires: 2 (not counting the lightning one, that wasn't caused by a sim)
Self-Wettings: 3
Pass-Outs: 6
Fights: 0
Accidental Deaths: 0
Resurrections: 0
Social Worker Visits: 0