Most of the ornaments are done for this year AND next year! Woot! And I'm almost done with one of the remaining 2 for next year, so I'm waaaay ahead of the game.

You've already seen the posts of the cross stitched parts of the ornaments, which look like this: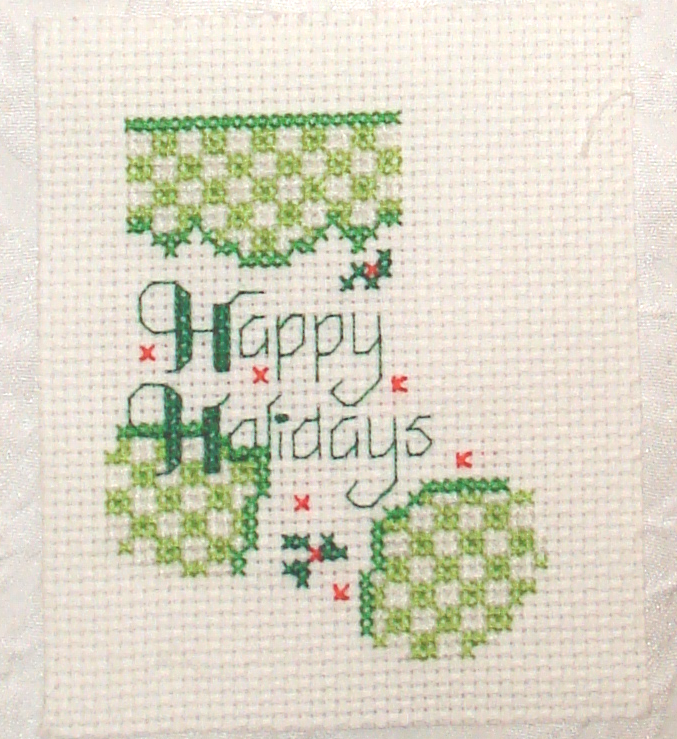 Next up was cutting the provided red felt for the backing. Then cutting out a piece of card, also in the same stocking shape, to wrap the cross stitch around. But not too tightly, as a little bit of stuffing had to be placed inside to give it some shape.

I used a lot of Loctite Stik'n Seal on this because it really works, but jeebus does it stick to your skin if you get it on there. It's like almost-superglue.

I also had to cut the cross stitch fabric here and there to make it fit neatly around the rounded edges of the stocking shape. So, cut the card; cut and fit the fabric; glue everything except one edge; stuff; glue that edge; glue the felt over the back to hide everything. Oh, and don't forget the glittery white ribbon to hang the ornaments on the tree! :P

There was one where the fabric didn't quite cover up the top seam, so I put a glittery... I don't know what it is, it's not a pipe cleaner. But it's Christmasy and looks right.
The other one is an example of what I put on the backs. I like to put the year and the recipient's name on each one. (I would hope they would remember who gave them, since I'm the only one in the family doing this...) I bought a white paint marker, but that really didn't work on felt, even though that was highly recommended for felt.
No, in the end I used some fabric paint I bought years ago that's still good. It's allegedly "3D paint" but hey, it works! In some cases I had to give it two coats to make it look good. Practice makes perfect, right?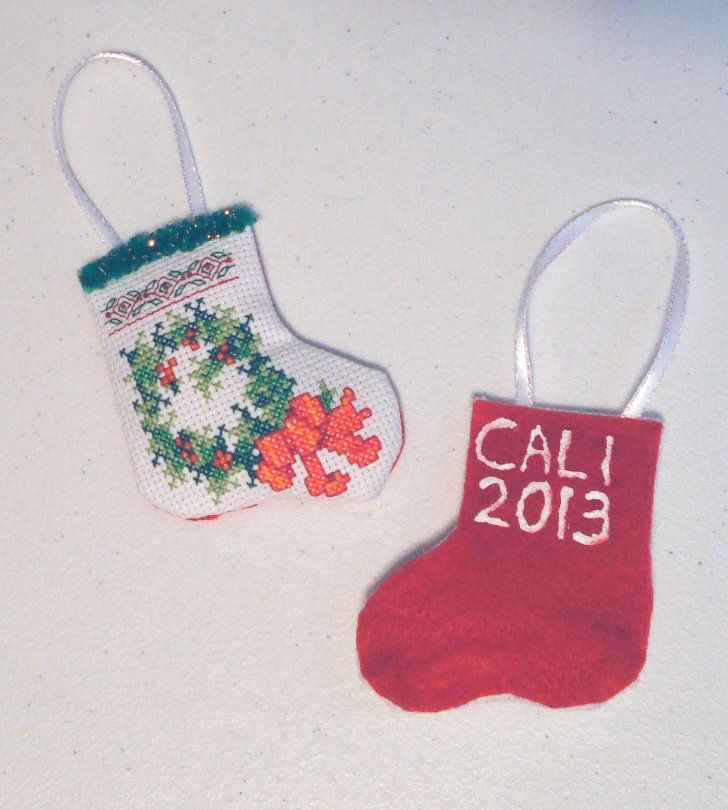 So this is almost all of them. One is already packaged (I'm that organized! Woo!) so it's not here. I have two more to finish up the run for next year, and I'm on the backstitch of that one, so it'll be done soon too. I might just do the one after that so I can say I'm done with ornaments through 2014.