Time to check in with the Keefes. In El Marrow, Milo and Suzi Keefe made their money running a head club, becoming millionaires and laundering said millions by funding a university. They had two daughters, Josie and Georgia; Josie came with them to Nuevo Marrow and Georgia went somewhere else. The Keefes are still fantastically rich. At the end of Week 7, Josie was pregnant from one of her many boyfriends.

Featuring sims by
sjoisan,
olivethegreat,
austereacademy, probably a couple of others. Also, this is a house of Romance sims, and they have a hot tub; pictures are somewhat censored but still, not exactly kid- or work-friendly.

Archives are here.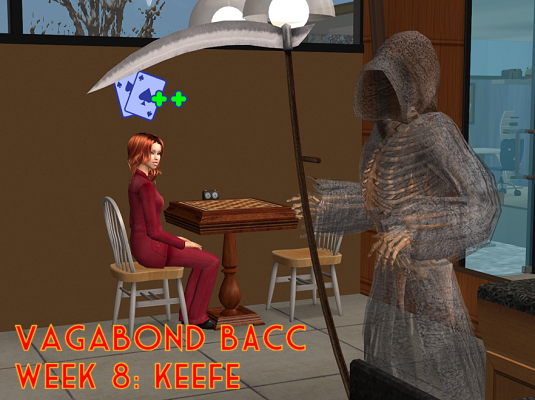 Milo and Suzi are still madly in love, even as elders.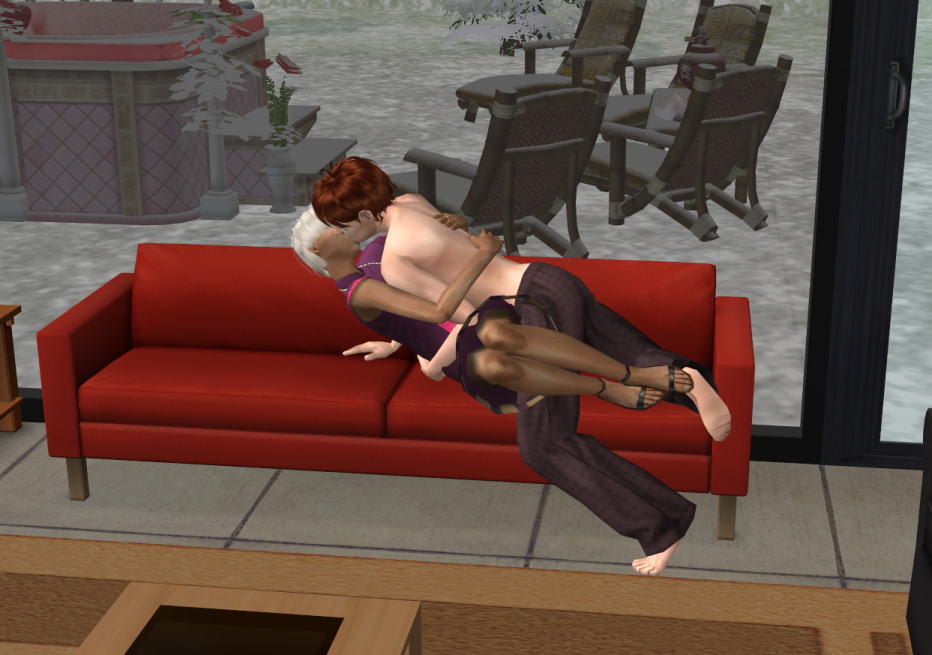 Spirit Reddie (
sjoisan) moved in after leaving Aeneas Blake. She and Josie have the same LTW - Woohoo w/20 - so in theory they should get along fine.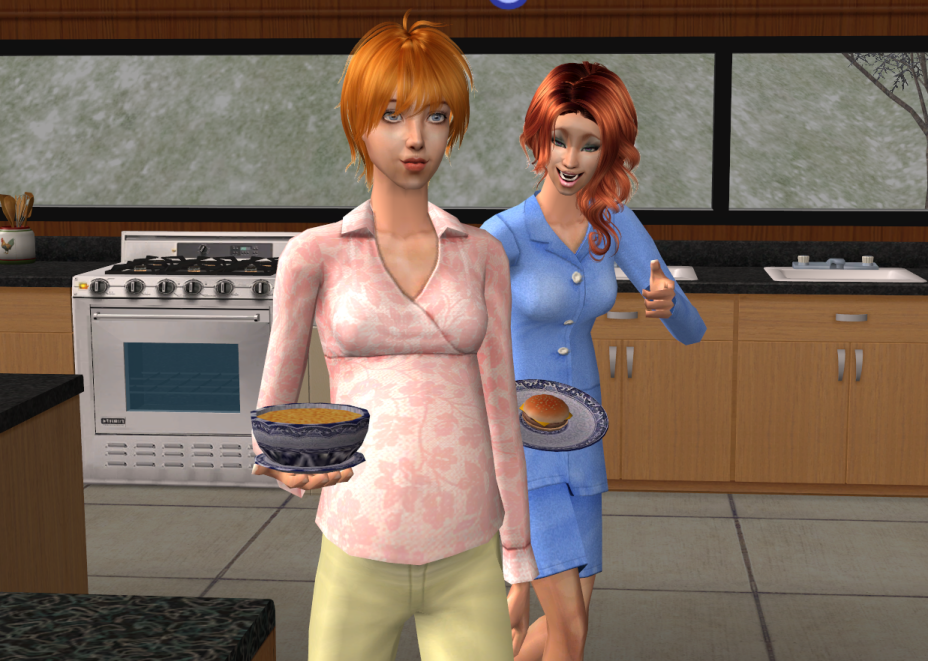 The Keefes talk to Spirit about her prospects and invite her to join them in the Business career. She can hardly say no.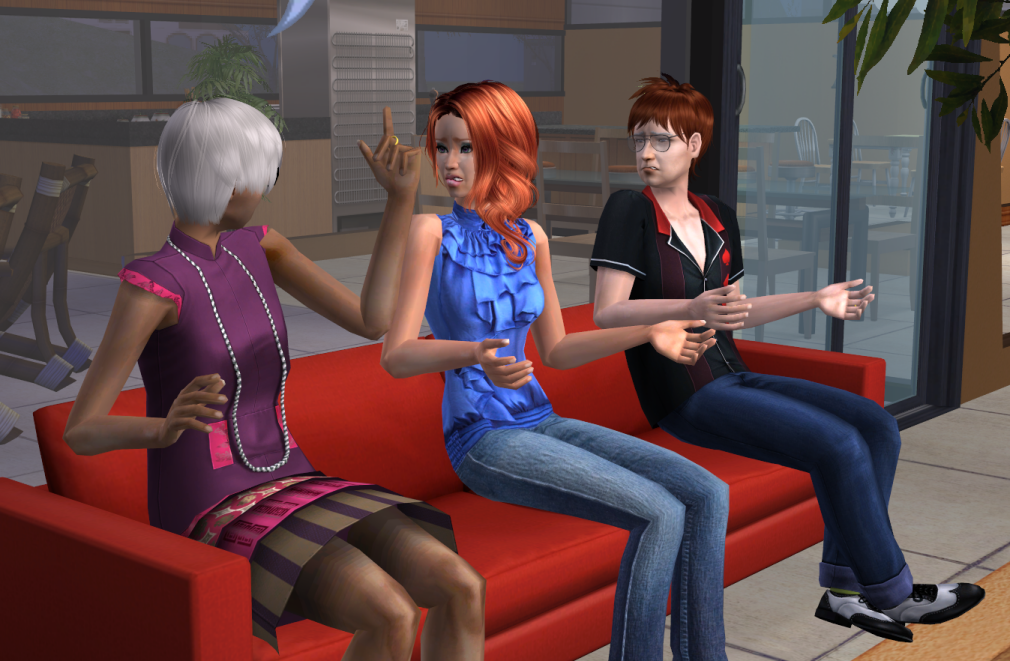 Look at all the seating in this place! Later on I removed the table on the right and put in a chess set.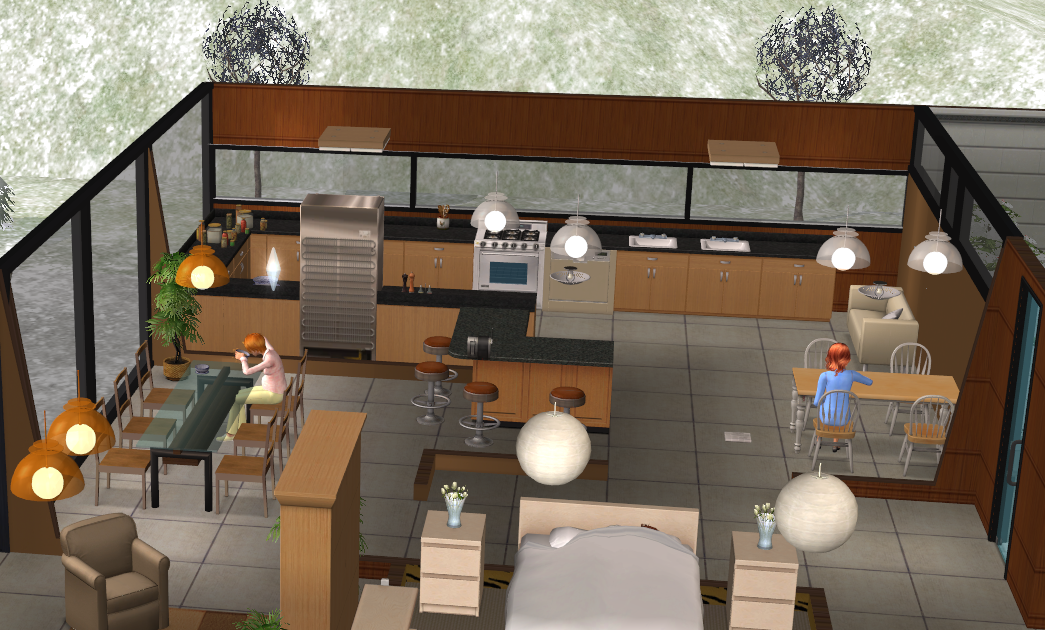 Josie finally has her baby.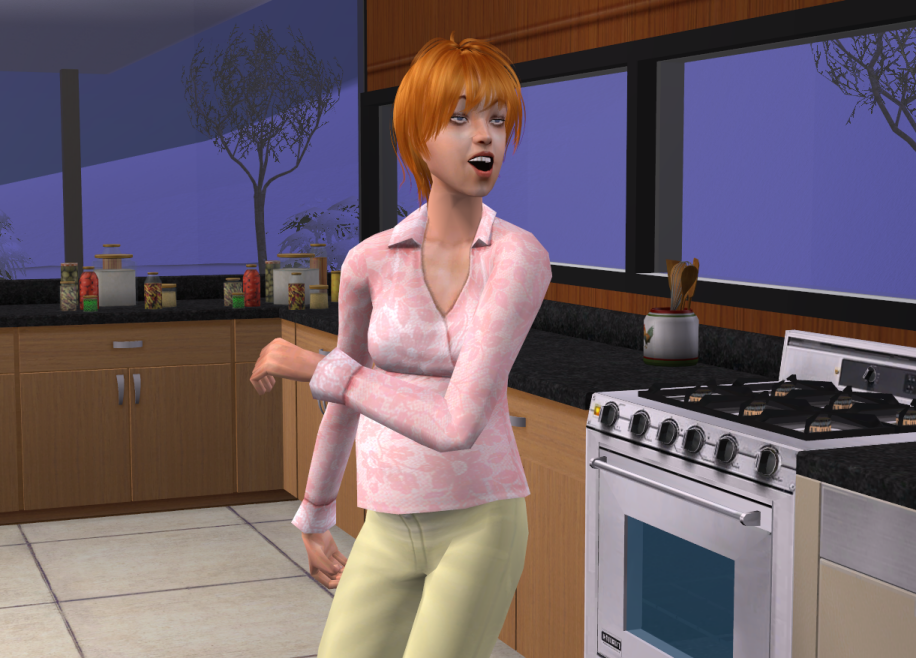 I know I could look up the father in the family panel, but Josie probably wouldn't have kept track, so neither will I. She names him Sebastian. (Is anyone getting the reference here?)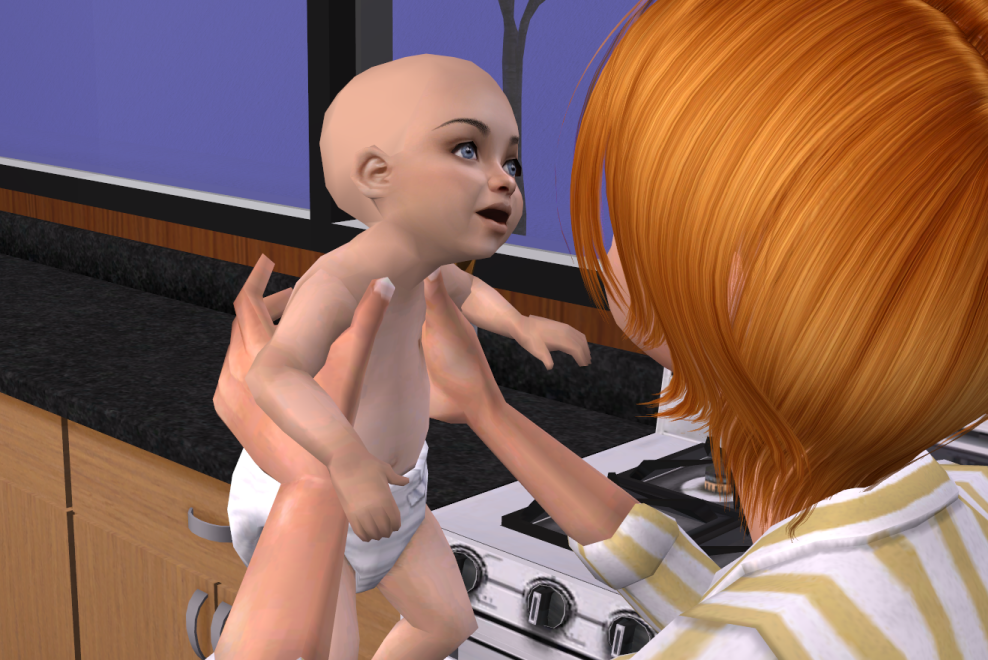 Suzi and Milo are working full-time, but the nanny isn't 24/7, so poor Sebastian at least gets some attention now and then.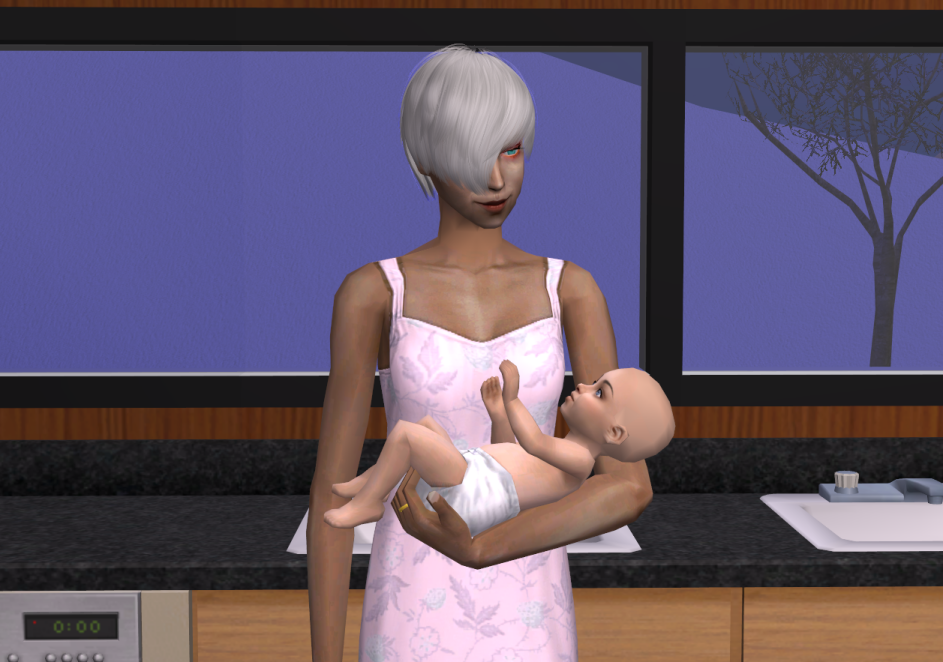 Much to my surprise, Milo gets a visit from the Reaper a lot earlier than I expected. And he was about to become a tycoon, too! >:(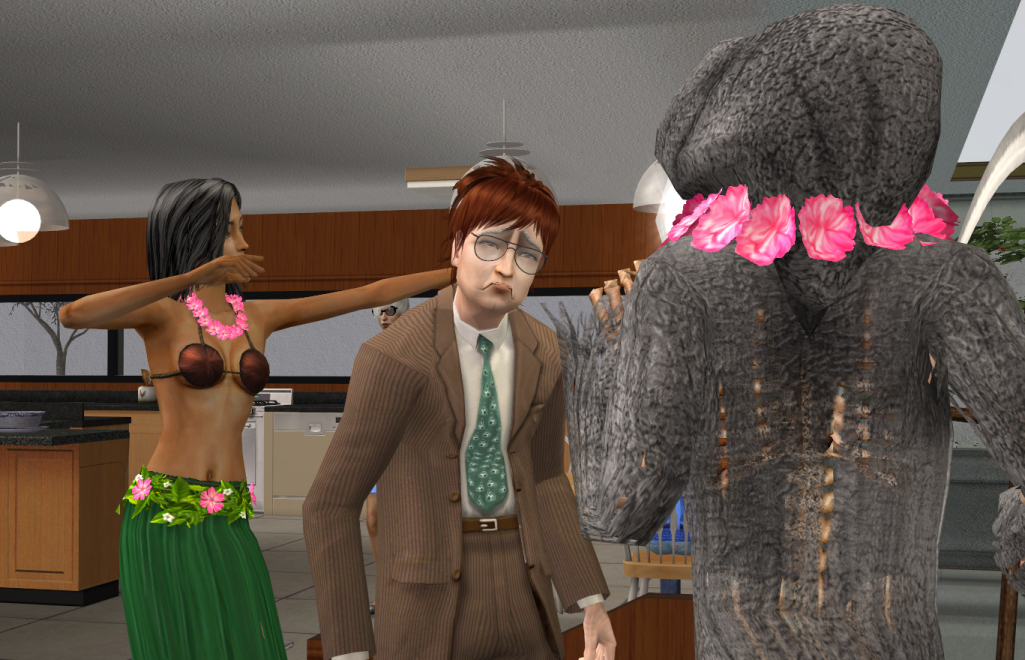 Enjoy your trust-fund heaven, Milo. You were enjoyed. Anyway, you cheated death once already, I'm sure you're okay with things.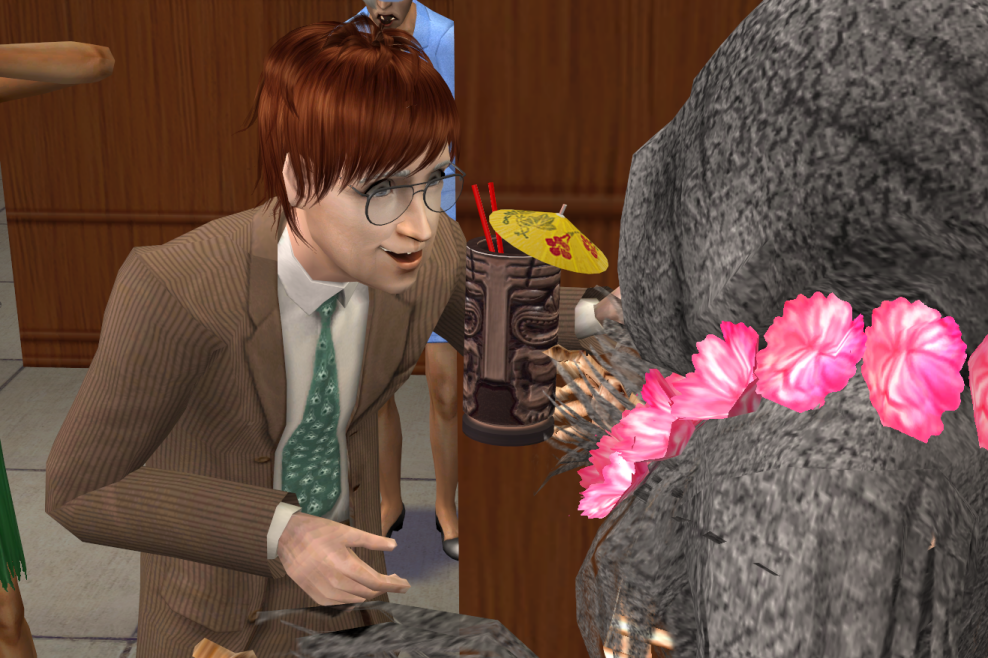 Josie isn't really bothered by her father's passing.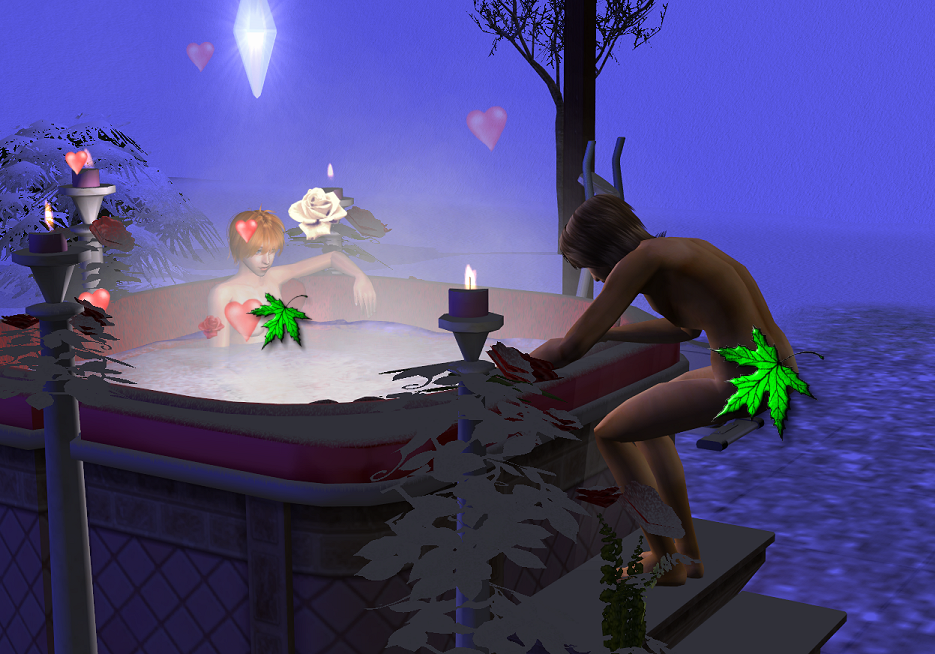 Poor Suzi is the only one to take Milo's urn to the graveyard.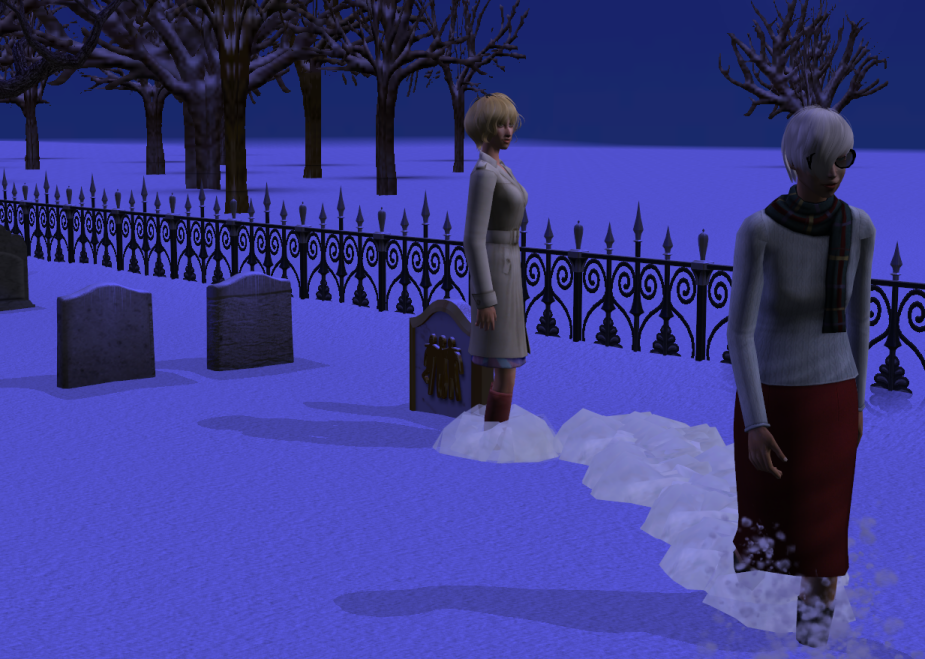 Well, y'know, someone has to stay home with the baby.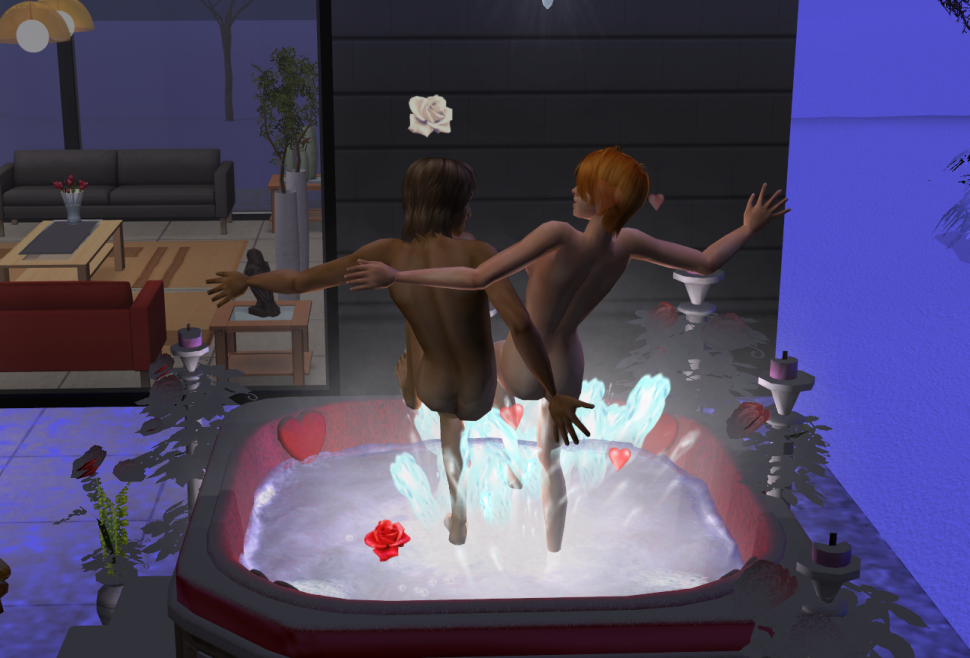 "Hey, is this closed circuit TV? That looks like the guy in the next room."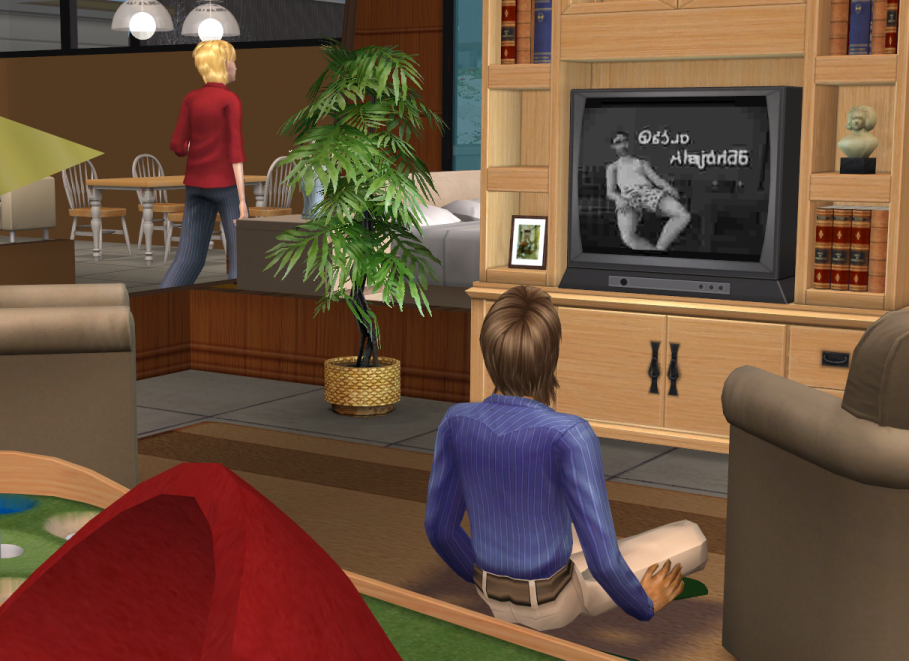 Sebastian isn't going to look like anyone in this family.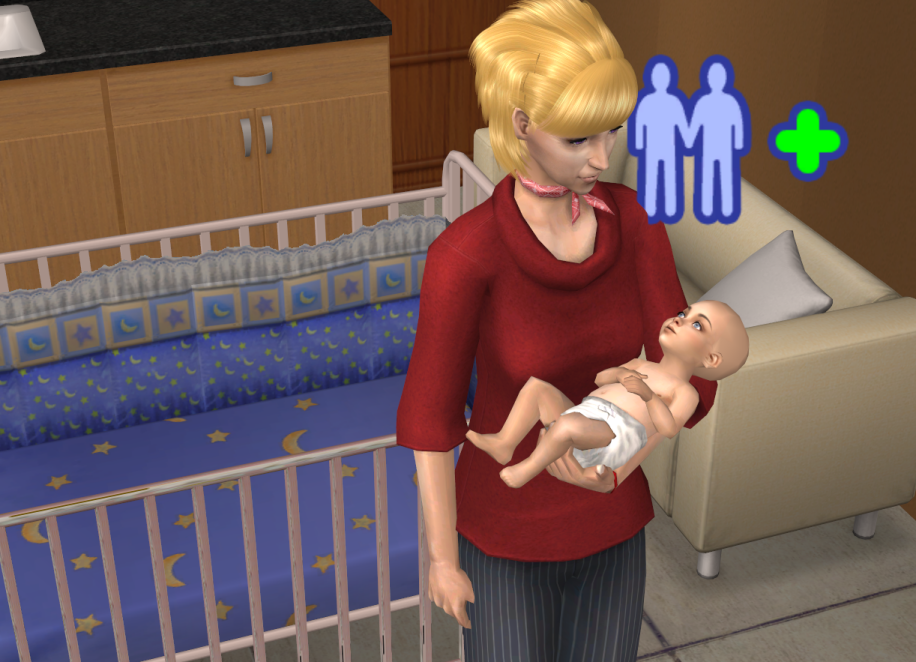 The remaining women keep working their way up the business career.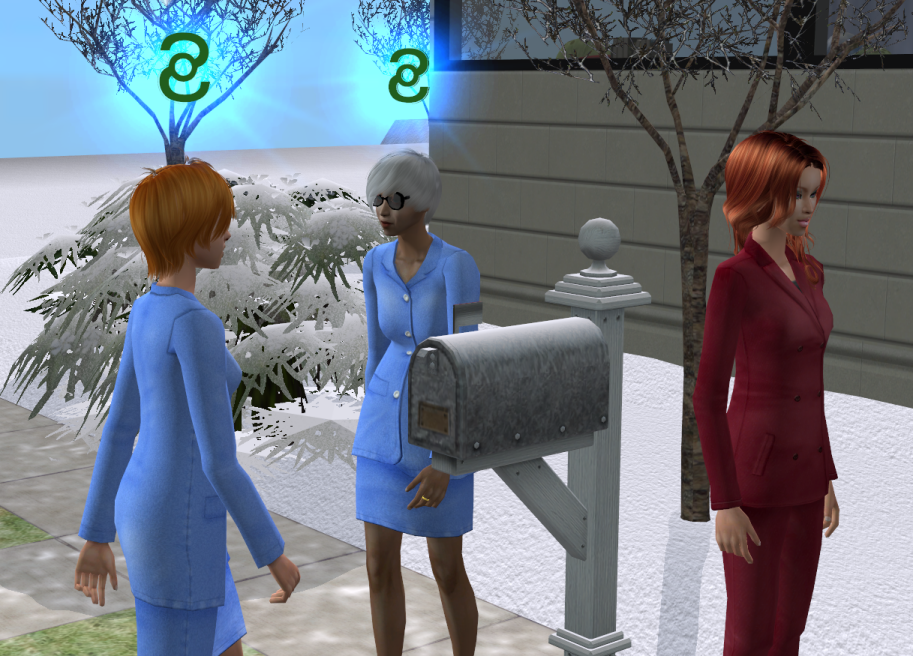 Suzi goes a couple of days after Milo.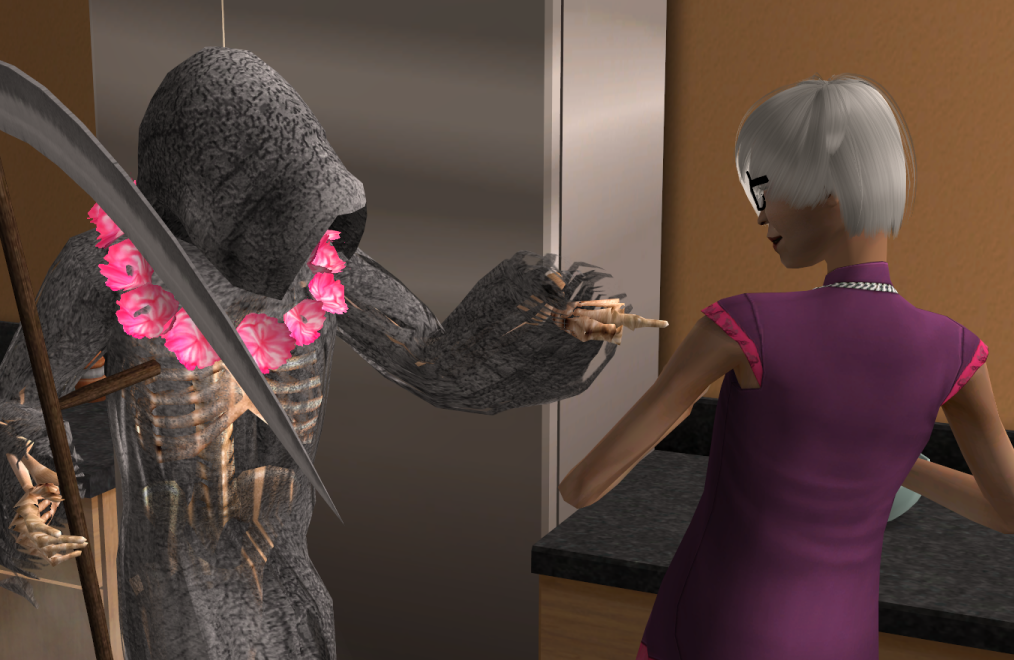 Now it's just two hot-blooded young ladies, who proceed to work in "business" of a very discreet nature.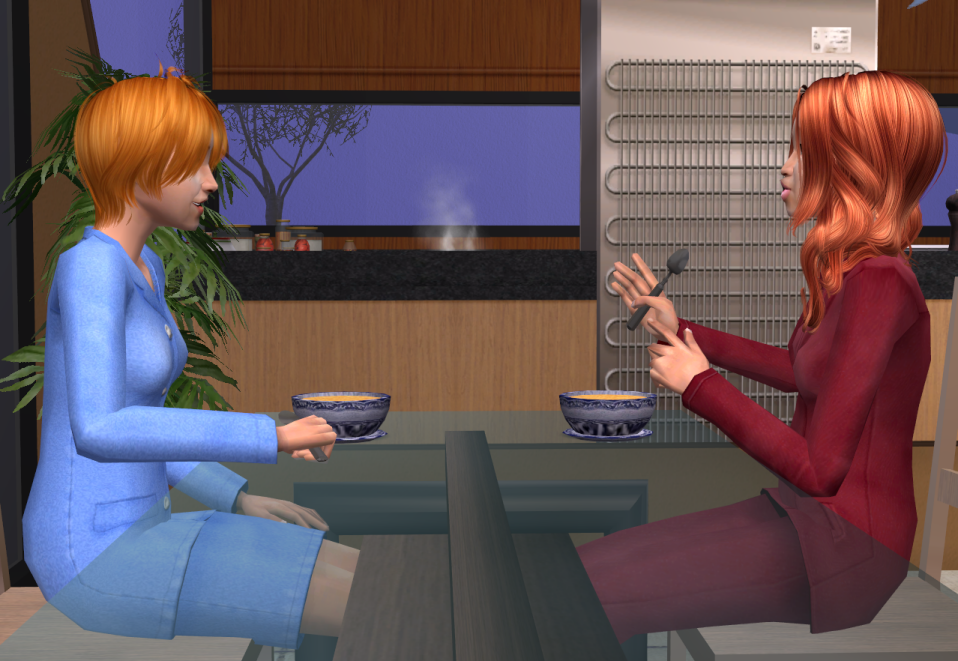 Fortunately, most sim men don't seem to mind that their temporary girlfriends have kids, as long as they get a piece of birthday cake.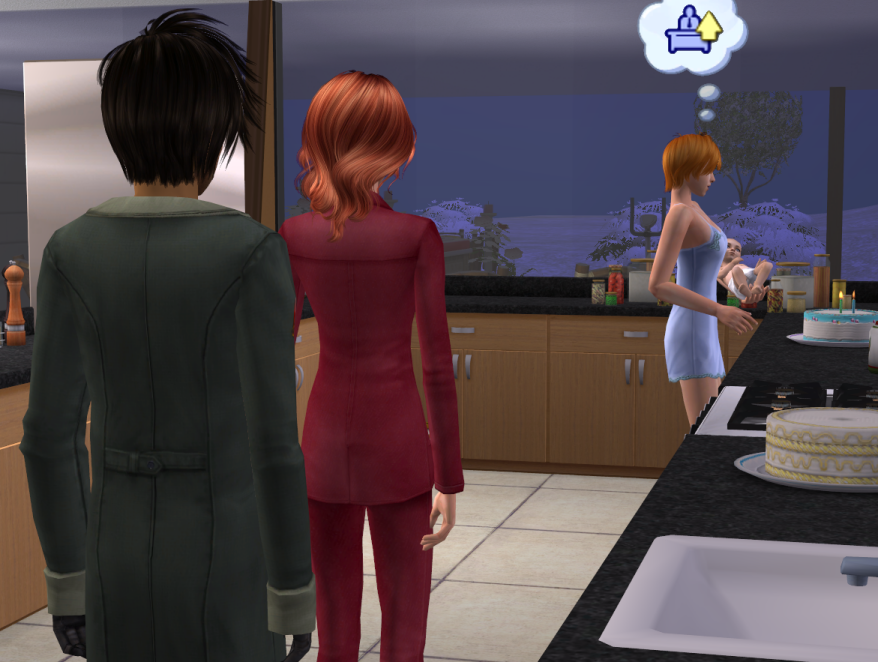 Working by day, working girls by night.



I'm not really keeping track except to avoid duplicates. Also, I figure each new customer gets one chance at "try for baby" on the date. So far, no takers.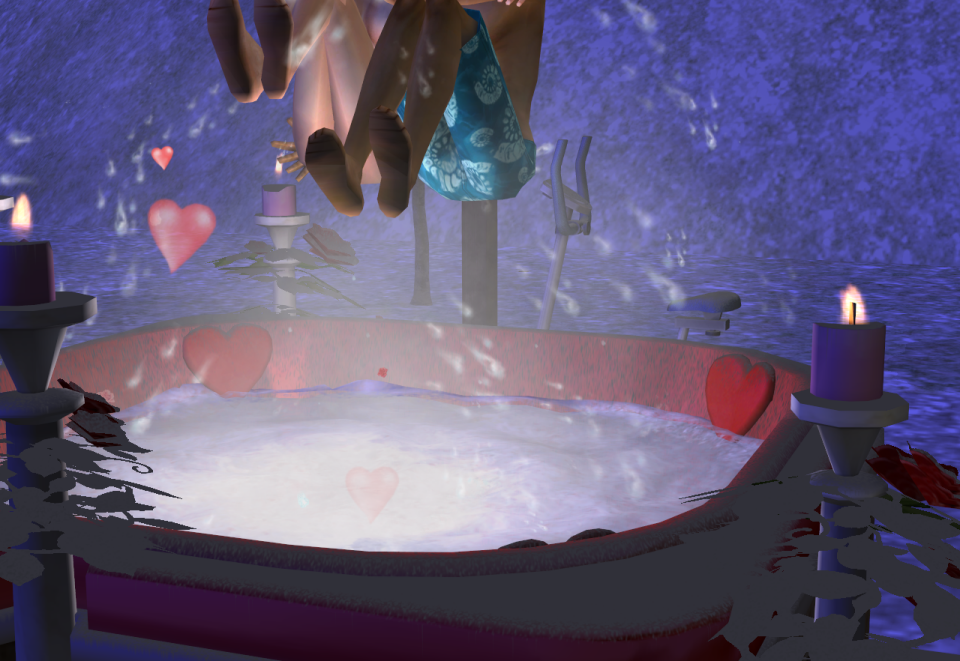 You'd think the hot tub and physical activity would've kept her warm.



"You jerk! C'mon, help me get her inside so she can warm up."
"Hey, I'm cold too. Wanna help warm me up?"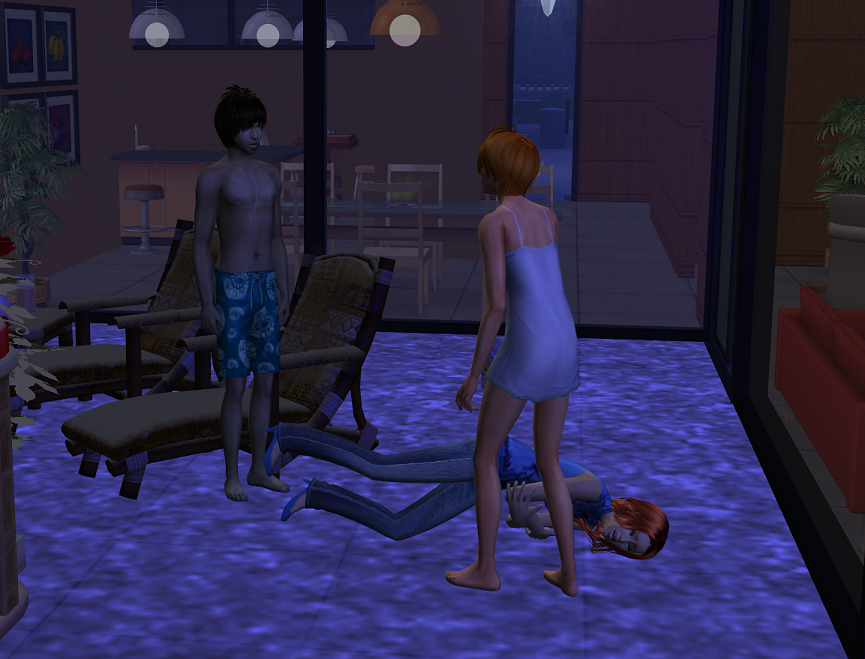 The girls also get the usual conflicted feelings about their customers.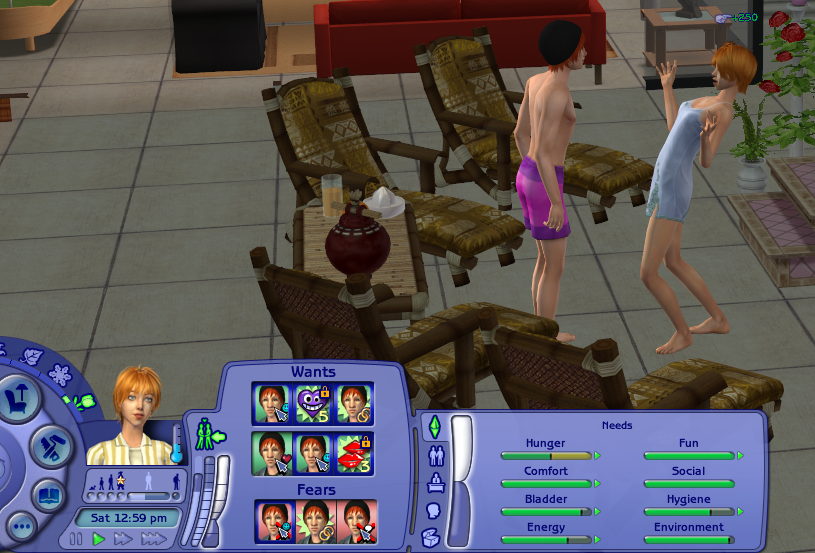 Poor Sebastian gets very little attention. He's not learning the toddler skills, that's for sure.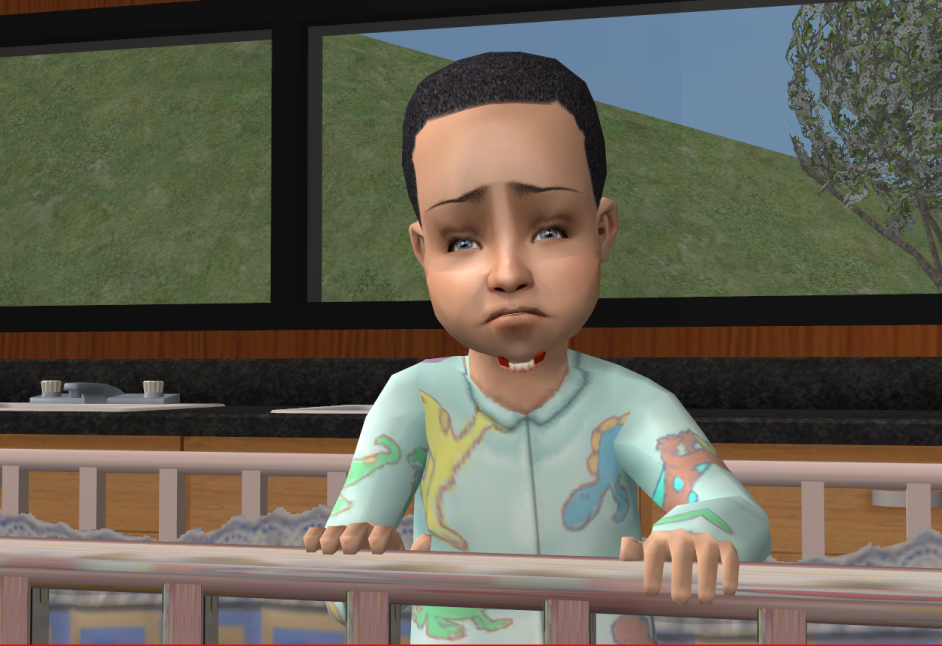 Correction - he's getting toilet trained.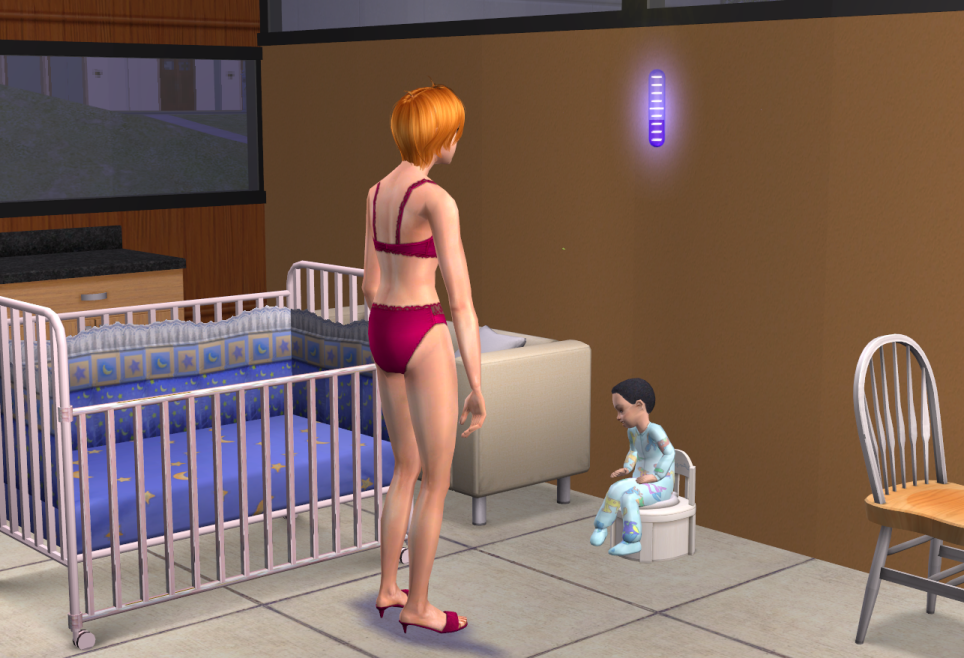 Insert your own dirty caption here.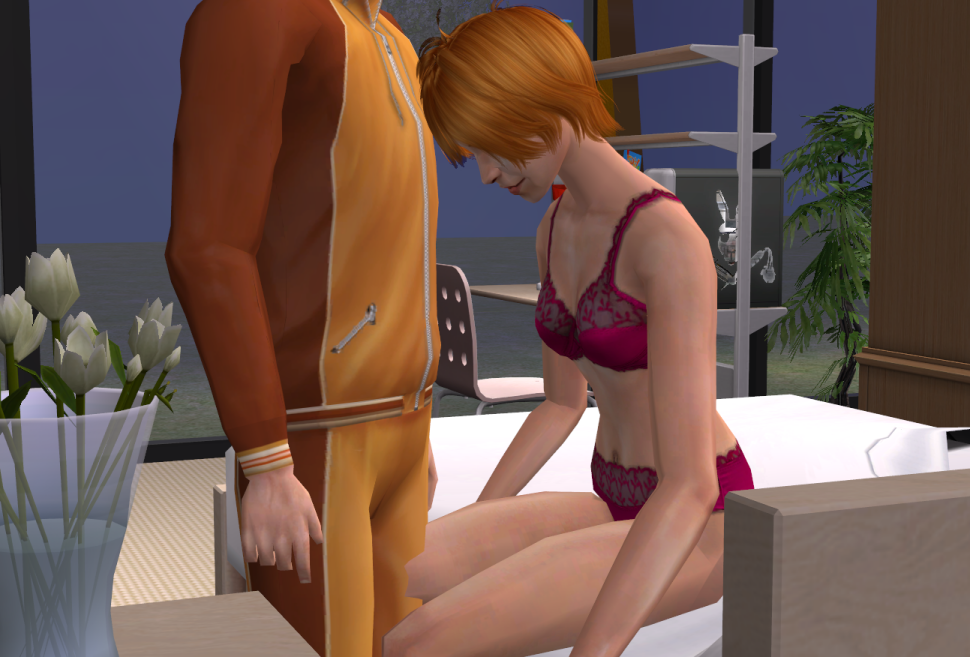 At last, the date payoffs begin.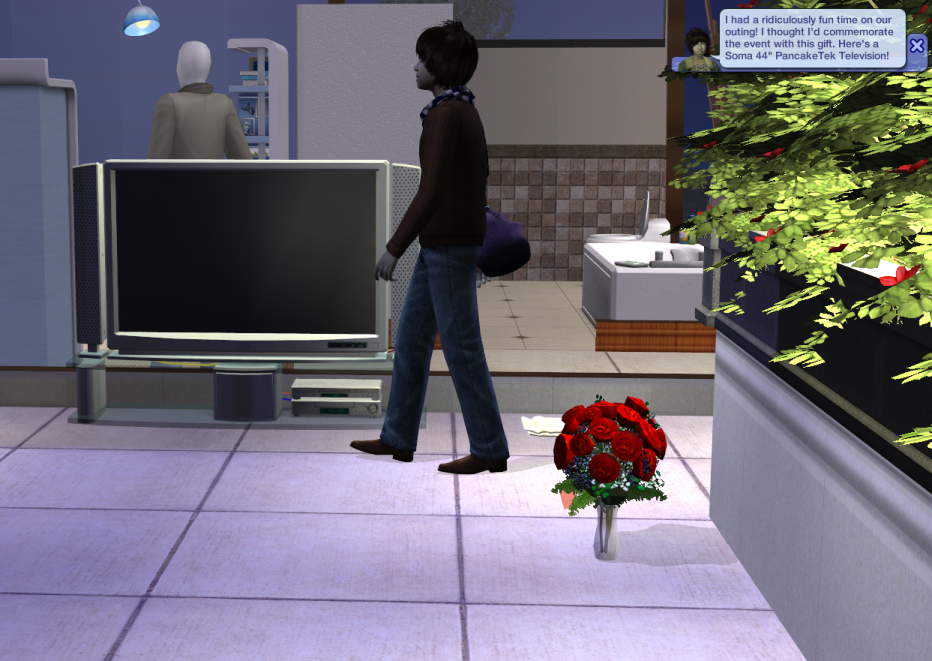 There's a TV inside, too, but I guess this one is nicer. Maybe the girls should set up a lobby.



"Hey, big boy, wanna come press my leaves?"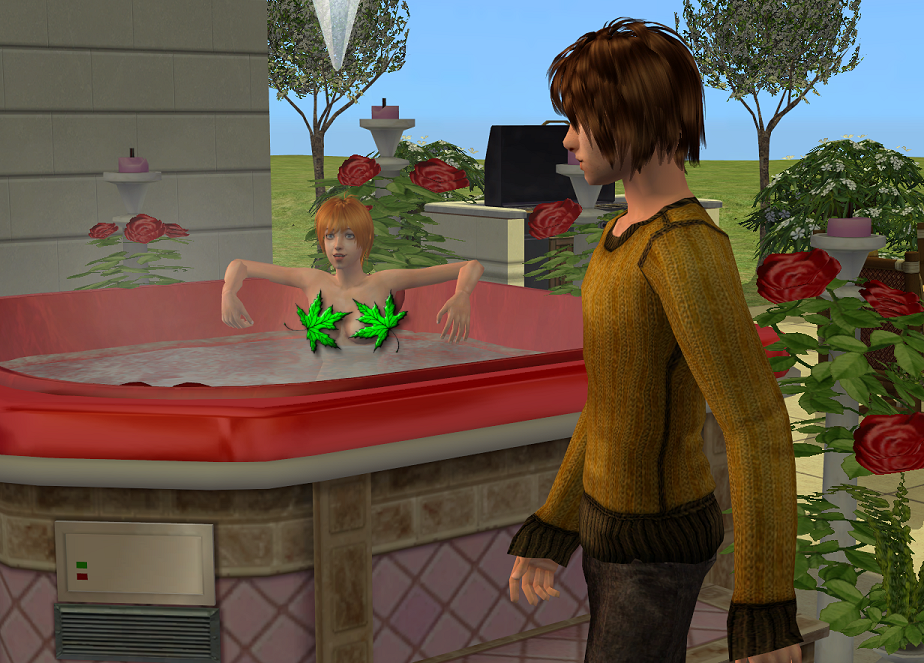 "I've heard you're totally the bomb."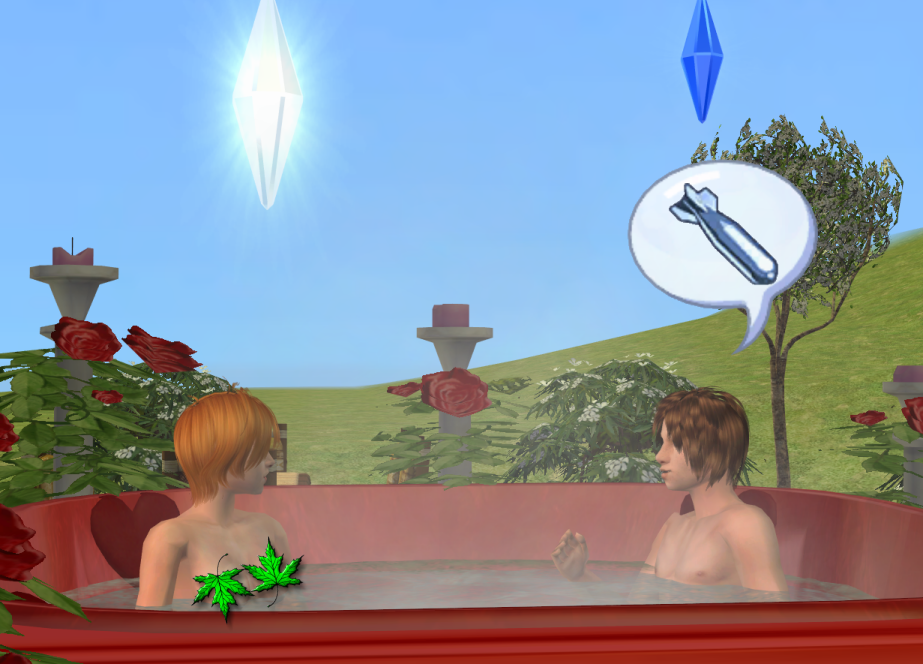 Oops, nobody put Suzi in the graveyard yet. Well, Josie's been busy, what with work and the baby and all.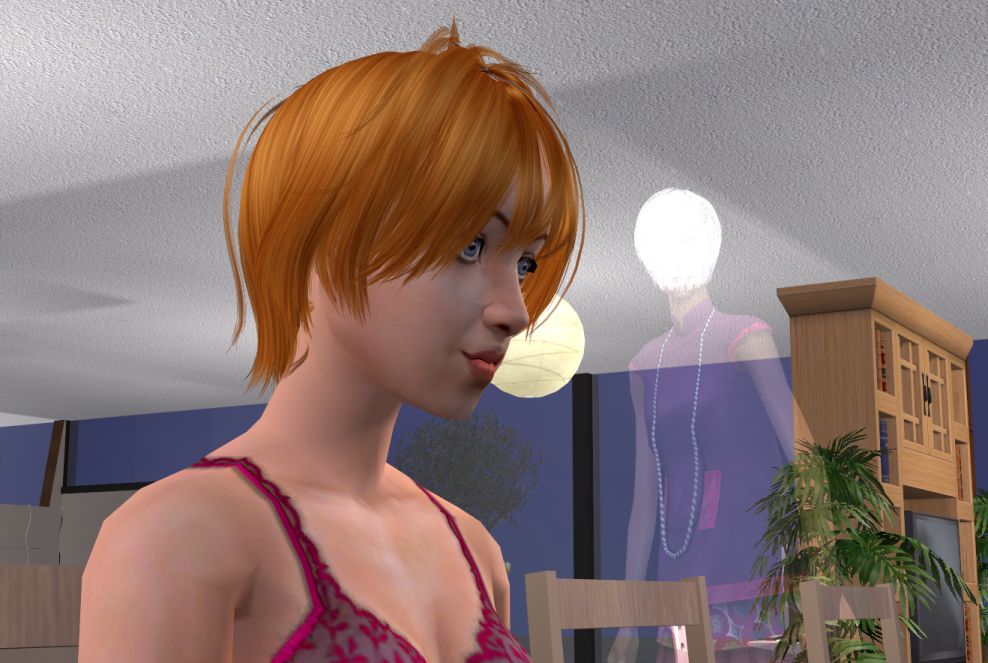 I bet after the scare, Josie tried to cover it up with "Oh, the size of your wang startled me!"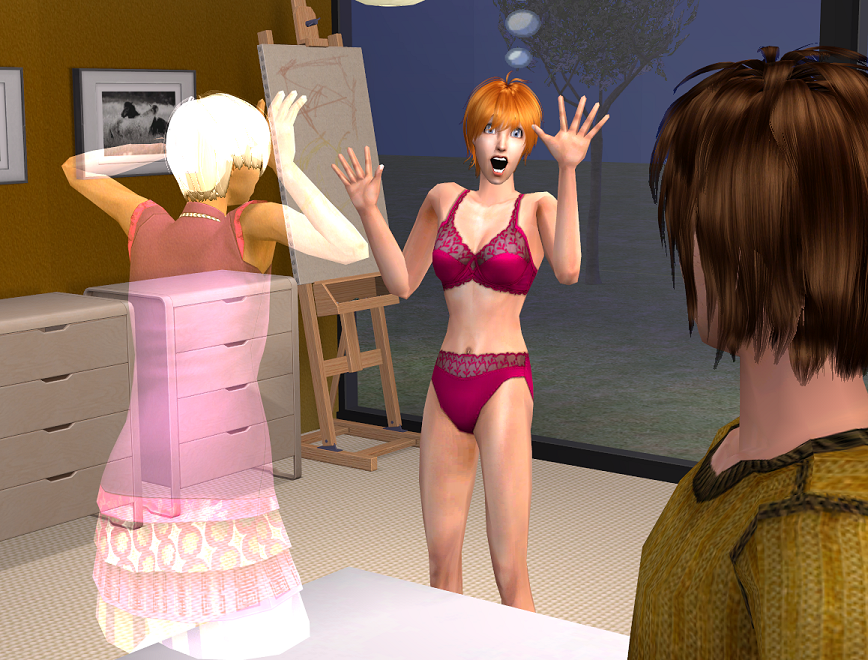 Hey, recognize this guy? Big hint: he's a playable.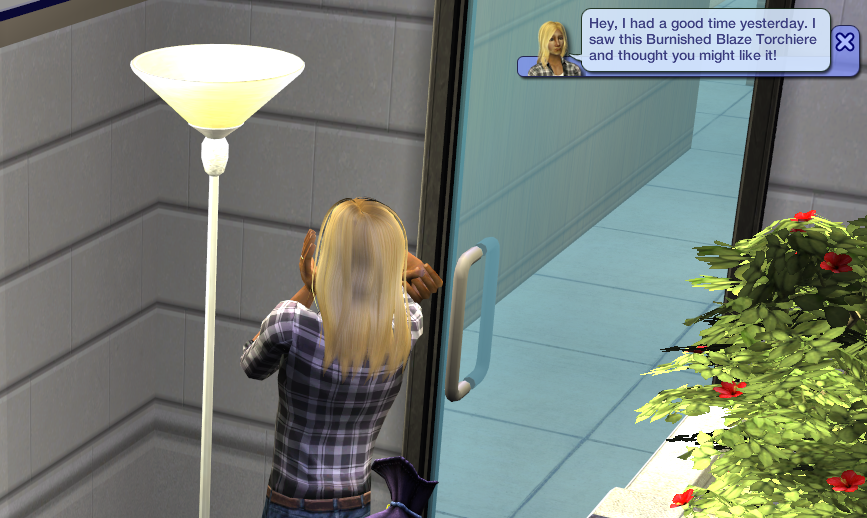 That wraps up the week at the Ho-Ho House.

WALL OF TEXT TIME! Also tax time. The Keefes and Spirit had three POBs between them: Sink or Swim, Studs and Duds, and Club Sundara. They bought that last one to give sims a place to go. However, like all clubs everywhere in my game since the beginning of time, nobody can actually go to it because just trying to enter the lot crashes my game. But the club still counts as a POB, darn it, and they did pay money for it, so they pay taxes on it.

They pay $9000 in taxes for all the businesses. They also pay $9,654 in personal taxes. Adding all of this to the existing total of $619,604, we have $638,258 for the next university.

The population is at 162 sims x 34 SM = 5508 (Sebastian was born, Milo and Suzi died, gained 1 CAS sim, so nothing changed. Yay bookkeeping!).

Households: 30. (Dorms don't count; apartments count as one household no matter how many families.) They get their next free community lot at 32.

Wilder

Killane

Andros

Fiore

Keefe

Blood

Blake

Teflin

Starchild/MacAulay

Winkle

Wyclif

Graham

Bennington

Halloway

McLachlan

Bernoulli

Verde

Odds (formerly Odds and Ends)

Pickle

(Jody and Ellie)

McMilligan

Jack Andros

Fredericksen

Edison

Howard (Ingrid and Philon)

Edison 2

Jackson

Romero

Danner

(Killane 2)



Community Lots, POB: 61

Killane Grocery (10)

Wilder Dairy Mart (10)

Benita Bodyworks (1)

Daily Bread (10)

Church of St. Drogo (1)

Hall of Oddities (0)

El Marrow Community Park (0)

World of Fish (10)

The Bottique (10)

Max Fashion (10)

Blue Casket (10)

Potholder Palace (6)

Mighty Meaty Mart (10)

Fruitopia (10)

Chapter 11 (10)

Mustard Seed (10)

Electron Hut (10)

For The Ladies (10)

Eat Shiitake (10)

Curl Up & Dye (4)

Chuckle Hut (0)

Barre None (5)

Ill-Gotten Gains Pawnshop (10)

Frontier Pharmacy (10)

Police Station (0)

Pane y Vino (10)

El Marrow Fire Station (0)

Killane's Rest Cemetery (0)

Mirror, Mirror (10)

Telefun! (0)

Statuary or Bust (0)

Andros Holy Ground (0)

Fiore/Darkmoon Cemetery (0)

Sunset Cafe (0)

Keefe Art Museum (0)

Keefe Architect Building (0)

Gas Station (0)

Space Invaders Arcade (0)

Watermania (0)

Bernoulli Experiment Disposal (cemetery) (0)

Bigfoot Coffee Shop (0)

SoFa SoGood (5)

Recliner World (4)

Mattress World (4)

Stove & Range (1)

Aggressive Appliances (4)

Starlight Bowling (0)

Navel Gazers (10)

Royal Flush (10)

Fiore Grocery (7)

Sportin' Woody's Bar (2)

Studs & Duds (10)

Sink or Swim (7)

Jenn's Handmade Stuff (4)

Gamer's Pair'O'Dice (10)

Bling It On (1)

Old Fishing Hole (0)

Farmer's Market (1)

Ikea Dresser Store (8)

Small Appliances Store (6)

Shower of Power (5)

Deck the Walls (8)

Club Sundara (0)



Community Lots, NPC: 7.

Calavera Cafe

Nuevo Marrow Cemetery (doesn't count toward the total number of community lots)

City Hall (doesn't count toward the total number of community lots)

Salvador Limones Military Base (ditto)

El Marrow Theater

Blue Halibut

Nuevo Marrow Community Park



63 POBs plus 4 community lots = 67 lots. We can have a new Tycoon for every 5 lots, so at 70 we can add another Tycoon slot. We're currently at 3 Tycoons out of 13 possible.

Jobs:
Business: Unlocked. Tycoons: 3 (Rael Killane, Lou Darkmoon, DW Starchild)
Athletic: 2 occupied (Ingrid, Derpina)
Culinary: Unlocked.
Architecture: 5 open, 1 occupied (Carl Fredericksen).
Military: Unlocked, no general
Education: Unlocked
Slacker: 2 occupied (Adam Wyclif, Ellie)
Criminal: 1 occupied (Nate Winkle) (1 occupied: Laverne)
Law Enforcement: 6 open, 3 occupied (Actaeon McLachlan, David McMilligan, Ellie Fredericksen)
Oceanography: (only Suzi Keefe, Lynn Andros are eligible)
Adventure: 1 open
Science: Unlocked.
Medical: Unlocked.
Politics: Unlocked. No current mayor
Journalism: 1 open, 1 reserved (Ellie), 1 occupied (Weird Ed Edison)
Entertainment: 1 occupied (Gayle Teflin); Jack Andros is also eligible
Dance: 1 open
Intelligence: 2 open, 1 occupied (Aeneas Blake).
Music: 1 open (Josie Keefe)
Natural Science: 1 occupied (Josh Teflin)
Artist: 1 open (only to degreed sims with 10 Creative who've sold 10 masterpieces)
Law: 1 occupied (Lunis Andros - I can't believe I had no lawyers yet)

Business Districts unlocked: 3
Universities unlocked: 2

CAS sims (unused) at week 8: 56.

Fires: 21. (Another Law Enforcement slot opens at 24.)
Burglaries: 4. (Next Law Enforcement slot opens at 6.)
Alien Abductions: 5 (not sure why I'm counting these)
Deaths: 8. Fresca Fiore, Morgan Blood, and Chyna Ash; the first nanny; Amber and Yulian Wilder; Rael and Benita Killane; Milo and Suzi Keefe. Ted doesn't count since he was dead when he got here. Deaths that people "get better" from don't count either since they didn't stay dead.