here
.
On to the MacAulay/Starchild household. Fyrus MacAulay (
seidoo_ryuu
) is living in holy bedlock with Rayne Starchild. Featuring sims by
madame_ugly
and
iceraptoress
.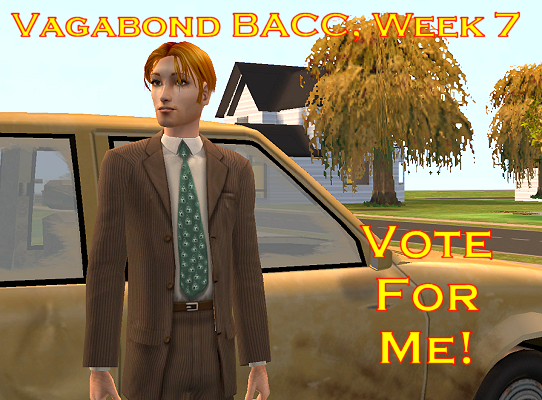 Fyrus was previously a hero in Paragon City and on the track to do the same in El Marrow. In Nuevo Marrow... well, heck, why not? War heroes used to run for office all the time!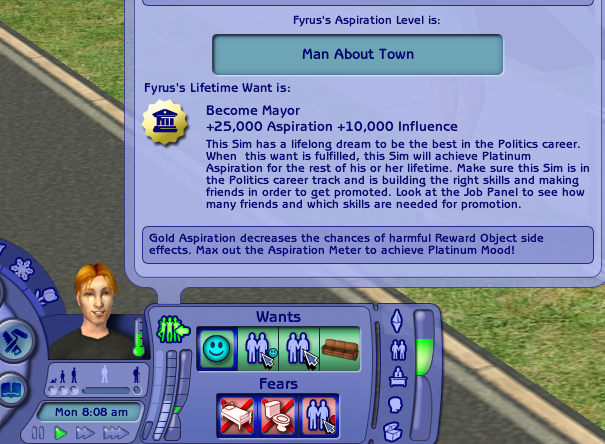 Rayne has the exact same LTW as before, which is nice.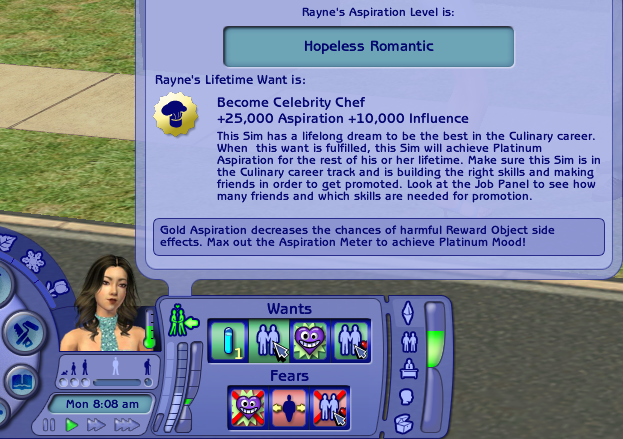 When last we left Fyrus and Rayne, they were arguing bitterly over who forgot to bring the beer to their new home.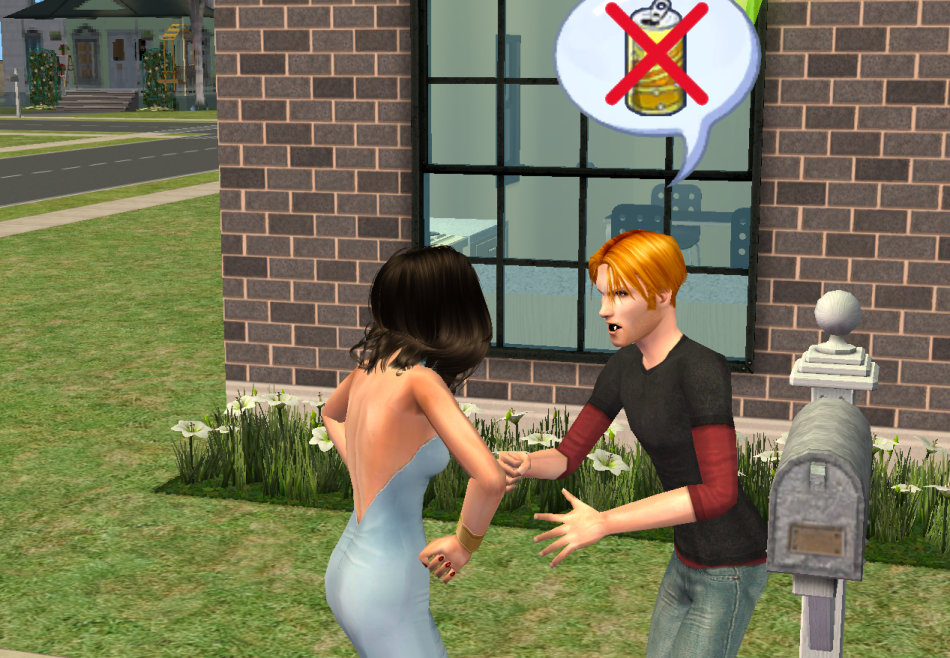 This is the house they're arguing outside of. It actually got as far as yelling and pointed fingers.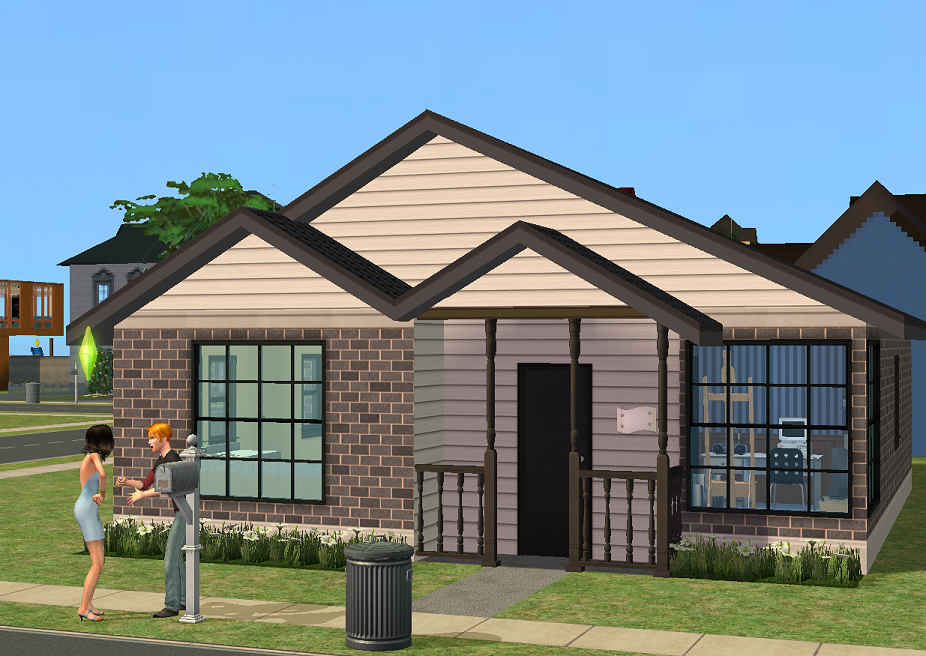 And then... I guess "passionate feelings" defines both of them.
They went inside for makeup sex (no foolin') and lots of it.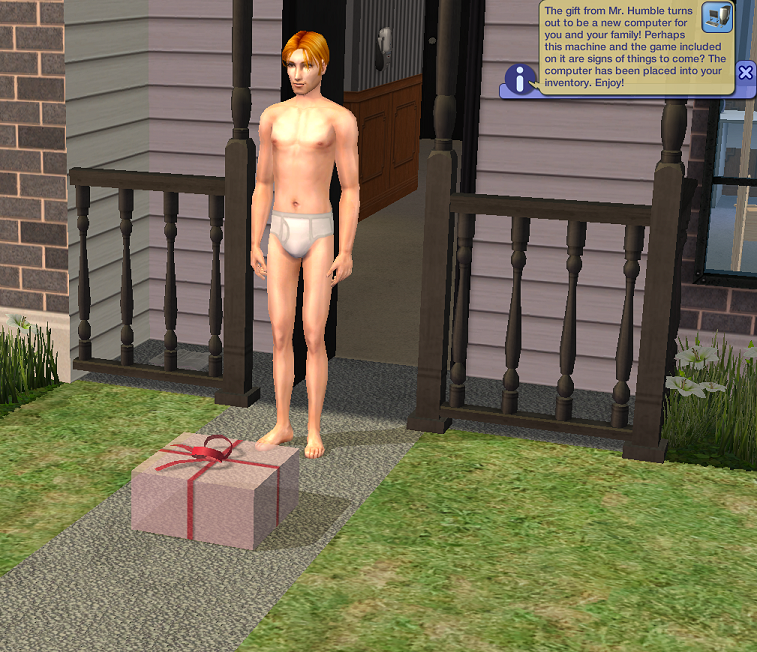 I guess Rayne really loves handling meat.
"Oh, baby, you can put me in lockup anytime."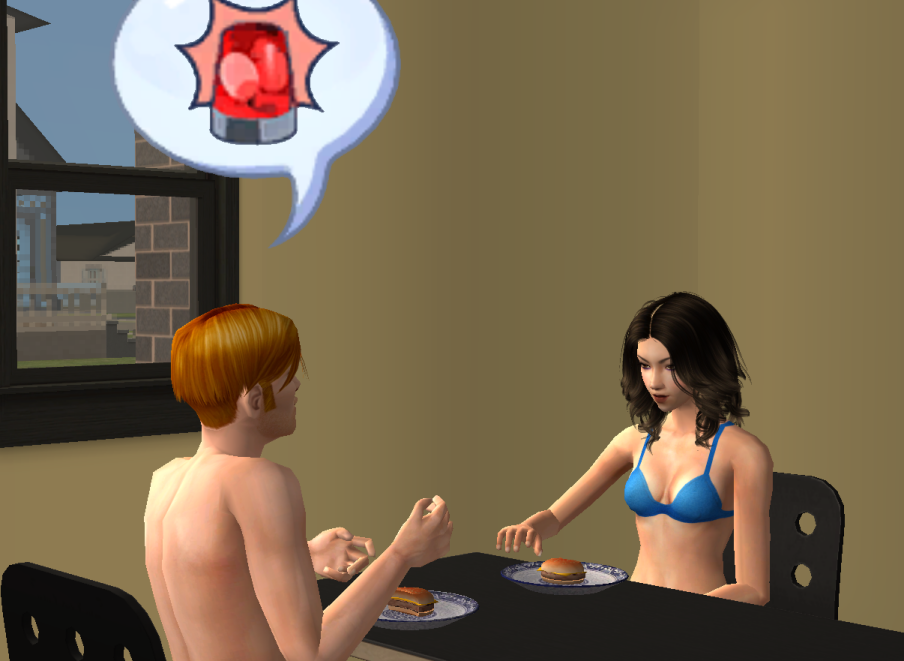 They still haven't gotten dressed by the time the welcome wagon shows up. Rayne and Fyrus can't keep their hands off each other.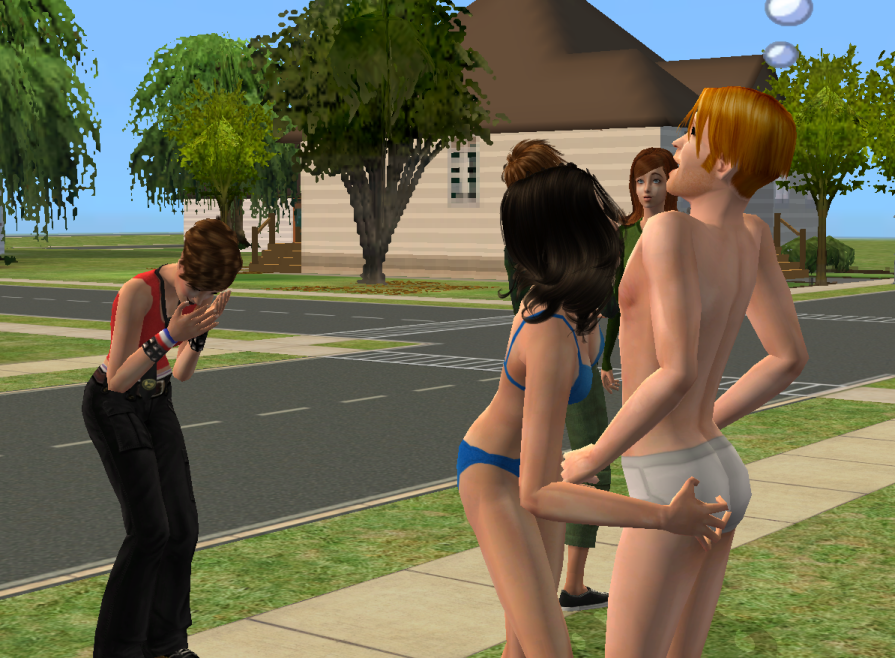 "So, you gettin' a lot of action, huh?"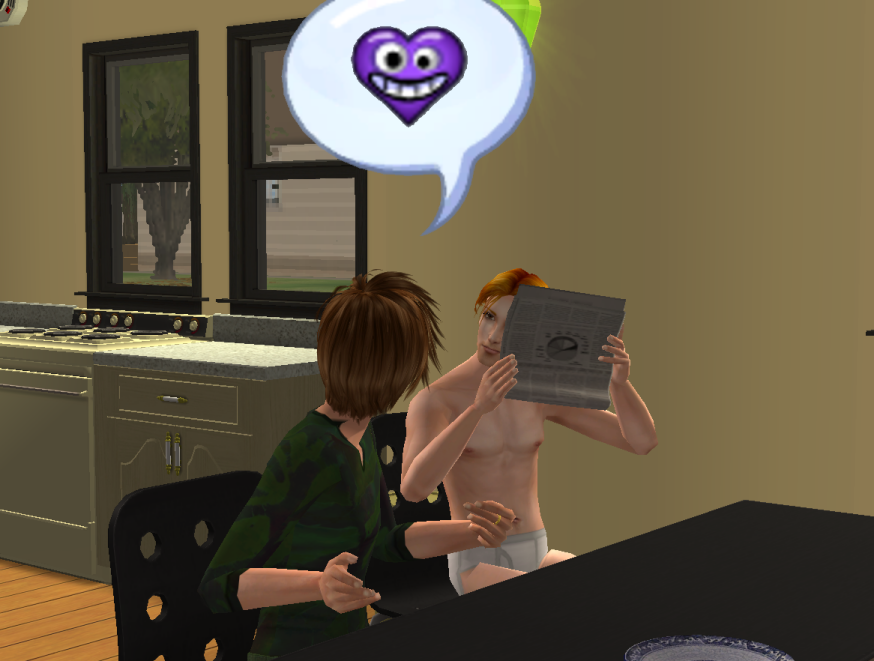 Oh, yeah they are.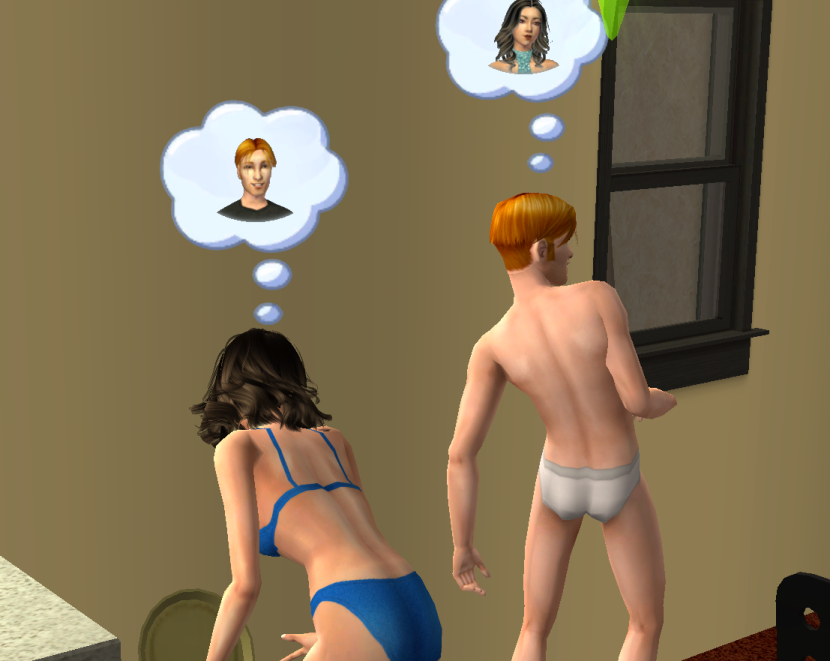 JL Verde (
madame_ugly
) hears about the underwear party and invites herself in, hoping to get a look at some prime Irish beef.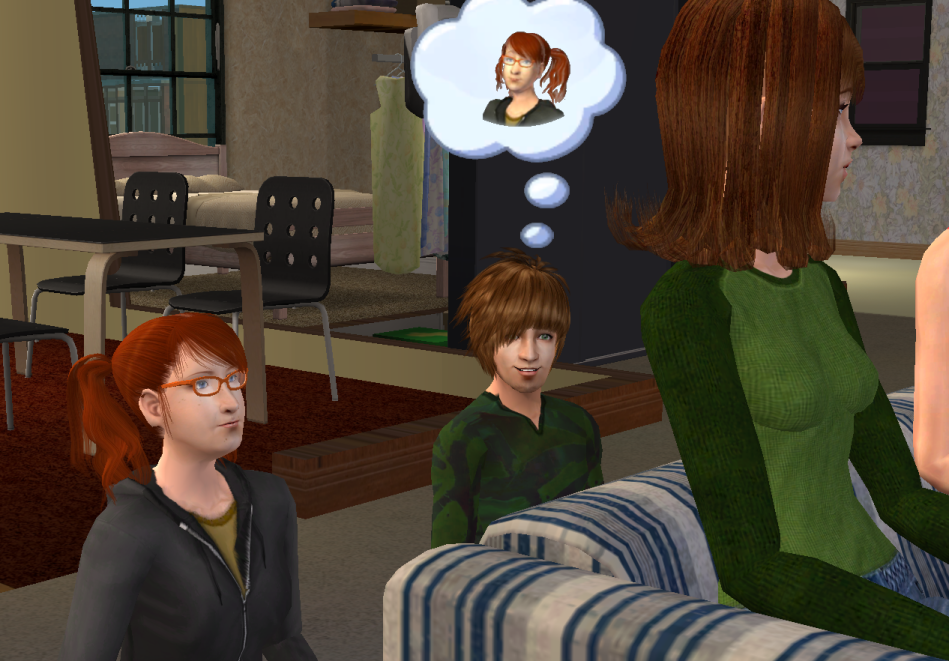 But the joke's on her, since Rayne and Fyrus got showered and dressed.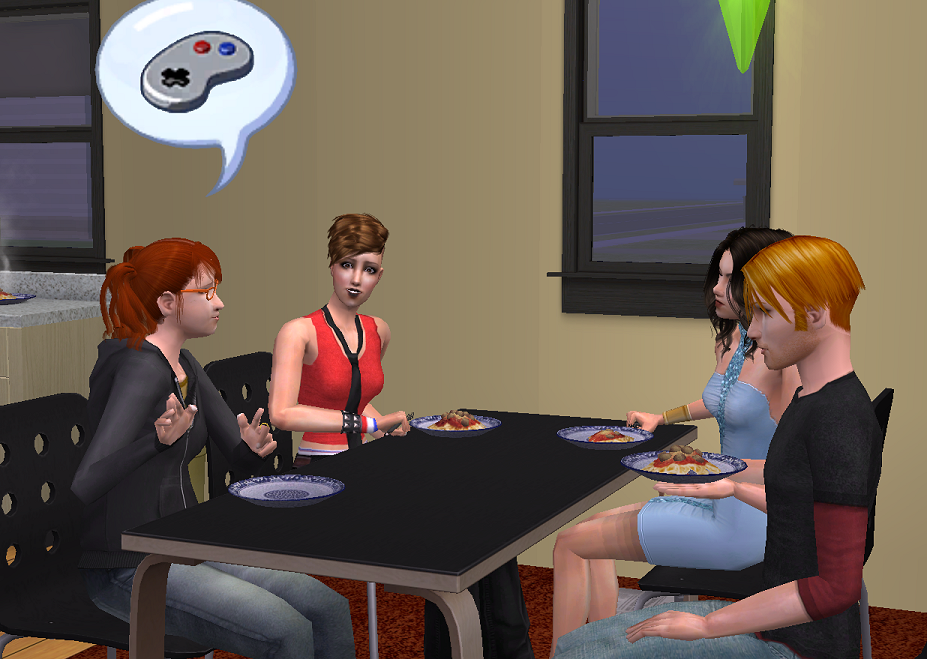 Riley Killane seems to be shocked constantly by this household. C'mon, Riley, man up!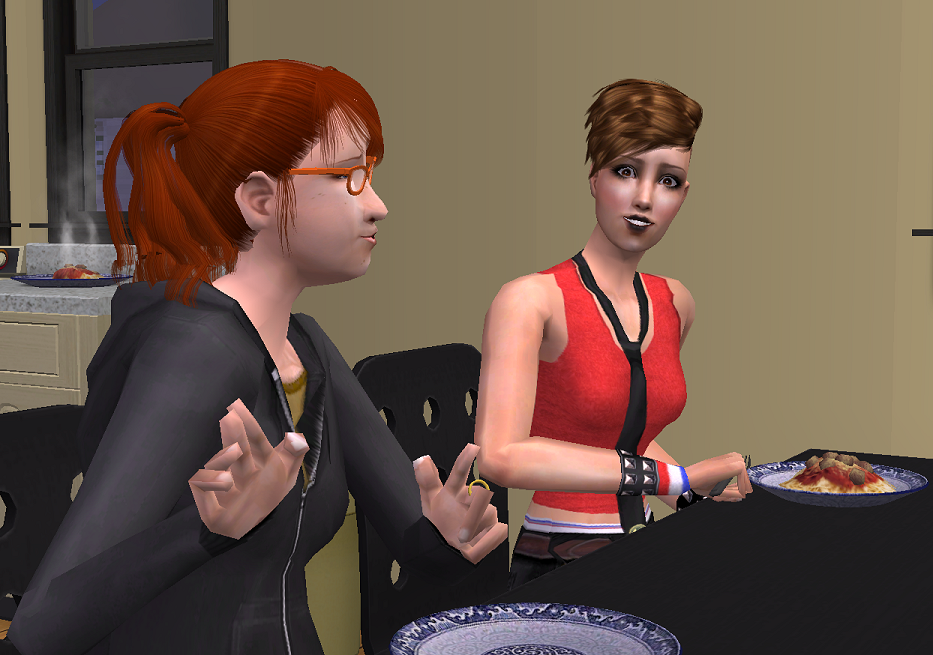 One night we have a fire! That opens another Law Enforcement slot for us.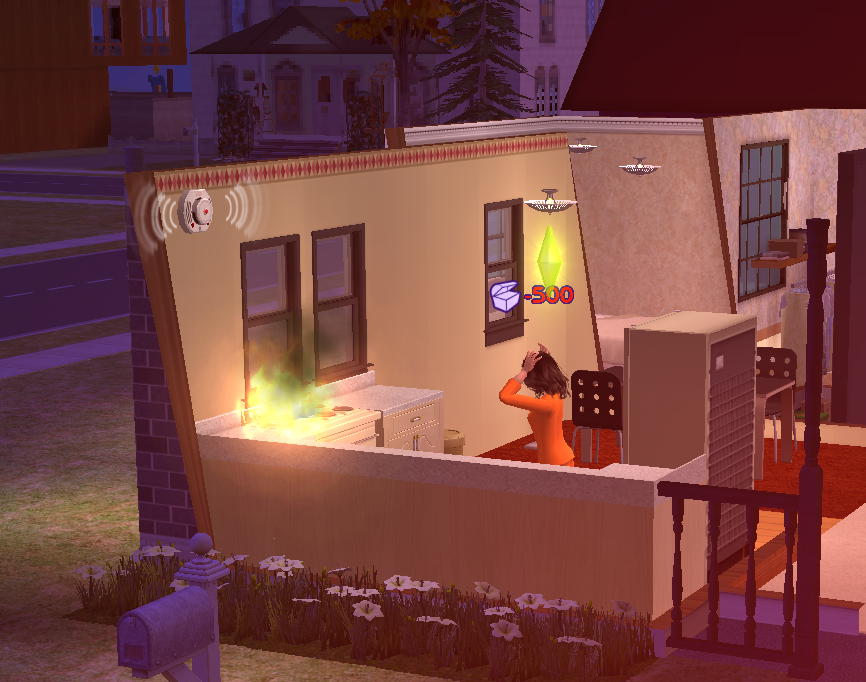 This is someone's fantasy, isn't it? Strapping mustachioed firefighter?
I guess the beer thing has been smoothed over by now. They're all over each other, all the time.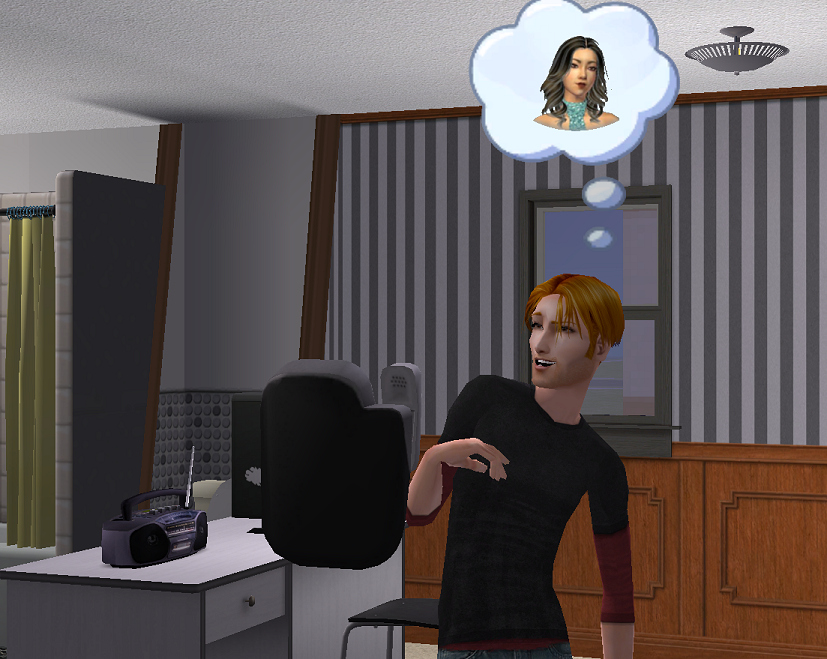 "But no babies, 'kay? My career's not ready for that yet."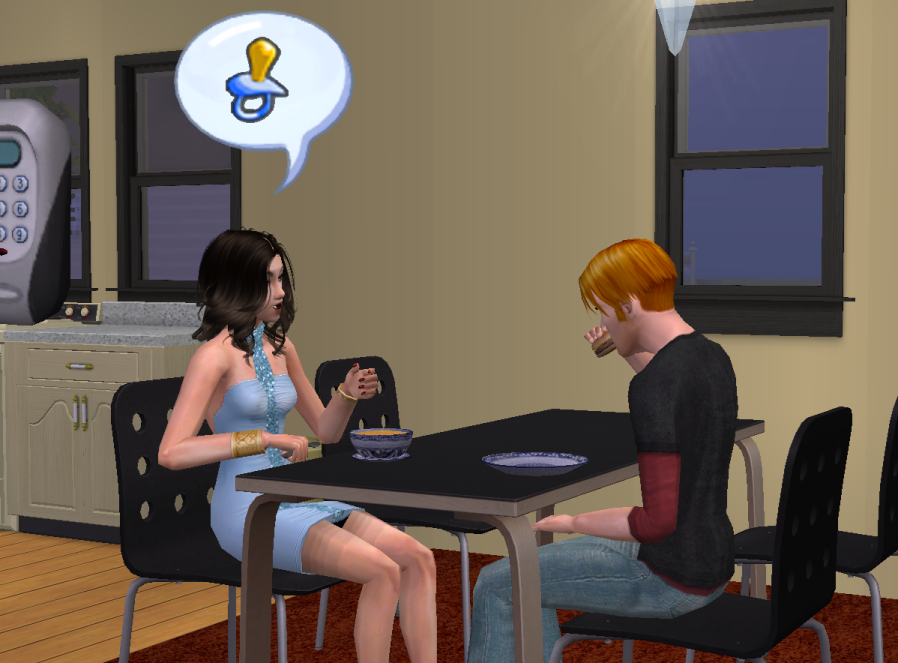 Fyrus continues his climb up the political ladder, despite some poor choices in ties.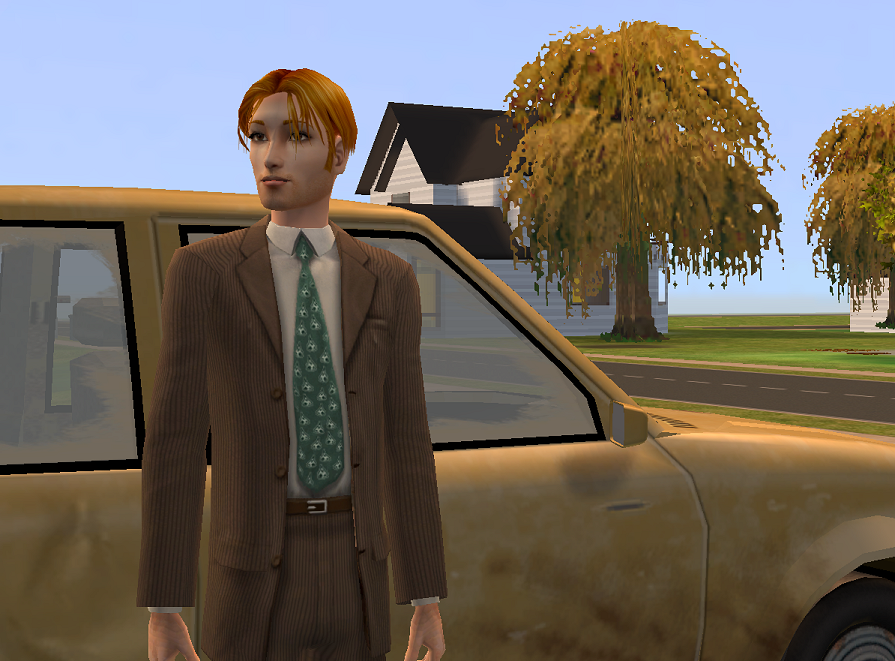 "Yeah, I guess we oughta get up and get ready for work now... how about a quickie first?"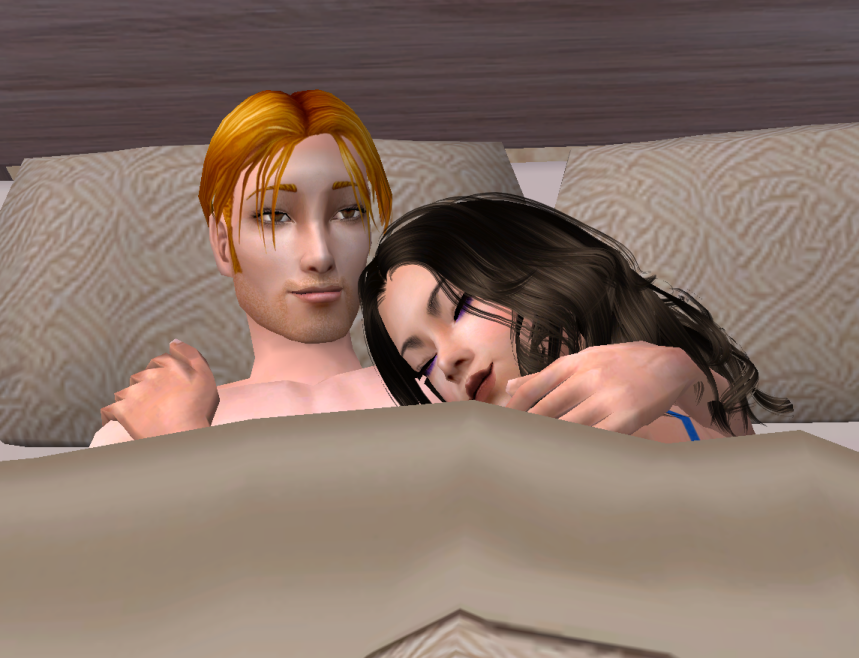 No hijinx without hygiene! Fyrus knows the importance of fresh minty breath.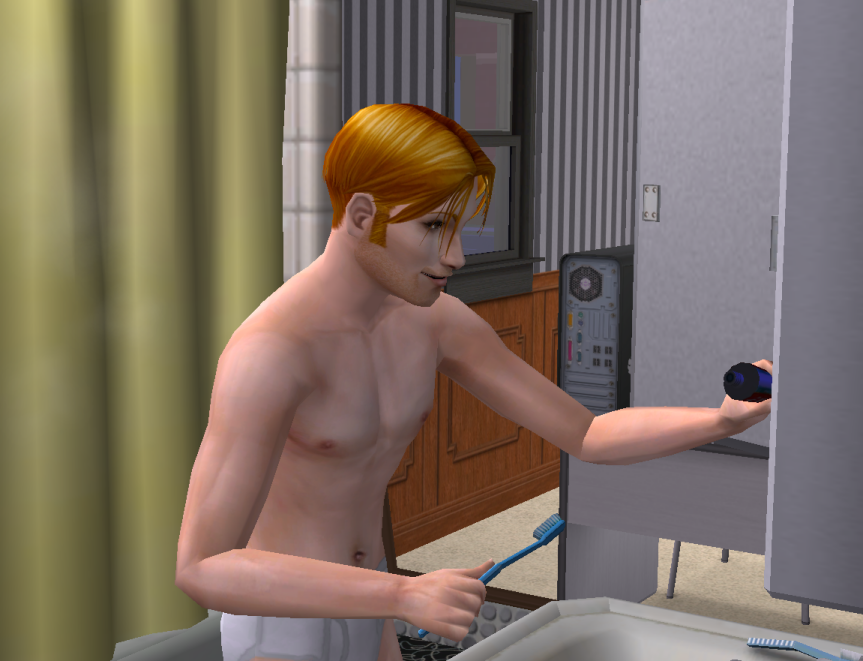 "Hi, Laverne! I'm running for mayor! Can I count on your vote?"
"That depends. What's your stance on vivisection?"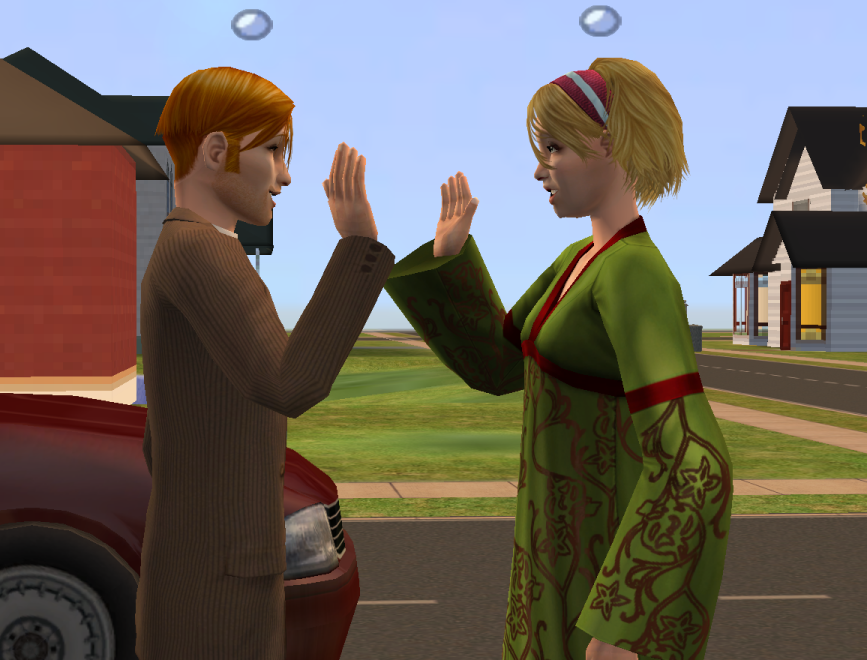 "What I really like is that neither one of us is under any pressure to get married whatsoever."
"You said it!"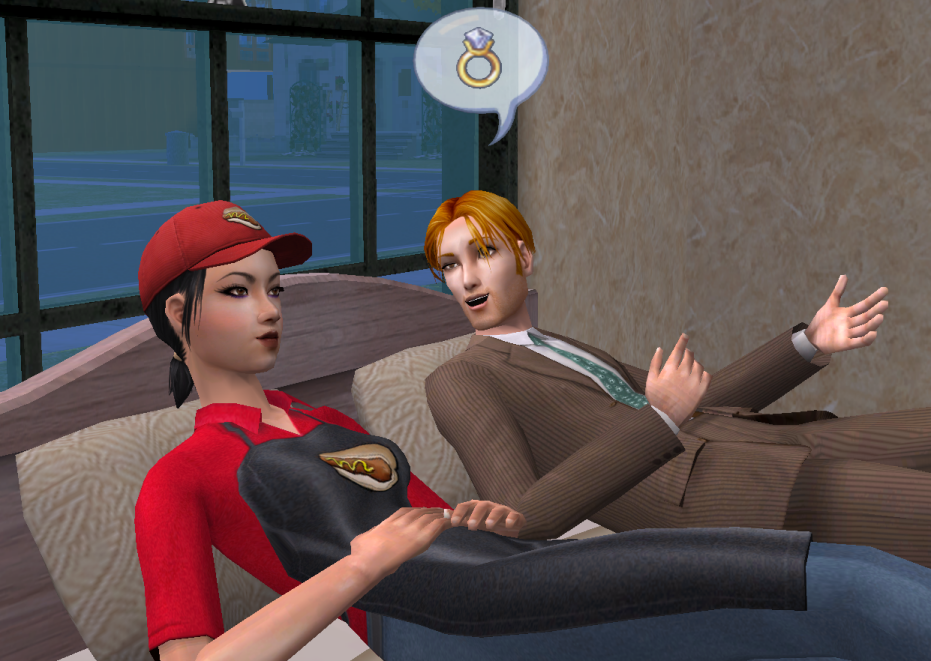 "Hi, Emily! I'm running for mayor of Nuevo Marrow! I'm tough on crime, I used to fight crime in Paragon City, so I know what crooks need, a big fist in the face!"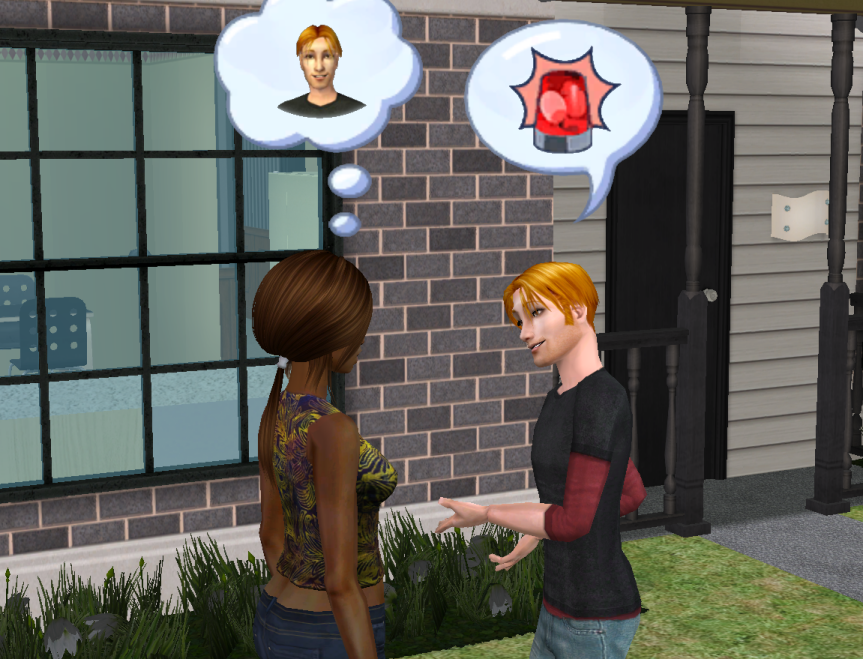 "But surely harsh treatment without benefit of help and job training just leads to high recidivism rates?"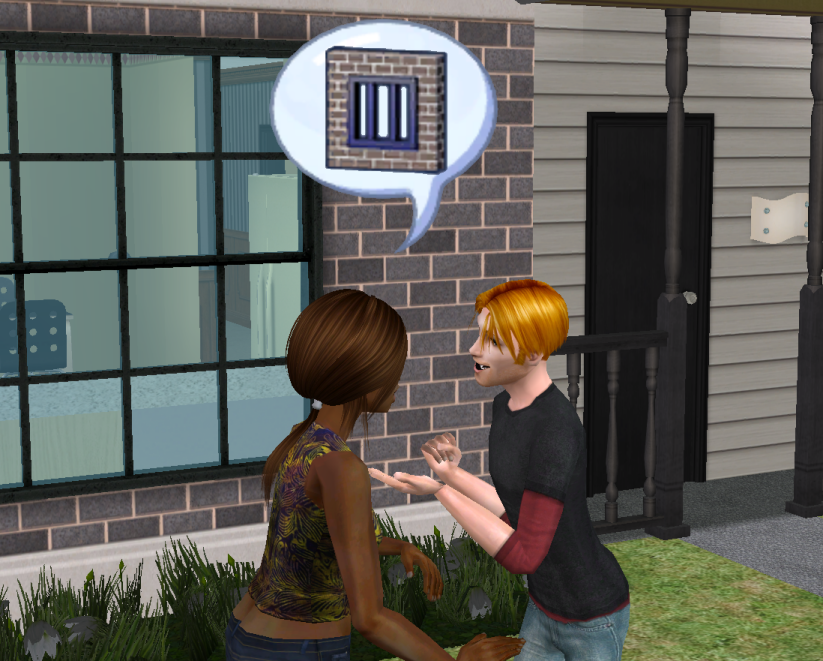 "Of course we'll build a new prison, far away from civilized people, where criminals can be reformed at leisure."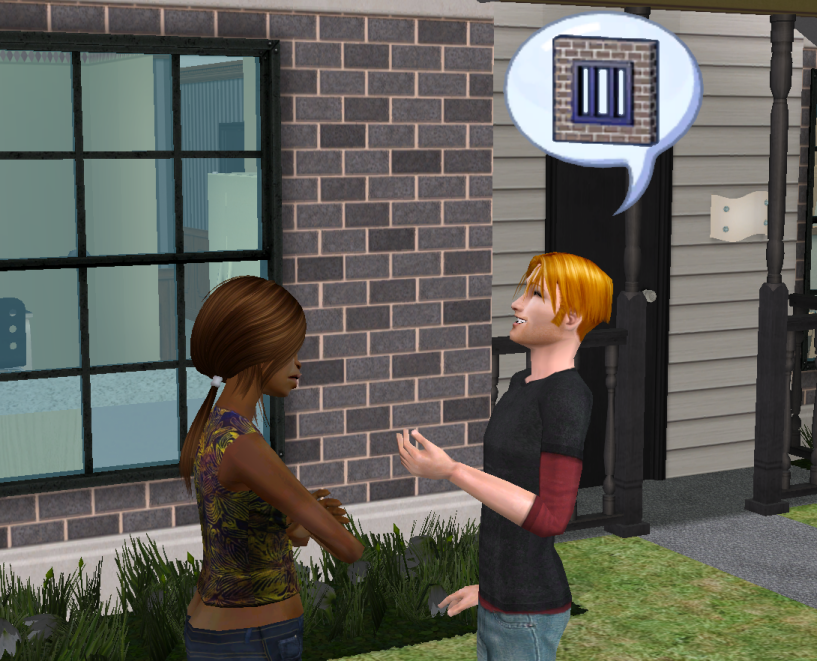 "Because believe me, the first time someone gets mugged, it's all 'Help! Help! Why aren't the police doing anything about the crime? Why don't we have tougher laws?'"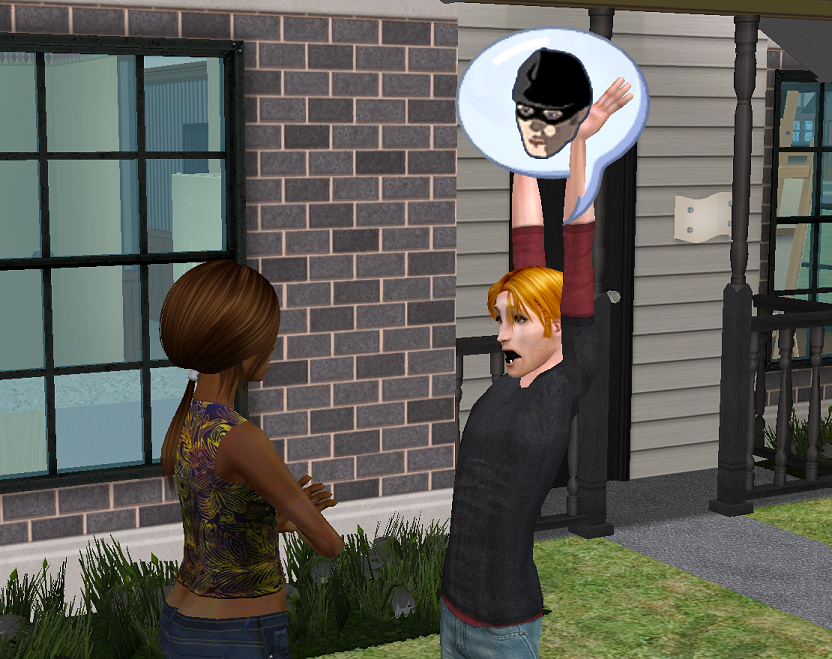 "That's why I promise to be tough on crime. One strike, that's my policy!"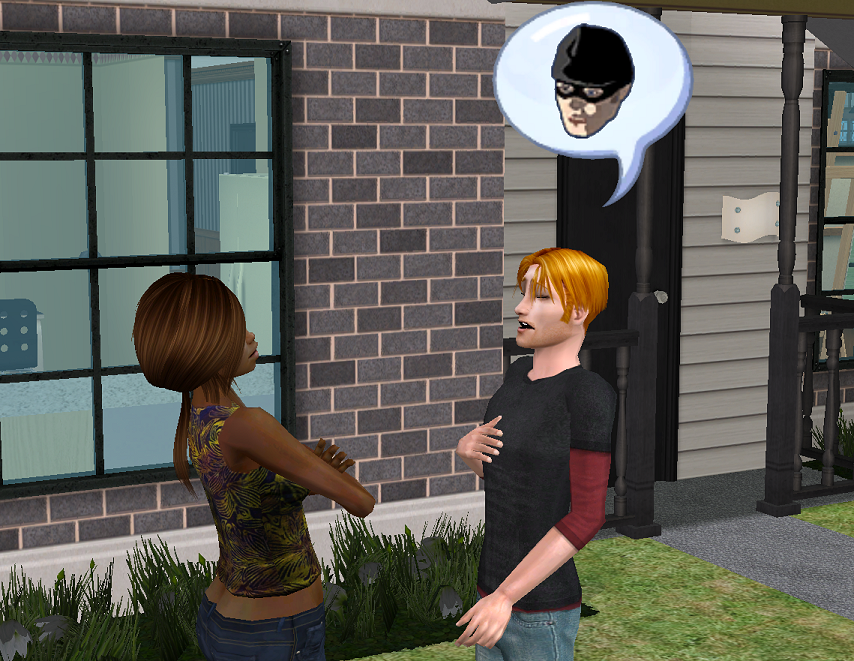 And then the conversation switches abrupt gears to what becomes everyone's favorite topic lately.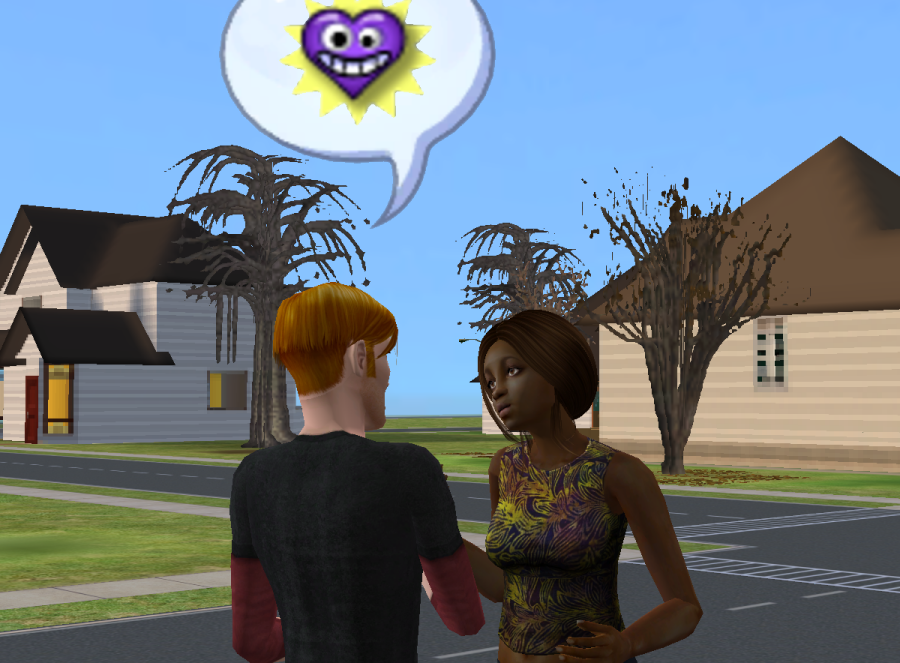 We'll see more of this in other households.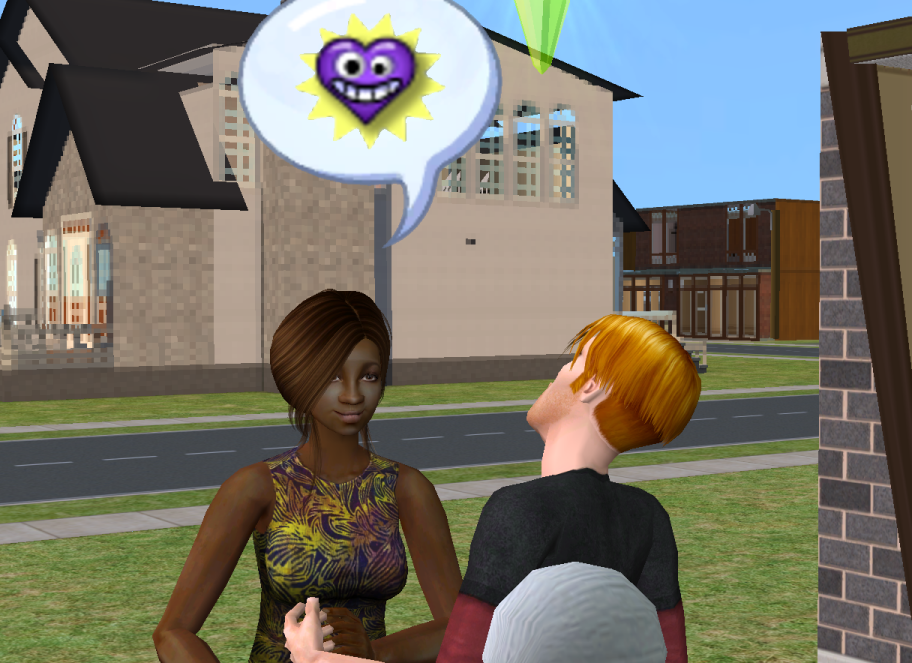 "How's the spaghetti? So, can I count on your vote?"
(Emily Harrison is by
iceraptoress
)
We end the week with both of them moving nicely up their career ladders and making enough money to pay their taxes.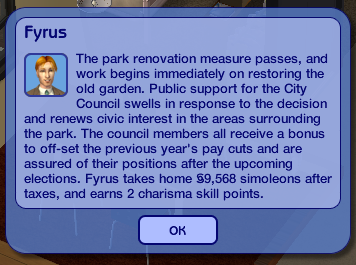 ~ ~ ~
The household's taxes are $4409 for personal cash. Adding this to the current total of $485,306 gives us $489,715 for the next university.
The population is at 144 sims x 33 SM = 4752 (no changes).
Households: 24. (Dorms don't count; apartments count as one household no matter how many families)
Wilder

Killane

Andros

Fiore

Keefe

Blood

Blake

Teflin

Starchild/MacAulay

Winkle

Wyclif

Graham

Bennington

Halloway

McLachlan

Bernoulli

Verde

Odds & Ends

Pickle

Howard

McMilligan

Jack

MacAuley * This will be replaced by one of the new households as I get to it

Edison

24 households means we've earned a new free community lot! Now I just have to decide what it is. A park? A gathering place? Hm.
Community Lots, POB: 54
Killane Grocery (10)

Wilder Dairy Mart (10)

Benita Bodyworks (1)

Daily Bread (10)

Church of St. Drogo (1)

Hall of Oddities (0)

El Marrow Community Park (0)

World of Fish (10)

The Bottique (10)

Max Fashion (10)

Blue Casket (10)

Potholder Palace (6)

Mighty Meaty Mart (10)

Fruitopia (10)

Chapter 11 (10)

Mustard Seed (10)

Electron Hut (10)

For The Ladies (10)

Eat Shiitake (10)

Curl Up & Dye (4)

Chuckle Hut (0)

Barre None (5)

Ill-Gotten Gains Pawnshop (10)

Frontier Pharmacy (10)

Police Station (0)

Pane y Vino (10)

El Marrow Fire Station (0)

Killane's Rest Cemetery (0)

Mirror, Mirror (10)

Telefun! (0)

Statuary or Bust (0)

Andros Holy Ground (0)

Fiore/Darkmoon Cemetery (0)

Sunset Cafe (0)

Keefe Art Museum (0)

Keefe Architect Building (0)

Gas Station (0)

Space Invaders Arcade (0)

Watermania (0)

Bernoulli Experiment Disposal (cemetery) (0)

Bigfoot Coffee Shop (0)

SoFa SoGood (5)

Recliner World (4)

Mattress World (4)

Stove & Range (1)

Aggressive Appliances (4)

Starlight Bowling (0)

Navel Gazers (10)

Royal Flush (10)

Fiore Grocery (7)

Sportin' Woody's Bar (2)

Studs & Duds (10)

Sink or Swim (7)

Jenn's Handmade Stuff (4)

Community Lots, NPC: 6.
Calavera Cafe

Nuevo Marrow Cemetery (doesn't count toward the total number of community lots)

City Hall (doesn't count toward the total number of community lots)

Salvador Limones Military Base (ditto)

El Marrow Theater

Crouton Garden

54 POBs plus 3 community lots = 57 lots. We need two more Tycoons to open 2 more BDs.
Jobs: (Please note that these will be updated as we hit each household in turn. The original jobs are "wiped clean" and all the slots returned to being open)
Business: Unlocked. Tycoons: 3 (Rael Killane, Lou Darkmoon, DW Starchild)
Athletic: 2 open
Culinary: Unlocked.
Architecture: 6 open.
Military: Unlocked
Education: Unlocked
Slacker: 2 open
Criminal: 1 open
Law Enforcement: 8
Oceanography: (only Suzi Keefe, Lynn Andros are eligible)
Adventure: 1 open
Science: Unlocked.
Medical: Unlocked.
Politics: Unlocked. No current mayor
Journalism: 2 open
Entertainment: 1 occupied (Gayle Teflin); Jack Andros is also eligible
Dance: 1 open
Intelligence: 2 open, 1 occupied (Aeneas Blake).
Music: 1 open (Josie Keefe)
Natural Science: 1 occupied (Josh Teflin)
Business Districts unlocked: 3
Universities unlocked: 2
CAS sims (unused) at week 5: 43.
Fires: 18. (Another Law Enforcement slot opens at 21.)
Burglaries: 3. (Next Law Enforcement slot opens at 6.)
Alien Abductions: 4
Deaths: 4. Fresca Fiore, Morgan Blood, and Chyna Ash; also the first nanny. Ted doesn't count since he was dead when he got here. Deaths that people "get better" from don't count either since they didn't stay dead.
Archives are