Archives are here.

It's still Week 5 and will be for a while yet - we have those five kids who just graduated college, after all. Angry Rabbit Starchild has graduated from college with dreams of being an architect and settling down with Rodger Halloway. Rodger has some plans of his own, though...

Featuring sims by
olivethegreat and
seidoo_ryuu.







Angry Rabbit buys a nice little furnished house to start with. Someday they'll make big money like the Keefes and get a super-fancy midcentury model closer to the beach.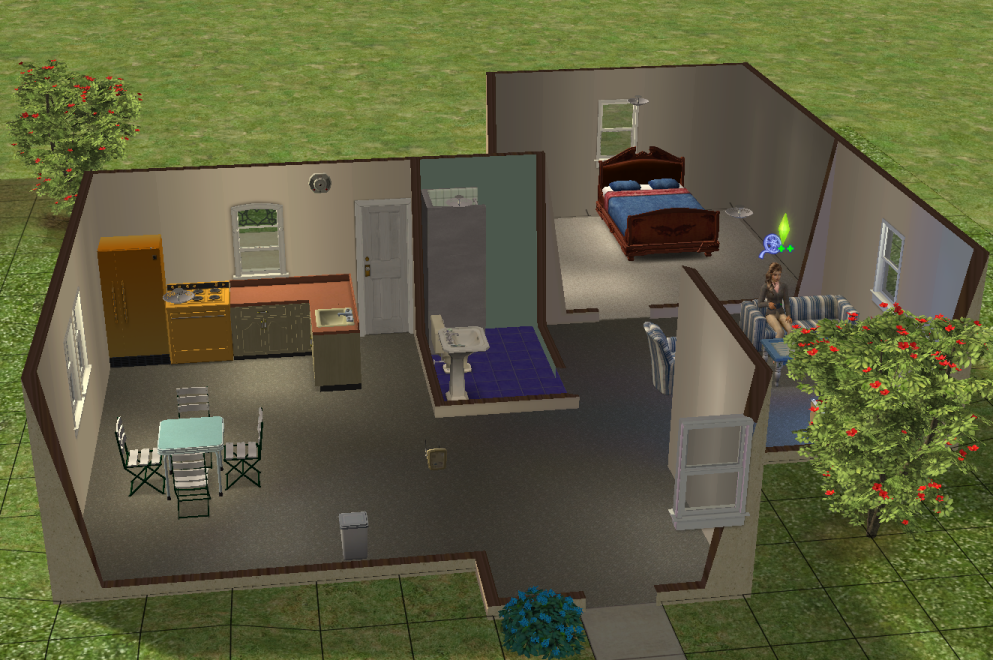 She invites fiance Rodger (
olivethegreat) to move in, and he brings some cash, which is a nice nest egg for them to start with.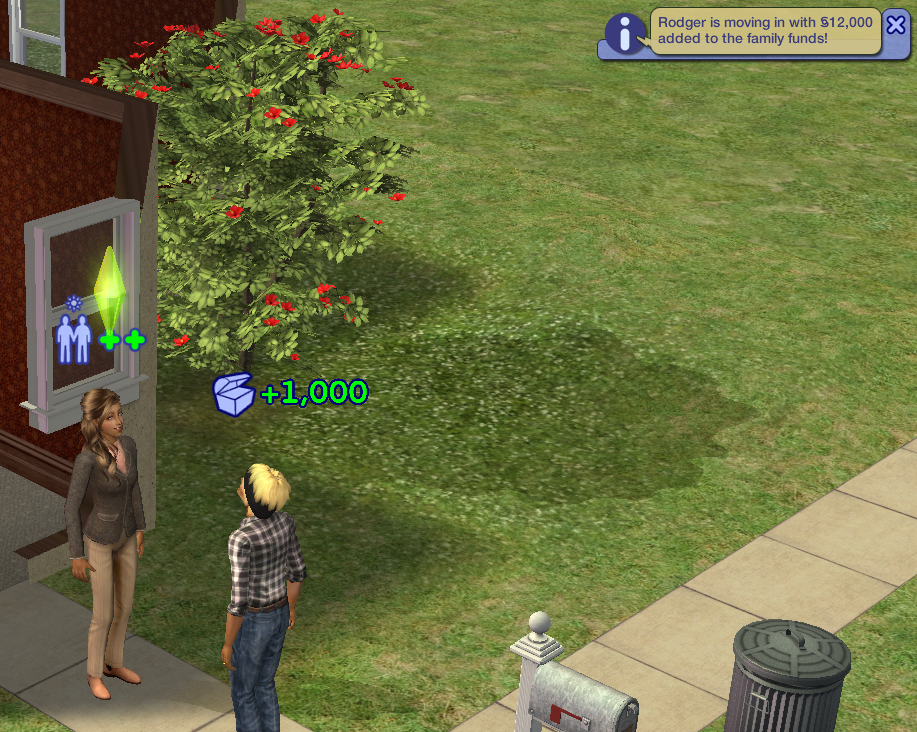 Unfortunately, Roger has an unachievable LTW for a BACC. This career requires the sim to transition to adulthood with max Charisma. Roger doesn't have max Charisma, and he started as an adult, so I guess he's The Guy Who Thinks He's Funny.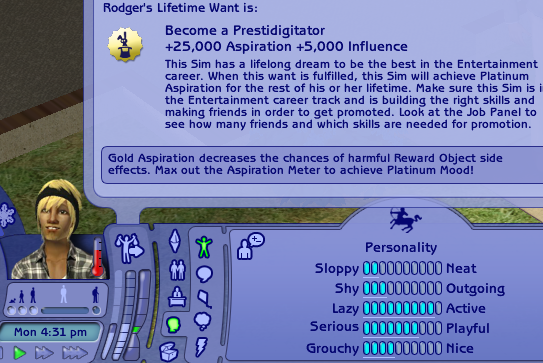 Rabbit loves him, though, so she doesn't judge.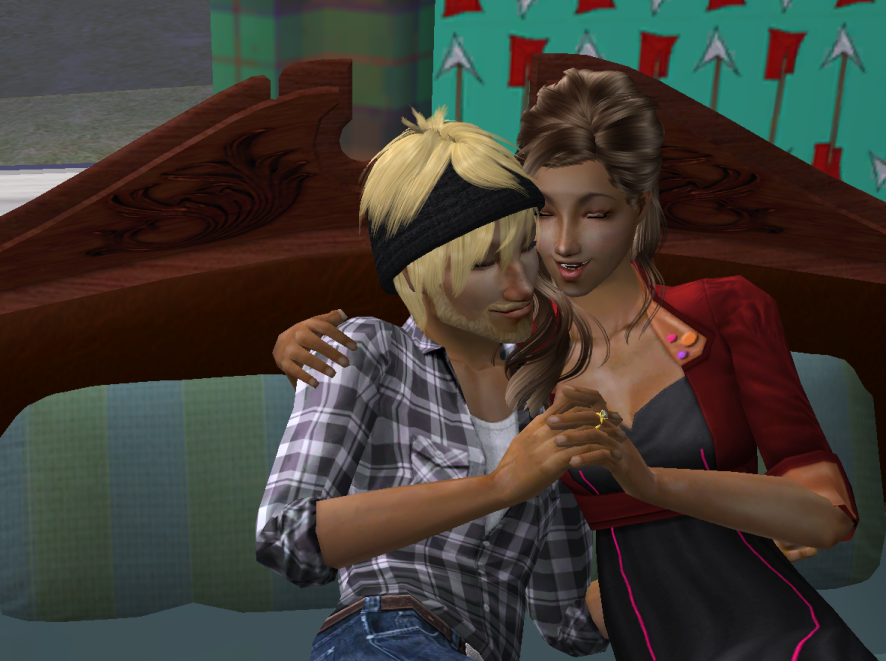 They head down to City Hall to have coffee and discuss the future. If he can't be a stand-up comedian, maybe he could open a comedy club instead?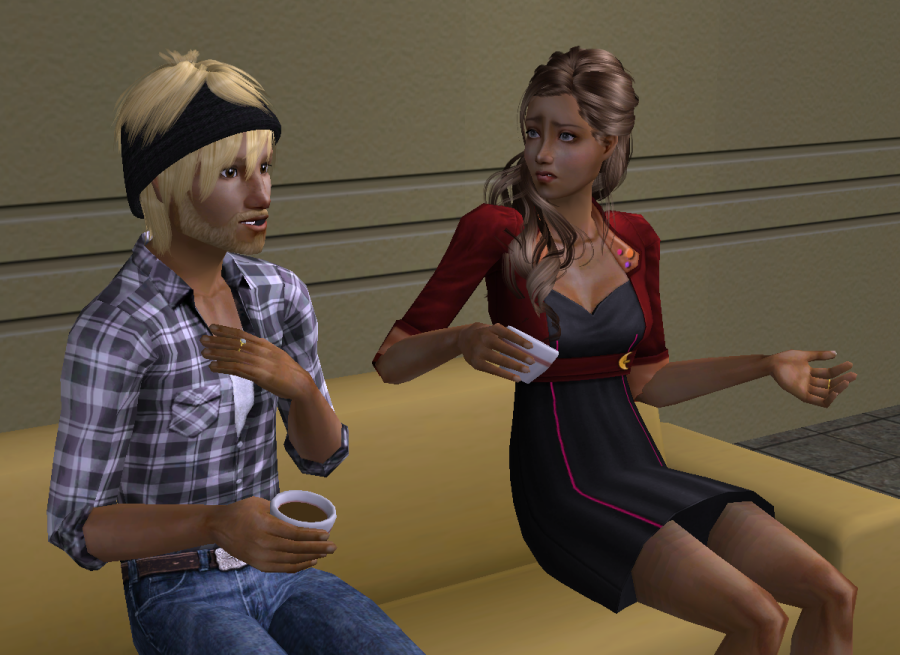 Well, those are some interesting wedding-clothes choices.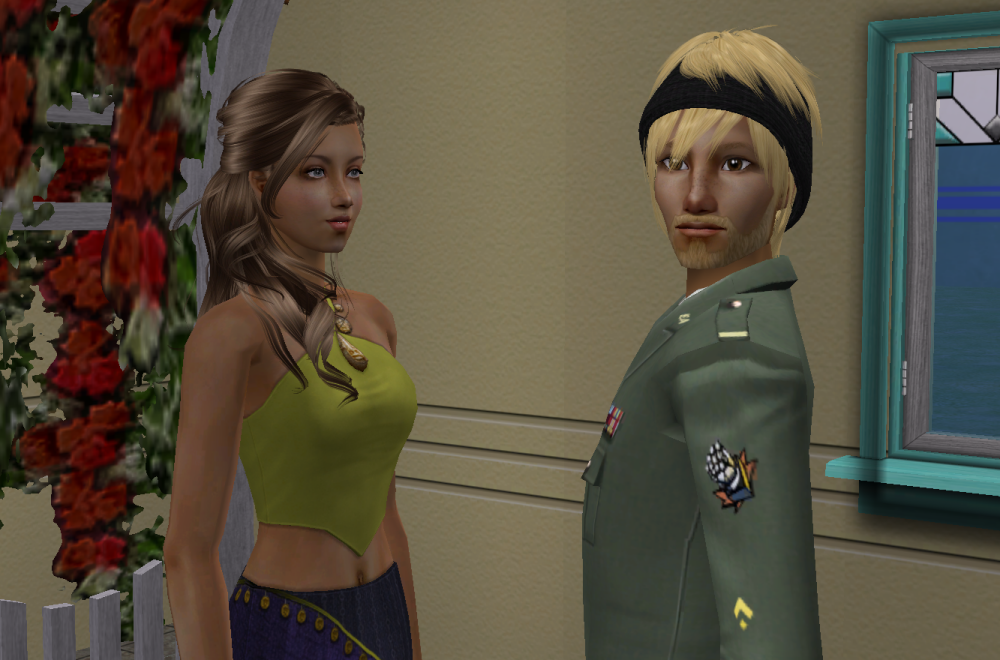 Before the wedding, Rabbit spent $100 and got her name legally changed. Angry Rabbit With Thorn in Cottontail Starchild, after all is said and done, is now Jessica Rabbit Halloway. (Hey, would you want architecting done by someone named Angry Rabbit?)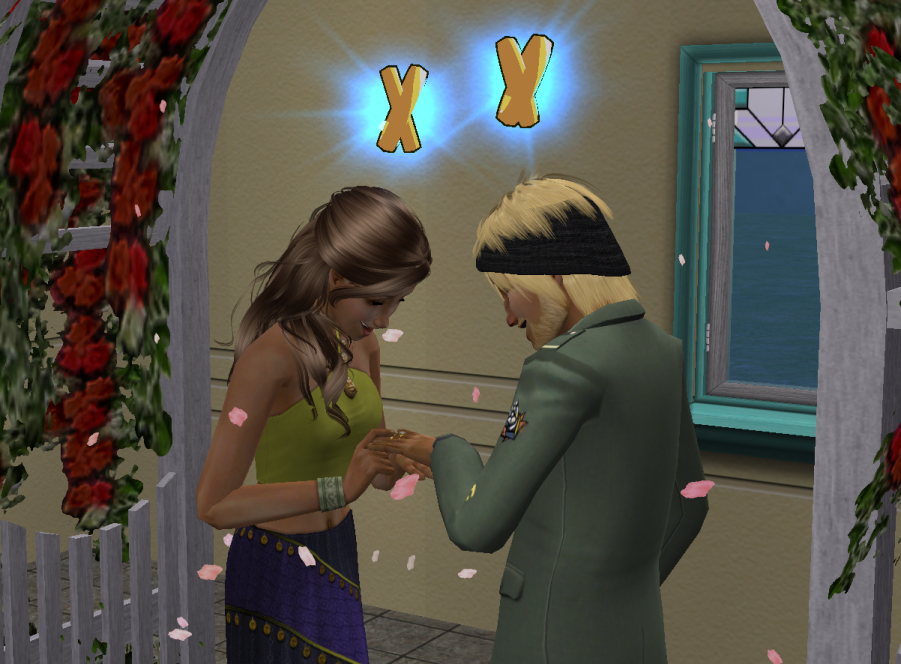 Back home, Rodger gets Pleasure secondary, since that fits with his wannabe entertainer goals. It also lets him write restaurant guides.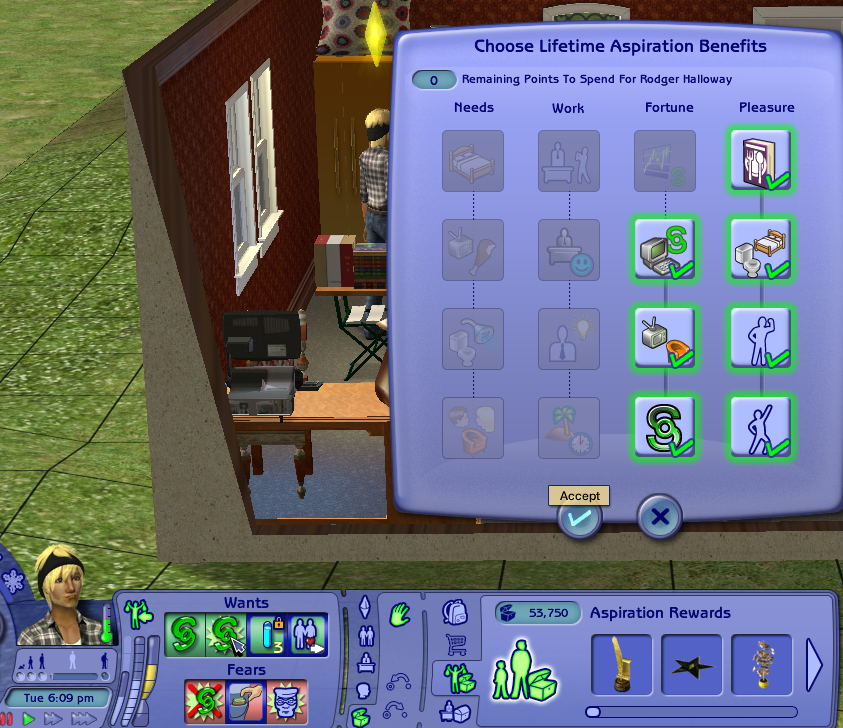 Go away, Fyrus! We're busy!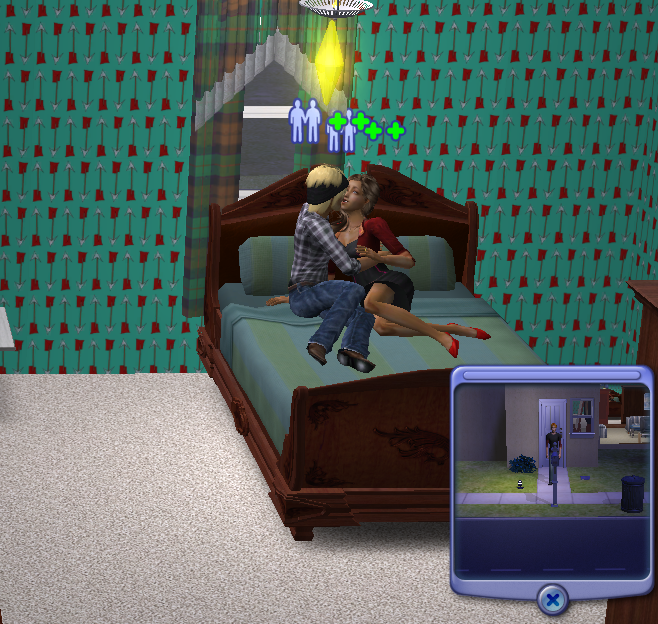 (Fyrus is by
seidoo_ryuu and apparently has nothing better to do than show up unannounced like this)

Meanwhile, even though Jessica hasn't gotten her job yet, Rodger won't let a little thing like money hold back his dreams. He borrows $40,000 (! Jessica must have good credit) and uses that and the nest egg to buy the Chuckle Hut.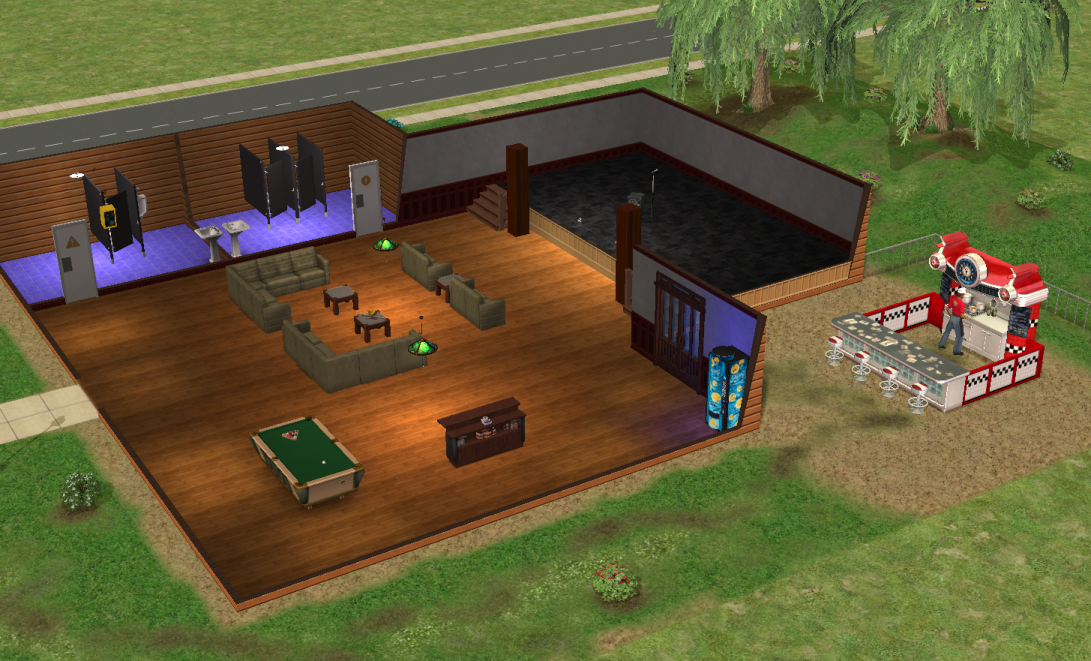 The Chuckle Hut fails to earn any money or goodwill, probably because there's no entertainment. Rodger can't do it because he's tending bar. He has no money to afford an employee beyond the fry cook, who's seen the most business on the lot.
"What, couldn't you even get Carrot Top?"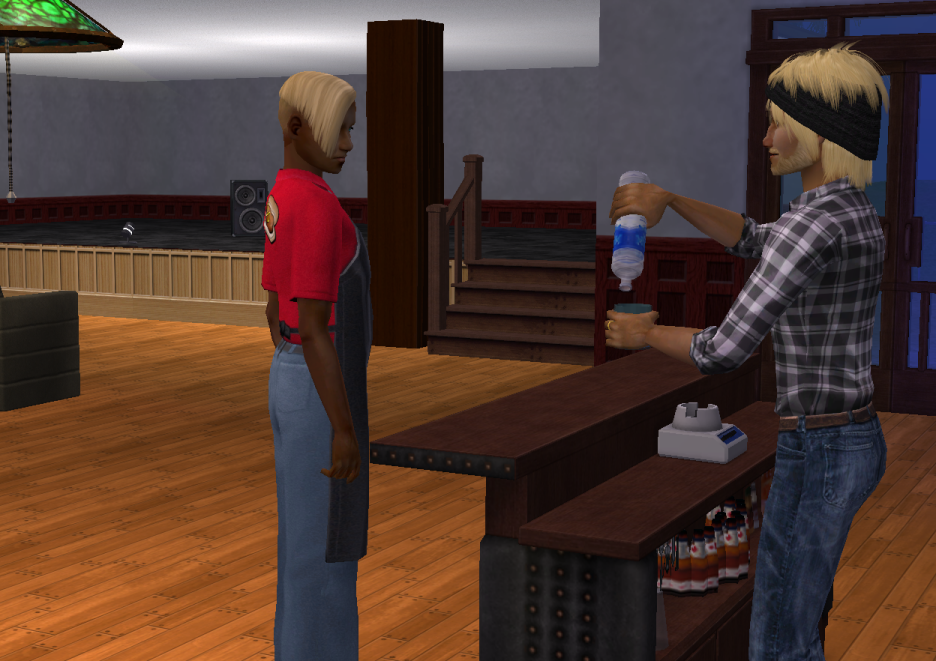 The bills are now enormous thanks to interest on the loan. Novel writing takes a long time to earn money.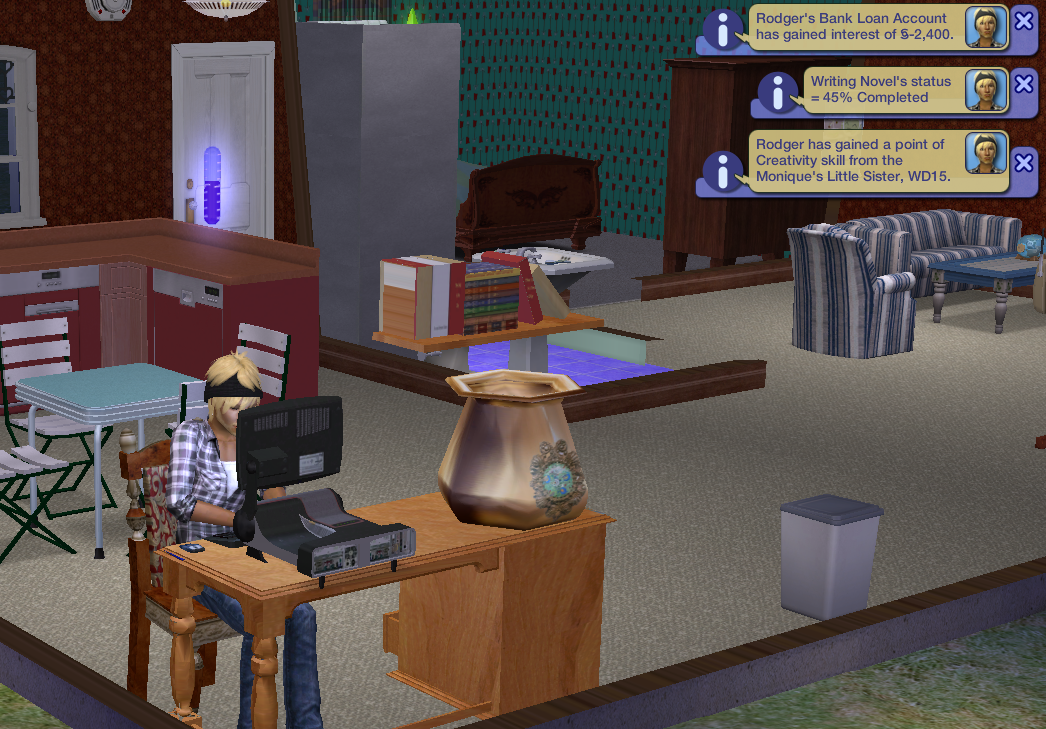 Jessica, still unemployed, now pregnant, paints to bring in money, but the same thing: it takes too long.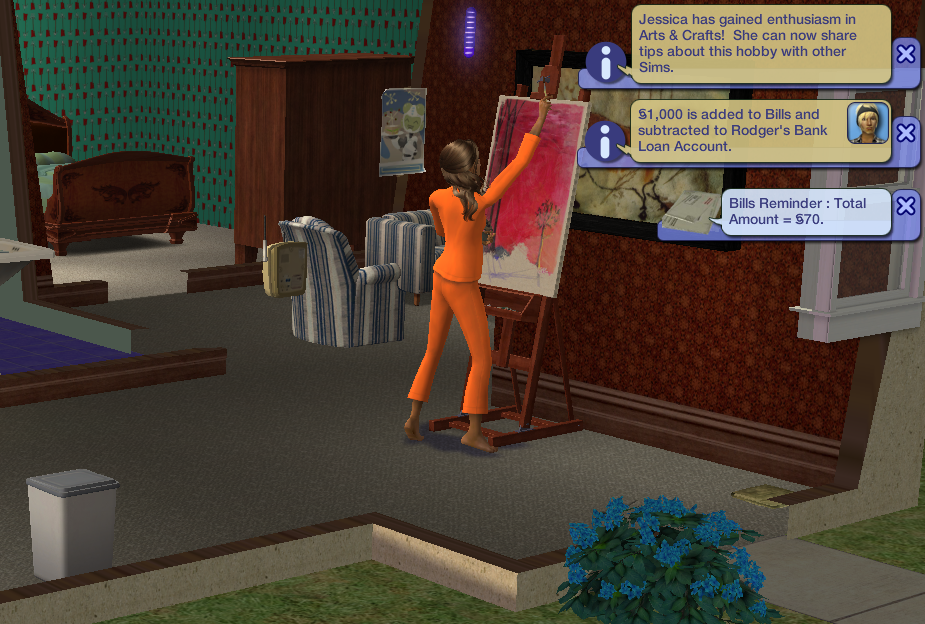 Gahhhhhhh




Plus, with a baby on the way, any money they do get, they immediately spend on walling in the patio so they'll have a room for the baby.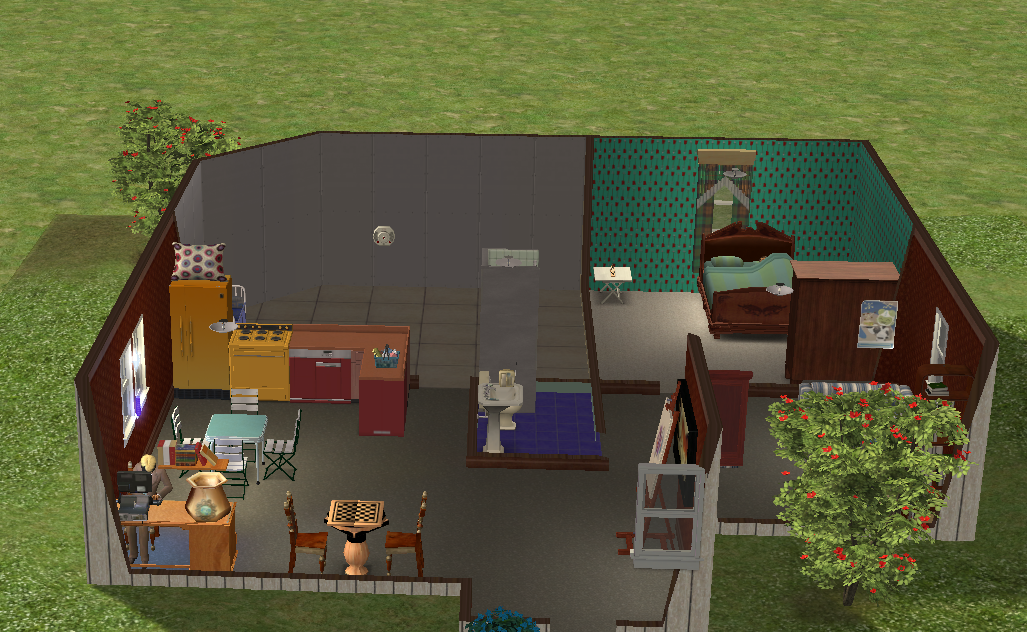 At last, late Friday night, Jessica finally gets the architecture job. But work doesn't start until Monday.




And baby Bunny Halloway is born! She takes mostly after Jessica.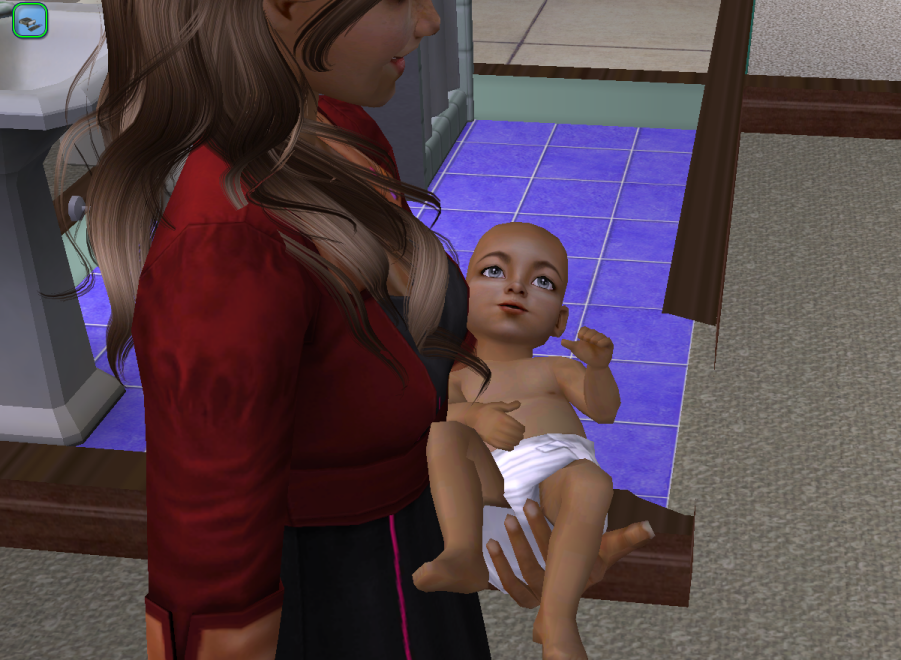 Fyrus demonstrates, once again, his sense of timing.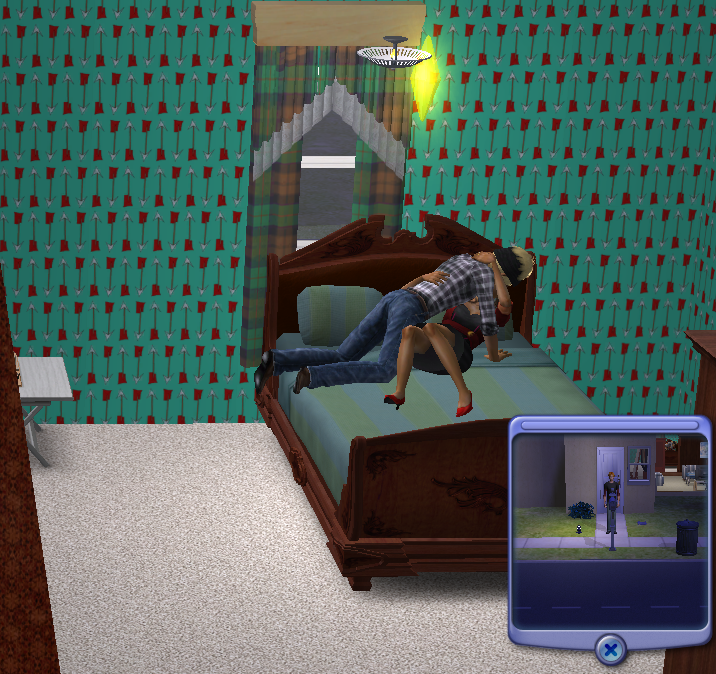 This is not a fast way to take care of loan payments. Not at all.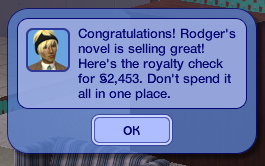 Rodger gets a Business job so they don't lose the house or the Hut. They make loan payments any time they can, but it's still an uphill battle.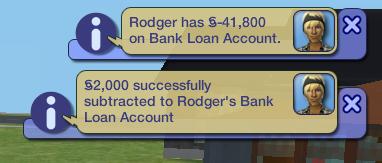 Then I remembered to check Rodger's inventory (doh!). That gained them a couple thousand dollars.




Bunny looks a lot like her mom. I should look for bunny ears accessories for her.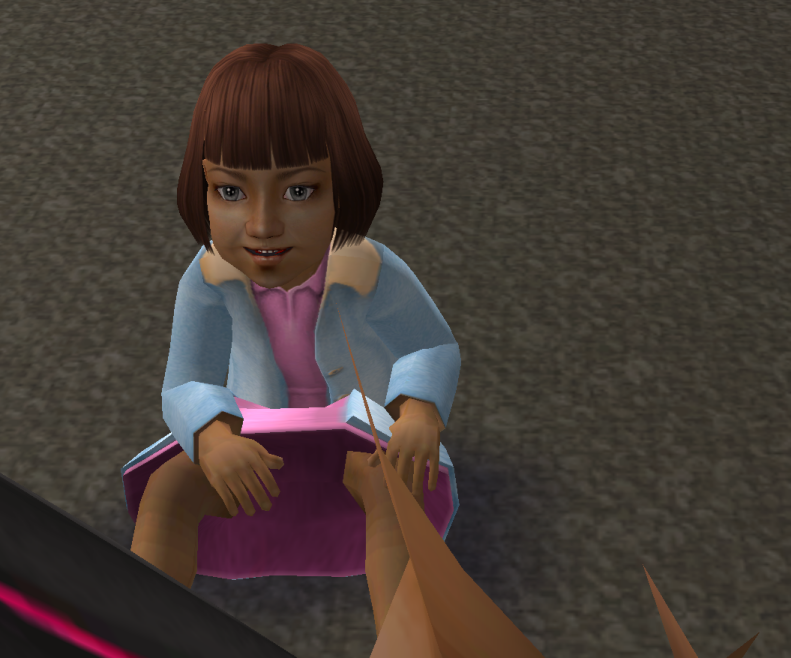 Her personality is very like her dad's, though. Not a clone, but pretty close.




At the end of the week, the Halloways owe $36,000+ to the bank, but they're both finally employed, though Jessica is pregnant again.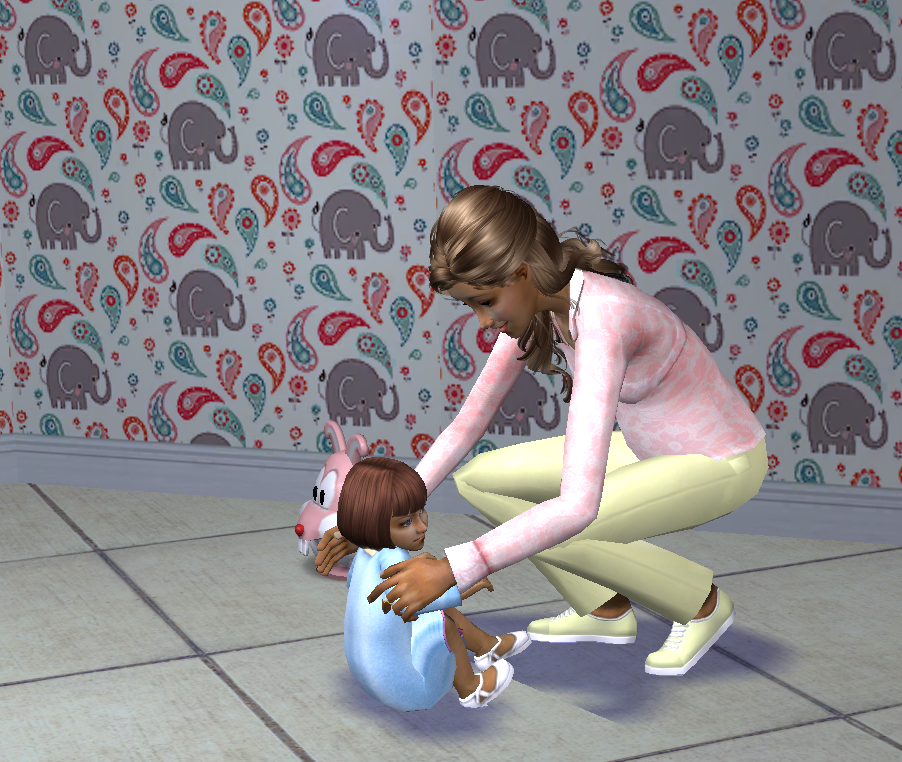 ~ ~ ~

Stats!

The population is at 74 sims (Jessica already counted, but we add Rodger and Bunny) x 21 SM = 1554.

Households: 13. (Dorms don't count)

Wilder

Killane

Andros

Fiore/Darkmoon

Keefe

Blake/Blood

Teflin/Ash

Starchild

Winkle

Wyclif

Graham

Bennington

Halloway



Community Lots, POB: 21

Killane Grocery (10)

Wilder Dairy Mart (10)

Benita Bodyworks (1)

Daily Bread (10)

Church of St. Drogo (1)

Hall of Oddities (0)

El Marrow Community Park (0)

World of Fish (10)

The Bottique (10)

Max Fashion (10)

Blue Casket (10)

Voodoo 'N' Things (1?)

Mighty Meaty Mart (10)

Fruitopia (10)

Chapter 11 (10)

Mustard Seed (2?)

Electron Hut (5?)

For The Ladies (10)

Eat Shiitake (10)

Curl Up & Dye (4)

Chuckle Hut (0)



Community Lots, NPC: 5. We got a free one a while back and it's finally placed, though we won't see it for a couple more installments.

Calavera Cafe

Willow Springs Cemetery

City Hall (doesn't count toward the total number of community lots)

Salvador Limones Military Base (ditto)

El Marrow Theater (this is the new lot)



21 POBs plus 3 NPC businesses means 24 total community lots. One more and we add +1 to the SM!

Jobs:
Business: Unlocked. Tycoons: Rael Killane, Lou Darkmoon (tycoons may have moved to new careers though).
Athletic: 1 occupied (Morgan Blood)
Culinary: Unlocked.
Architecture: 1 open, 1 occupied (Jessica Halloway)
Military: Unlocked, 1 general (Josh Teflin).
Education: 6 open (another one opened when we passed 1500 population)
Slacker: 2 open (the Chuckle Hut is a club, after all)
Criminal: 1 open (reserved for Laverne)
Law Enforcement: 1 occupied (Johanna Wilder), 3 open
Oceanography: 2 occupied (Suzi Keefe, Lynn Andros)
Adventure: 1 occupied (Lou Darkmoon)
Science: Unlocked.
Medical: Unlocked.
Politics: Unlocked
Journalism: 1 occupied (Eve Wyclif).

Business Districts unlocked: 2
Universities unlocked: 2

CAS sims (unused) at start of week 5: 13

Fires: 11. One more means another LE slot.
Burglaries: 2
Alien Abductions: 3

The Halloways pay $32 in taxes, bringing the total to $71,831.