I got a donut maker for Christmas, of all things - you can find it here. (This is what happens when you mention "Hey, look, a donut maker! Isn't that neat?" to relatives planning way ahead for Christmas. It must've been six months since I thought about this thing.) So we've made a few batches of donuts, and here are the results!

The recipe booklet comes with only a handful of recipes. There is "basic"/plain, chocolate chip, banana, apple-spice, and raspberry-coconut. Pixie asked if we could fill them with whipped cream, but these are regular toroid donuts (yes, we had to explain that word) so you can't fill them. They are small. I made the choc chip ones but made only a half batch. The recipe says it makes 10 donuts, so I figured this would make 5. The waffle - sorry, donut maker makes 5 at a time.

The half-recipe still made 10 donuts! The whole recipe also calls for a LOT of butter - 9 tablespoons, over a stick. I let it go with the half batch, but with the next, full, batch, I used vegetable oil instead.

The kids raved over the choc chip donuts. No icing (what's the point?). Sort of a donut-shaped muffin, but better than a muffin. Not at all like a store donut, but much tastier and possibly fewer calories (hard to say with all that butter). I pointed out that these didn't have any of those hydrogenated fats or preservatives, either.

On the plus side: unlike waffles, pancakes or muffins, the donuts are good warm or cold, and are much less messy somehow.

Saturday I made the full batch. The "makes 10 donuts" recipe made 18 donuts. So this is definitely something to consider when making them. I made choc chip again, but with oil instead of butter and we didn't notice anything different. When the batch was about 1/2 done, I added 1/3 cup of cocoa powder to the remaining batter. It got thicker and the resulting donuts were more cakelike and denser. However, that added a nice not-too-sweet chocolate flavor to them.

I think it would be very easy to adapt the recipes to make them healthier - use whole wheat flour, flaxseed, etc. Maybe use applesauce to cut back on some of the oil? You could probably add *finely* chopped nuts (whole nuts or halves would be too big for these) or diced fruit. Not raisins unless they'd soaked in juice to plump up first. Canned pumpkin might replace some of the oil too, and you could make pumpkin muffins - sorry, donuts! - with a few spices.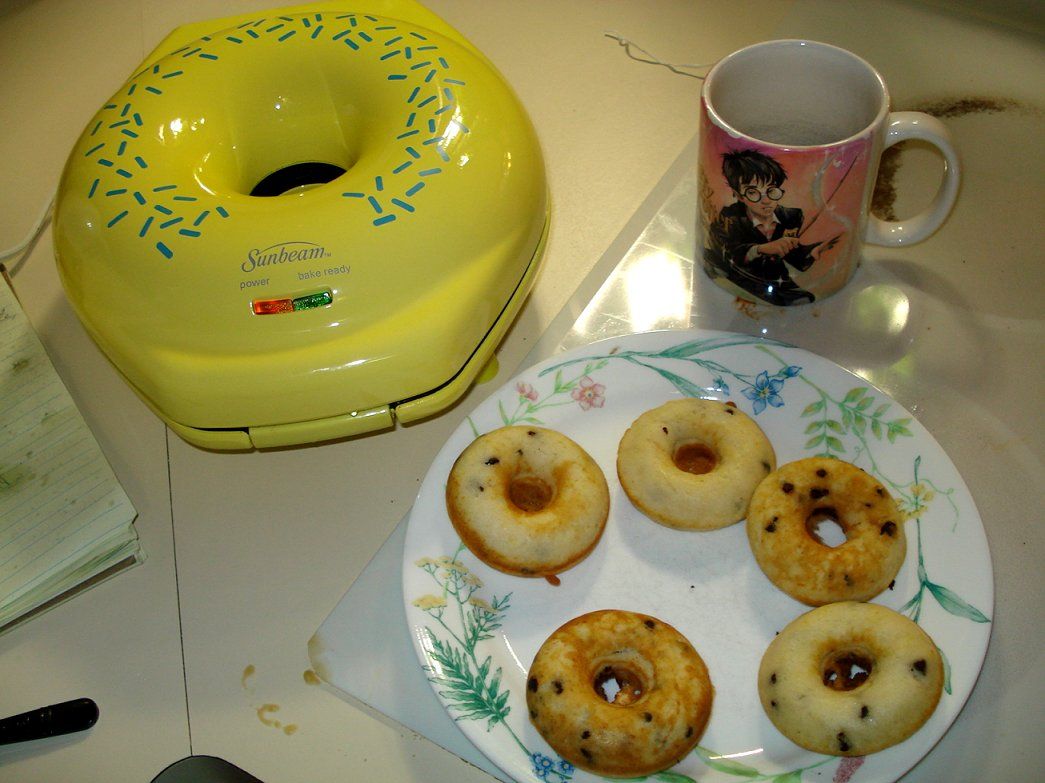 On the plus side, the donuts came out very easily. On the negative side (deep breath):

1. The latch is on the underside of it, and steam heat condenses on the inside, so sometimes when you try to open the lid, hot (not boiling) water gets on your fingers. I've been a little nervous about opening the thing. Practice helps, but I may just start using a potholder or oven mitt.

2. No timer! Even a wafflemaker has instructions like "when steam stops, waffle is done". This one says to cook the waffles - argh, donuts - for 6 minutes "or until golden".

3. Messy to fill. The instructions recommend a metal-tipped pastry bag (!) or other apparatus to pipe or pour the batter into the forms. Since I don't have those, I used a 1/4 cup measure. The piping action would keep the batter neatly in the form and not in the "hole". But honestly, the kids don't care if there's a thin crispy bit in the donut hole anyway. (Side note: Spellchecker recognizes "donuts" as a word, but not "donut")

4. All the fun of standing by the stove/wafflemaker to make pancakes/waffles! On the flip side, once these are cooked, they're good for the rest of the day, cooled, unlike pancakes or waffles, which people want to eat warm. So this is not as much of a minus as you would think. Once they're done, they're done. Recommended to be stored in an airtight container and eaten within a day (probably they start to dry out without all those hydrogenated oils and preservatives).

So, this was a success, the kids are thrilled, and even Pixie said if we make healthy donuts, then we could eat them all the time. ;) I've enclosed a picture with the coffee cup for scale. That mug was given to me before Pixie was born, back around the first HP movie maybe, making it at least 10 years old. Wow.

This morning (Sunday) we tried the next step: whole wheat. 100% whole wheat did not work out well. The batter was more like cookie dough than batter - more solid. It didn't bake as nicely either, resulting in a more crumbly appearance. I then made a second batch (you know they'll all get eaten) where the only difference was I used 1/2 cup whole wheat flour and 1 cup regular white flour; the difference is significant. Both the 100% whole wheat and partial whole wheat donuts today also have ground flaxseed, since that's easy to mix in.

Pictured: the crumbly 100% whole wheat chocolate ones in upper left; the 100% whole wheat ones on upper right; and on the bottom, some of the mixed whole wheat/white donuts.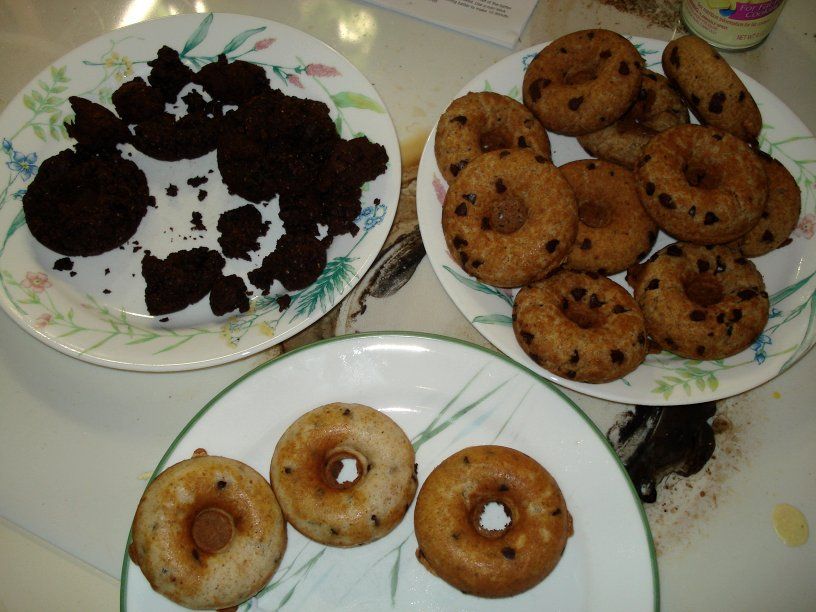 (The all-chocolate 100% whole wheat ones fell apart getting them out of the machine.)

The kids are just fine with the mixed-wheat donuts, so all seems to be OK. Next up will be trying to substitute something for the oil, and maybe adding protein powder to them. But not today, we have a load of donuts to go through already. :P