Spring Festival for the kids was fun. It was about 3 hours. On the plus side, even the food could be bought with tickets... on the neg side, everything was kinda pricey. But the kids still had fun, esp since Bro contributed plenty o' cash and tickets himself. A biggie of the event was confetti eggs, which have turned out to be not so cool because it's hard to get the stuff out of hair. :/


Pixie wanted blue, but they didn't have blue, so she got orange and purple stripes. Her "colorist" was a tweenage boy who didn't seem to know what he was doing. Imp, on the other hand, got a more experienced mom type who immediately coated his whole head in green (Imp wanted blue but was OK with green).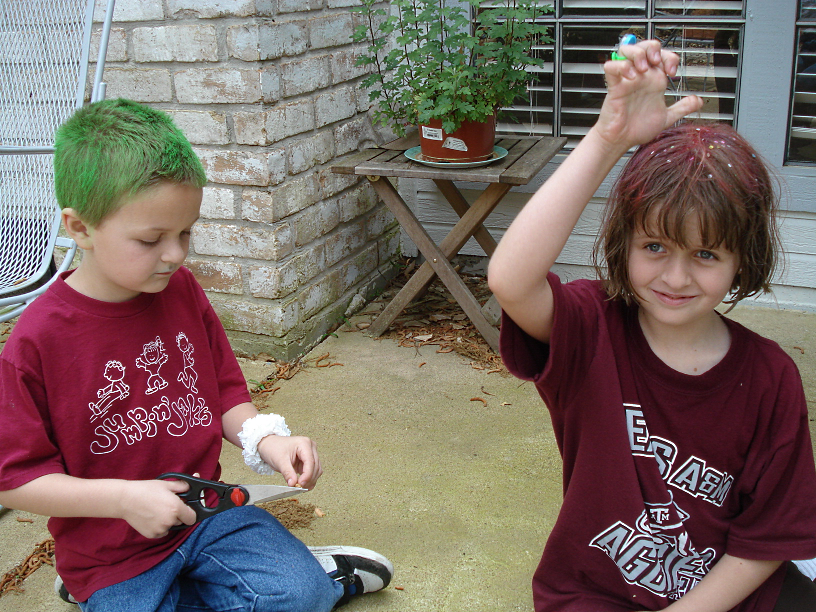 (You can see the confetti still in Pixie's hair)

There was one actual "ride" type ride (carnie type) and a few inflatables and the usual run of local-festival kid stuff. We stayed the whole time and the kids had a blast, since their cousins were there too. There was a silent auction with some nice "gift basket" goods, but I knew I'd get outbid on those things pronto, so I didn't worry about it.

We bought a strawberry plant on the way home, because Imp really really wanted one, so now we have a strawberry plant to go with the veggies.