It's Christmas report time! Starting, of course, Christmas Eve.

Christmas Eve, the kids and Toly and I went to 4 pm Mass, which of course meant the place was SRO. I knew it was Christmas Eve Mass and it would be crowded like anything, but I didn't translate that into "so leave earlier so you can get a seat". So we got there at 4 pm and were told that unless someone was holding seats for us, there was no room, and they'd hit fire-code-mandated capacity. So we had to go to the overflow Mass in the next building. We got the priest with the accent and a brass band instead of a choir. Really, you have a brass band or singing, but not usually both. It's hard to compete with a brass band. The kids got seats and Toly and I stood, but at least it was Mass!

Back home, dinner, etc., and after the kids went to bed, then moving presents down to below the tree. Then Mom and Dad brought out their presents, and Mom had to rearrange all of them so they were grouped by person. We did this when I was growing up, too. This is compared to Toly's method of spreading them around so people have to hunt for theirs.

As it turns out, I got one duplicate gift for Christmas, because Toly got it on Christmas Eve and I guessed what it was before he wrapped it, so he gave it to me. And when I showed it off to Mom and Dad, Mom said she'd bought it for me off Amazon. She doesn't like it when we "stealth" buy stuff "off the Amazon grid" (her terms!) because then it doesn't reflect back to the wish list. Anyway, I have two copies of Zogonia's "Slice of Death". How many people can say that?

This is the living room with the Christmas tree. The room has a toddler play-fort in it because it was assembled ahead of time to give to my toddler nephew. The kids and Toly and I live upstairs, the folks have the downstairs.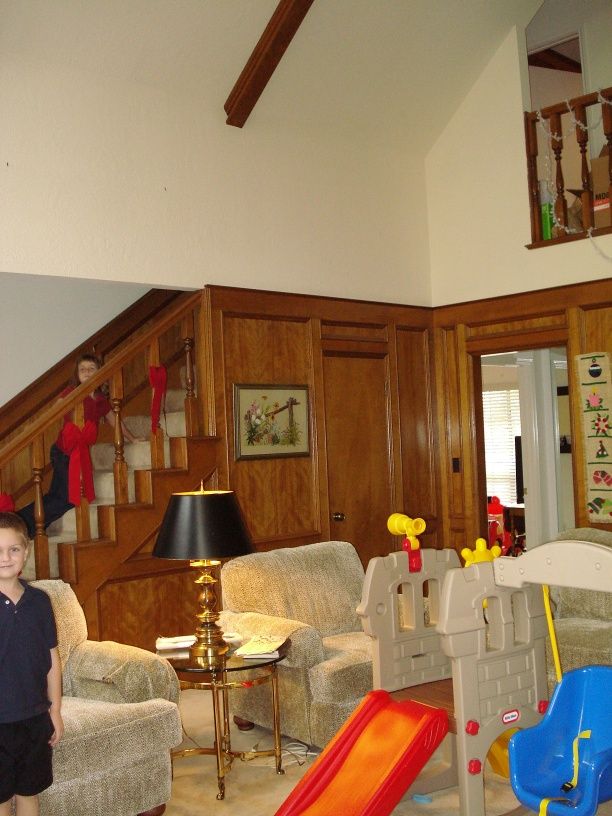 See the banner on the left side of the photo? I made that when I was in the high end of single digits, I think. It still looks great.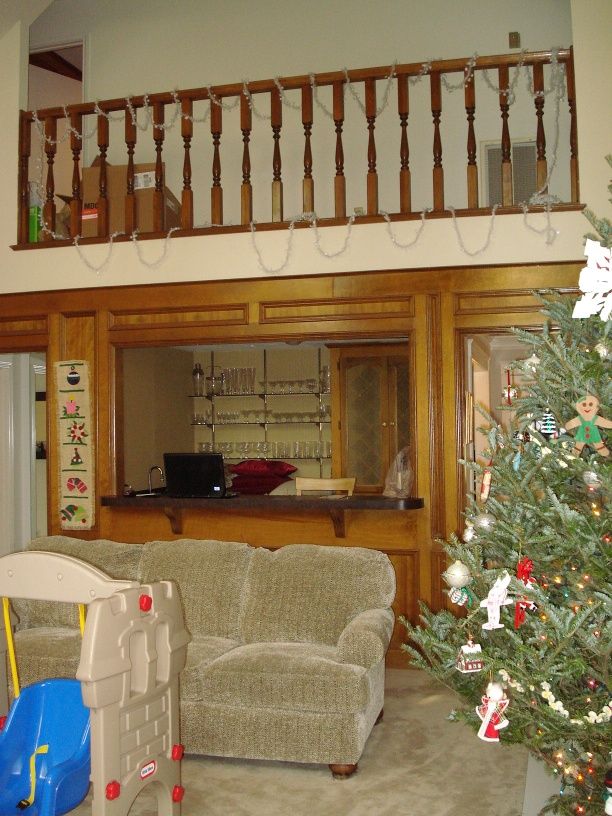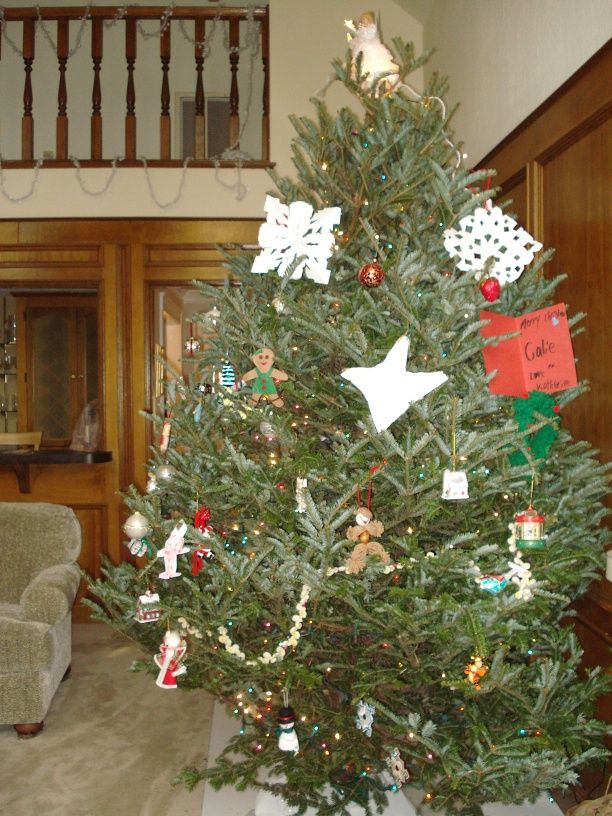 We were able to get a 9' tree in there because of the cathedral ceiling. Also, trees were cheap this year. $30 for a 9' tree!

Christmas night. Imp woke up at 2:30 and wanted to go look at the tree. I convinced him to stay in bed until 6 am. Much tossing and turning and incidences of "I'm still not asleep, Mama" ensued. Finally he fell asleep again.

Pixie got up at 5:30ish but was polite enough to come tell me and then agreed to also wait until 6 am. At first I thought my headache and fatigue were from dealing with kids all night, but as the morning wore on, I realized I actually had a headcold. I took three big naps during the day (a couple hours each) which helped a lot, and a twelve-hour Comtrex really seemed to work on the nose.

(By the way, the Swedish braided coffee bread turned out decent.)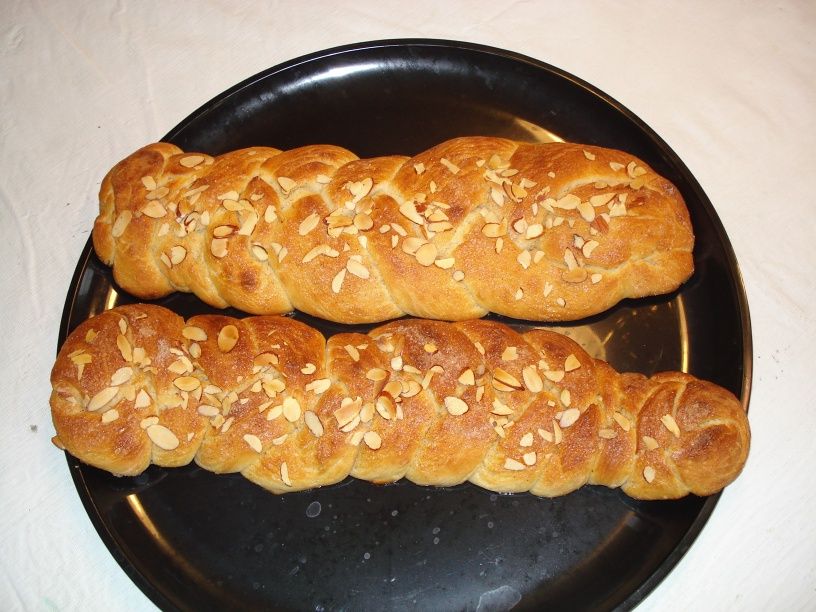 We do a nice orderly Christmas unwrapping. Each person opens one gift in turn so we can all appreciate it (and write down who gave it, for thank-you notes). None of this feeding-frenzy thing.

The big hits of Christmas 2009:

Both kids: long underwear. I had no idea this would be so popular. We actually bought it and gave it earlier in the week and the long underwear became the favorite loungewear/sleepwear/everywhere outfits. Who knew?

Both kids: new comforters. Up until now they made do with a mishmash of afghans and throws and things because they weren't so tall. Now they're pretty tall (for their ages) and need REAL bedding. So now they have actual comforters that they picked out themselves. Pixie's is ocean blue and brown; Imp's is camouflage.

Imp: Remote controlled UFO and RC truck. Also electronic Battleship and electronic Monopoly. (We got a lot of board games this year, unlike last year, when they got much-needed socks and underwear.)
The blue dot in the upper left is the UFO. The pic is from the balcony looking down on the living room.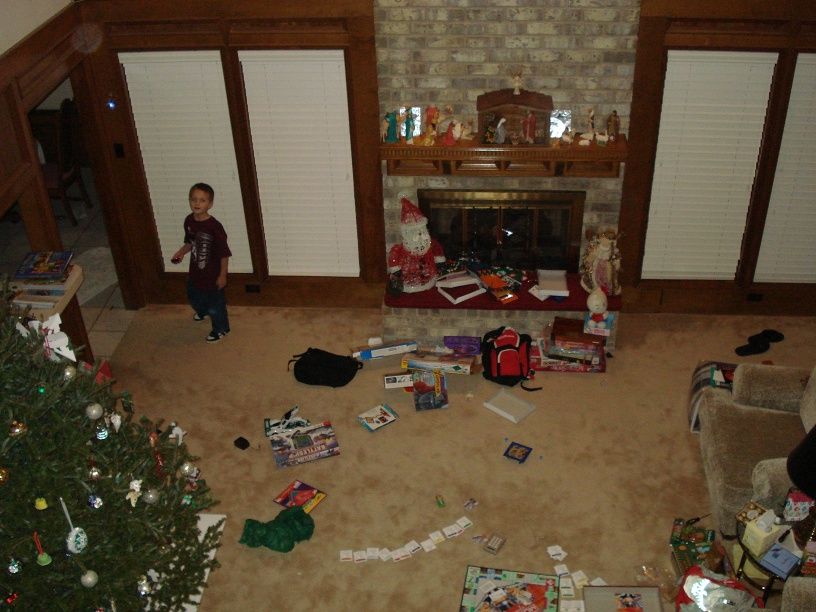 Pixie: Carnivorous-plant terrarium (she chose that herself) and various art sets and a book on Egypt.

Me: a pillow made by
iceraptoress which is just gorgeous (see picture):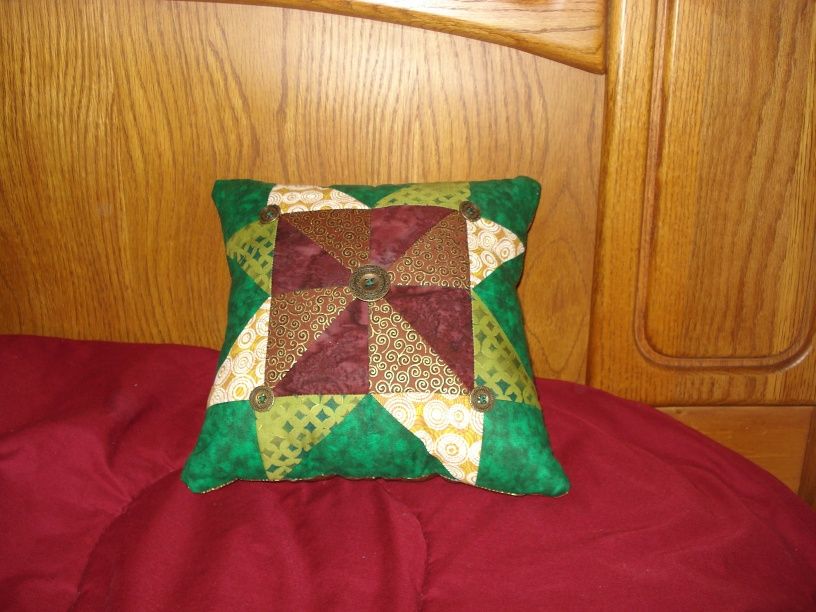 Toly: Also a new comforter (it was a year for blankets, I guess) and some games and movies.

Me: A necklace from the kids - it was actually from Goodwill, but for costing less than $4 it is really pretty and everyone's complimented on it. Garnet and malachite chips with silver beads. Between this and Imp's $3 leather shoes, I'm gonna hit Goodwill once a month, I think.
iceraptoress gave me a lighted magnifier to save my sight, and I got plenty of books to help ruin it right back. Also another Aerogarden kit (flowers this time) and several boxes of Alaskan Sourdough bread mix. I already had my really big Christmas present, which is the new monitor Toly got me after Thanksgiving.

Most of us also got clothes, but not too many.

We bought a new copy of Tiki Mountain. This is a hilarious board game and we originally got it back in 2007, but after we moved here this past February, we haven't been able to find it. It's probably buried in a box in the garage. So Toly and I bought a new one for Mom and Dad for Christmas, since it's really a good game of friendly backstabbing. :P Seriously, it's great. If you like boardgames, get this one.

We put Tiki Mountain into service last night at Bro's house. Players were me, Bro, Toly, Dad and Bro's oldest daughter (about 15?). Much hilarity had by all. I almost won but Bro managed it in the end by sheer luck. Good times.

We keep having huge meals with plenty of snacks, and that is not doing my holiday weight any good, so as soon as this cold is over it's back to the exercise regimen.

In the meantime, it's now time to get everything put away, and see about taking down the tree. Normally we give it another week, but Mom and Dad are leaving on Monday, and this is a huge 9' tree we're talking here, so they're offering help to clean up and I'm taking it.

I hope everyone else is having a good holiday too! ^_^