One day I will use up all these scraps and remnants! This quilt (Square Dance) is a sibling to
Scrap Heap
, being another white, colorful quilt made out of scraps and remnants, almost all of them the same fabrics.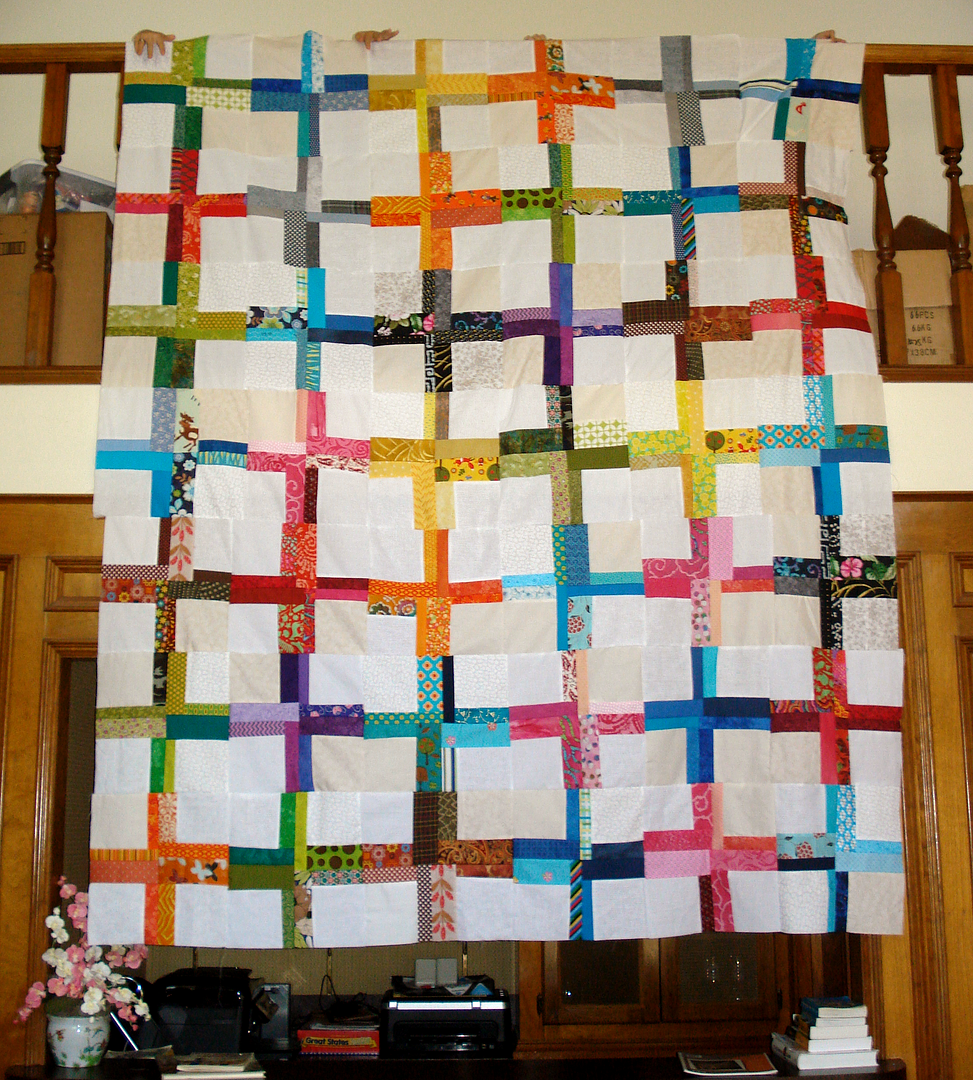 The pattern said the finished size would be 80x94" or thereabouts. This one is
98x140"
- definitely a king size. I'm not sure what happened, unless I was supposed to cut down all the squares severely, because I made the same number of squares as the pattern (6x7 array) and cut the strips to correct sizes and etc.
I still have to trim down the sides to be even - you can see it especially on the left - and then I have a really freakin' huge quilt, sho nuff.
What I'd like to do eventually is actually quilt this with a meandering pattern and colored thread, maybe? To fill up all the white space? Though white thread would have an appeal to. To do that, I need a bigger machine (to quilt this massive thing) and to learn/practice meandering and see if I have a walking foot (maybe one will come with the new machine?).
Still in the pipeline:
Gold/Galaxy - sewing blocks
Flannel 8-Bit - need to cut fabric
Tropic Thunder (working name) - piecing
Holy crap! I'm down to only THREE projects, and of those, only two are actually
in progress!
The other one is in the "stuff I wanna do" pile. Technically I do have Christmas presents to work on too, but still - Stuff's gettin' done!
(The quilt for my godchild is off the table because she won't appreciate it)
Another top finish that will wait for backing/batting/binding until I get a new machine etc. But it's done! And it's freakin' huge, too - I'm not sure what happened with that.
Current Mood:

productive