Previous episodes can be found
here
.
In this installment, someone joins the household. Not the way it's happened before, either.
When last we left, Johnny's extended family consisted of:
- son Johannes, daughter in law Christal, and their son Burton, who is in a weird relationship with a crazy evil psychopath type person
- foster son Keno Capello, foster son in law Don, and their adopted son Chip, who is in a relationship with...
- half-alien daughter Theory, who is also nuttier than a Stuckey's log, and who is in a love/hate relationship with Johnny (she wants his love but hates his insistence on homework, curfew, wearing proper clothing, etc.)
We left with Theory visiting the haunted house and peeing herself.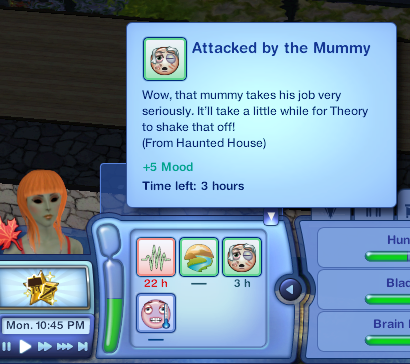 The truth isn't libel!

They had a problem with the maid not doing the work, so I relied on the time-honored "fire the maid and hope for a new one" standby, and got this fellow.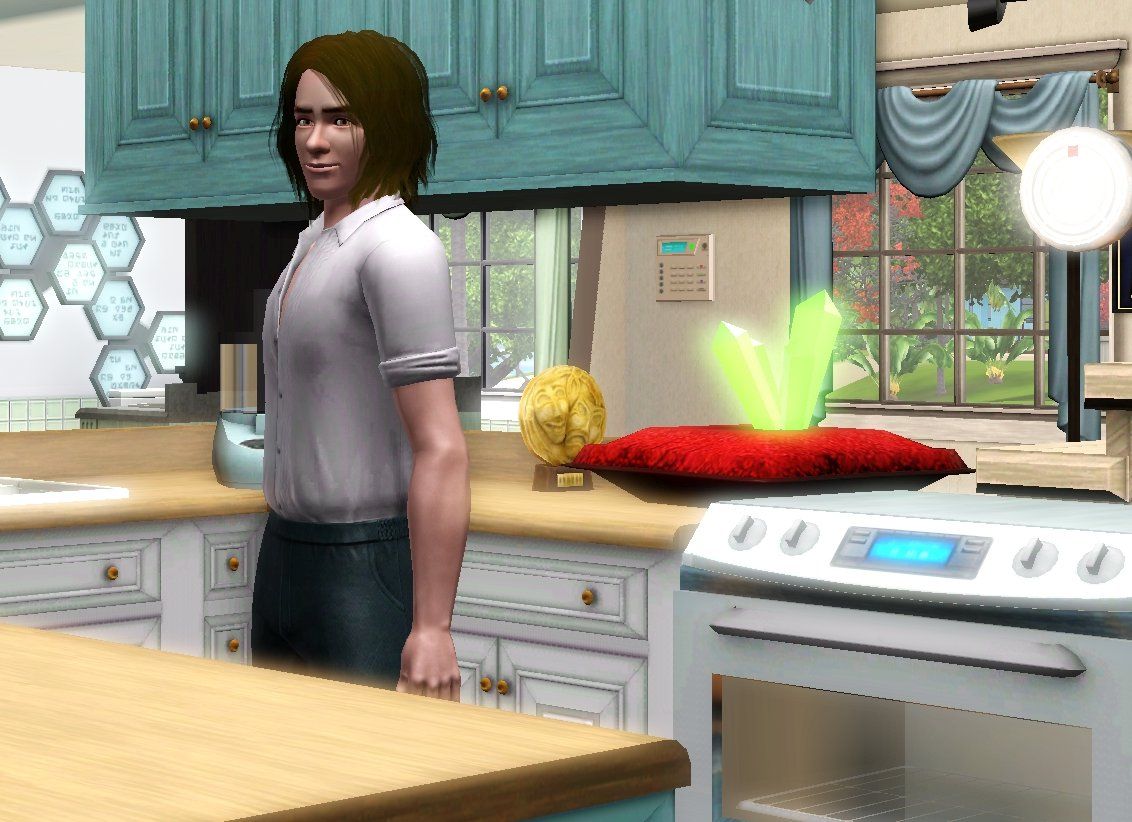 Johnny honestly did not realize he was on fire for several sim minutes. Note that being on fire is a mood booster for him (being a daredevil) and "lasts 3 hours". Is that, he can be on fire for three hours? Or the mood boost lasts that long?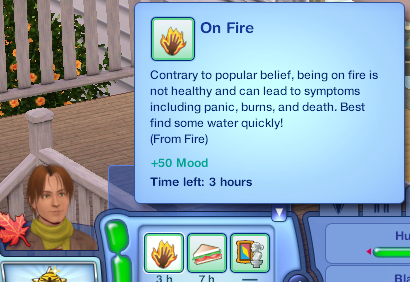 Didn't bother him a bit. I finally had to tell him to go get a shower. (The pool is closer, but it wouldn't let him dive in.)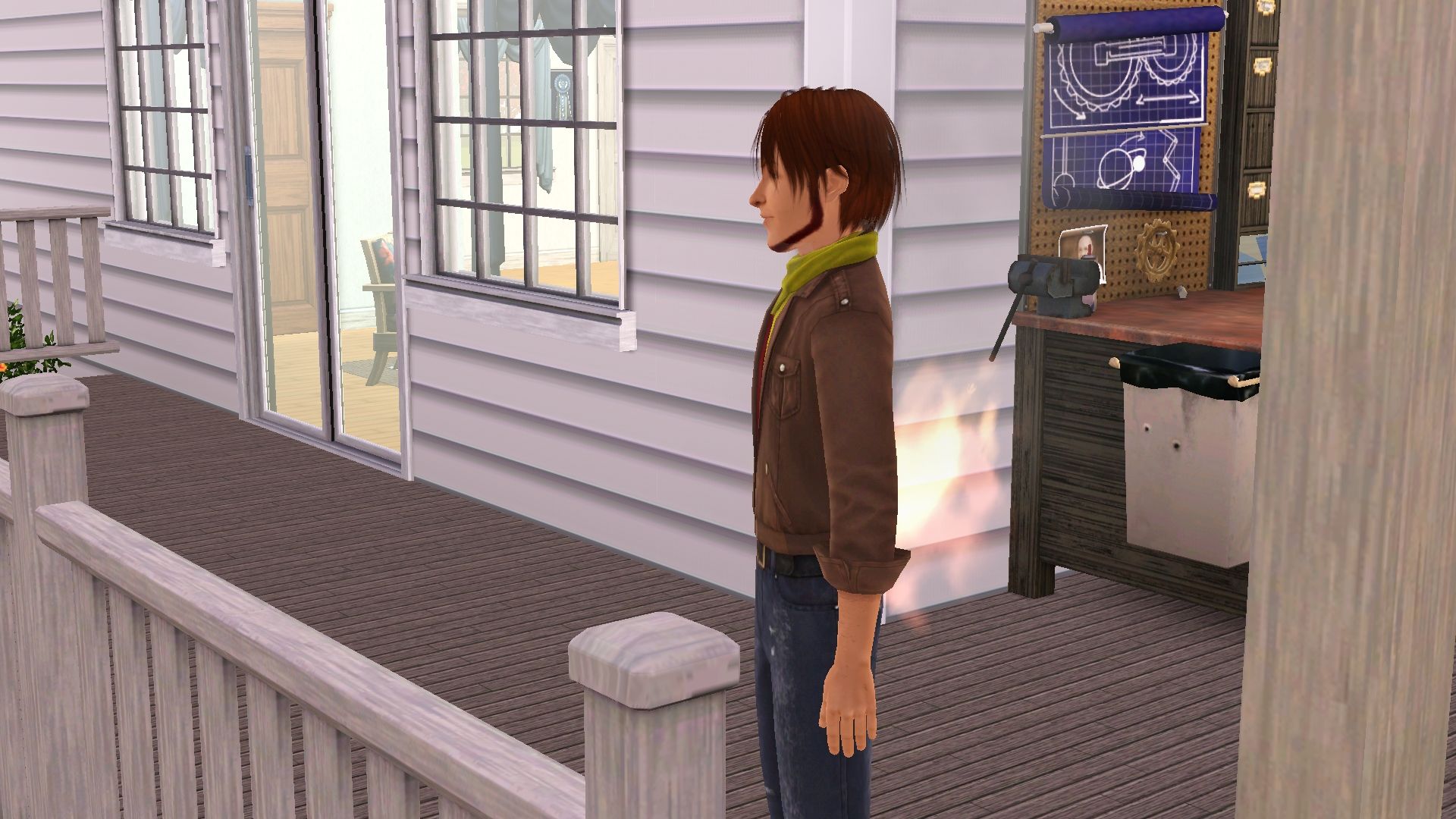 Johnny/me feels bad about Burton's situation, so Johnny invites his grandson in to stay for a while.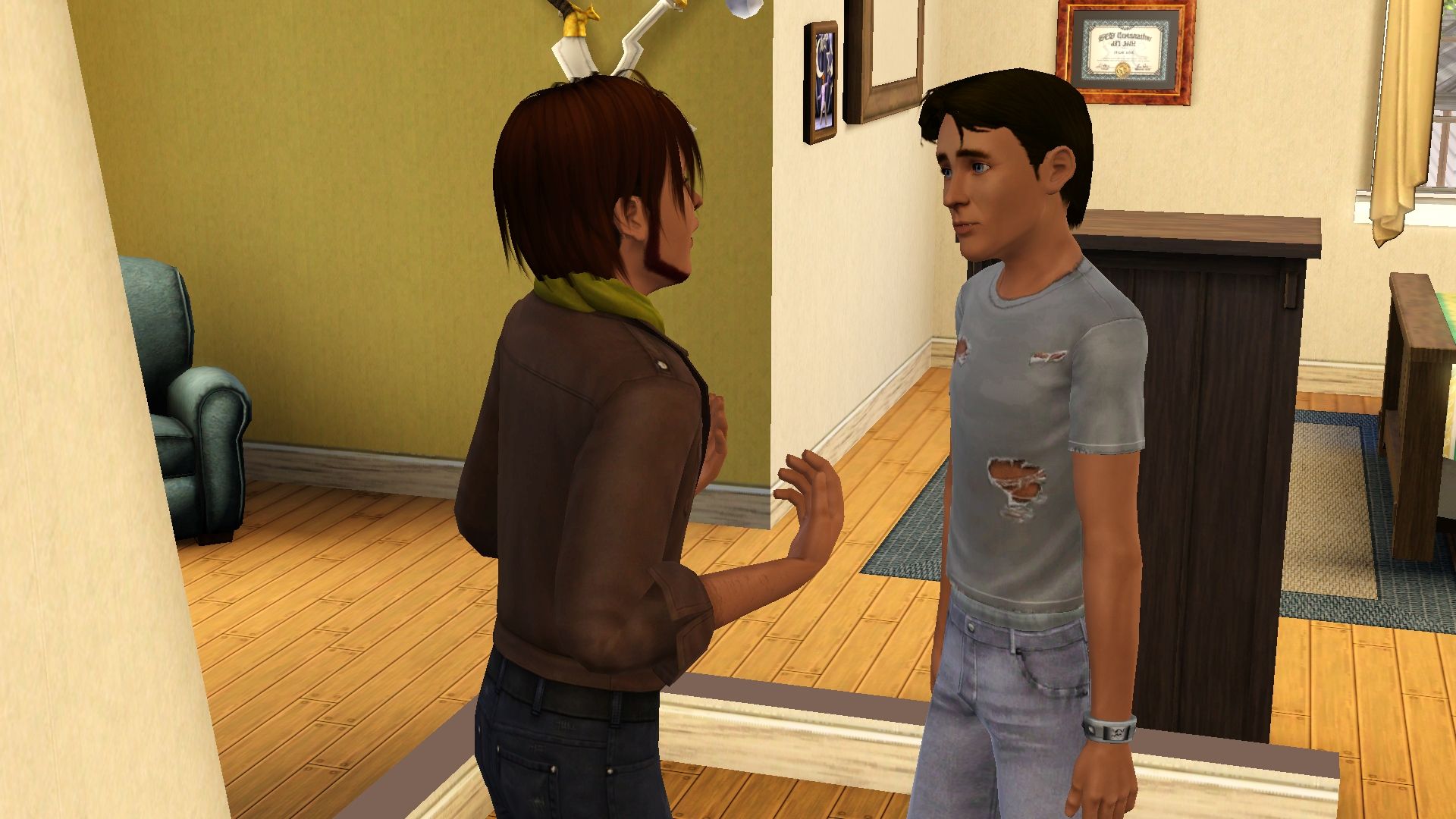 "And I've got a bunch of yummy life fruit that will give you some extra time to find someone else!"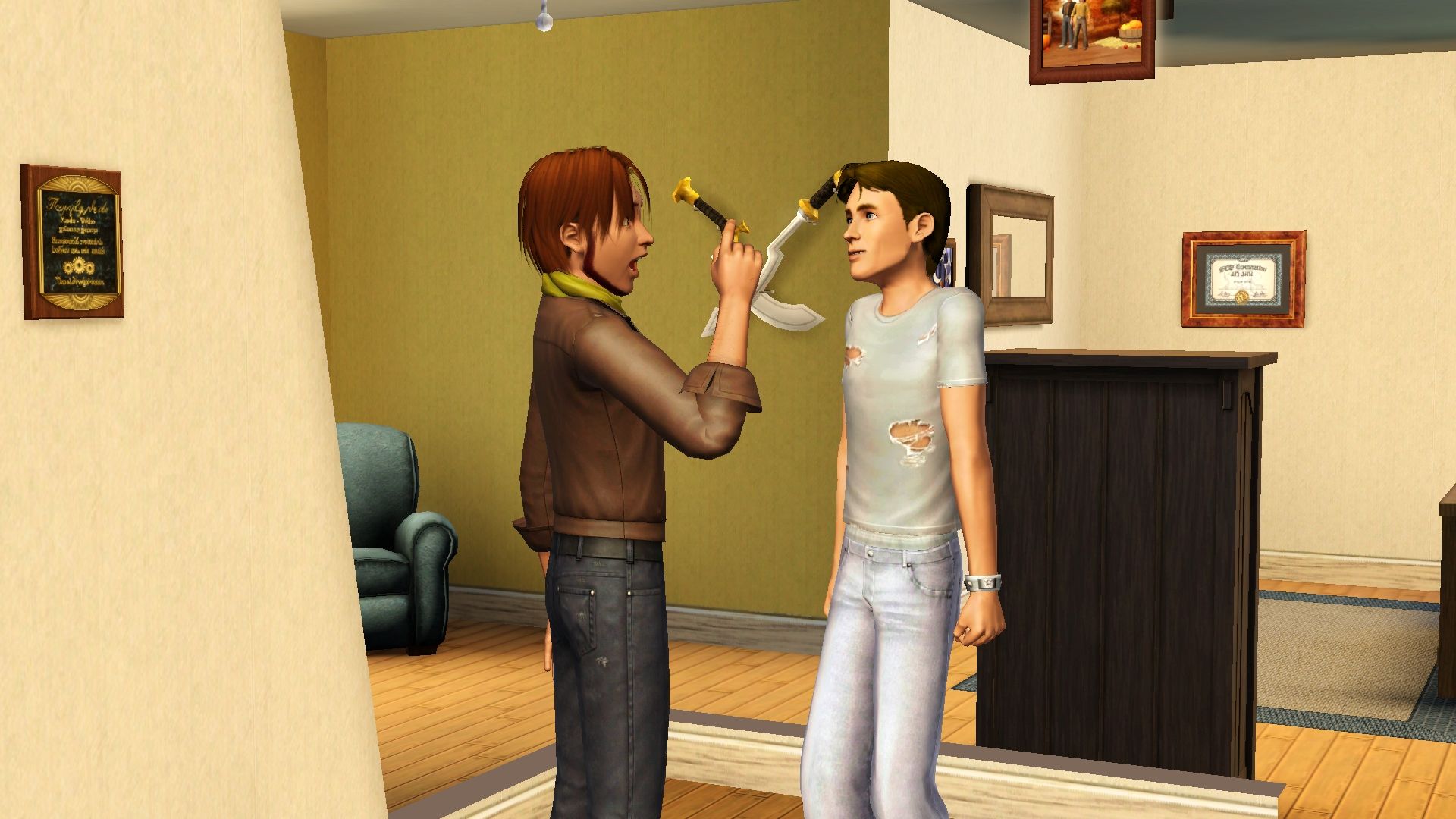 Burton's traits are Brave, Over-Emotional, Family-Oriented, Schmoozer, and Disciplined. Not real thrilled about those last two, but eh. Burton's LTW is to be a firefighter. This is totally new for me, so yeah! Let's go for it!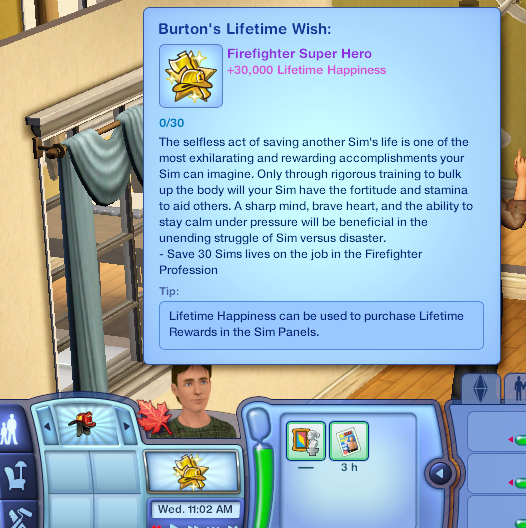 Did you know that the island world (Sunlit Tides? I forget the name now) doesn't have automatic placement for a fire station? Good thing nobody's house has caught fire. I got to play in Edit World and figure out where the heck to put a fire station. Turns out it's next to Johnny's old house. The people living there now have a casino, a club, and a fire station next to them. No zoning laws on the island!
Once that was set, Burton was the very first person there. He looks so... young.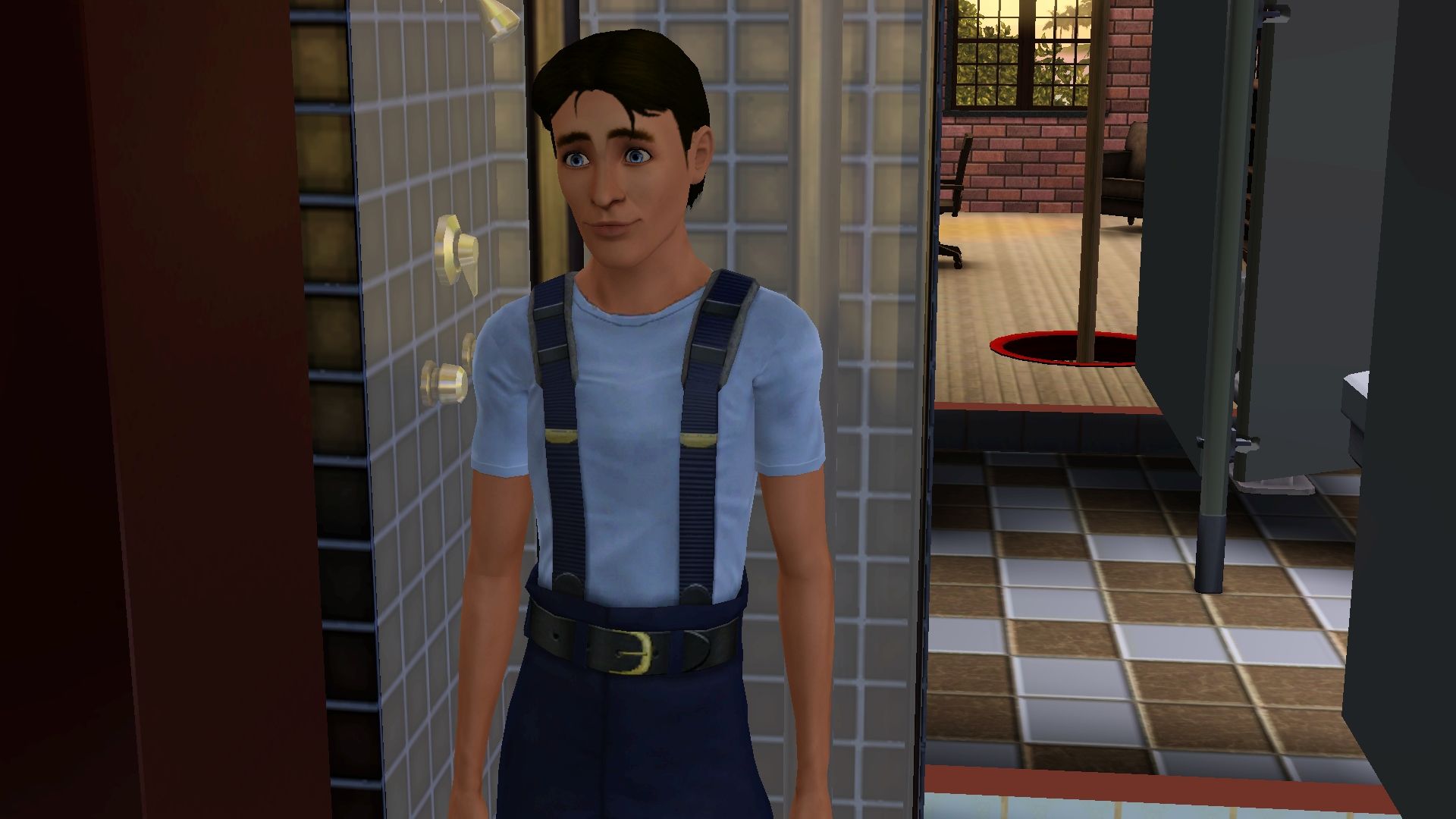 He was soon to be followed by this strappingly Nordic fellow...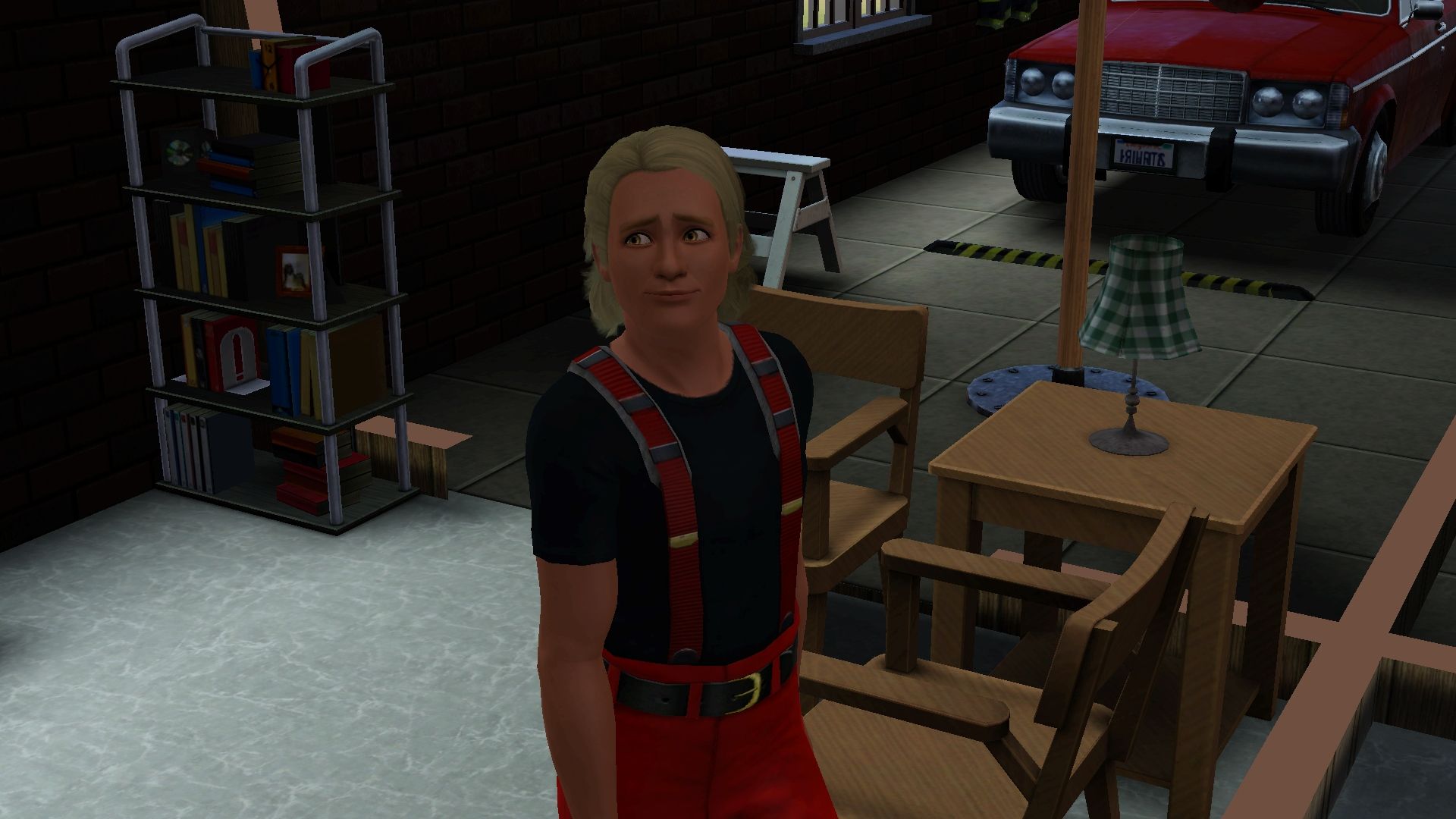 ...and this somewhat more delicate nice lady. I hope she can do all the physical stuff needed.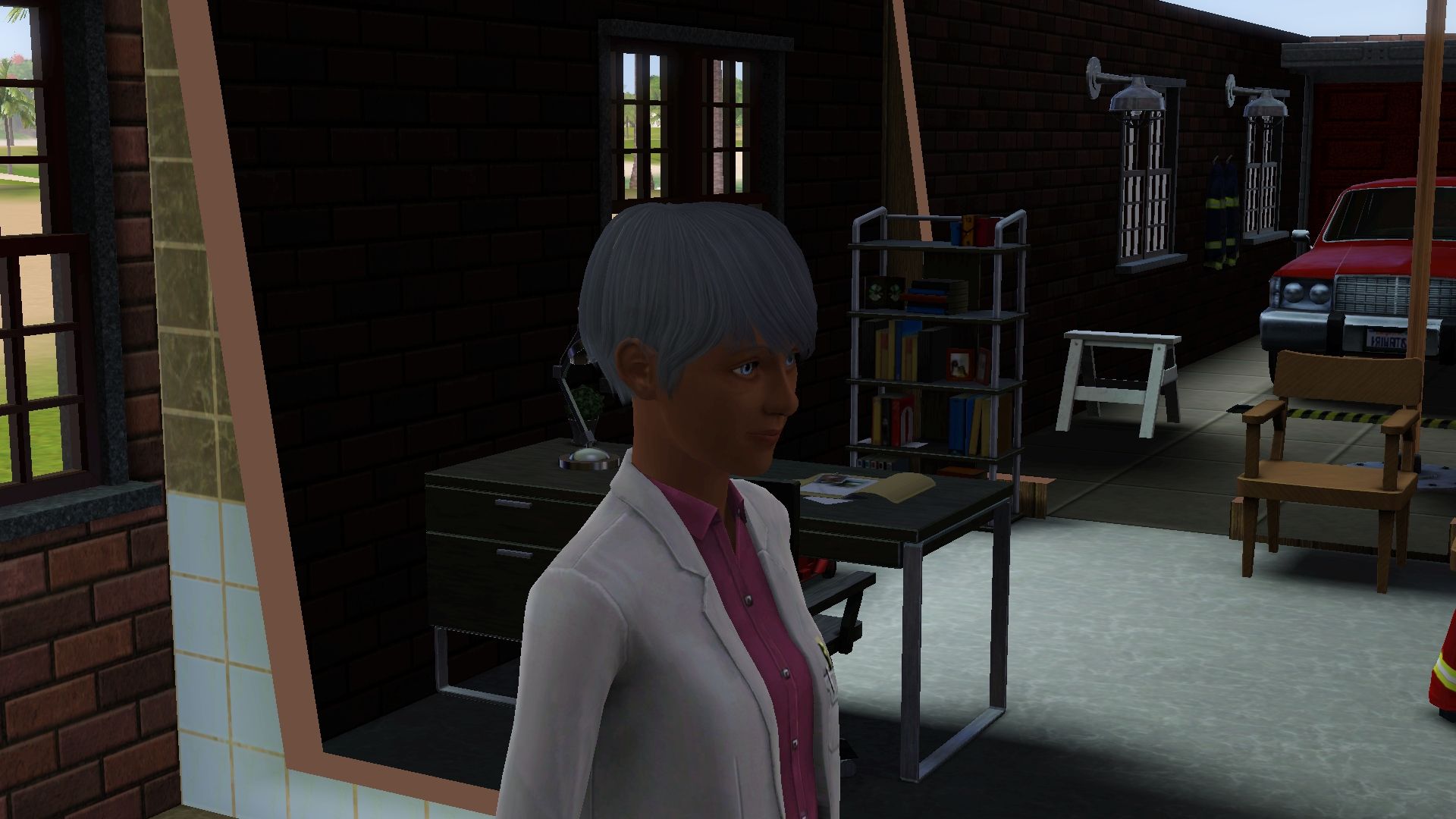 Israel the firefighter is officially a Hose Handler. Oh my. I wonder what rank that is? Is that something you really want to put down on your resume?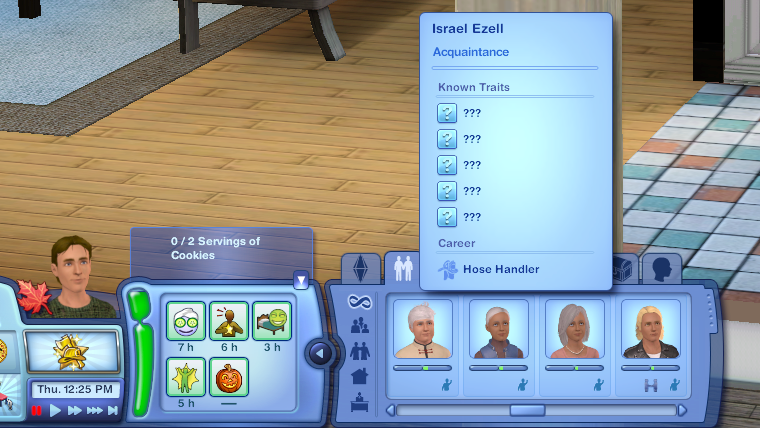 I suspect Israel (blondie) might be Flirty? At any rate, the nice lady turned him down.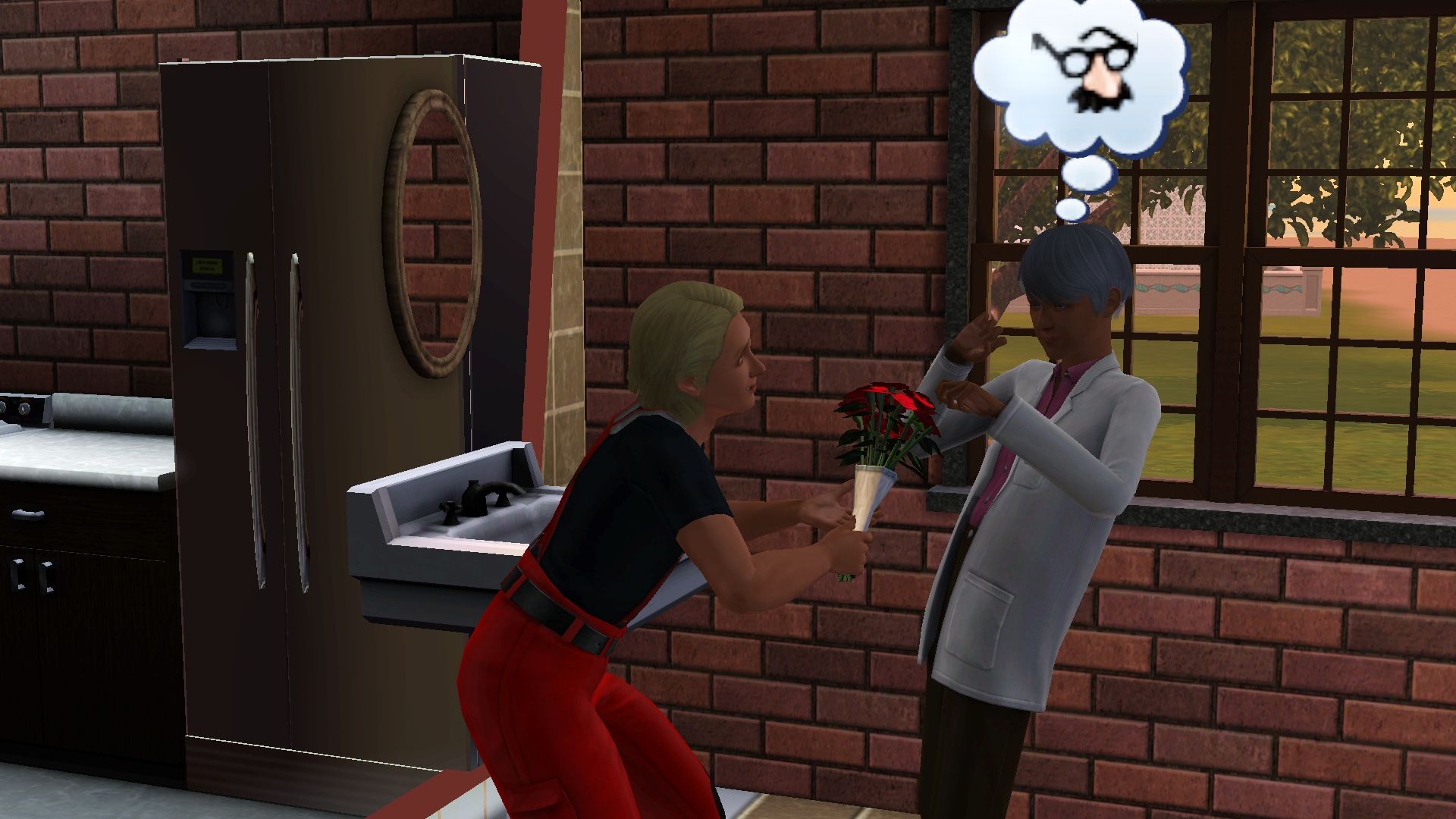 Burton is a Waterboy rank, and here's the interesting thing. Firefighters have a different set of "how to get promoted" criteria than, say, the standard jobs that I've seen elsewhere. Burton's gotten all that job XP by building up athletic skill, because there have been no emergencies yet. With only two co-workers, at least that should be easy to knock out. I'm looking forward to seeing how this plays!

Note: no emergencies yet, actually.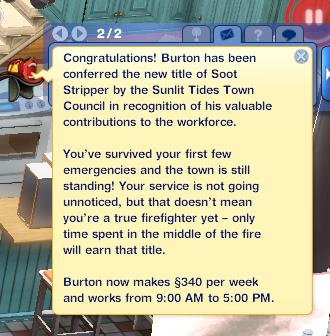 Meanwhile, back home:
REVENGE OF THE GNOMES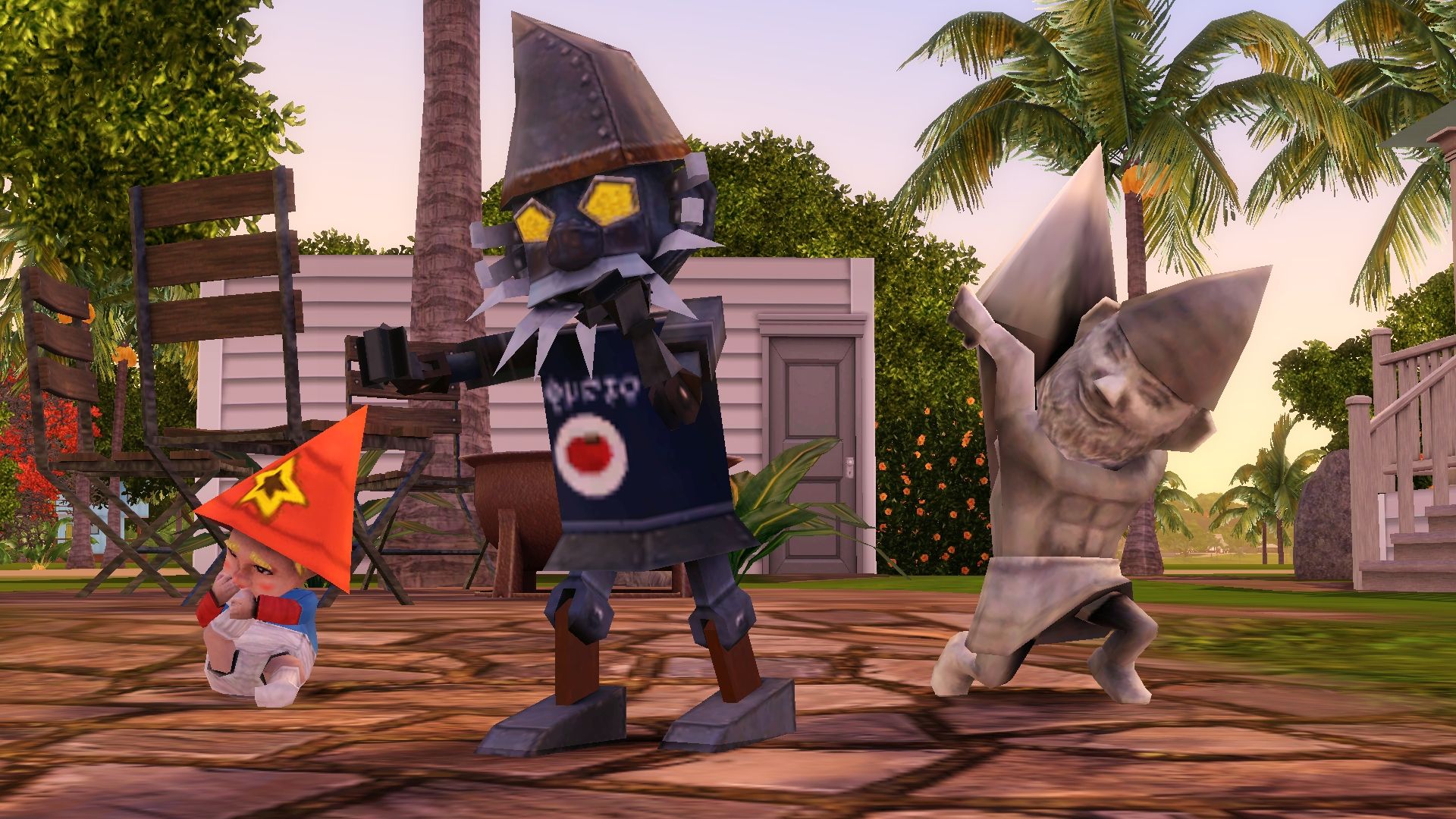 Theory wandered to some other boy's house after school. I think I'll let Theory be the wild child. Have fun, Chip!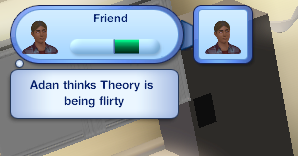 She's got Painting 6 and I think Writing at 4; she needs to max both to get her LTW.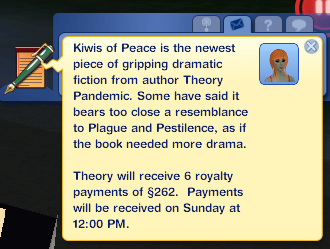 Now that it no longer matters, Johnny gets lots of "please go do this celebrity thing" requests, but it's fun when it's fun!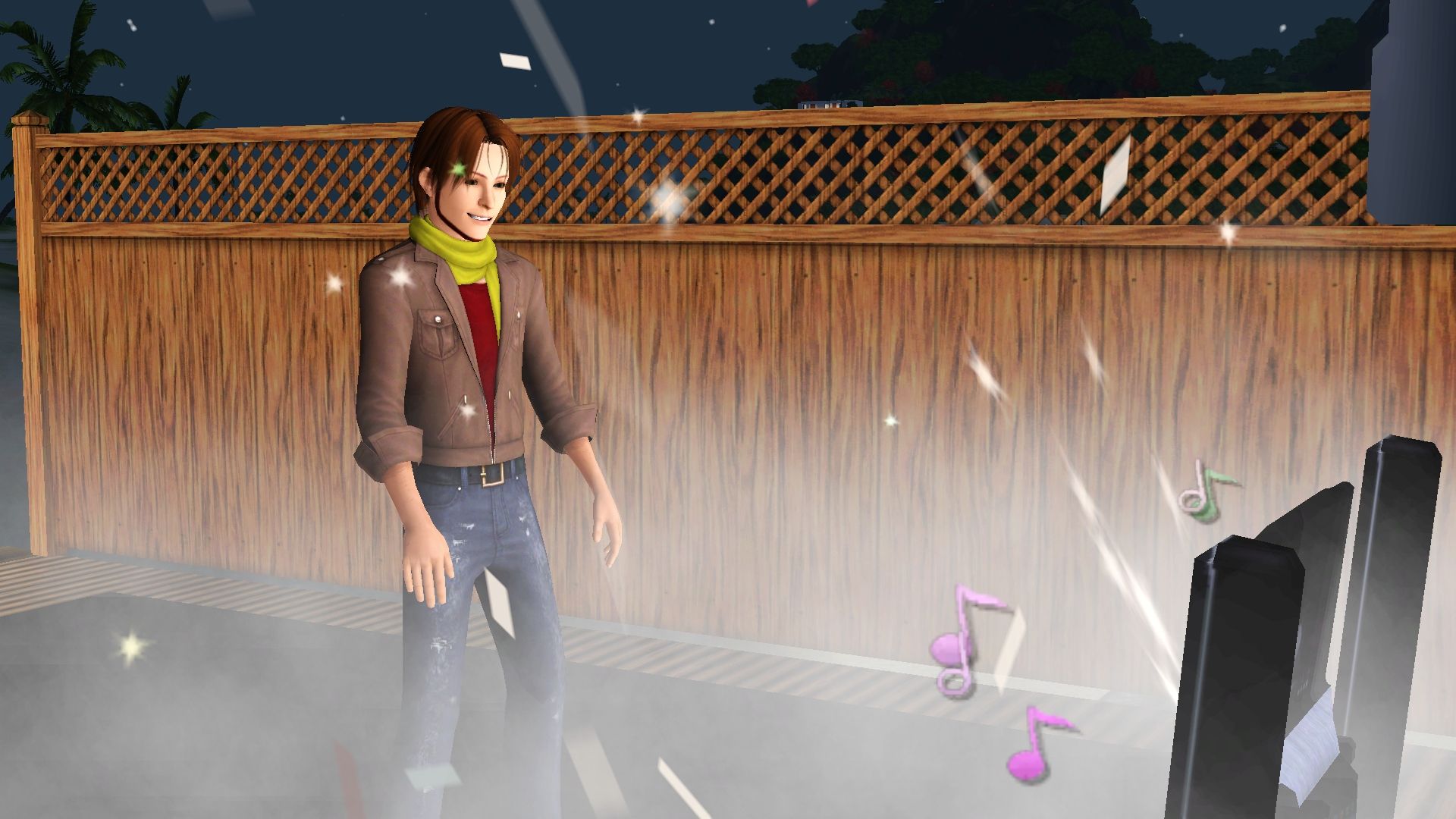 Look at all the wine cabinets! This is why I stopped making any more. They have so much already and they hardly ever drink it.
Go nuts, Theory!

Then she mocked his party.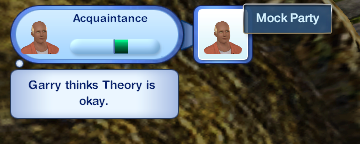 Then she did her best to end up on COPS.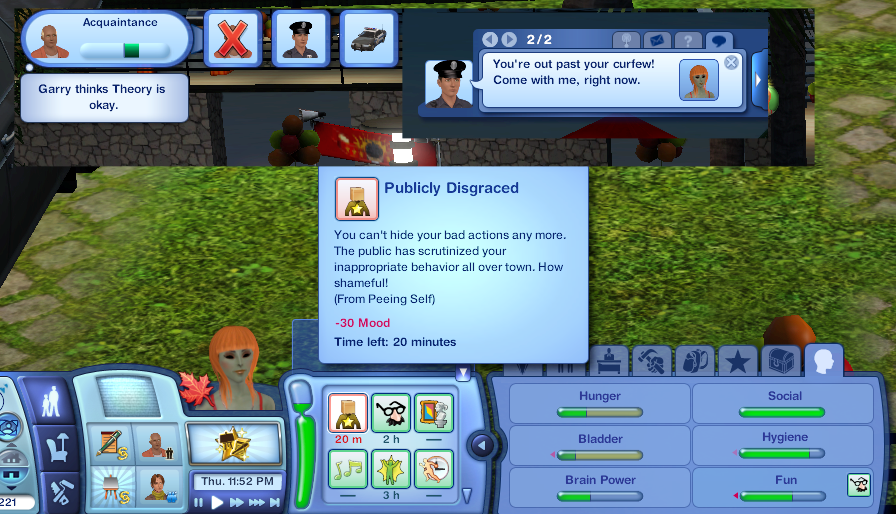 "Thanks for making my party exciting!"

For once, someone uses the nice outdoor patio.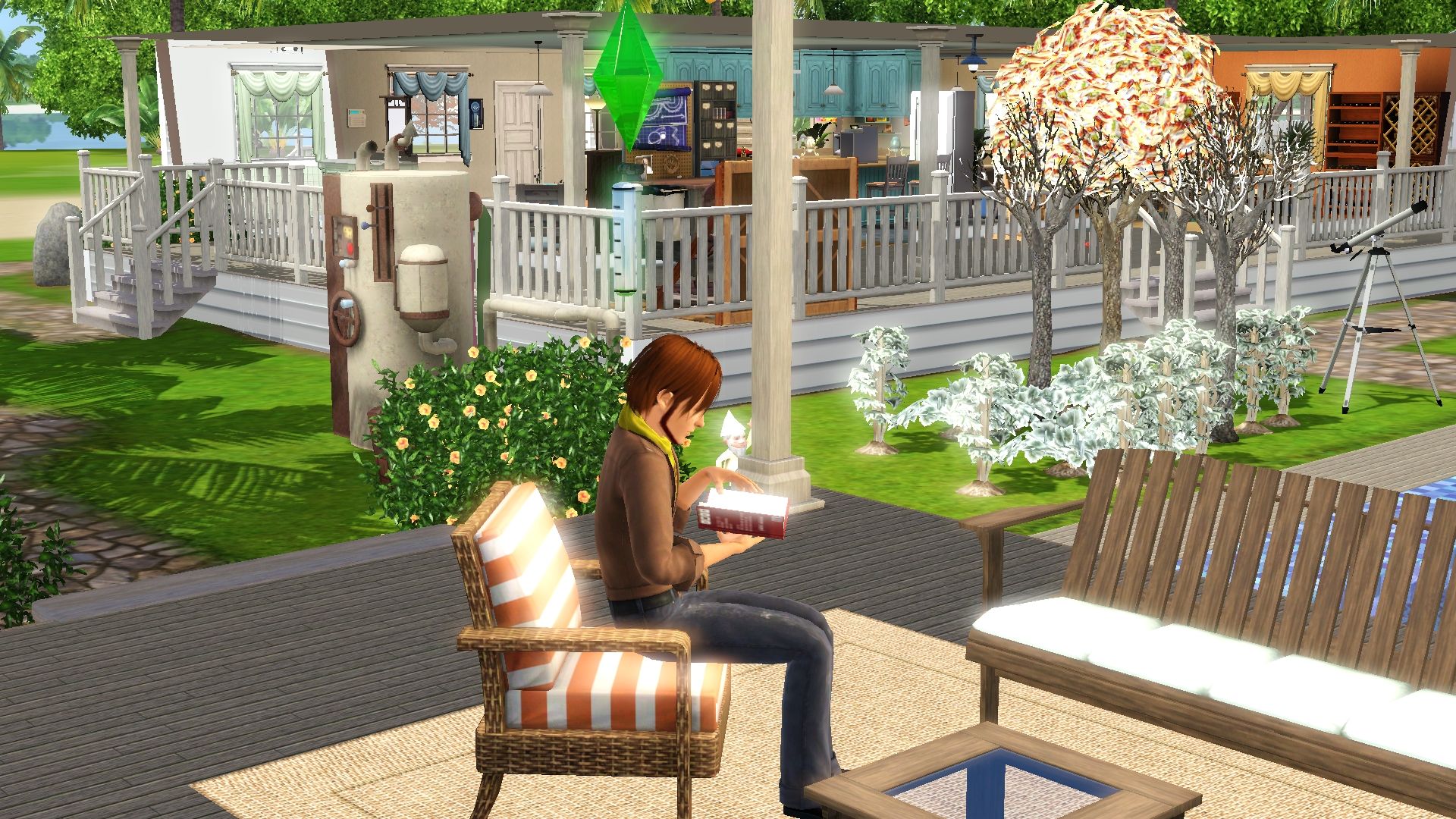 Really? Wow. Actually, I had Johnny buy some recipe books because he's now got eggs and cheese from the plants, and it would be nice if he had recipes to use them.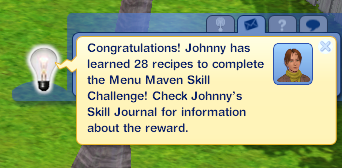 What the heck?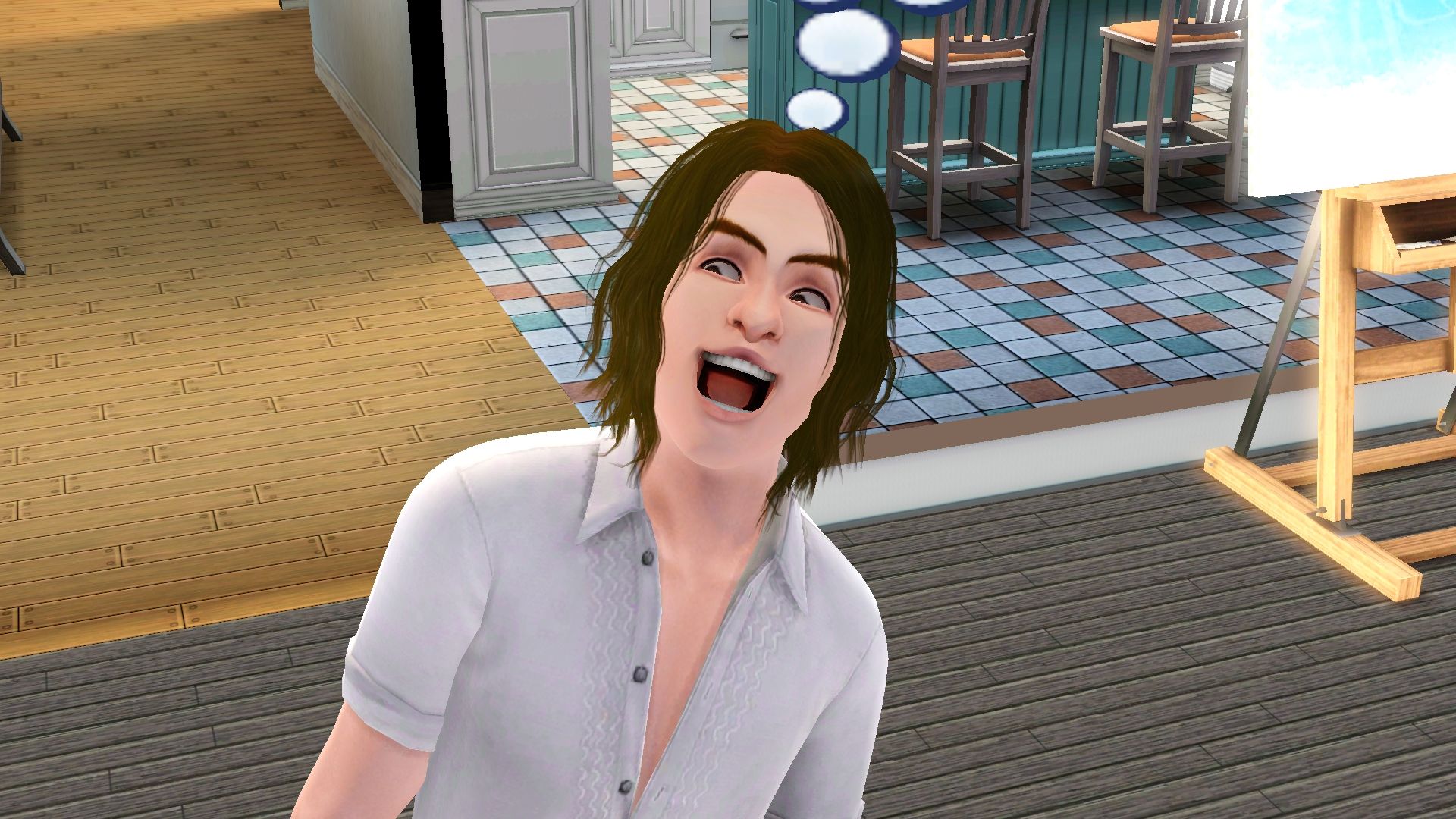 Man-Maid is on a rampage! He kicked over
every single gnome
before I could get him off the property. My poor gnomes!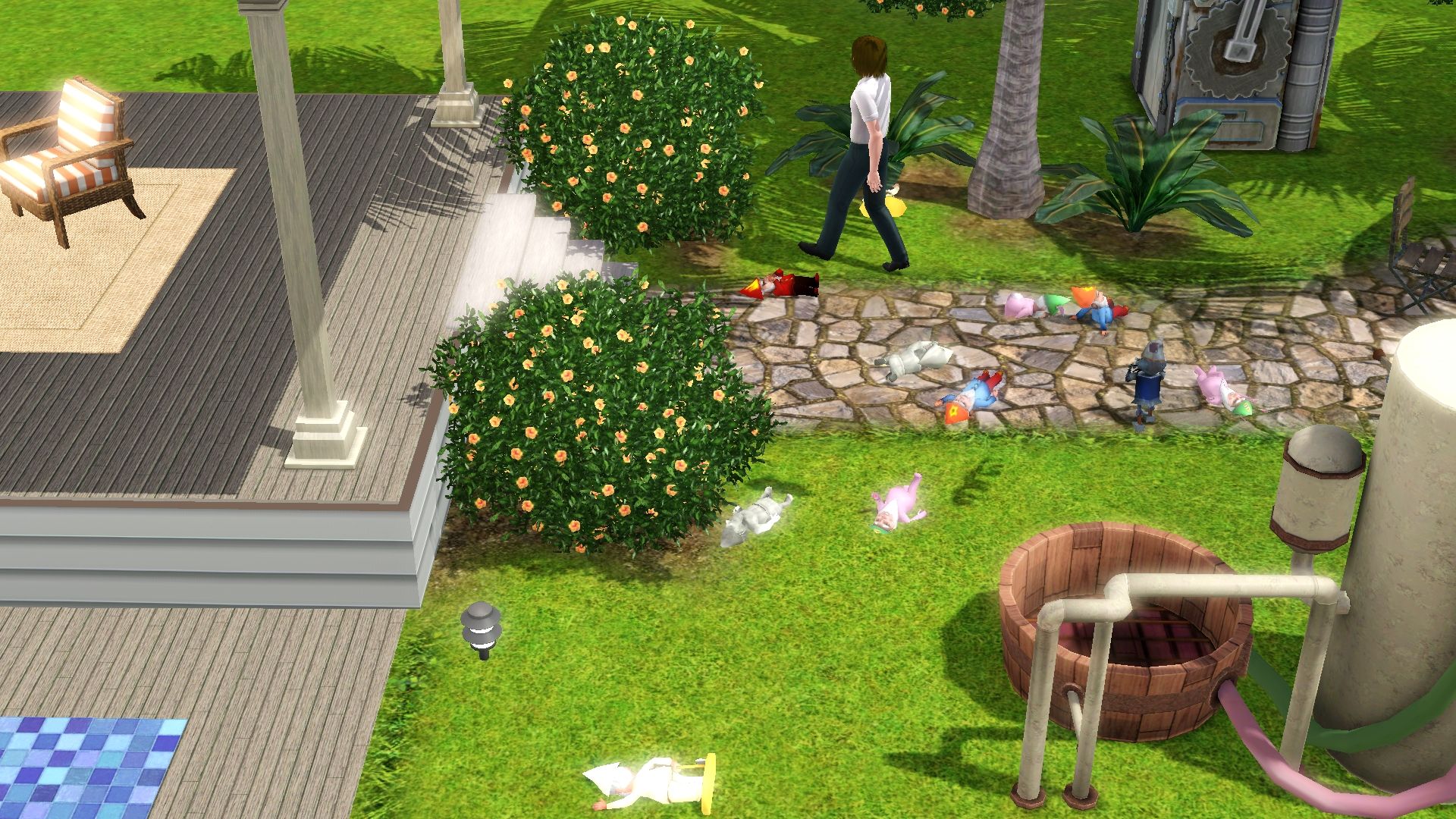 Then it's off to the fall festival, where Burton (brave) tried the haunted house multiple times, and they took part in a pie eating contest and an apple bobbing contest.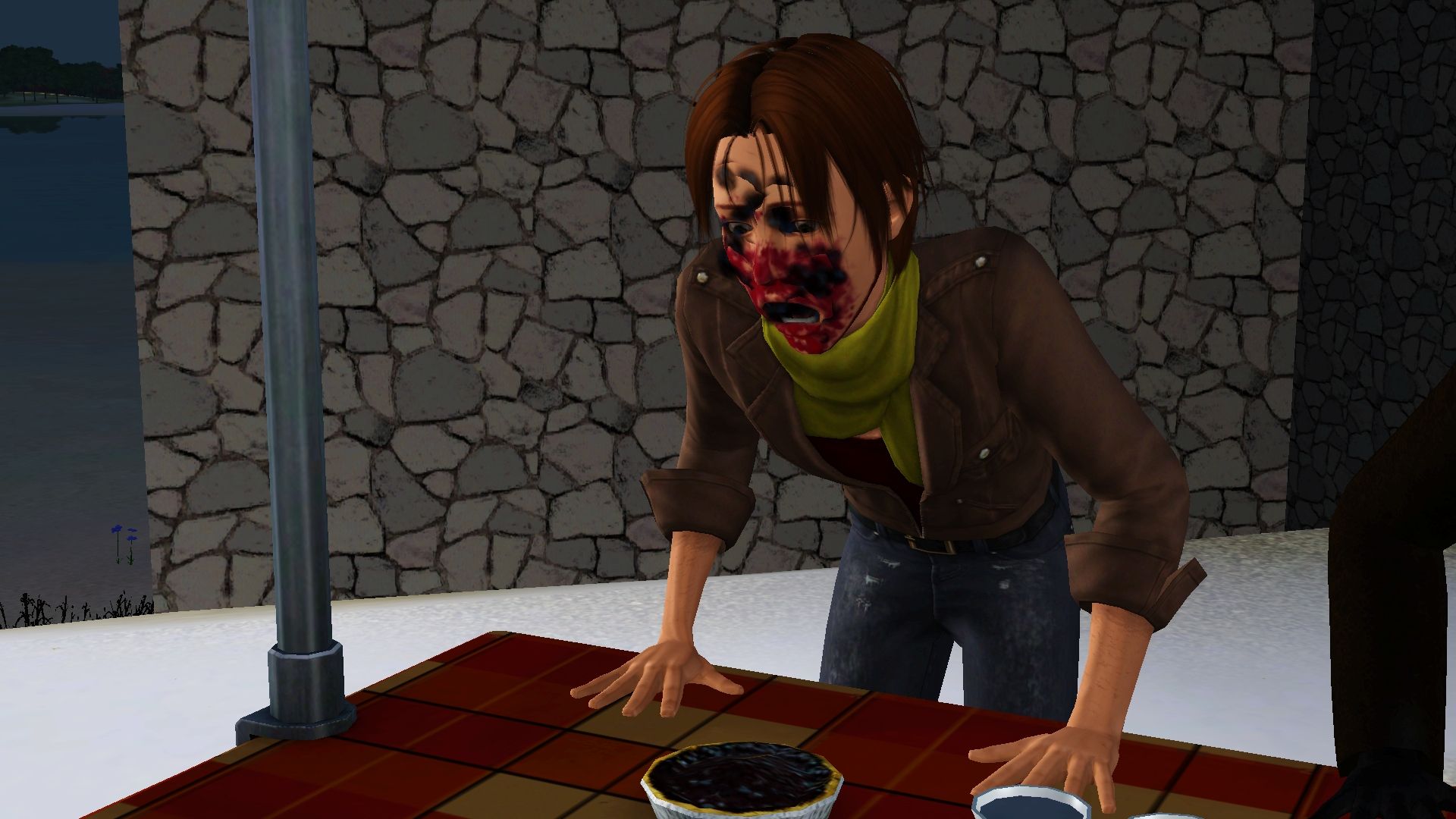 It's not what it sounds like!

Israel is also at the fall festival, so I have Burton go check him out.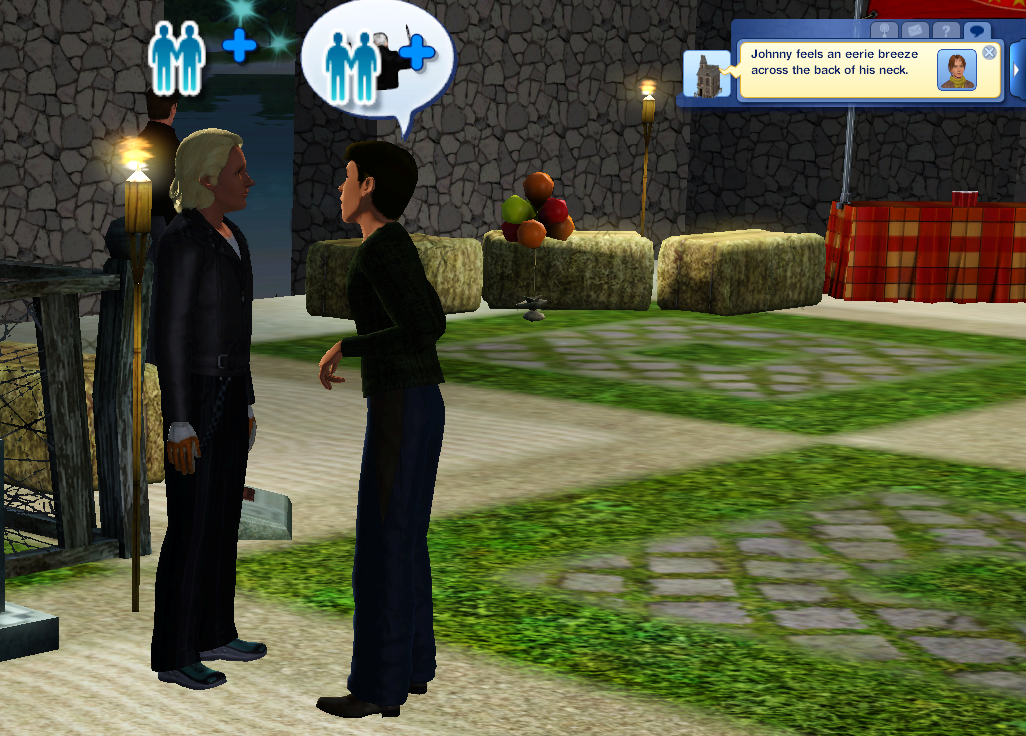 Looks like they'll just be good friends.

Man, I thought Kiwi was dead already. He's been around, like,
forever
.

I figured since Theory got home without anyone noticing, she'd escape another timeout/grounding (she gets a
lot
of them), but no! Burton lays into her without even wiping the pie from his face!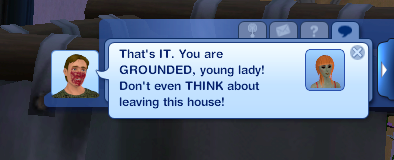 Johnny at least cleaned up before laying down the smack.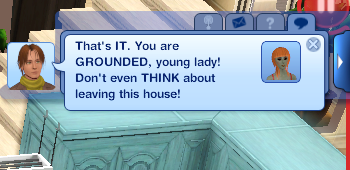 "Aren't you cold, dressed like that? It's forty degrees out."
"That's just the kind of thing a white male oppressor tool of patriarchy would say!"
"...What?"
"WOOP WOOP what is it doing still yammering its taco tunnel at me?! I AM ART. White doodad pink snowflake!"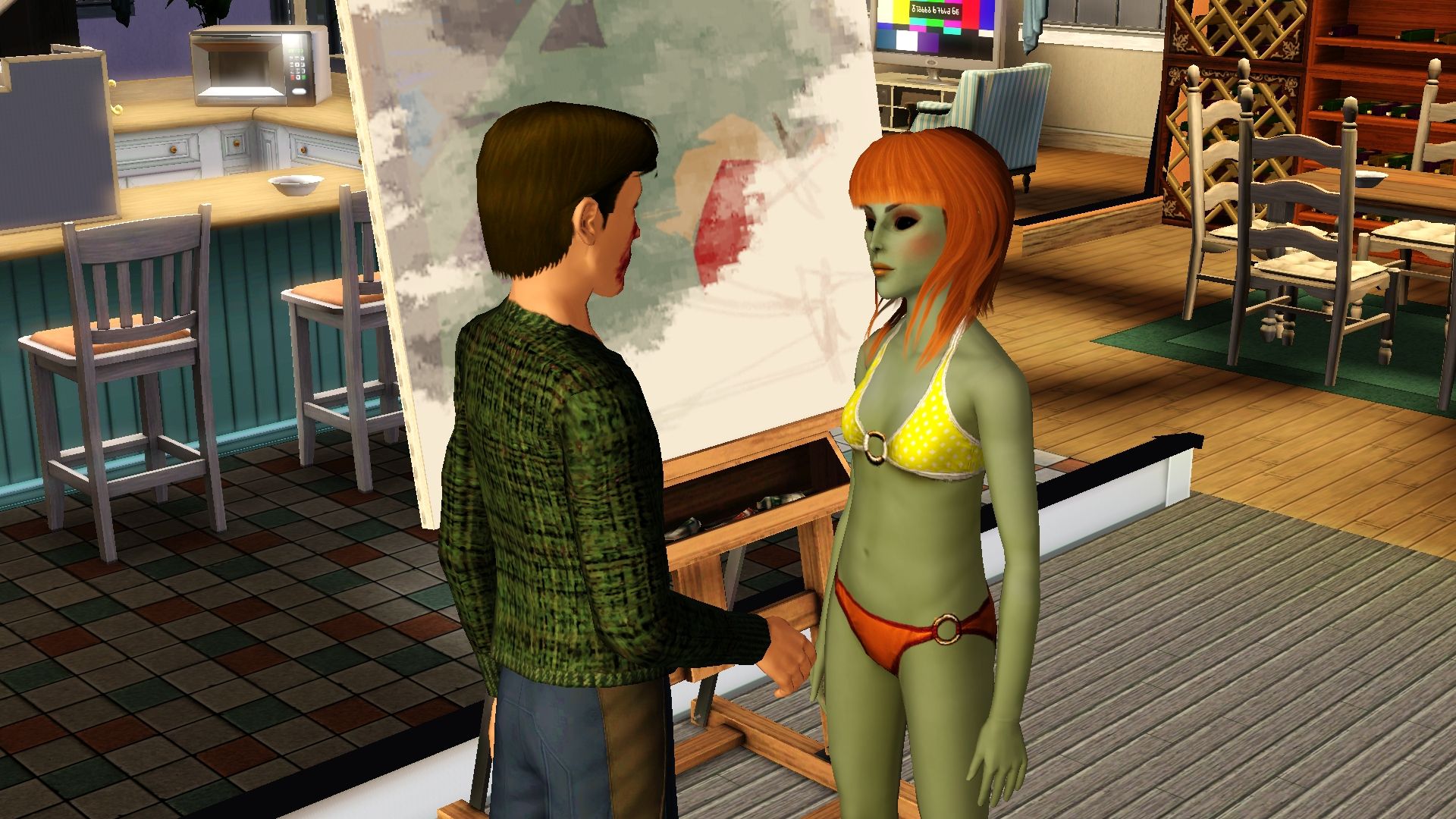 And thus ends another exciting episode!
Actually, I'm very happy about Burton, as he'll give some new challenges to the story, and with Theory being off her rocker and/or always in trouble.