Last time, I had to end my play session abruptly because my game locked up. Fortunately I only lost about a day and a half of sim-time. I played it back out as much as possible to what it had been and then once again held the party for Theory the alien baby.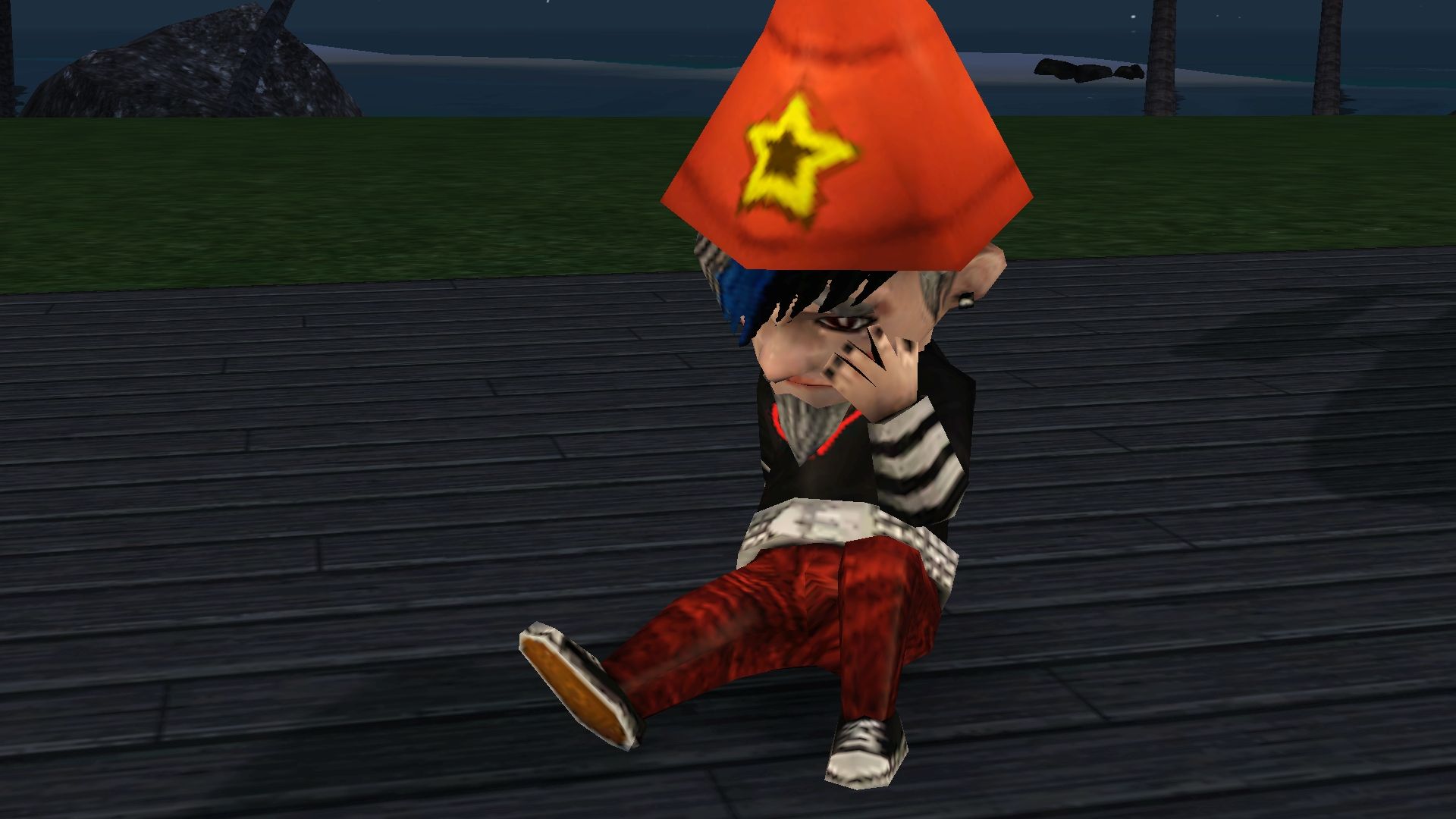 This time Christal (Johannes' wife) kept her hands on her own husband, mostly.
Or so I thought
.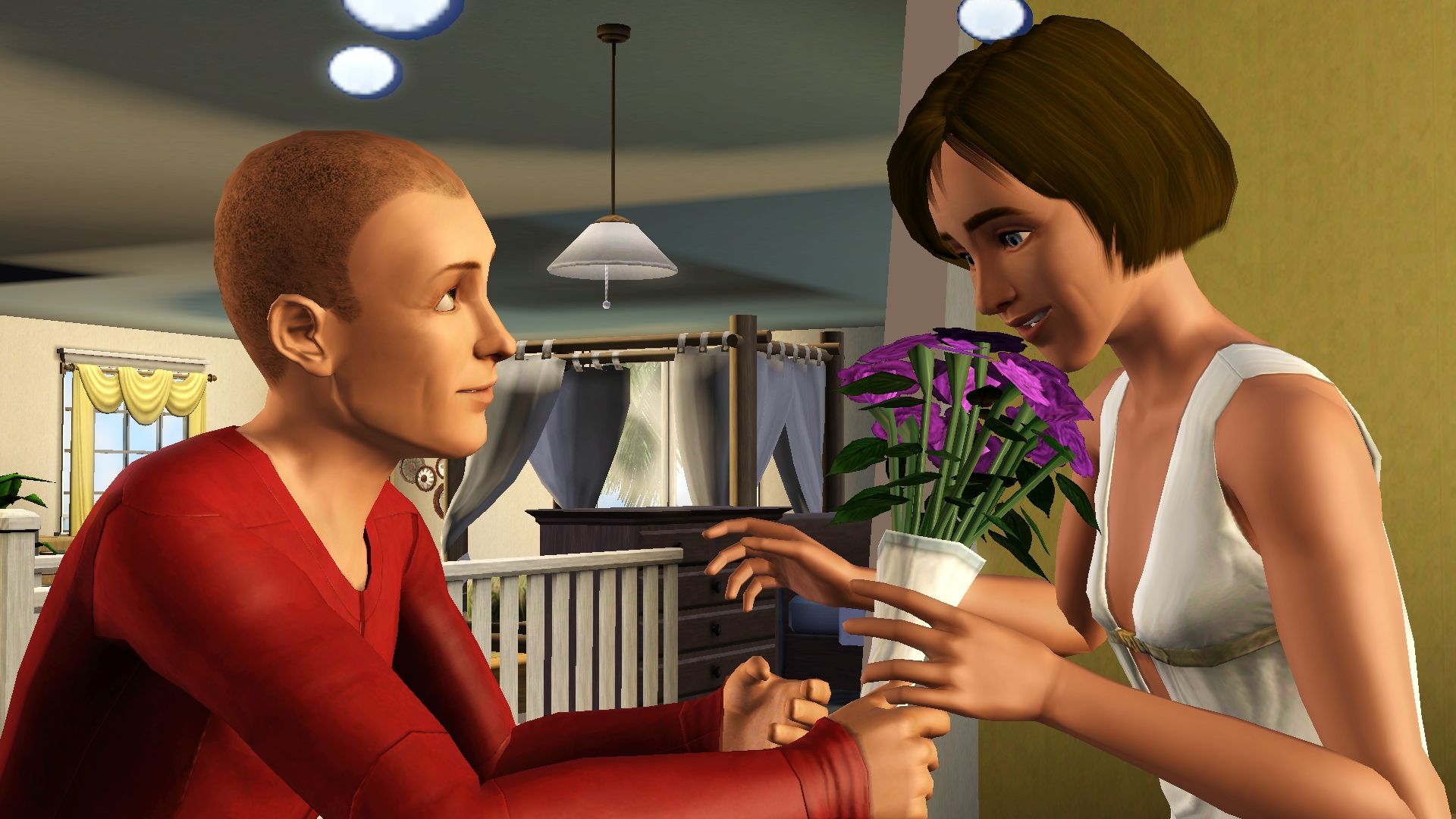 Because Christal then offered flowers to Johnny, Jo's dad, and Jo got upset about that (as well he might!).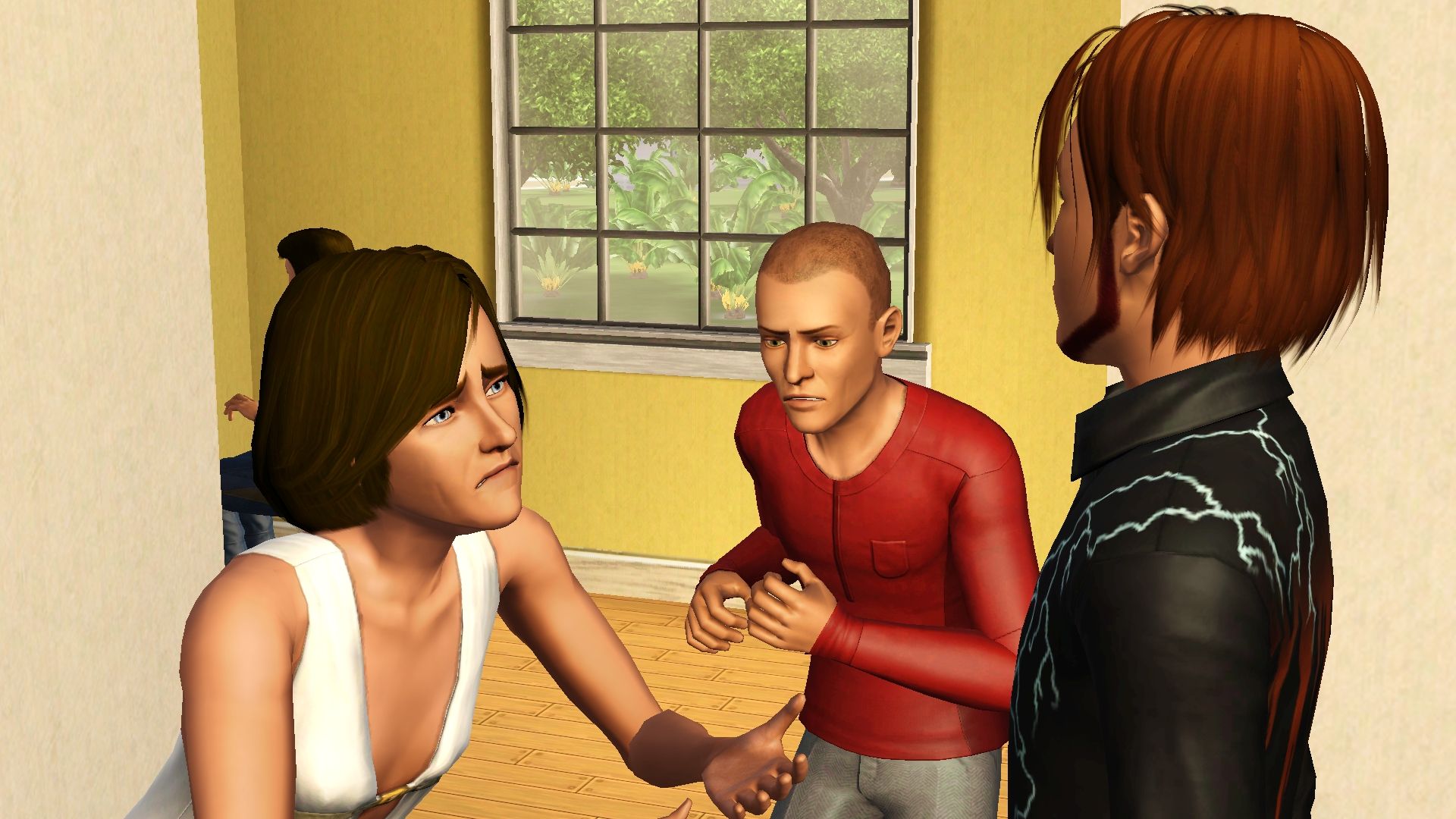 Most of the other attendees went to play video games in the next room. I had no idea this house even had a video game console! No, Johnny doesn't pay much attention to his own house.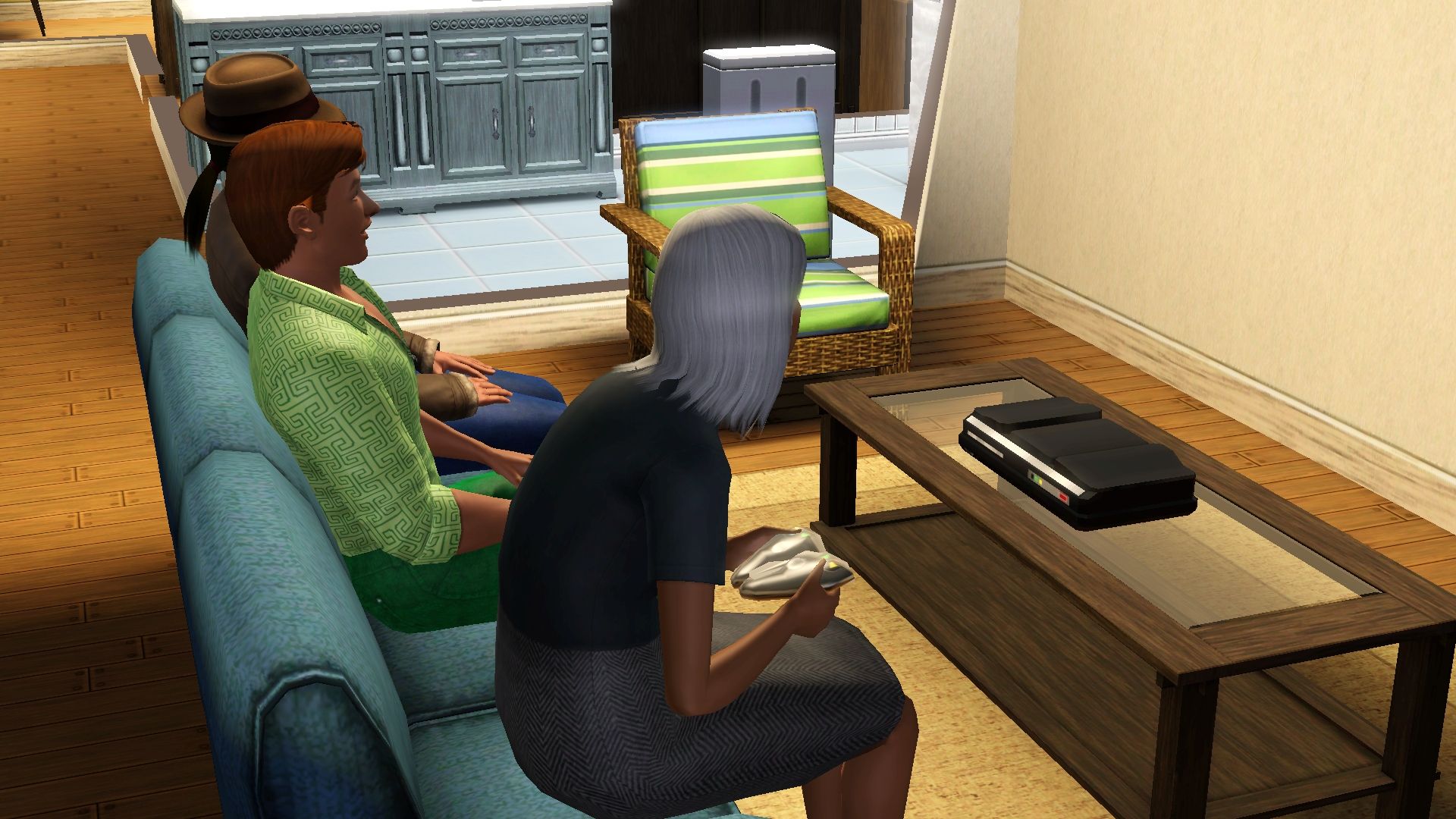 Johnny is not enthused about the alien baby. He was really looking forward to having a life of his own for a while. And babies are hard work. Always needing something!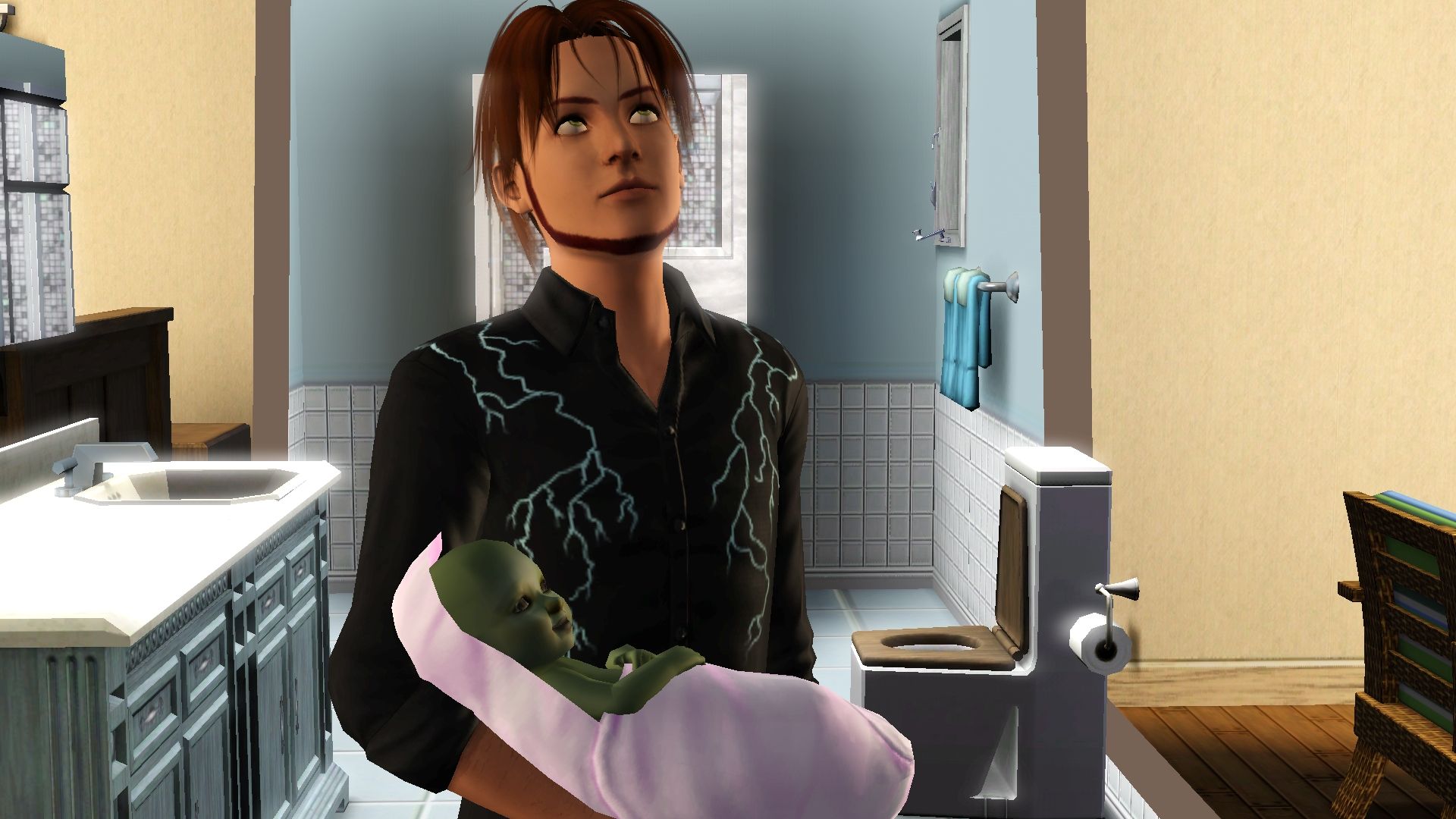 "Hey, this means I have a half-sister!... who's young enough to be my own daughter. That's kinda messed up, Dad."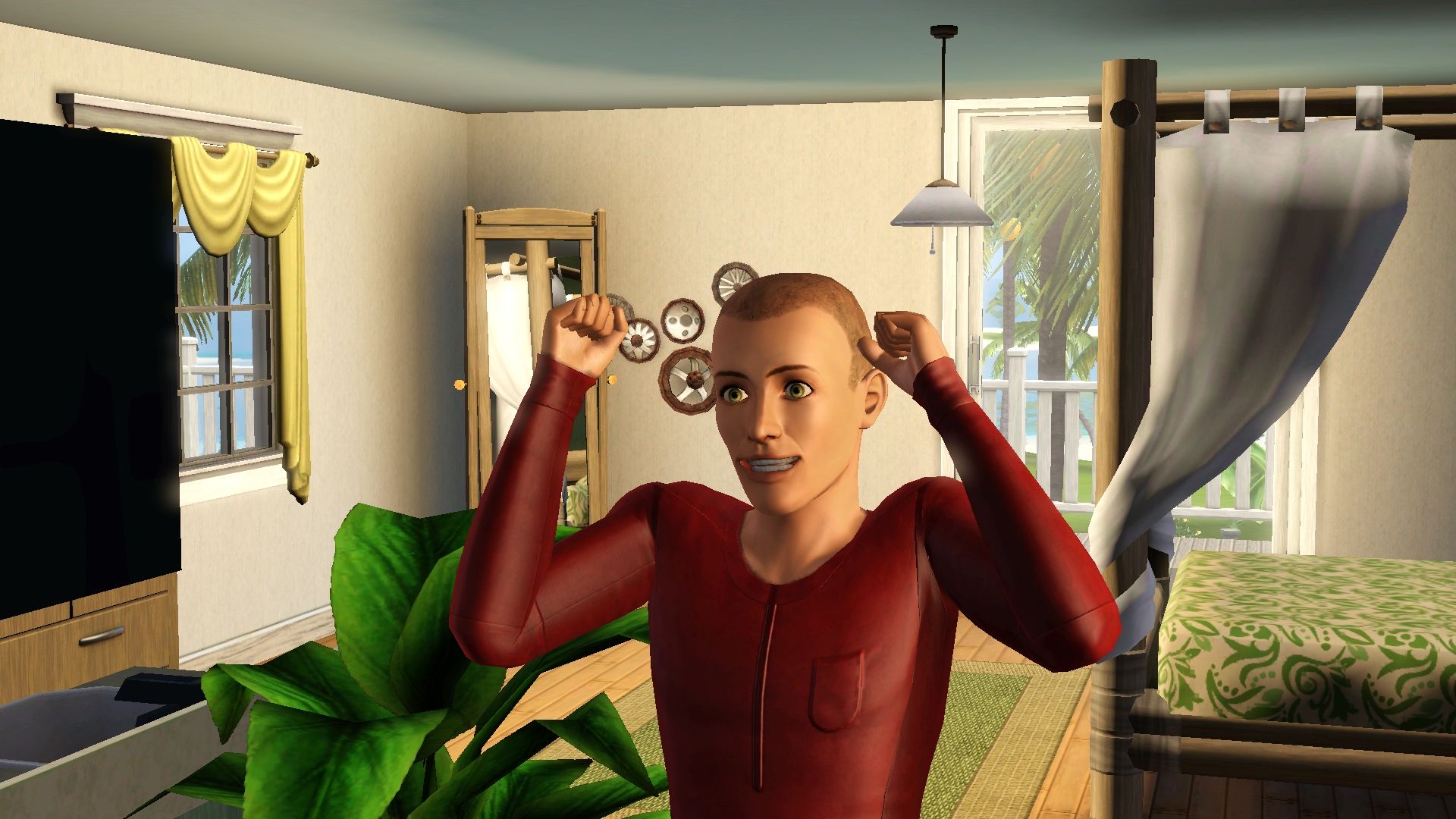 For those who came in late, Johannes is Johnny's clone from the past, who Johnny raised as his own. Jo married Christal straight out of high school and they had Burton, currently a teenager.
Then Johnny's old mobster friend Crash Capello dumped his illegitimate son (by a showgirl) Keno on Johnny to raise. Keno proceeded to piss off his dad bigtime by becoming a hairstylist and marrying his former babysitter Don. Don and Keno adopted a boy they named Chip.
Then Johnny got abducted by aliens and the result is the clumsy, insane alien baby known as Theory. It hasn't been a good time lately for poor Johnny.
No new traits this time. She looks okay.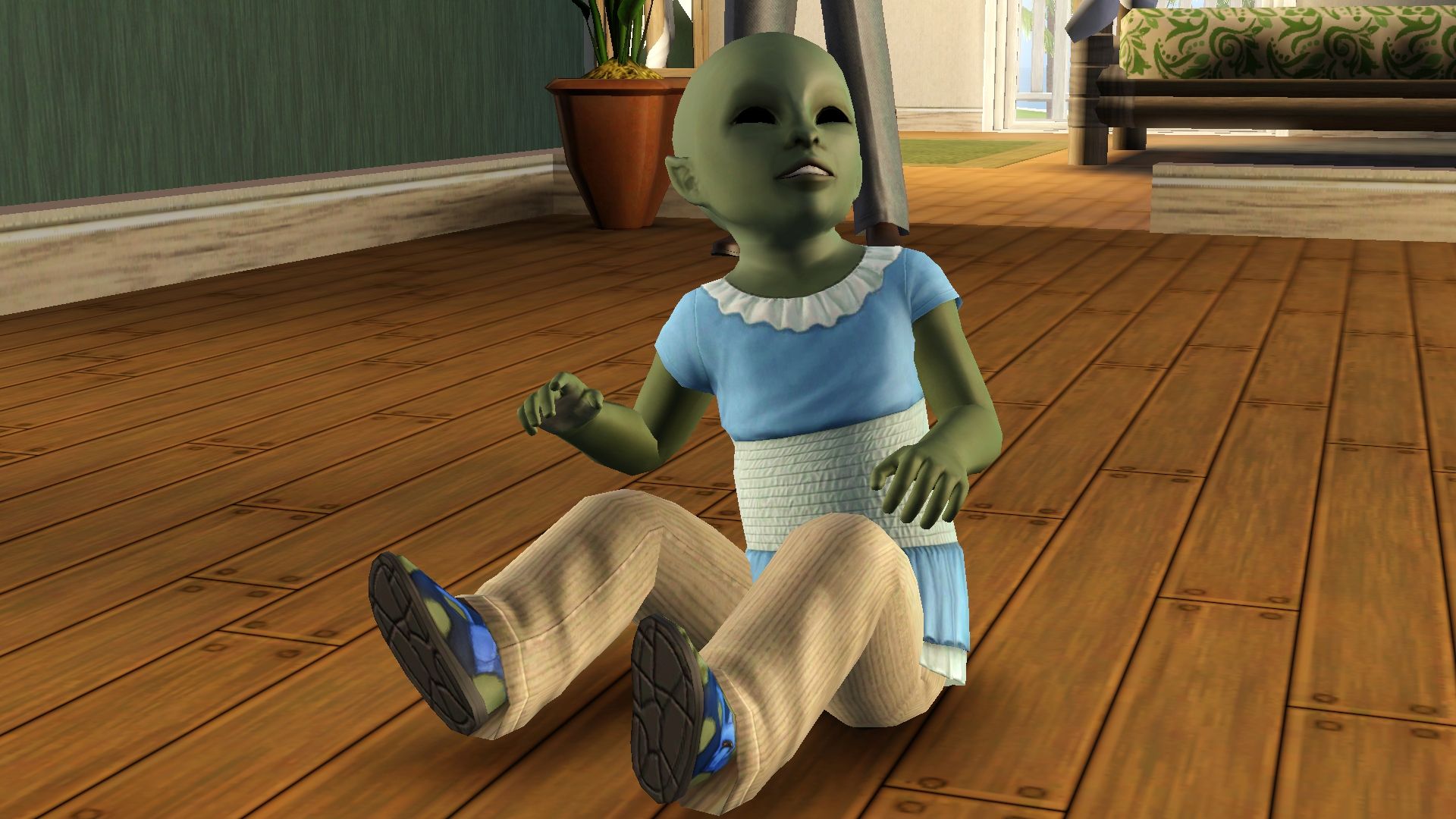 "Now, can I pull a Crash and unload this kid on any of the families I'm related to?"
"Honey?" Jo says to his wife. "I think we'd better go home early."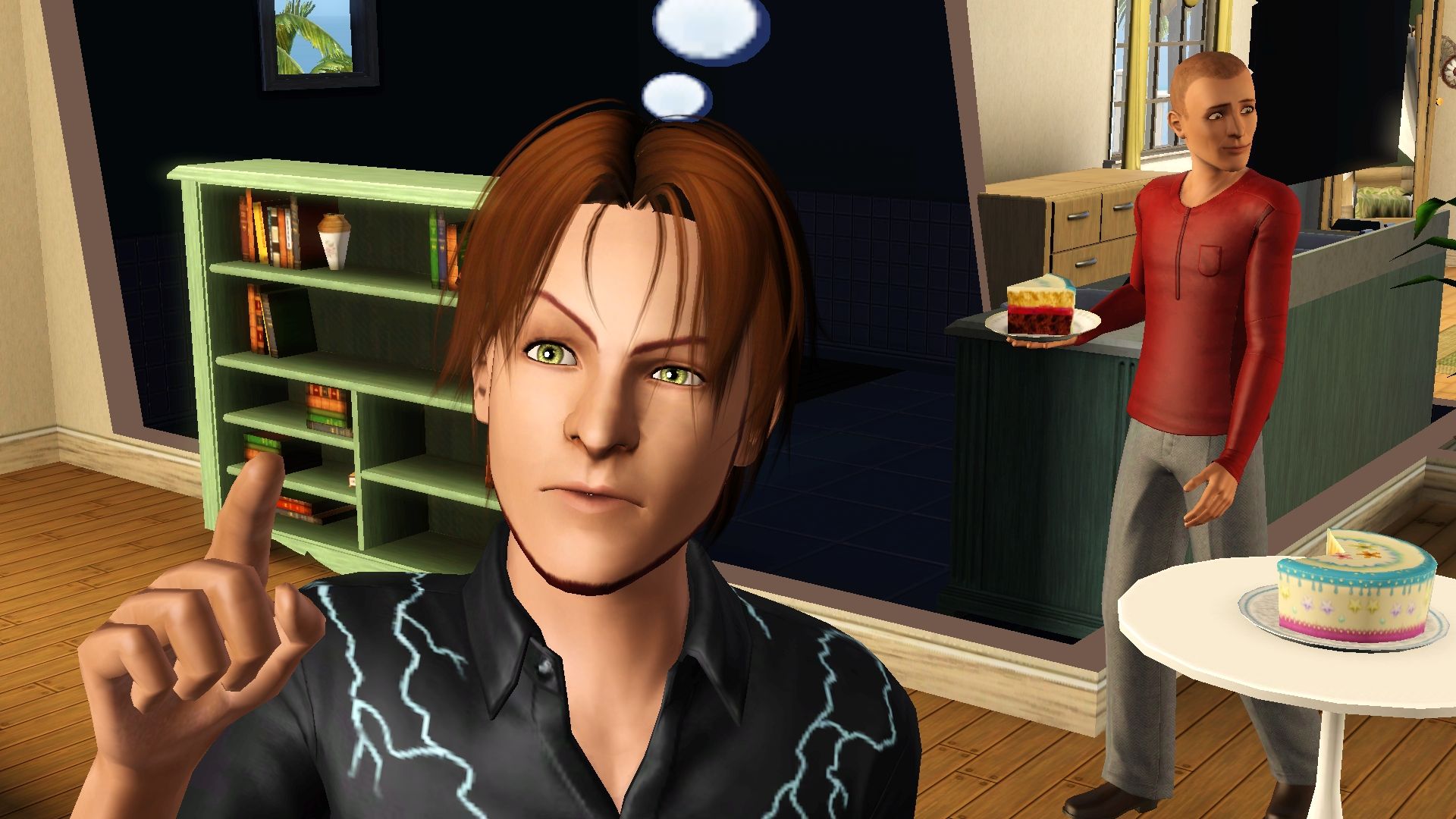 Oh, hey, here's Chip. Yeah, I know, it's always a bummer when the party has no other kids your age.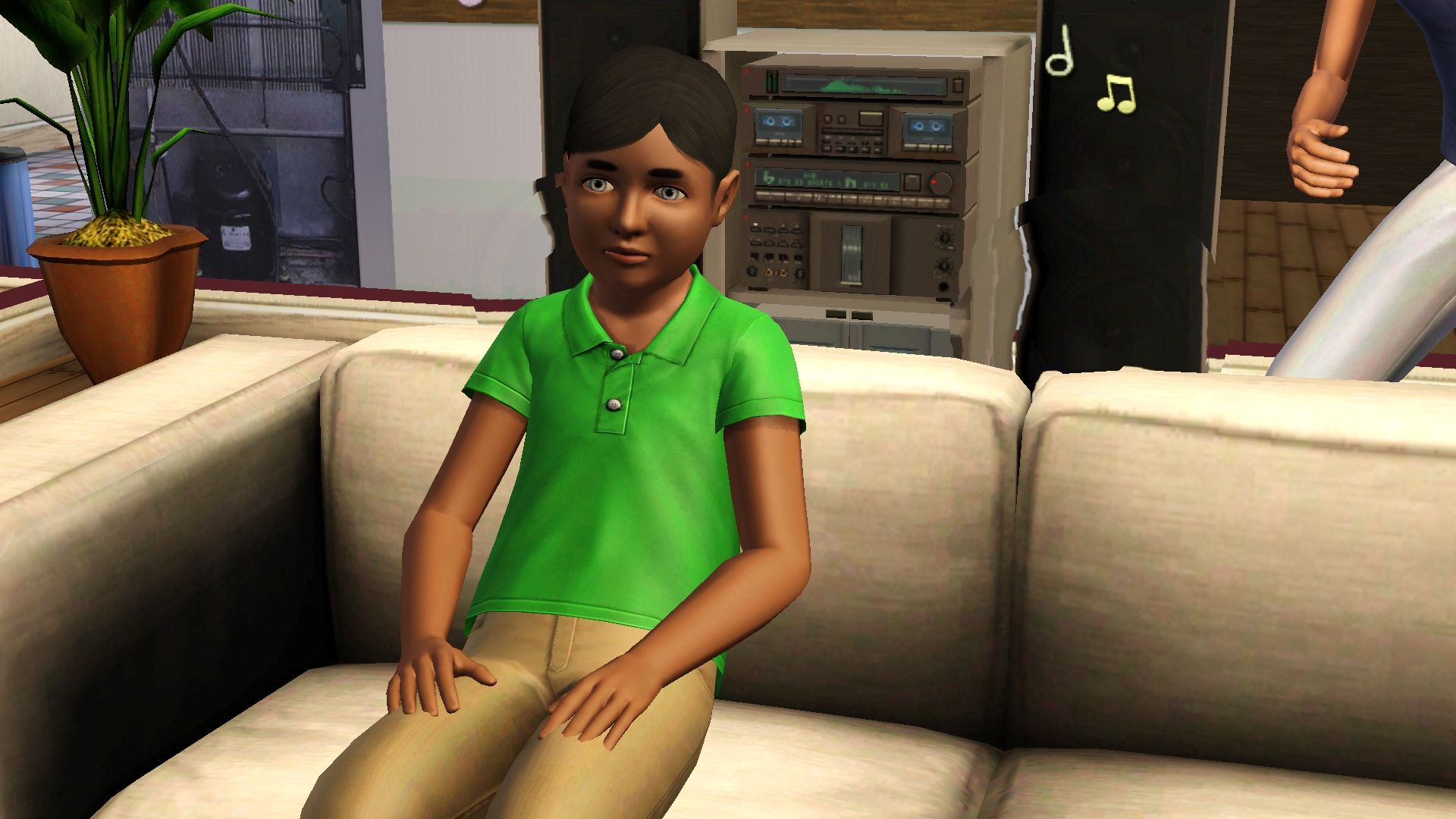 Johnny hires another babysitter (so far they've all been boys. I'll get to this topic again before the end of the post) so he can go get his own stuff done.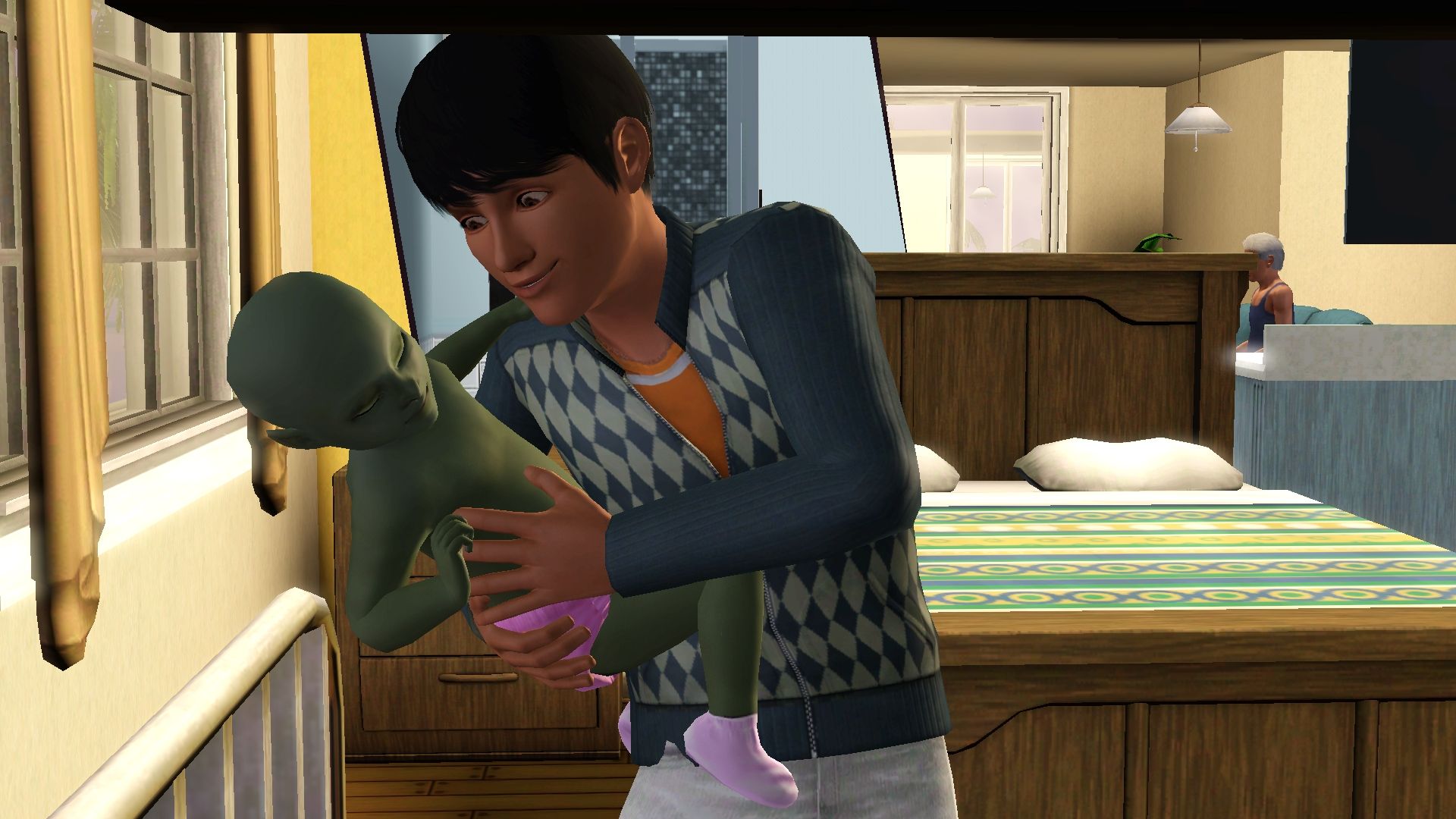 Like OH OH LOOK THERE IT'S FINALLY A PINK DIAMOND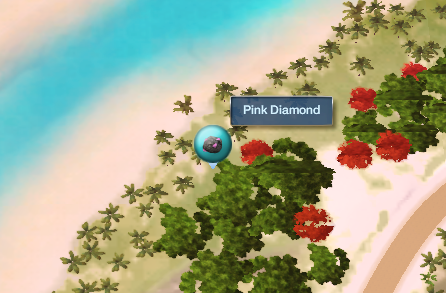 Now he can at last get to that dang simbot.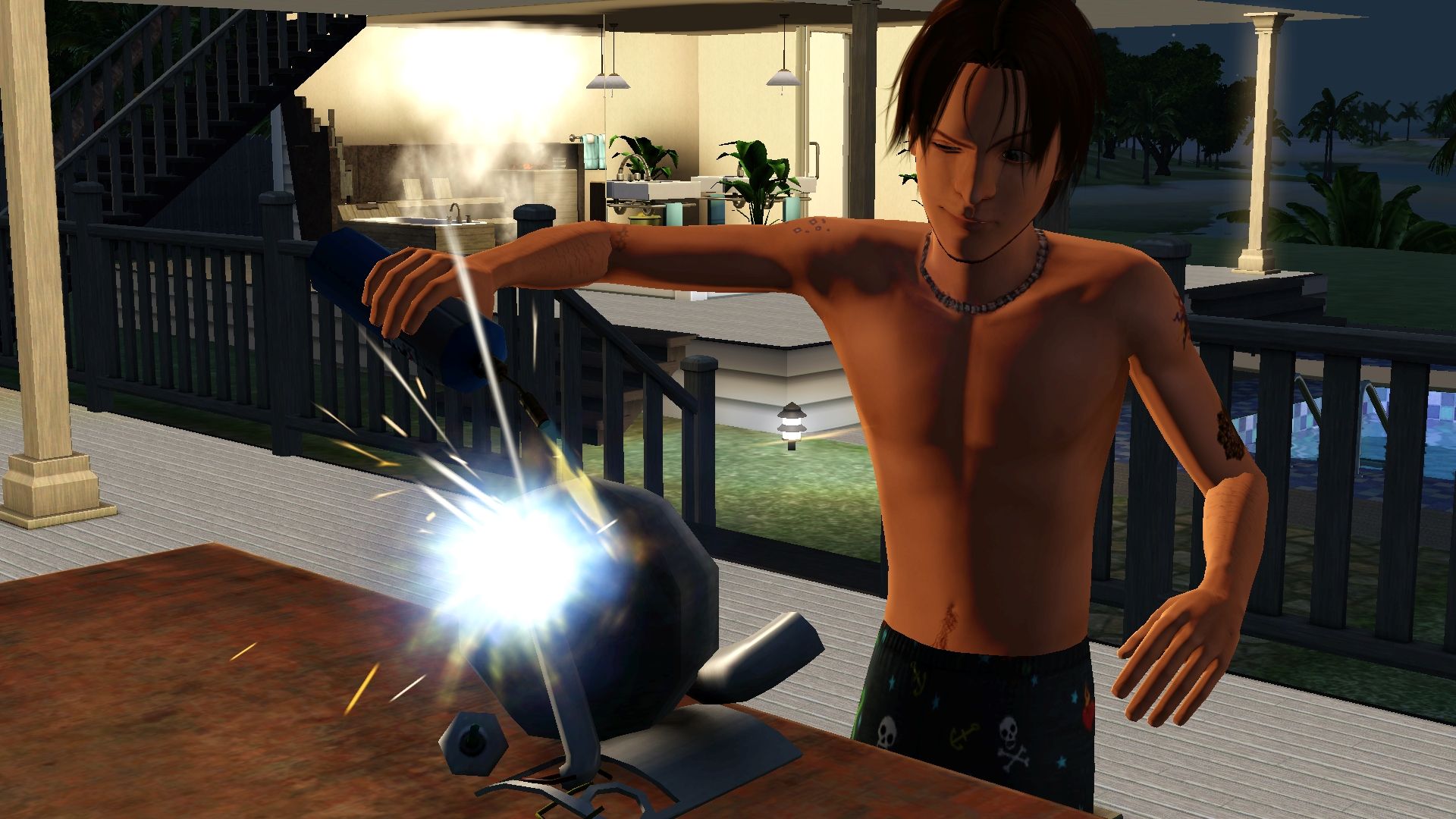 Don, a former babysitter himself, gets along well with the new one.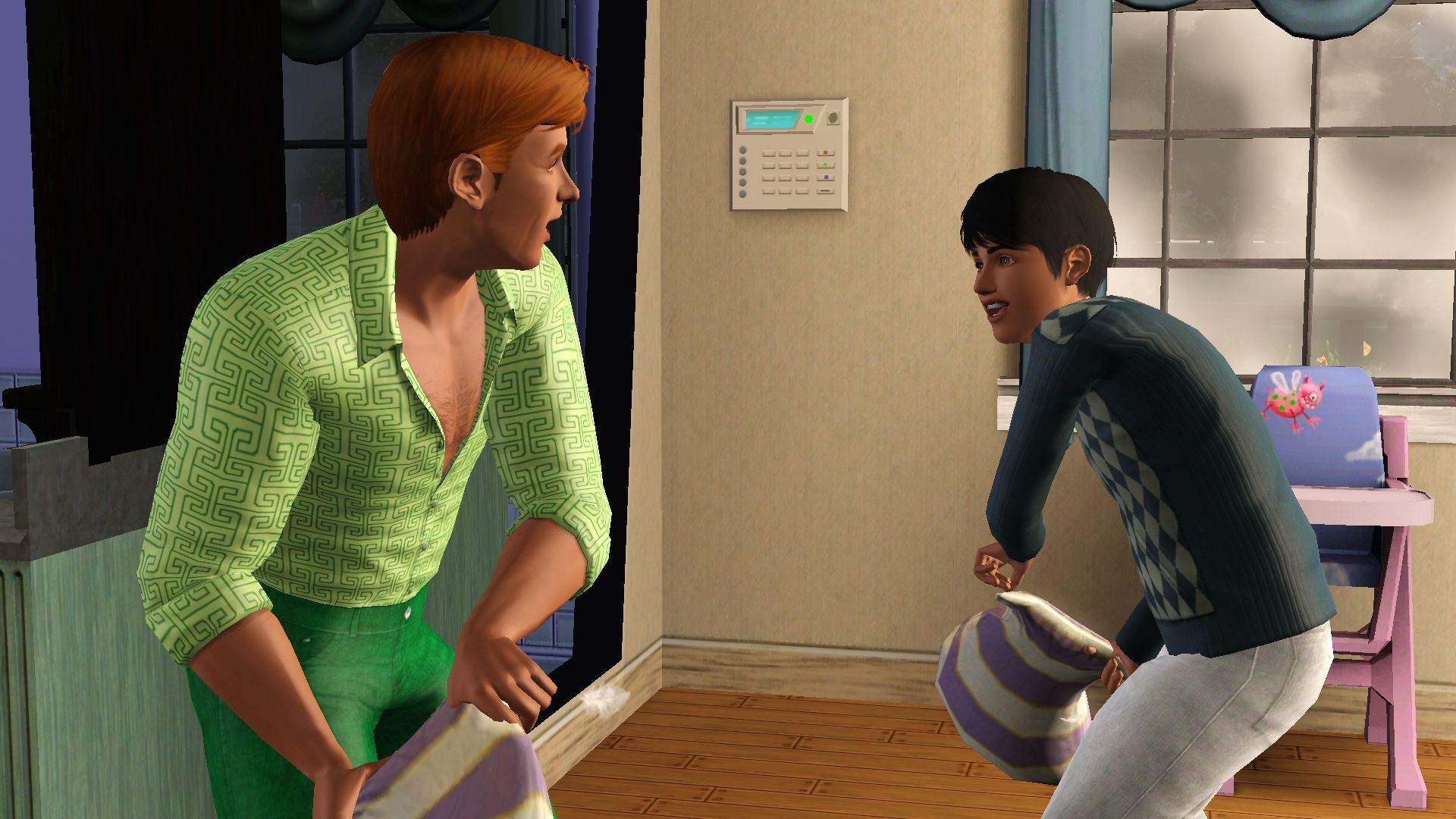 Random observation - this would be a neat blanket. I like the pattern and the colors are nice, if a little faded looking.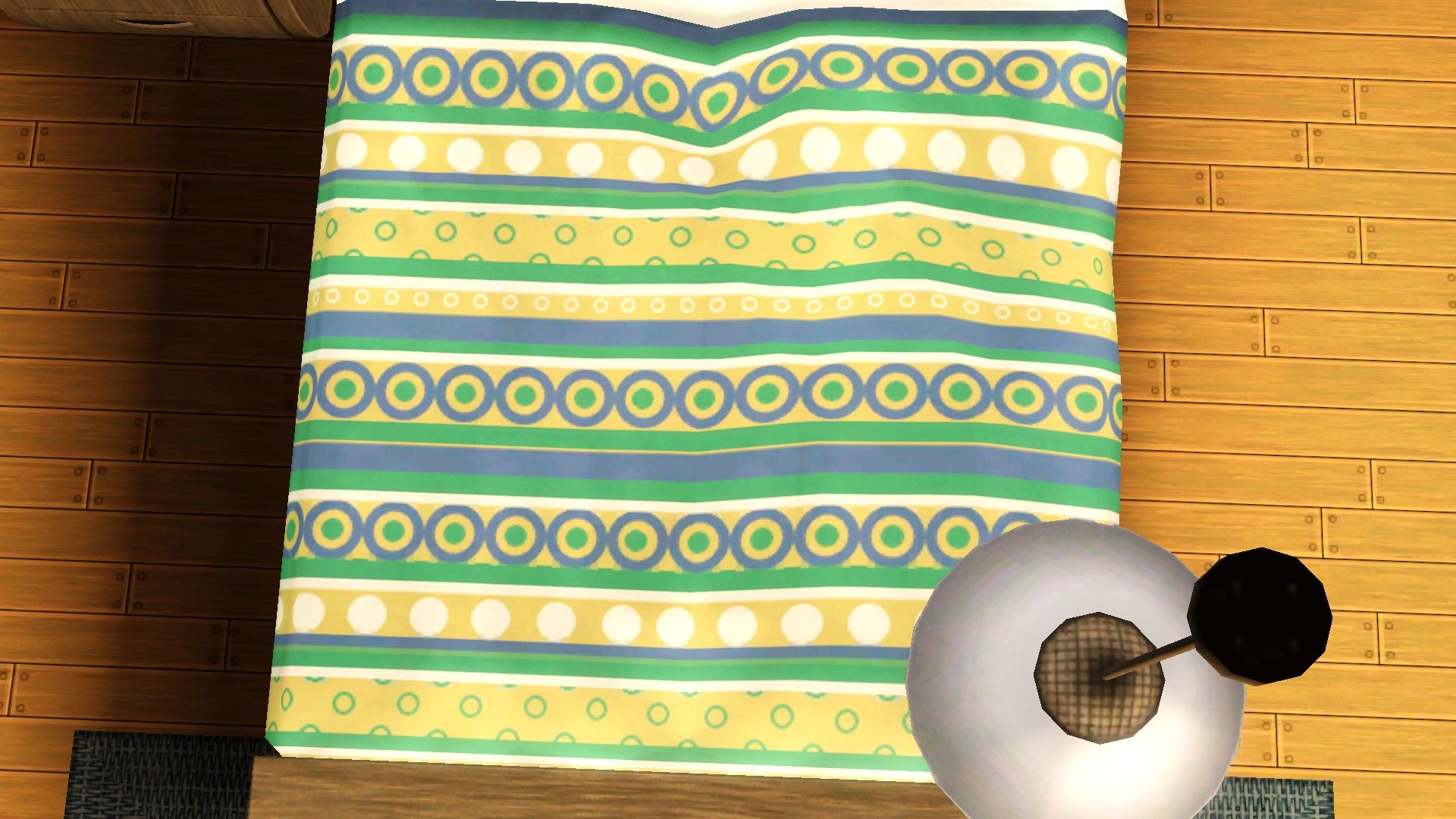 Still, Johnny does try to ensure Theory won't be a total drain on society when she's old enough to get out of here. "Okay, repeat after me: I'm a tomato worm."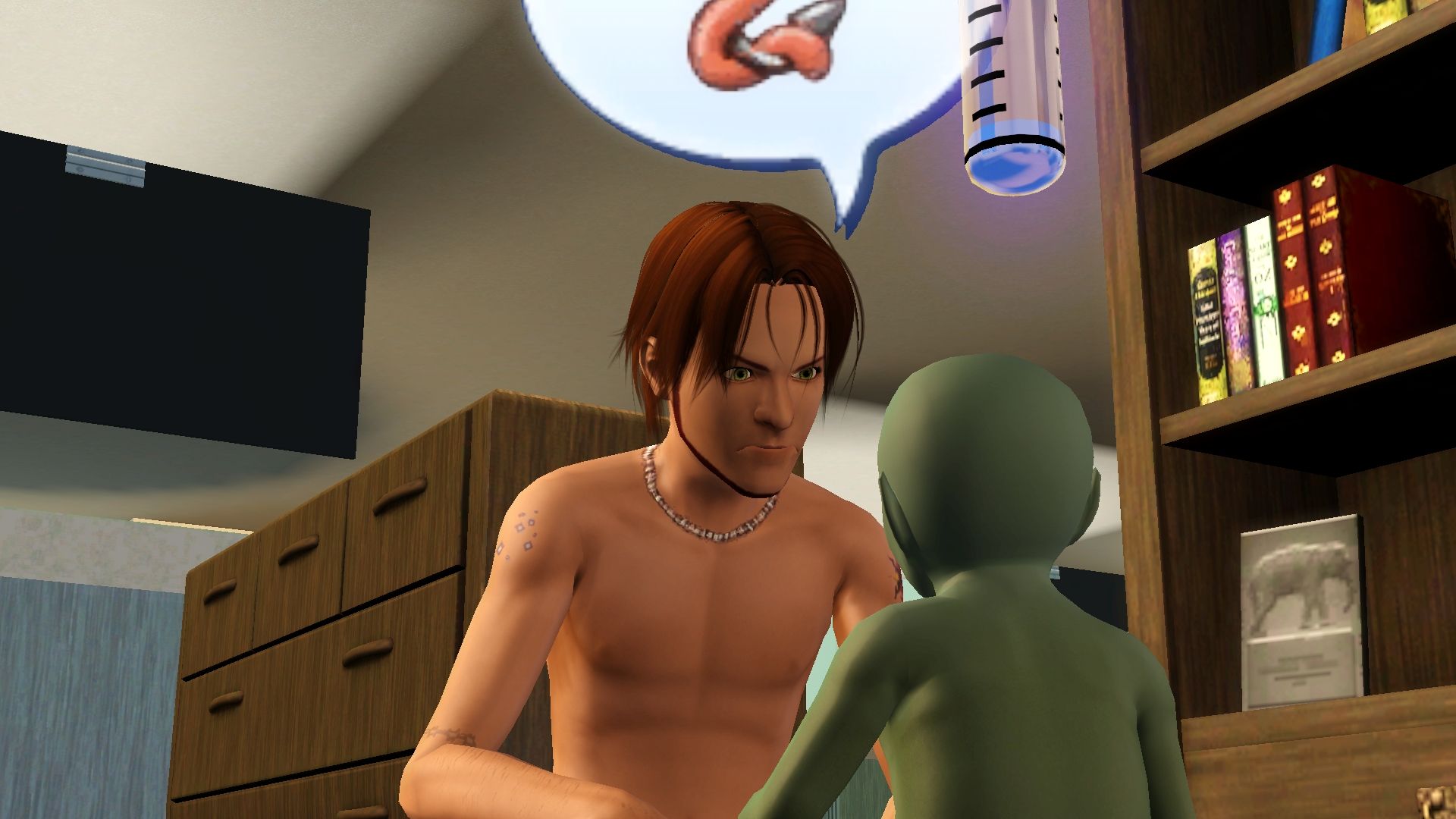 *sigh* For all his general ability to get along, Johnny doesn't like dealing with infants and toddlers, I guess.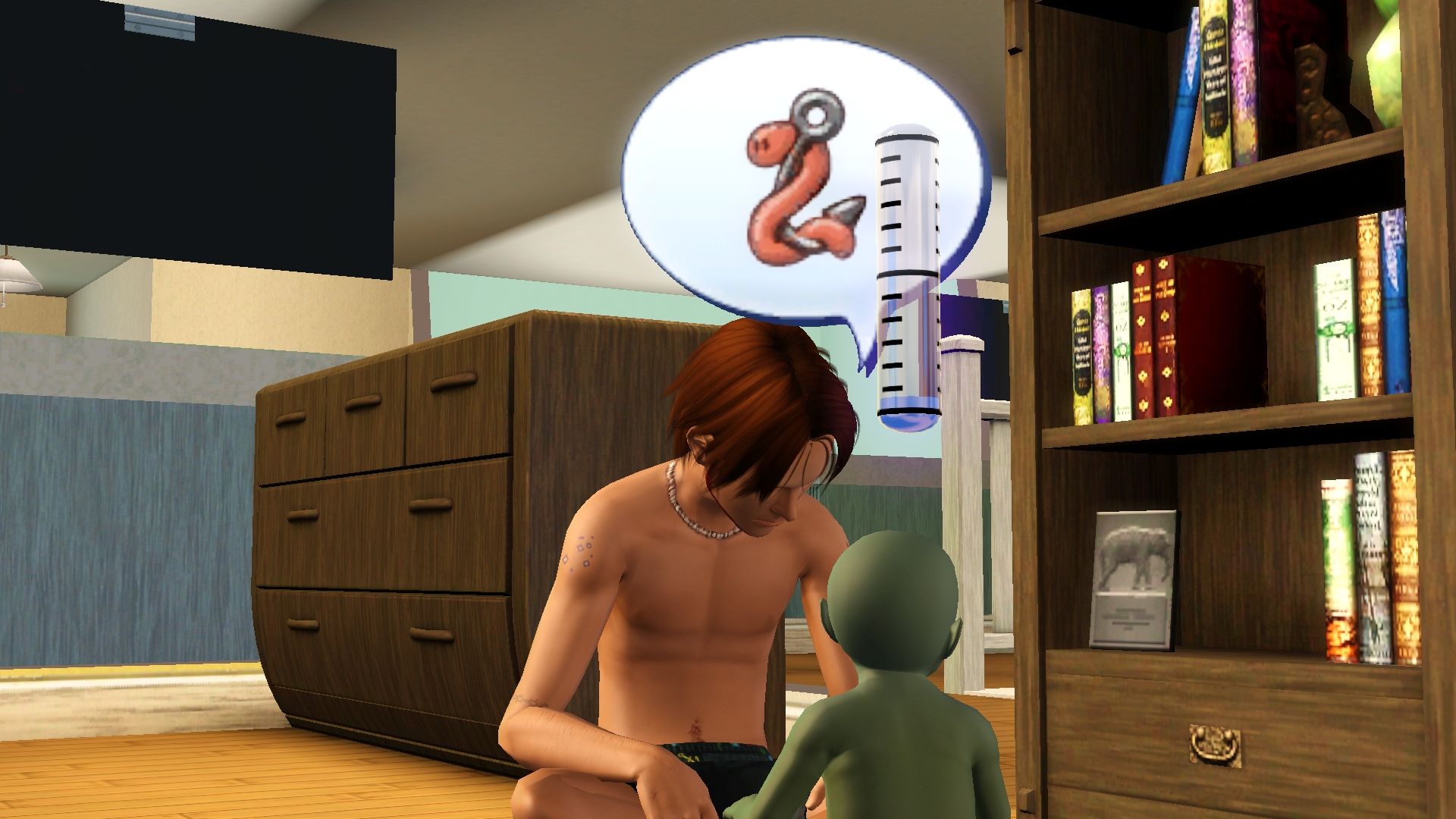 Let's leave that somewhat discouraging moment and go now to Keno's costume party (it was circa Halloween). Keno went for the zebra or fashionable-felon look, depending on your POV.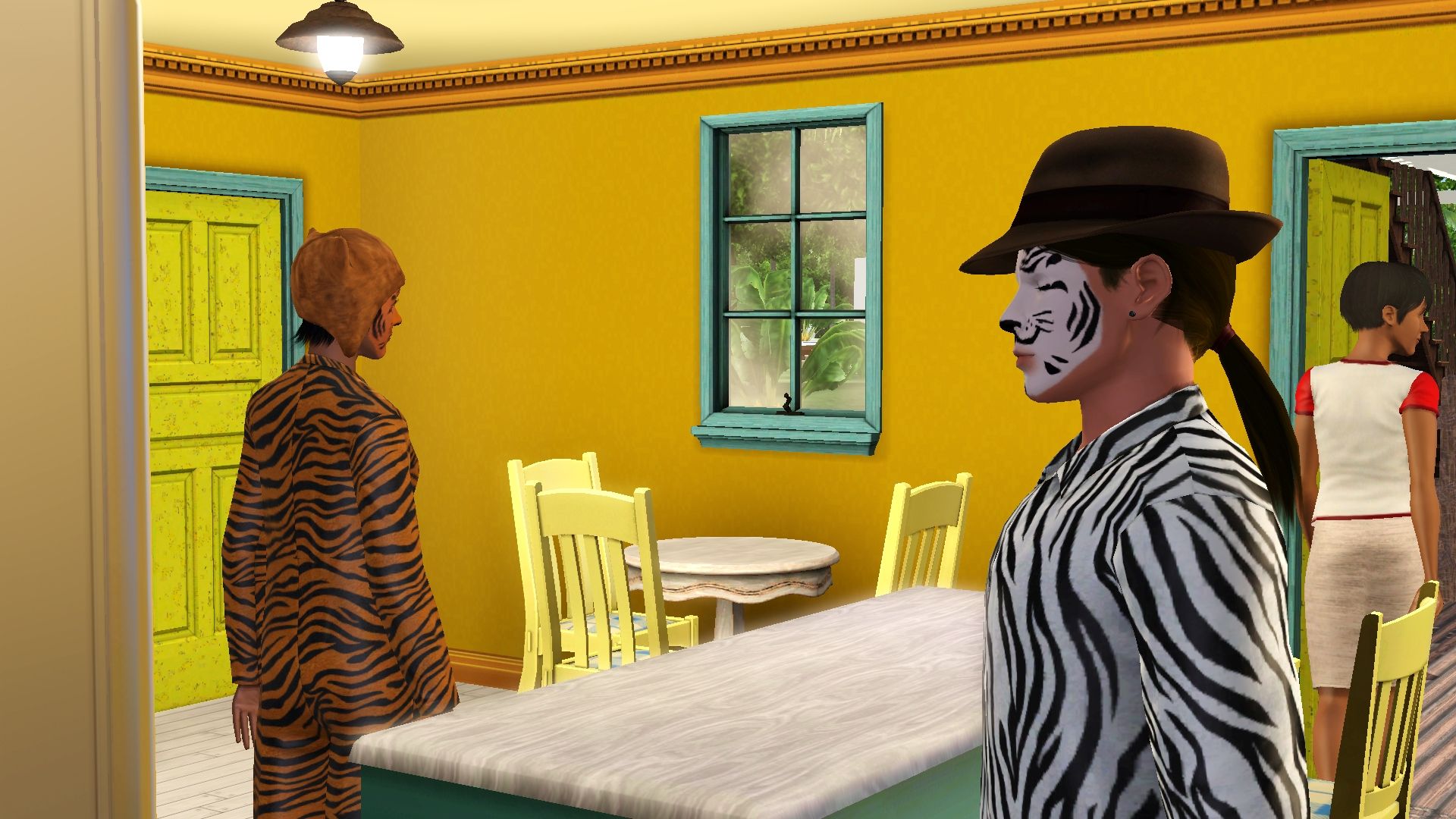 Don is... a spy, maybe? A flasher? Chip goes for the traditional criminal costume. This family has issues.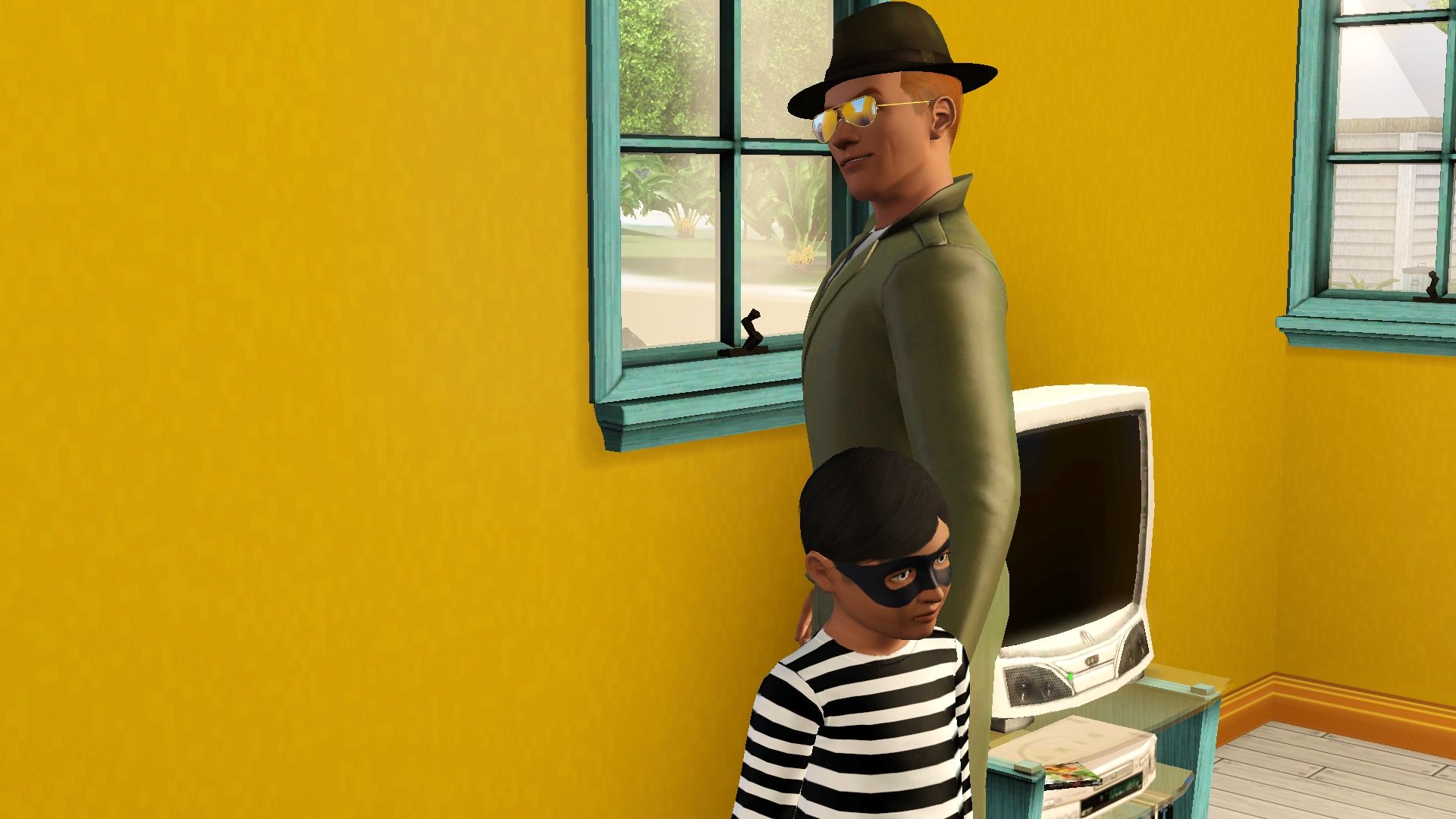 "My foster dad's loaded, sure, and my real dad, but..."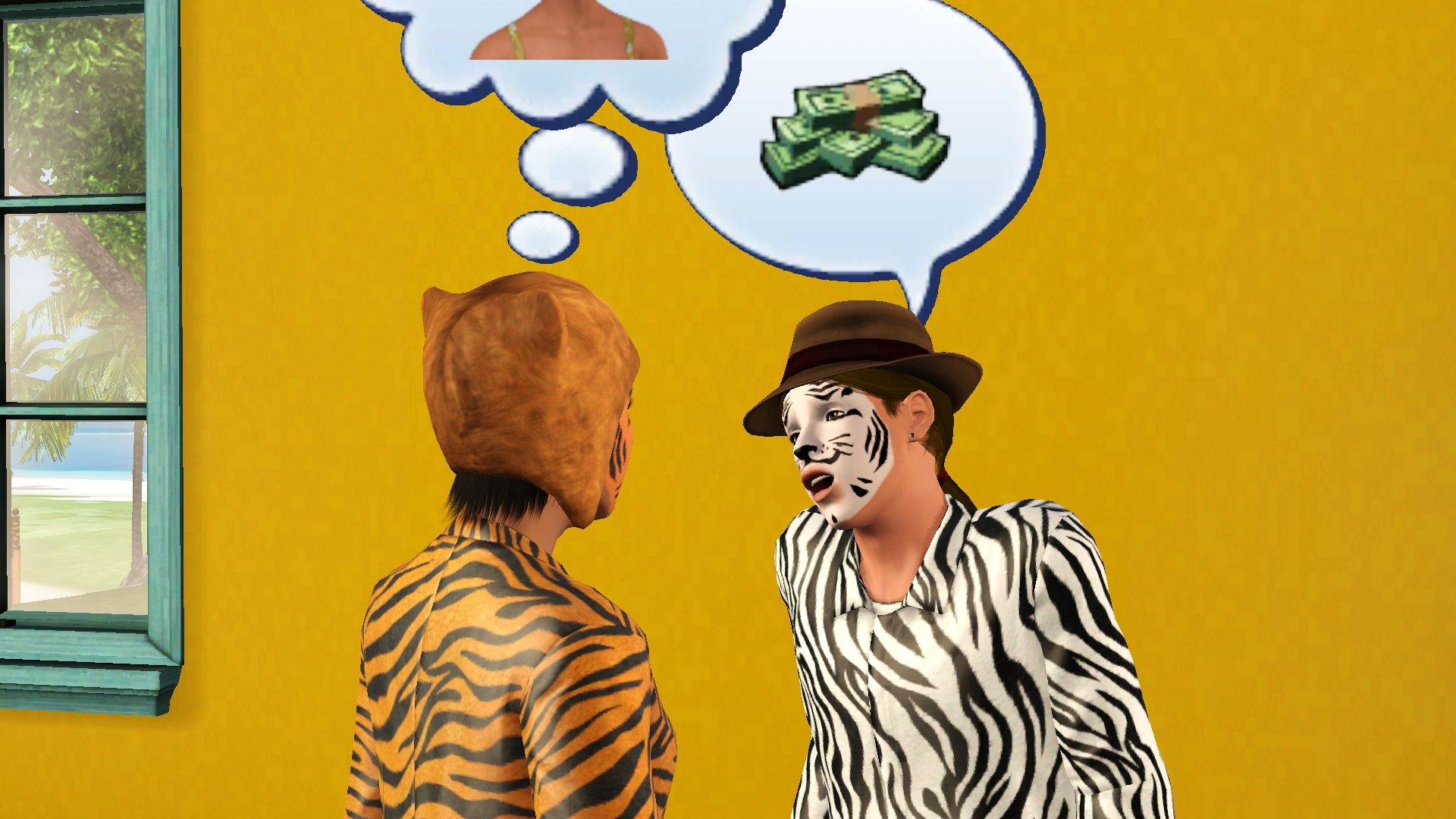 Later that night, Chip comes by to trick or treat. Three times. Either he knew Johnny couldn't say no or there was nobody else with the lights on.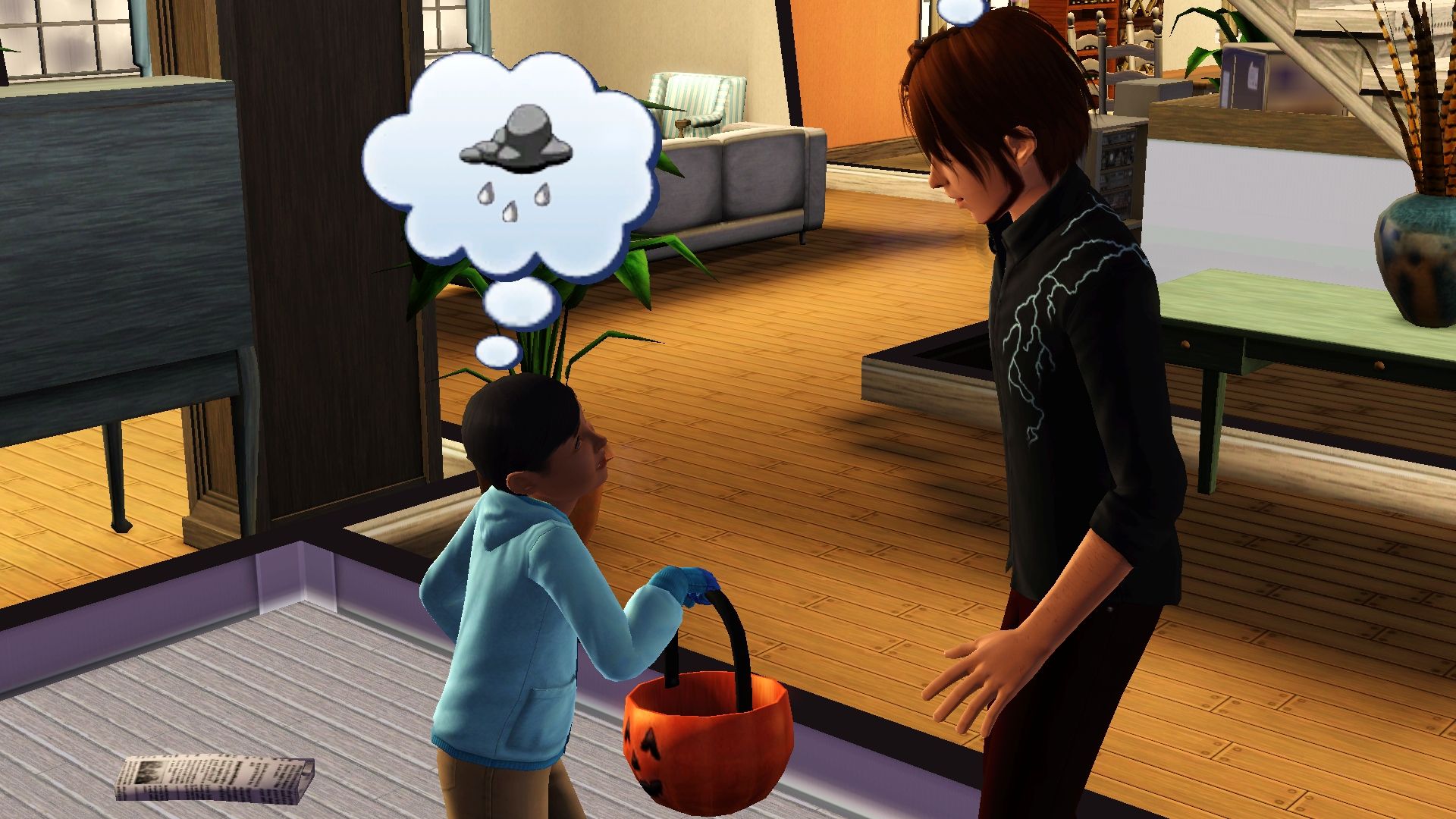 I decided to empty the inventory and found a whole bunch of pictures, including this one of teenage Johannes. Brings a tear to my eye, they grow up so fast.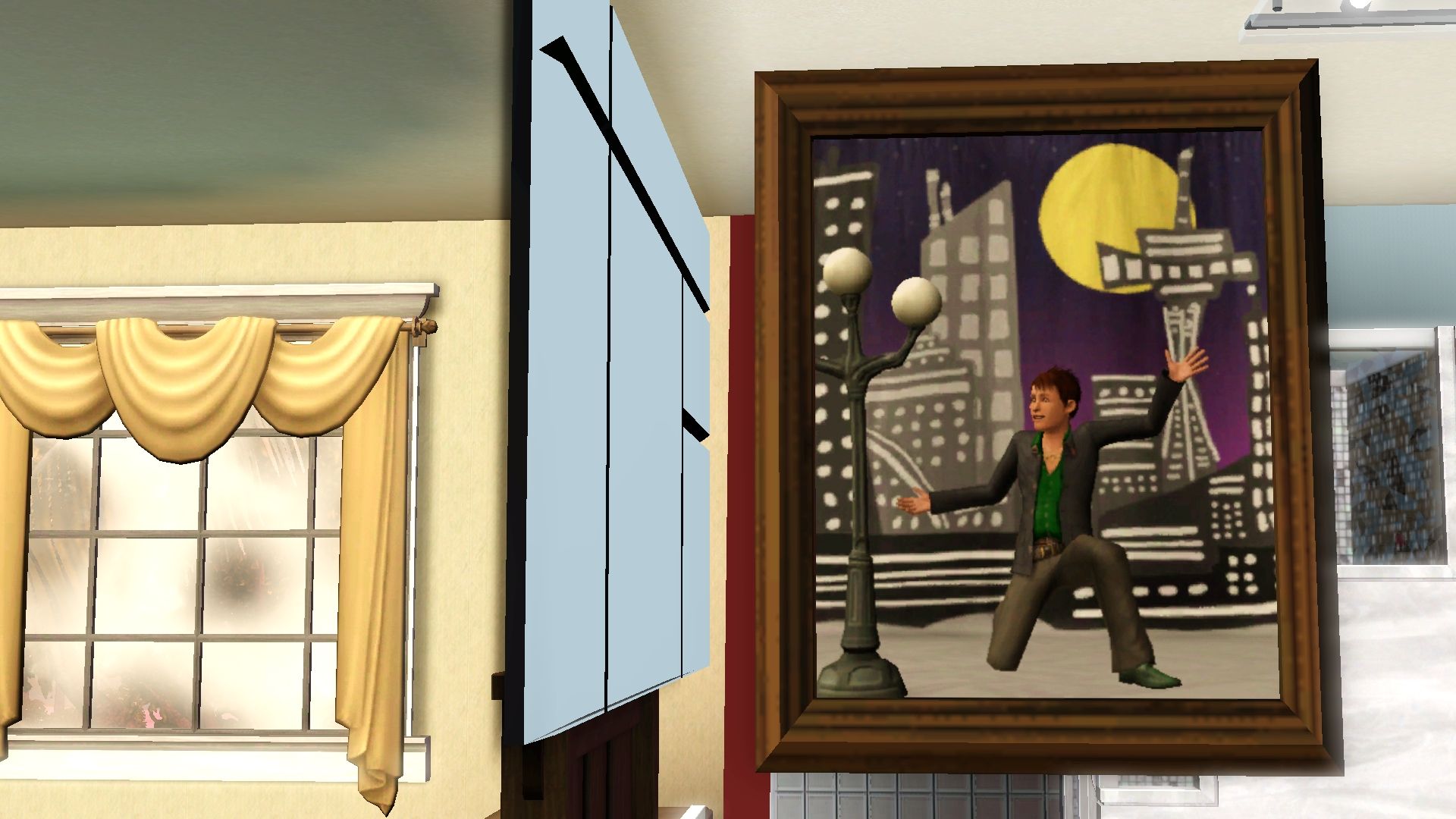 Somewhat to my surprise, because I forgot about it, Johnny finally finished the simbot and AAAAGH IT'S SCARY!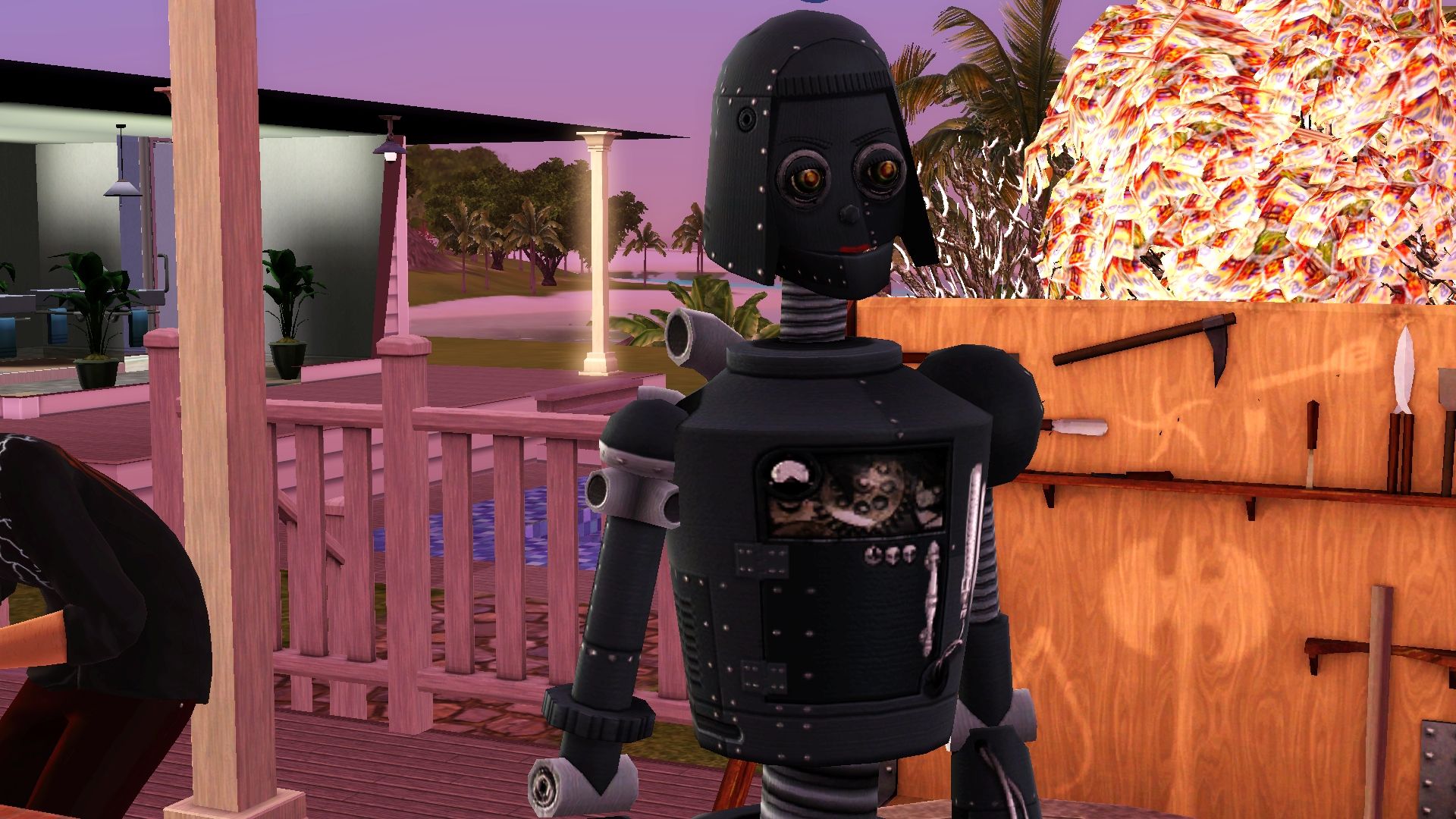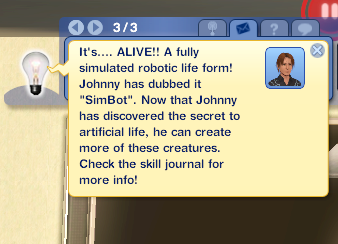 "Now there's no sense crying over every mistake. You just keep on trying 'til you run out of cake."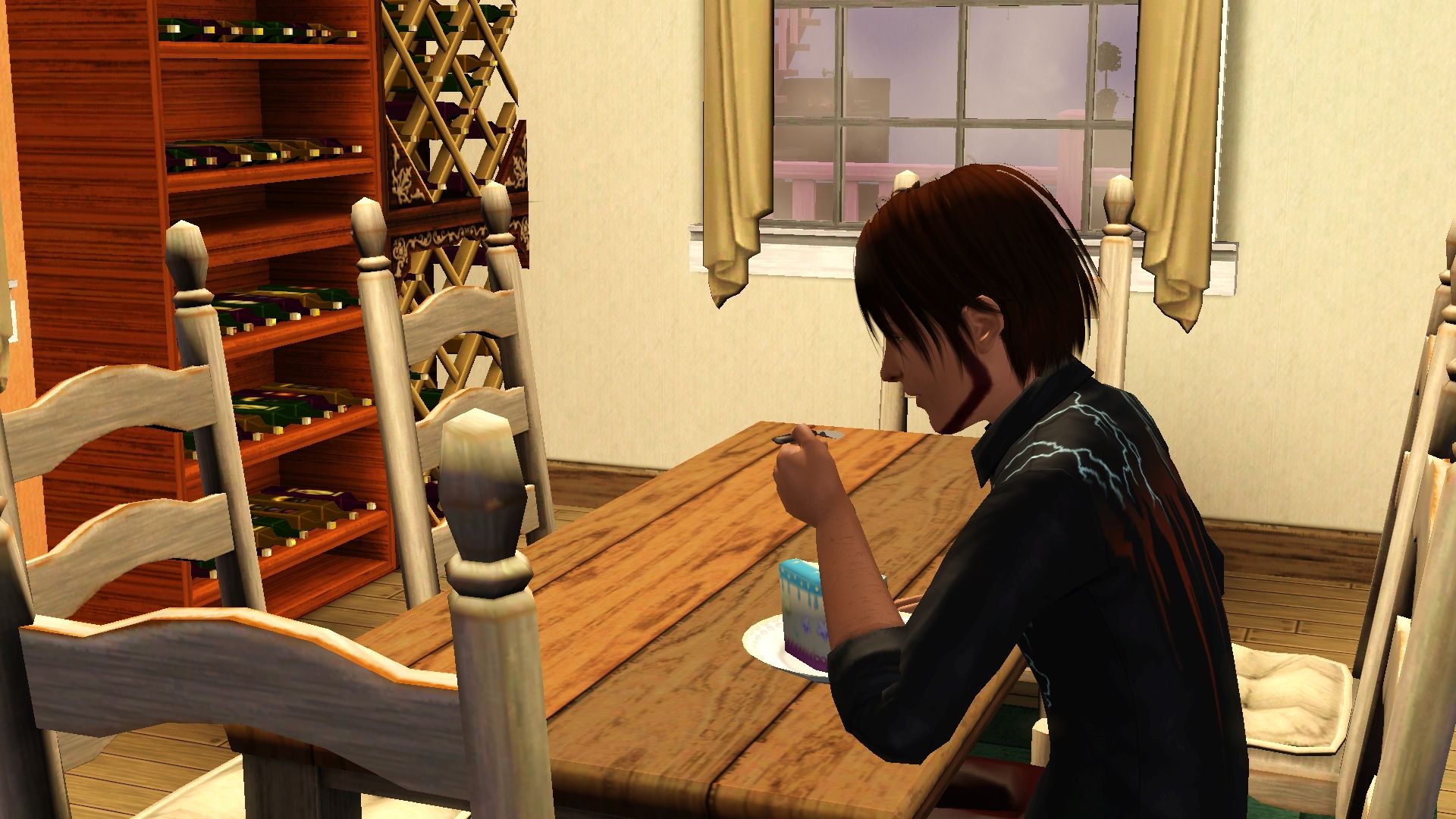 Johnny has enough on his to-do list, so he turns Jan Pandemic loose on the island. At least now he can say he created a monster. I'm sure he'd say two if you include Theory.

I'm sure you'll meet again. It's an island.

What else does he have to do, you might ask? More parties! Johnny doesn't get celebrity opps any more and he's finally able to reconnect with his kids and extended family now. Like handsome Burton here.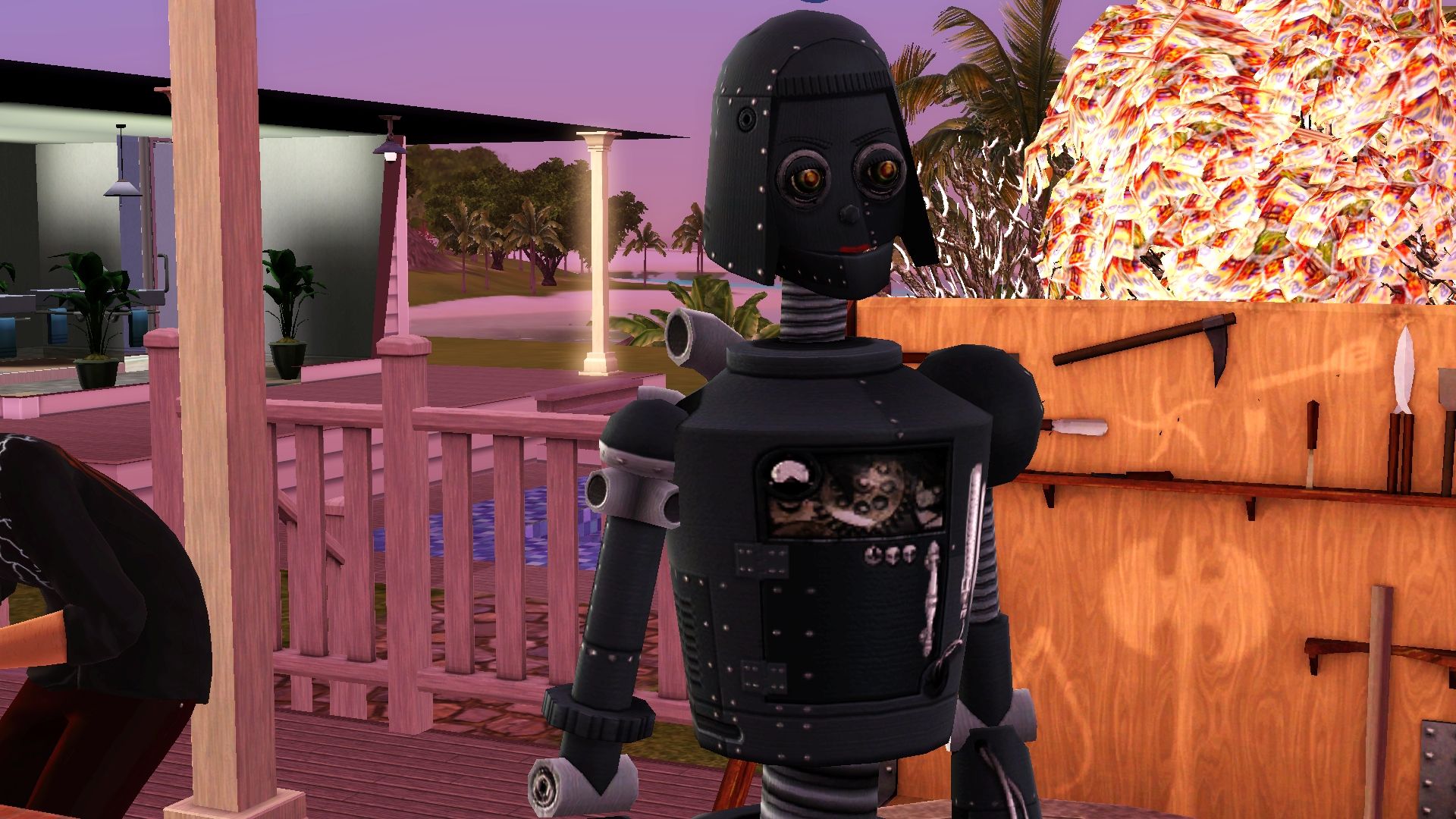 Don's here too.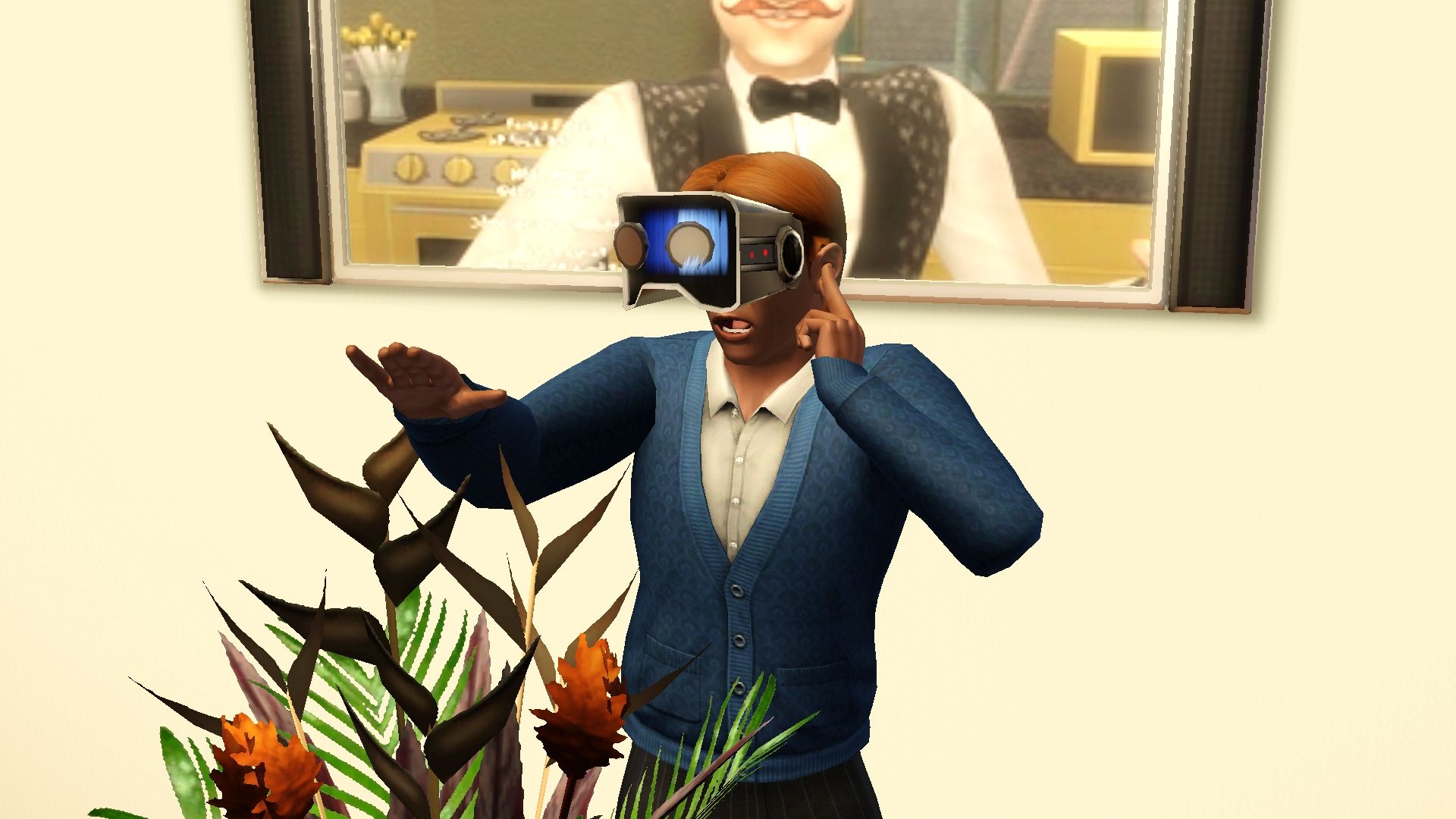 And Jo, still working at the science lab.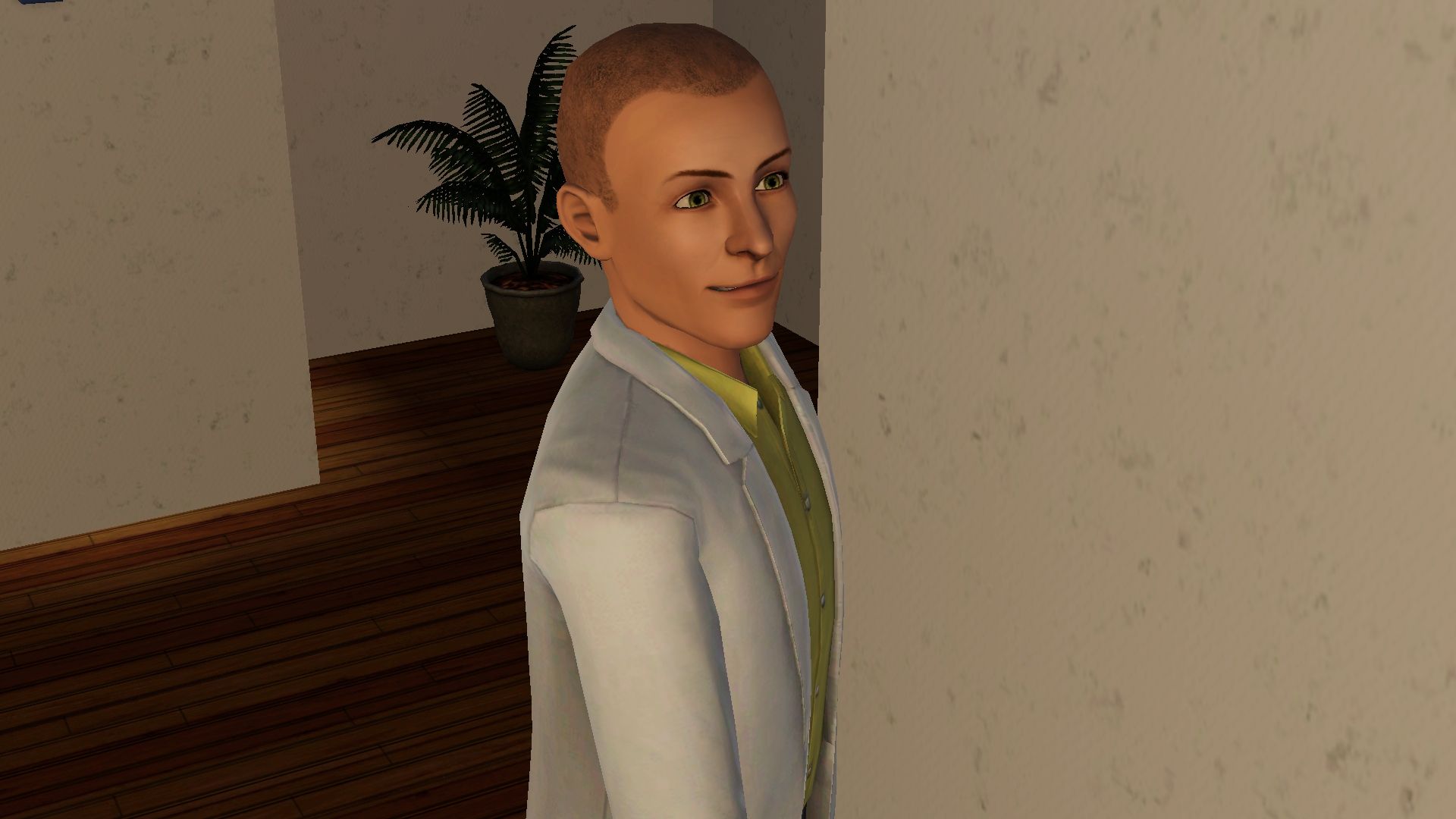 Stop doing the creepy face, Don.
"Constant vigilance is the only way to protect ourselves from Keno's freaked-out maniac of a biological father."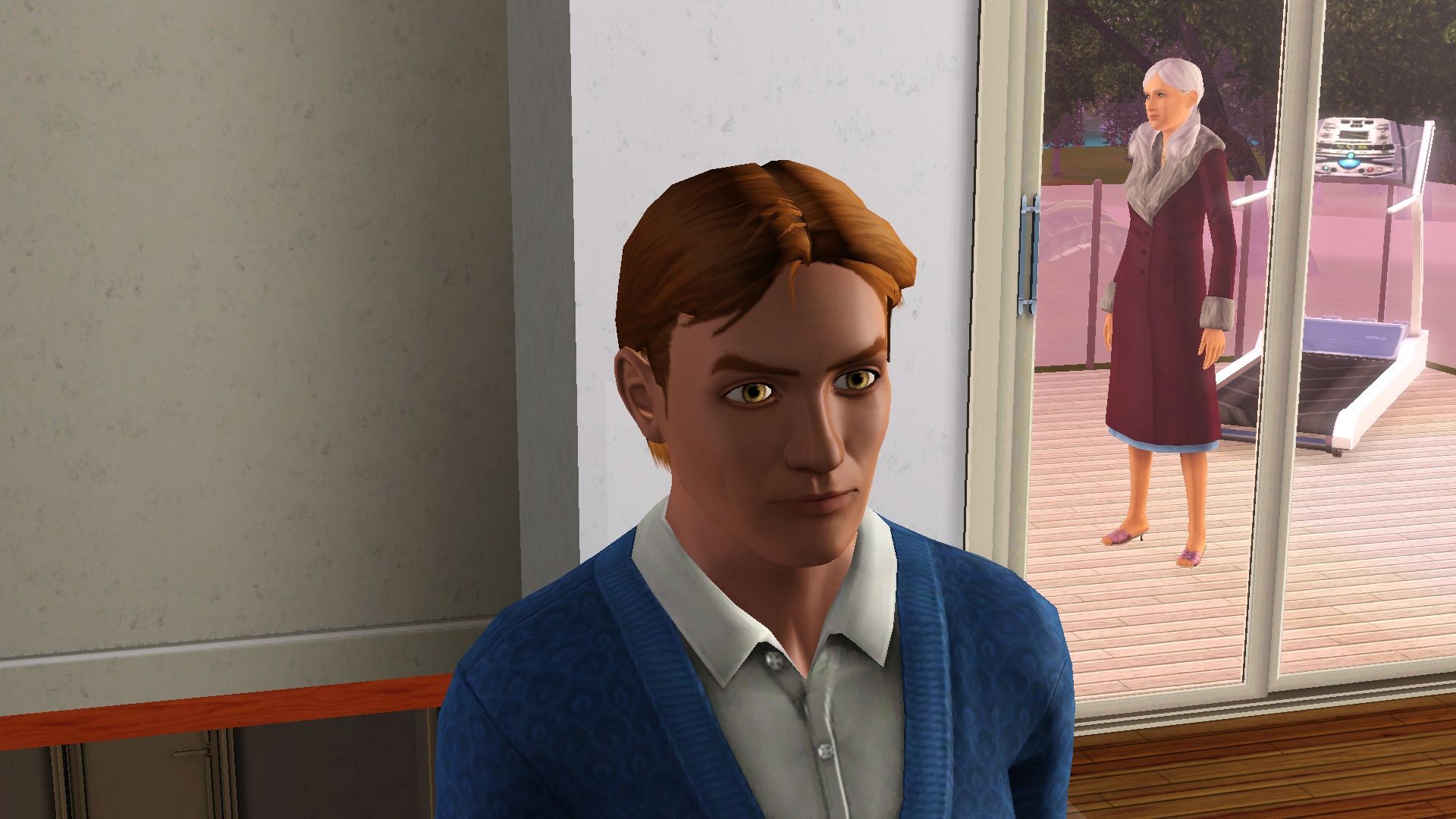 I know I said that Keno has daddy issues, but I thought he'd grown out of them. Keno! That's your foster father you're hitting on! Are you drunk?

Good, more money.
Then Johnny got an invitation from Burton, which seemed odd. But it turns out... Burton is an adult now. Living with his parents, but still an adult. (And the party crasher from the last installment is there too.)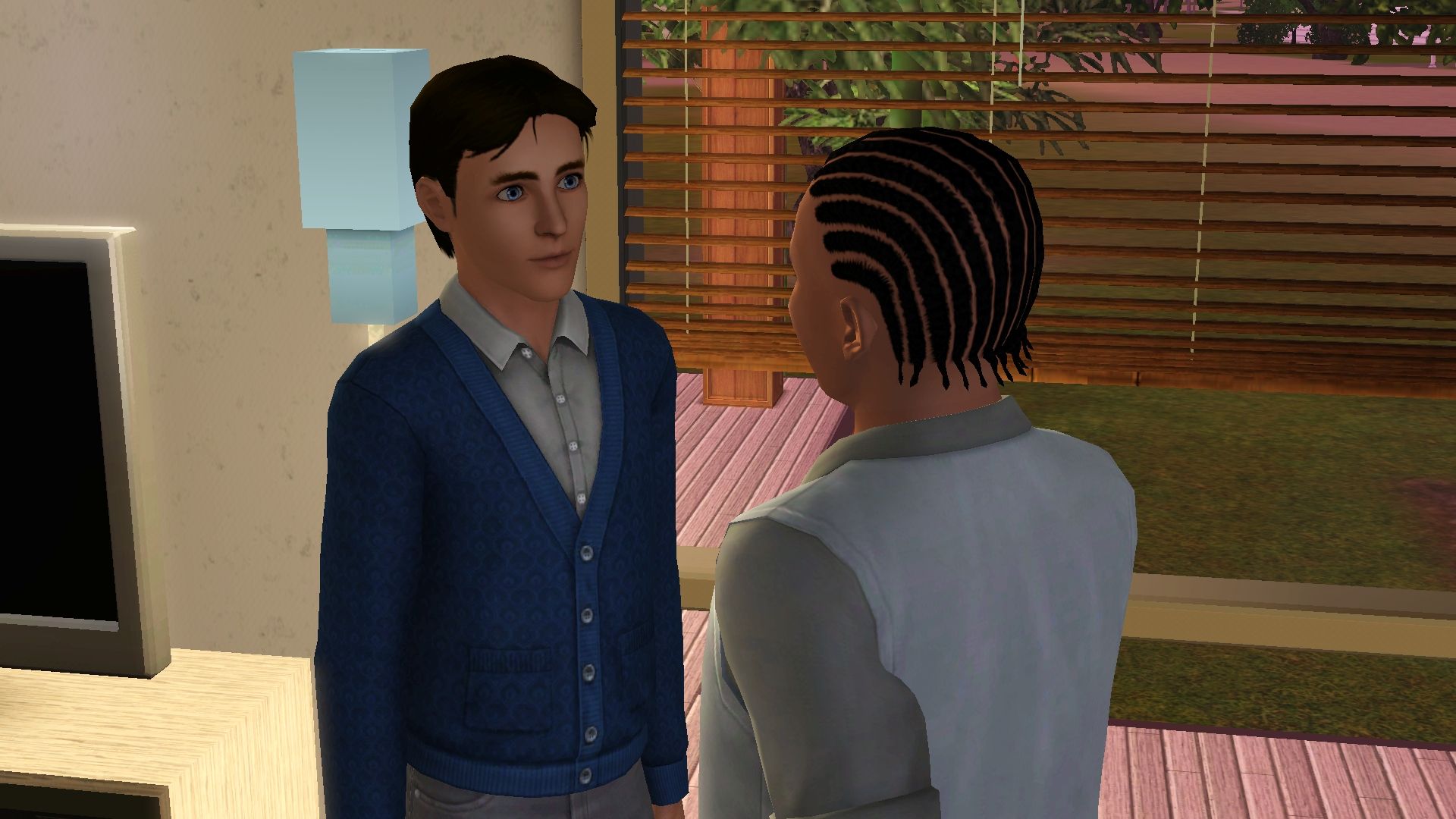 I feel really sad about this, actually. Johnny's grandson is an adult. Life is passing, and Johnny (now unaging) is outliving them, staying young and pretty forever.
On that note, Hilda died. The game will randomly assign female gnames to gnomes, but I guess they're all actually male. Or something.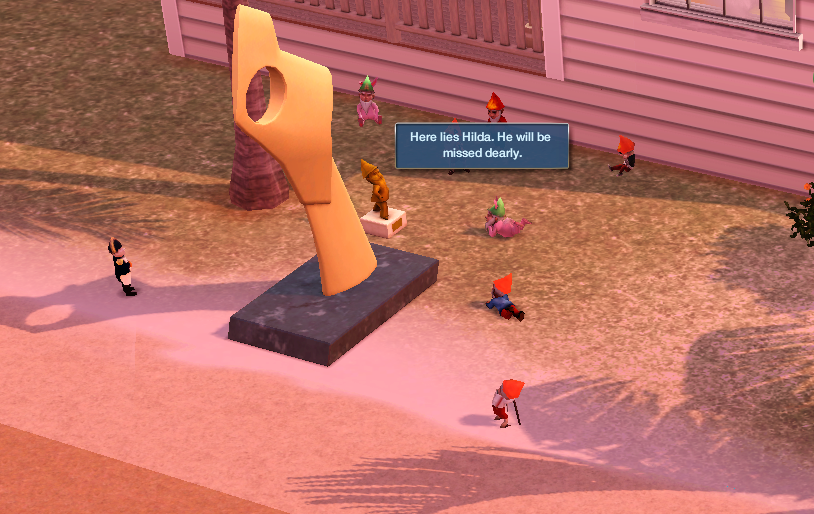 HEY!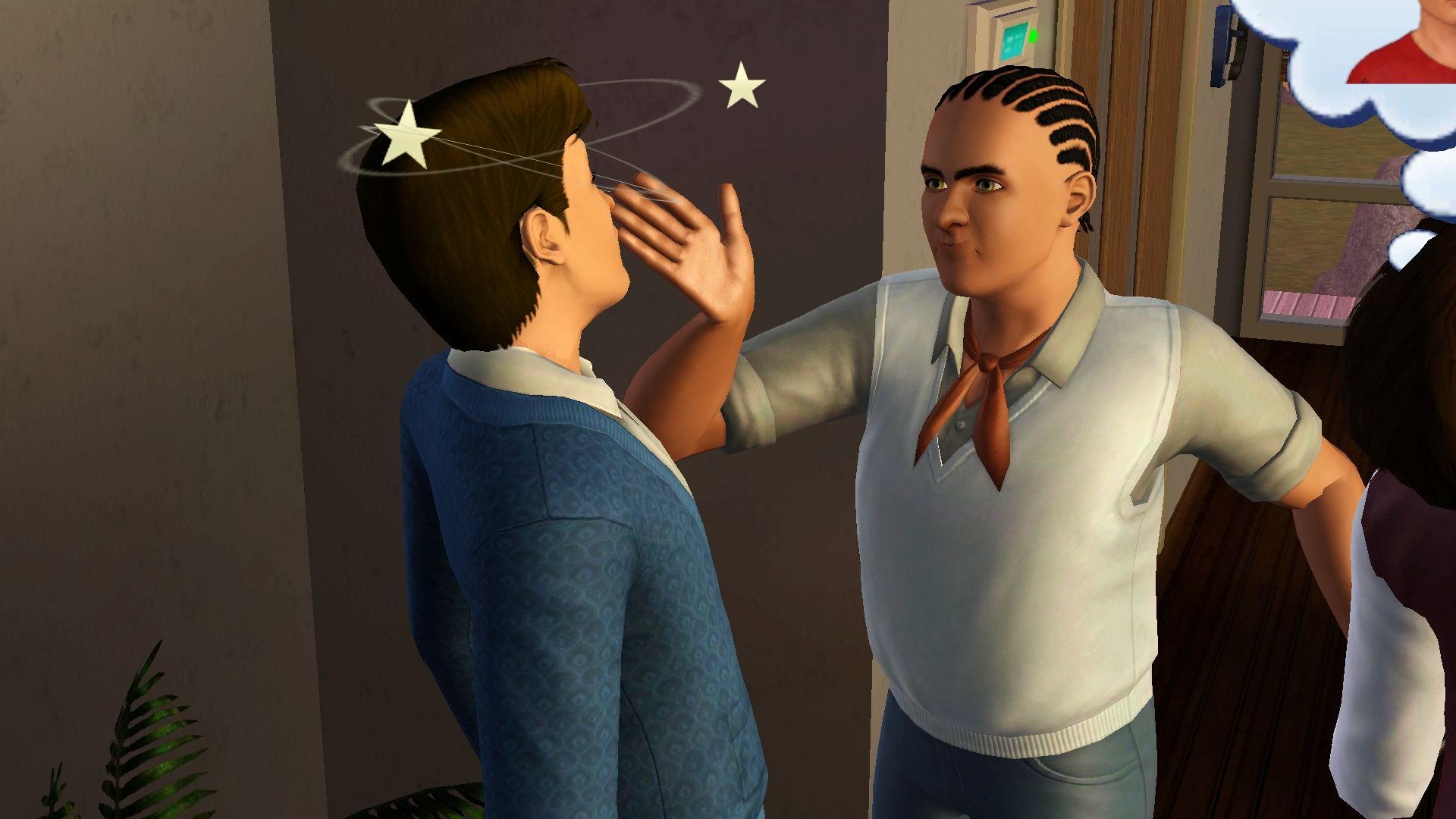 Johnny beat up the party crasher because
nobody
slaps around his grandson.
Then off to the consignment shop to unload more stuff. Torrey Caldwell the consignment guy is
weird
. He used to peek into Johnny's house and ogle the inhabitants. Now, talking to Johnny, he proves he's really, really strange. (I suspect he has the Insane trait.)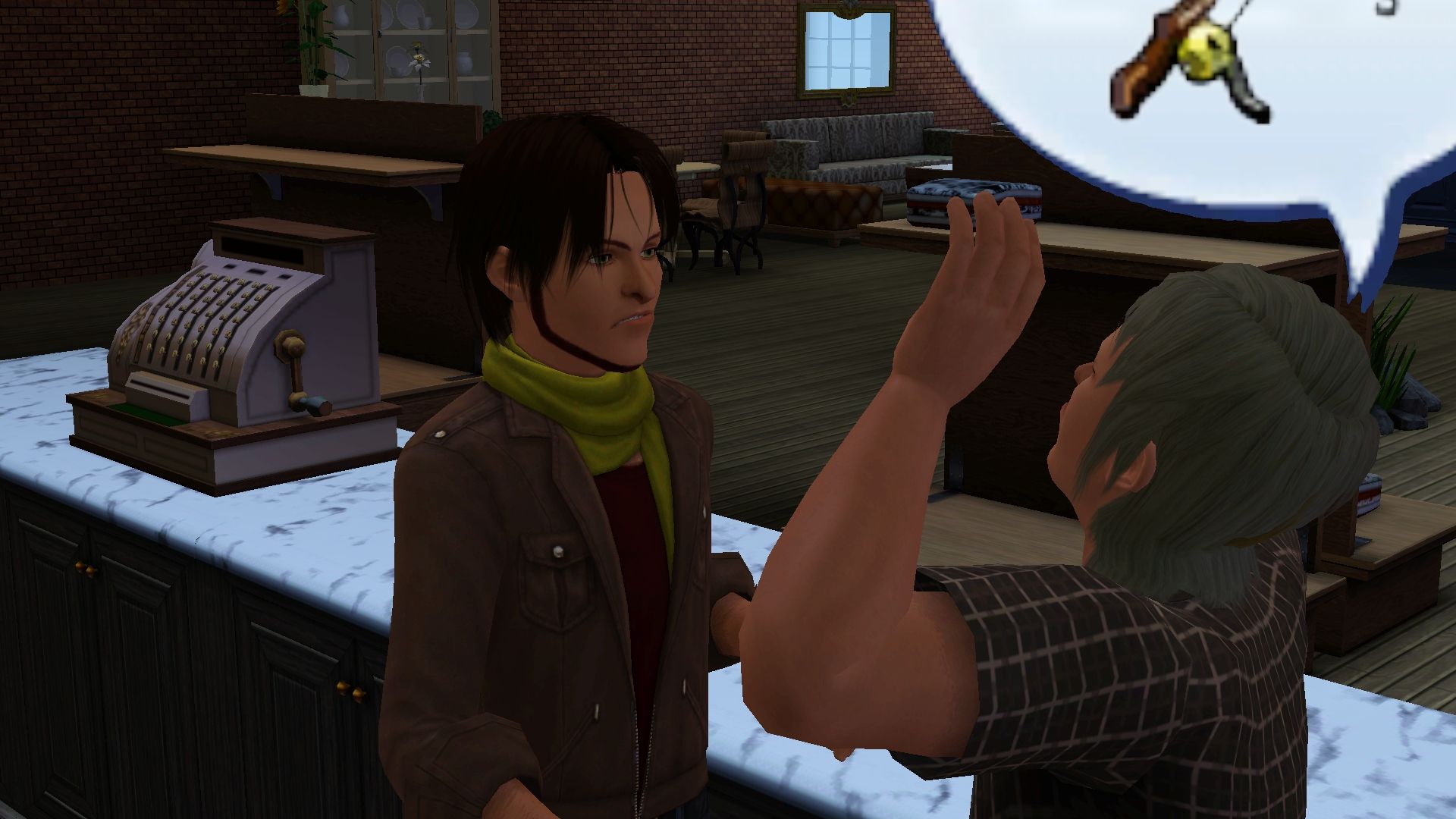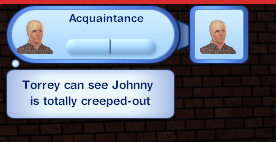 The gnomes are all aging up too, weird as that is, and I found this emo fella... who turns out to be Rosemary(!) whose mom was accidentally stuck where she could age up faster than the others. And I guess Rosemary is a boy. Plenty to be emo about there. Rosemary (there is no male equivalent name! Agh!) also has piercings. I finally looked at the list of gnomes on the wiki and had no idea there were so many - but the emo gnome isn't listed. Just a teenage phase thing.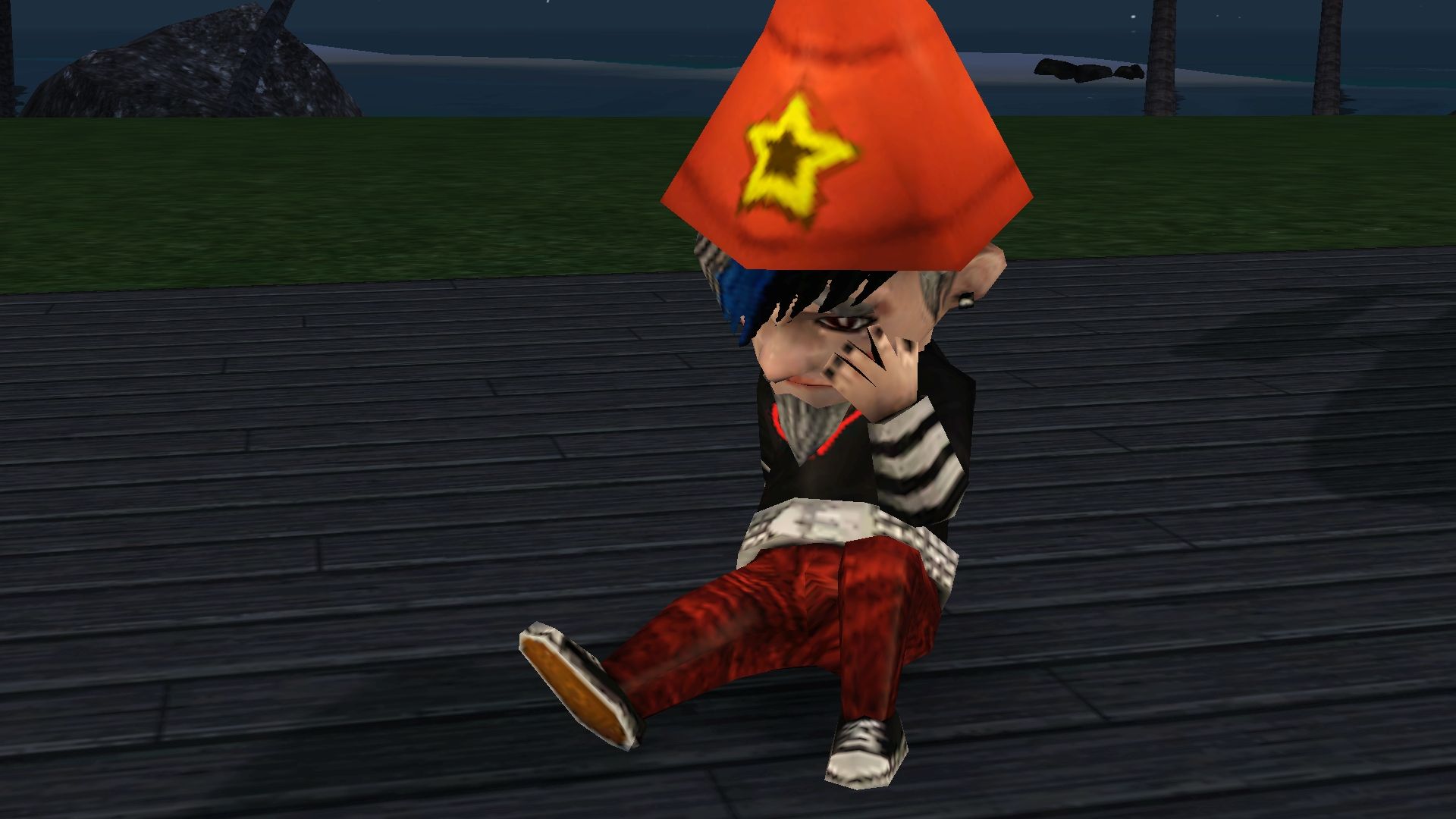 Finally, Theory becomes a child.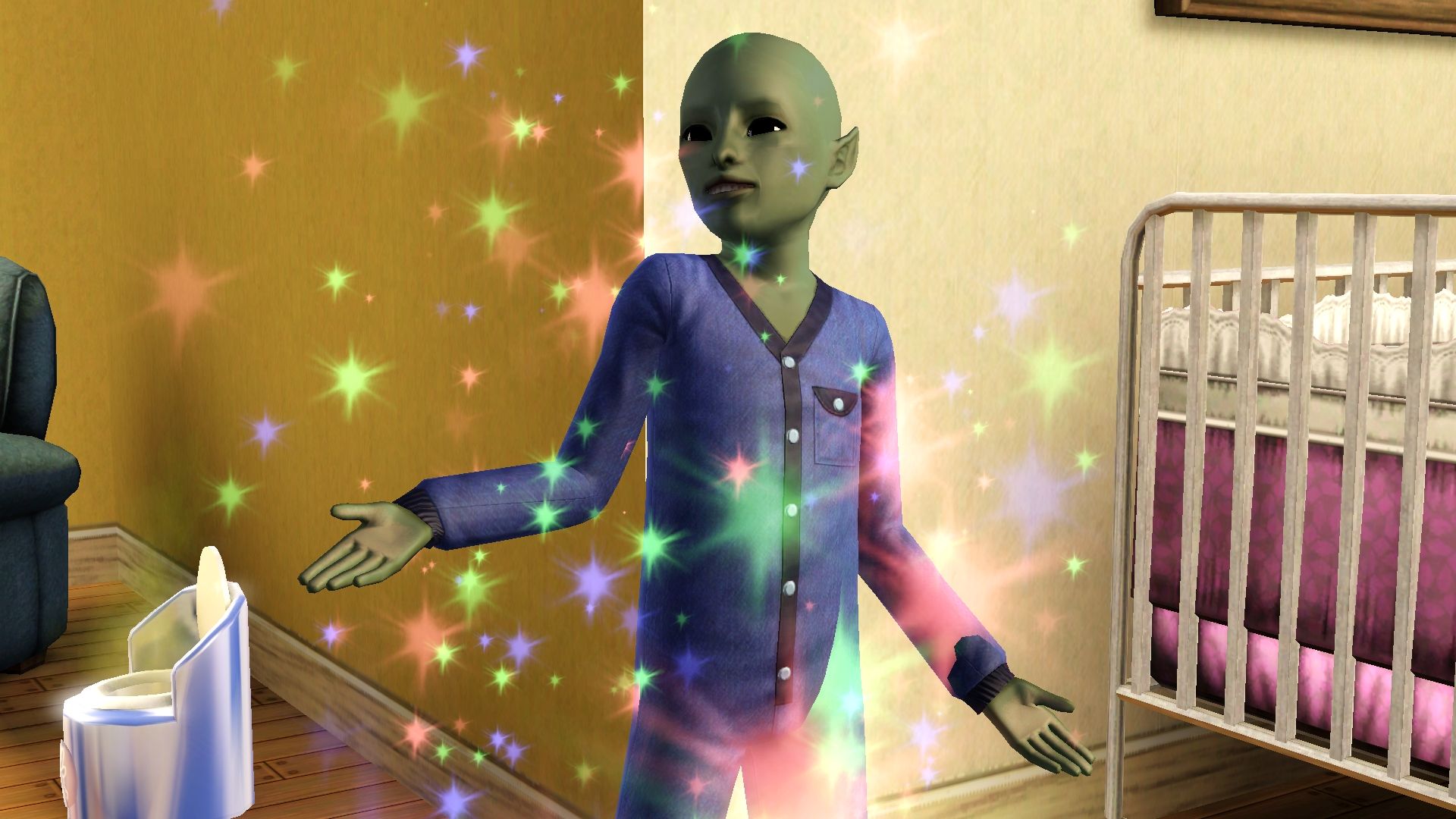 The hell? She was fine! I really don't know where "difficult" came from. Johnny may have grimaced every time he held her, but she didn't go hungry and she learned a lot of skills. At any rate, she's now Insane, Clumsy and Hot-headed, which is beginning to sound scary.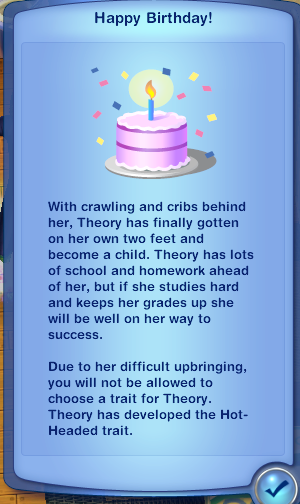 Toly: You were a tiger mom! You put so much pressure on her to succeed and didn't give her enough love!
Me: She's not lovable!
I don't like to put makeup on children/toddlers but I felt she needed something. The hair is fine.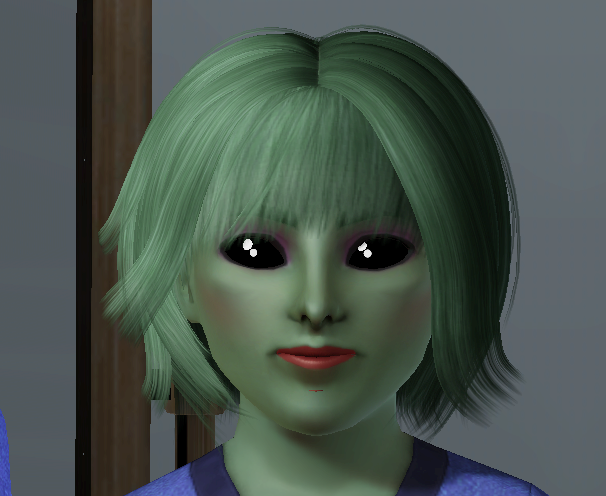 While out at the restaurant, I saw this papparazzi. So what, right?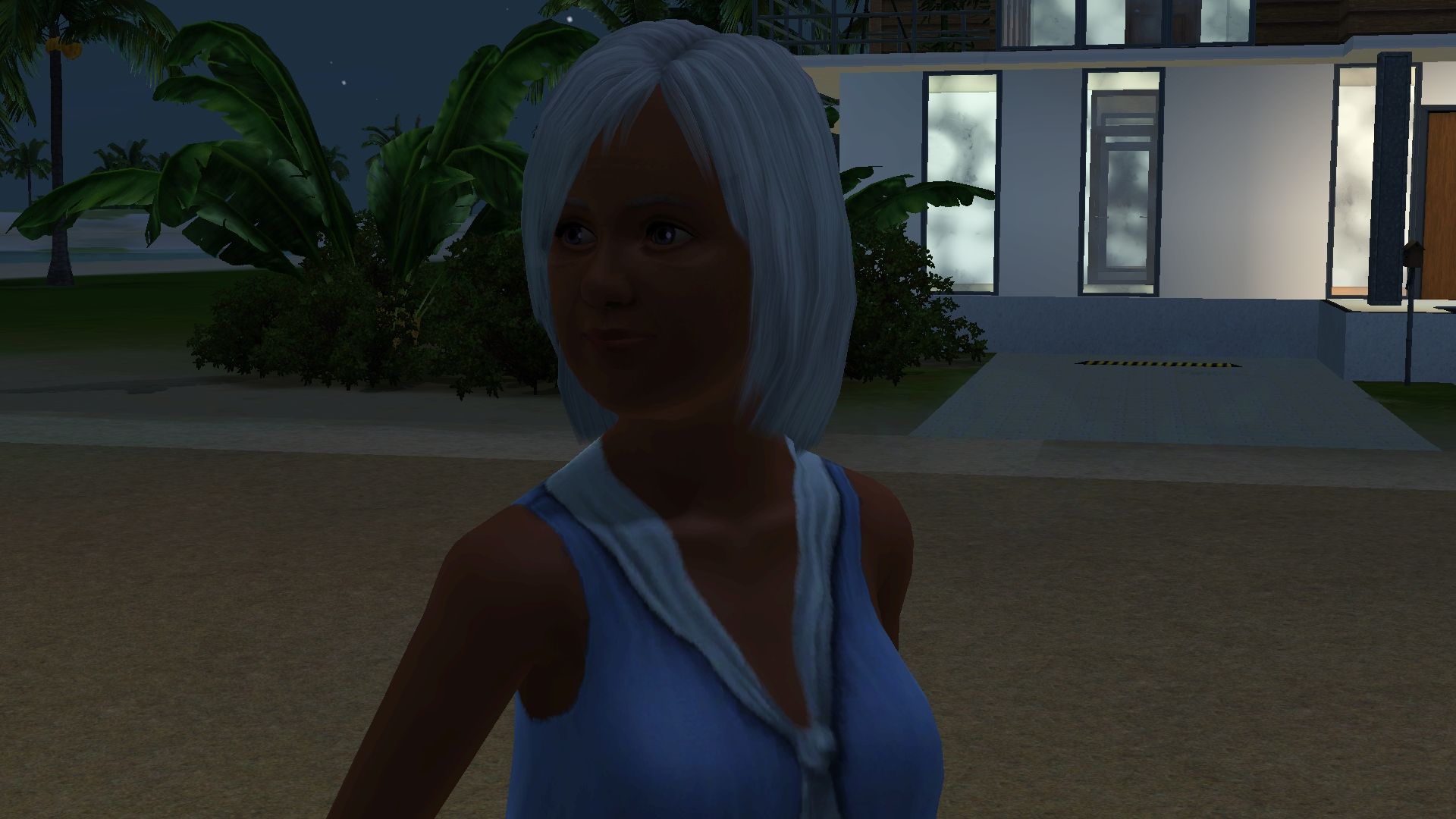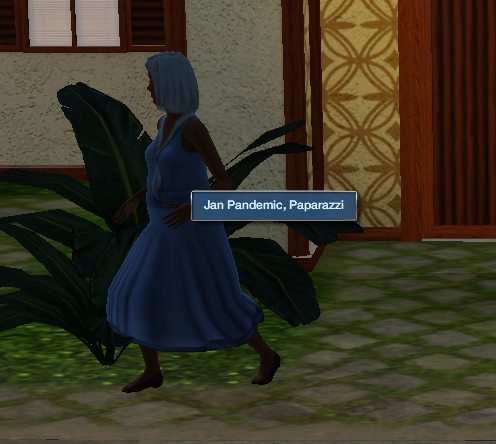 It turns out she's Jan Pandemic, Johnny's simbot creation. (Oh, very well, "daughter".) She looks human, but acts and sounds like a robot. I guess she got one of those Terminator skins.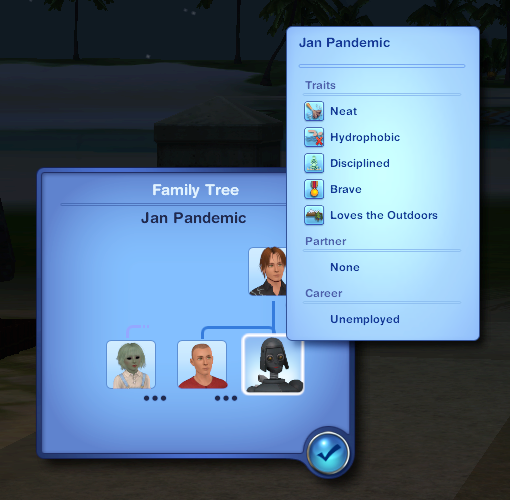 Theory digs in the sand in the back yard. She and Johnny do have Best Friend status, but don't seem to want to interact with each other, which is OK for Johnny.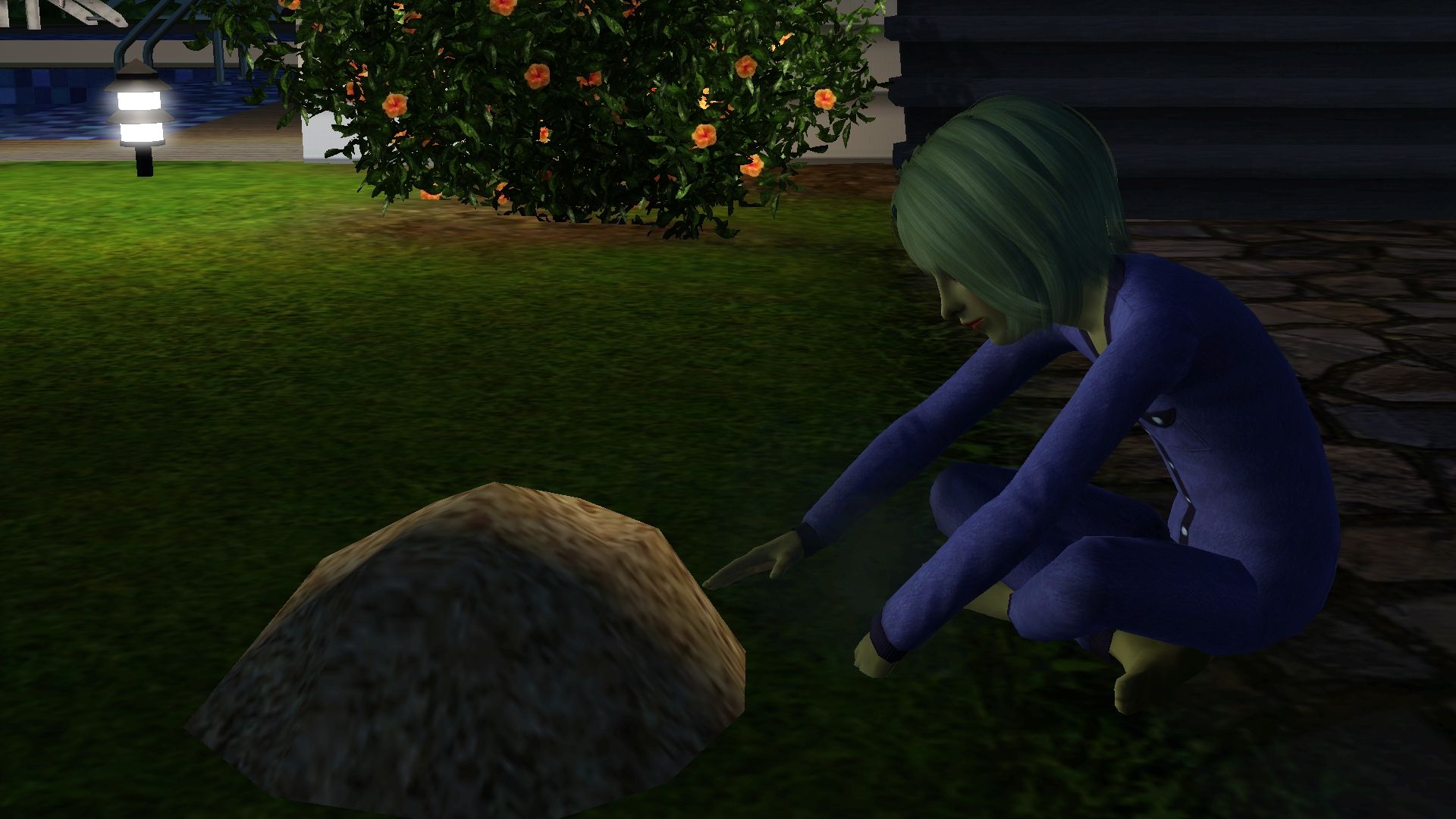 At least they're on the same lot right now.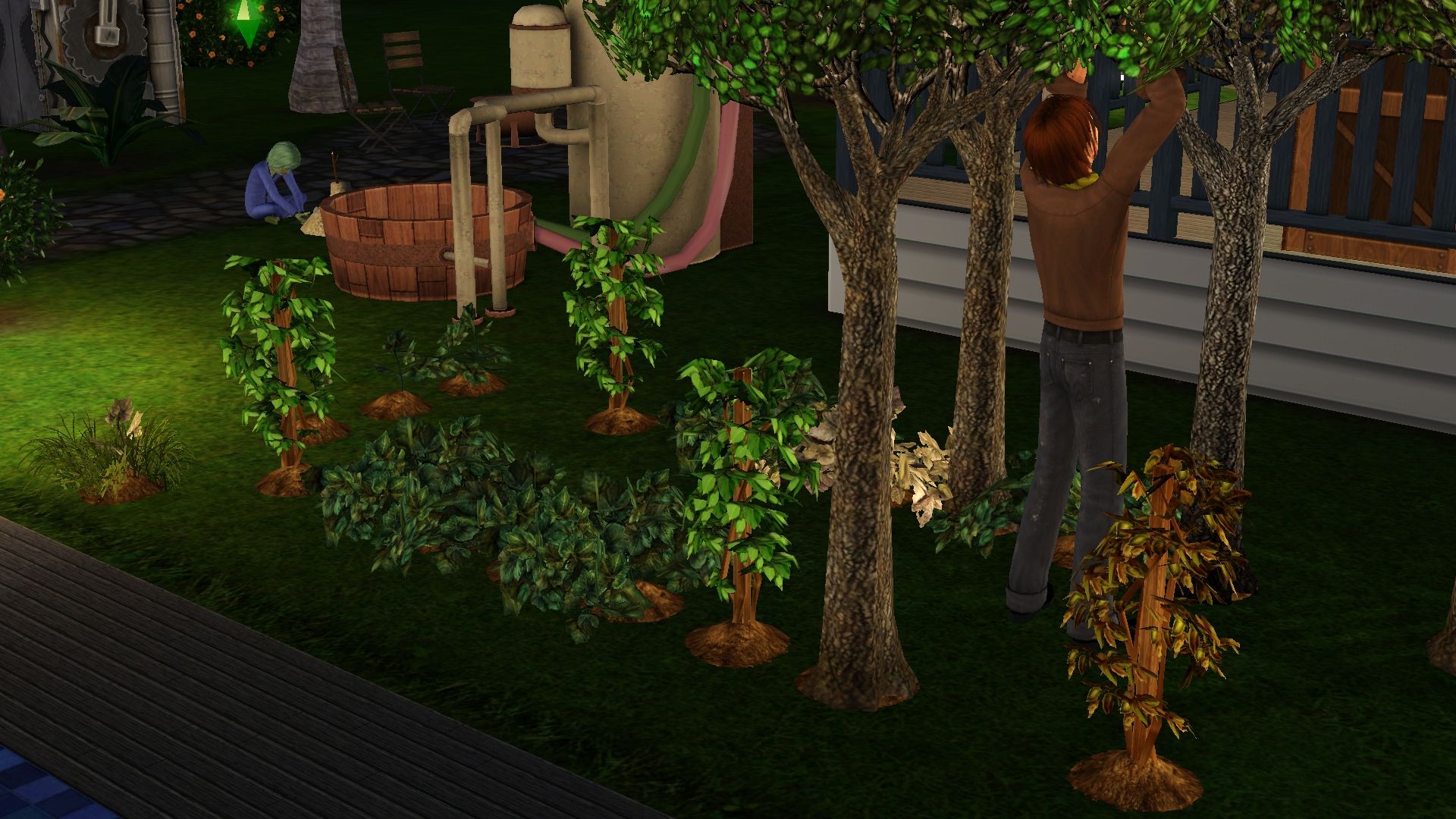 Time for first day of school. I hope they're prepared.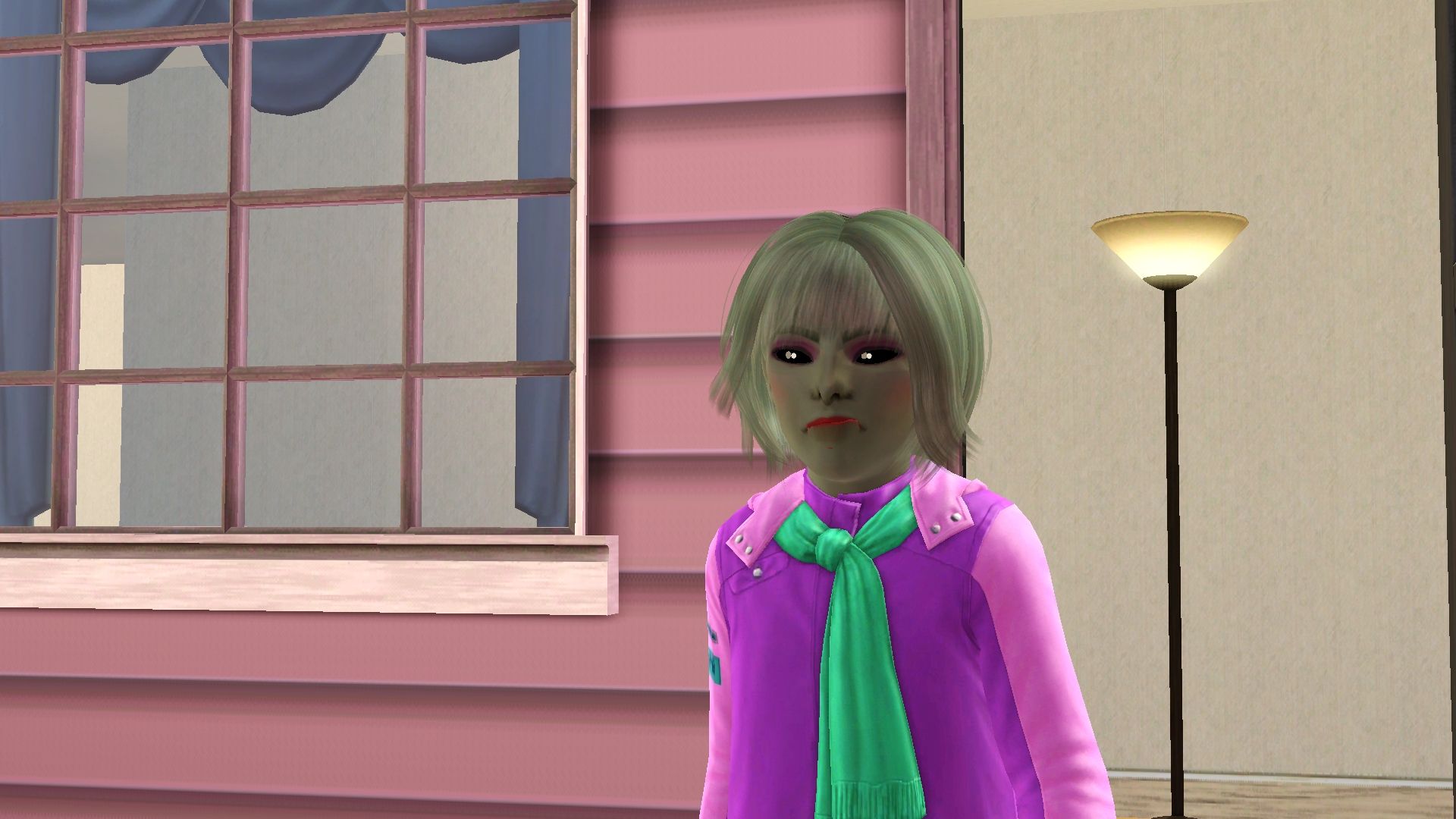 While Theory was in school, I sent Johnny to go visit Burton. Johnny dropped in and told Burton about his new aunt. "You want one to raise? I won't even charge you."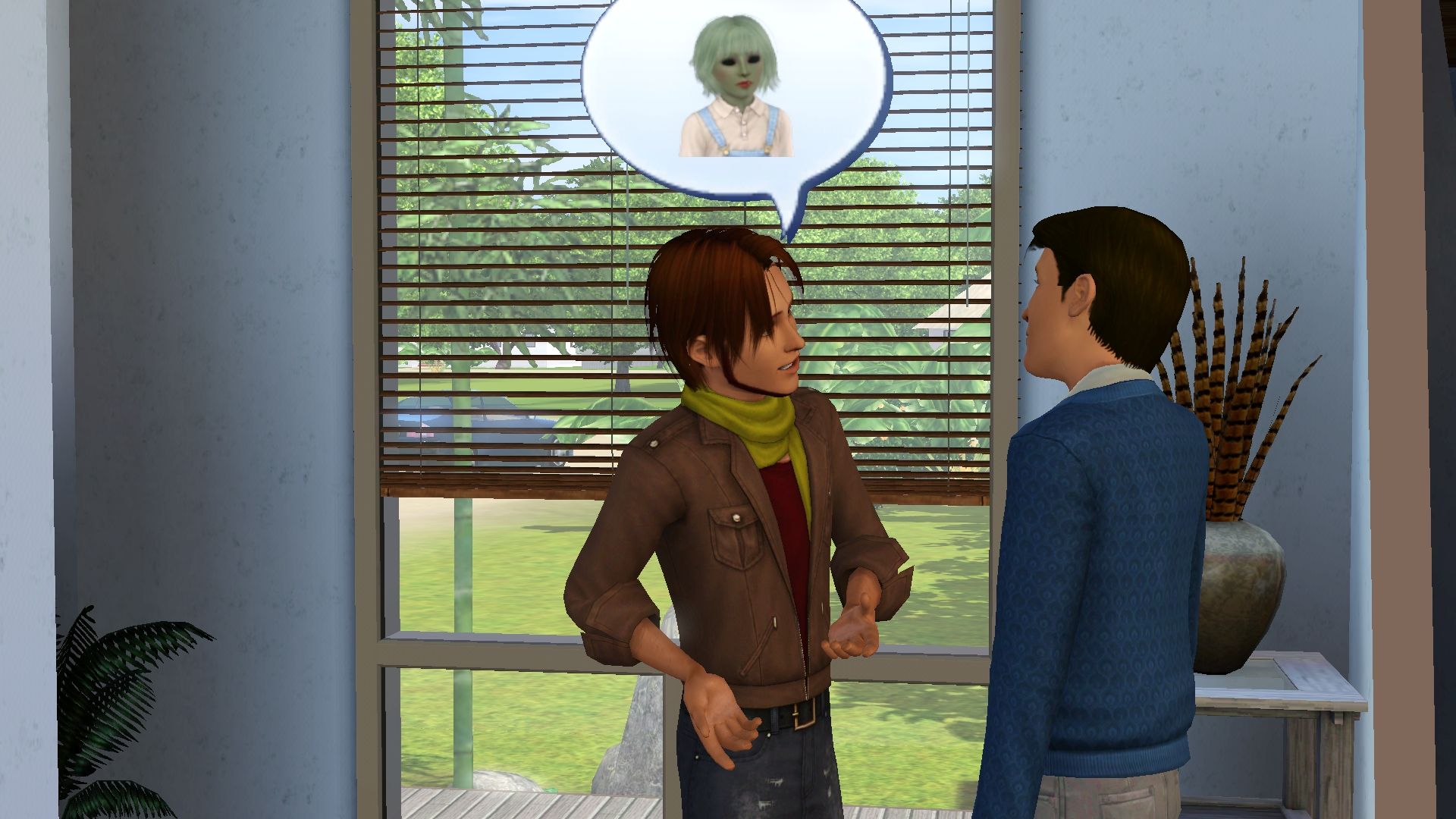 While poking about in the relationship panel, I saw I could pull up this information about Burton. I knew he was Brave and Over-Emotional, but the rest are new. Not a bad set of traits. Hey, wait... "Partner"?

That's crazy Torrey Caldwell from the consignment shop. And I do mean "crazy".
This is actually a little distressing for me. Burton deserves better! Torrey is a wackjob and let's face it, I don't think this would be all that healthy a relationship. Yet there's nothing I can think of to break them up. Much like real life. :(
Also, let me just express an annoyance here. The game originally tried to pair Johannes up with a man, but fortunately he had a girlfriend. Then Keno ended up falling for his male babysitter. Now Burton's gay too? The hell? I feel like my game is skewing a little too heavily toward the gay end. At least Theory will have an artificial friend when Harvey transmogrifies, I guess, but still. This is bugging me. Also, I want Johnny's "kids" to have more babies. But again like real life, can't really influence that.
While we're on the topic of family values, here's Theory's other dad.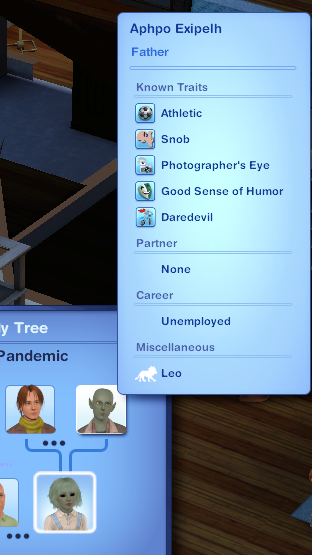 Theory leaves school wearing different clothing than what she arrived in (and still totally inappropriate for the island climate).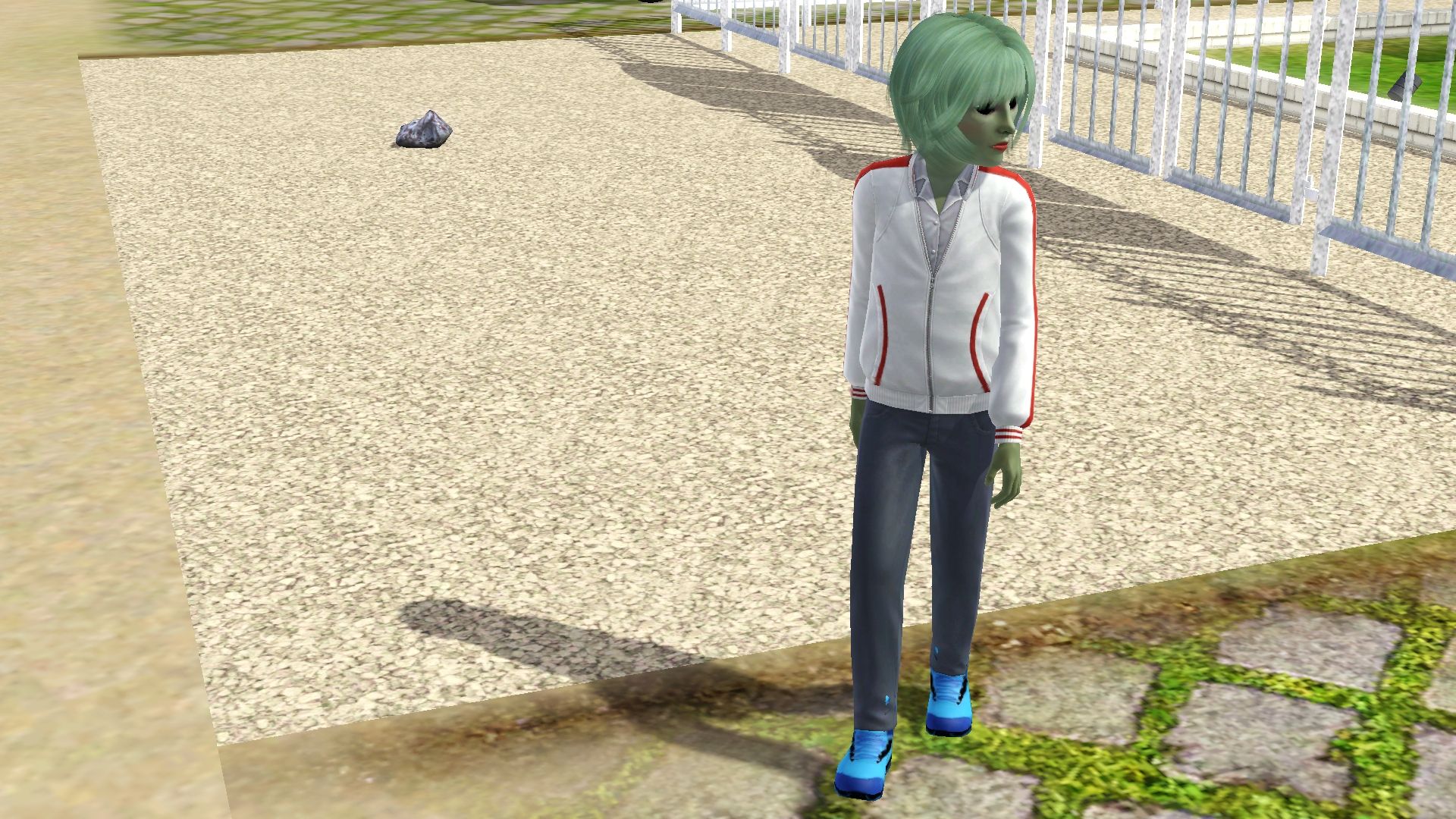 She arrives home and changes again. If this is the limit of her insanity, it can be lived with.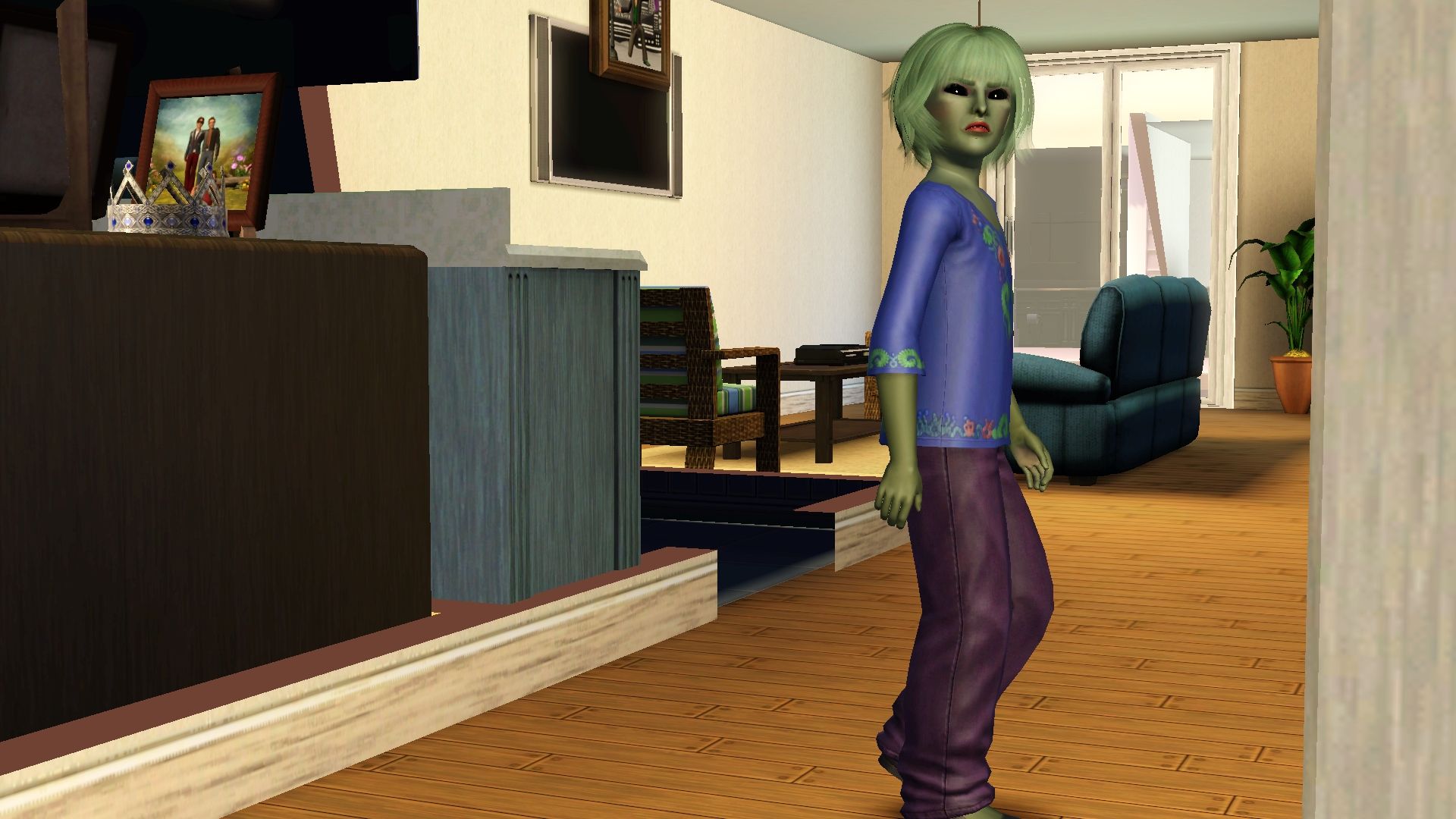 Later on Johnny comes back to visit Johannes and Christal. Christal is... um... an elder.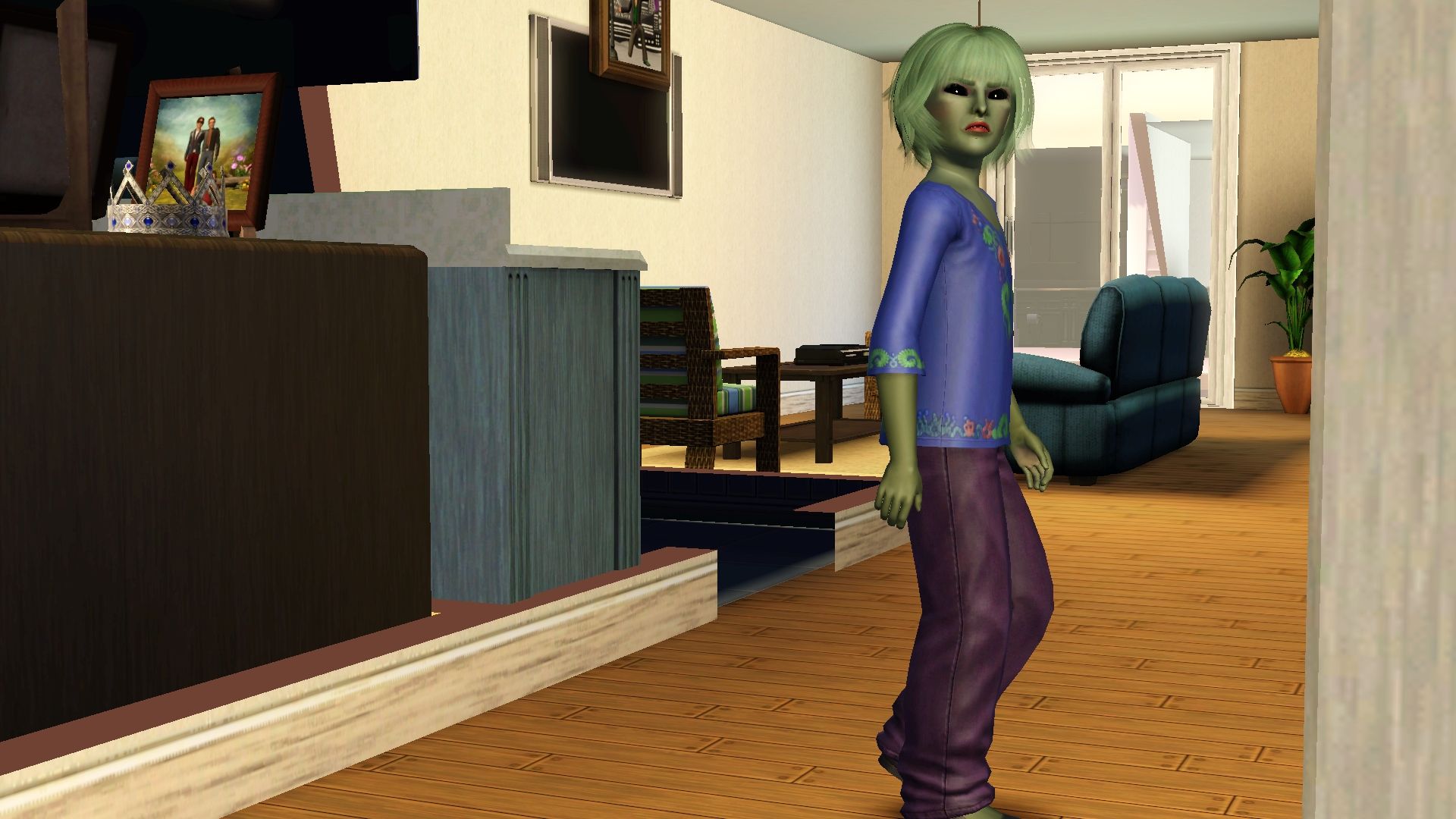 And so is Jo. :( Oh, time is flying.
"Oh, man, is that what I was going to look like? I'm so glad I invented a stay-young-forever potion."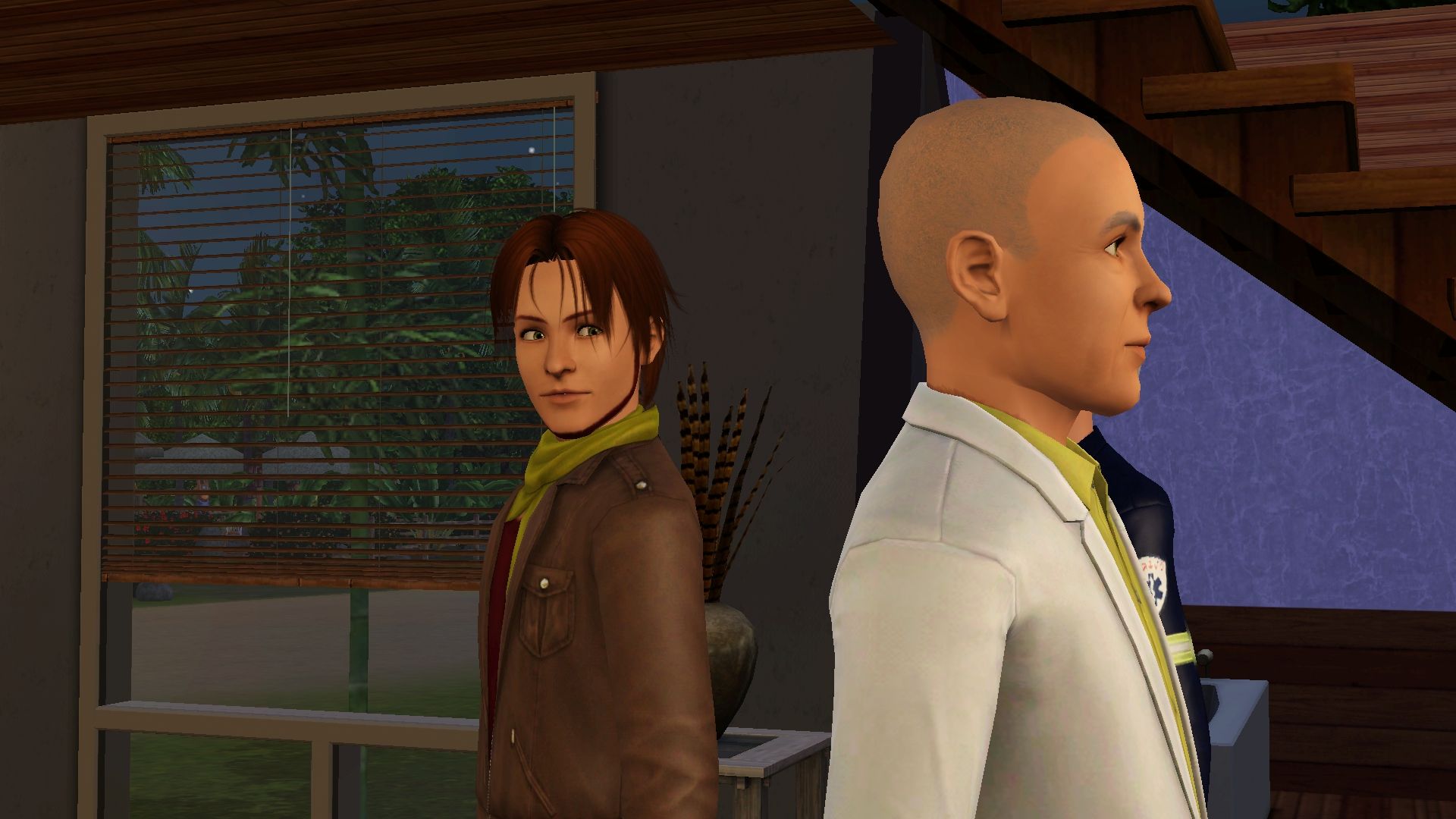 And Theory finally starts playing with Harvey. I don't know if she had to be a child to do it; Harvey was stuck on the crib for a while, it turns out, so maybe that was it too. At any rate, I hope they grow up well together.
Johnny finally noticed there was mail (he got "never pay bills again" perk) and a lot of it is from Keno.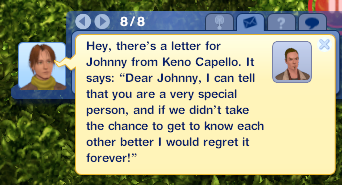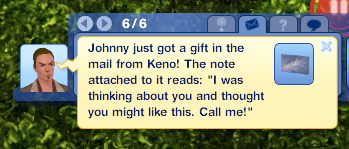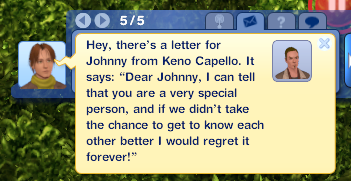 Jeez, there's nothing but creepiness going on! Also, it looks like Keno may have moved from YA to Adult now, since his hat is missing.
Here's hoping that things settle down a bit and Johnny's kids and their spouses stop hitting on him (Don, Christal, Keno - now I'm worried about Torrey too). Maybe it's time to ship Theory off to boarding school and take a long Egyptian vacation.