Previous episodes are
here
.
Continuing the further adventures of Johnny Pandemic, right after he got a tour of the stars and finally gets some time to himself. Or does he?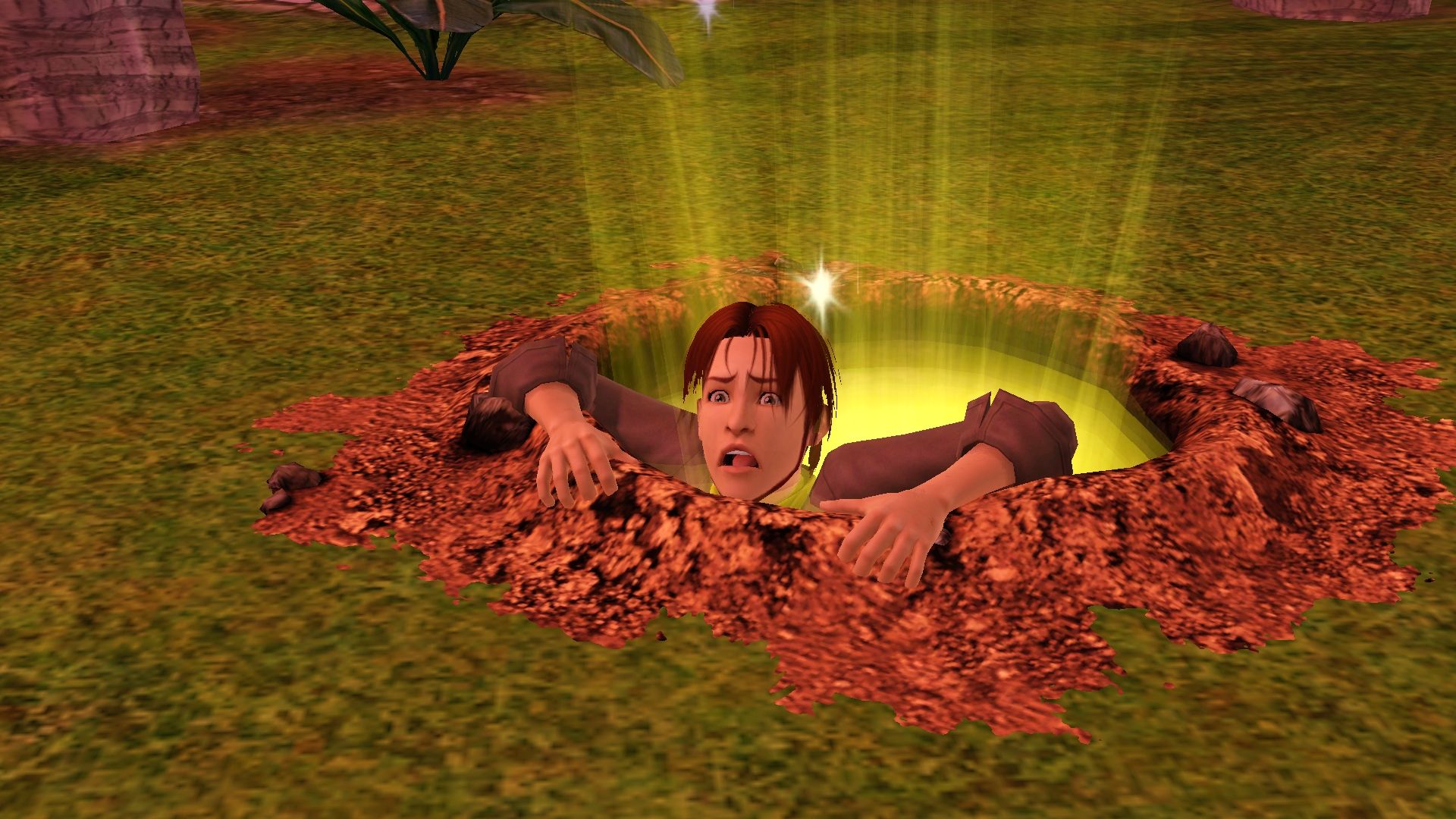 When last we left poor Johnny, he was about to experience a free round trip into space.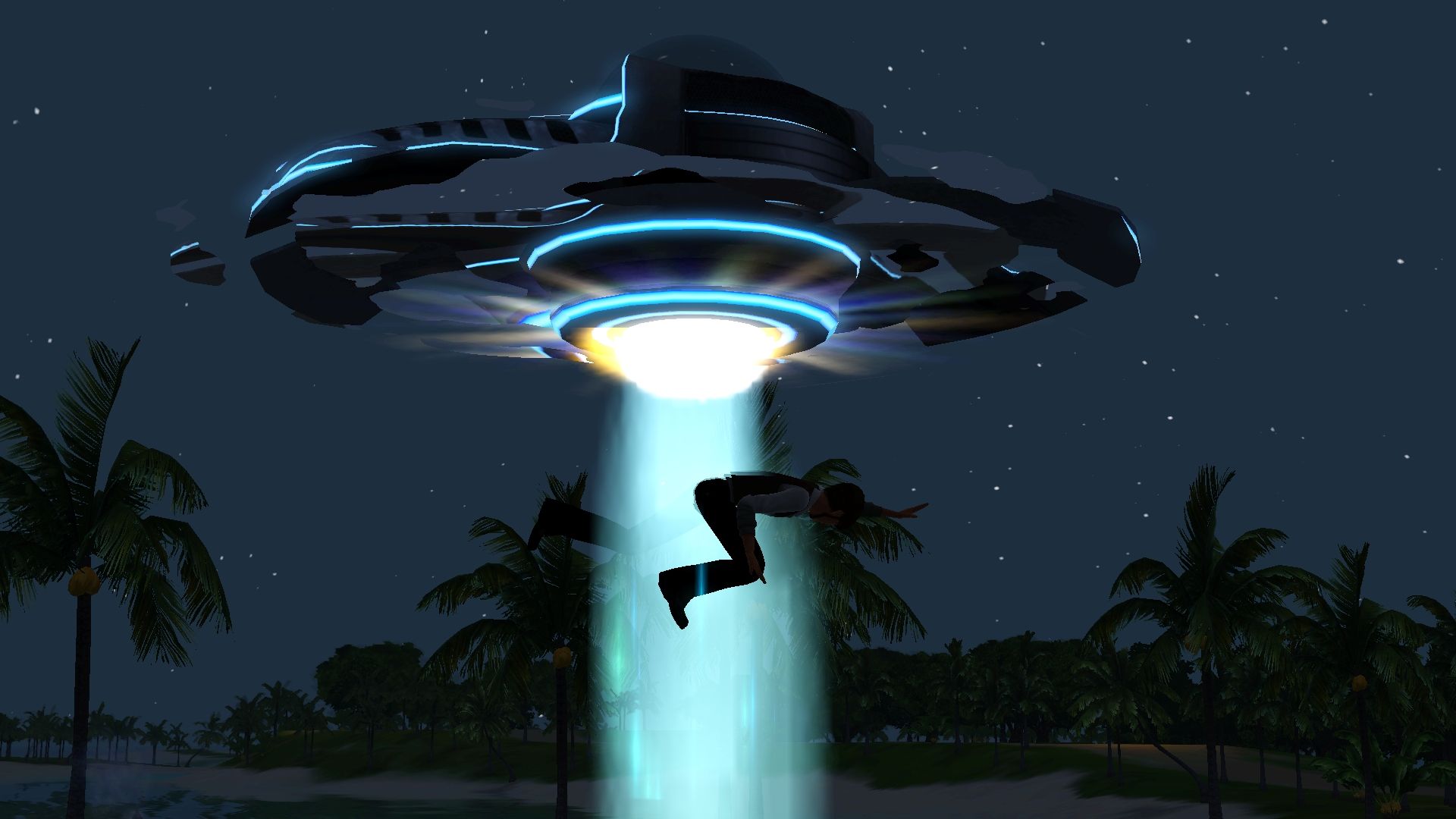 He came back very unhappy with being abducted and shipped out. And I felt bad too. :(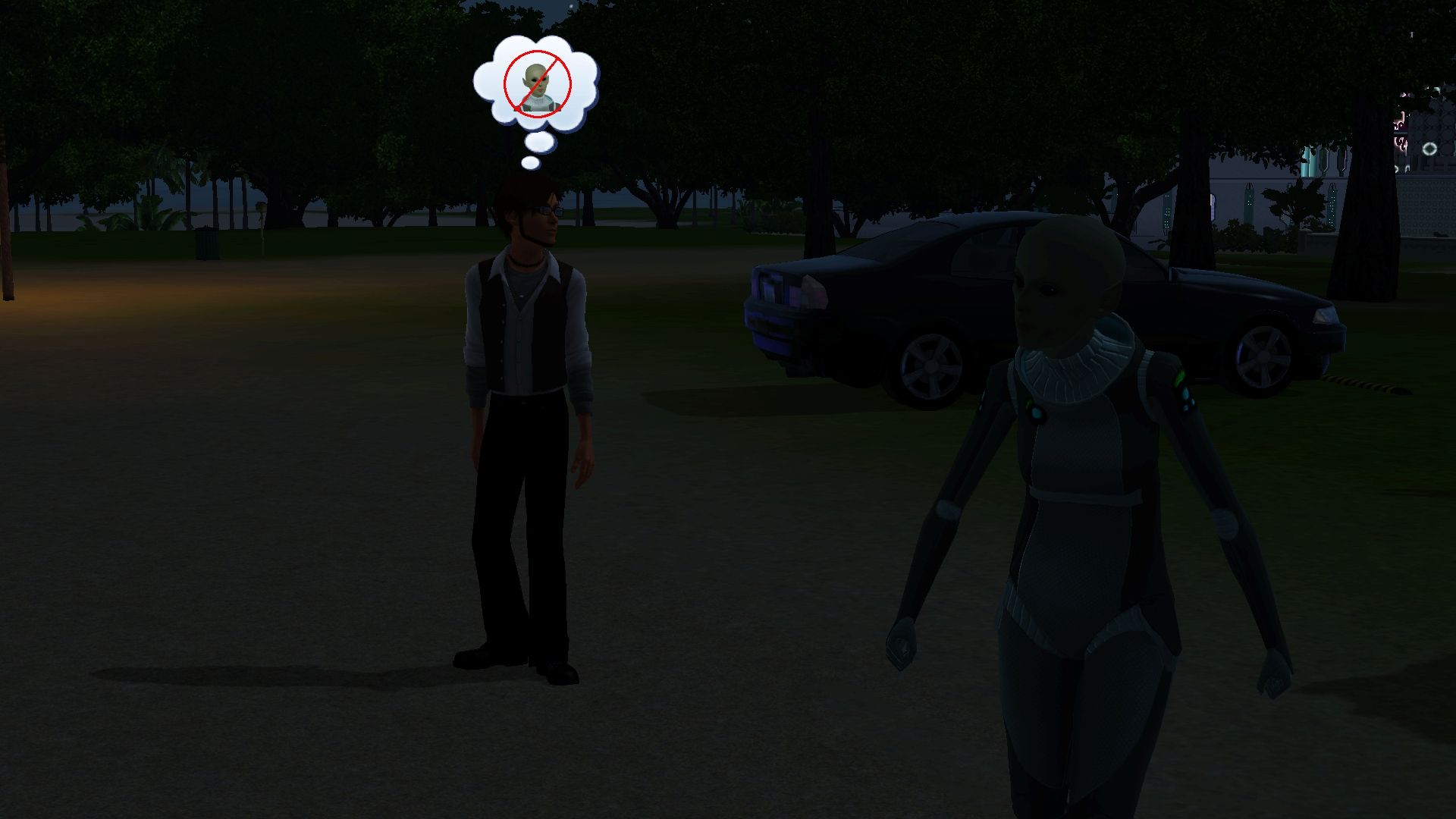 They also left behind a big space rock, in case he wanted another go, I suppose.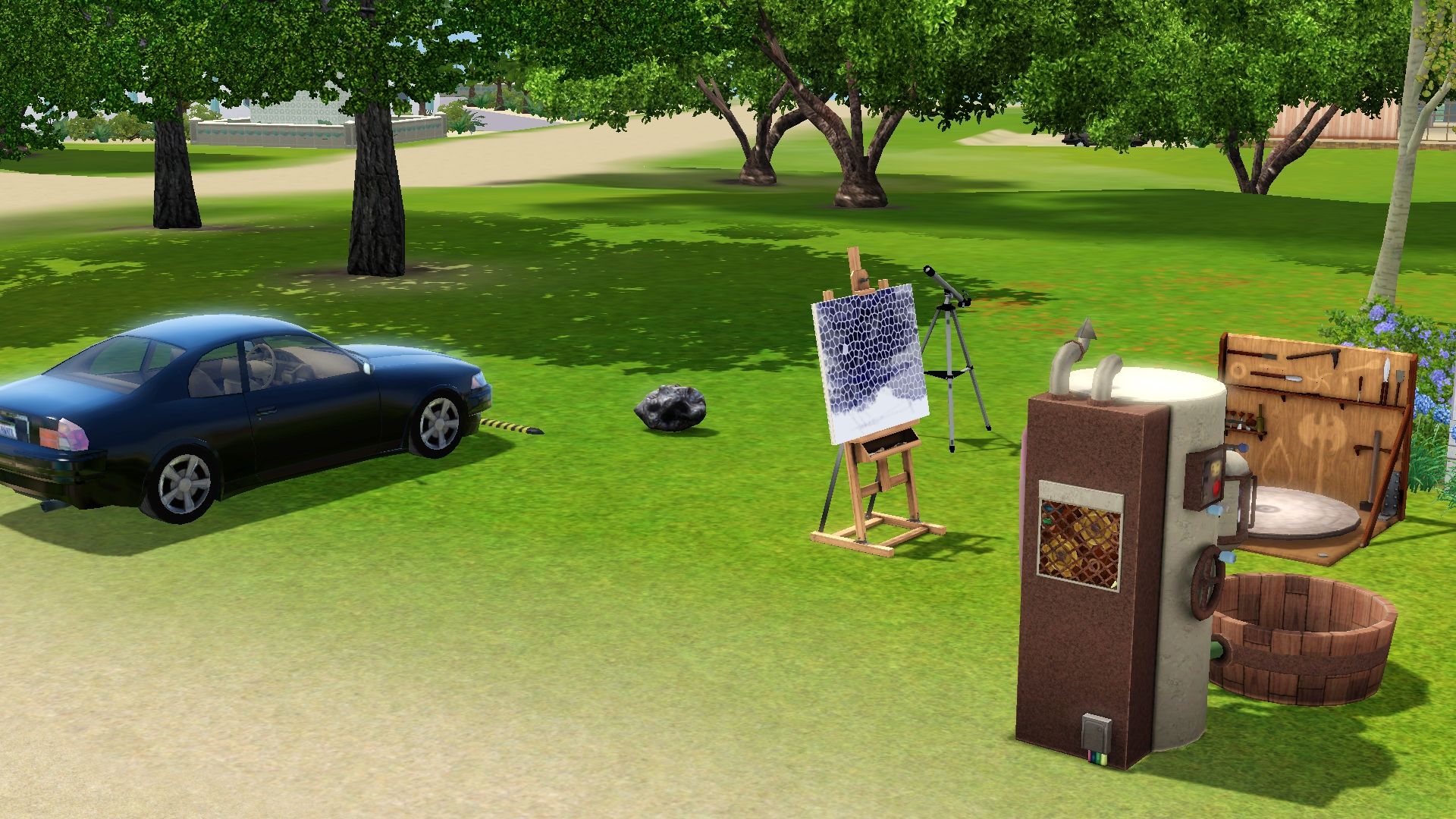 "Yeah, no. I'm going to move away from here so they can't find me again."
Johnny, you're a celebrity, of course they'll find you. But it's time for a bigger house anyway. Johnny has well over $100k in cash and truckloads of stuff to sell, so he can get a pretty nice place.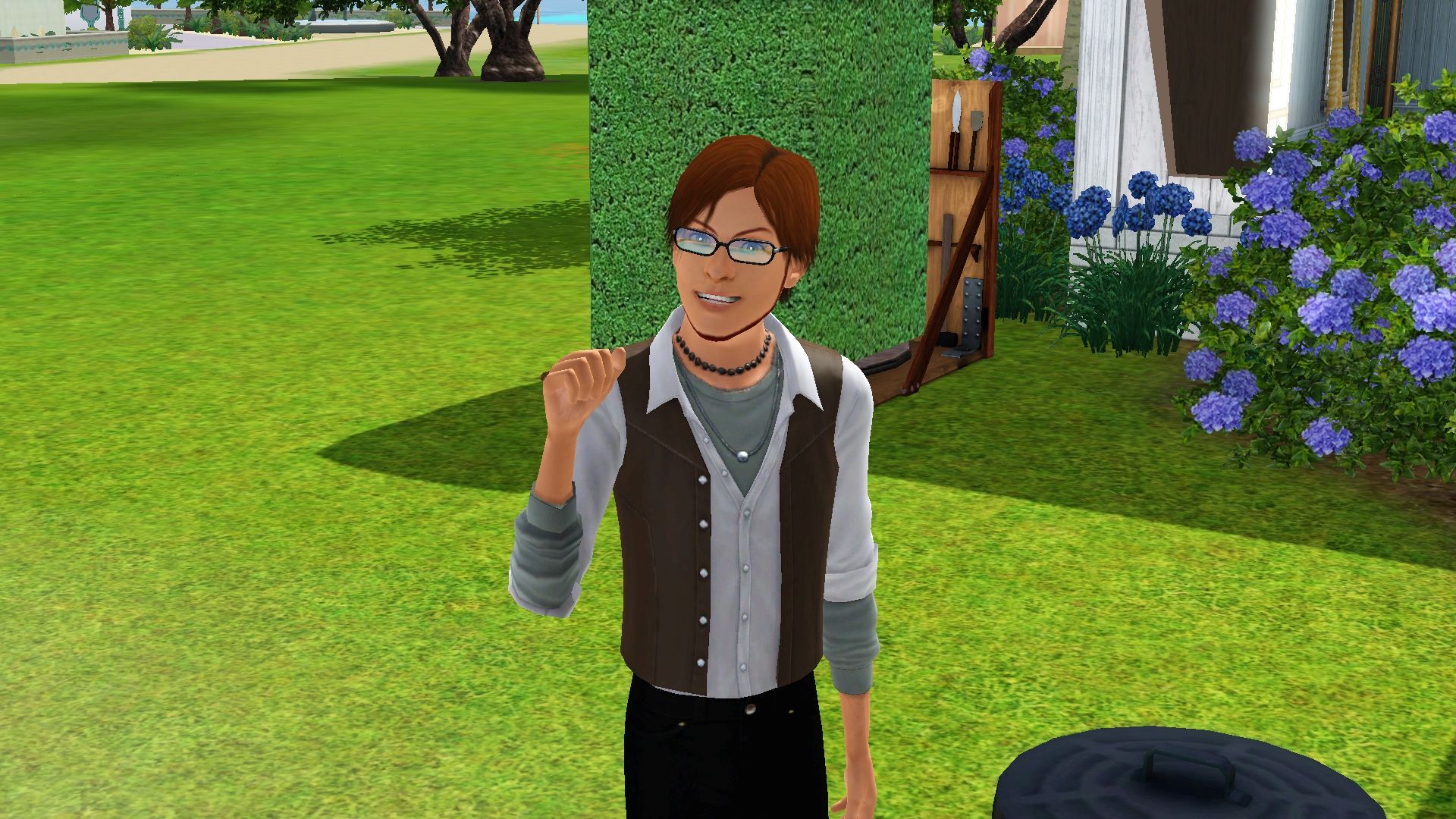 One thing I'm not happy about is the inability to look at a house before moving a family in. Maybe I'm just doing it wrong (entirely possible!) but all I seem able to do is get a good look at the outside. I can't tell if it's furnished or if so, how, and so on. Frustrating. Johnny doesn't share my irritations, though. It's a new house!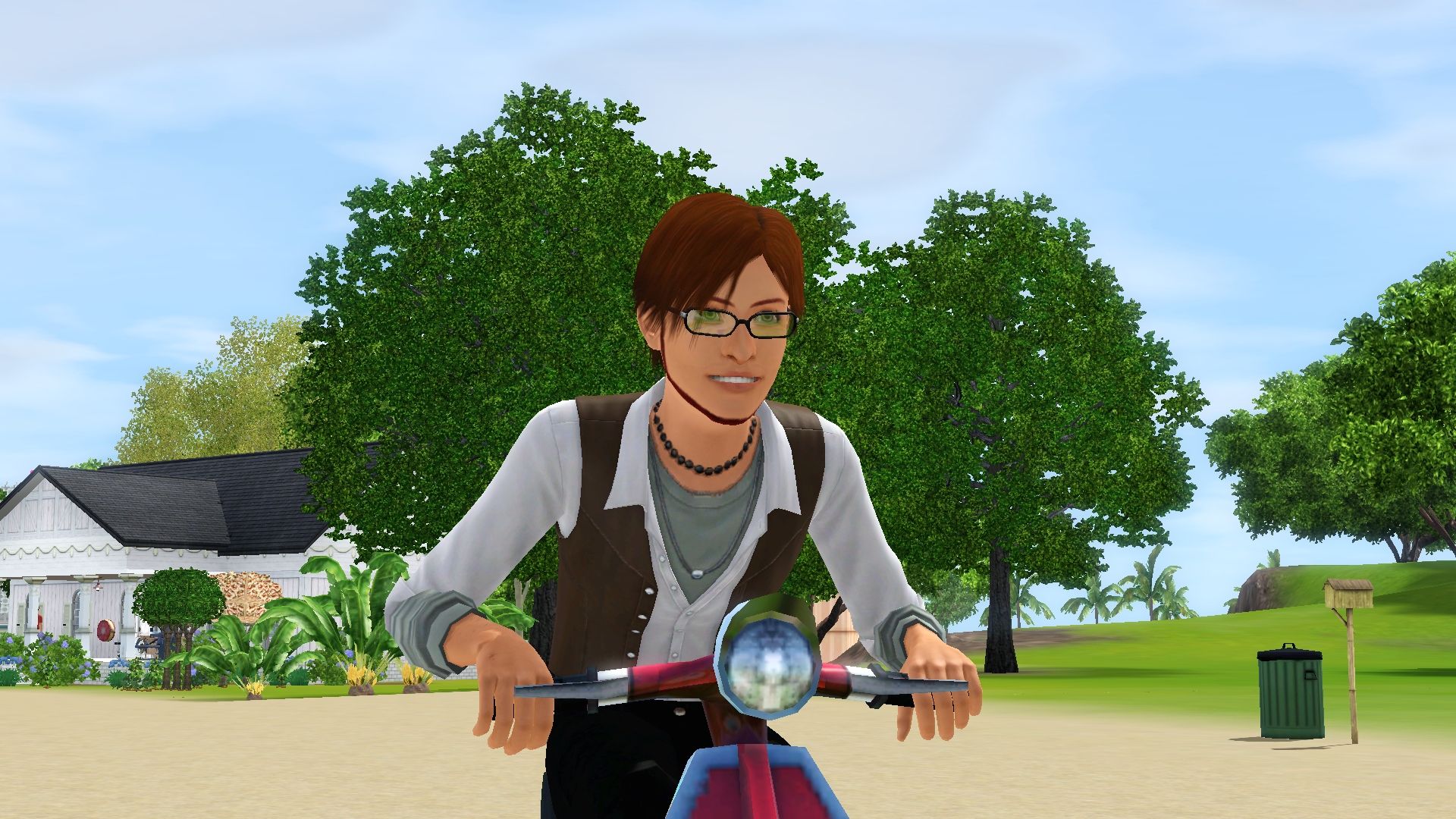 So once he's bought the place and moved in, now I can get some pictures of it. It's 3 bedrooms (three doubles) and at least two baths.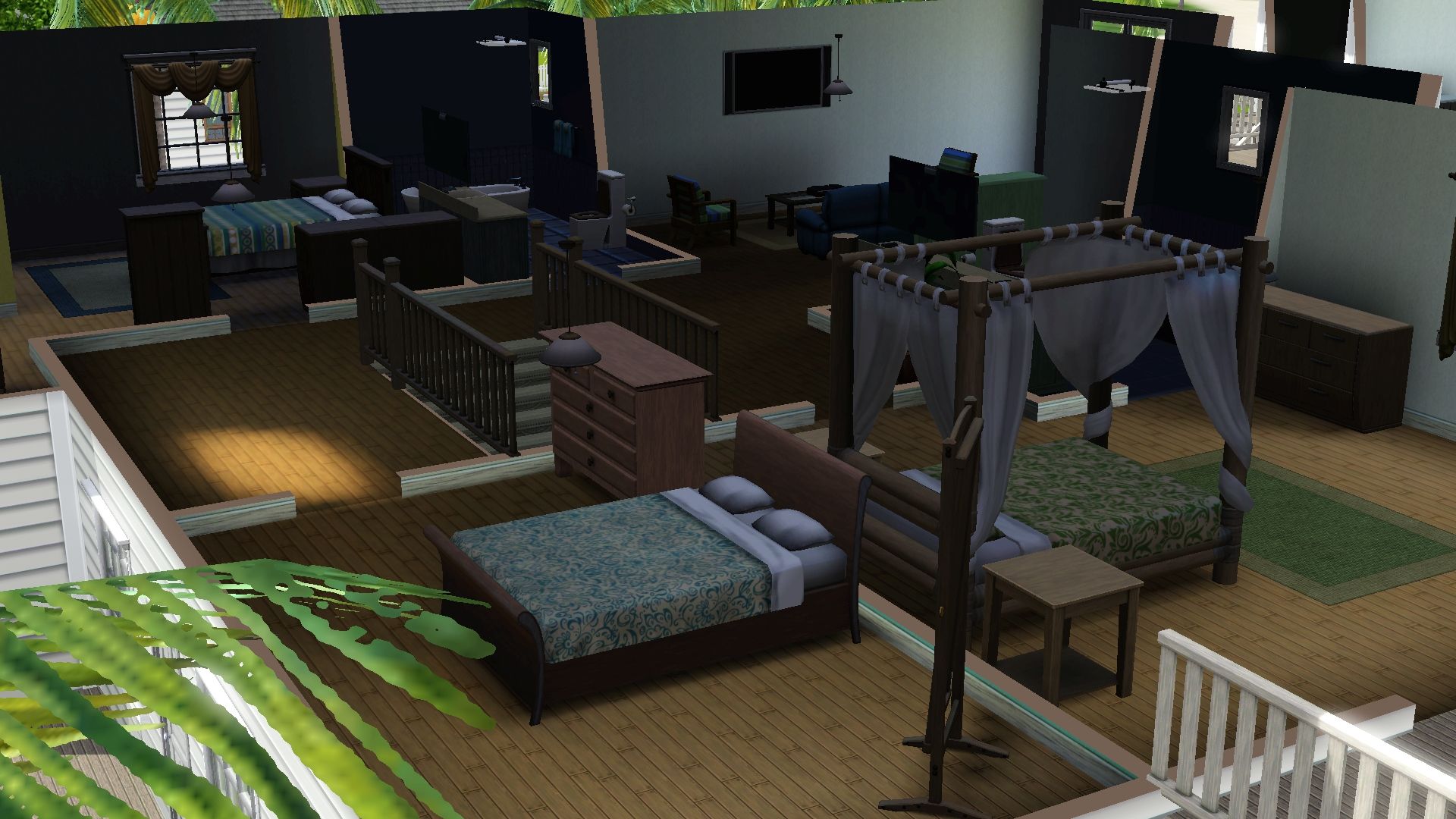 A dining room that probably won't ever get used (Johnny tends to eat the produce straight out of the garden/inventory or go out to eat for free), nice living room, etc. In the back is the on-site spa.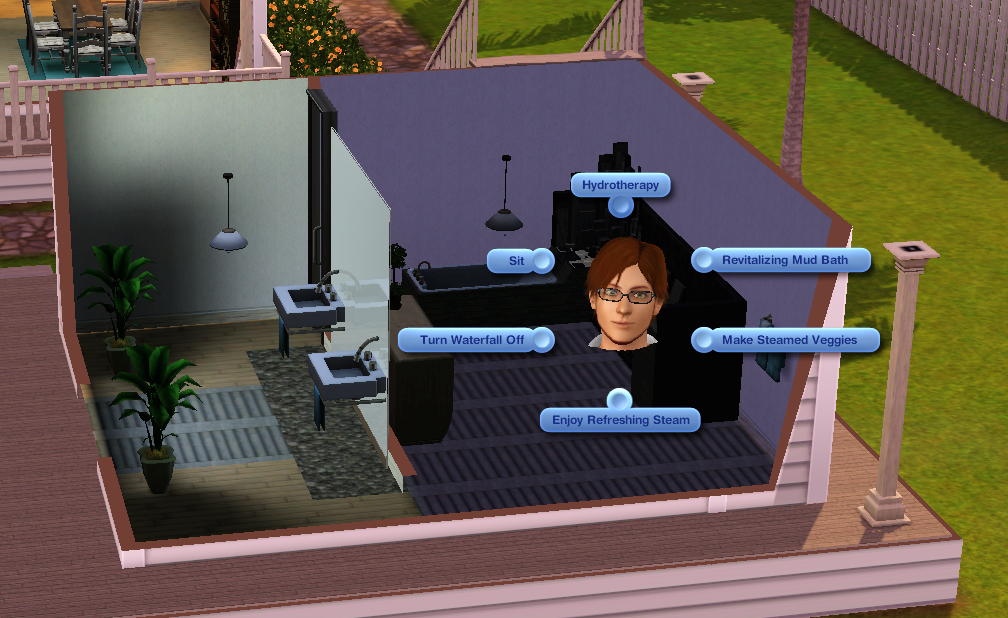 There's a small landscaped area and a pool. Johnny gets the plants going, sets up the time machine, miner, nectar maker, etc. His easel and workbench are on the porch. He brought a telescope but the house came with one.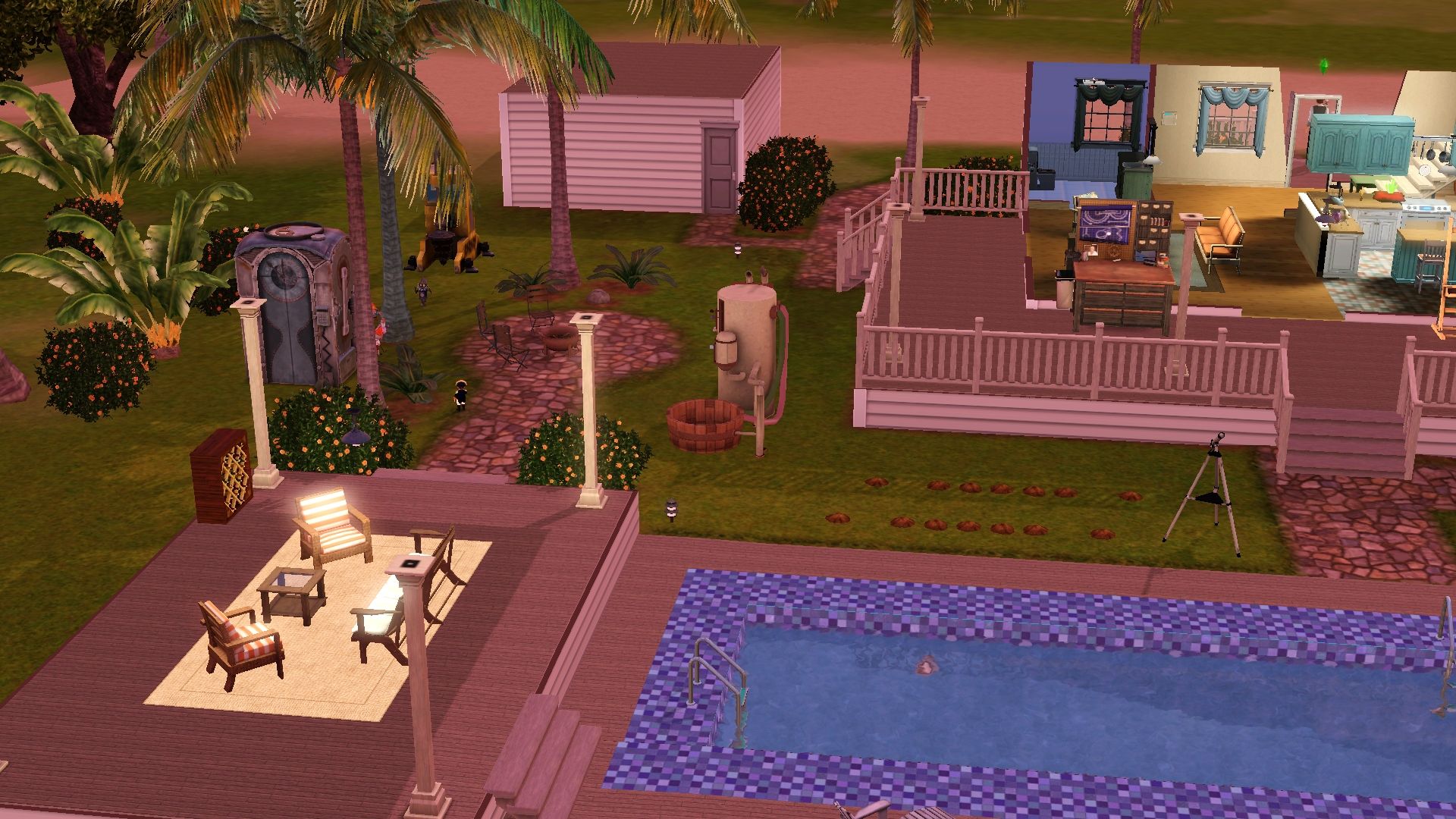 I'm sorry, Johnny.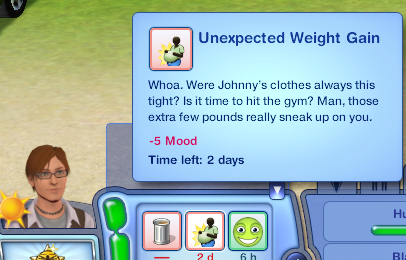 And plenty of room for the gnomes! Yes! They're back! And they also include Leon Napoleon, who I guess Johnny picked up in France somewhere. So now that's 10 gnomes that I know of.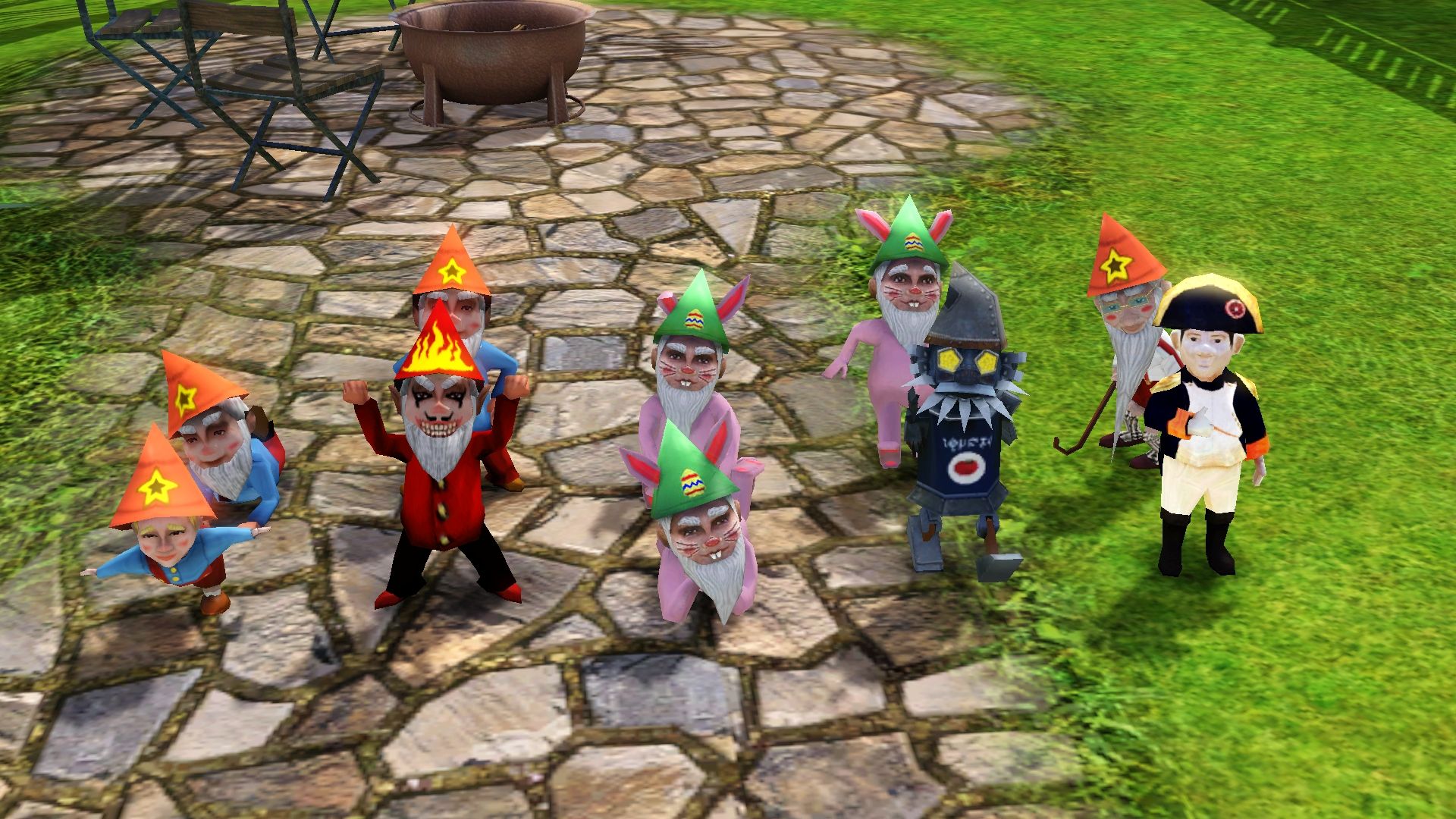 Let me tell you, they were crazy active for the first couple of sim days. Constantly roaming around. Glad to be free of the confines of inventory, I bet.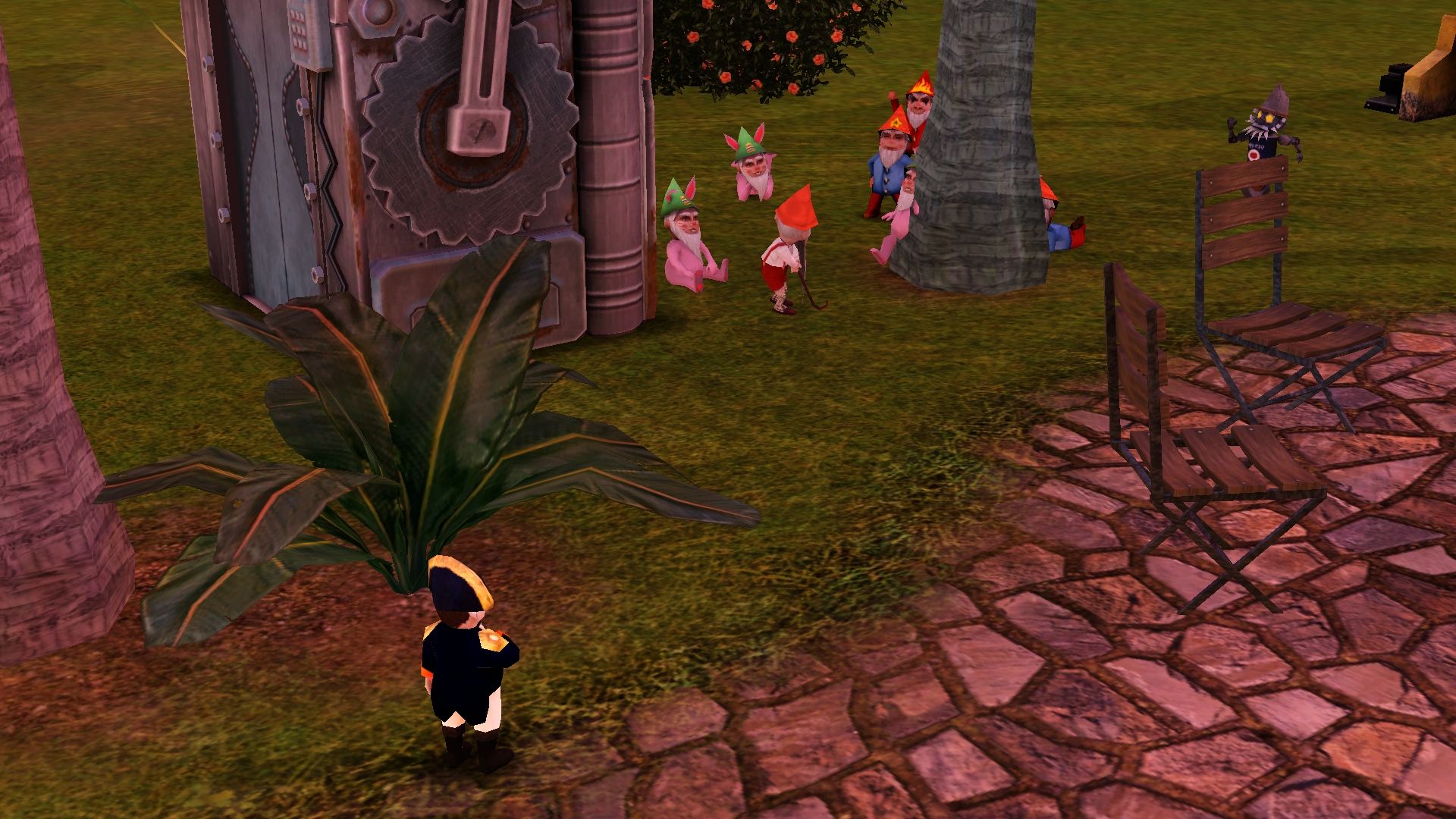 I mean
crazy
active. The lot's bigger though, gives them lots more room, since there's so many of them.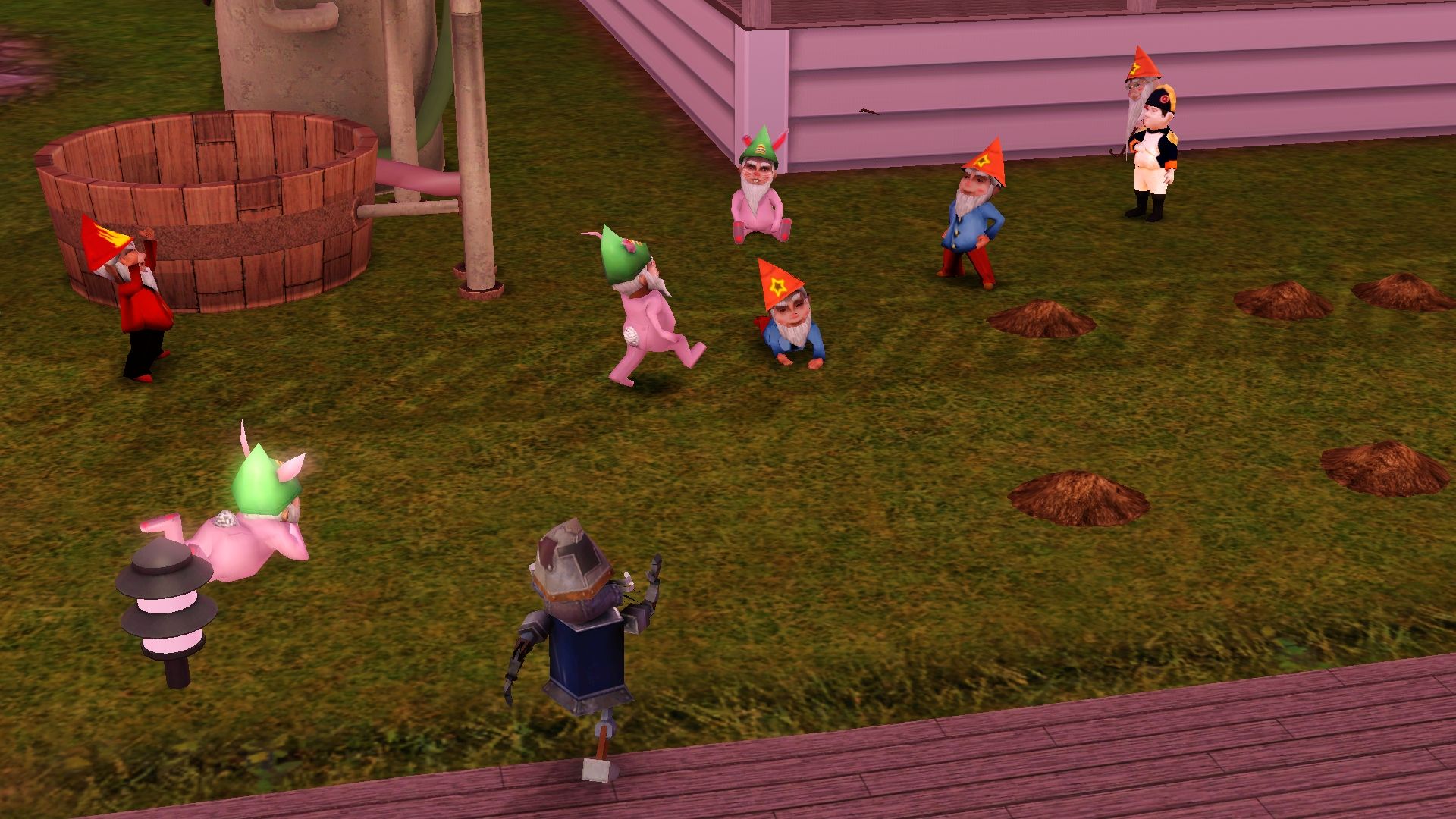 Johnny tries to do some mining for that pink diamond, since he doesn't want to go out right now and all. But he can't explore the cave for a while yet either.

Burton (Johnny's grandson) comes by to see how his eternally-young grandpa is doing, and to ogle the new house.
But Johnny isn't letting anyone in because he has that Unexpected Weight Gain. And that makes me sad, actually. I know he's trying to keep up his spirits and not let it get to him, but he's got to be very upset under it all.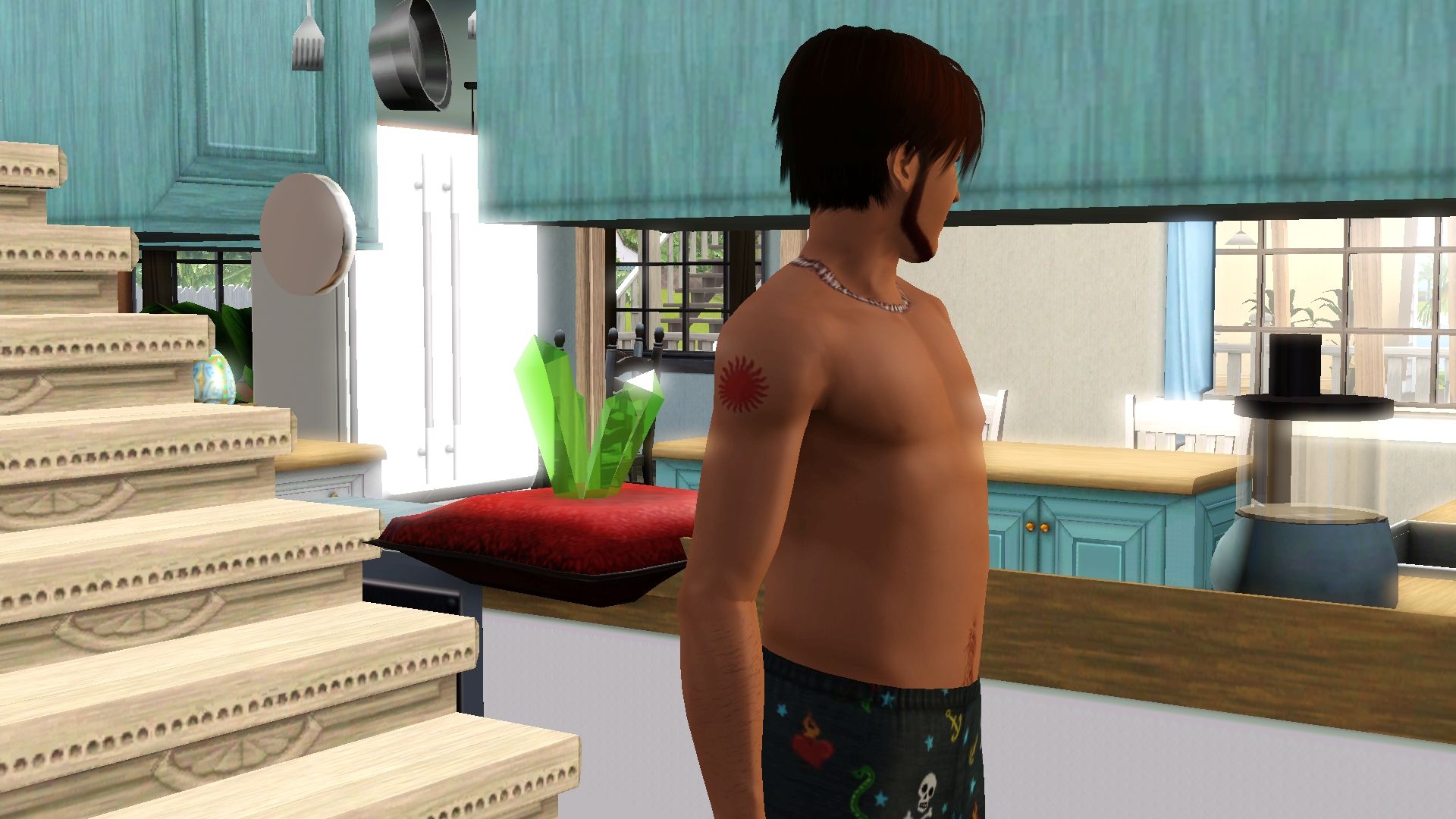 On a more academic level, it's interesting to see how the sims change during pregnancy. In Sims 2, anyone pregnant just got a slightly bigger stomach. Here, it's all over the body. Kind of disturbing (if more true to life).
At least he has activities to keep himself busy while he hides in his new house. :(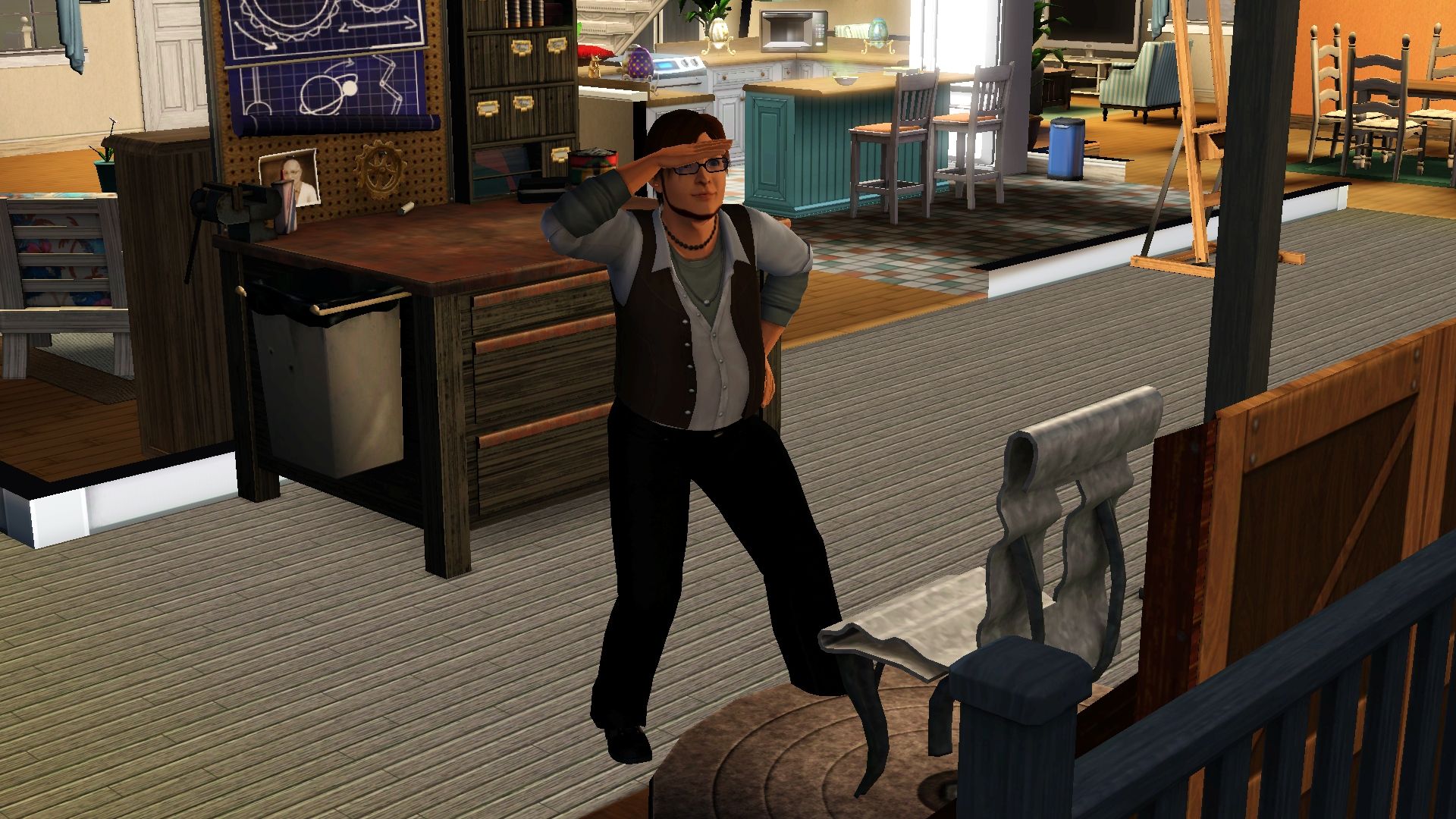 Someone forwards his mail and I forgot how much of this stuff he... wait, seriously? 27 ingots of titanium? Where'd he get all those? Is this a glitch?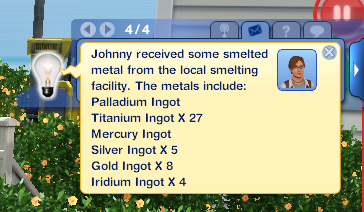 I really don't remember sending those out. Oh well, more stuff to sell, right?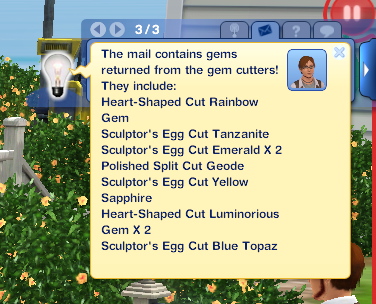 "My fellow gnomes, we must prepare for a long war! Where's our general?"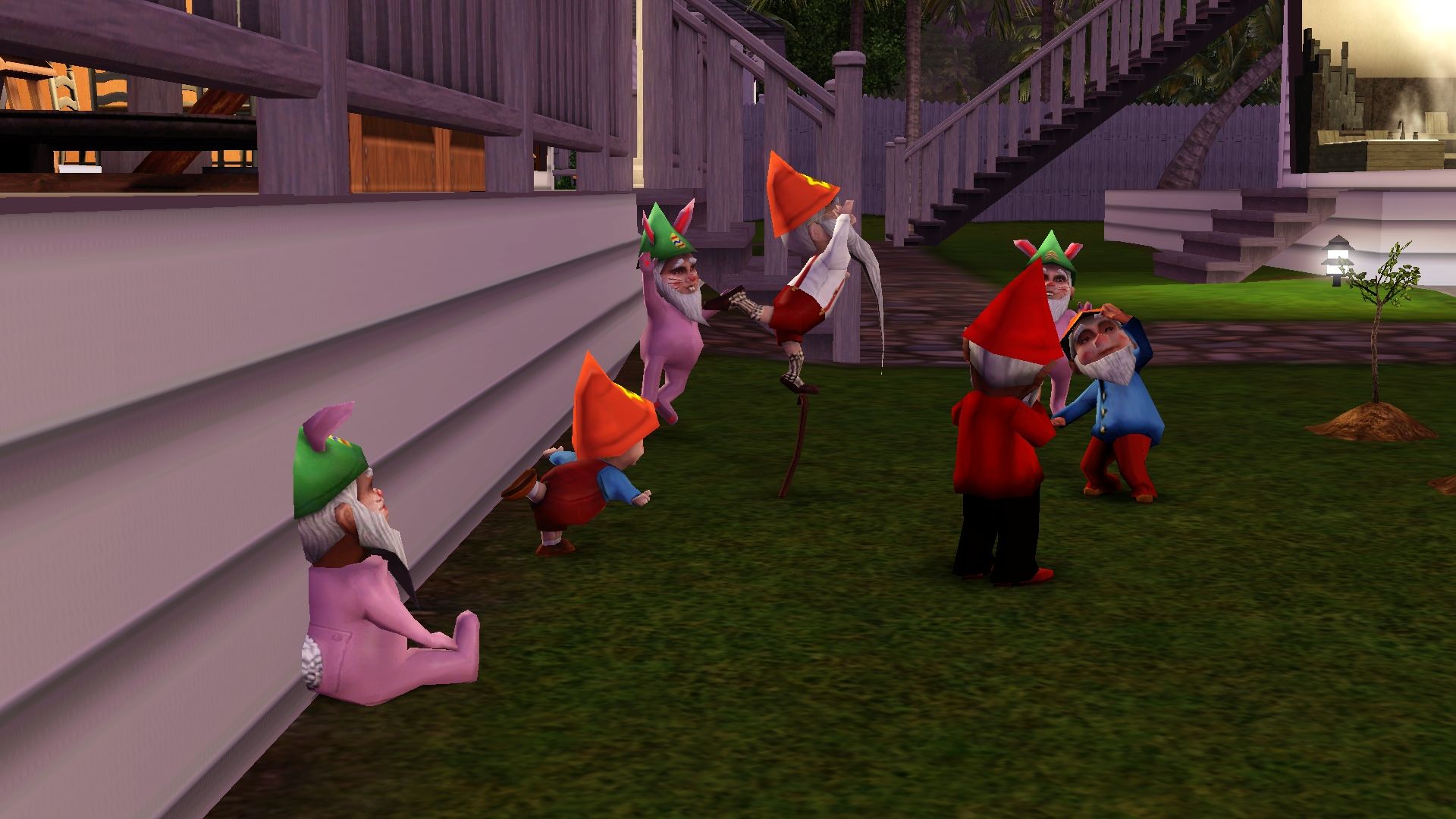 I'm worried about Leon, too. He spends much of his time curled up asleep, and not the good-natured lazy sleep of the other gnomes. I wonder if he's homesick.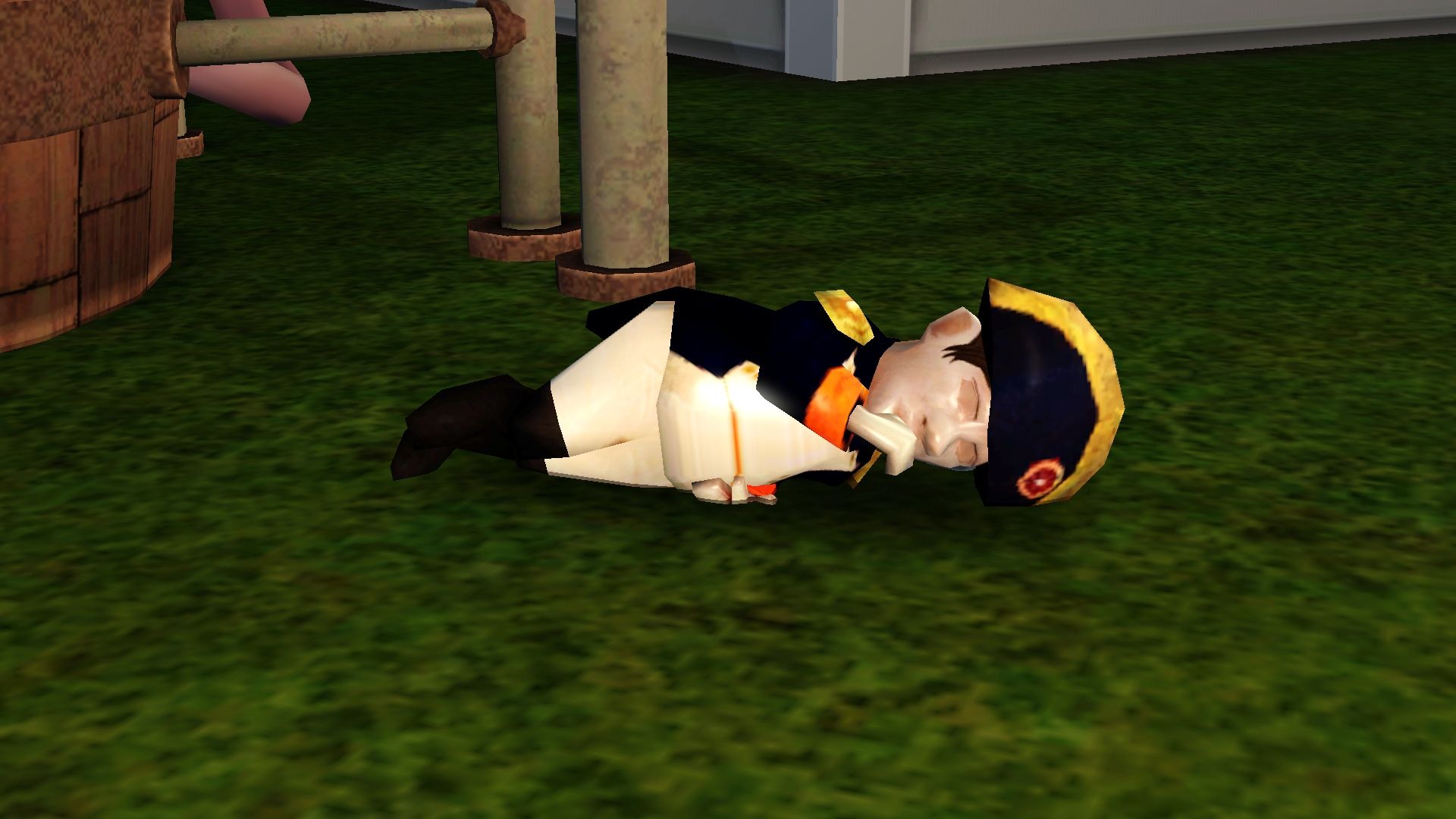 Johnny did leave the house at one point - I didn't know how long the pregnancy would take, and it turns out he can keep harvesting the fruit from the garden at the old house. So I sent him there to harvest, then come home. He stopped halfway home to get out of the car and give birth.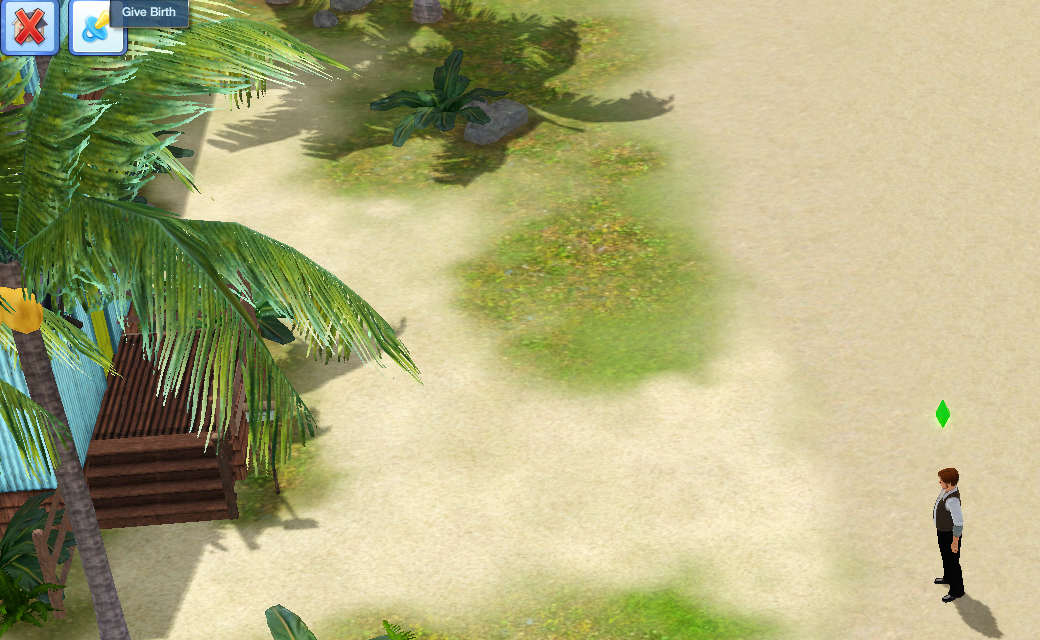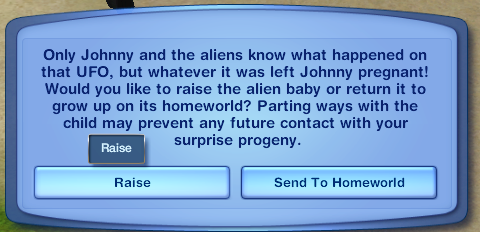 Then before that happened, he was teleported home. I can see why he wouldn't want this announced in the hospital.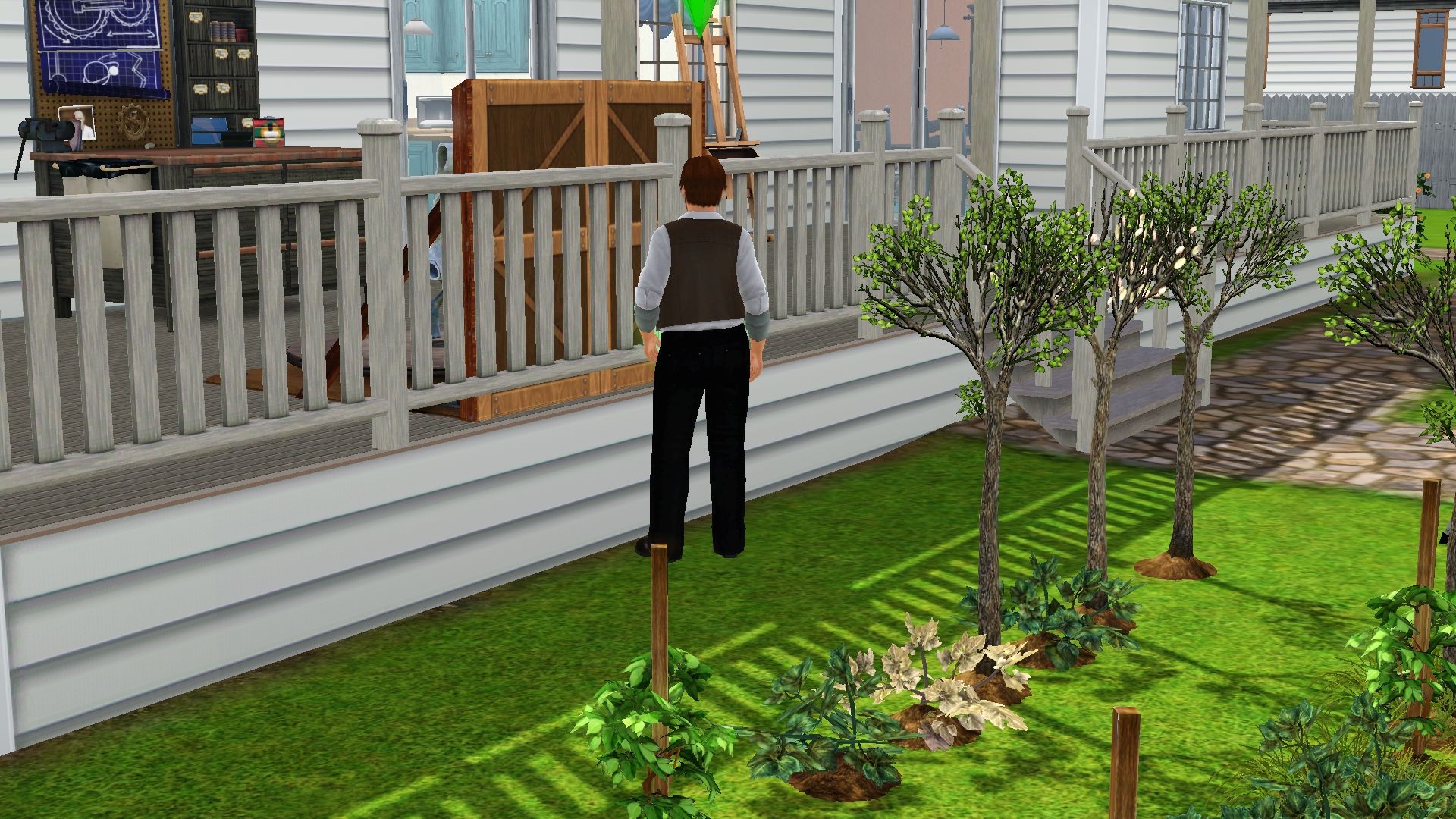 "Gyaah! This thing is the reason?!" I think he did know, actually, but didn't want to admit it.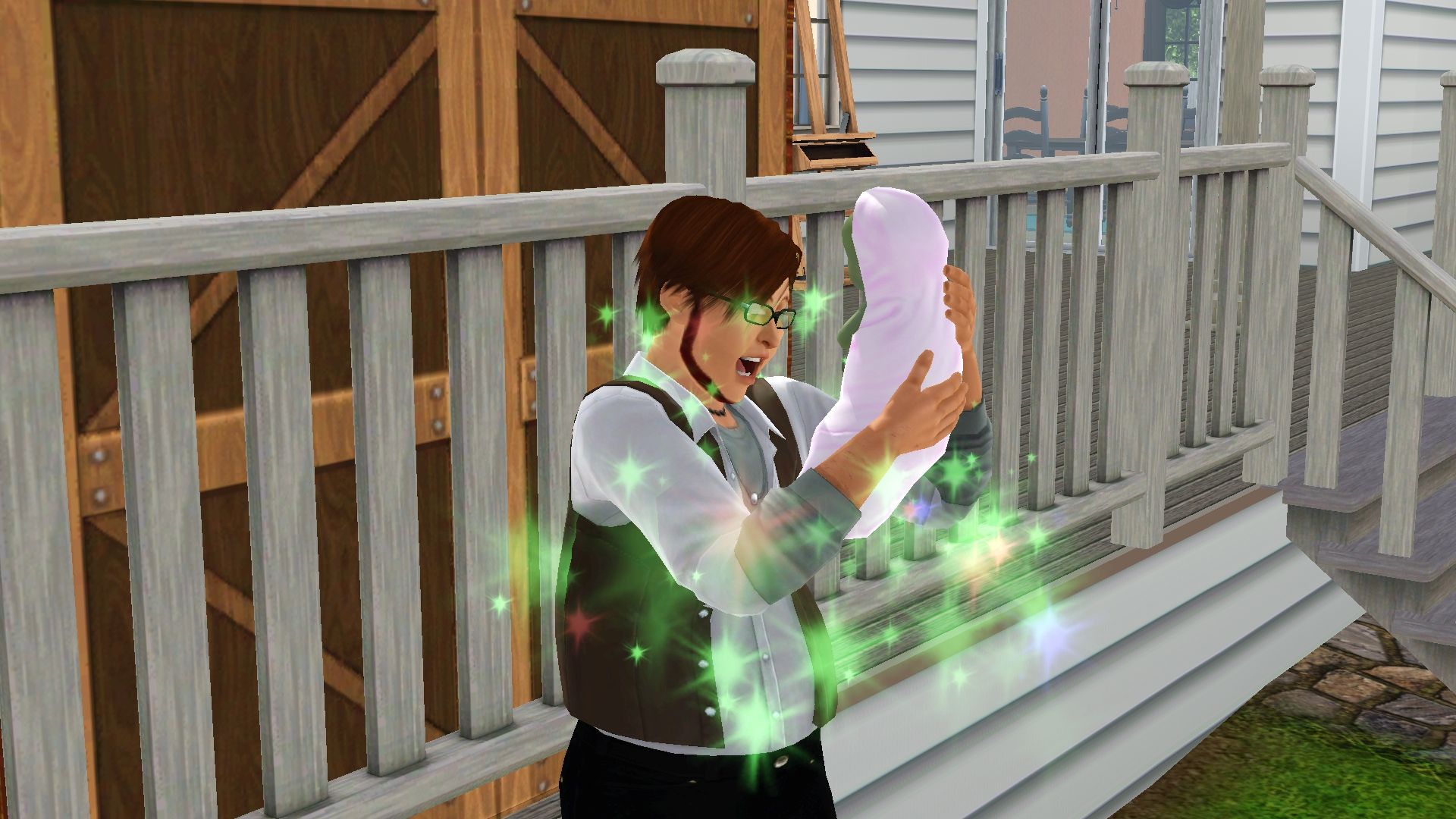 At least the weight melted away quickly. It'll do that after the first pregnancy if you're careful.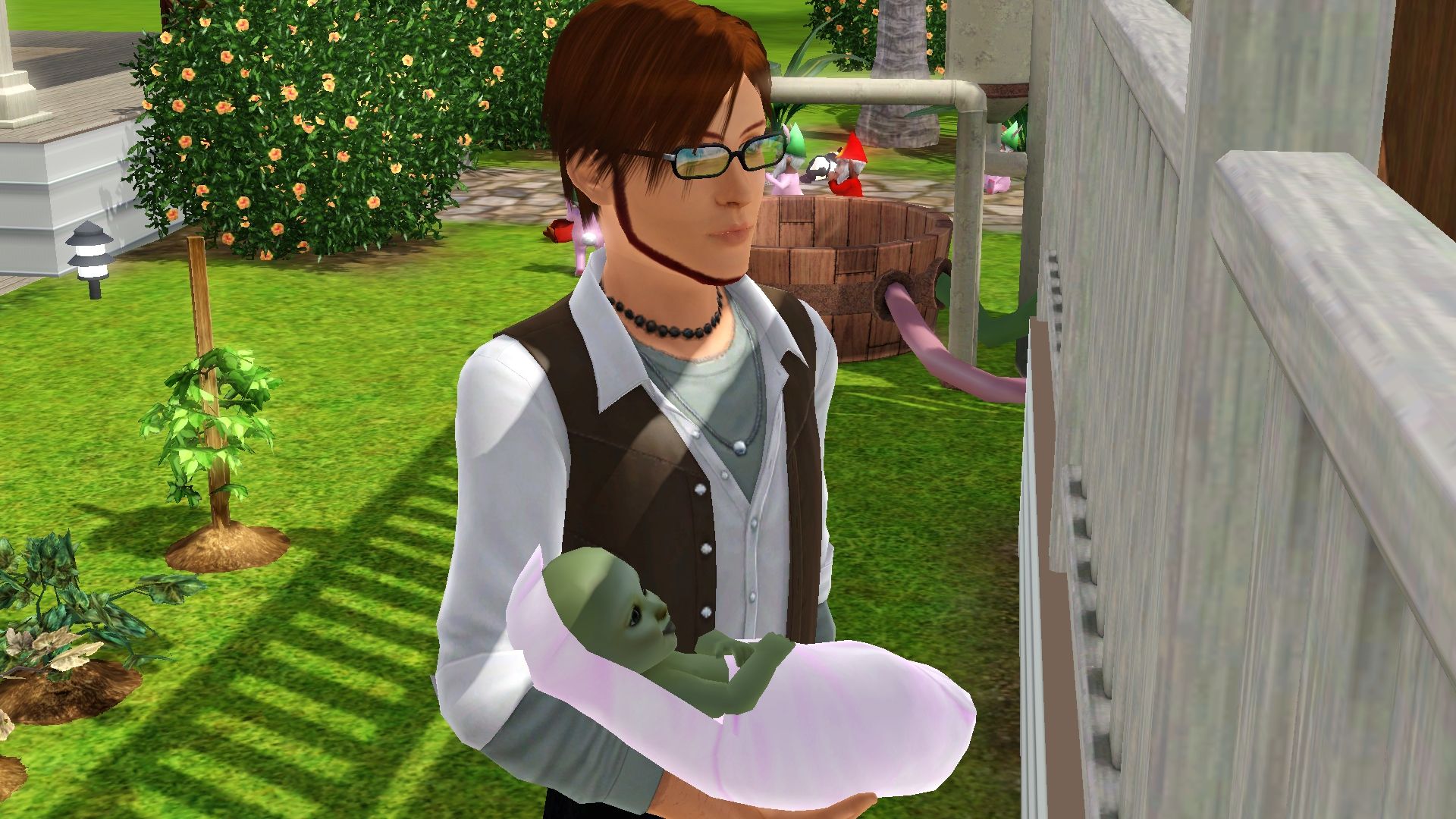 The game auto-assigned Clumsy to the baby, and I random-rolled for the next one. "Insane" came up three times in a row, so that's what she got. No wonder the aliens want to dump their babies on other species for hosts.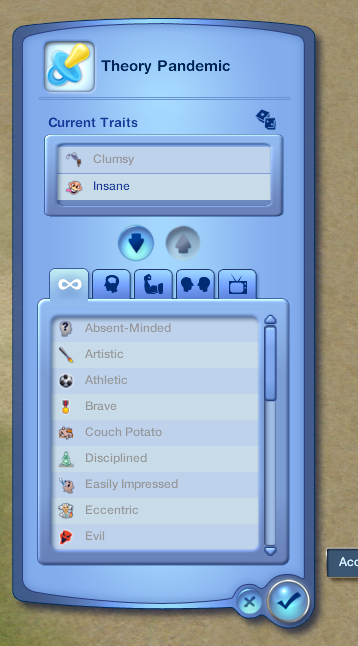 Oh, and her name is Theory.
A crib is set up in the other bedroom (Johnny enjoys his quiet rest).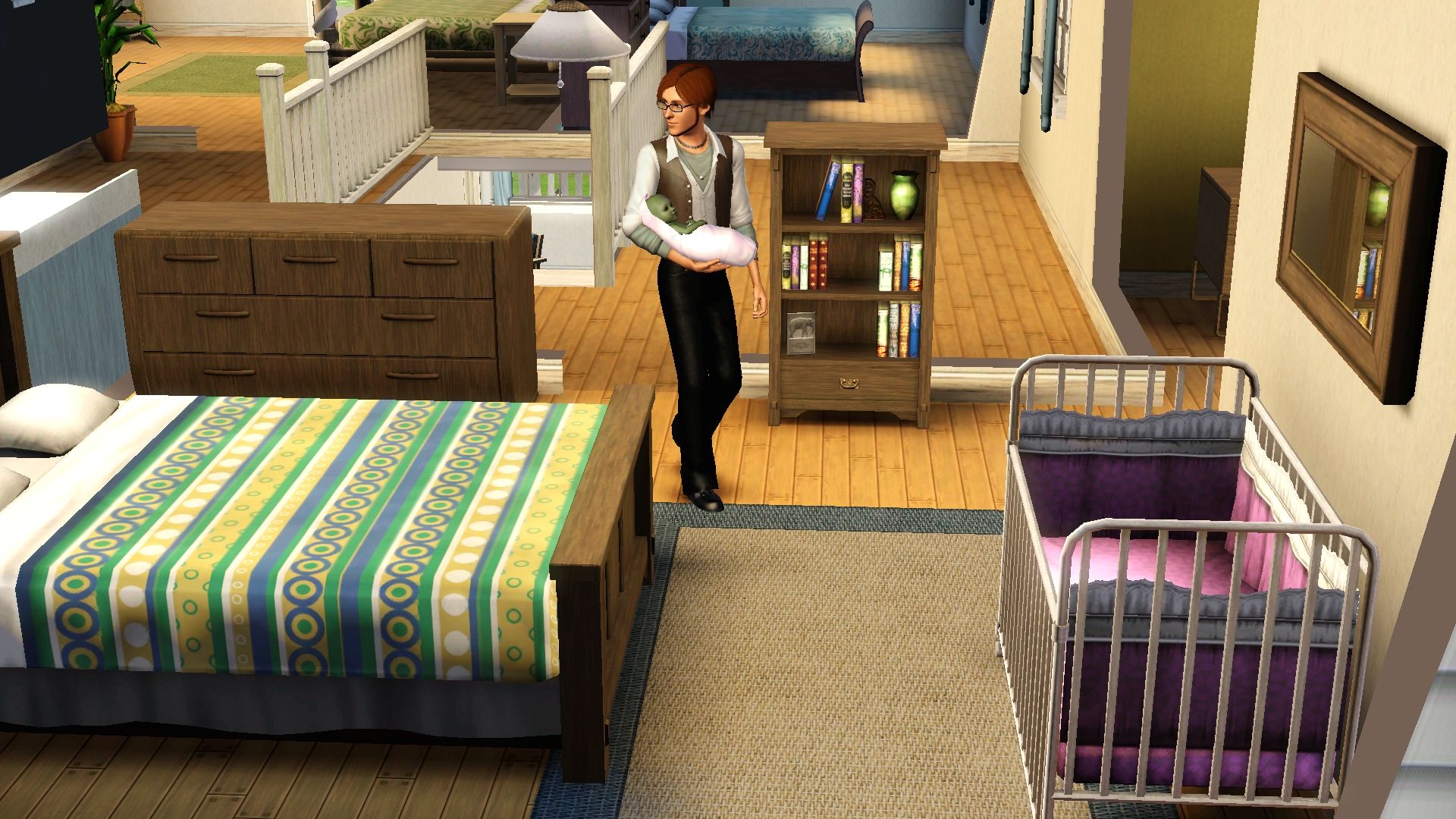 Like Johnny, Theory is quite pretty.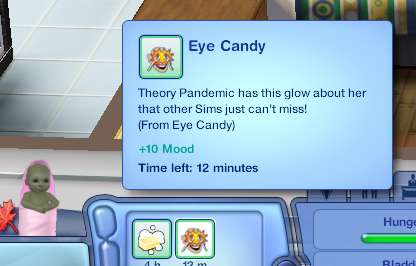 I think he thinks she's okay, but not really what he wanted in life, now or, well, ever. He cares for her but not in the same way he cared for Johannes. I don't think he's as emotionally attached to this one.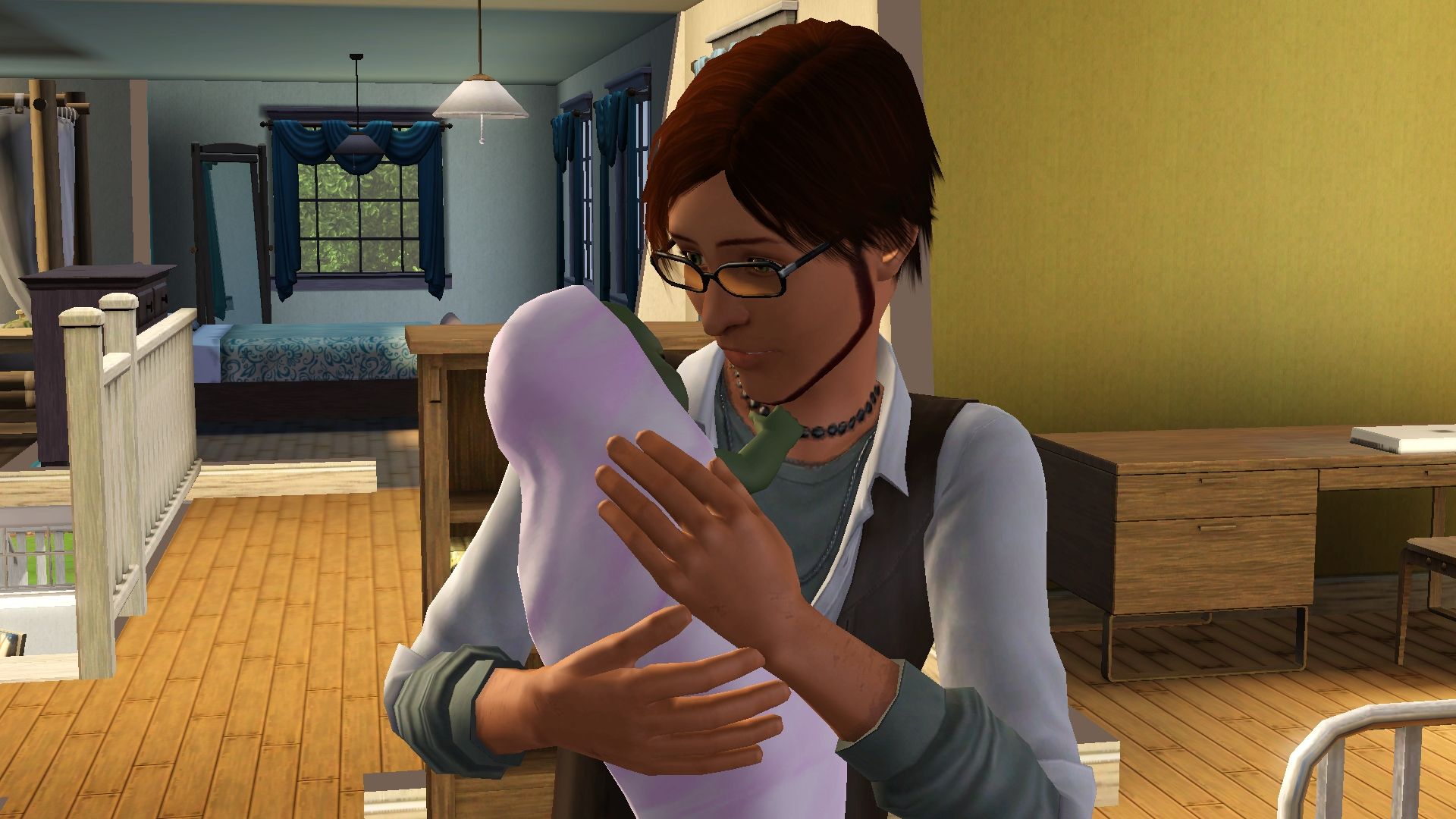 Since things have changed once again, it's time for a spankin' new wardrobe and hairstyle. Gone are the brainyspex and Johnny has let his hair grow out a bit extra-shaggy. His clothing choices lean heavily toward hipster. (I got a free set of SimPoints for the store and have been buying new hipster clothes just for Johnny.)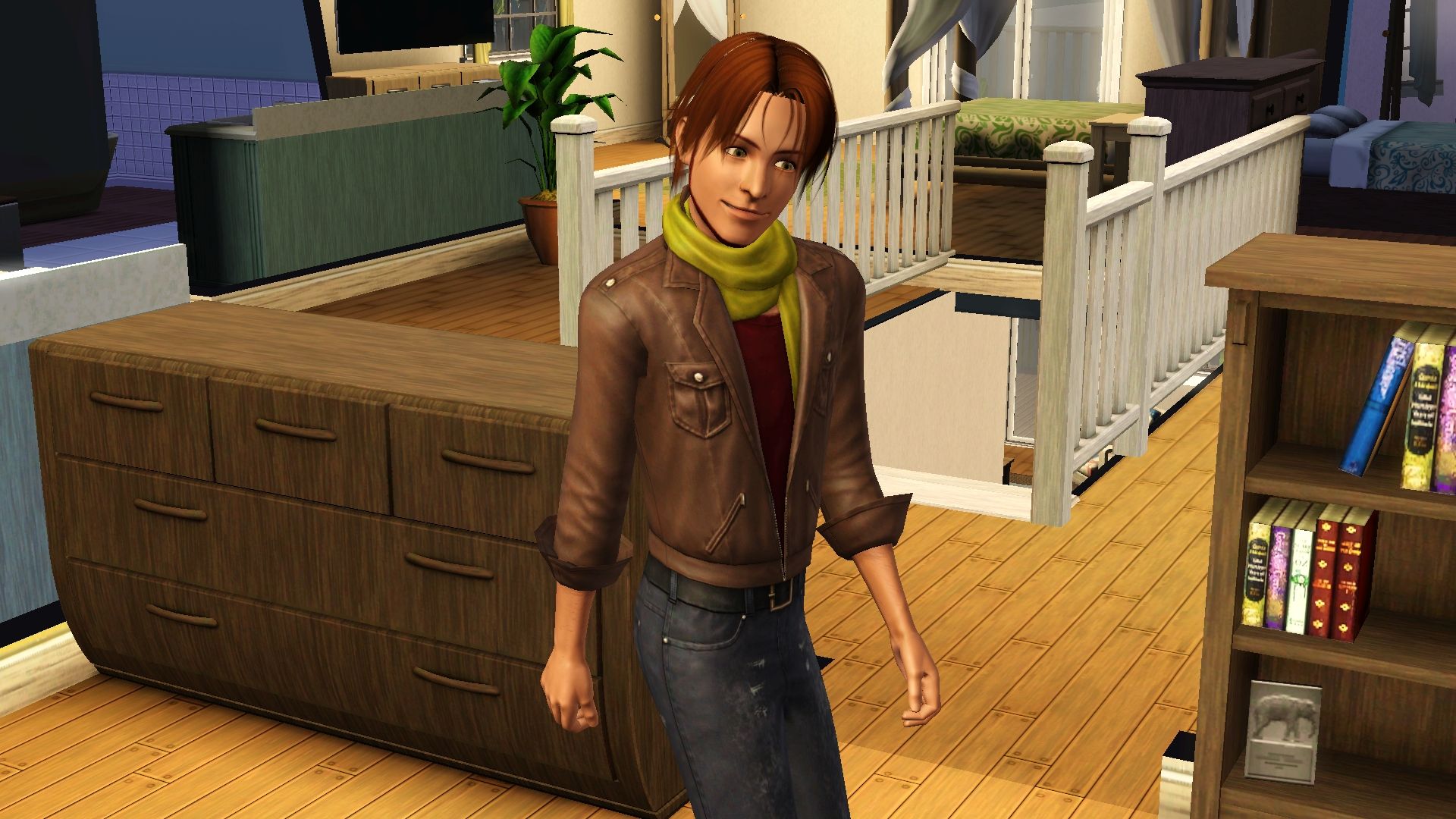 Yes, I thought of Eugenia Bendett from
madame_ugly
.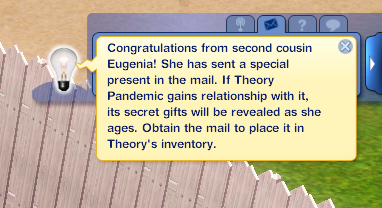 Yep, an imaginary friend. Though it came named Hester, I renamed him Harvey and declared he shall be a boy, so Theory has someone to marry when she grows up. They'll already be best friends and it should save me some effort.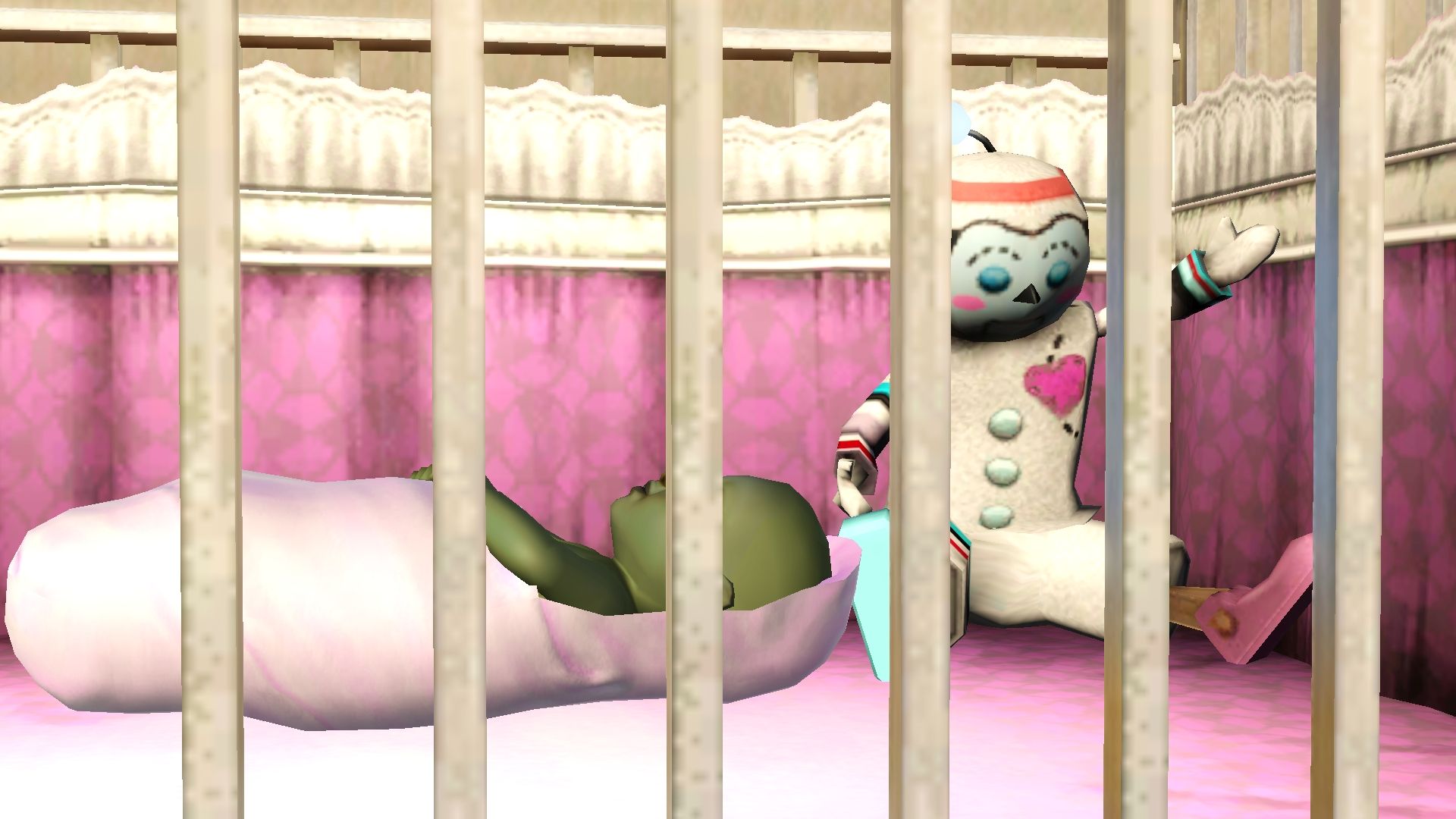 Harvey, like the gnomes, wanders freely through the house.
Now that Johnny can be seen in public again, he hires some help (a maid, a babysitter) and goes into that cave he found back when he moved in.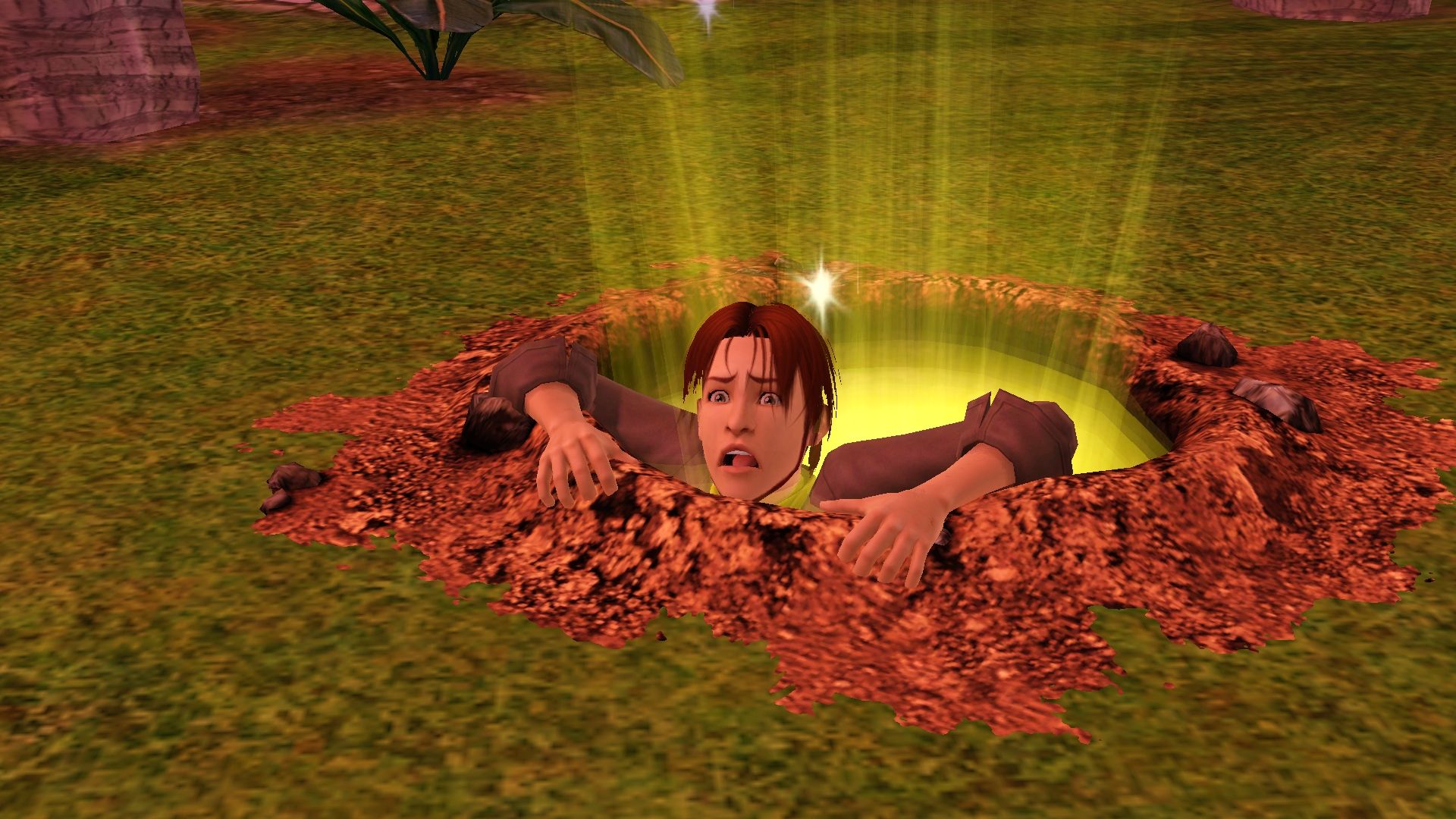 I don't know if it's the lot size or his fame, but now he has two paparazzi hanging out at all times, keeping tabs on him. Notice Leon once again passed out in the yard.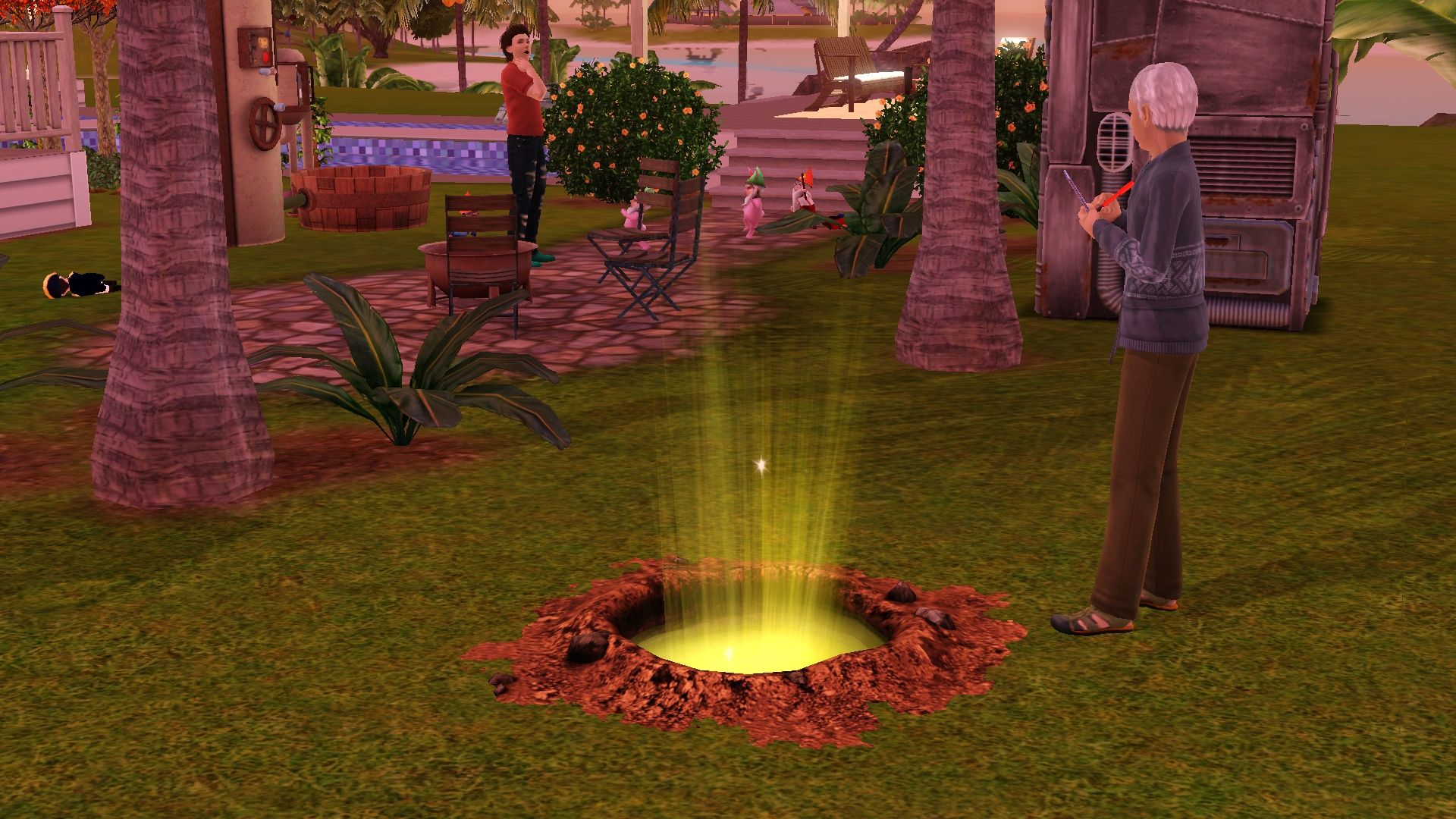 C'mon, Leon, wake up.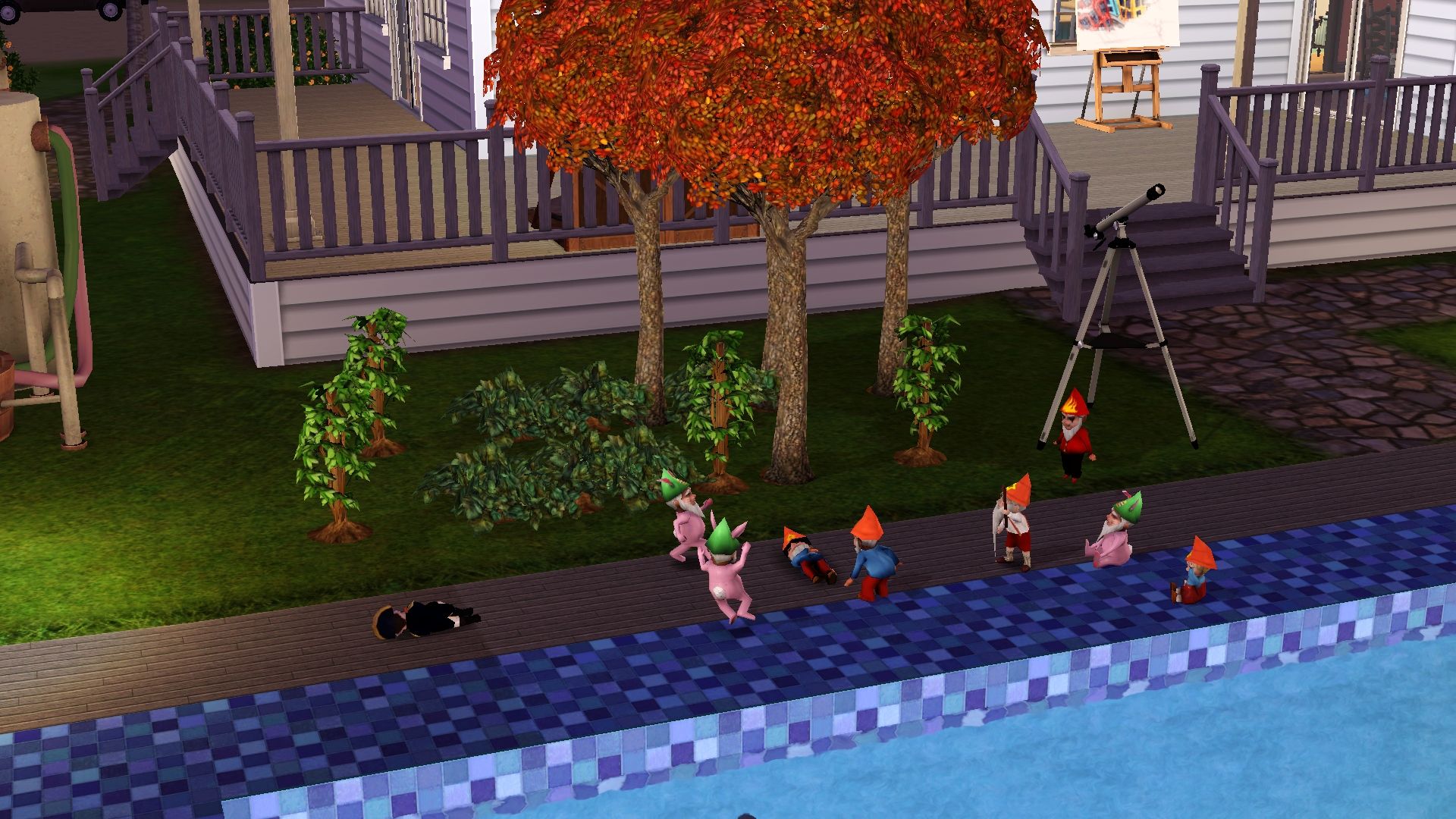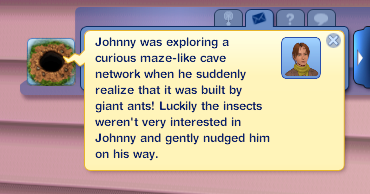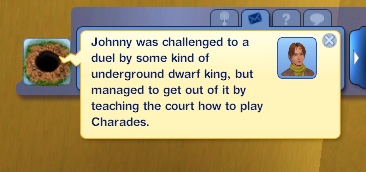 Retire? How? I couldn't tell that Johnny got one new thing from his trip, except some swell stories.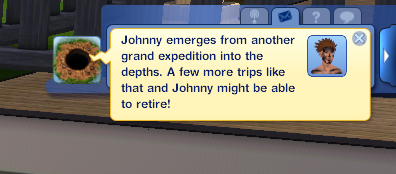 Jeez, what happened to you down there?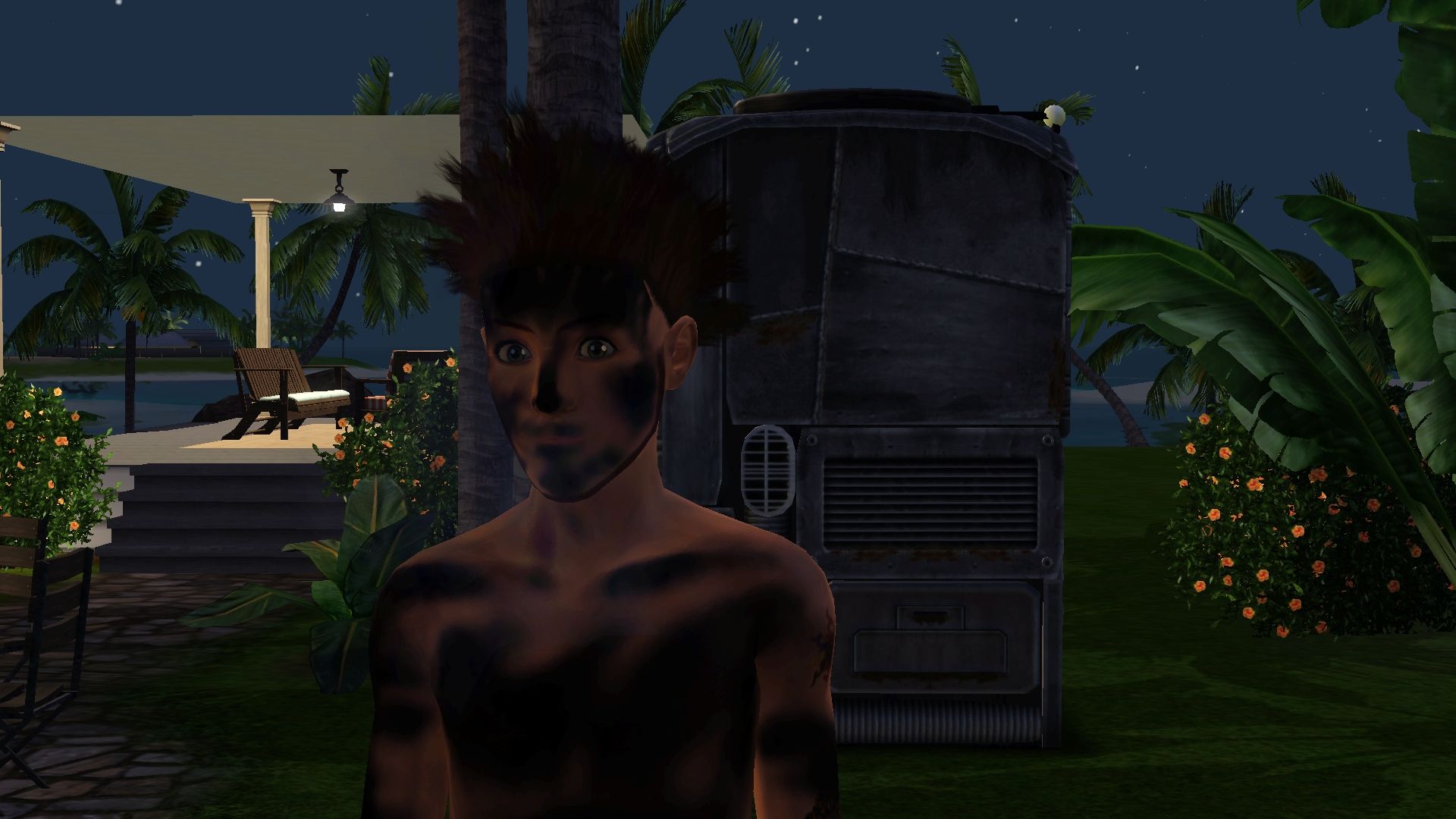 Must've been one hell of a party.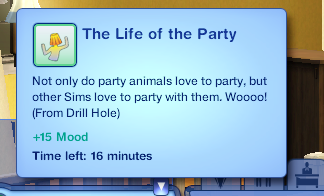 He also got a new look.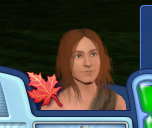 Caveman!Johnny has dem bedroom eyes. Put that man on a romance novel cover, immediately!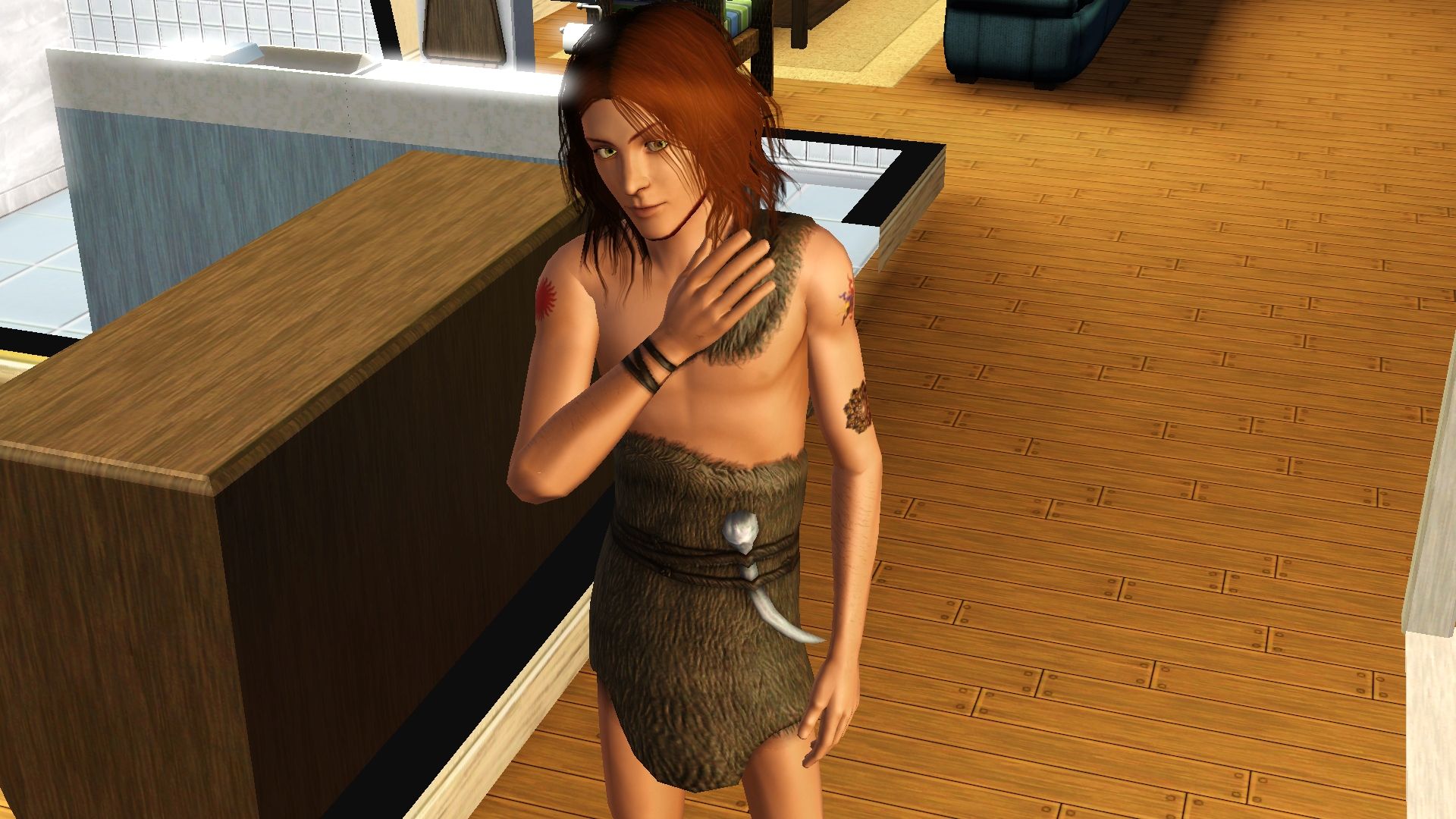 Turns out the caveman look is an unlockable outfit. Who knew? Johnny cleans himself up, I re-create the missing outfit (caveman overwrote it), and Johnny goes out to sell some more stuff at the consignment place. Remember the one guy I thought was a pap, who was peeping into Johnny's house? Turns out he now runs the consignment store. Small world! Actually, being an island, of course it's a small world. I bet everyone knows about Theory by now.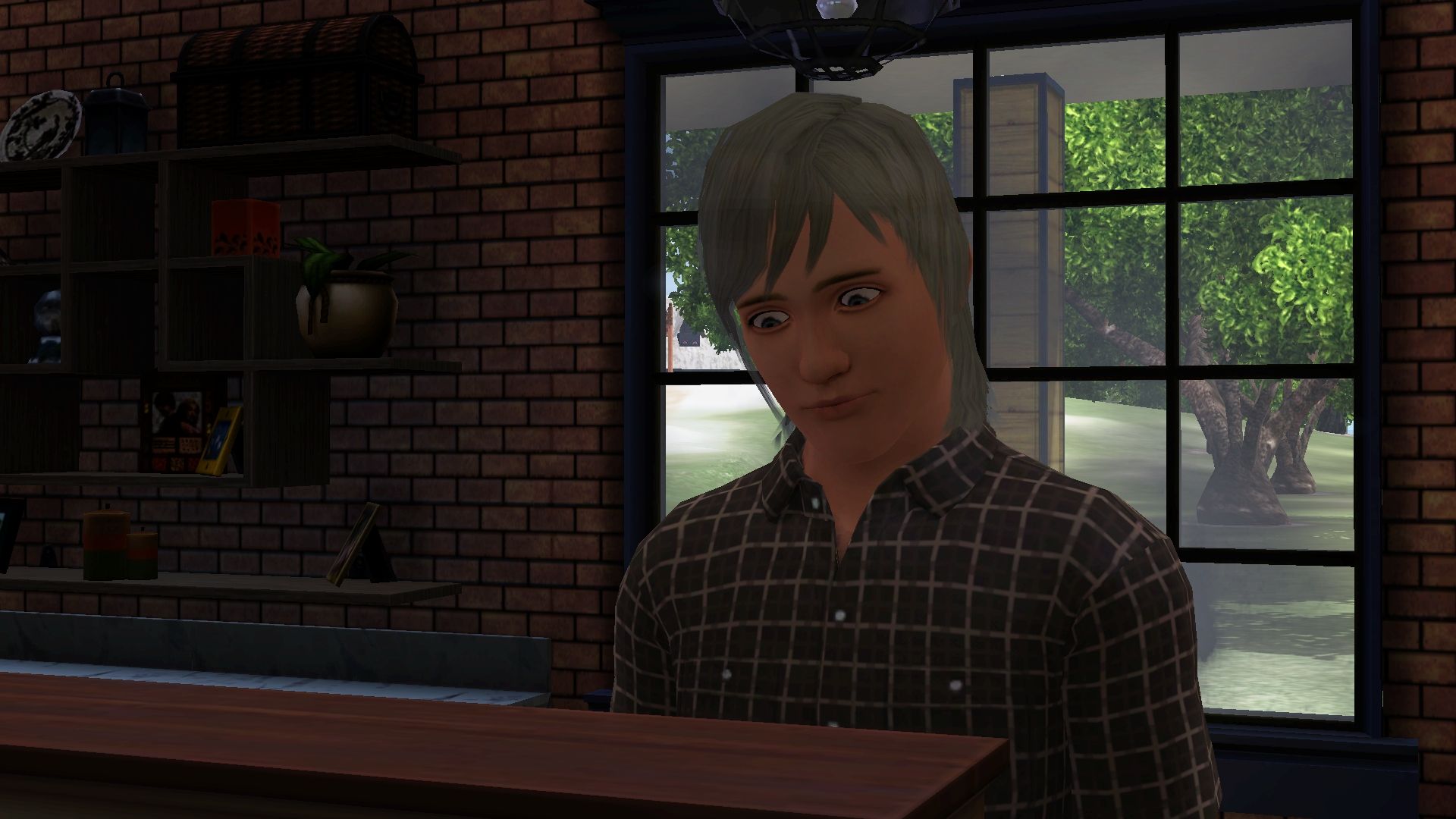 New shirt, presumably for clubbing, which he would have done if he didn't have an ALIEN BABY to care for.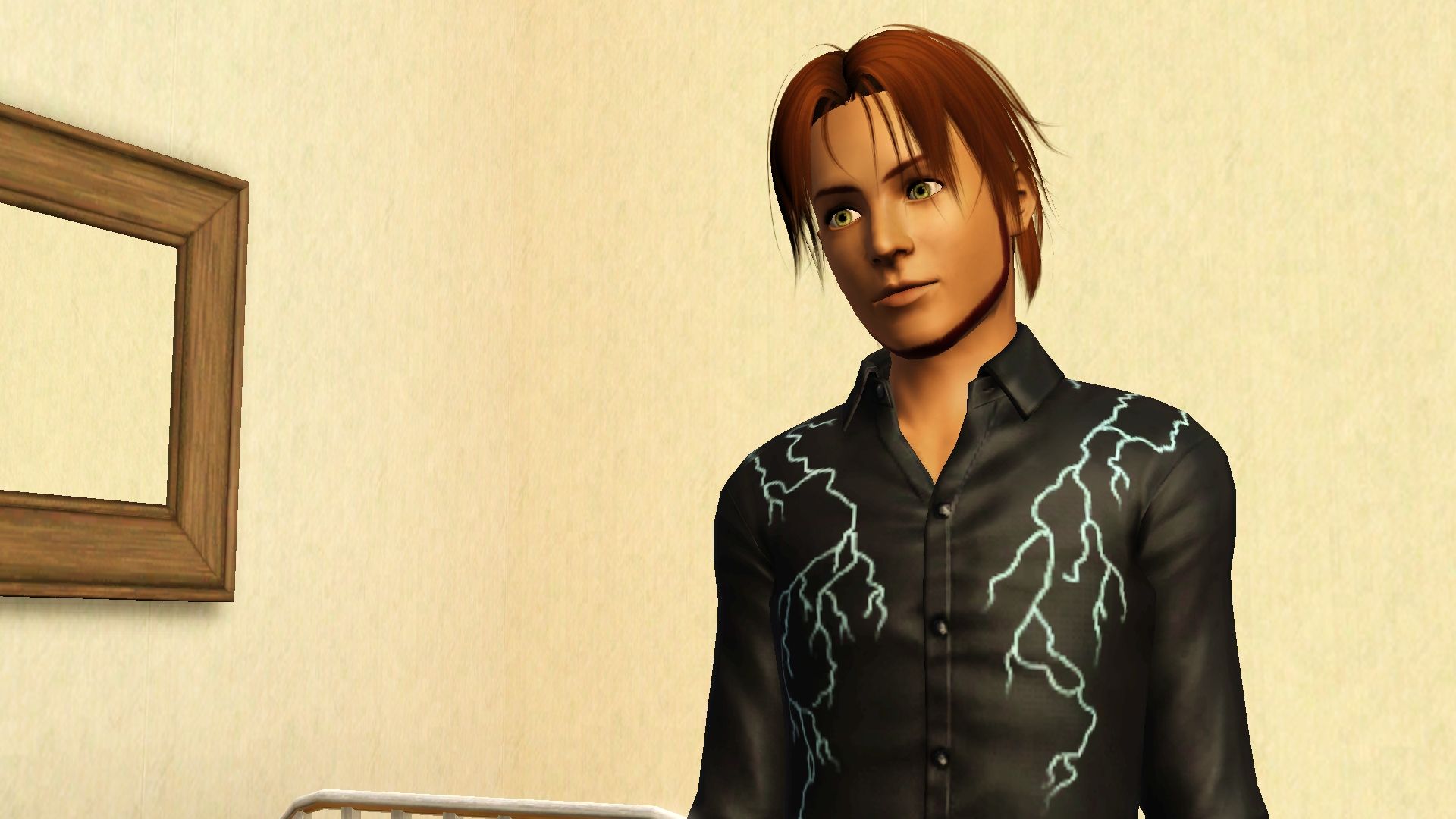 He also got a spray tan, because those days inside kept him from getting that important Vitamin D and outdoors air.

Well, back to work. We still have the Painting skill to achieve, but he has wants for Sculpting, and you really can't have too many lifetime aspiration points.
Hey, Leon's finally up! Evil Elena is playing hopscotch with one of the rabbit gnomes.
"Hello, sir, I'll be your paparazzi for tonight. Can I take some pictures and smell your hair?"
At long,
long
last, it's Theory's birthday. Cripes, babyhood is so long, and they do seem to need more attention than Sims 2 babies, in that Johnny and/or the babysitter got to spend a lot of time with them. Still, I did darn well, and Theory should have a chance at a good trait.
Johnny sets up a birthday party and invites everyone over: Johannes, Christal, Burton, Keno, Don, Chip (now a child) and a couple of elderly friends. Heck, let's pour some of that nectar, I don't know what else he's going to do with it.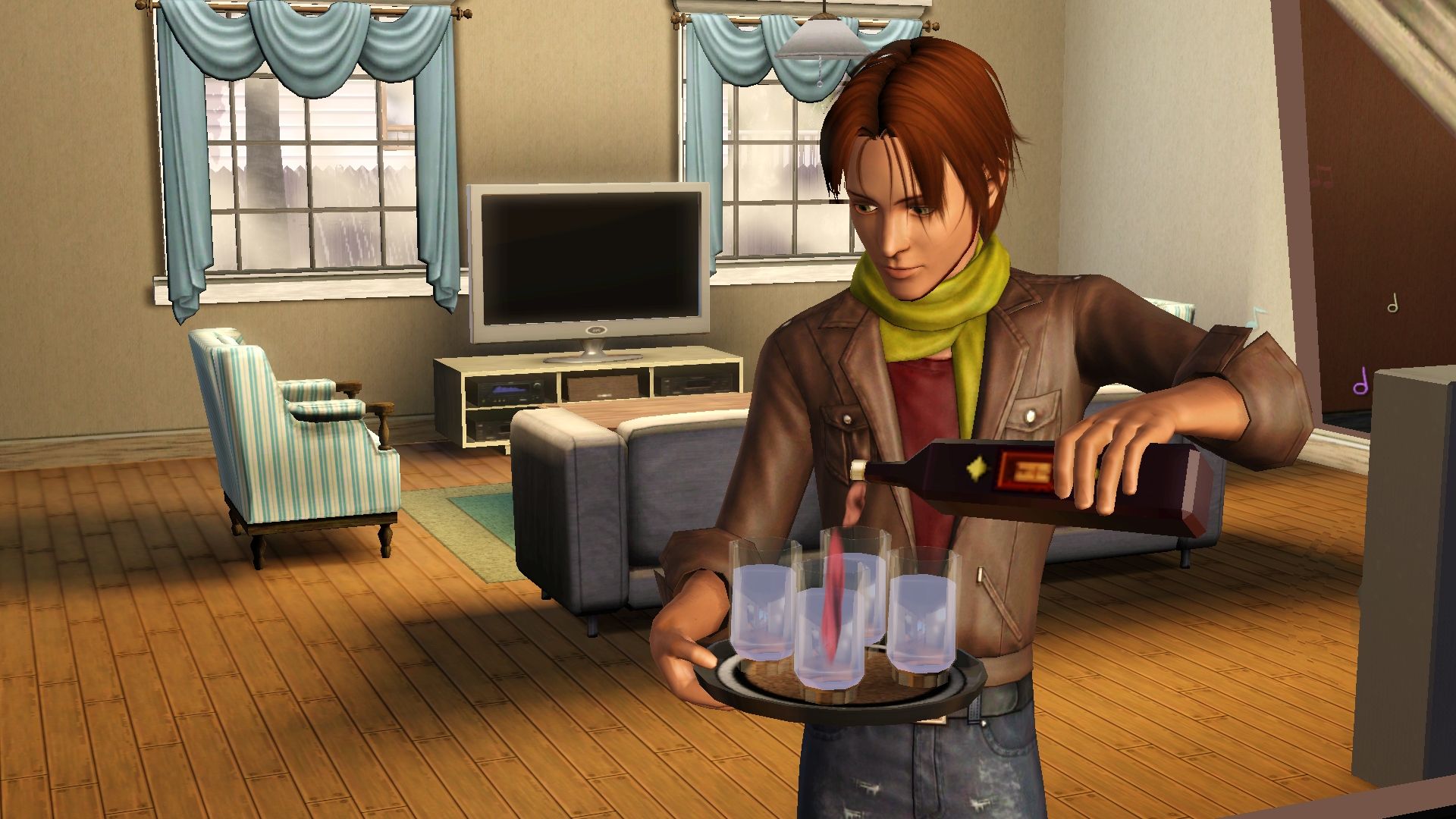 "This is going to be a good party, I know it!"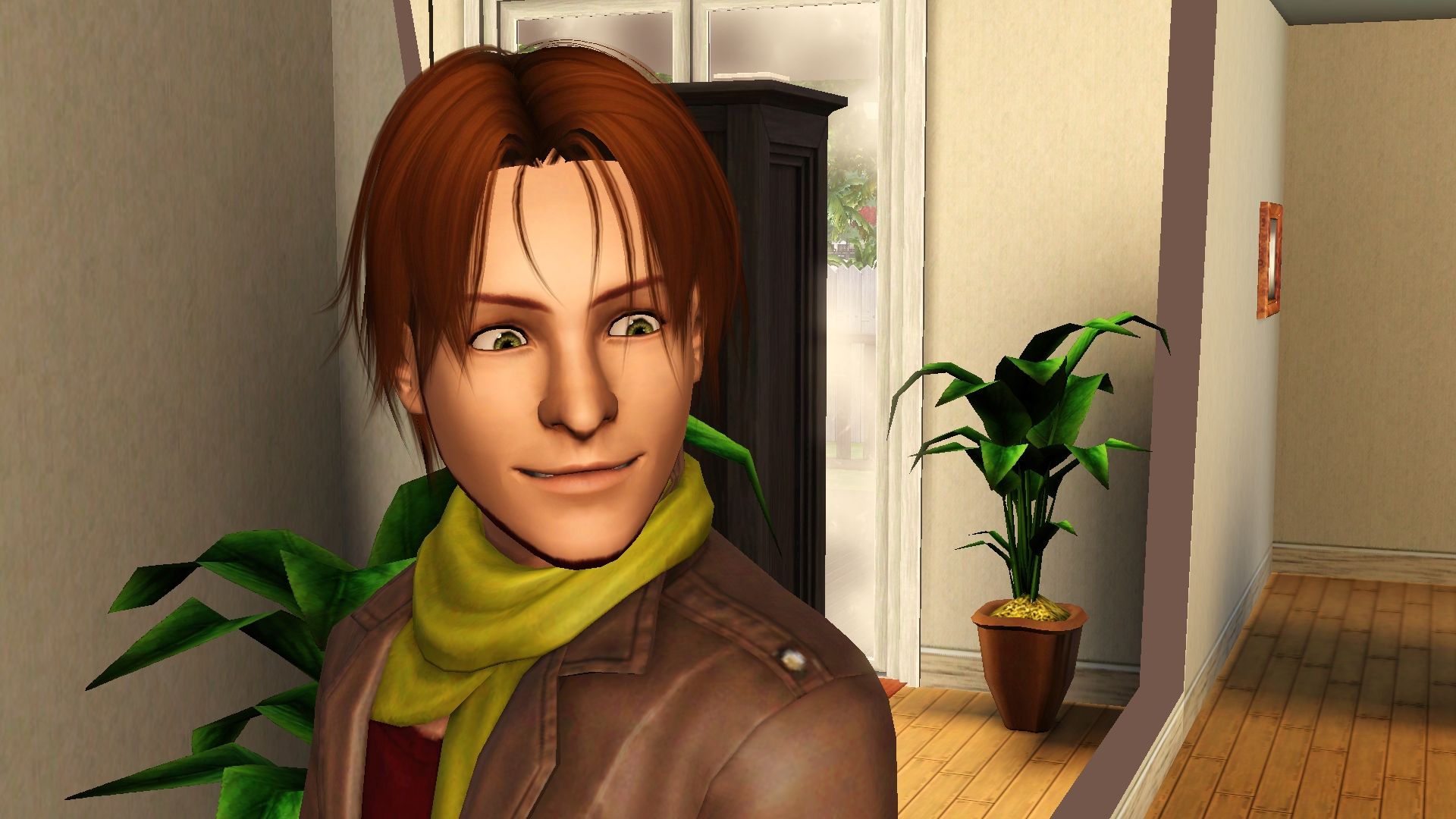 Burton arrives first, as Johnny tries to figure out how to show off the baby to everyone (I haven't found a way yet).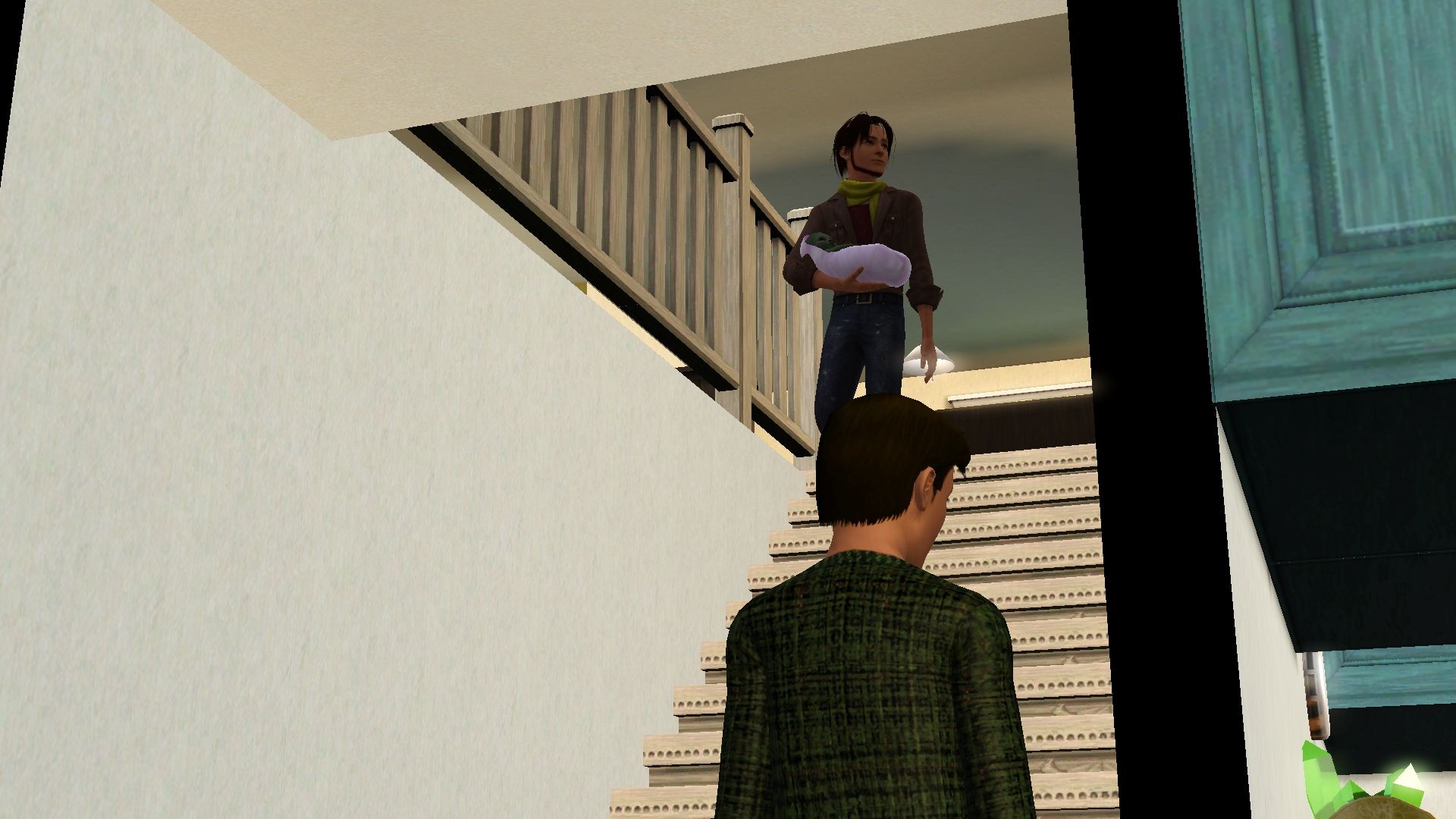 "Is my dad here? I hope not. We've been dodging assassins all week! Hey, sorry to bring the spectre of drive-by shootings to your place."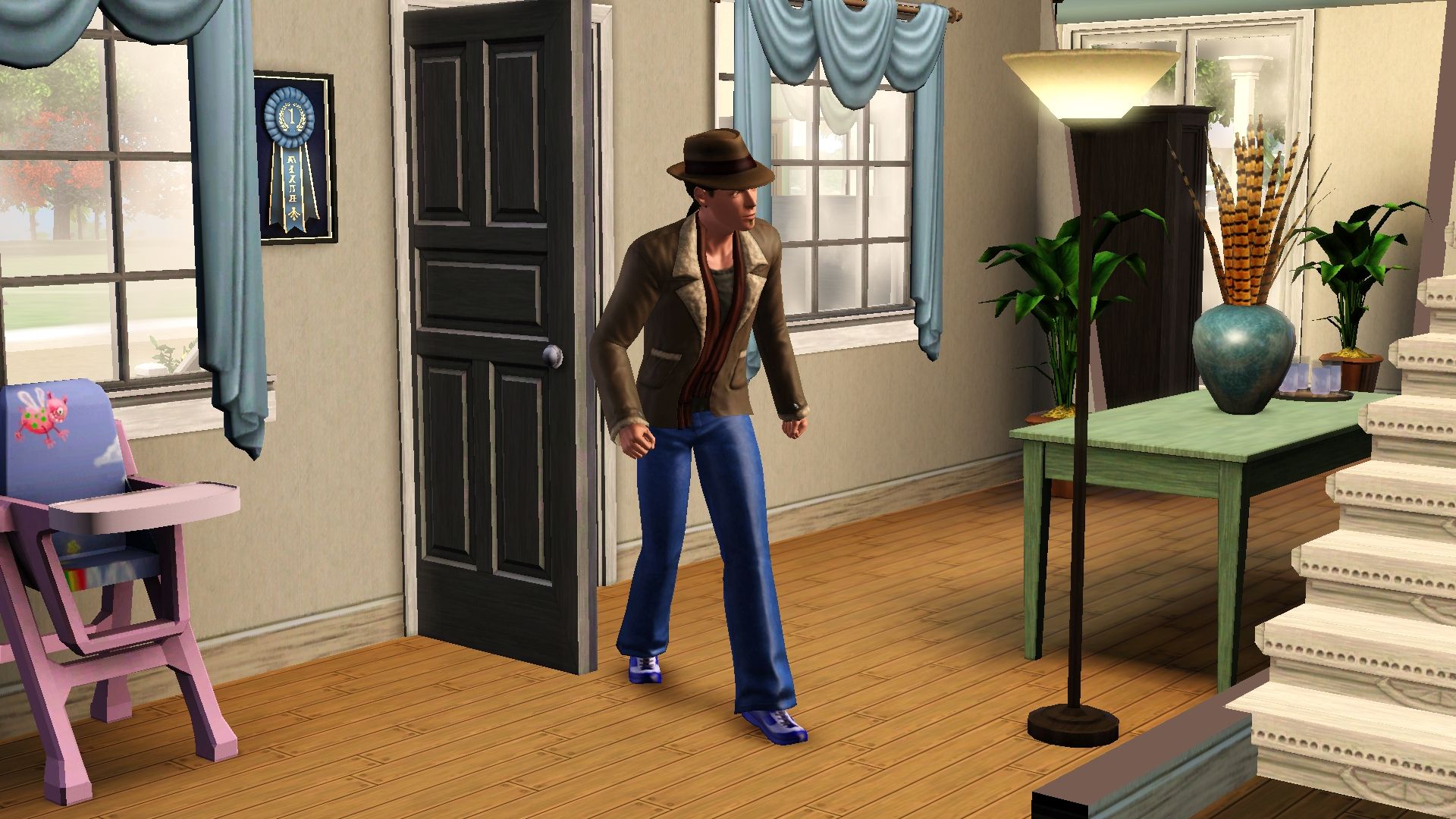 I guess Johannes really always wanted to shave his head, since this happened without me knowing it. Well, that's all right. Don is the one all in green.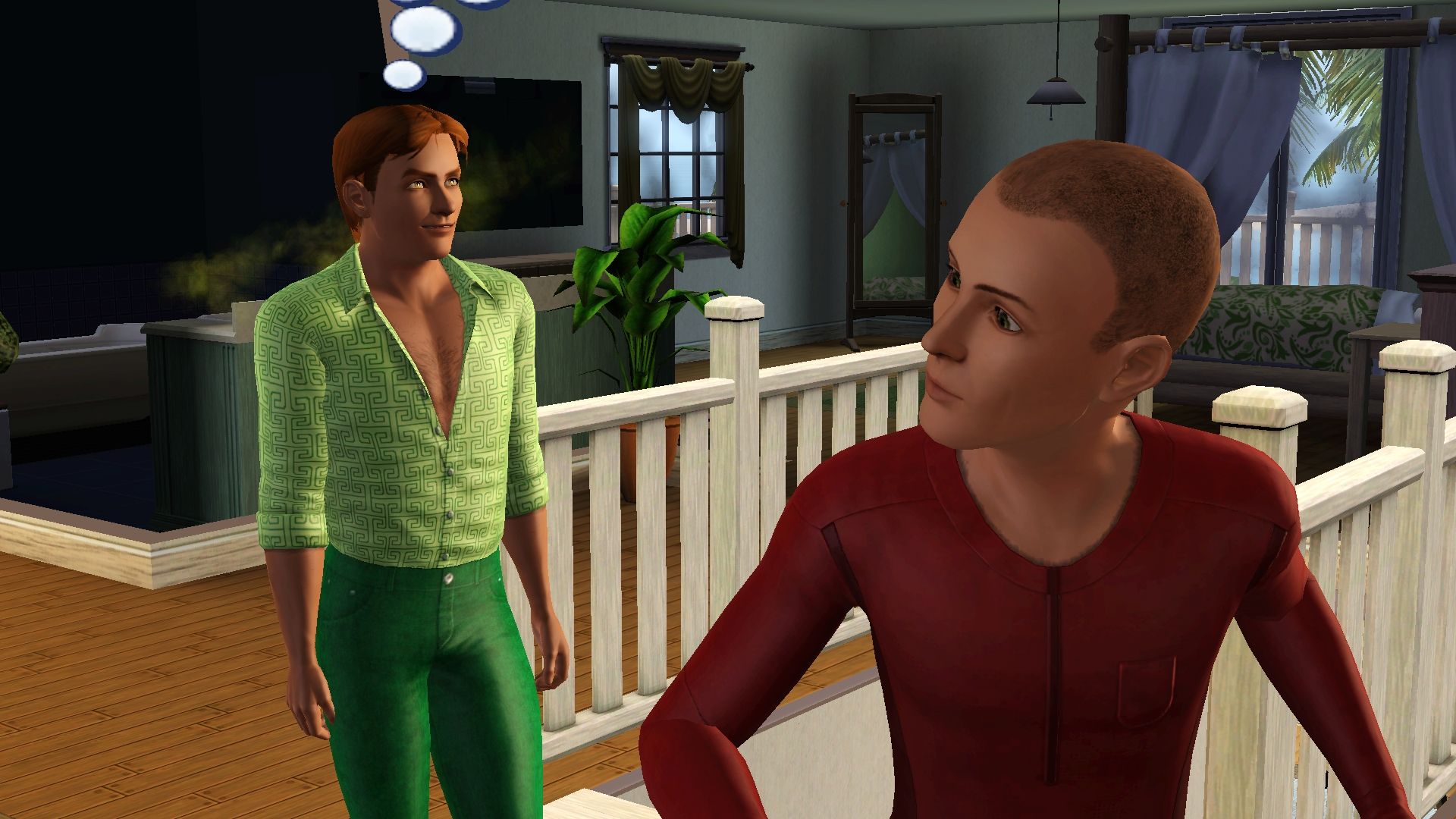 Jo, dude, stop freaking me out.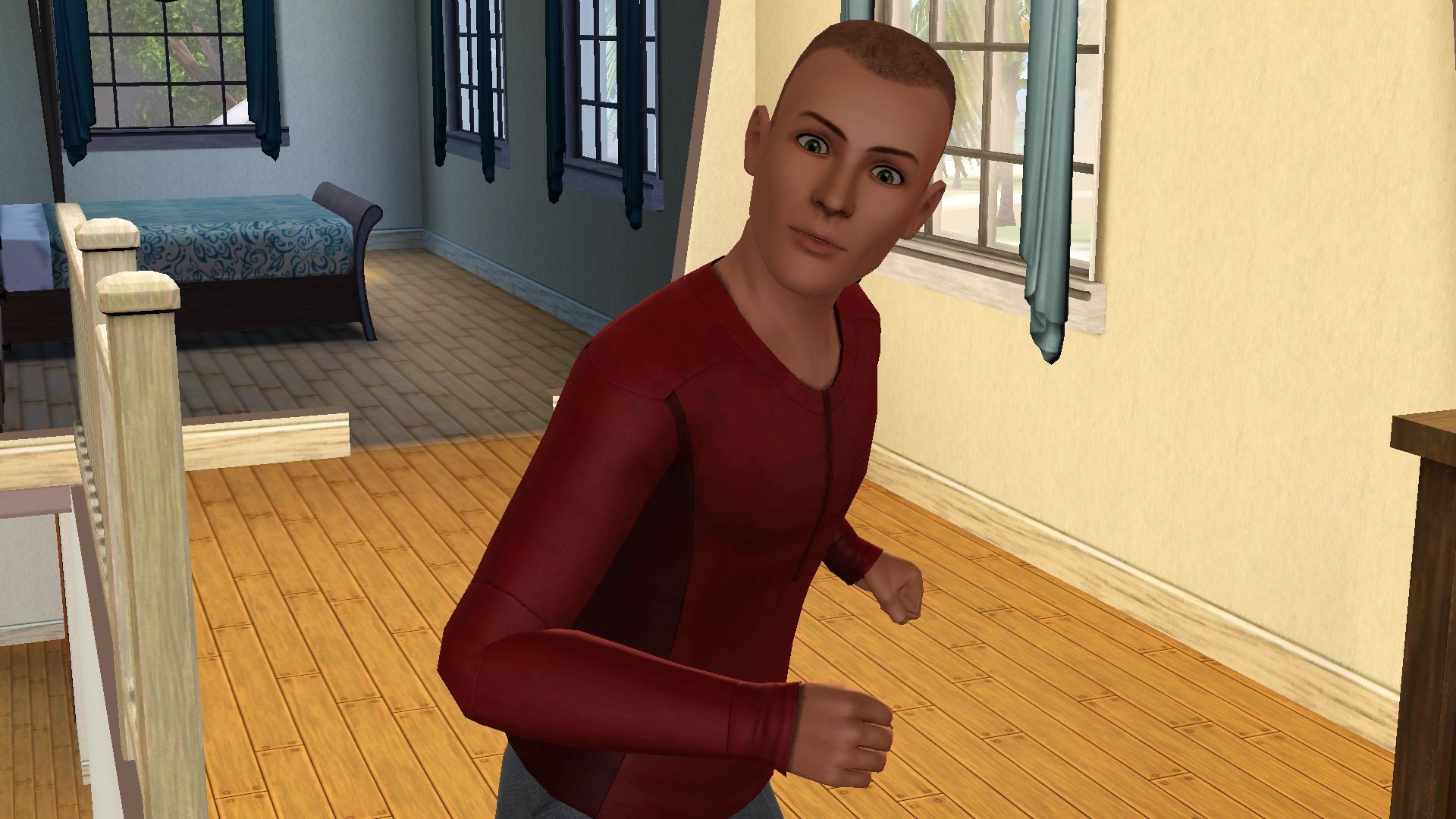 The tubby guy is a party crasher, since everyone here is at least a 2-star celebrity, most of them because of knowing Johnny.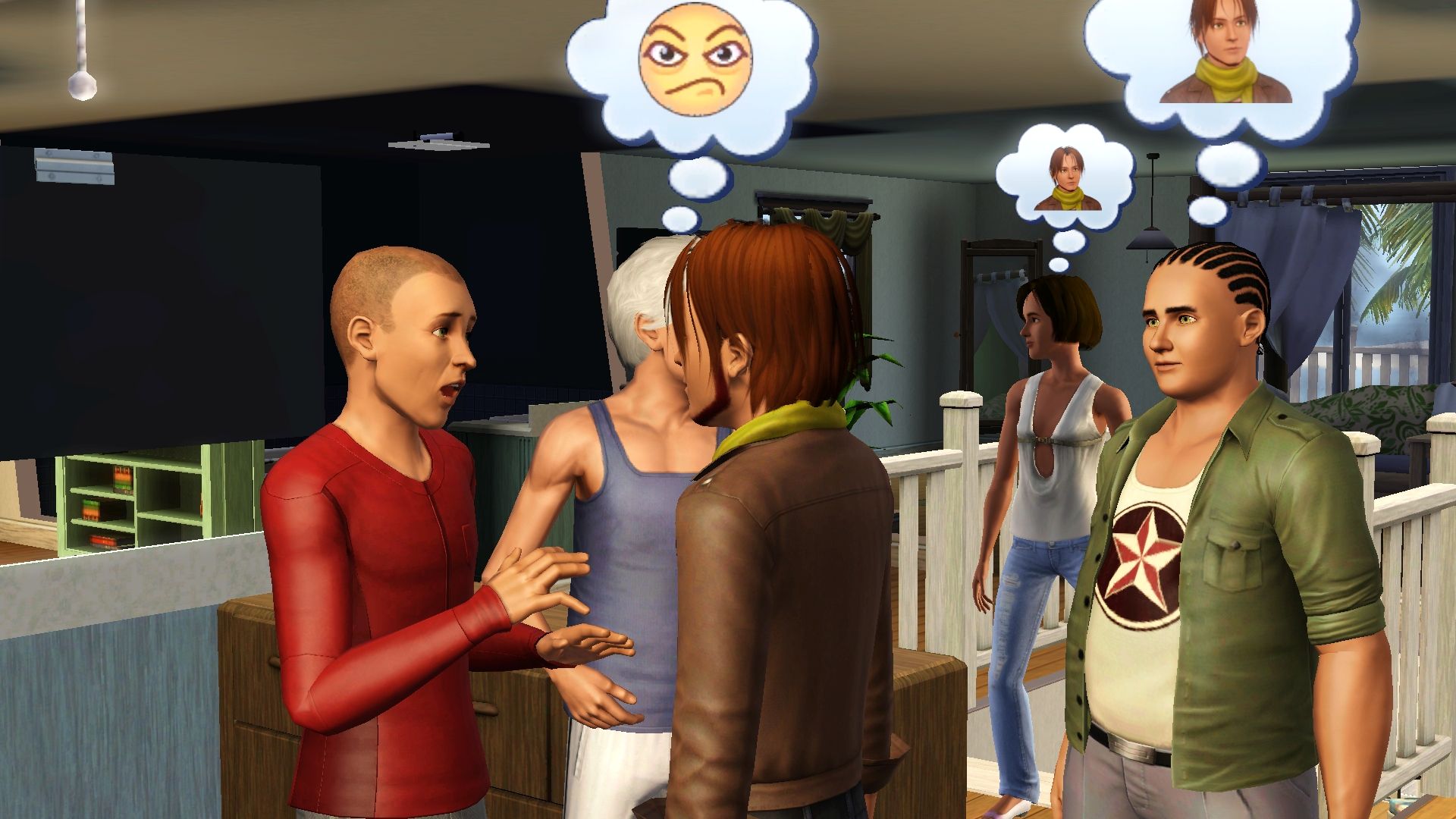 "I'm a five-star celebrity, the only one on the island. I'm too cool to hang out with those people."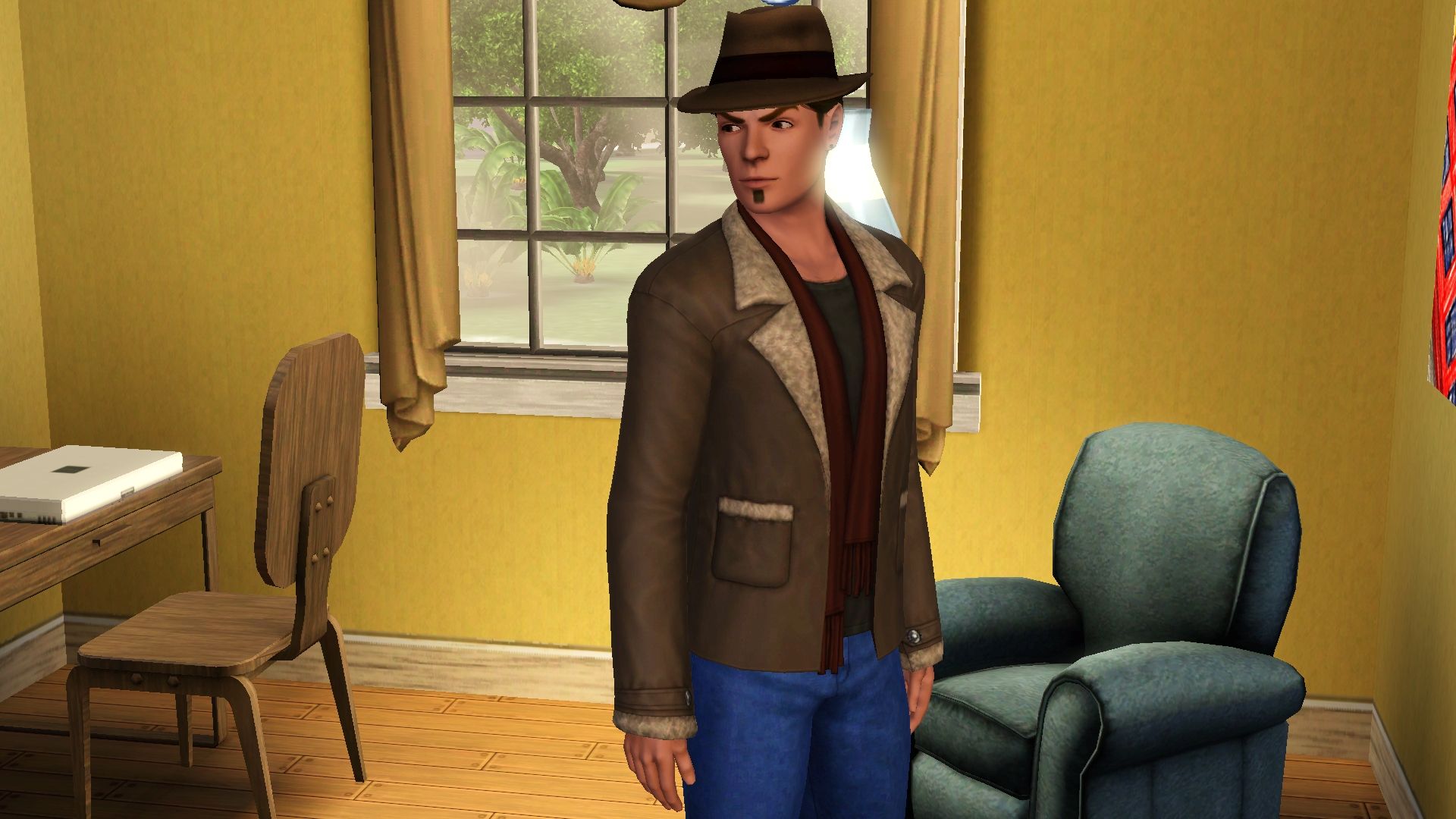 Aaaaand then... my game froze. D: D: And I couldn't get it to restart. I last saved sometime after Johnny moved here, but I'm not sure exactly where. Based on the datestamps, Theory was born, but I'm not sure after that. It's very, very frustrating because now I have to redo all of that and things might turn out slightly different.
So, next up is to replay the last bit and see if anything changed. I hope not.