Johnny Pandemic has raised his teammate's child Keno to adulthood. As soon as Keno moves out, Johnny can get back to traveling the world and exploring tombs and doing exciting things.
OF COURSE there's a twist ending. Why wouldn't there be?
Johnny's working toward his LTW and achieves the second of three maxed skills (Inventing was the first, Sculpting is the second). Hooray! He reaches it with a sculpture of an alligator in top hat, tails and a cane.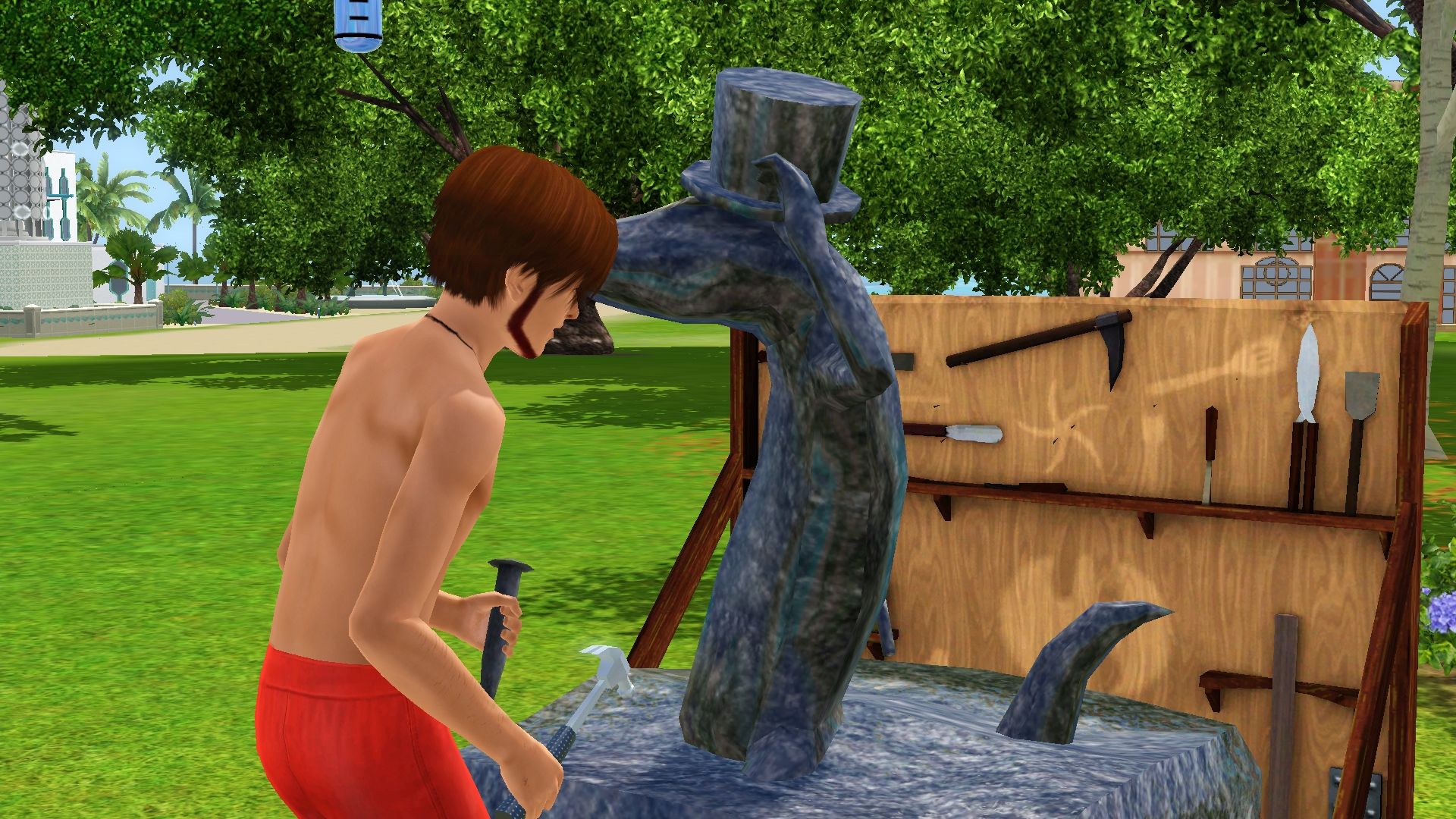 A lot like this one! I couldn't find a picture online of Albert from Pogo in a top hat, even though I know I've got one in a book in the garage somewhere.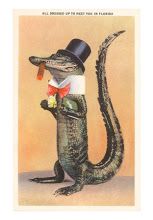 The rest of the household is Keno Capello, who Johnny raised from childhood after Keno's dad Crash shipped him here for his own good, and Keno's husband Don. Crash Capello, now a major crimelord on the mainland, is extremely unhappy with how Keno turned out. Well, next time raise your own kid, Crash.
Don is trying to rise up through the criminal underworld himself, so one night when he's supposed to go to work, he instead heads right to the local jail. Seriously. Instead of work.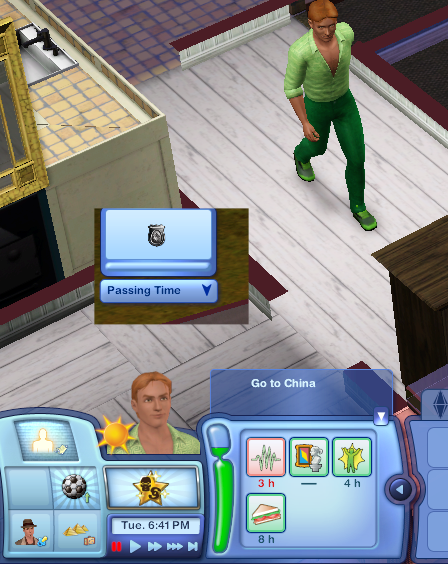 What the heck, Don? He didn't even try to go be a criminal that night. I hope he didn't become a snitch.

Buying the Opportunistic perk was a HUGE part in Keno's success toward his own LTW (Rich and Famous). He achieved 4 stars by the time he stopped being a teenager, but the celebrity-based opps once he became a YA mean he's achieved his LTW in record time. Almost there!
Meanwhile, Johnny
finally
has the ten life fruit he needs for that science lab opportunity from his previous LTW. He turned them in and... now he has to get one of these? FFS, that LTW was so much work. Glad I dumped it, even if the opportunities keep running.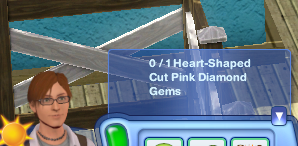 Woot! Keno finishes up one of those "exercise for 4 hours" opps and gets his LTW!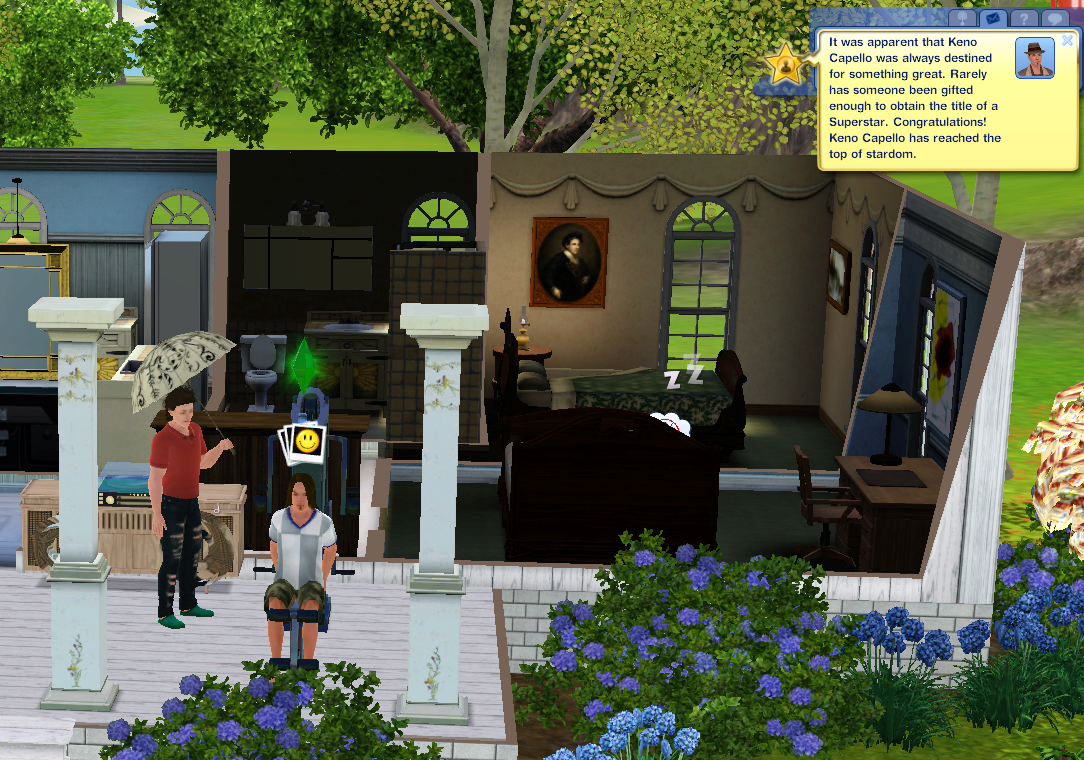 To be honest, his next step in life will be to move out. I only let him stay so he could manage this.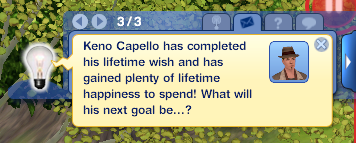 For extra fun, here's Keno trying to squish fruit to make nectar, using swim flippers.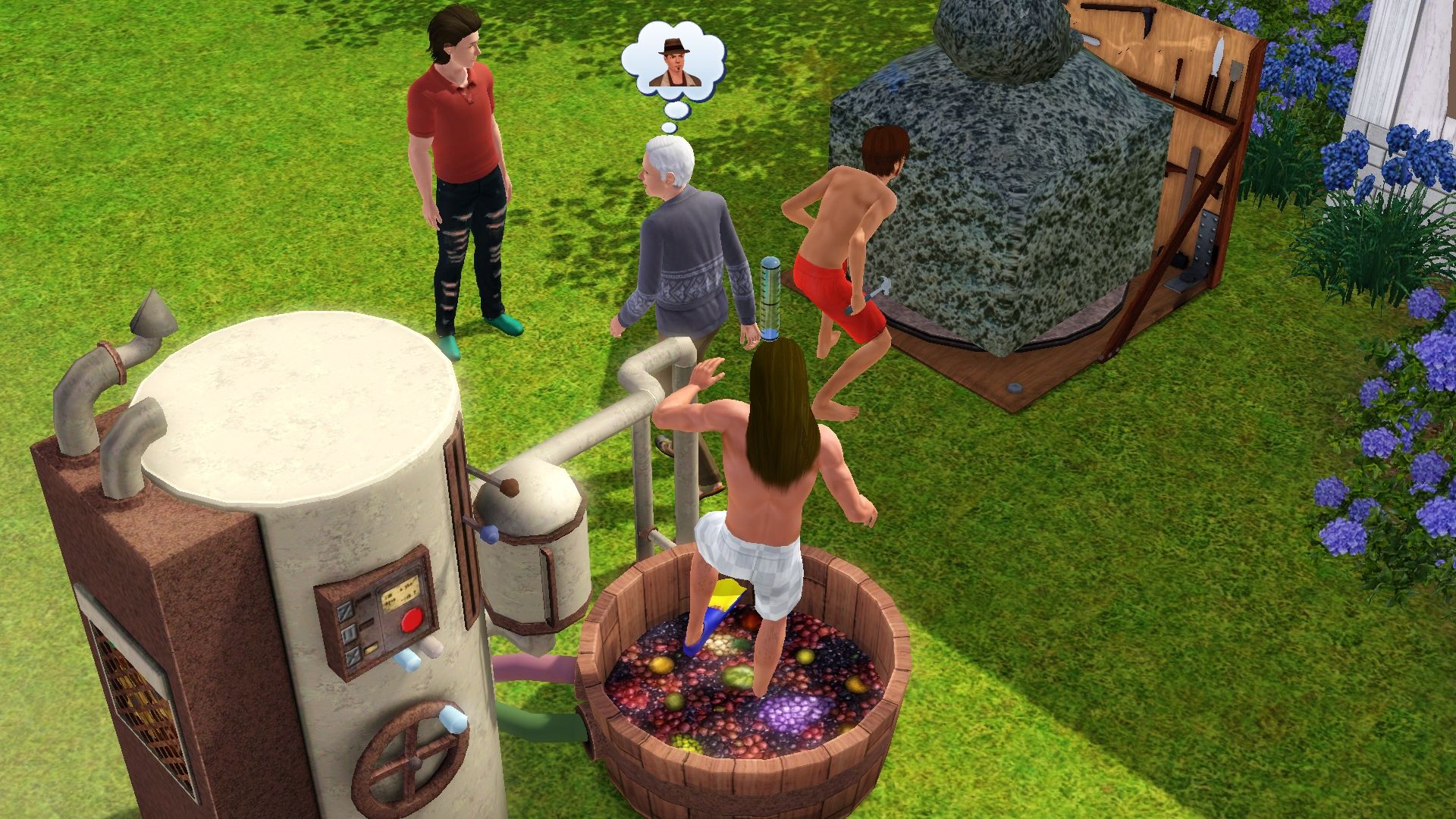 Both Don and Keno have come up with child-related wants. Don wants one "with Keno" while Keno just wants one. So let's do something new (for me): they'll adopt a kid.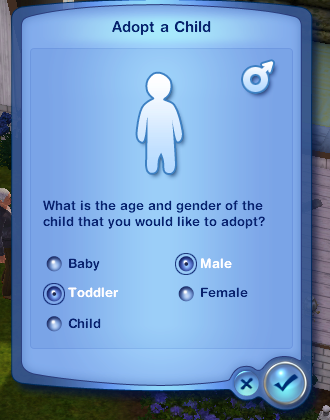 While they wait - and this is nice, too, the kid comes over fairly quickly, and no finder's fee or sales tax - a fight breaks out between paparazzi on the front porch.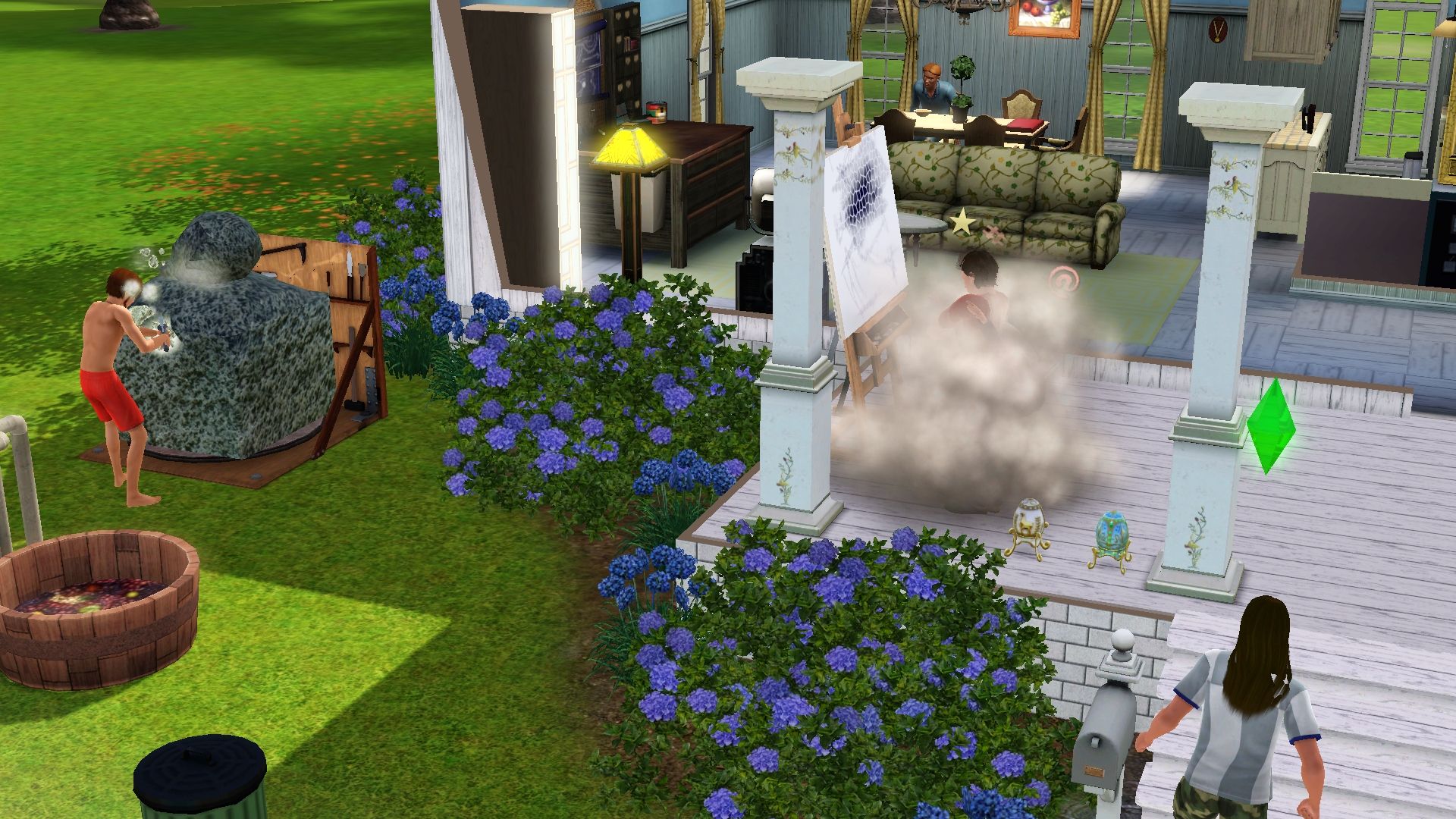 The young one wins and kicks the old one out of the herd.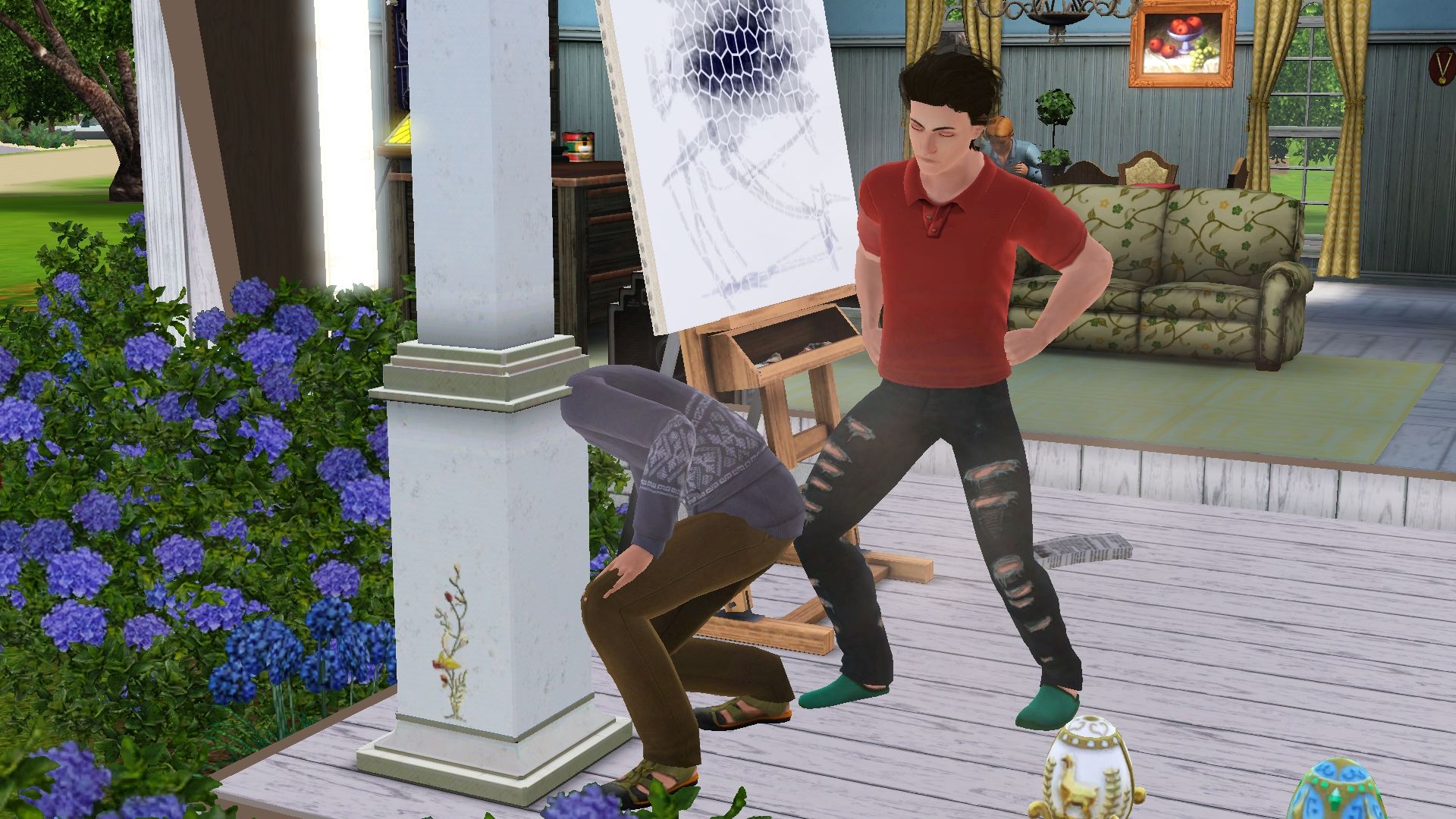 So, let's see, what's a good name for a boy born into a casino-based crime family, with fathers named Keno and Don?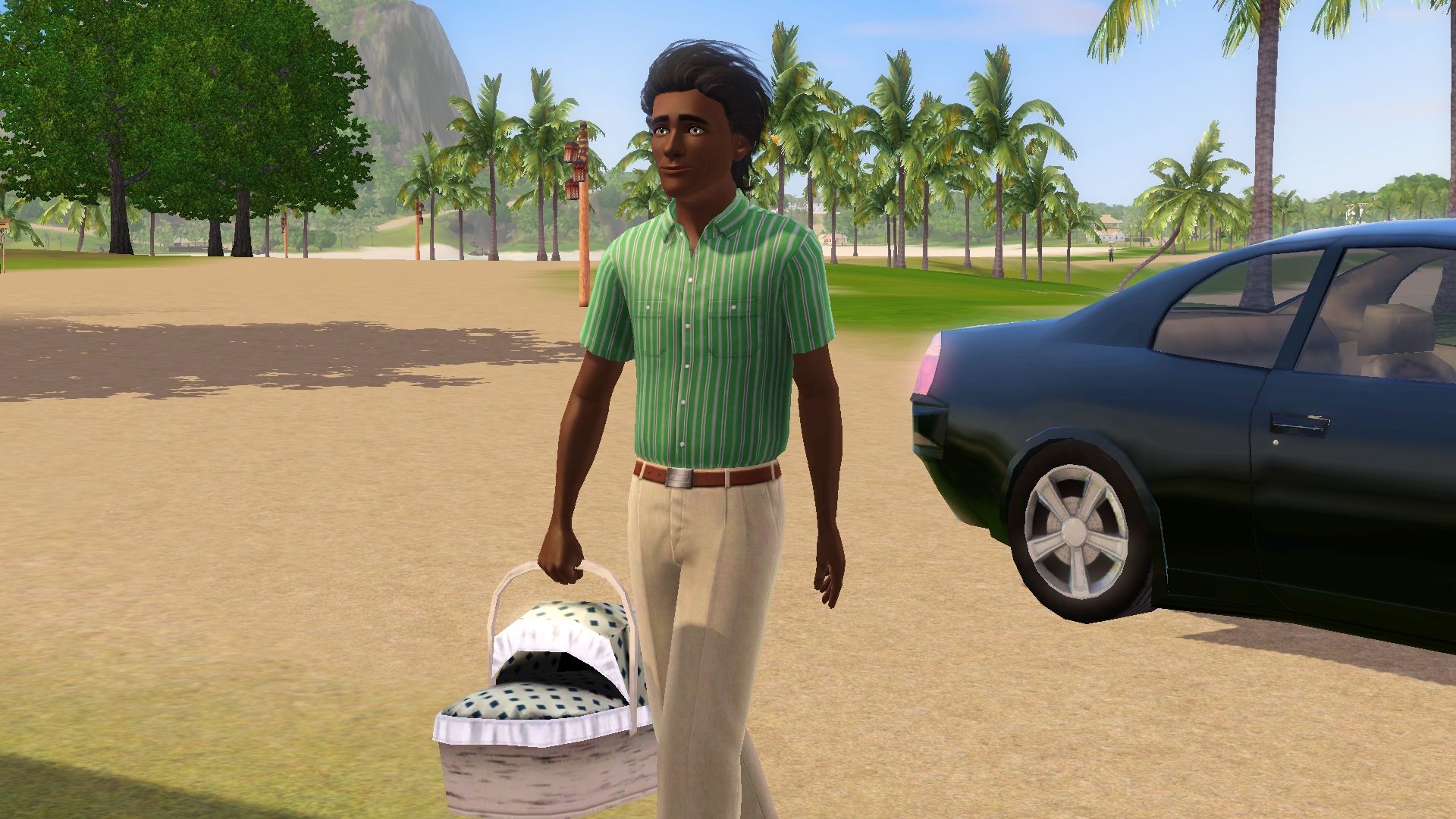 Poker Chip Capello, or just Chip for short. Excitable and Easily Impressed? Wow, he would've been fun to watch freak out as he grows up.

Chip appears to have black hair and silver/gray eyes (I have some default replacements). Nice looking kid, but most toddlers are.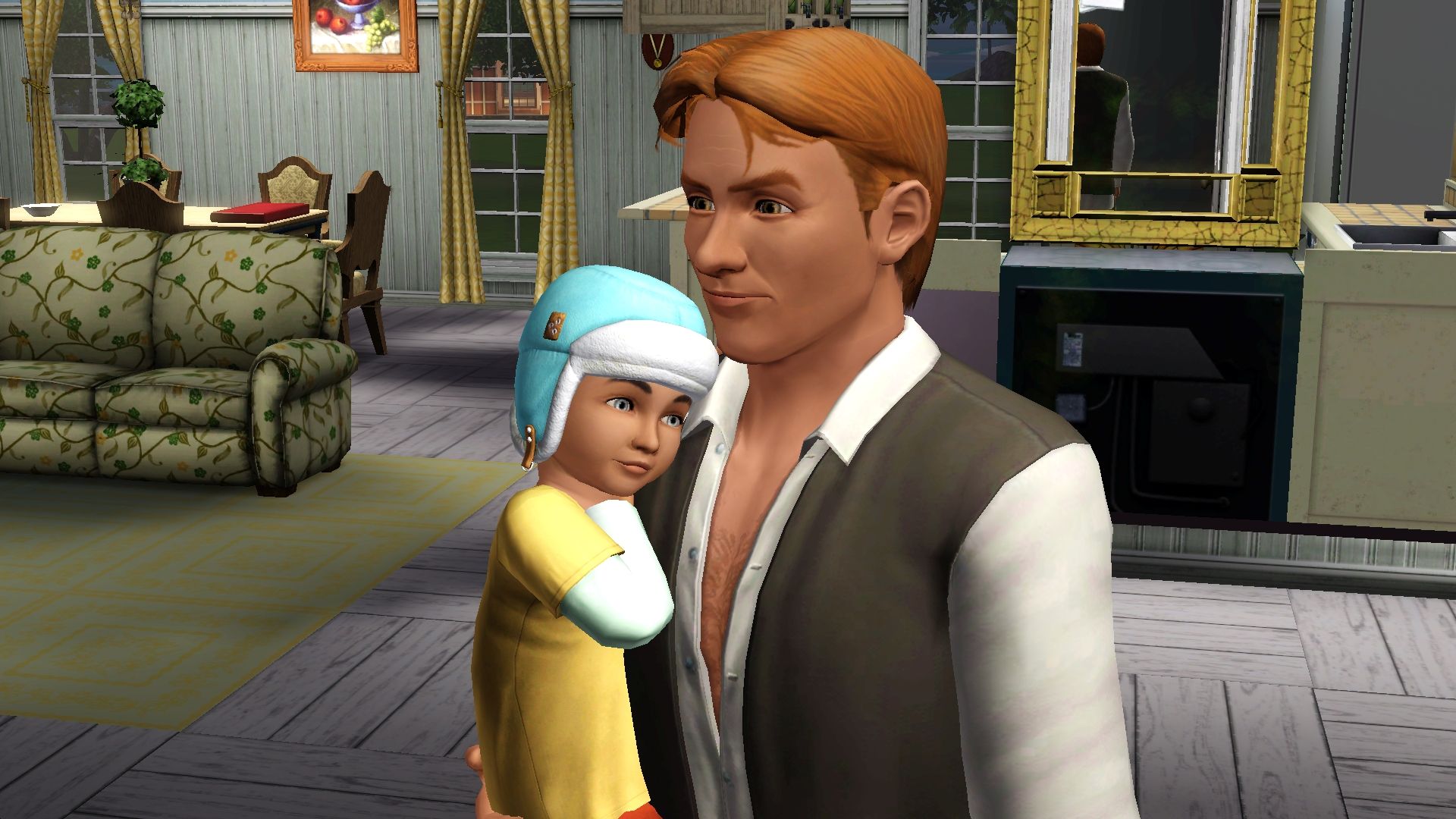 And so Don, Keno and Chip move out to have their own lives, and Johnny Pandemic is left without any kids to raise for the first time in probably 35 sim years. What will he do with his life next?
Well, let's get back to work on that LTW and the pink diamond and boosting the celebrity meter, then. First up: someone's pool party! And hey, who's that in swim trunks and boots?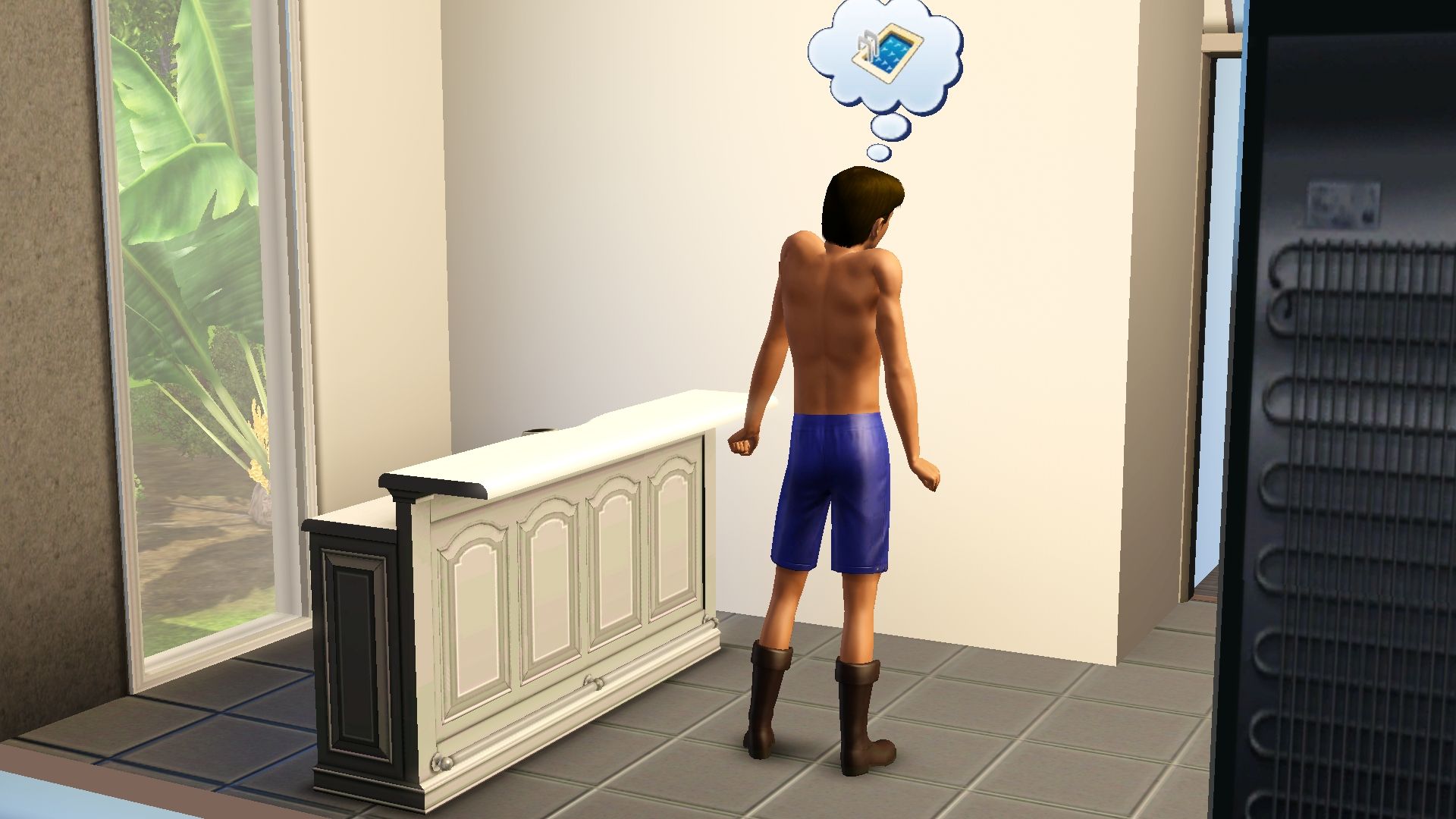 It's Burton, Johnny's grandson! He's a handsome young man too. Burton was always Brave but it turns out he's also Over-Emotional.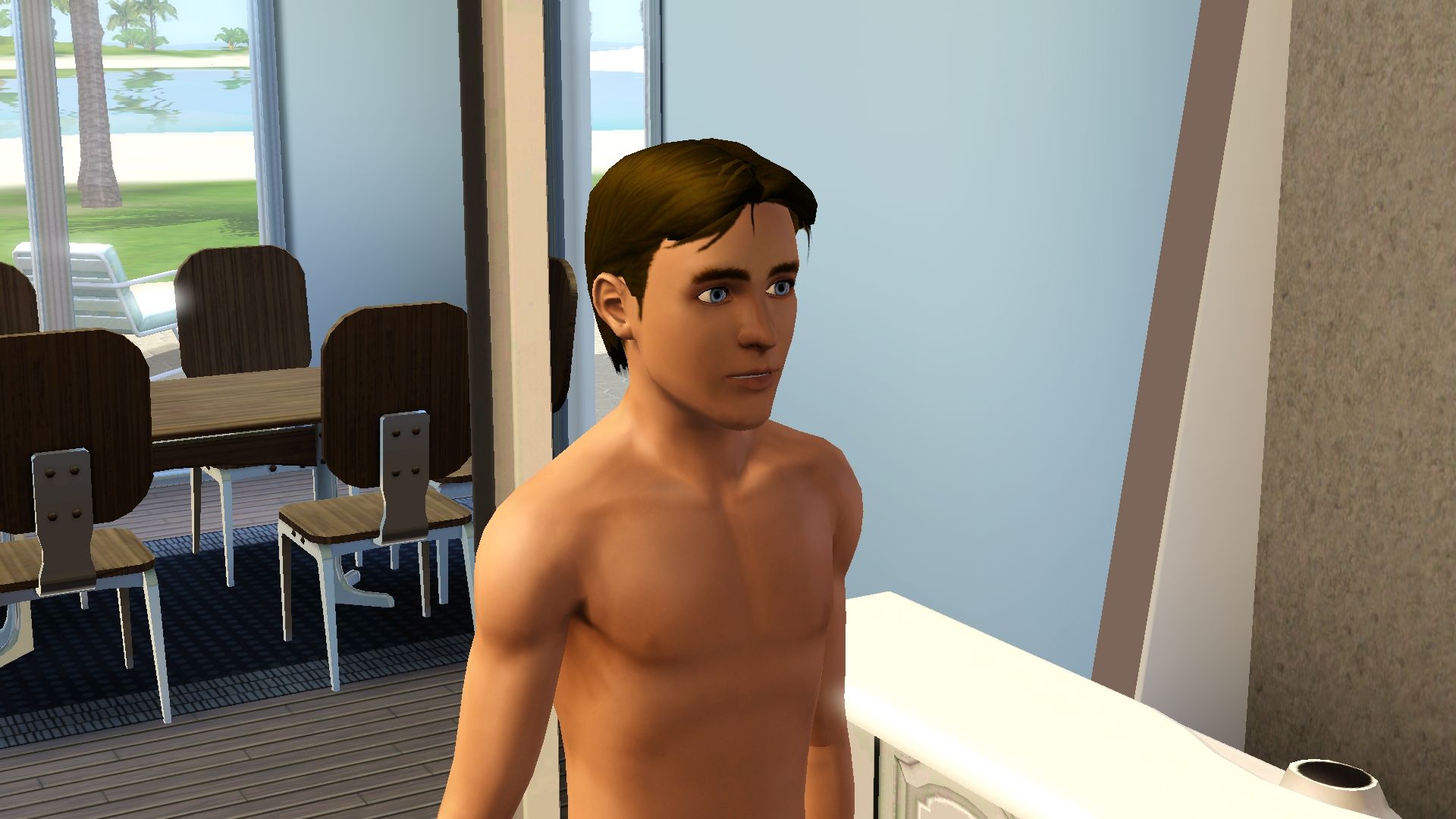 The curly-haired man in the pirate outfit, who I think is the host, I think was trying for Keno during the school years. But he wasn't creepy like Johannes' teen stalker.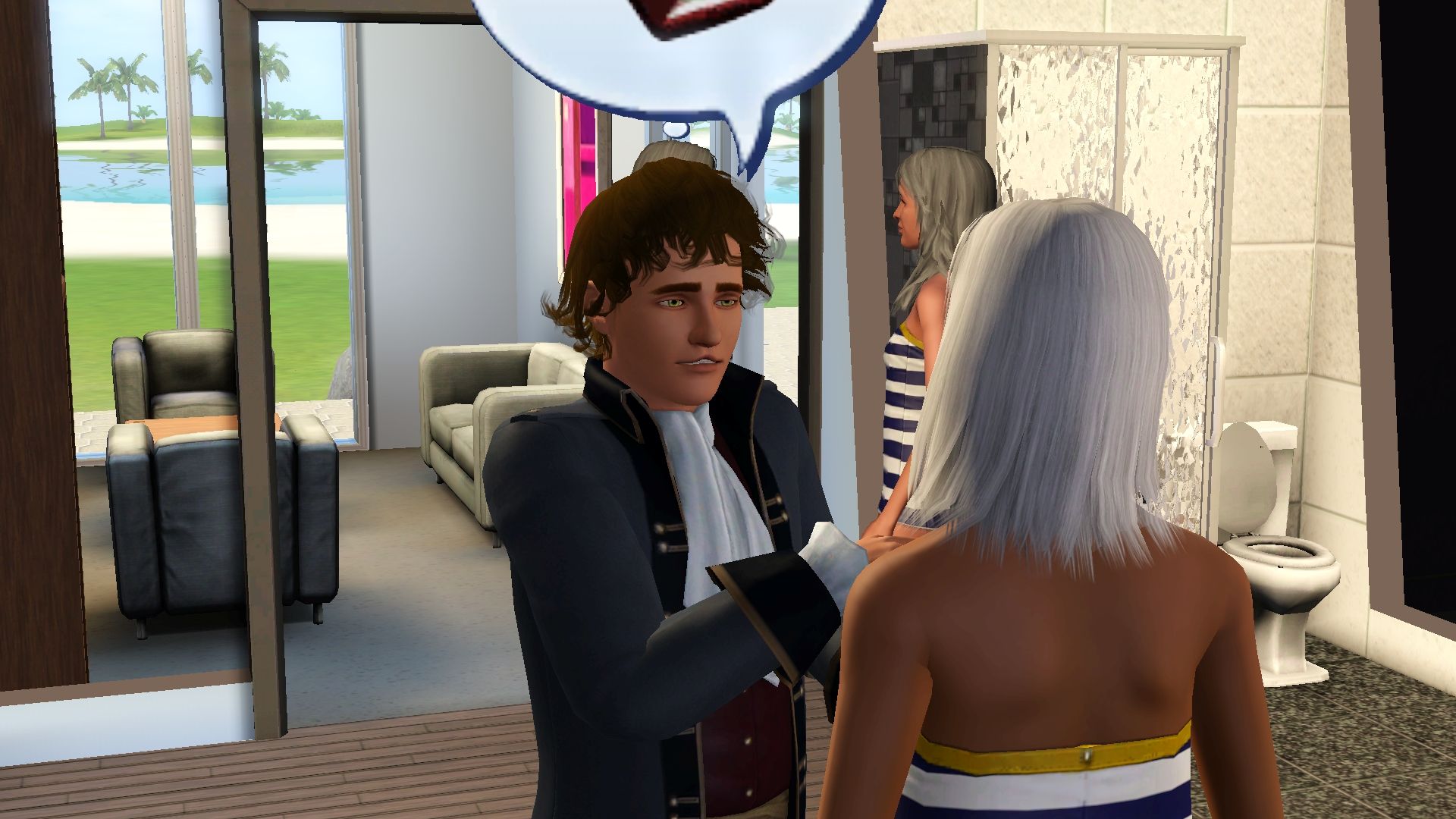 How embarrassing, every woman here is in the same suit!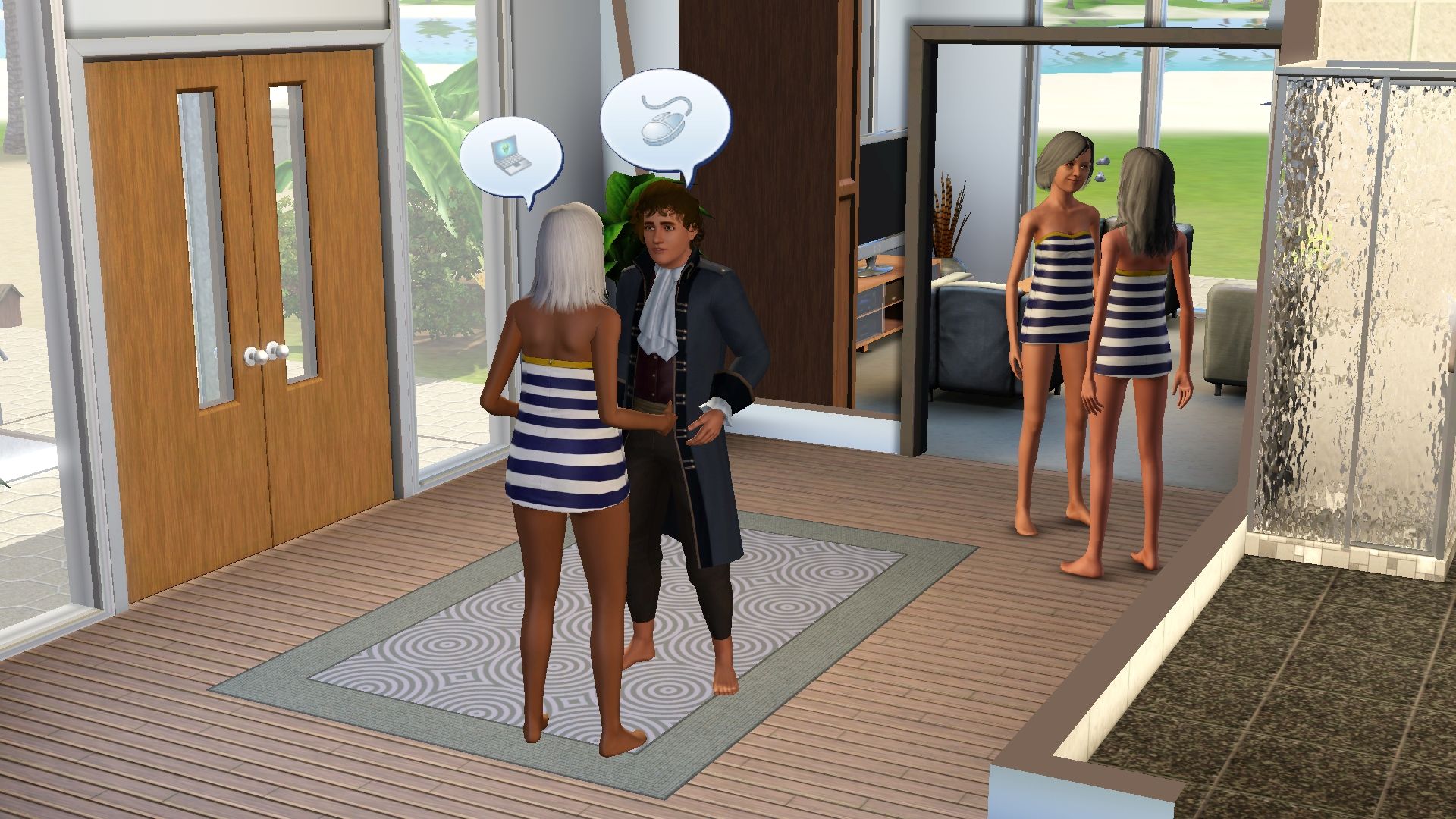 I realized there were space rocks on the beach and and sent Johnny to collect them. While searching for other rocks, I paused just as the pigeons were flying past. So cool! Of course I hate to think they're plain old domestic pigeons, so instead I will dub them Lesser Imperial Pigeons because that sounds cooler.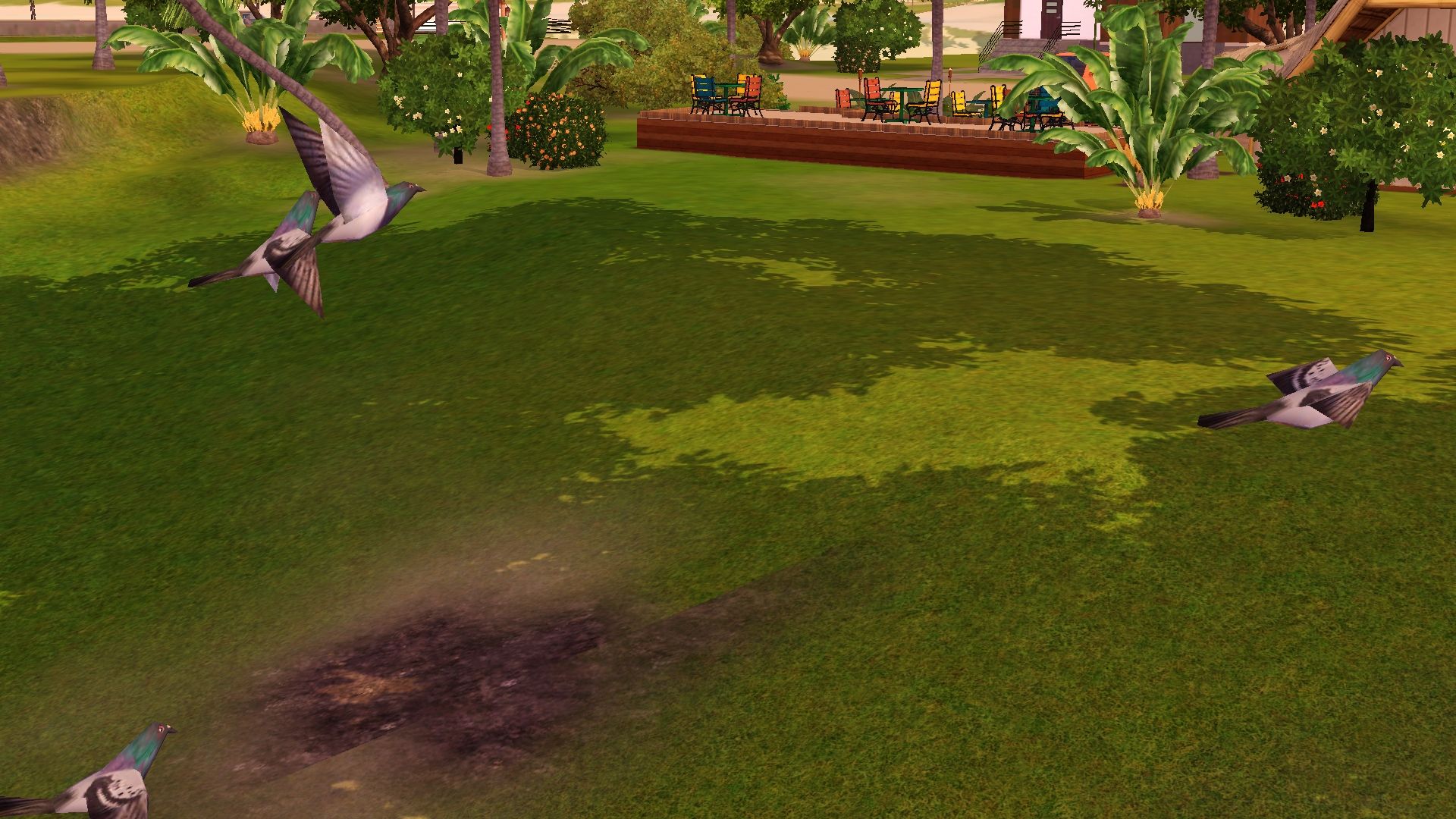 So, back home. It's been a busy day, what with Chip arriving and then foster son Keno and son-in-law Don and Chip leaving. But by now Johnny has immunity to both heat and cold, and I want him to work on outdoor stuff, so I put the painting easel out here too.
AND GUESS WHAT HAPPENS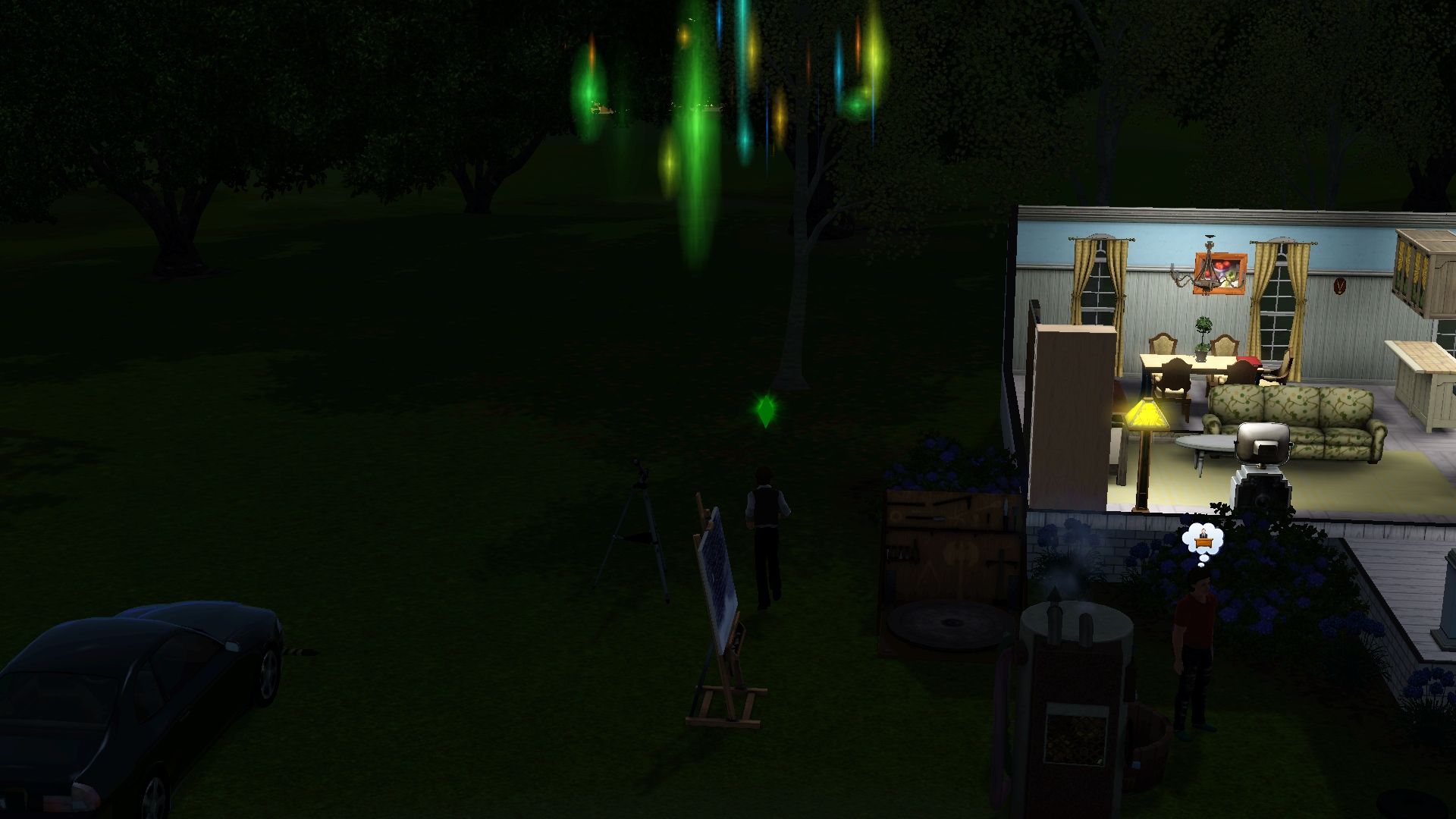 "It's probably just an aurora, right?"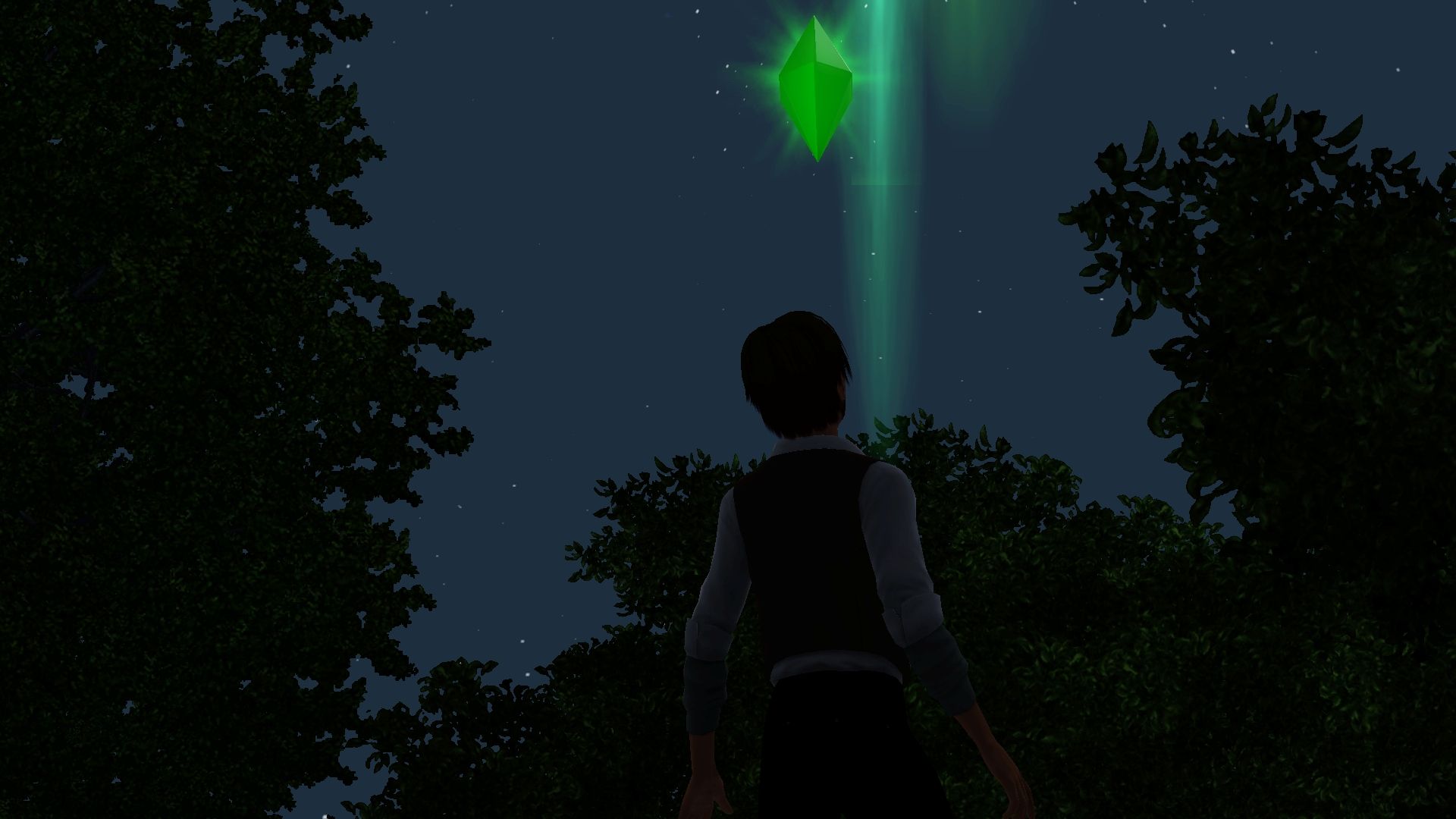 "Even though we're very far from the poles and thus shouldn't be able to see one?"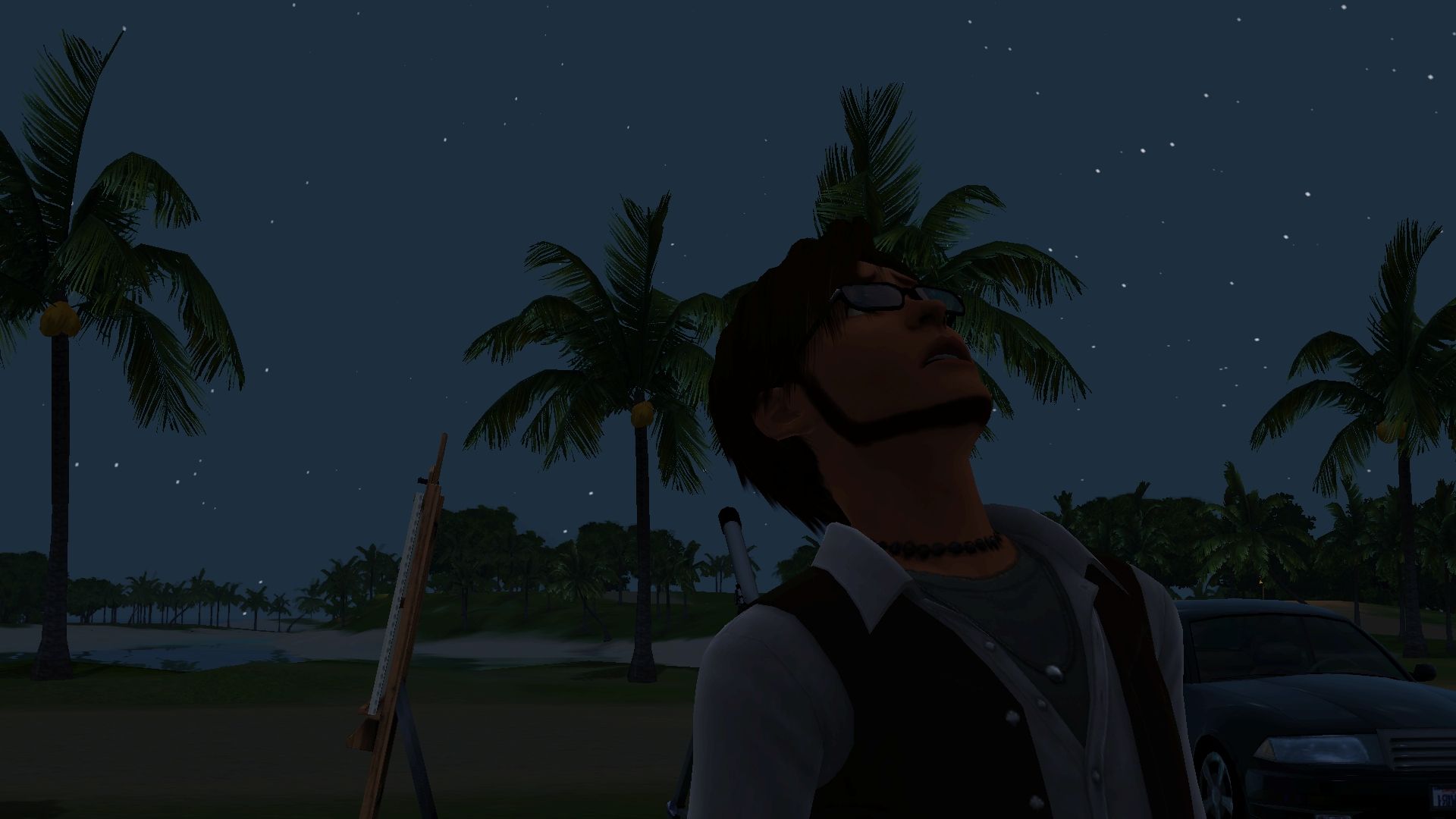 The ship's name translates to
Aurora
, if that helps.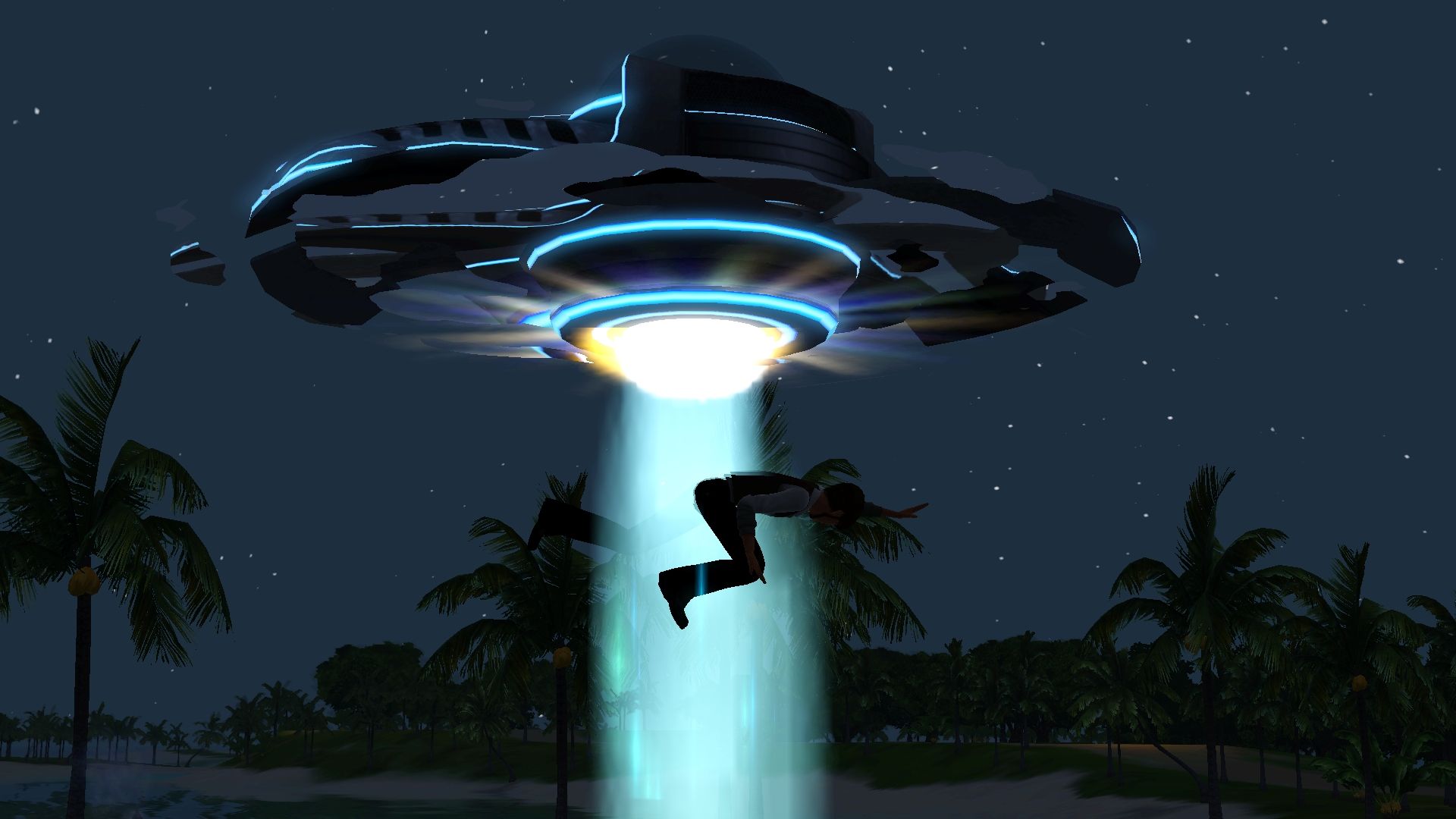 Will Johnny produce an alien sprog? (I know you're all rooting for that!) Be sure not to miss the next episode!