Slow-Cooker Garlic Chicken

6-8 chicken thighs
40 peeled cloves of garlic
1 cup chicken broth/stock
2 tbsp melted & cooled, or very soft, butter
1/4 cup dry white wine or cooking wine
1.5 lbs small red potatoes, scrubbed
salt, pepper, thyme

Spray slow cooker interior with nonstick spray.

Mix butter, broth, and wine in a bowl, then pour into slow cooker.

Sprinkle chicken thighs with salt and pepper to taste. Bone in thighs were recommended but I used boneless/skinless. Place in slow cooker.

Set potatoes and garlic on top of and around chicken.

sprinkle everything with salt, pepper and thyme. (Original recipe used whole thyme sprigs, I used dried from a shake bottle)

Cook on low for 8 hours.

It's... really super simple. I used to have a harder one in that it called for vermouth and baking in the oven and more steps, whereas this one is really, really easy.

However: 1.5 lbs potatoes is a lot of potatoes. One chicken thigh per person is not a lot of meat. There are no other real vegetables, so you'd want to make something on the side (salad or other veg).

I like garlic and would add more next time, because I smoosh it on my bread - it's very mild after all that cooking. I would also maybe double the # of chicken thighs so everyone got enough meat, and maybe cut back the potatoes to 1 lb.

All that said, the chicken was moist, fork-tender, and flavorful. The potatoes were potatoes. The garlic was soft and mild and excellent.
I didn't make anything today! And probably won't tonight. That will likely change over the weekend. ;) In the meantime, here's a recipe from last weekend:
iceraptoress
sent me. I had a big piece of solid light pink that I could use for backing/binding. (Side note: I HATE BINDING good grief I really do.)
So! It is very long, like 76", because of course it is, and because Mom wanted a table runner that would go down the length of the dining room table, and I thought "with the leaf in, right?" and so on and so forth.
(
Pink floral trellis
Collapse
)
I started/finished this one today too. All top fabrics came out of the grab bag
here
, I now have a surfeit of Rows to work on, and then there were the state blocks... decisions, decisions! I've noted
which states are done and which remain
and some of those will be easier than others - I don't like the New York design at all, so I have no idea yet how to do that one, and the Arkansas block will require some tweaking; and I'm waiting on Row patterns/kits from out of state; and what a wonderful problem to have! :D
As noted
Current Mood:

creative
iceraptoress
in Alaska. I got the kit on Monday and began Tuesday afternoon; I completed it within 3 hours.
(
The Row
Collapse
)
The fourth row of my Friends Row by Row quilt is done! :D This one is from
mimerki
- yesterday a big package arrived from
iceraptoress
- and holy cow! SHE TOO KNOWS THE WAY TO MY HEART
(
Look at all this!
Collapse
)
Now I have to pick just one of these for the Friends quilt, and save the rest to maybe do another Alaska quilt next year when I get some more. ;) (If I had the one from my Fairbanks friend, I would have enough to do a complete Alaska 8-row quilt right now, but that fell through. Or maybe wait until November when most of these go on sale to the general public? idk.)
Here are the rows as shown on Facebook:
(
Row, row, row your quilt
Collapse
)
First there were the unexpected fabrics from
Current Mood:

happy
I got some new fabric this weekend and picked up a lovely ombre that can be used for twilight (like here) as well as sunrises and sunsets. I love this fabric, it looks wonderful as the background for an otherwise simple design.
(
The Show-Me State
Collapse
)
This state block is the first one for a state I haven't been to, but Toly has. He went several years to SimuCon in St. Louis, MO, and yes, he did go to the Gateway Arch.
Great Egret
, so now it's ready to go to its forever home. No picture because I added backing and bound it and, well, I'm using the same fabric as the borders because it was there, so there really isn't anything to show.
The Great Egret is going to count for July for the 2016 UFO challenge!
Which I can't find the actual paper page I'm using to keep track, so here's a slightly adjusted copy...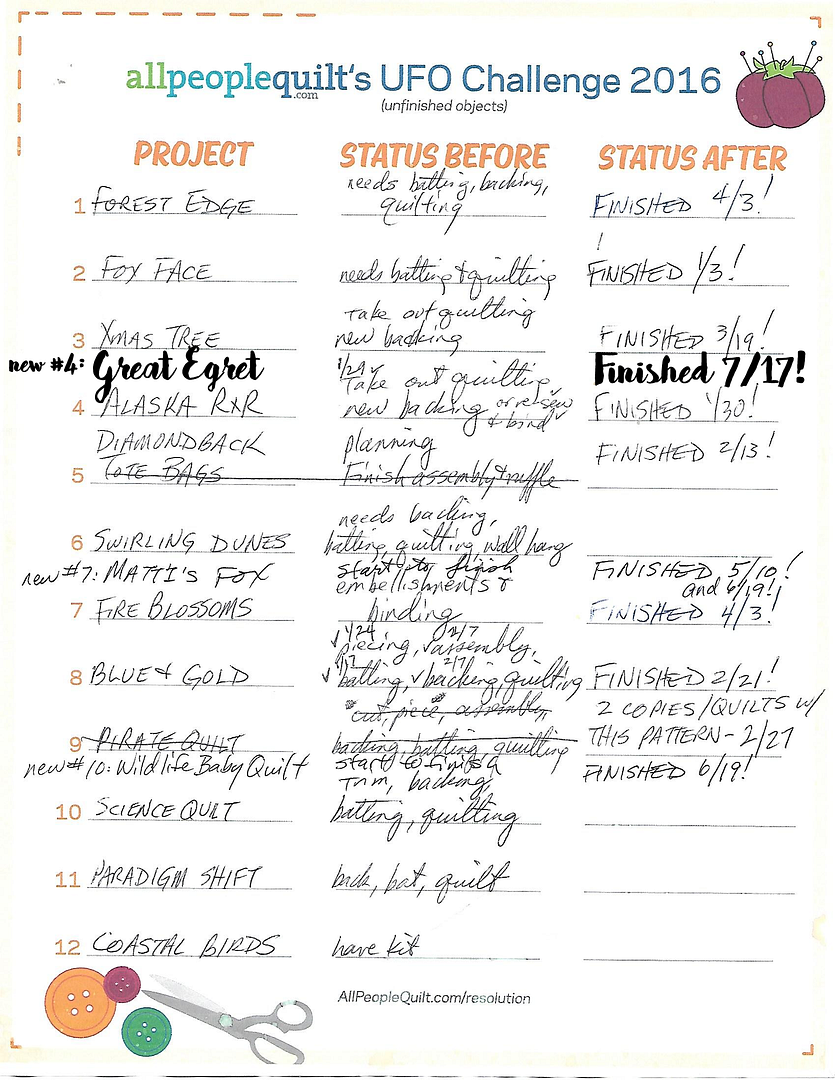 So I am still well ahead of the game for 2016, with 12-14 (depending on how you count multiples of the same project; I would go with 14, myself) projects completed by July.
What next? Maybe I should work on another state block... I actually have a lot of progress done on Coastal Birds, and I hope to finish that one in August. Eventually the 2016 Row by Row will be finished too. ;)
Finished up the